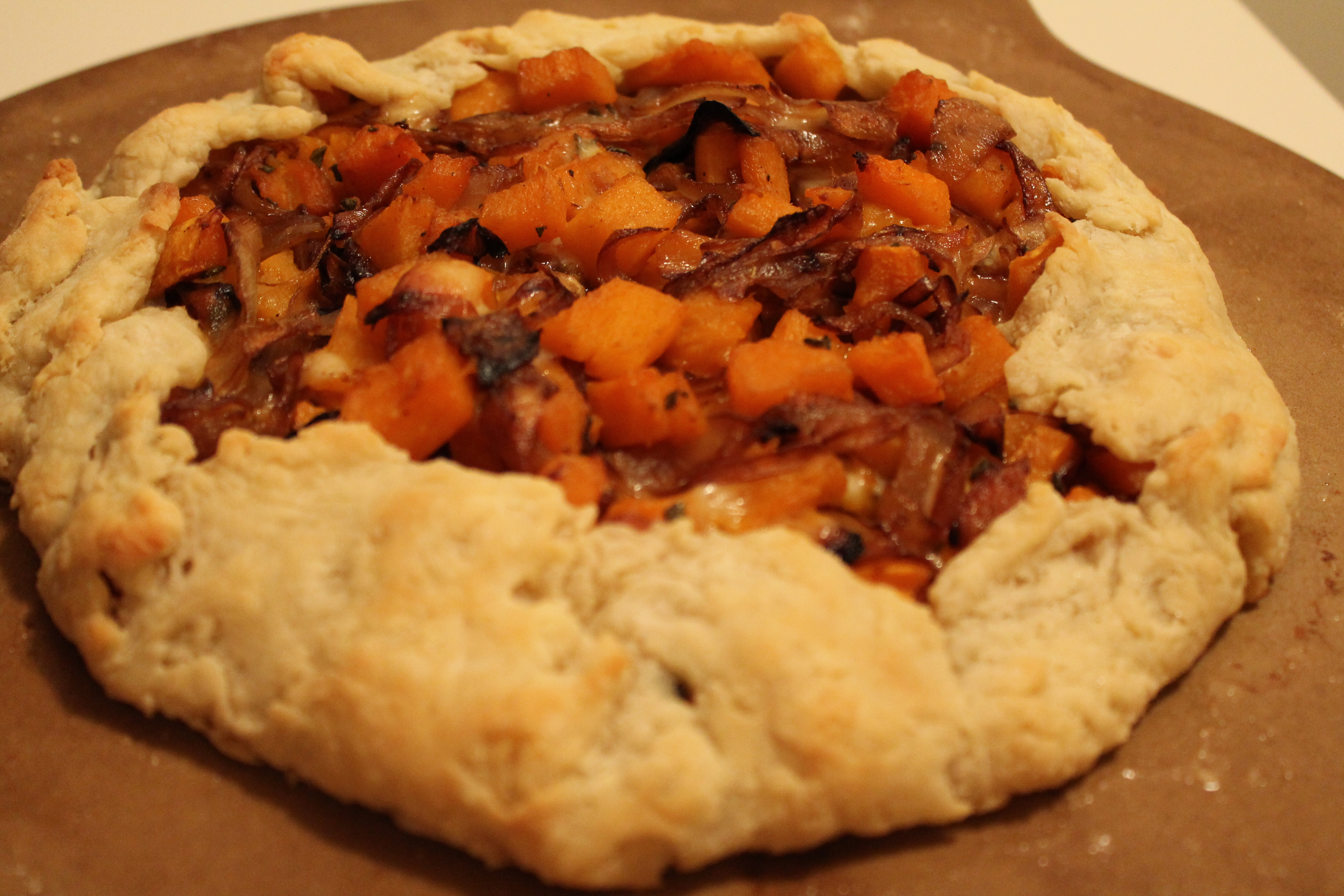 As Fall officially winds down, it's time to use up the last of our beautiful orange squashes. And boy, is this galette a delicious doozy! Seriously, I wish butternut squash were in season all year long so I could make this more often…although the anticipation is pretty sweet, too.
Just close your eyes and imagine it…a flaky pastry filled with sweet squash and caramelized onions, which are hot and sweet at the same time…top it off with creamy, salty fontina cheese and the most glorious of herbs, sage (by the way, does sage smell like Christmas to anyone else?)! If you had all of those things, you would basically have the best dinner ever just waiting for you to devour it.
Okay, I admit that a galette takes a few hours to make…you may want to cozy up to a glass of wine and hang out with a great friend while you make it! And I promise, it will be worth the wait!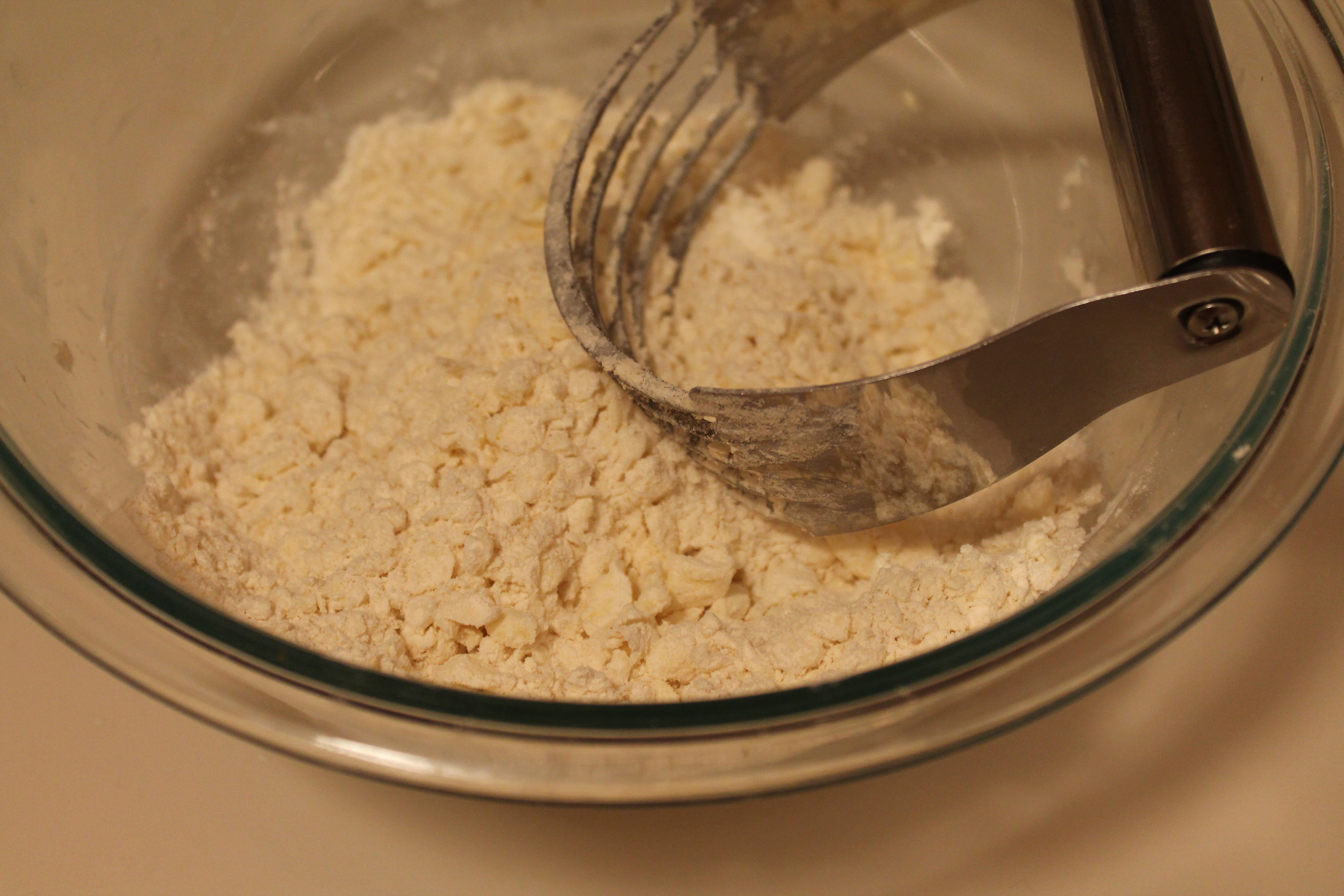 First, we have to make the pastry. It's a little more complex than my typical pie crust recipe, but it's still quite simple to make, assuming you have a pastry cutter and a modicum of bravery! Mix together flour and salt. Then cut up a nice, cold stick of unsalted butter into cubes, toss it into the salty flour, and cut it in. You can theoretically use knives or even a fork to do this, but it will take way longer and will make you hate making pie crust. So get a pastry cutter! You won't regret it.
Next, mix together sour cream, fresh squeezed lemon juice, and ice water. Pour half of this into the flour-butter mixture. Toss the dry ingredients with the liquid using your fingers. Yes, you will get nice and messy. You may even forget to take a photo of the clumps of dough that form because your entire hand is covered in pastry dough.
Oh well. Remove said clumps from the bowl and repeat with the remaining liquid. When everything is sticky and clumpy, knead two or three times to form it into a ball. Wrap in plastic wrap and refrigerate for 30–60 minutes (however long it takes you to make the galette filling).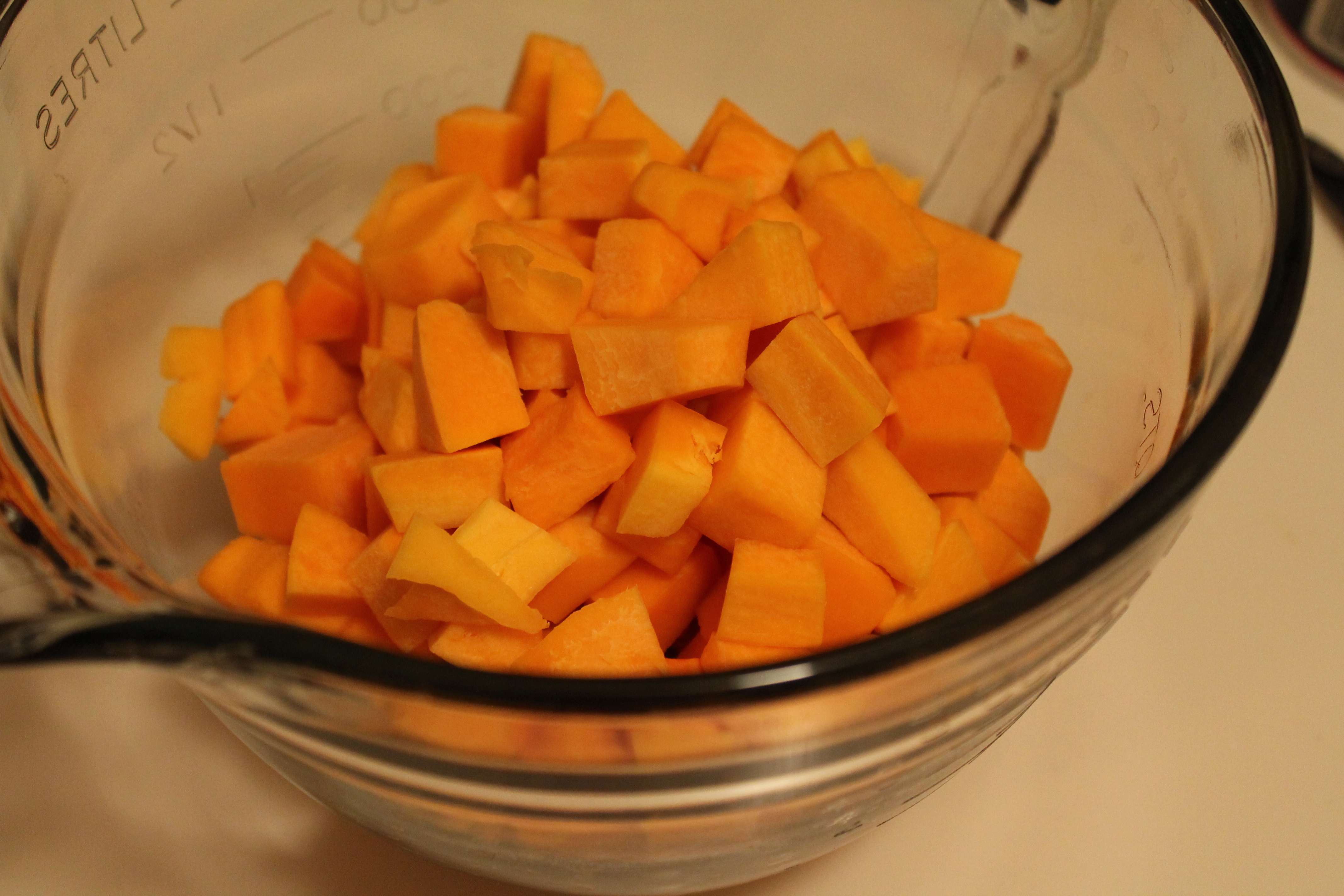 Next, prepare the butternut squash. I admit that I hate peeling butternuts…the skin is so tough, and it just takes so much time and force to get it off! Anyway, this time I decided to cheat and buy a package of squash that was already cut into large chunks. Cut it into small cubes, then toss with olive oil and salt. Transfer the squash to a foil-lined baking sheet and roast for 30 minutes at 375°. No need to stir or toss halfway through, as you will also cook them a bit more after assembling the galette!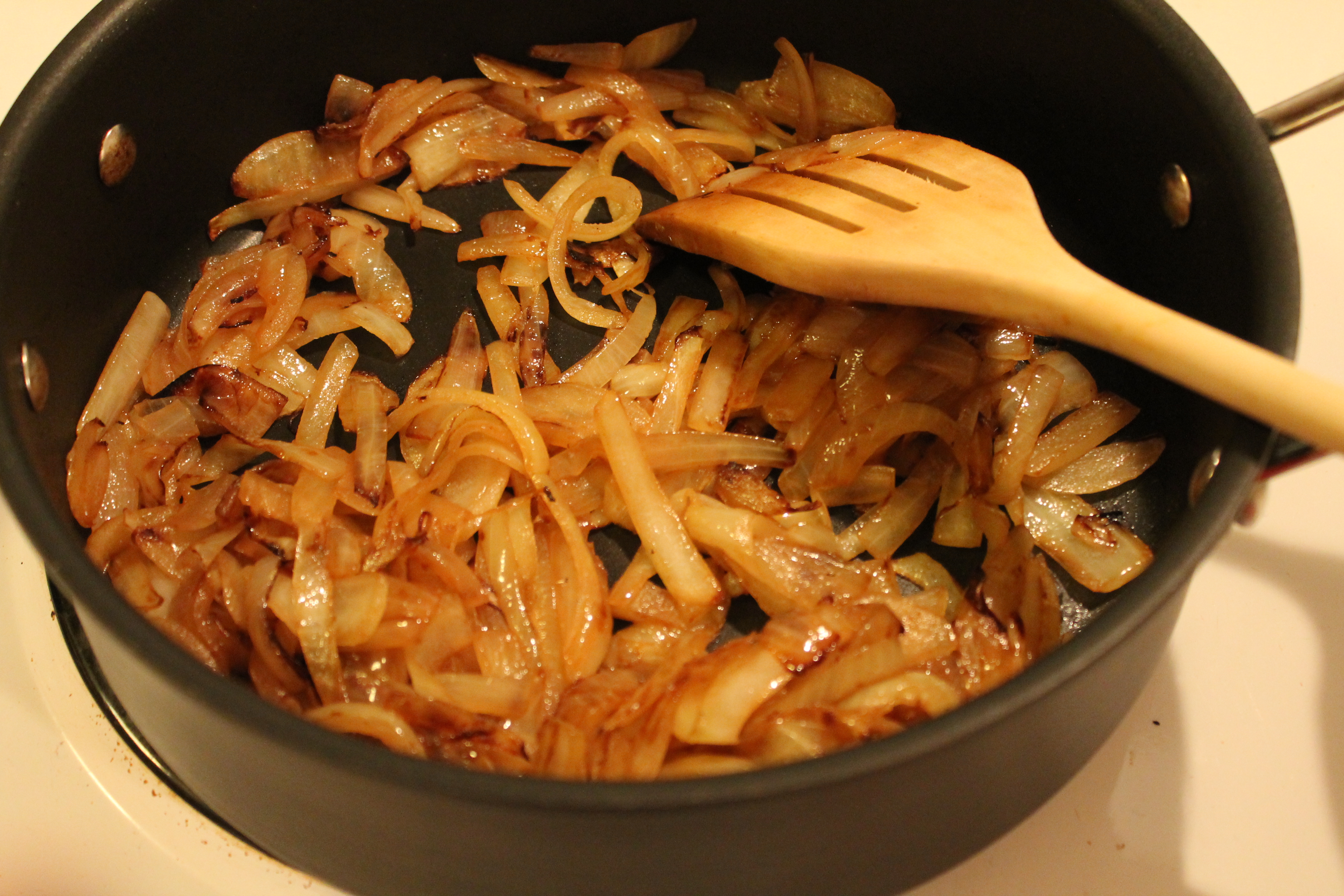 While the squash roasts, caramelize the onions. First, slice them thinly into half-moons. Cook over medium heat with butter, salt, and sugar, stirring very regularly to prevent them from browning too quickly or burning on the bottoms. When the onions are dark brown and very soft, add in cayenne pepper to taste and remove from the heat.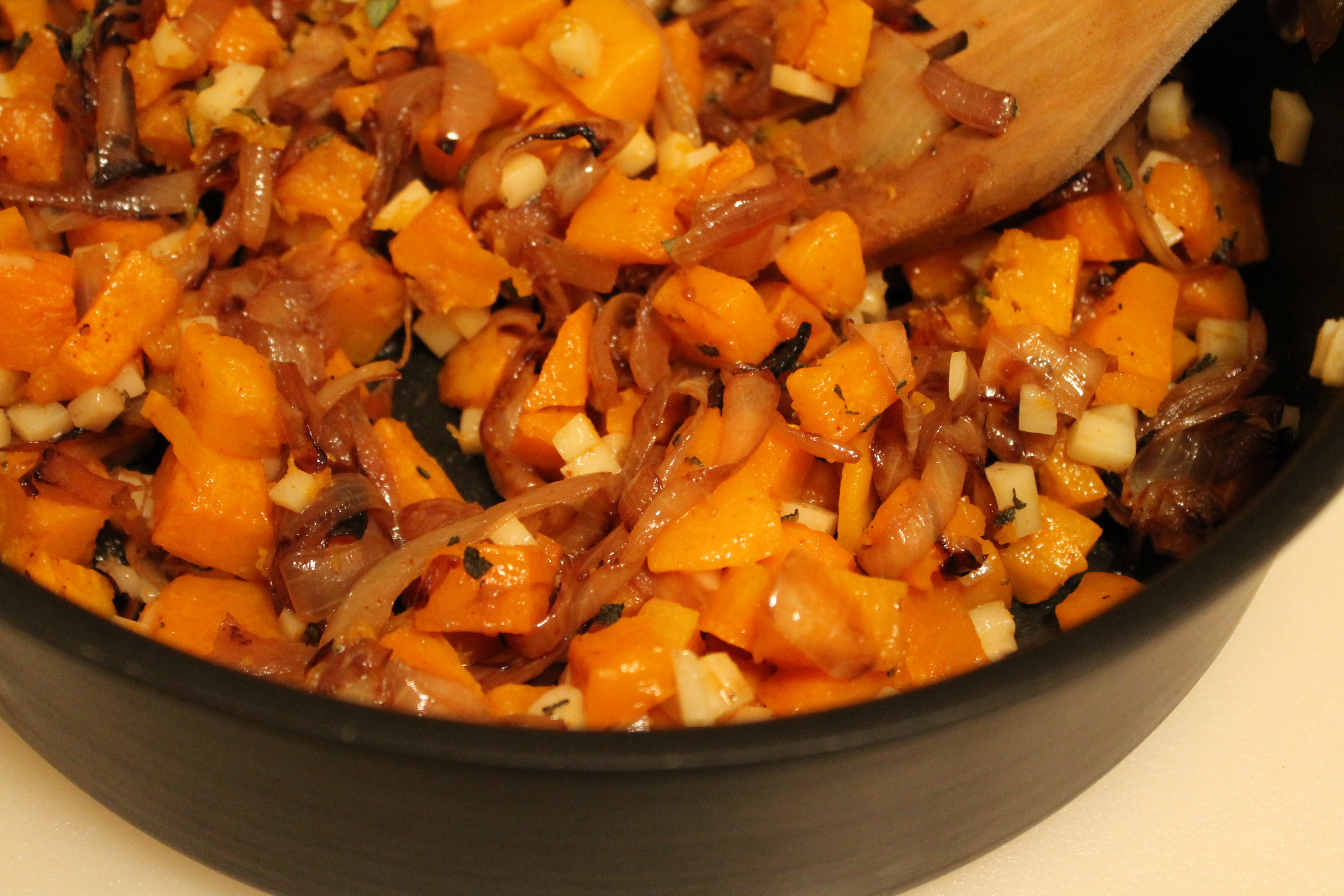 Combine all the filling ingredients: the roasted squash, the caramelized onions, about ¾ cup chopped fontina (you could also shred this, but fontina is such a soft cheese that I find chopping it into very small cubes is more effective and doesn't result in large clumps of cheese), and of course, some finely chopped fresh sage. Yum!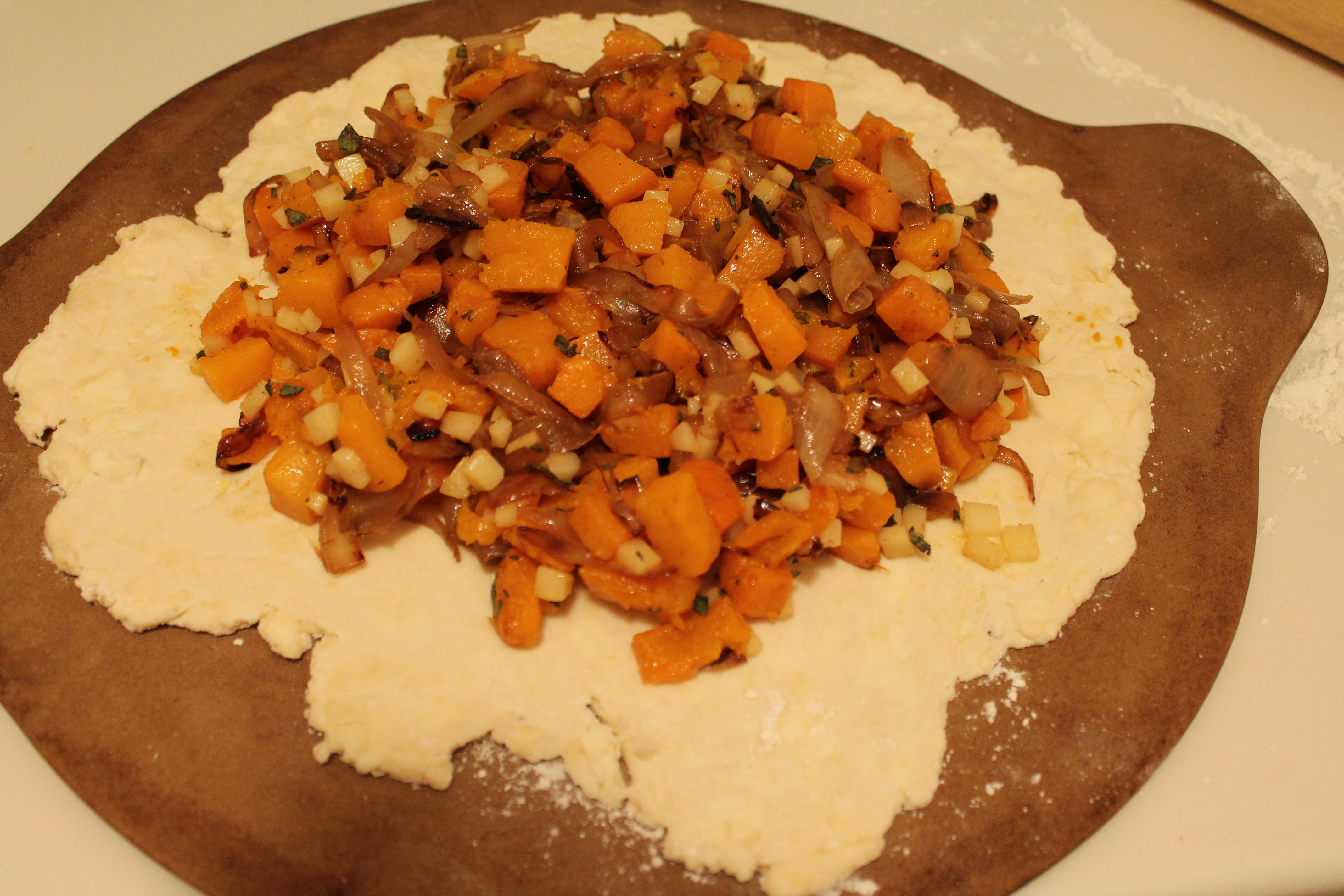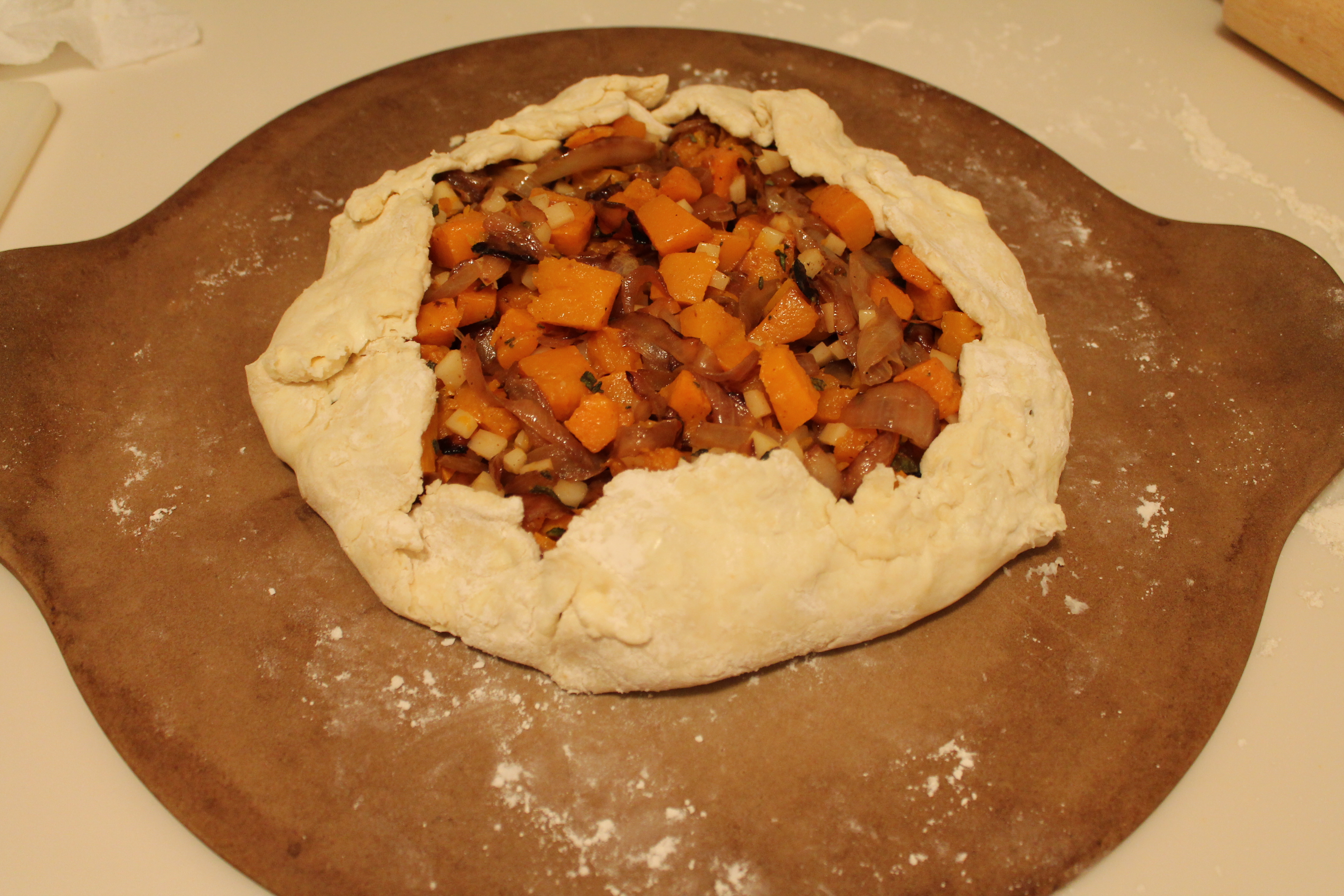 Pull the pastry out of the refrigerator. Roll it out into a large circle, somewhere between 12″ and 14″ in diameter. Transfer the crust to a baking stone.
Distribute the galette filling evenly in the center of the crust, leaving about 1½″ at the edges. Fold the edges up over the filling to contain it; don't worry if it's not quite even! Call it rustic.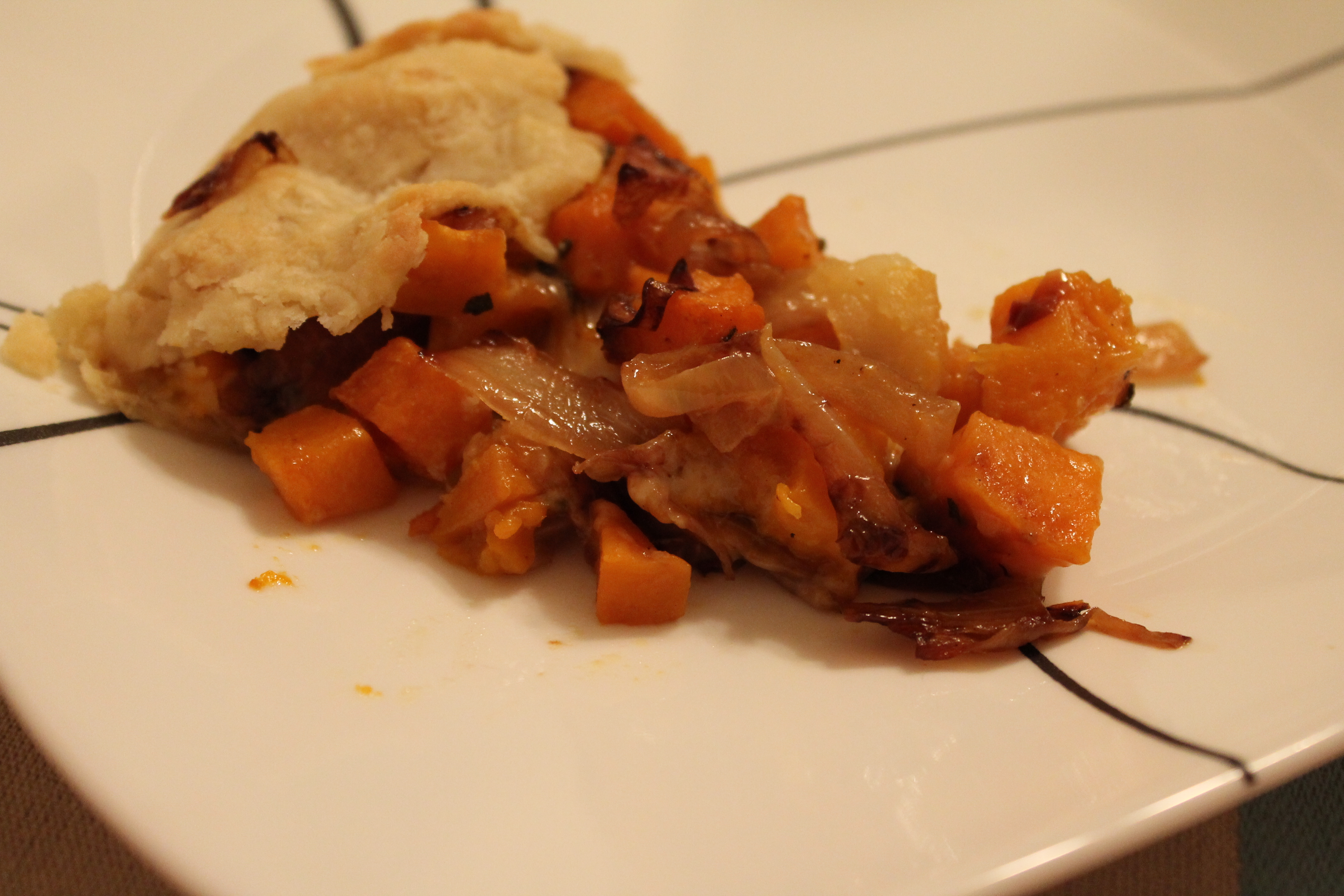 Bake the galette for 30 minutes at 400°. Serve warm, garnished with extra sage. And a spinach salad. And an extra glass of that wine. Yum!
Butternut Squash Galette
from Smitten Kitchen
serves 4–6
Pastry Ingredients:
1¼ cups flour
¼ tsp. salt
½ cup cold unsalted butter, cut into pieces
¼ cup low-fat sour cream
2 tsp. fresh lemon juice
¼ cup ice water
Filling Ingredients:
1 1¼lb. butternut squash, peeled and seeded
2 tbsp. olive oil
1 tsp. salt, divided
1 tbsp. butter
1 large yellow onion, thinly sliced in half-moons
pinch of sugar
¼ tsp. cayenne, or to taste
¾ cup (about 2½ oz.) chopped fontina
1½ tsp. chopped fresh sage
Directions:
Begin by making the pastry. In a bowl, combine the flour and salt. Make a well in the center of the flour and cut in the butter, just until the mixture resembles coarse meal. Make another well in the center.
In a small bowl, whisk together the sour cream, lemon juice, and water. Pour half of this mixture to the well in the flour. With your fingertips, mix in the liquid until large lumps form. Remove the large lumps and repeat with the remaining liquid and flour-butter mixture.
Pat the lumps into a ball; do not overwork the dough. Cover with plastic wrap and refrigerate for 1 hour.
Preheat oven to 375°.
Cut the prepared squash halves into a ½″ dice. Toss pieces with olive oil and ½ tsp. salt, then distribute evenly on a foil-lined tray. Roast 30 minutes or until pieces are tender, turning the tray midway. Set aside to cool slightly.
Meanwhile, melt the butter in a heavy skillet and caramelize the onions with the sugar and remaining salt by cooking over low heat about 20 minutes. Stir the onions regularly so that they brown rather than burn. Stir in cayenne.
Raise the oven temperature to 400° after removing the squash.
Mix squash, caramelized onions, fontina, and herbs together in a bowl.
To assemble the galette, flour a flat surface and roll the dough out into a 12″ circle. Transfer to baking stone. Spread squash mixture evenly over the dough, leaving a 1½″ border. Fold the outside edge carefully over the filling, pleating as necessary to make it fit.
Bake 30–40 minutes, or until golden brown. Remove from the oven, let stand for 5 minutes, then slide the galette onto a serving plate.
Cut into wedges and serve warm.
Enjoy!