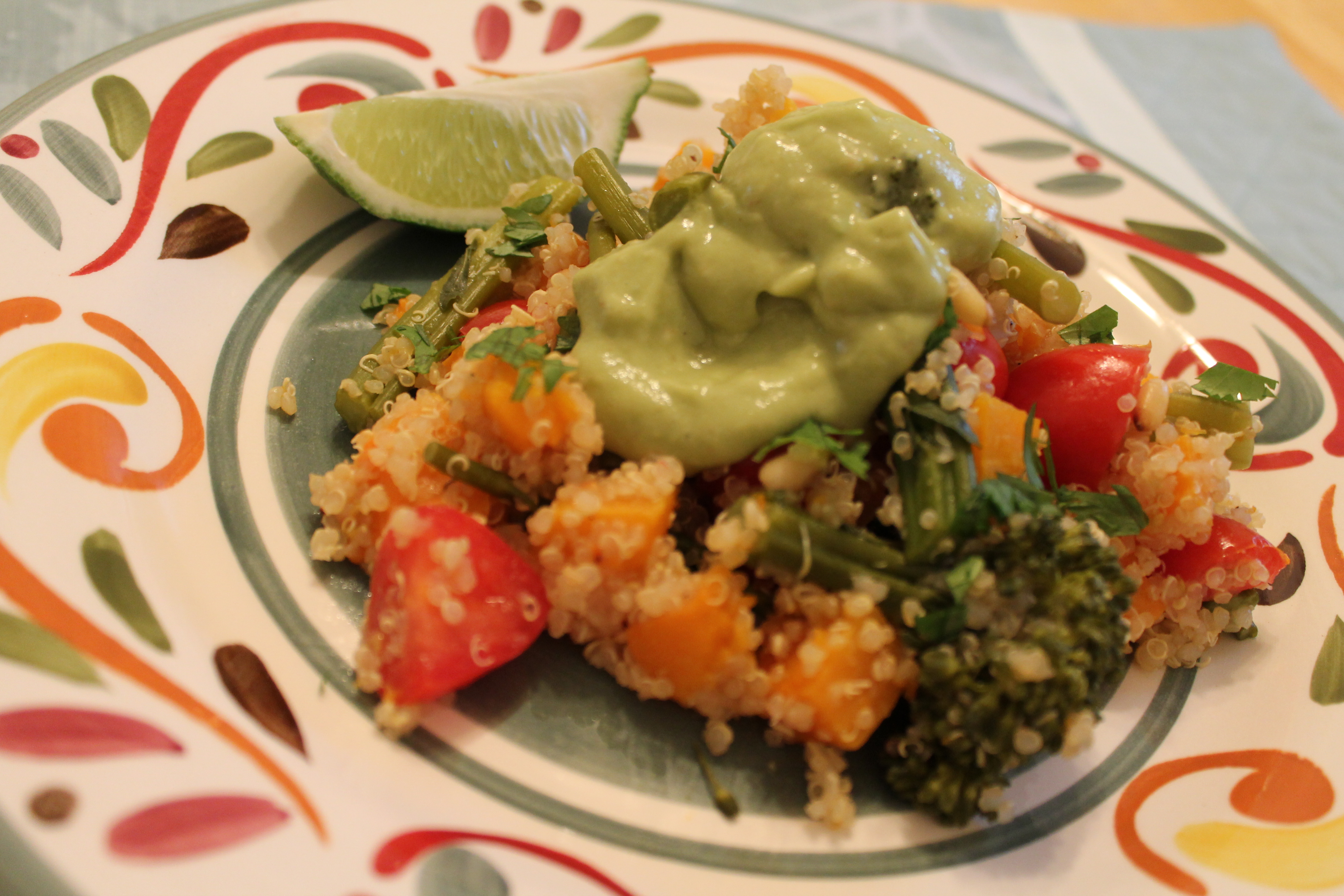 It's the middle of January! I am already flagging on my New Year's resolutions to eat healthy. Is that just me?
It's time for a delicious pick-me-up.
And what is more delicious than a glut of hearty, colorful veggies, stirred into some slightly chewy, nutty quinoa? My good friend Sarah over at Well Dined agreed with me, so this week we tucked in and made ourselves this amazing lunch! You should, too.
There are a bunch of steps to making this meal, but everything will be ready in approximately 35 minutes, so don't be daunted by the number of ingredients or dishes!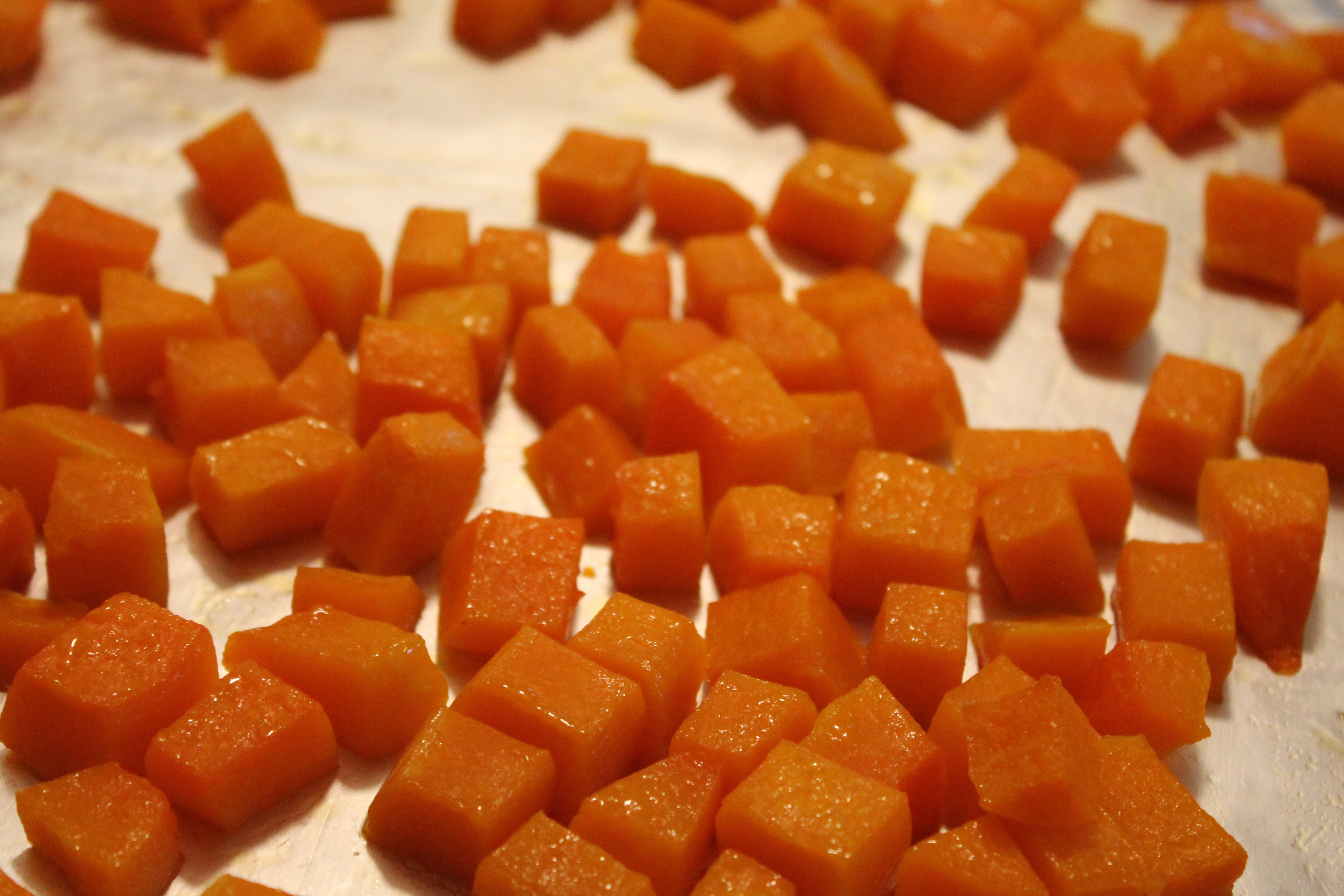 First, peel and chop up a small butternut squash, about 1 lb. This is literally the hardest thing you will need to worry about (because peeling a butternut is kind of strenuous)…and you can totally take the shortcut of using about 12 oz. pre-cut butternut.
Toss your squash with olive oil and salt. Roast for 30 minutes at 375°, stirring the squash after 15 minutes so it will roast evenly.
Meanwhile, drop your quinoa into a pot of boiling water with 1 tbsp. cider vinegar. The vinegar gives the quinoa a nice kick! Turn the heat on the quinoa down to low so it will cook slowly. Stir it occasionally, and let it cook for 30 minutes.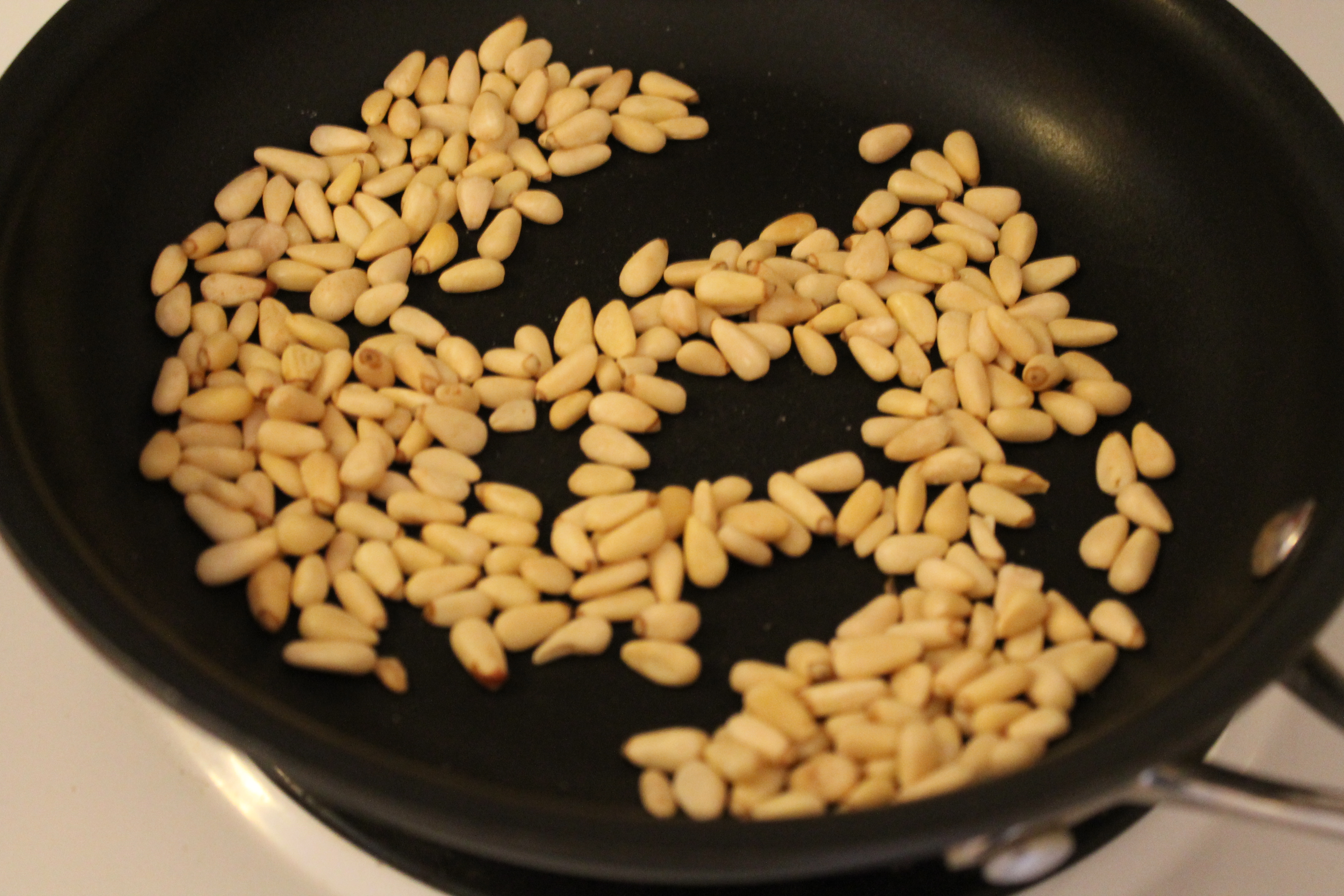 While the quinoa cooks, toast your pine nuts in a dry pan, stirring regularly to prevent them burning. Oops, ours got a little dark, but I actually thought that added a nice depth of flavor! When the nuts are done, transfer them to a bowl or plate so they don't continue to brown in the hot pan.
Note: If you are allergic to pine nuts, you can leave these out, but you may want to add something else with a little crunch and a little umami to contrast with the soft texture and sweetness of the squash in the dish.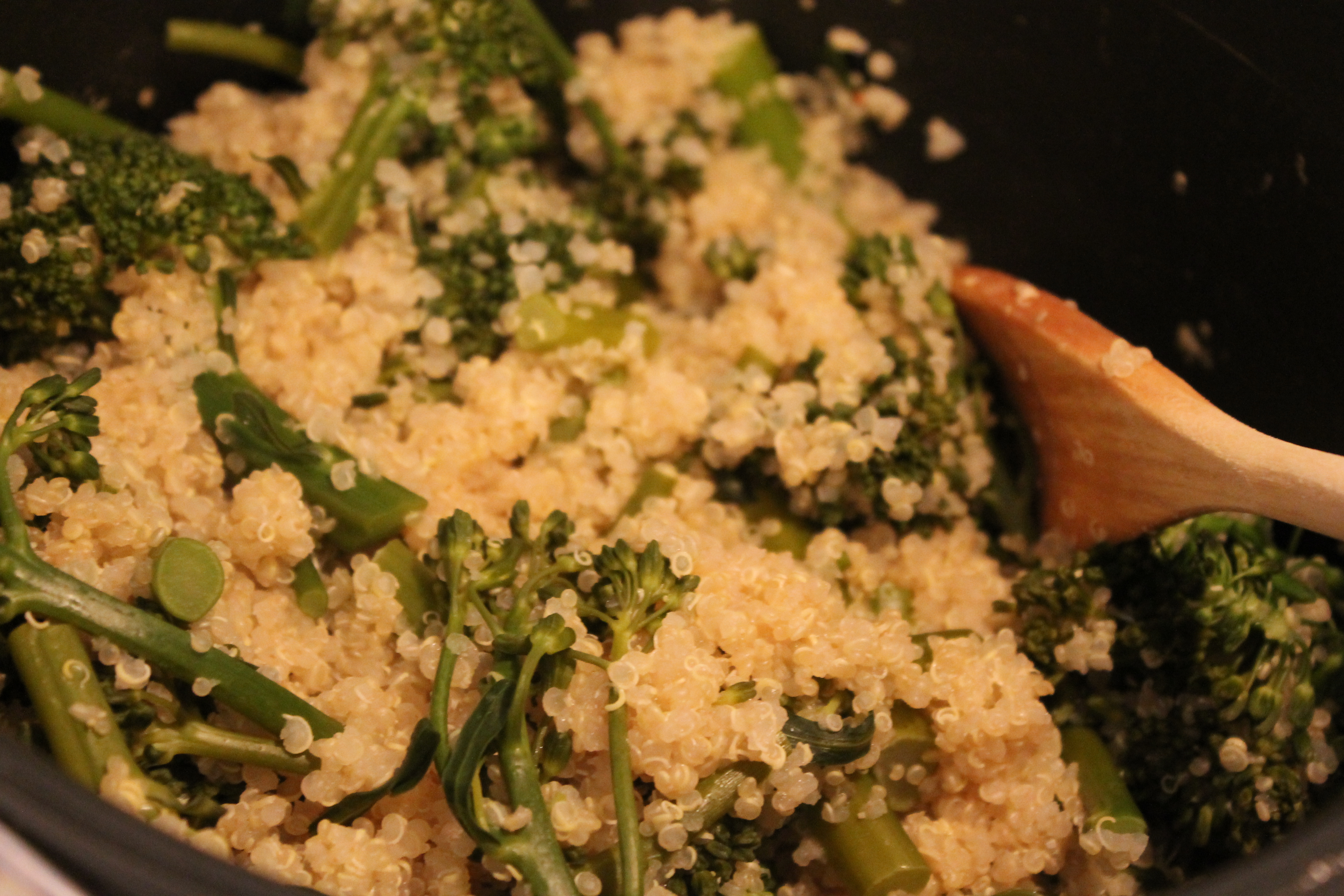 Cut the broccolini into 1½″ segments. About 10 minutes before the quinoa is done, toss the broccolini into the pot with a few splashes of extra water. Stir the veggies into the quinoa and let them cook until soft. Remove from the pot when all the water has been absorbed. (We also steamed our broccolini a little, which turned it a bit brown…still tasty, just not so pretty.)
Meanwhile, toss the avocado into a food processor with cider vinegar and olive oil. Pulse until the avocado is completely pulverized and mixed in with the oil and vinegar. It's like making mayonnaise, only using avocado for the fat instead of eggs! Hooray, vegan creamy spreads.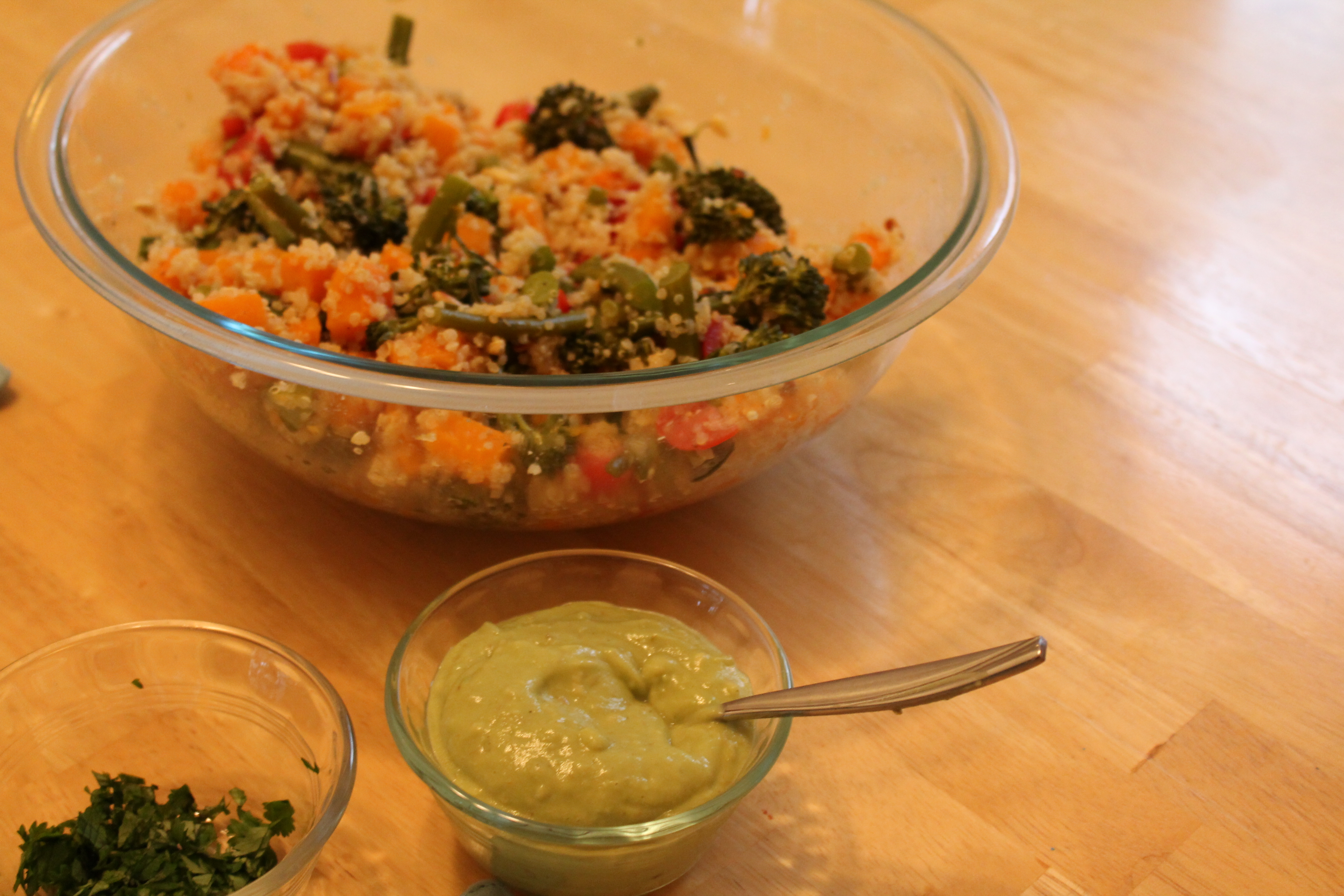 When the squash is roasted and the quinoa and broccolini soft and toothsome, grab a very large bowl and toss them in with the pine nuts and quartered grape tomatoes. Drizzle with the juice of 1 lime, season with salt and pepper, and mix everything together.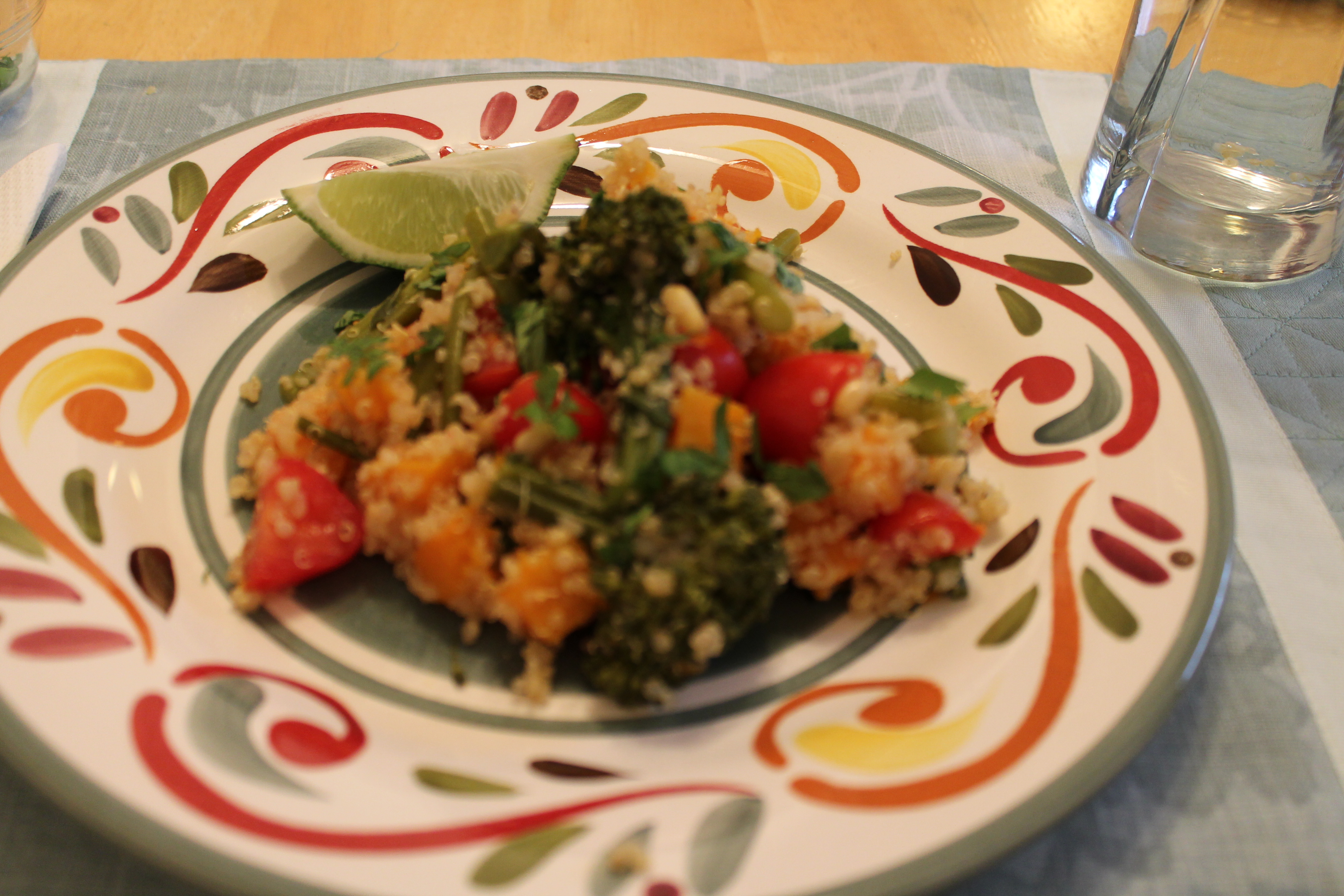 Garnish your quinoa salad with chopped fresh cilantro and a hearty dollop of avocado cream. The result will be sharp, tangy, and amazing.
Quinoa with Butternut and Broccolini
lightly adapted from Deliciously Ella
serves 4
Ingredients:
1 1lb. butternut squash (about 2 cups bite-size pieces)
¼ cup olive oil, divided
2 cups water, plus extra as needed
1 cup dry quinoa
¼ cup apple cider vinegar, divided
⅓ cup pine nuts
12 oz. broccolini (about 3 cups bite-size pieces)
2 ripe avocados
12–16 grape tomatoes, quartered
salt and black pepper
2 limes
chopped fresh cilantro
Directions:
Preheat oven to 375°.
Peel the butternut squash. Cut in half lengthwise and scoop out the seeds. Chop the squash into small, bite-size pieces. Lay the squash on a foil-covered baking sheet. Drizzle with 2 tbsp. olive oil and season lightly with salt.
Roast the squash for 30 minutes, stirring halfway through.
Meanwhile, bring 2 cups water to a boil. Add in the quinoa and 1 tbsp. apple cider vinegar. Lower the heat and simmer the quinoa for 30 minutes, stirring occasionally, until the curlicues pop out. If needed (if the water evaporates too quickly), add extra water to the quinoa and continue cooking.
Meanwhile, toast the pine nuts in a dry saucepan over medium heat for 5–10 minutes, or until they are golden and fragrant. Immediately remove from the pan to prevent them from burning.
Cut the broccolini into small segments, about 1½ʺ long. About 10 minutes before the quinoa should be done, add the broccolini to the pot and stir. Add extra water as necessary; the vegetables should boil rather than steam.
As everything finishes cooking, make an avocado cream to stir into the quinoa. Add the avocado flesh, 1 tbsp. water, and the remaining 3 tbsp. cider vinegar and 2 tbsp. olive oil to a small food processor bowl. Season to taste with salt and pepper. Pulse until the mixture is completely smooth, then transfer to a small serving bowl.
Once the quinoa and squash are done, mix together in a large bowl along with the pine nuts, cherry tomatoes, and juice of 1 lime. Season to taste with salt and pepper.
Serve the quinoa with the avocado cream, chopped cilantro, and extra lime wedges.
Enjoy!