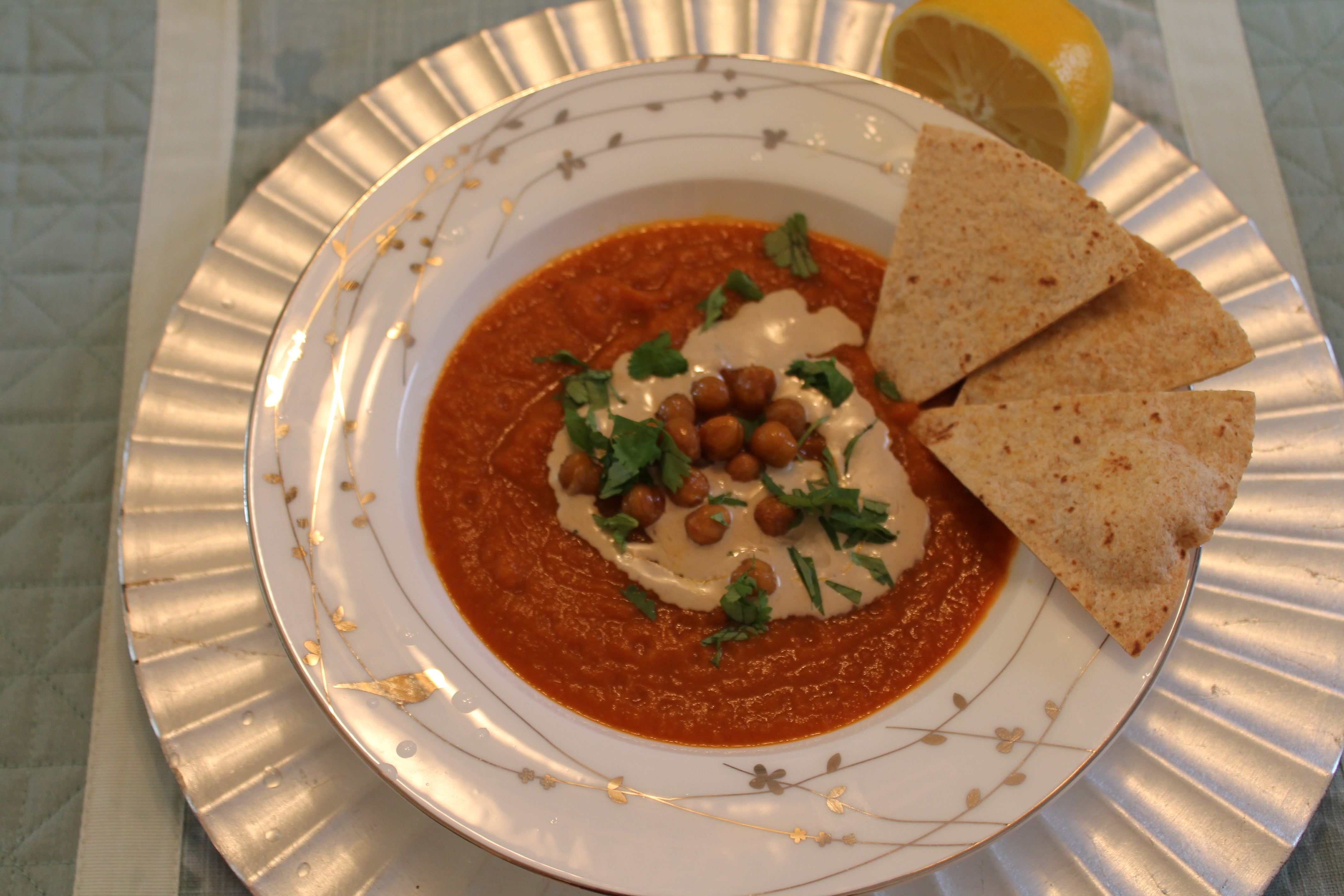 This month for the Secret Recipe Club challenge, I was assigned the blog Searching for Spice. I knew immediately that I wanted to try out this carrot soup. I mean, what is better than a vegetable soup for lunch on a winter day?
My good friend Sarah over at Well Dined came over to make this soup with me. Outside, the ground was glittering with fresh snow, and inside, our bellies were warmed by several bowls full of this delicious soup, sweet and a little bitter with just a hint of heat.
I made several changes to Corina's recipe, chiefly because I wanted to make a much larger amount of soup. I also took some inspiration from a similar recipe by Deb over at Smitten Kitchen and went for some accoutrements to add in to the soup at the table.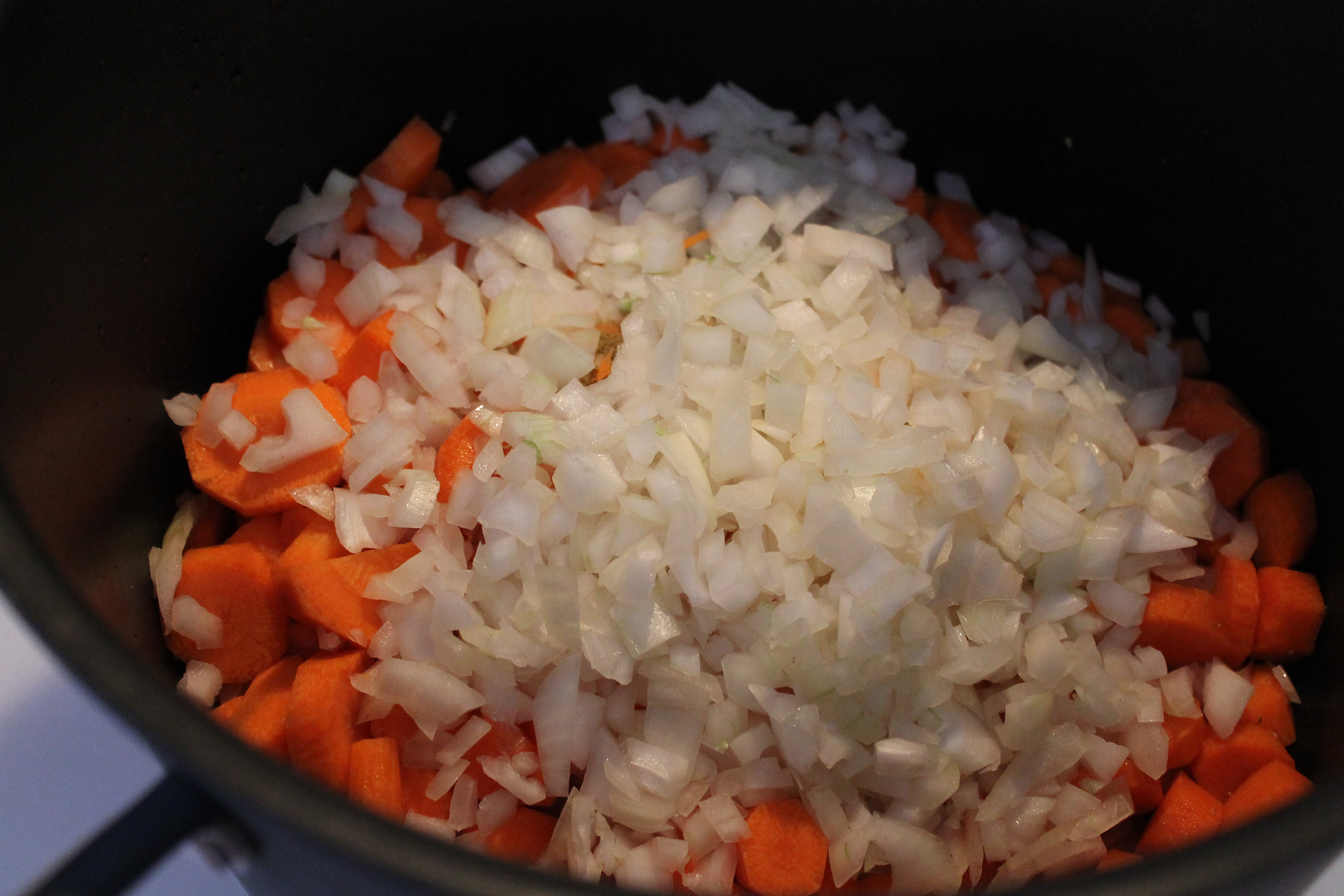 Start by peeling and thinly slicing the carrots. Chop up the onion.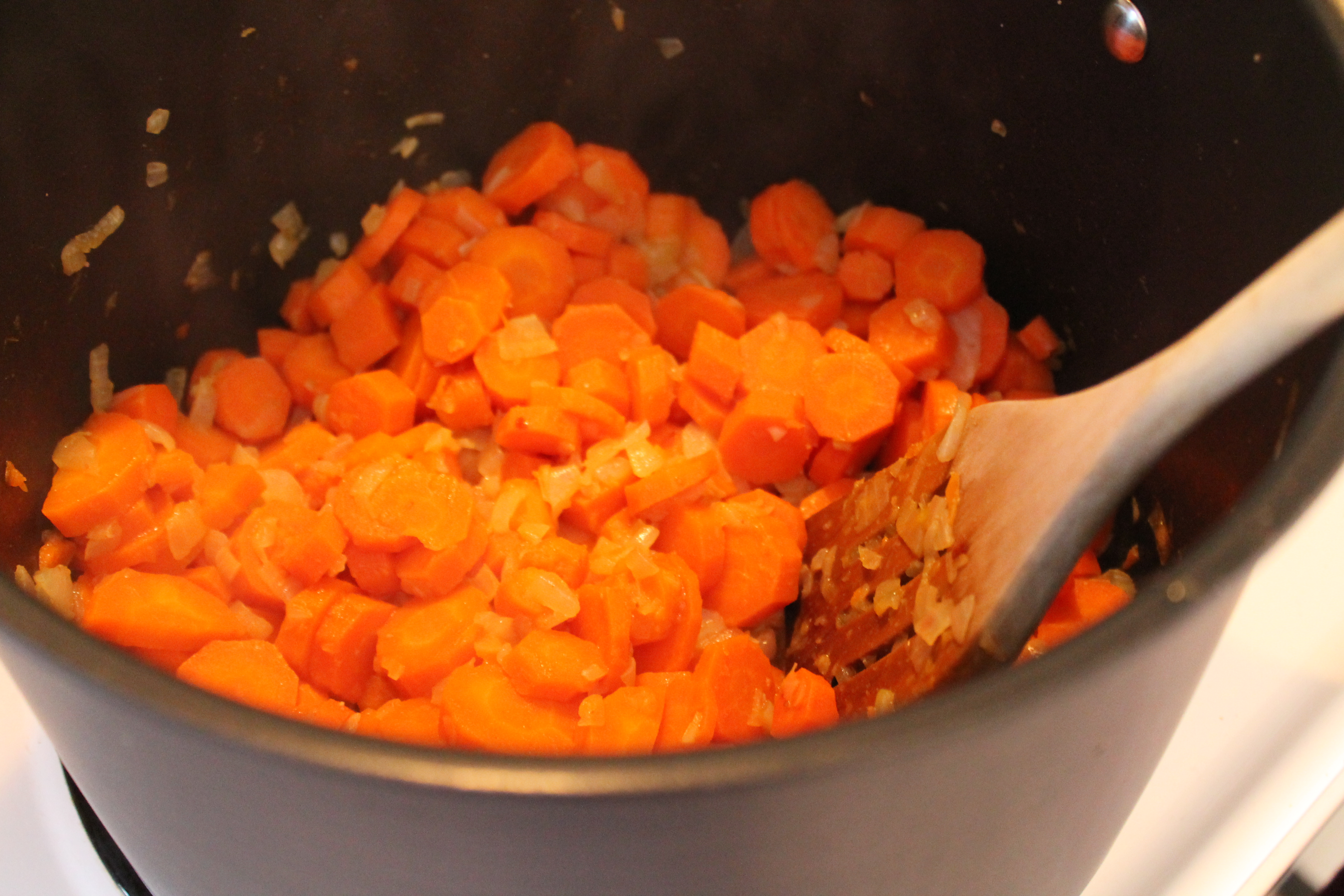 Heat olive oil in a large stockpot. Add the carrots, onion, and spices to the pot and cook about 10–15 minutes, until the onion is translucent and beginning to brown. The carrots should be well on their way to tender.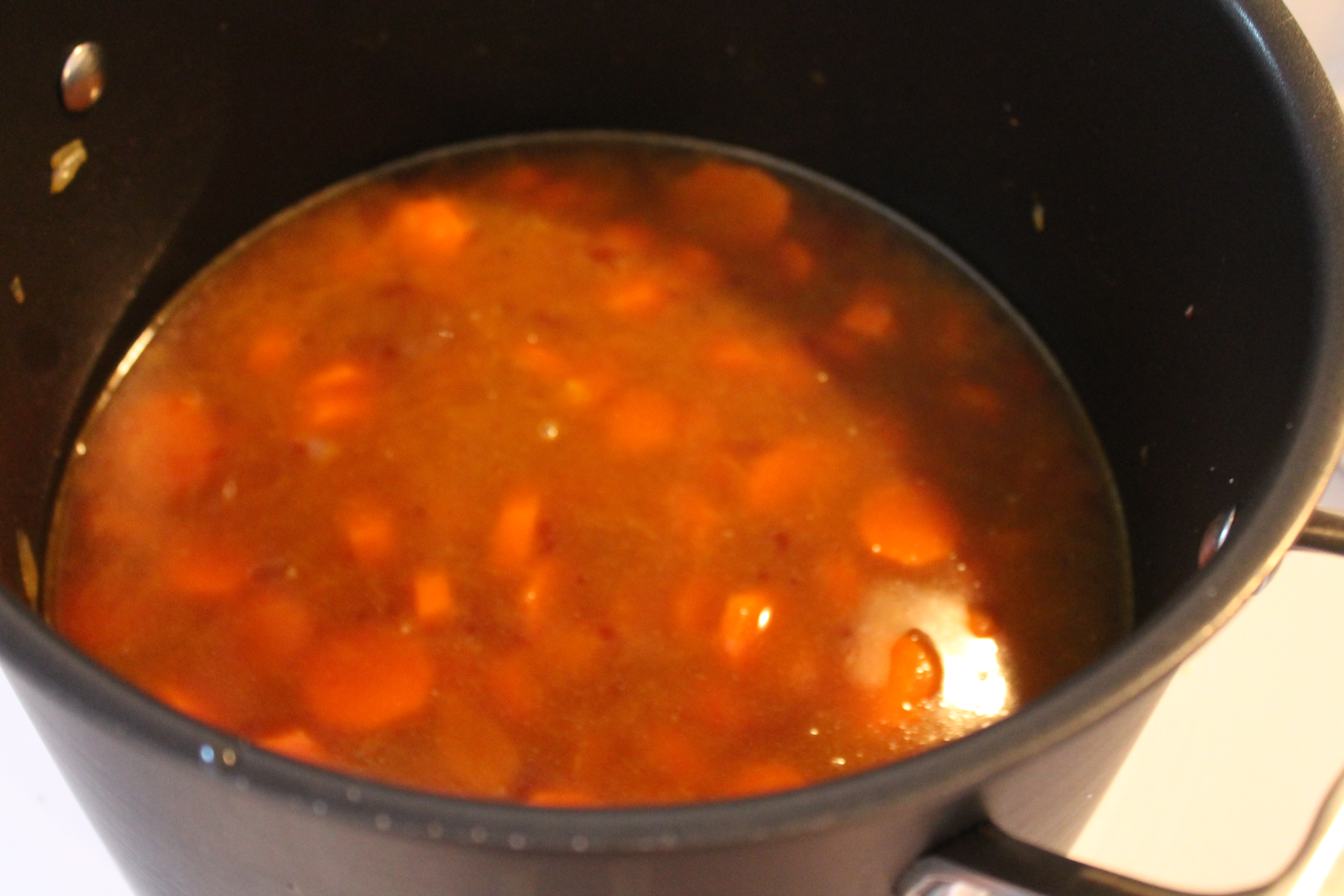 Pour in enough vegetable stock to completely cover the vegetables (I went ahead and used the whole quart of veggie stock) and bring the mixture up to a simmer. Cover the pot and continue to cook over medium heat for 30 minutes.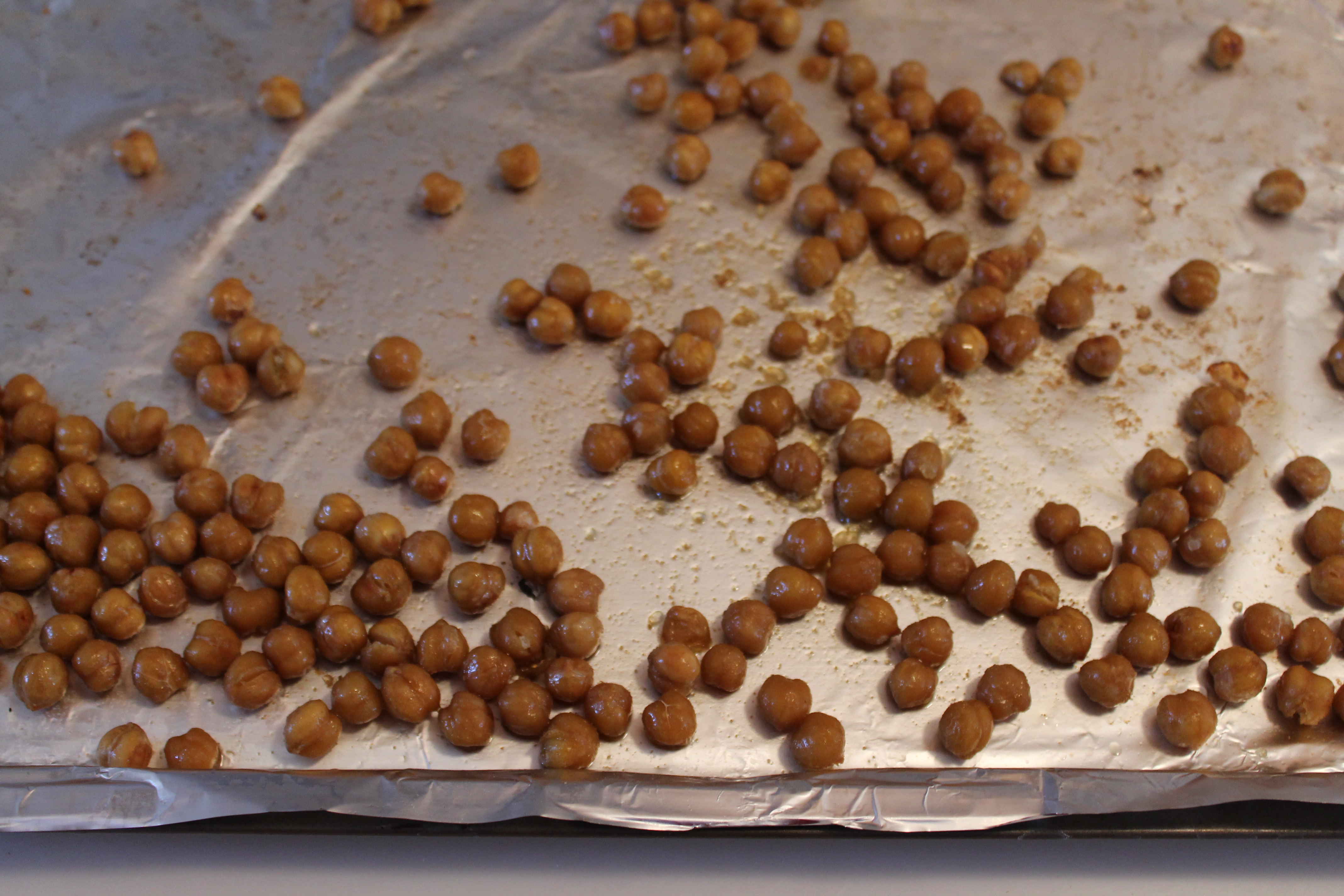 Meanwhile, season and toast your chickpeas and tortilla slices (or pitas if you have them…I didn't, obviously). Of course, you could skip the beans if you don't like them; they really just add a little extra interest and texture to the pureed soup. Plus, when you get everything all together in one bite, it's a delicious spin on a favorite snack: carrots and hummus.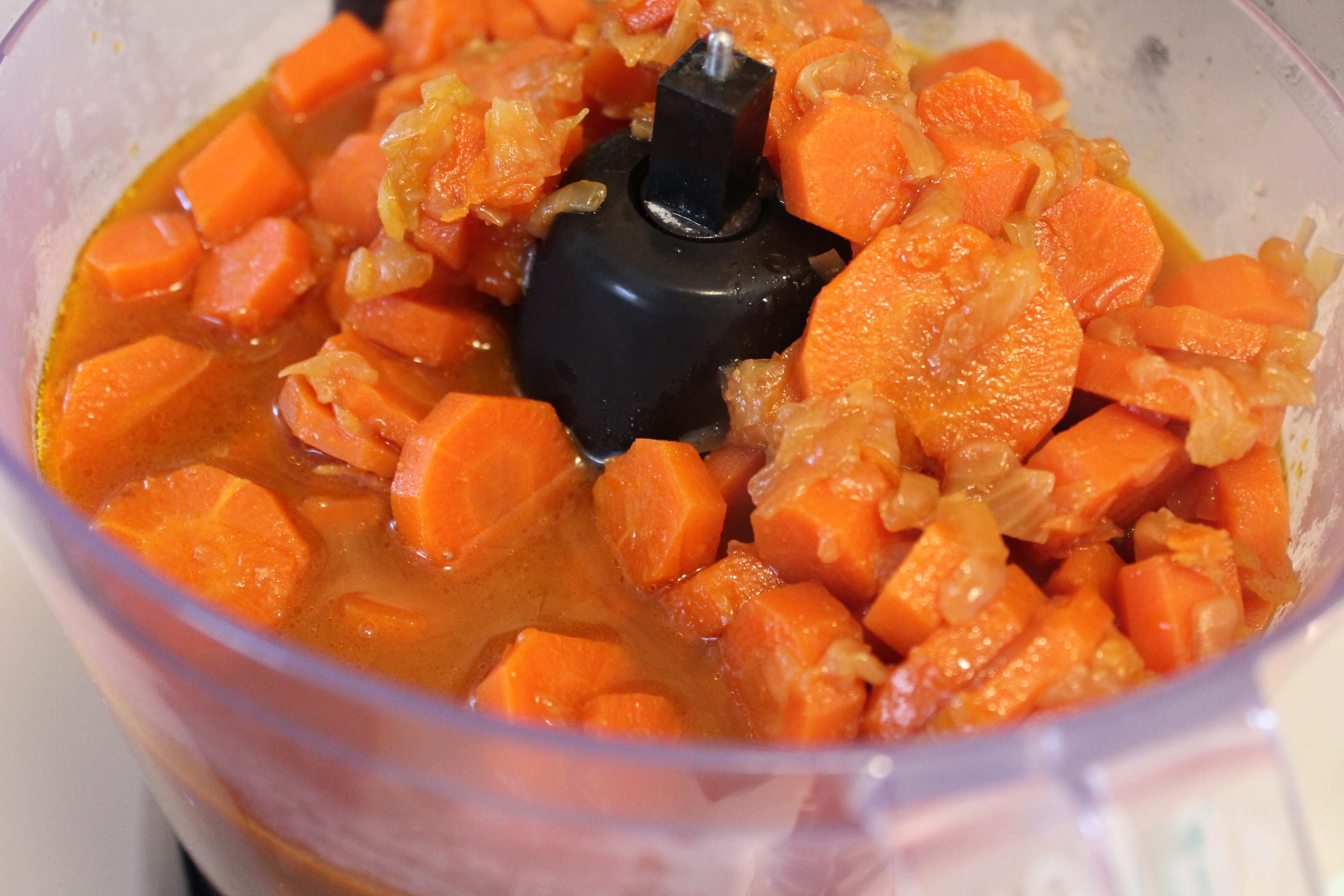 When the carrots are completely fork tender, remove the pot from the heat and let cool for 5 minutes.
Transfer the soup mixture to a large blender or food processor and blitz until the soup is thick and creamy.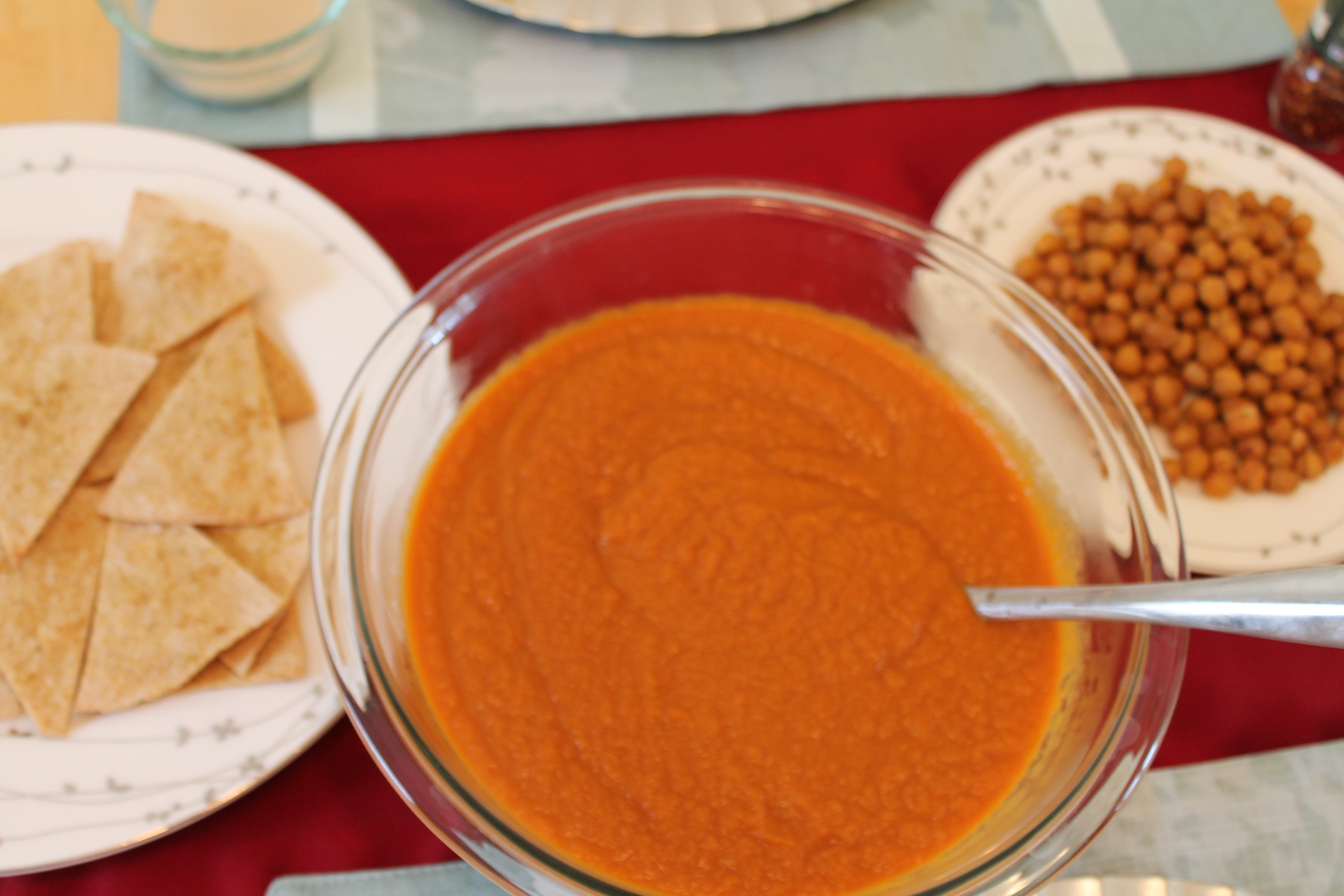 Serve the soup into four bowls, then drizzle each bowl with a large spoon of tahini and a few squirts of lemon juice (yes, you could mix the tahini and lemon in earlier, but isn't it fun to swirl things into your soups?). Add a small handful of chickpeas and a sprinkle of chopped cilantro or parsley. Complete with the tortillas for dipping, you will be in soup heaven!
Carrot Soup with Tahini
adapted from Searching for Spice and Smitten Kitchen
serves 4
Ingredients:
¼ cup olive oil, divided
2 lbs. whole carrots, peeled and sliced thin
1 large onion, chopped
4 large cloves garlic, crushed
¼ tsp. ground coriander
1 tsp. cumin, divided
2 dashes crushed red pepper
½ tsp. table salt
4 cups vegetable broth (no salt added)
1 15oz. can chickpeas, drained and rinsed
½ tsp. large flake sea salt, plus extra
3–4 small whole wheat tortillas or pitas
¼ tsp. ground thyme
¼ cup tahini
juice of 1 lemon
fresh parsley or cilantro, chopped
Directions:
Heat 2 tbsp. olive oil in a large stockpot. Add the carrots, onion, coriander, ½ tsp. cumin, red pepper, and salt to the pot and cook, stirring occasionally, about 15 minutes, or until the onions are beginning to brown.
Add the vegetable stock to the pot. Bring to a simmer, then cover and cook over medium heat for 30 minutes.
Meanwhile, heat the oven to 425°. Toss the chickpeas with 1 tbsp. olive oil, sea salt, and ¼ tsp. cumin. Transfer to a foil-lined baking sheet. Bake the chickpeas for 20 minutes, until crispy.
Cut the tortillas or pitas into wedges and brush with the remaining 1 tbsp. olive oil. Sprinkle with thyme, a few flakes of sea salt, and remaining ¼ tsp. cumin. Transfer to a second baking sheet and bake with the chickpeas for 5 minutes.
When the carrots in the soup are completely soft, remove the soup from the heat and let cool 5 minutes. Pour or scoop the soup into a blender or food processor and process until completely smooth and thick.
Divide the soup among 4 bowls. Drizzle with tahini and lemon juice. Drop a handful of chickpeas into each bowl, followed by a sprinkling of fresh herbs. Serve with tortillas for dipping.
Enjoy!