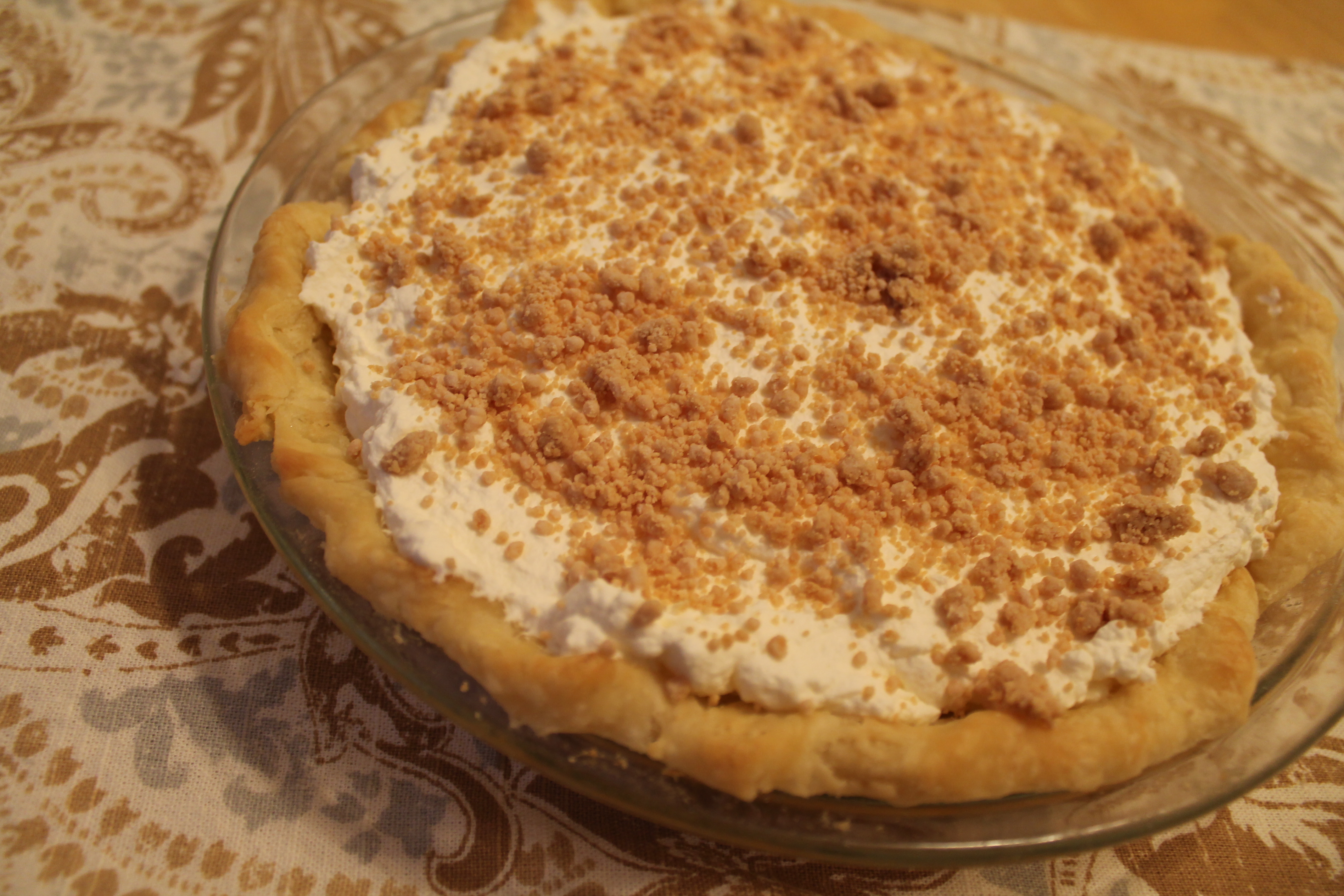 Happy Pie Day!
If you're scratching your head right now and wondering what Pie Day is, just drag yourself back to your high school algebra classes and think, "3.14."
I love any day whose chief celebration involves making dessert. This year for Pie Day, I bring you a simple treat that only takes about 20 minutes of hands-on time. That means if you forgot it was Pie Day, but you want to mark the occasion in style, you still have plenty of time to make it happen!

As with almost any pie, the most challenging part is the crust. And as always, I highly encourage you to make your own instead of undermining the deliciousness of your dessert with a store-bought crust!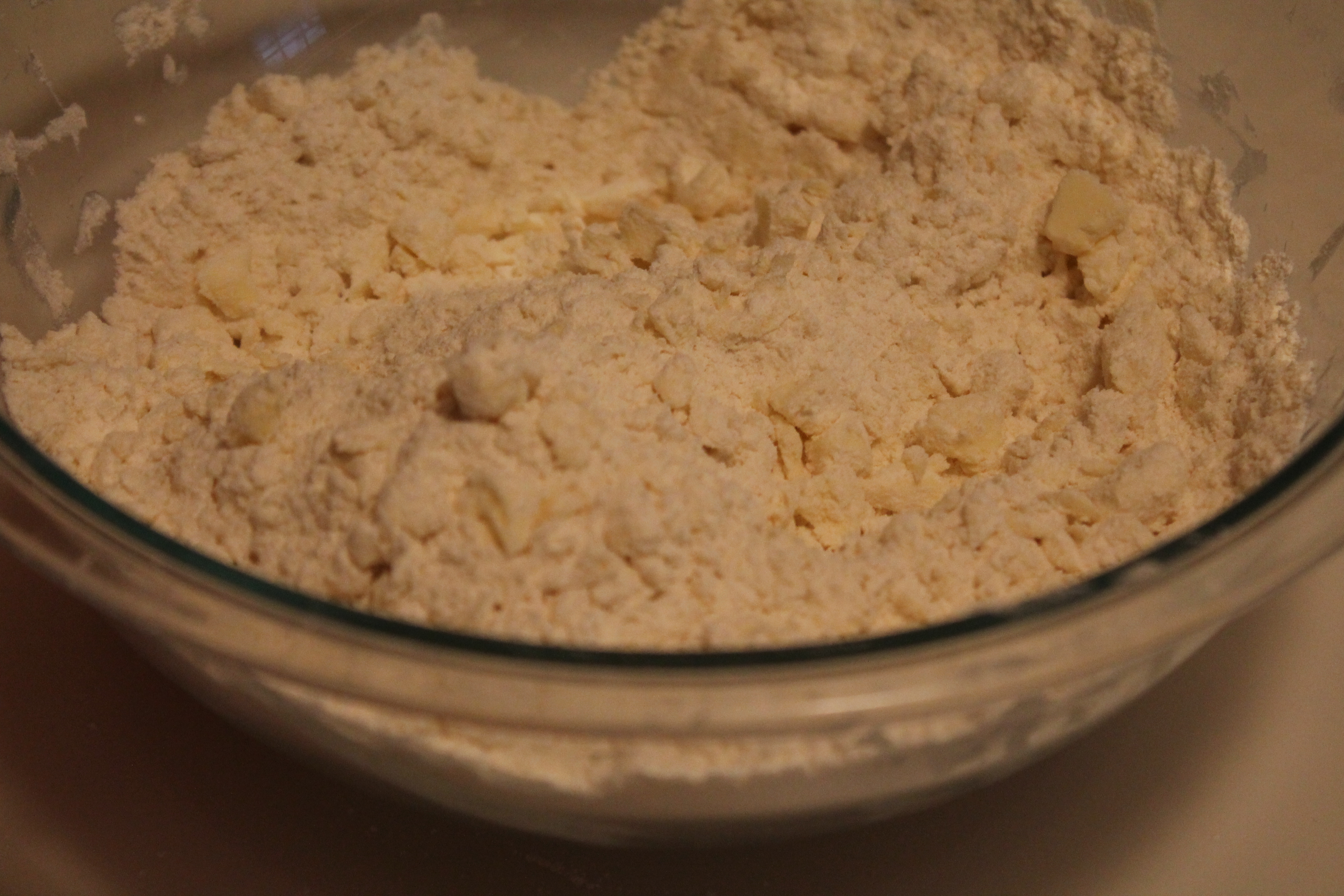 Simply whisk together flour and salt to aerate slightly. Then cut in cold butter using a pastry cutter. You could also use knives or forks if you don't have a pastry cutter. Or, if you really want to take the easy way, you can do the whole thing in your food processor—just don't be too heavy-handed with the pulse button! Leave your butter in somewhat uneven, pea-size chunks. Grab a fork and toss in about ¾ cup very cold water, a little at a time, until very large clumps form. Using your hands, knead the dough a few times in the bowl to incorporate any last bits of flour.
Divide the dough into two chunks and form each into a small disk. Wrap in plastic wrap and store in the fridge for at least 30 minutes.This will make the dough easier to roll (i.e., I find it easier to roll when it is less sticky…this does mean it is a bit firmer, but it also means you have to spend less time re-flouring every surface it touches in order to prevent it sticking to the counter/rolling pin).
You may have noticed that you just made two crusts! Hooray! Now you can make another delicious pie in a day or two after you devour the first one.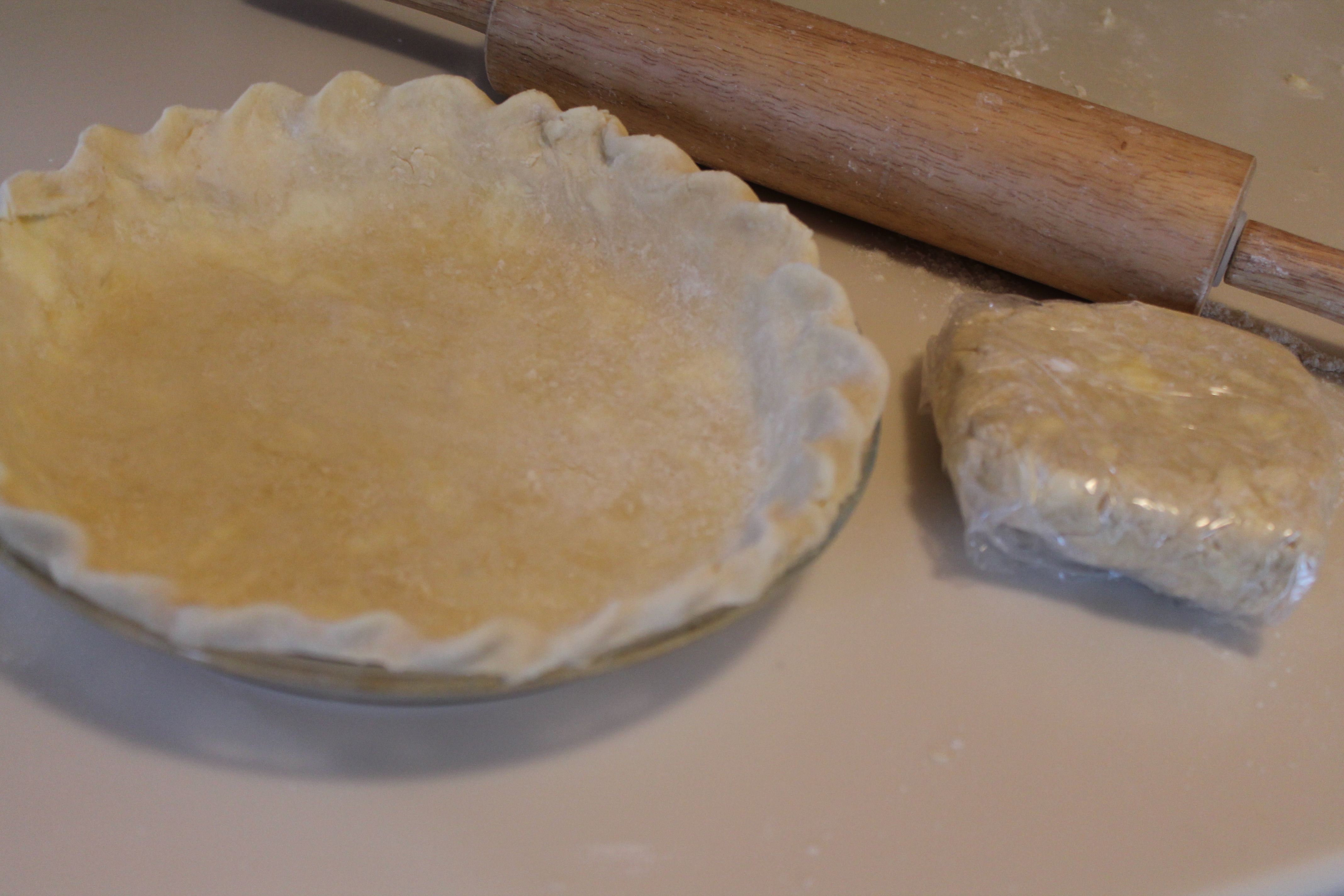 When the dough is chilled, roll it out to about ¼″ thickness. Carefully place your pie plate face down on the dough and cut a large circle around it, leaving about a 1″ edge around the pie plate. Carefully pick up the pie plate, trying not to dent or rip the crust too much. Fold the pie crust in half and then in half again. Transfer to the pie plate and unfold, arranging in the center. Tuck the long edges under and crimp the edges in whatever fashion you'd like. I use my index finger and thumb and do a sort of angled pinching action, but that took a few years of practice…and my crusts are still usually the ugly ones at the table once they've baked.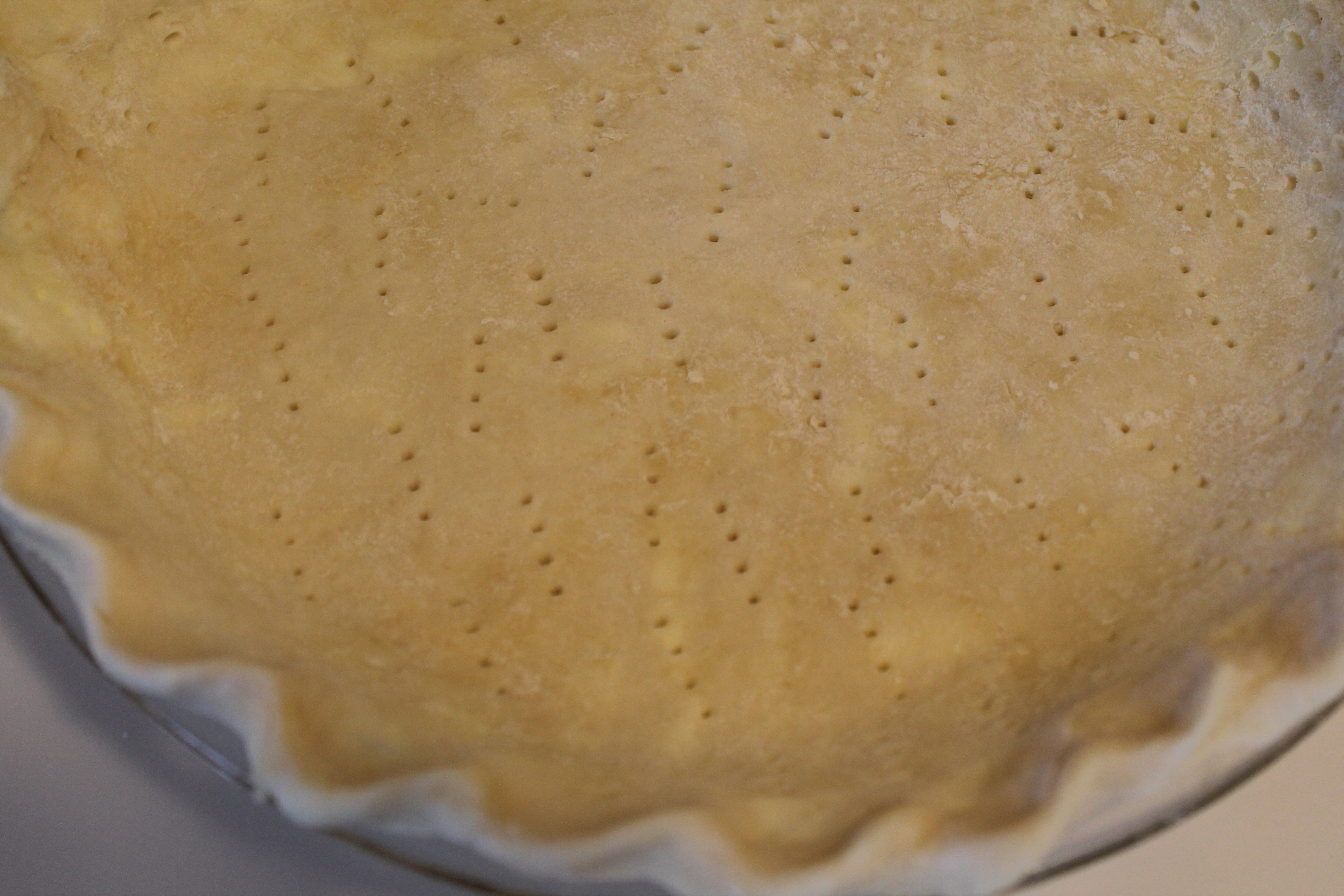 Prick the crust vigorously all over. You will be baking it without a filling, so this will help it to retain most of its shape. If you have pie weights, that would also help…but as you will soon see, I do not have pie weights, and my crust shrank a bit on one side. Oh well, once you fill it, no one cares!
Bake the crust for 12 minutes at 425°, until lightly golden and flaky. Let it cool to room temperature before you fill it.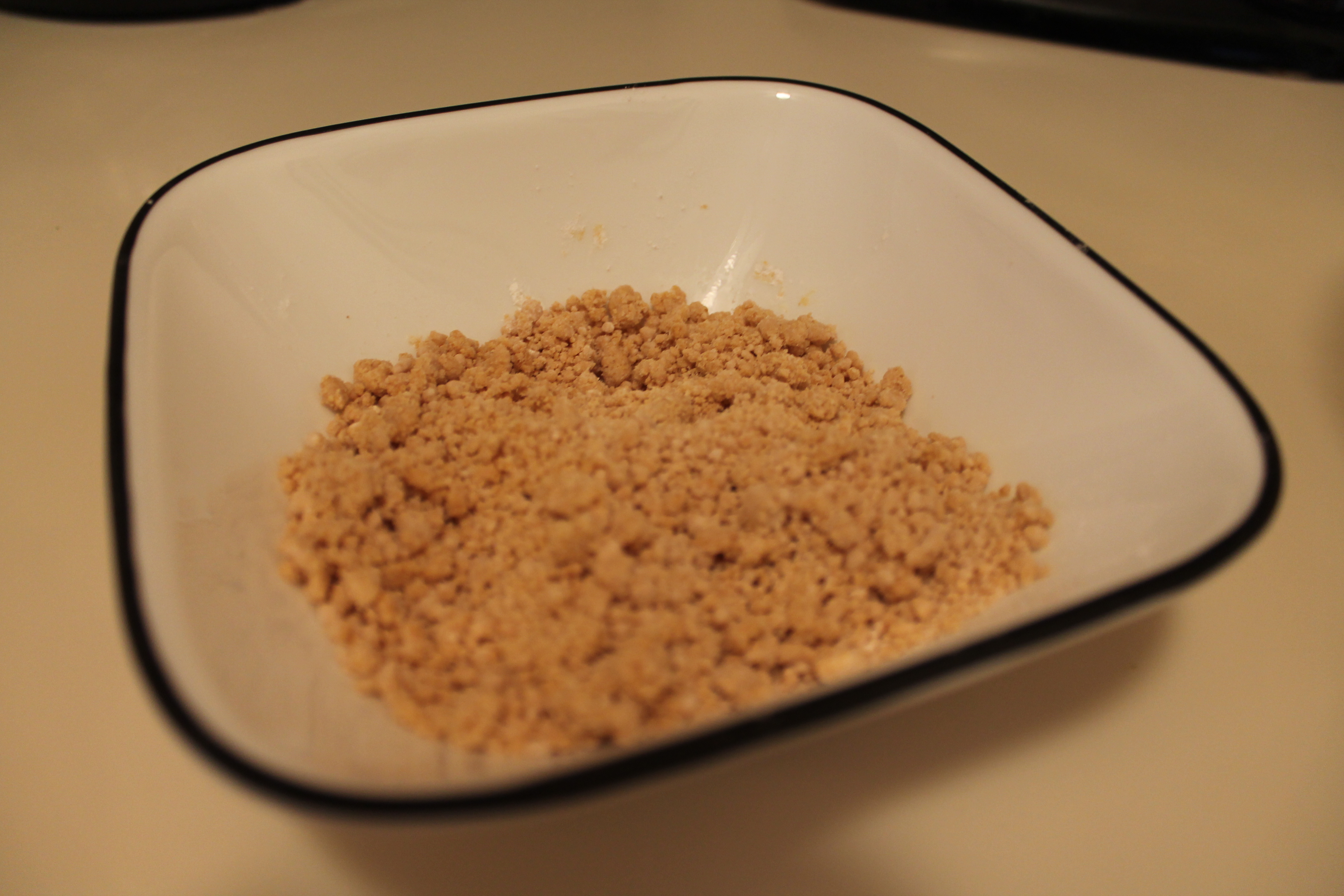 There are three parts to the filling of this pie, and each one takes about 2 minutes to make. Start by making your peanut butter crumbles. Get 3 tbsp. creamy peanut butter and using first a spoon and then your hands, mix it with 6 tbsp. confectioner's sugar. (If you are using low-fat peanut butter, you will need much less sugar; if you use all-natural peanut butter, you will need more sugar. The goal is to let the sugar absorb all the oils until little crumbles form.)
Next, start your cream whipping. Just pour the cream into a mixer bowl (ideally, you are using a stand mixer, so you could make the pudding while the cream whips…but at least an electric hand mixer would be good here!) and whisk until soft peaks form, then add a spoonful of sugar and whip until very stiff.
While the cream whips, make your pudding. I use just a half box of instant French vanilla pudding…my mom uses a whole box, but I think the pie gets a little too tall with so much filling. Plus, I love the luxurious hint of silky creaminess of the pudding when there's just a little of it. Anyway, whisk the pudding mix and the milk for 2 minutes, then let it sit for a few minutes to thicken.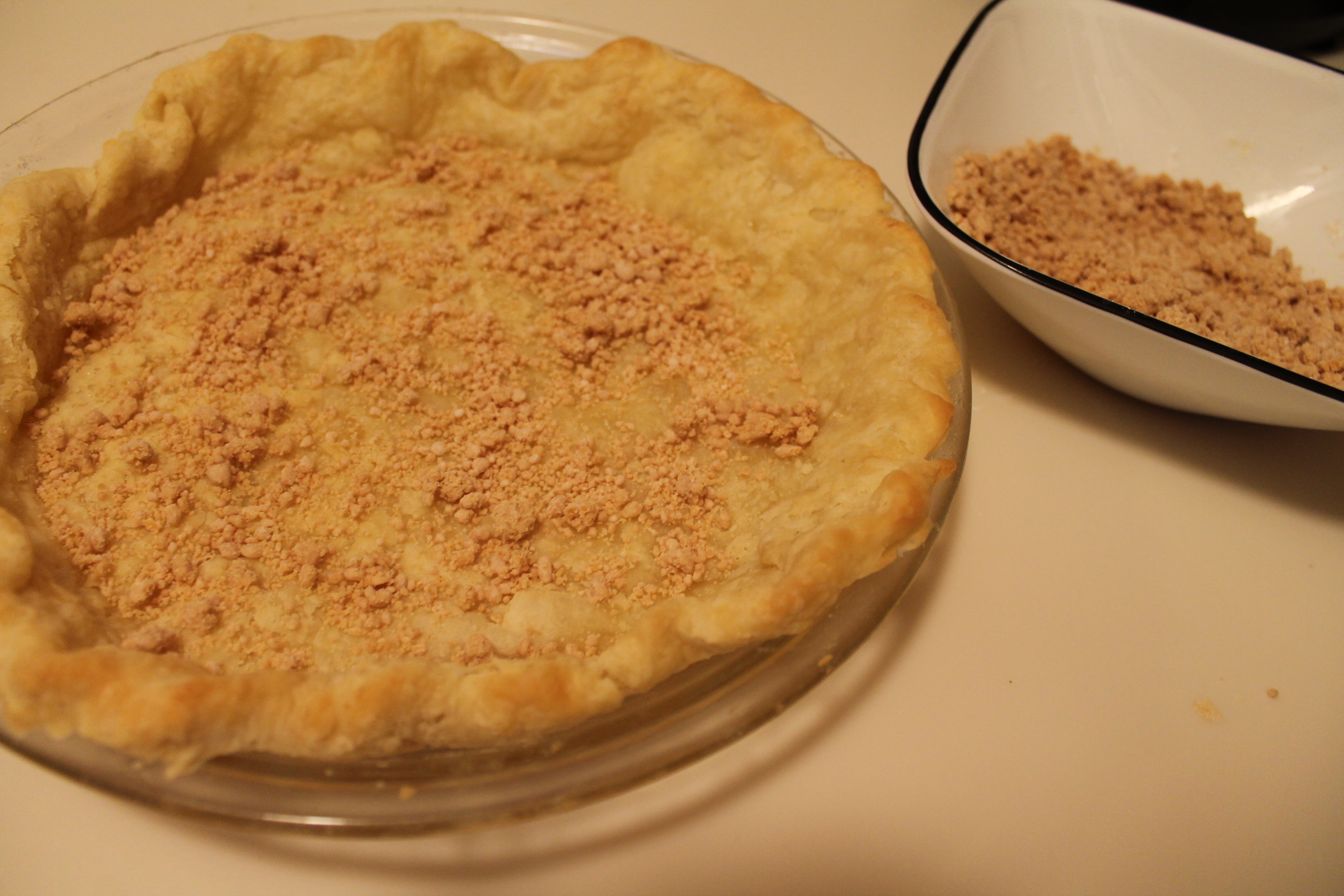 Now we are ready to assemble our pie! Cover the crust with about one third of the peanut butter crumbles.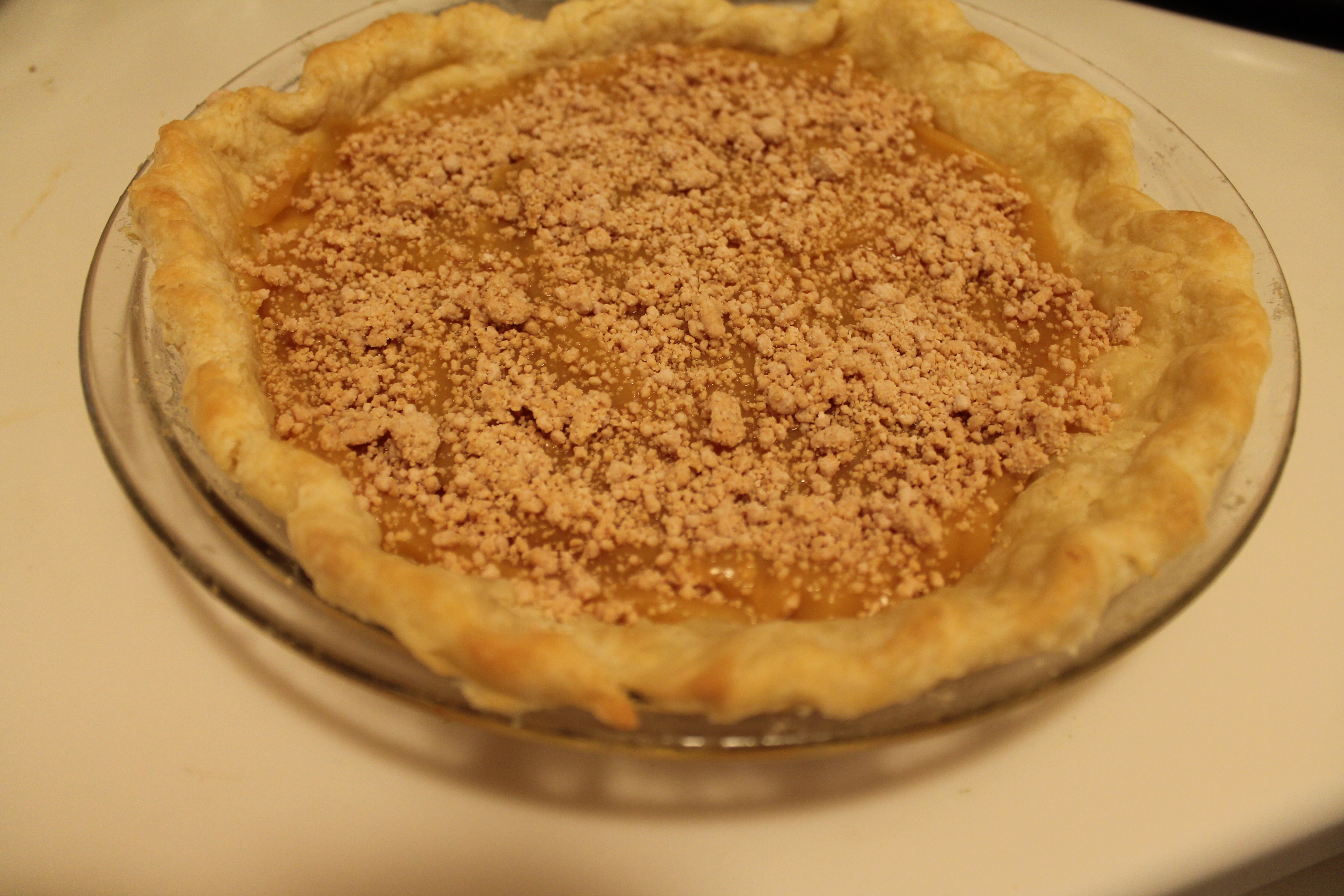 Top with all of the pudding. Add half of the remaining peanut butter crumbles.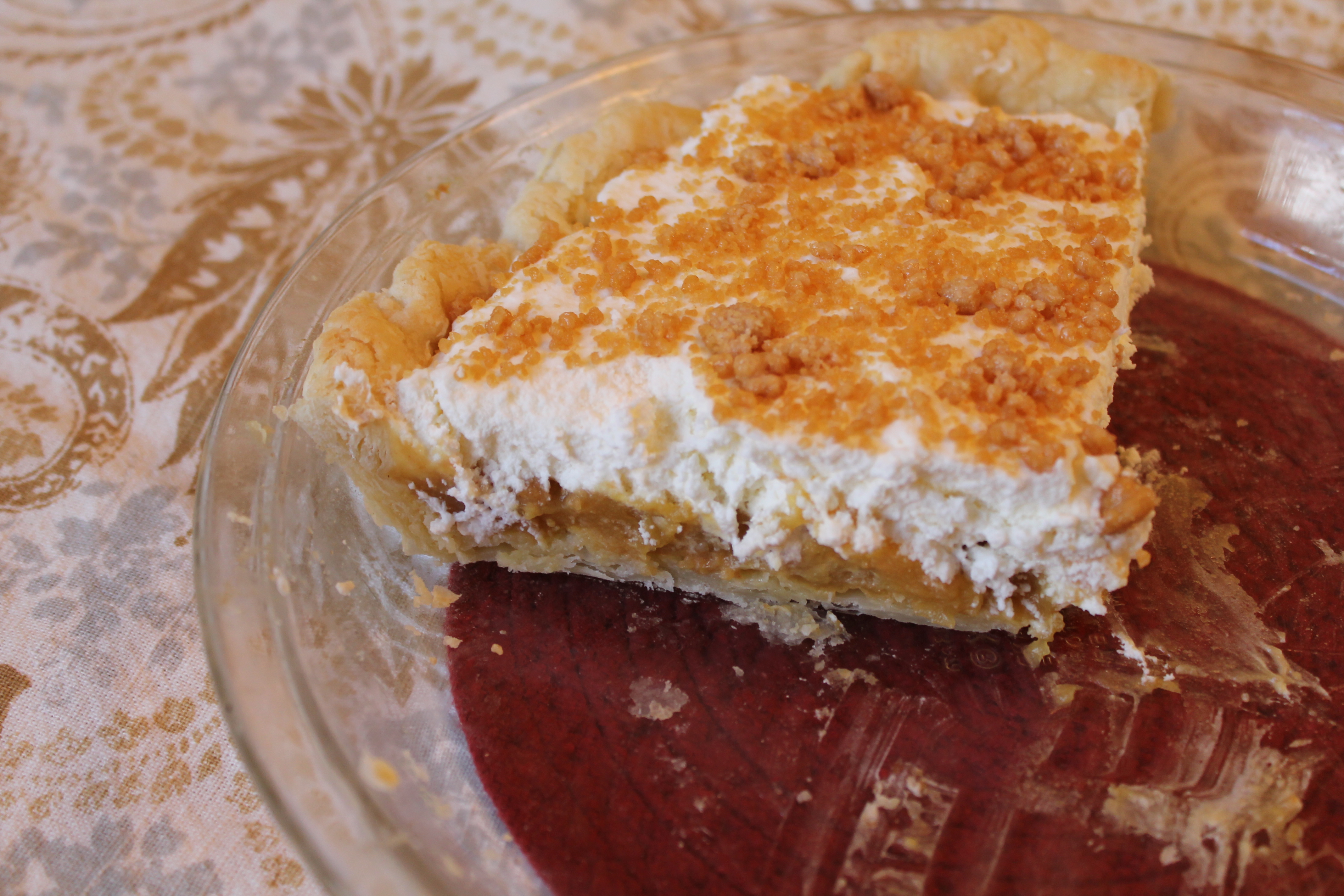 Top with whipped cream and—you guessed it—more peanut butter crumbles. And taadaa! Easy as pie.
Peanut Butter Cream Pie
from my mom
serves 12–16
Ingredients:
1 9″ pie crust, baked
3 tbsp. creamy peanut butter
6 tbsp. confectioner's sugar
½ package French vanilla Jello pudding
1 cup milk
1 cup heavy cream
1 tbsp. sugar
Directions:
Make peanut butter crumbles out of the peanut butter and confectioner's sugar. Distribute ⅓ of the crumbles across the bottom of the pie crust.
Whisk together pudding and milk until set. Beat together cream and sugar until stiff.
Spread the cooled pudding over the peanut butter crumbles, followed by a layer of crumbles. Spread the whipped cream over the pudding. Sprinkle top of pie with remaining peanut butter crumbles.
*Note: If using low-fat peanut butter, decrease confectioner's sugar to 3 tbsp.
Enjoy!