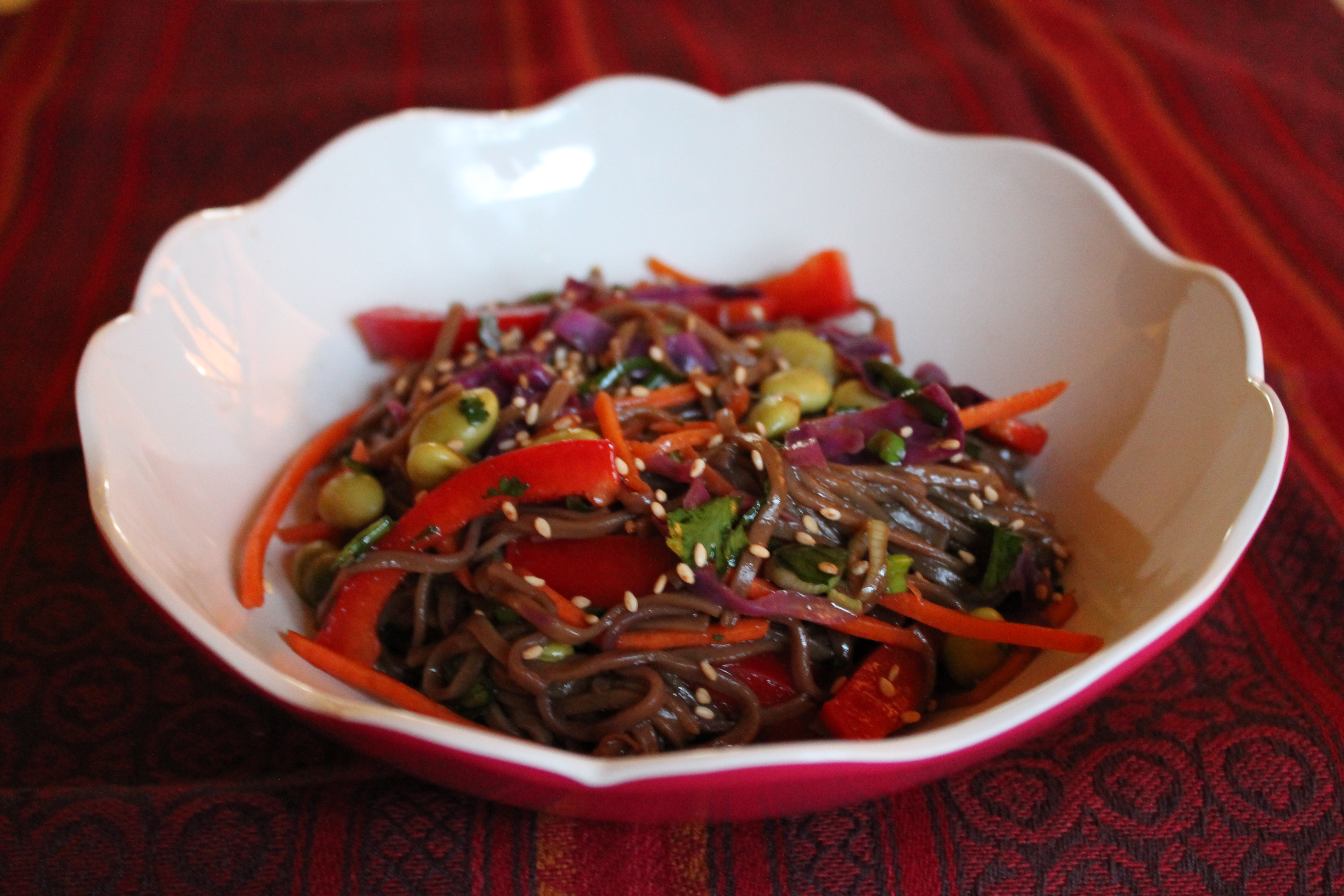 In our house, this noodle dish represents the best of all worlds. I like it because it is full of whole grains and vegetables. Dave likes it because it's tossed in an Asian style sauce.
I can't believe I haven't posted about this sooner!
This meal is a snap to put together. In about the time it takes to boil some buckwheat noodles, you can chop up your veggies and stir together a sauce. Toss them all together and you will have an amazing dinner!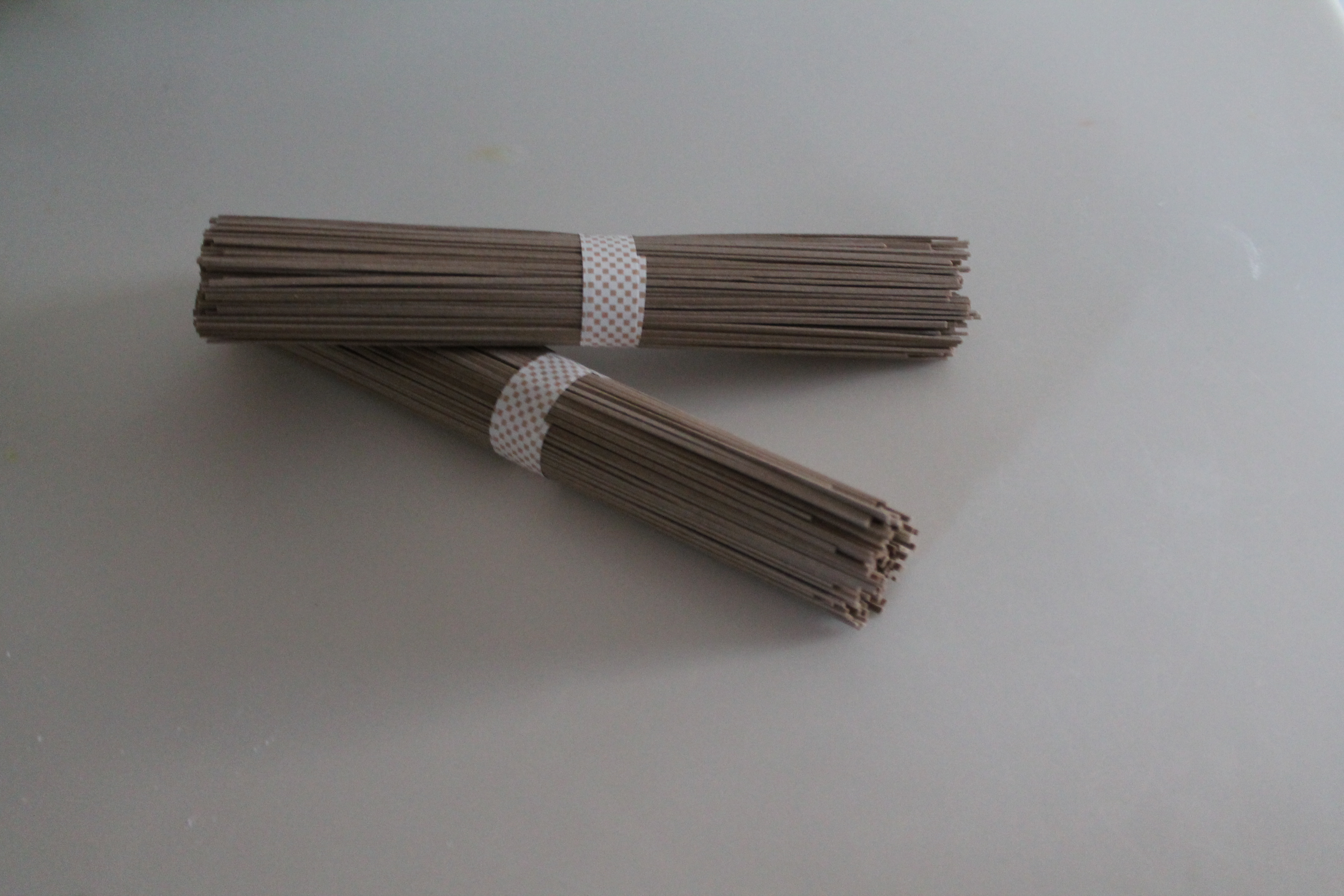 Soba noodles are available in most grocery stores these days. I prefer to buy mine in bulk at the Asian market down the street, because it is about 10 times cheaper. Also there are a lot more varieties to choose from! These are plain and simple buckwheat noodles, but you can find soba noodles with yams, green tea, and many other flavors added in.
Soba noodles cook more quickly than regular flour pasta. Boil a pot of water and then cook the noodles, stirring a few times to prevent clumping, for about 5 minutes.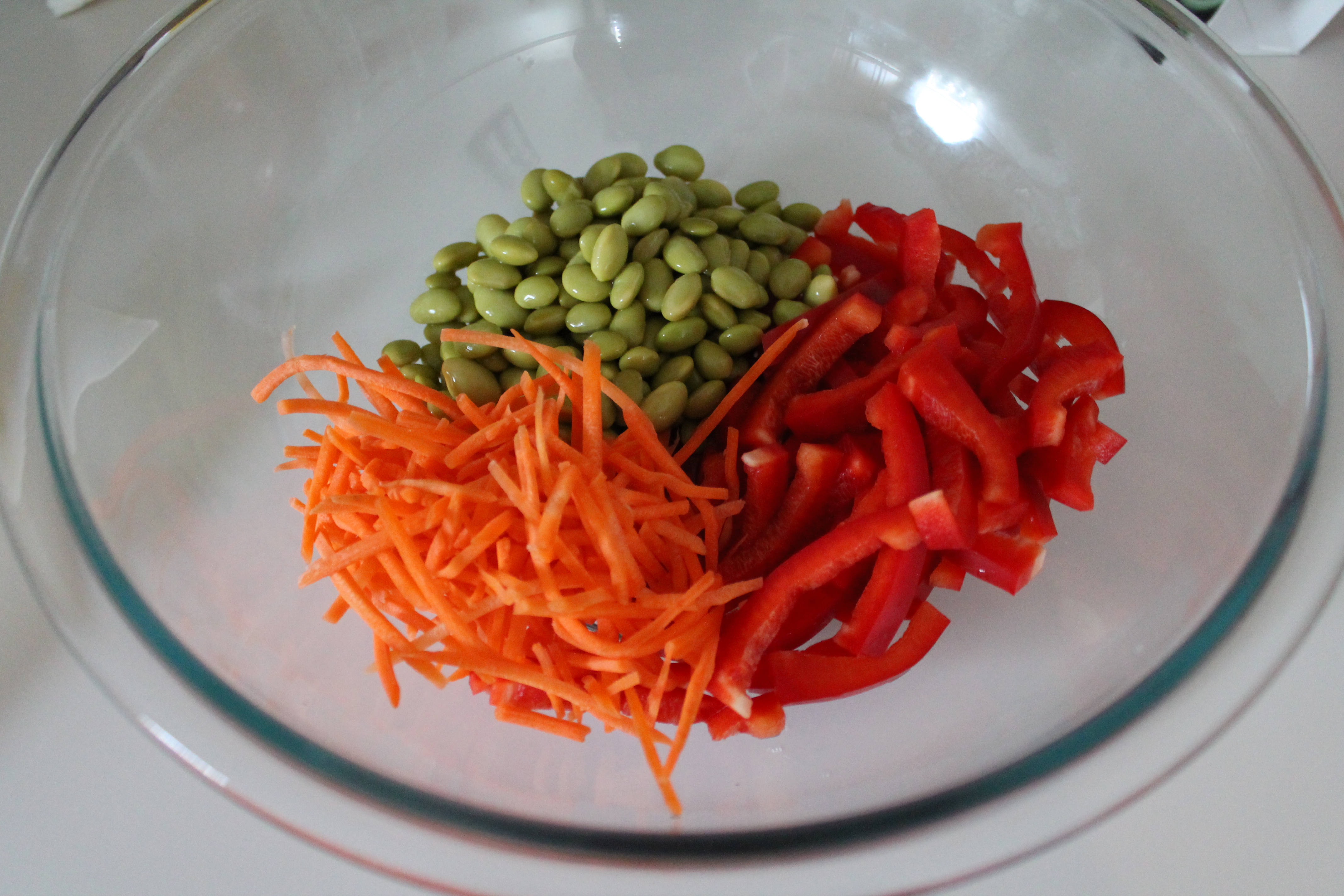 Meanwhile, chop up your produce. Julienne the red pepper, slice the scallions, chop the cilantro, and thinly slice up some cabbage. A note here: You could shred the cabbage in your food processor, but I find that this makes much too small of pieces. I like to just cut it into small strips.
Toss the pepper, matchstick carrots, and edamame into a very large bowl.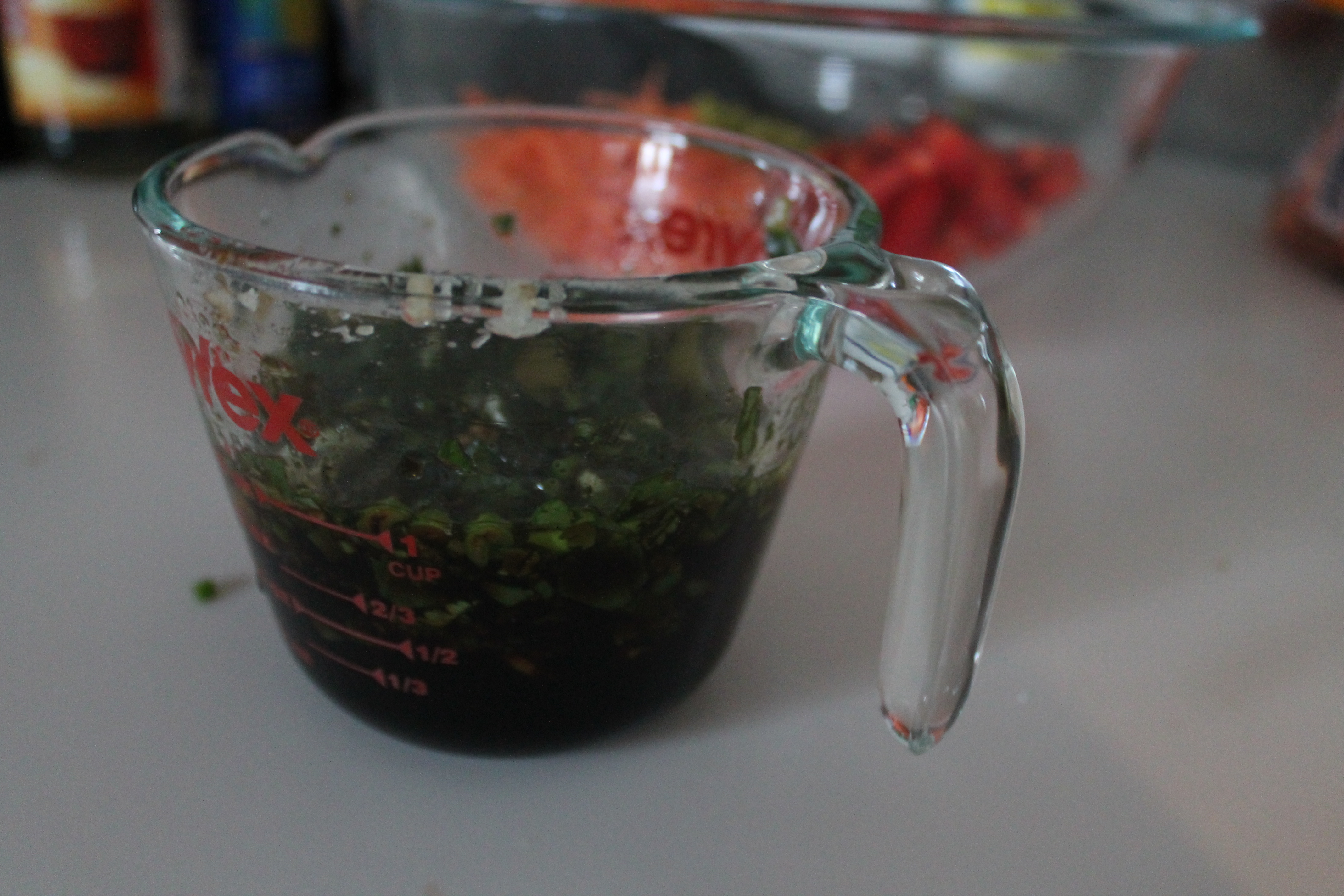 In a 2-cup glass measuring cup, combine the scallions, minced garlic, soy sauce, sesame oil, canola oil, rice vinegar, and cilantro. Whisk everything together.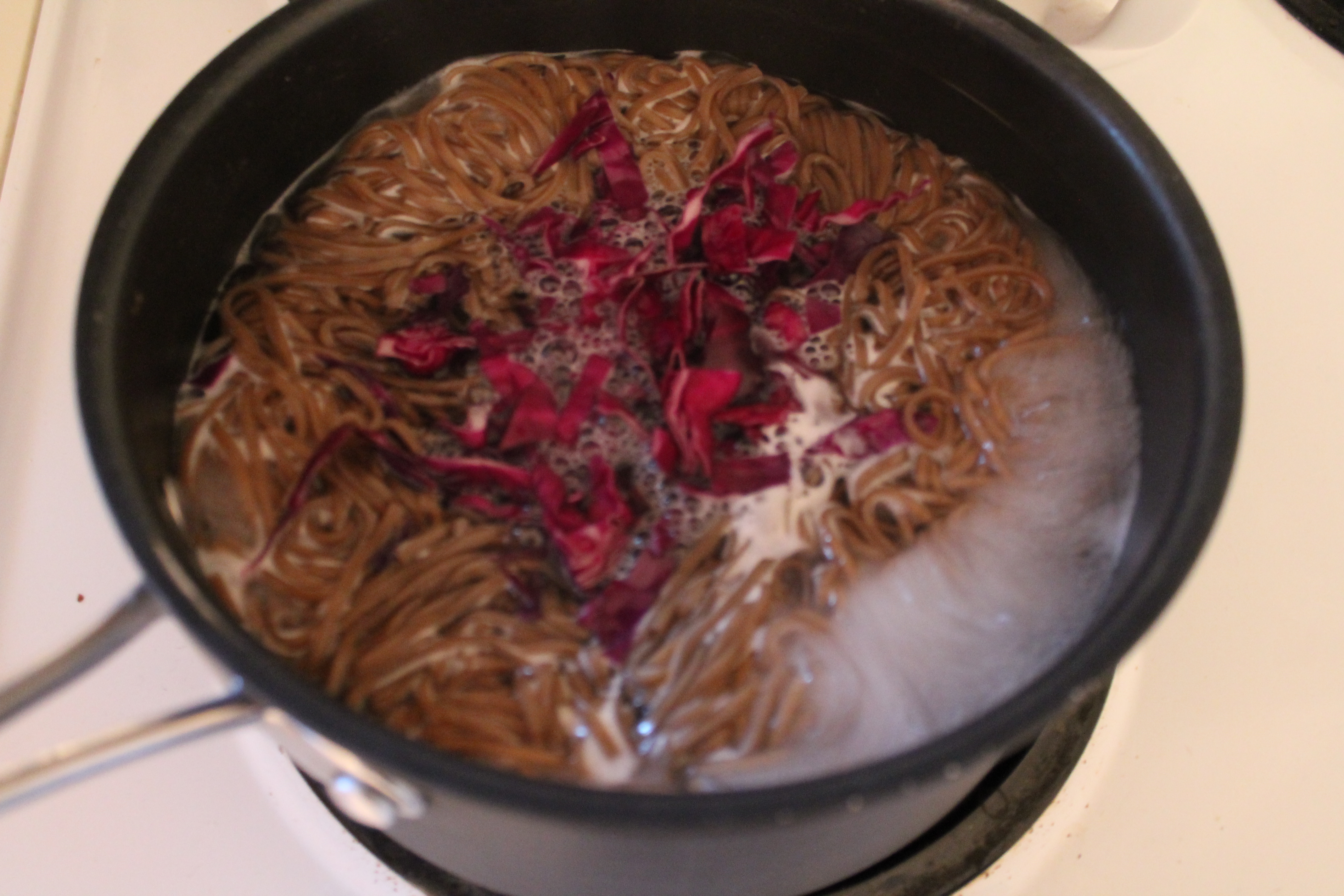 When there is about 1 minute left on the soba noodles, add in the cabbage. Cook for the last minute, then drain into a colander.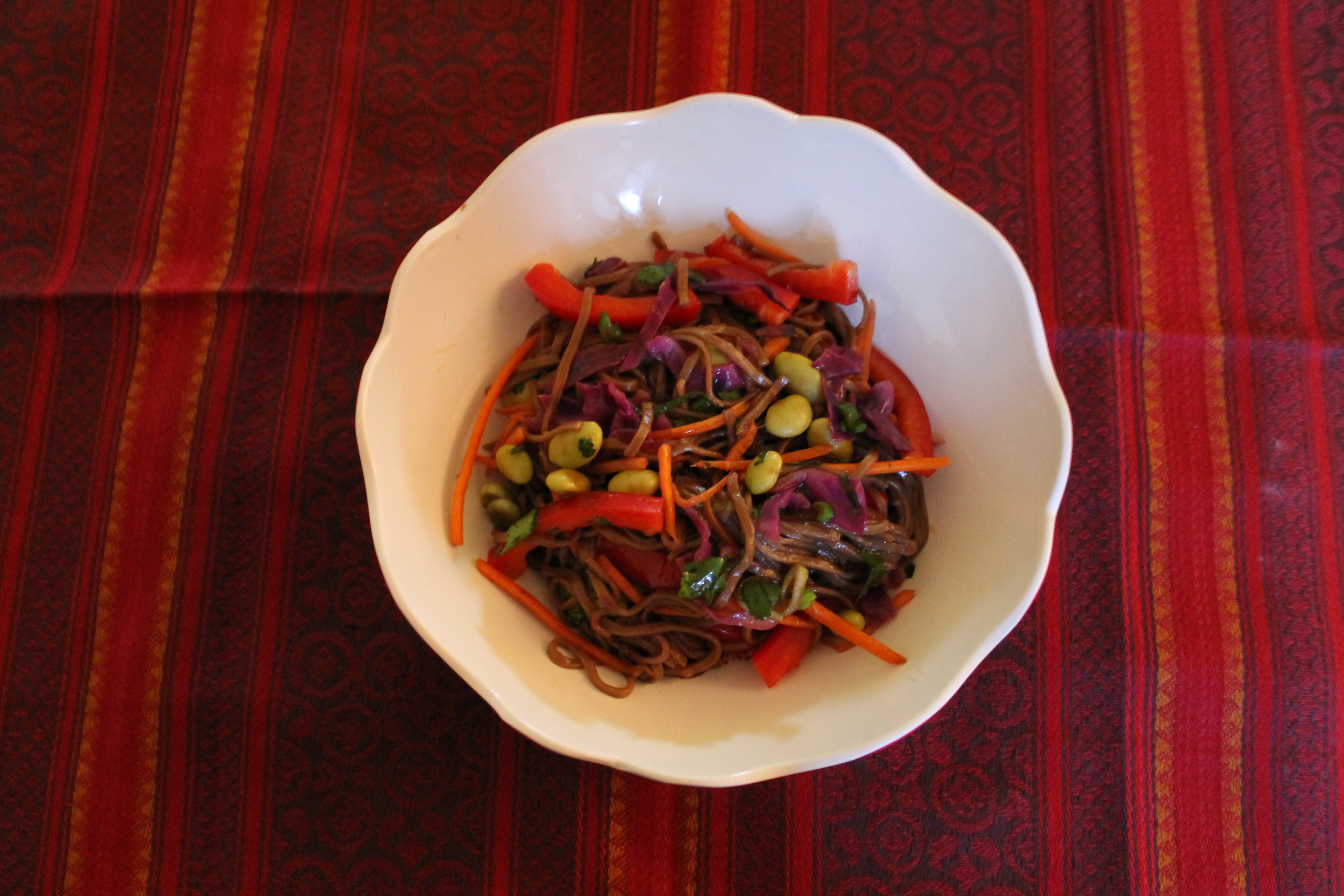 Toss the soba noodles and cabbage with the veggies and the sauce.
Sprinkle with toasted sesame seeds to serve.
Sesame Soba Noodles
lightly adapted from Annie's Eats
serves 6
Ingredients:
½ cup low-sodium soy sauce
2 tbsp. sesame oil
2 tbsp. rice vinegar
2 tbsp. vegetable oil
2 cloves garlic, minced
4 scallions, chopped
¼ cup chopped fresh cilantro
1 lb. soba noodles
¾ cup roughly shredded red cabbage
1 red bell pepper, julienned and halved
⅔ cup shredded carrots
1½ cups shelled, cooked edamame
sesame seeds
Directions:
In a small bowl, combine soy sauce, sesame oil, rice vinegar, vegetable oil, garlic, scallions, and cilantro. Whisk to combine. Set aside.
Boil noodles according to package directions. In the last minute, add the cabbage to the boiling water to blanch.
Drain the noodles and rinse with cold water. Transfer to a very large bowl with the cabbage, bell pepper, carrots, and edamame. Toss to distribute vegetables as evenly as possible.
Pour the sauce over the noodles and toss again to coat.
When ready to serve, sprinkle sesame seeds over plated noodles.
Enjoy!
One year ago: Trail Mix Cookies
Two years ago: Zucchini Ricotta Galette