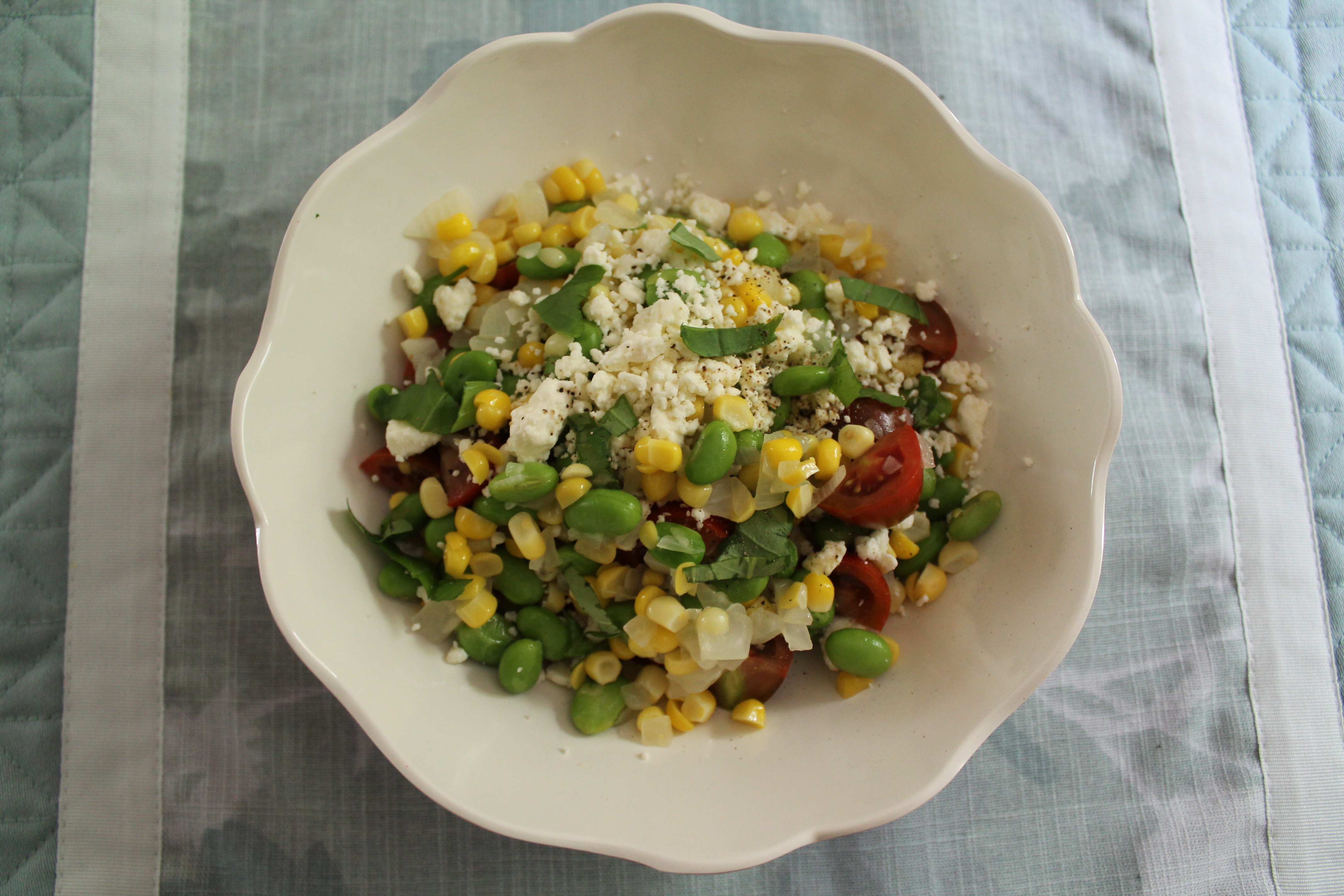 You hear it, don't you?… That little cartoon cat voice yelling, "Thufferin' thuccotash!"
Honestly, I always thought succotash was a nonsense word made up by Sylvester.
But, as it turns out, it is a much misaligned but intensely delicious corn and bean salad!
When corn came into season, I decided pretty quickly that I needed to give succotash a try. But much to my dismay, most of the highly rated recipes around the web are so because they include bacon! Boo. So how excited was I when Sarah of Well Dined tracked down a great recipe that highlights the fresh veggies with feta and basil? Yum!
Seriously, you have to make this! Corn is beautiful and sweet this summer, cherry tomatoes and basil are abounding in farmer's markets and grocery stores everywhere…You will be sneaking spoonfuls of this from the stovetop, the serving bowl, and the fridge.
Cook your frozen beans. I recommend using the microwave, because it will be faster; however, you want to stay just shy of the time listed on the package directions, because you will be heating them through again later, and you want them to keep a bit of their bite.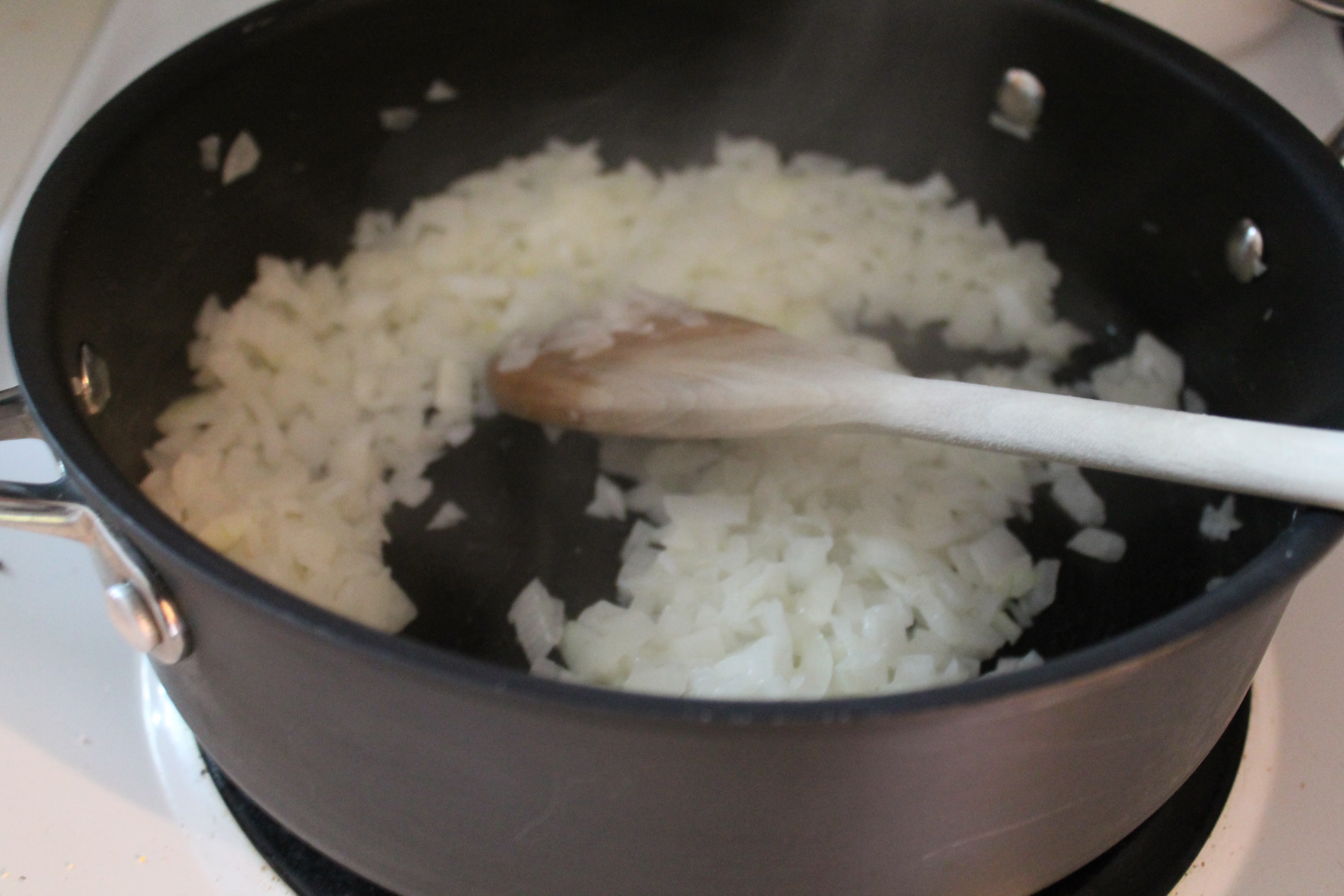 Chop up an onion and cook in in butter over medium heat, until it becomes translucent.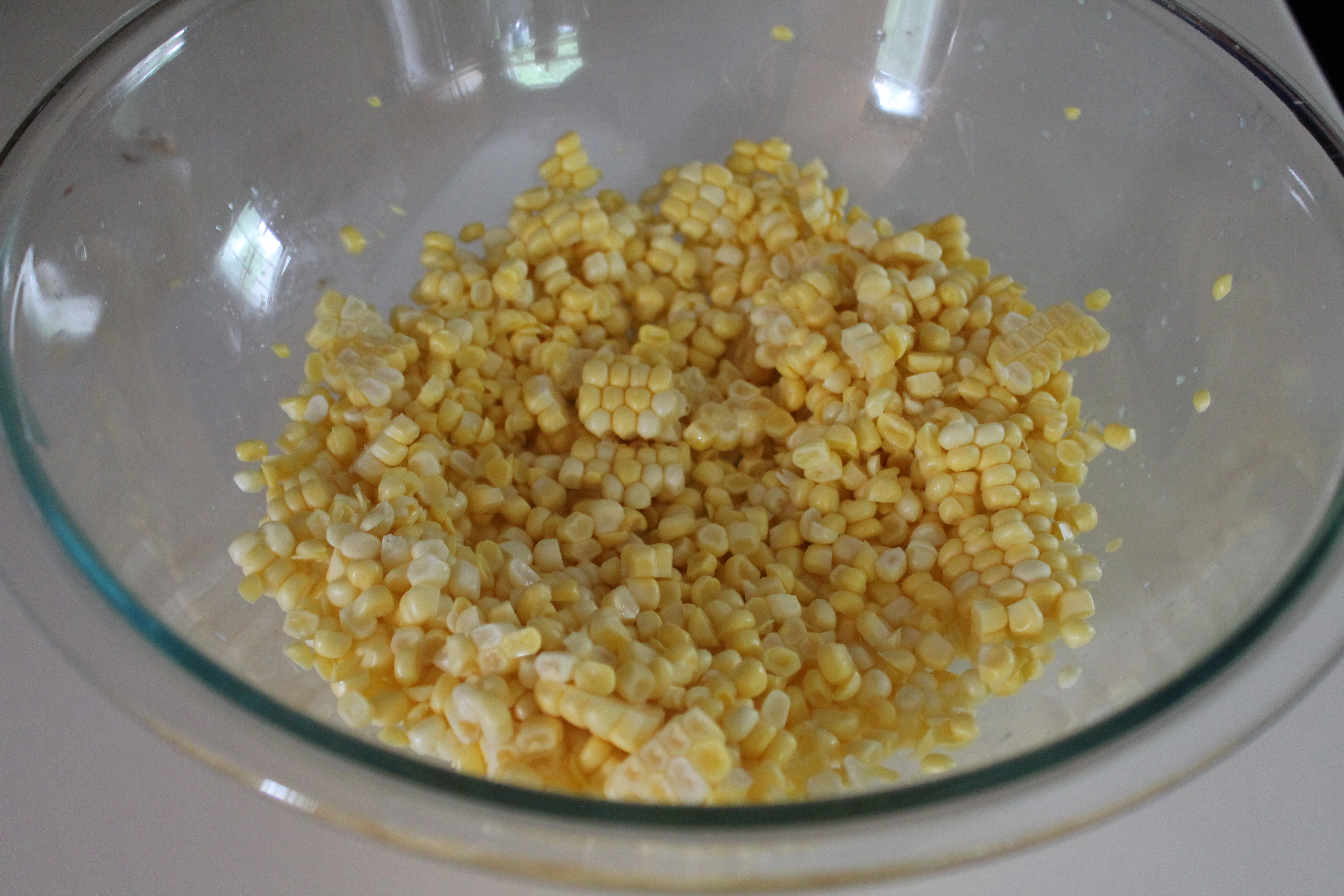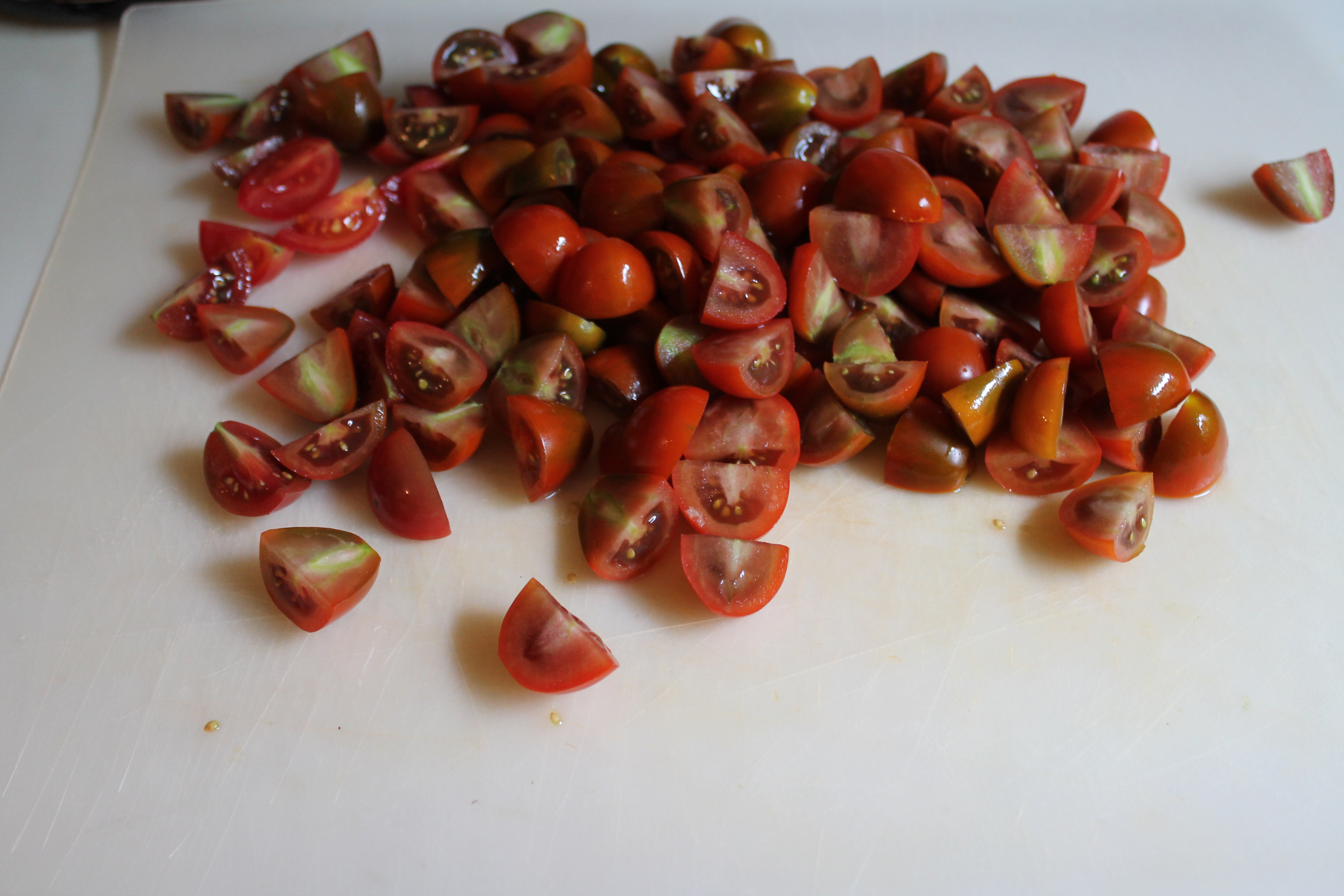 Meanwhile, shear all the corn off the cobs and slice up your tomatoes.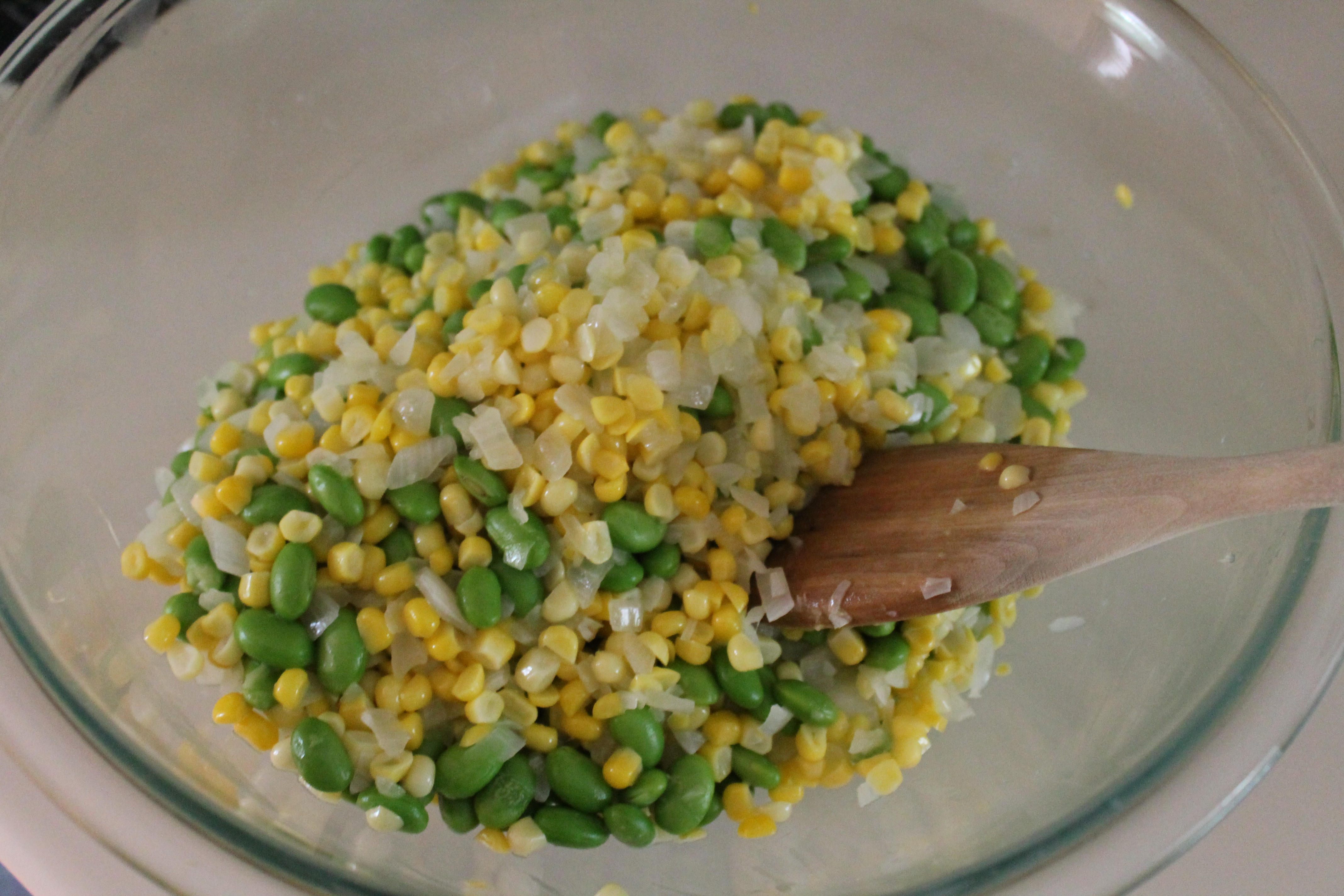 When the onion is ready, add the corn and the frozen beans to the pot. We used edamame, because lima beans can sometimes have a very hard skin after they are frozen. But feel free to use lima beans or even fava beans if you prefer them!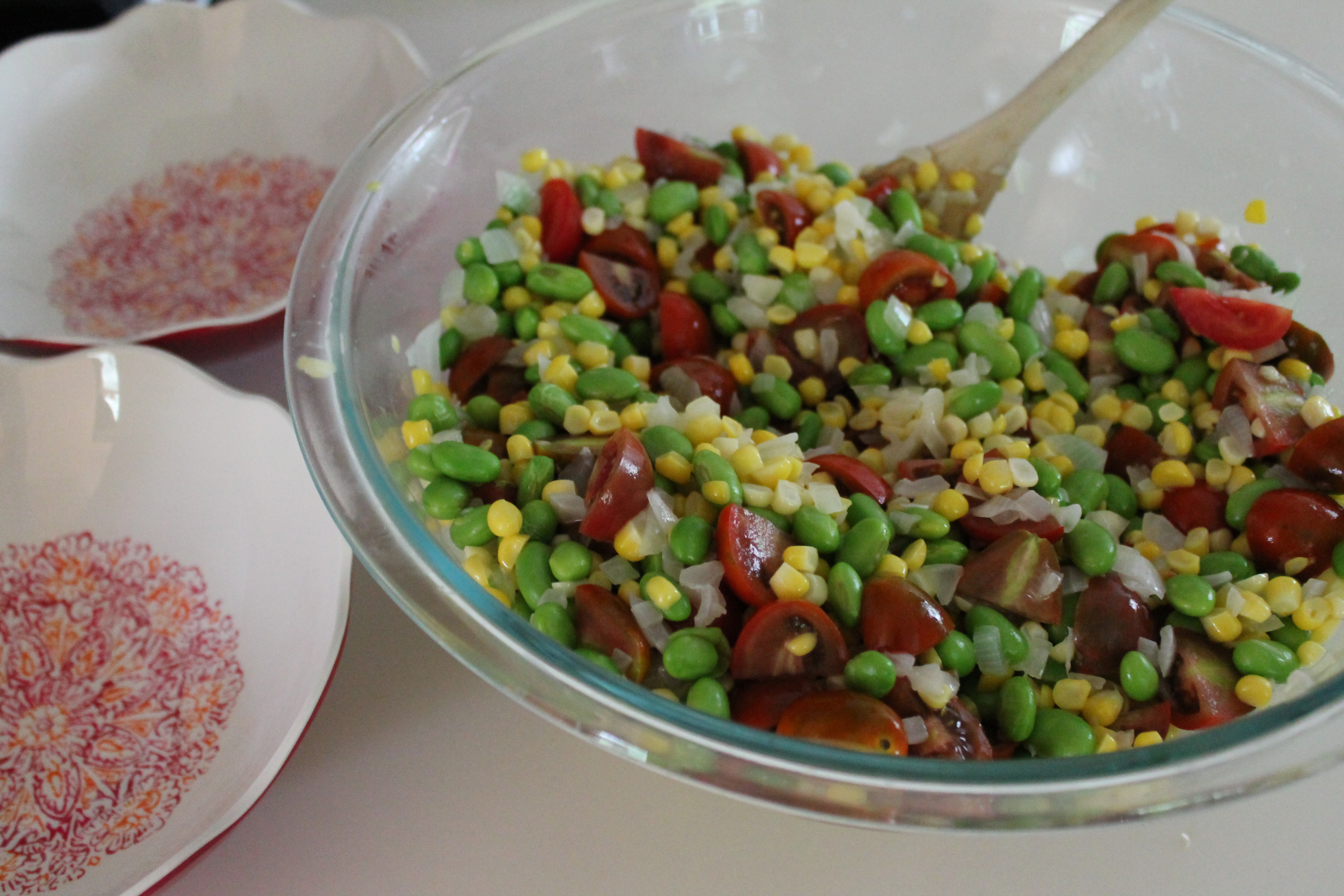 Heat the veggies for 1 minute, so that they will be warm but not mushy, then dump them out into a large bowl. Toss with the tomatoes and lemon juice.
When you are ready to serve, sprinkle each bowl with feta, fresh grated black pepper, and slivered basil. Serve with some warm buttered toast.
Succotash
from The Kitchn
serves 4–6
Ingredients:
2 tbsp. unsalted butter
1 sweet onion, chopped (about 1 cup)
pinch of salt
1½ cups frozen edamame or lima beans, cooked al dente
6 ears of corn
1 pint cherry tomatoes, halved
1 tbsp. lemon juice (about ½ lemon)
½ cup feta cheese, crumbled
¼ cup basil, slivered
Flaky sea salt and freshly ground black pepper, to taste
Directions:
In a medium saucepan, melt the butter. Add the chopped onion and a small pinch of salt and cook, stirring, over medium heat until translucent and tender, about 5 minutes.
Meanwhile, slice the kernels off the ears of corn.
Lower the heat on the onions and add the corn and cooked beans. Stir over medium-low heat for about 1 minute, until tender but still crisp.
Transfer corn mixture to a large bowl and toss with the tomatoes and lemon juice.
Serve immediately with the feta, basil, and black pepper sprinkled on top.
Enjoy!
One year ago: Fleur de Sel Caramel Chocolate Cookies
Two years ago: Ricotta Muffins