I got several big, beautiful tomatoes last week in my CSA box…but then I went out of town before I could use them! I was afraid they would go bad sitting on my counter, and I would return home to a sticky, moldy mess—plus no tomatoes!—so I stuck them in the fridge.
FYI: Don't put tomatoes in the fridge if you can help it. It makes them mealy and steals away their big, fresh flavor.
When I got home, I figured the best way to use the refrigerated tomatoes was to cook them up. And lo and behold, I had a basil plant going wild on the window sill, and baby spinach in the fridge. So I stuffed my tomatoes with pesto, topped the pesto with an egg, and made a delicious meal in spite of my refrigerator faux pas! (Don't they kind of look like crazy cartoon eyes?)
I didn't do this, but Dave and I agreed that next time we have stuffed tomatoes, we should serve them over pasta with some extra parmesan. The tomatoes will release some liquid when you cut them open, and it's such a shame to waste any saucy goodness that spills out of them! Why not soak it up with some penne or spaghetti?
Honestly, this meal comes together in about 10 minutes (er…plus baking time), so it is perfect if you need to pull dinner together in a hurry.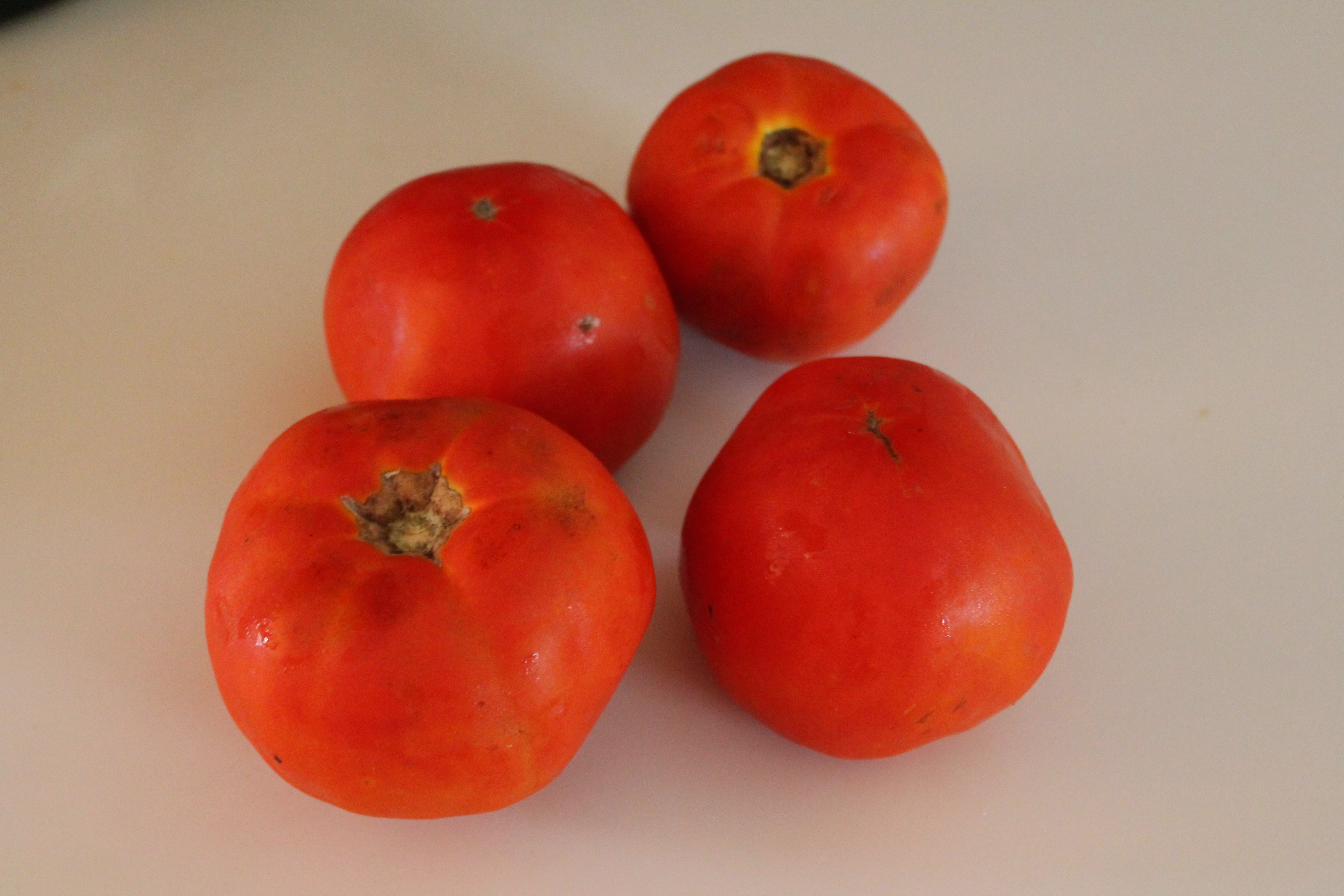 You want to pick out your mediumest large tomatoes (yes, I did just make up a word), slightly larger than your fist. If you go too large, your stuffing will not fill them completely. Start by slicing the tops off of the tomatoes and scooping out the pulp and seeds with a spoon. You can discard the tomato guts or save them for making a pasta sauce later—up to you!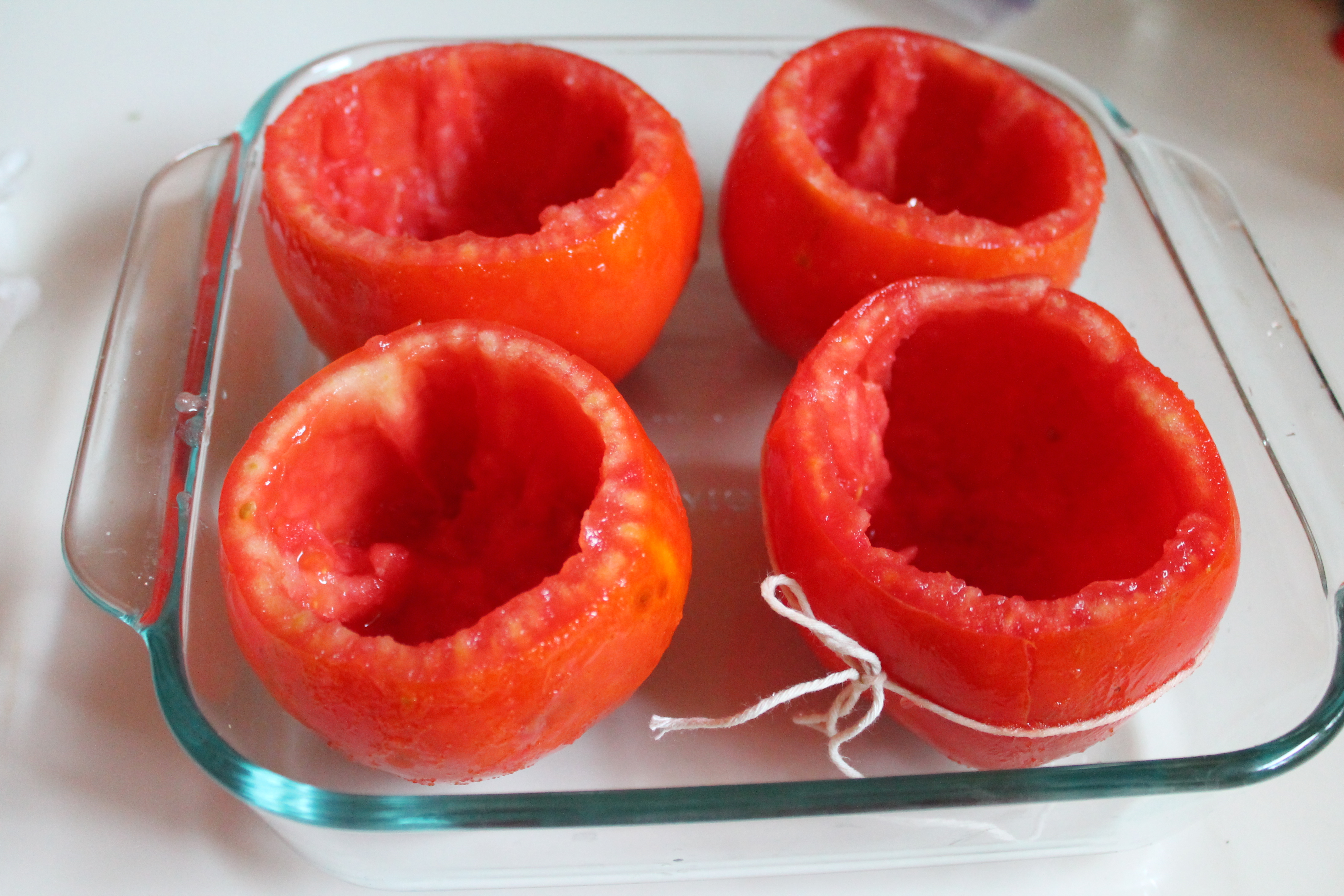 Don't worry if you accidentally compromise the structural integrity of your tomato shell. I was a little violent with one of them and it busted in two places…so I just tied it together with a bit of kitchen string, and it held its stuffing just fine!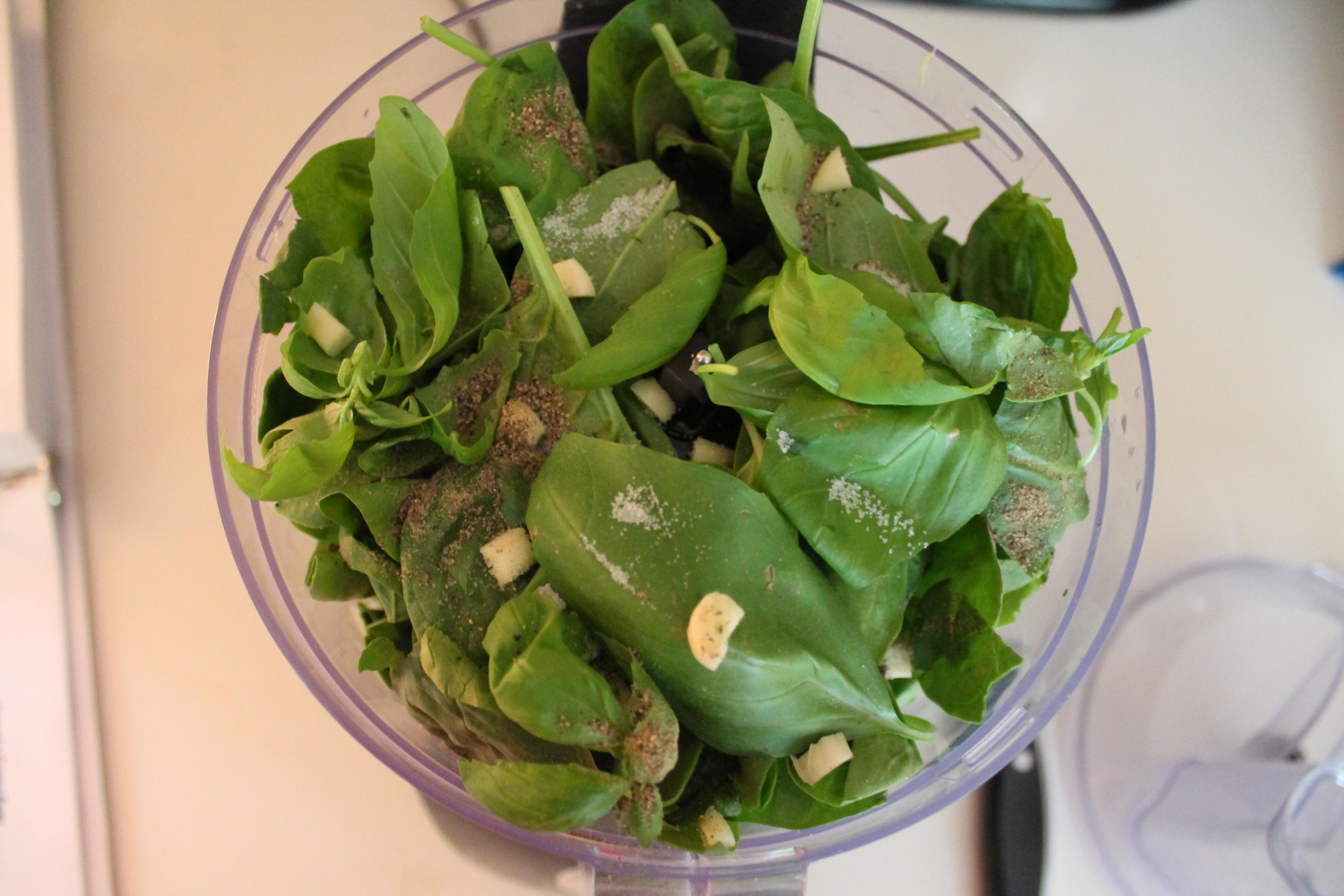 Next, combine your spinach, basil, parmesan, garlic, and seasonings in a food processor. Blend until everything is broken down into tiny, even bits. Drizzle in some olive oil, no more than ¼ cup, and voilà! You have made pesto.
By the way, you could use any combination of leafy green and herb that you like! I made a traditional pesto out of spinach and basil, because I had plenty on hand, but I've also made this dish with romaine and parsley with equally delicious results!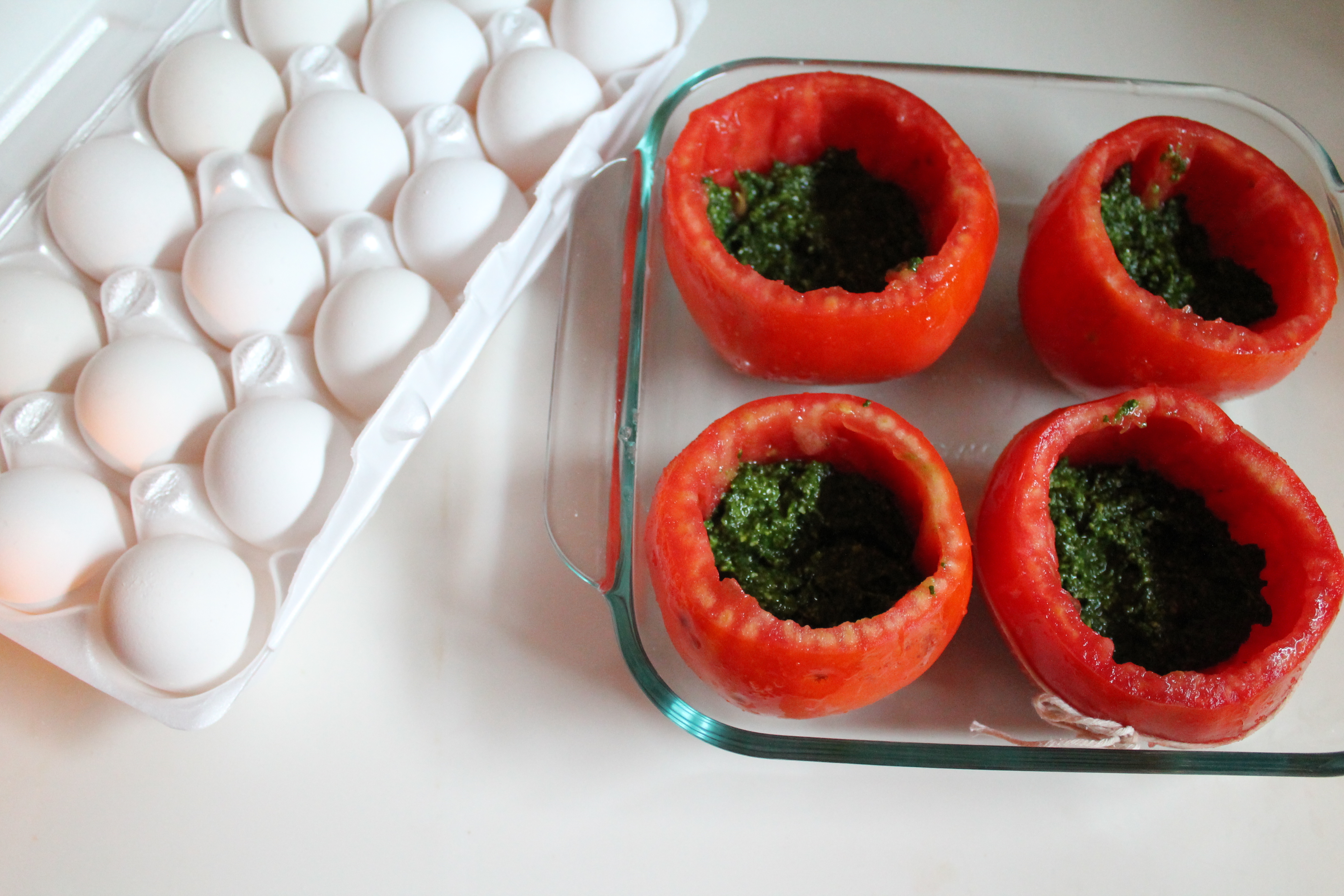 Scoop the pesto equally into the four tomatoes.
Break an egg into each tomato and season the top lightly with salt and pepper. It's good to use room temperature eggs if you like the runny yolk thing, because the white will set up before the yolk cooks through. But, if you prefer stiff yolks, you can use a cold egg and just increase the baking time by about 5 minutes to cook the entire egg completely. (We are of divided camps in my house: I love runny egg yolks…I could eat them for every meal; Dave prefers his yolks cooked just enough that they don't run, but not enough to dry them out or turn them pale yellow. You do what you like!)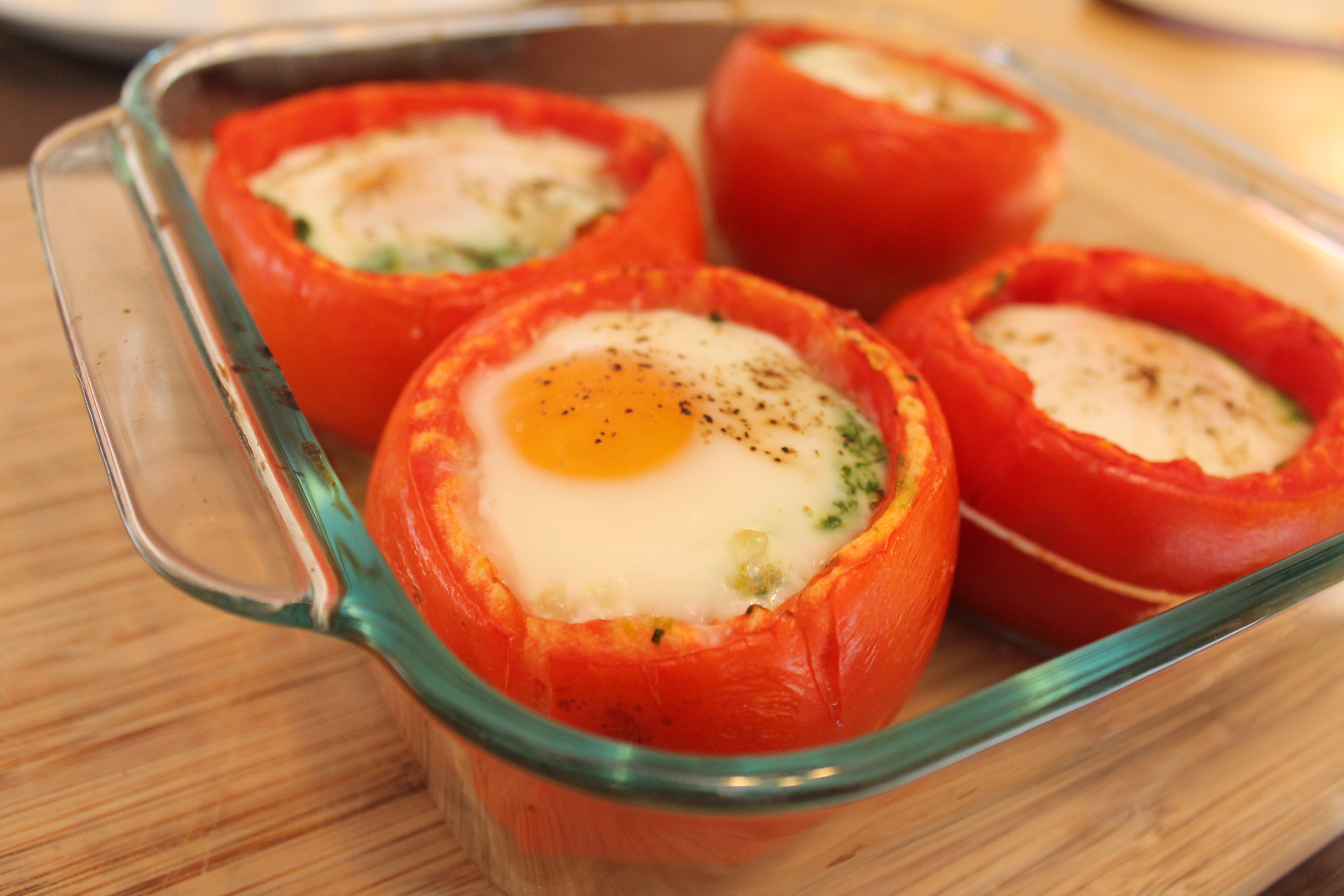 Bake your tomatoes for 25–30 minutes, or until the whites are set. Test them with a knife for doneness; they may appear jiggly even when set because of the pesto bubbling underneath, so if you slice into them and the white doesn't run up around your knife, go ahead and take them out of the oven.
Serve over pasta or with a nice, crusty bread to soak up the excess liquid.
Tomato Egg Cups
adapted from Smitten Kitchen
serves 2
Ingredients:
3 packed cups fresh baby spinach
¼ cup fresh basil
1 large clove garlic
⅓ cup shredded parmesan
¼ tsp. salt, plus extra
¼ tsp. black pepper, plus extra
¼ cup olive oil
4 medium-large tomatoes, about 3″ in diameter
4 eggs
Directions:
Preheat oven to 400°.
In a food processor, blend together spinach, basil, garlic, parmesan, and seasonings until finely chopped. Slowly pour in olive oil and pulse until the mixture combines in a thick pesto.
Cut a thin slice off the top of each tomato with a sharp knife. Gently scrape out pulp and seeds with a spoon and discard them. Cut off a very small sliver from the bottom of the tomatoes so they stand up. Place tomatoes, open sides up, in a small, glass baking dish on top of small dabs of olive oil (without which the tomatoes will stick to the glass).
Spoon equal amounts of pesto into each tomato, about 1–2 tbsp. per tomato. Crack 1 egg into each tomato and season with salt and pepper.
Bake eggs in tomatoes until whites are set and yolks are still runny, 25–35 minutes.
Enjoy!
One year ago: Fleur de Sel Caramel Chocolate Cookies
Two years ago: Ricotta Muffins