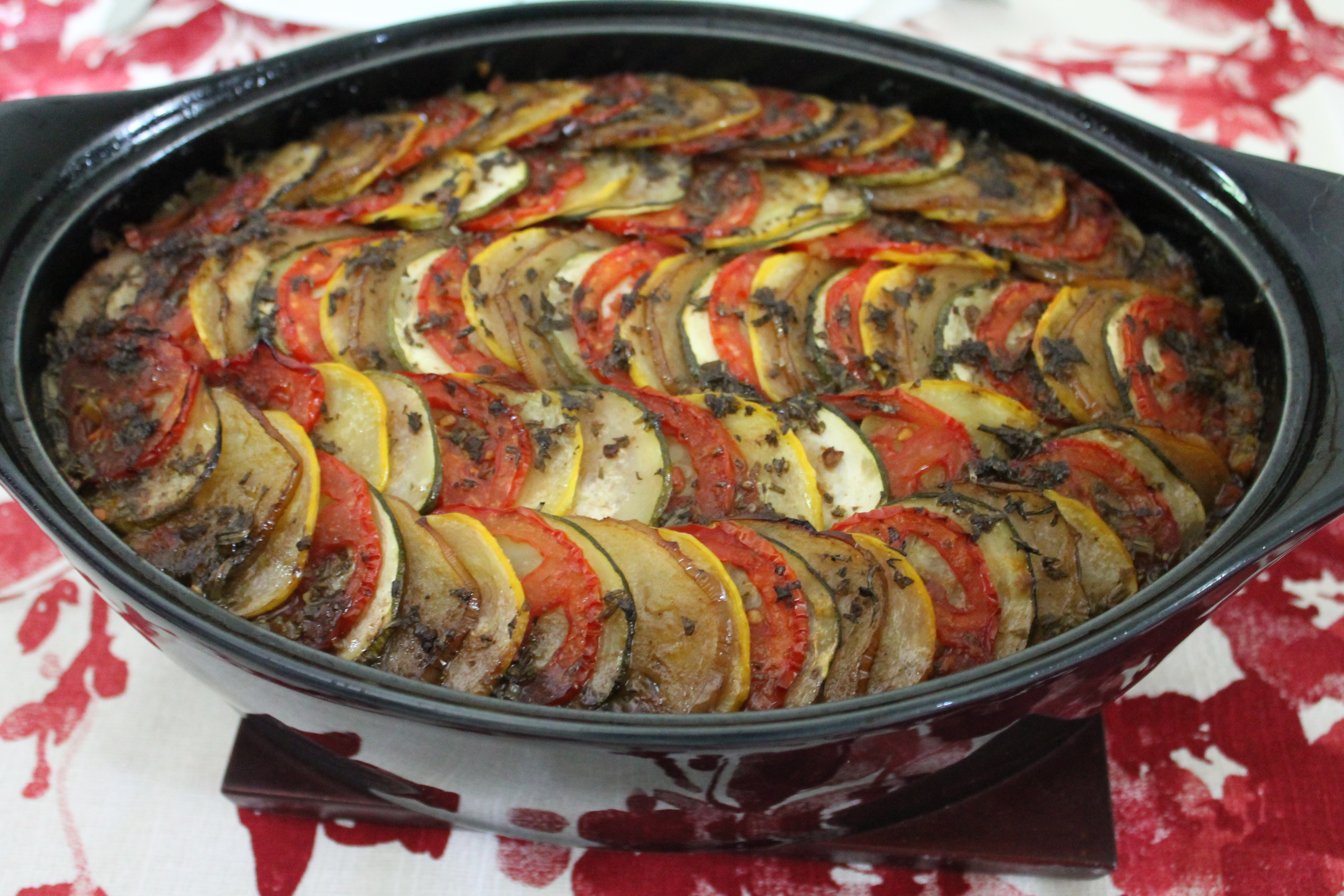 Ode to My Mandoline
Oh mandoline! How your sharp, angled blade sets my heart a-flutter.
Your smooth, white surface
Parallel and barely offset from that blade
Eagerly waits for squashes and eggplants
To be swept across it.
As I slice hundreds of thin slivers of vegetables,
Quickly but carefully,
I exclaim with surprise and delight
That I will never again need to spend two hours
Awkwardly cutting vegetables to make ratatouille.
Dearest mandoline,
You have vaulted to the top of my list
Of favorite kitchen implements.
When I think about this dish, I often think about the food critic in the movie Ratatouille saying, "If I don't love it, I don't swallow." Happily, he loved this ratatouille, and after you make this, you will know I am not kidding when I say that the movie ratatouille is possibly the most delicious veggie dish ever. And it better be, since it takes almost all day to make (um, but much less time if you have a mandoline to slice up all that veg. Worth the $30. Deeeefinitely worth it!). But your tenacity will definitely be rewarded!
I made this from a combination of CSA veggies and farmer's market finds. Hurry out while summer produce is still plentiful and grab yourself as many tomatoes, bell peppers, eggplant, and summer squash as your arms can carry!
There are three parts to making this awesome ratatouille, modeled after the movie version. All of them take ages. Sorry.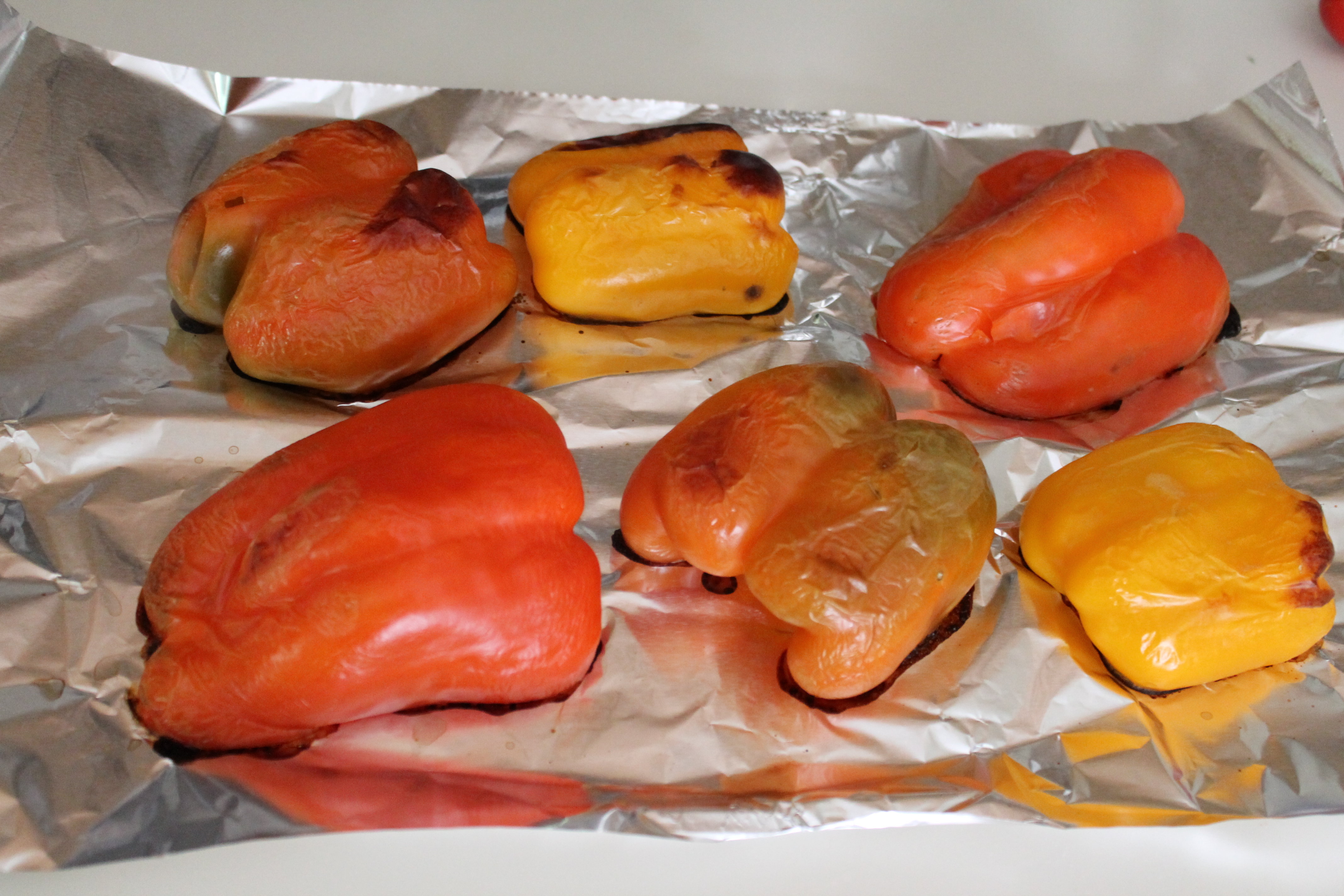 First, you need to roast your bell peppers. It's best to go for peppers in the red family (that is, not green peppers) because they are sweeter. The sweetness of the peppers in this dish is what makes it really sing.
Cut the peppers in half and pull out the seeds and membranes. Set them cut-sides down on a foil-covered cookie sheet. Roast them for 20 minutes at 450°.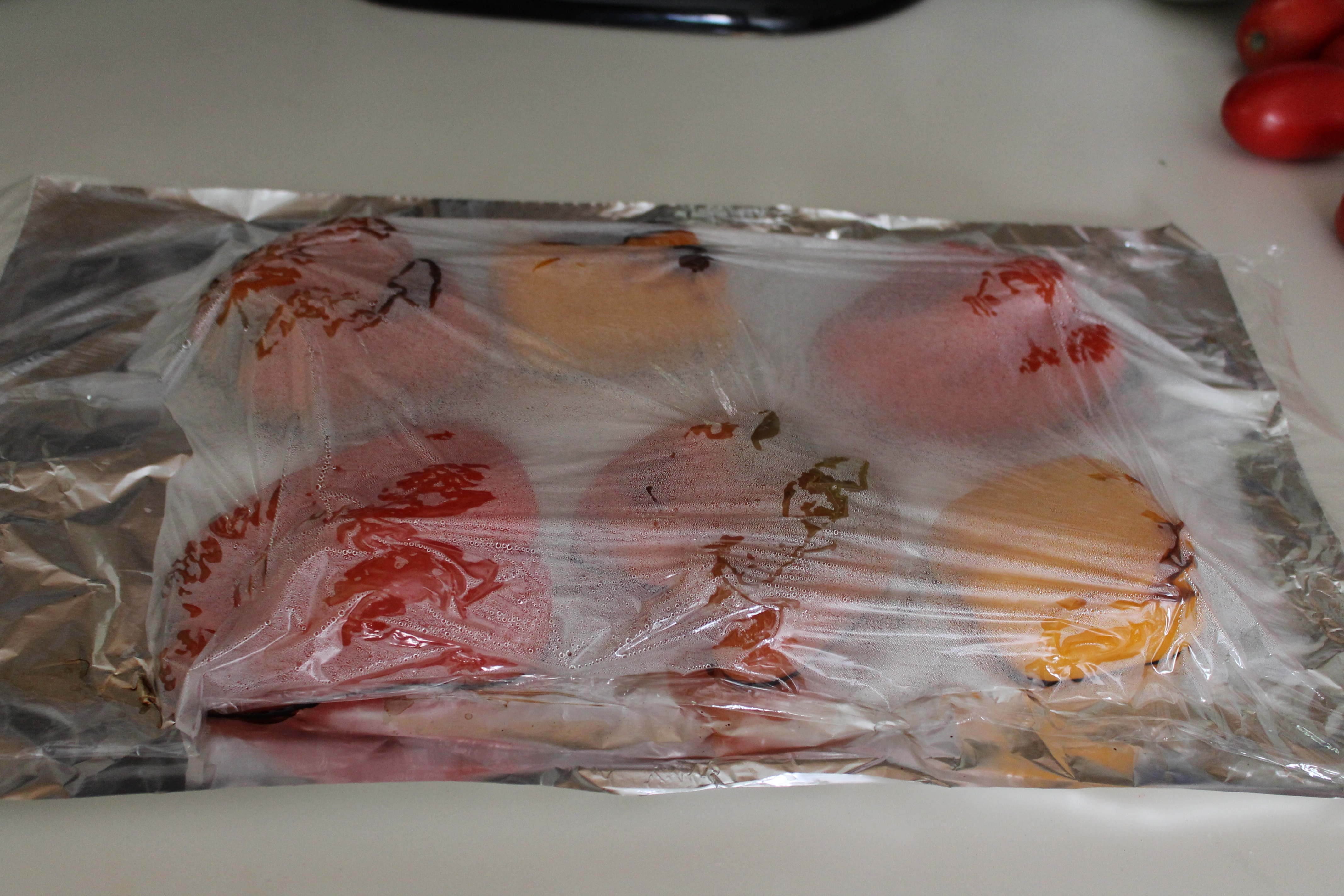 Immediately cover the pan with plastic wrap so the skins will loosen. Let them sit for at least 10 minutes.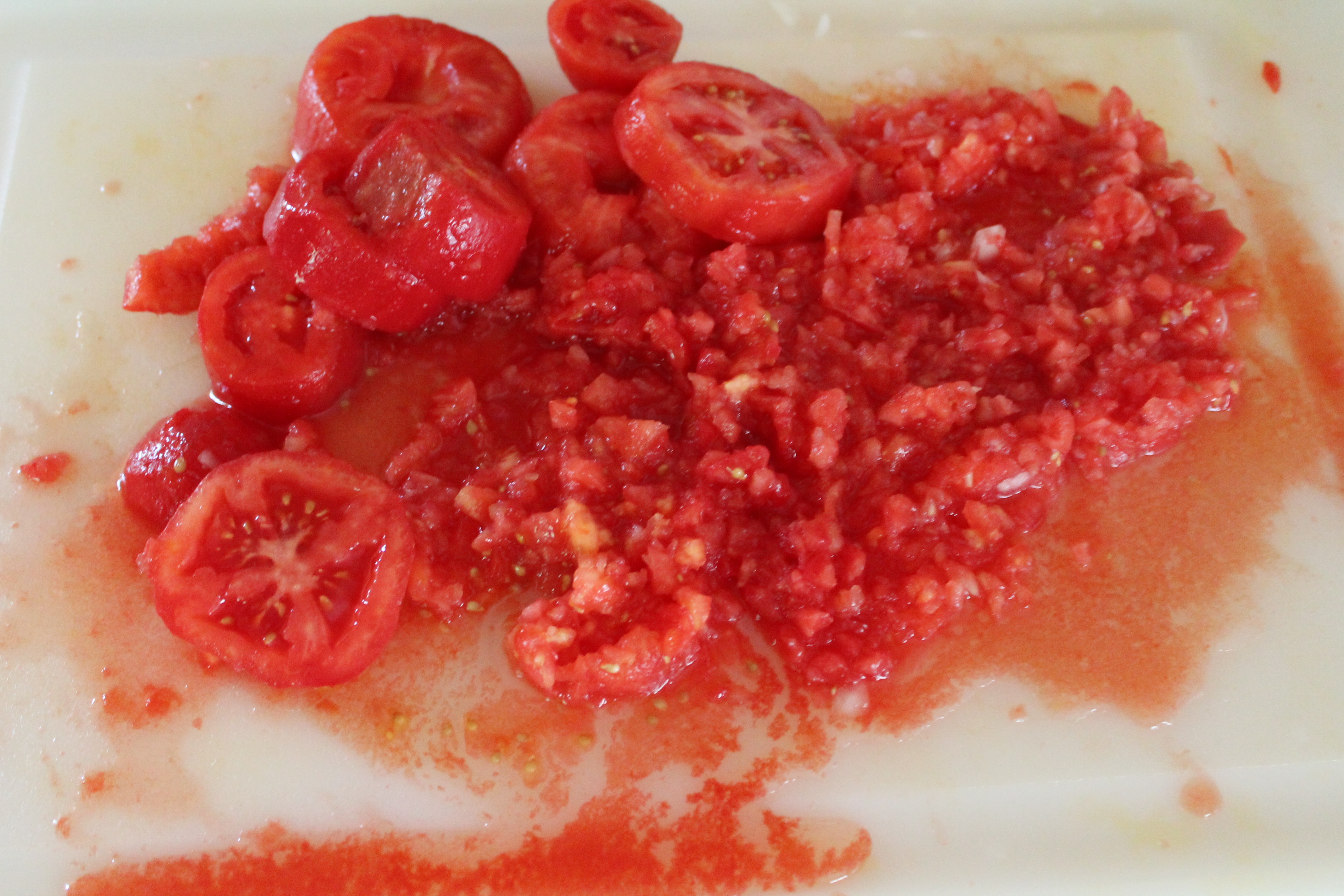 Meanwhile, skin the piperade tomatoes (it helps if you score an X at the bottom and then drop them in boiling water for 10 seconds). Mince them and try not to let all of the juice run off the counter onto the floor. Just try.
Also, chop up the onion really small!
When the peppers are cool enough to handle, carefully remove the skins. Um…this might be tedious. Don't stress if you end up leaving a few small bits of skin on the peppers.
Mince the peppers. This will make a huge mess. Especially if you use a slap chop. It may also terrify your small baby. Work quickly.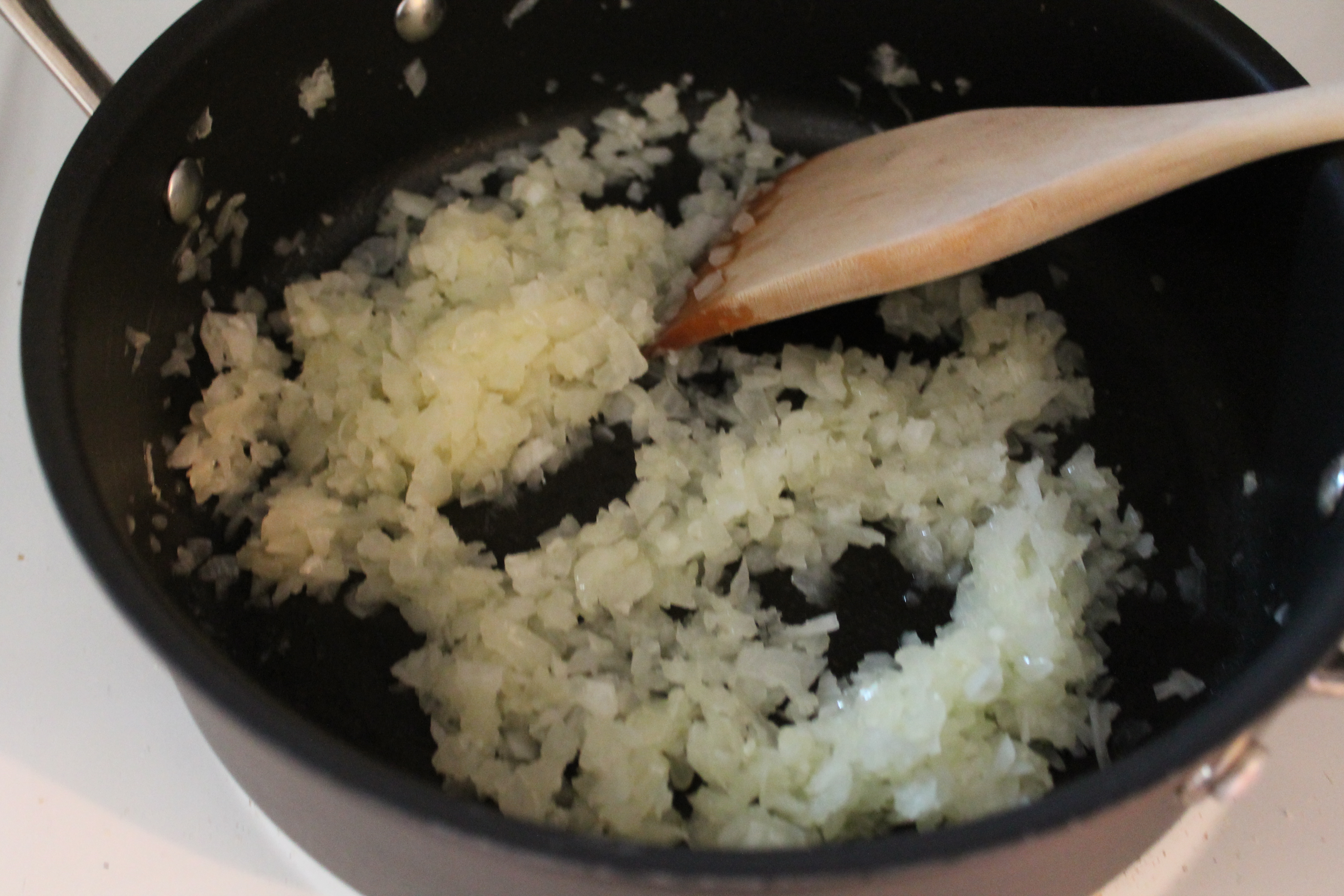 Combine the chopped onions with minced garlic and oil in a large sauté pan. Cook until the onions are translucent, but don't let them brown. I did (or rather, I neglected to stir for about 4 minutes…you do the math. But the baby was still mad about the slap chop—what's a momma to do?). But it all turned out okay!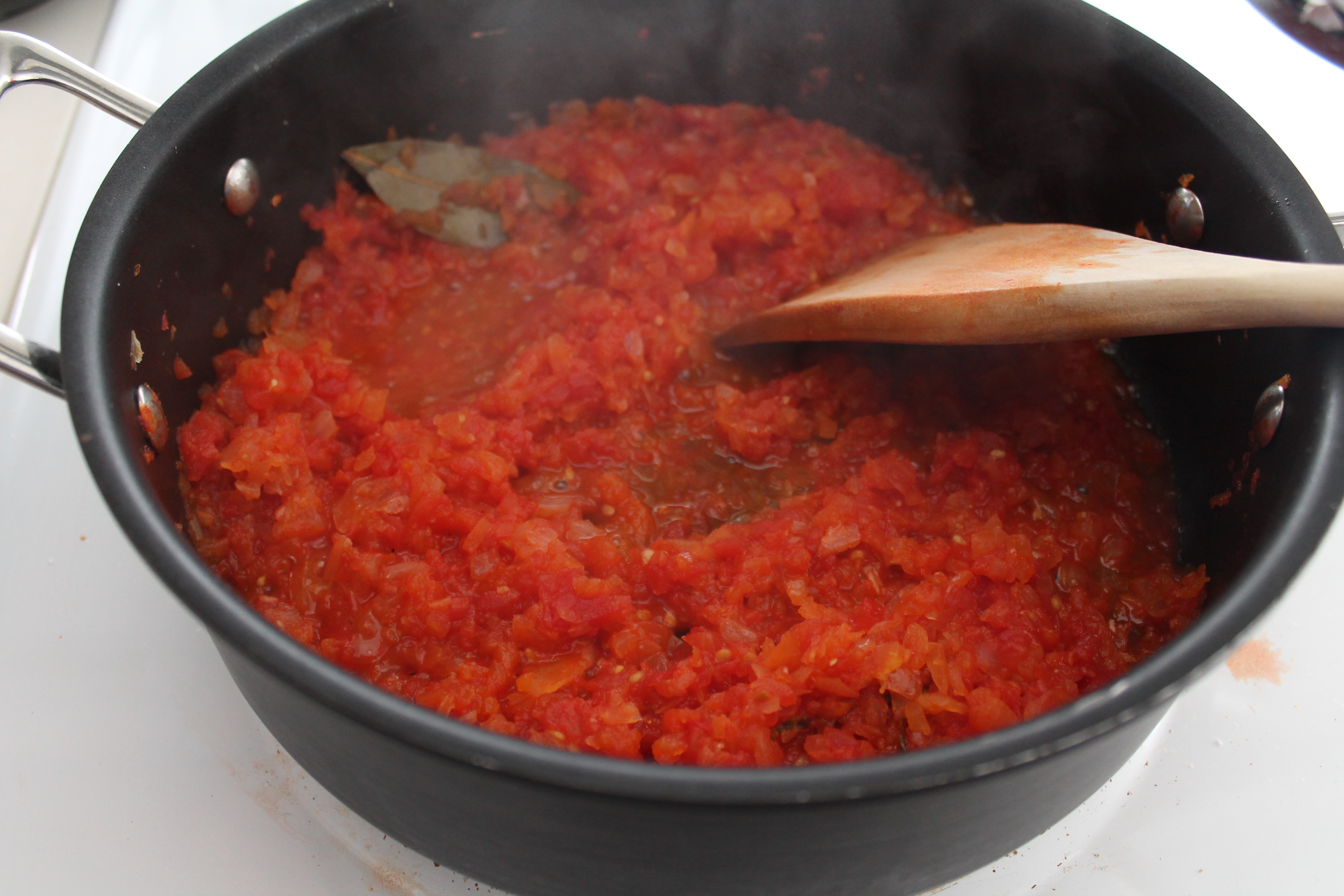 Add the tomatoes you diced up, along with all their juices. Add in the herbs and bay leaf. You can really tinker with the herbs as you see fit; I didn't have any parsley, so I skipped it, but I added some oregano to make up for it. You are going to be removing these herbs later, so they are just going to shade the flavor profile. Go for what you like!
Cook the tomatoes over low heat until the mixture dries out significantly. When you stir, there should be just a little bit of liquid at the bottom of the pan, and certainly no liquid bubbling over top of the veggies.
Add in the peppers and cook another 3–5 minutes to soften them. Season lightly with salt and pepper, then remove the herbs and bay leaf.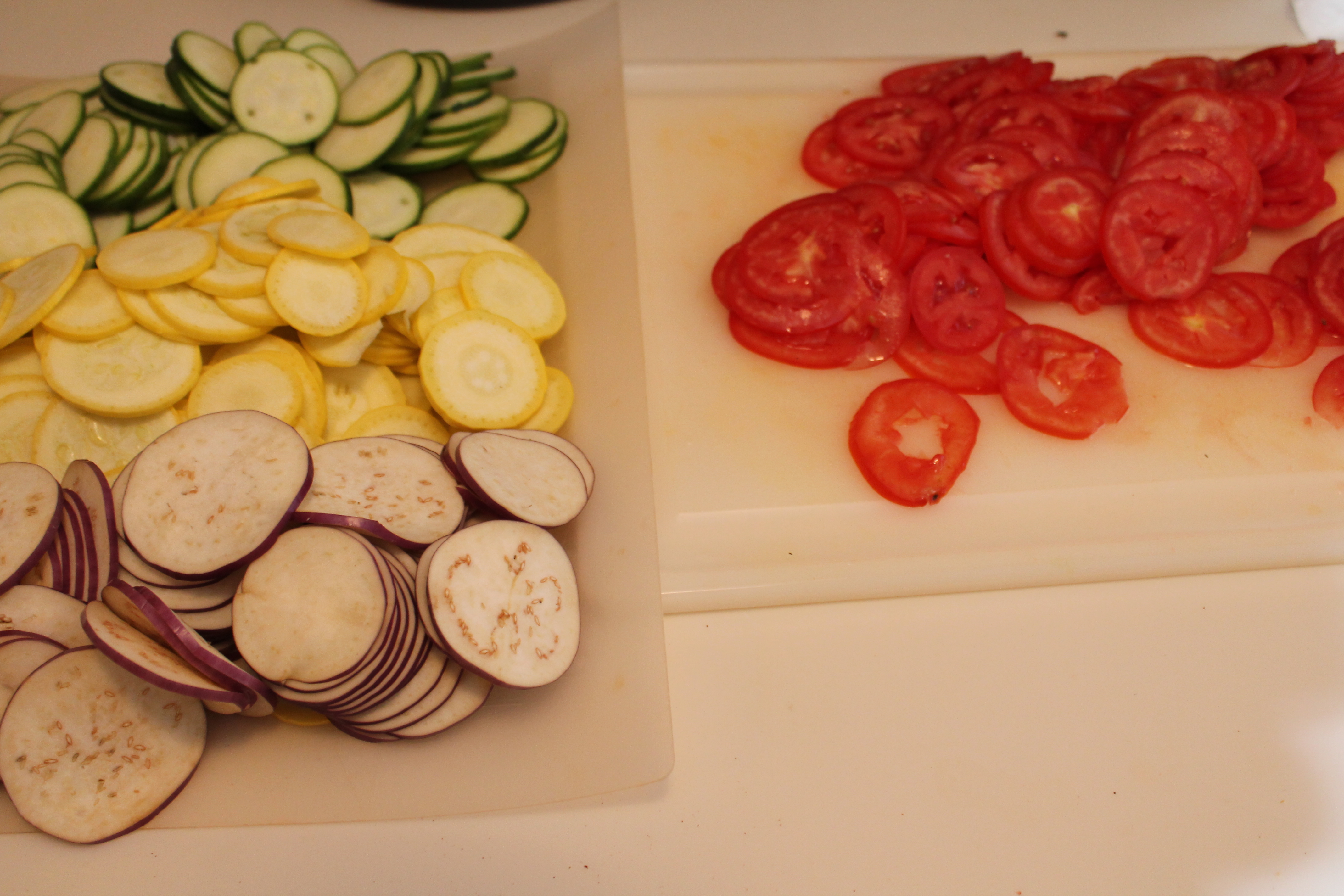 Set the piperade aside and thinly slice your veggies. Here's where you need your mandoline for those nice, even slices! The more evenly you slice, the more evenly this dish will bake (and, actually, the less veg you will need, because fewer slices will be "duds").
Assuming you cut about ⅛″ thick slices, you really only need about 1 zucchini, 1 yellow squash, 1 long skinny eggplant, and 4 Roma tomatoes. But I always chop way extra, almost double that, just in case. And this time, I actually made a triple-layered ratatouille, because I was having a bunch of family over. (It took longer to cook, and there was more liquid in the pan, but I sure was glad for those extra veggies! The recipe below, however, calls for 2 layers, which is easier to bake up properly.)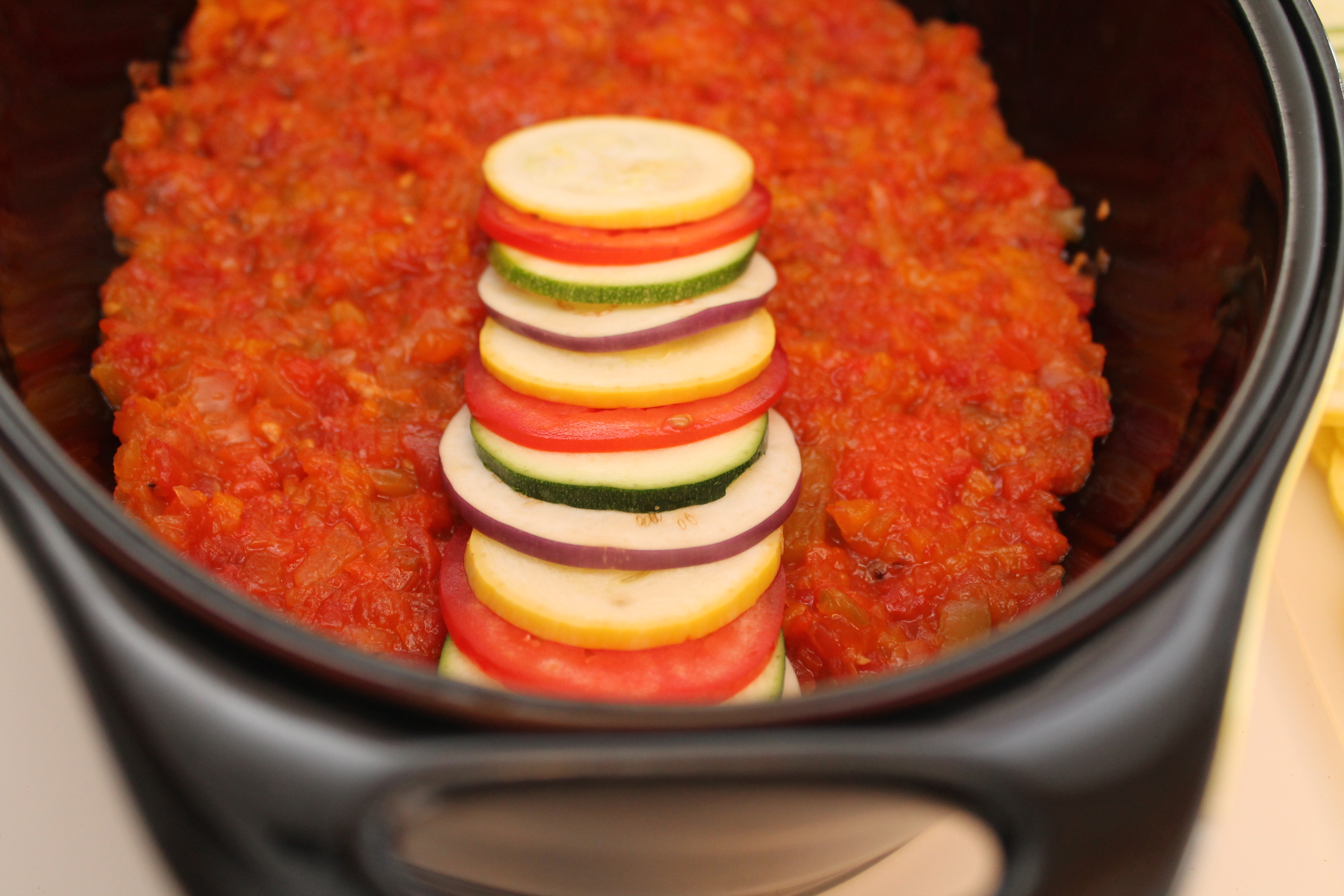 Spread about half of the piperade in the bottom of a large casserole. Layer the sliced veggies in a consistent, alternating pattern, down the center of the casserole, then fan out to the sides.
Carefully spread three-quarters of the remaining piperade over the beautiful veggie later you just made. Sorry.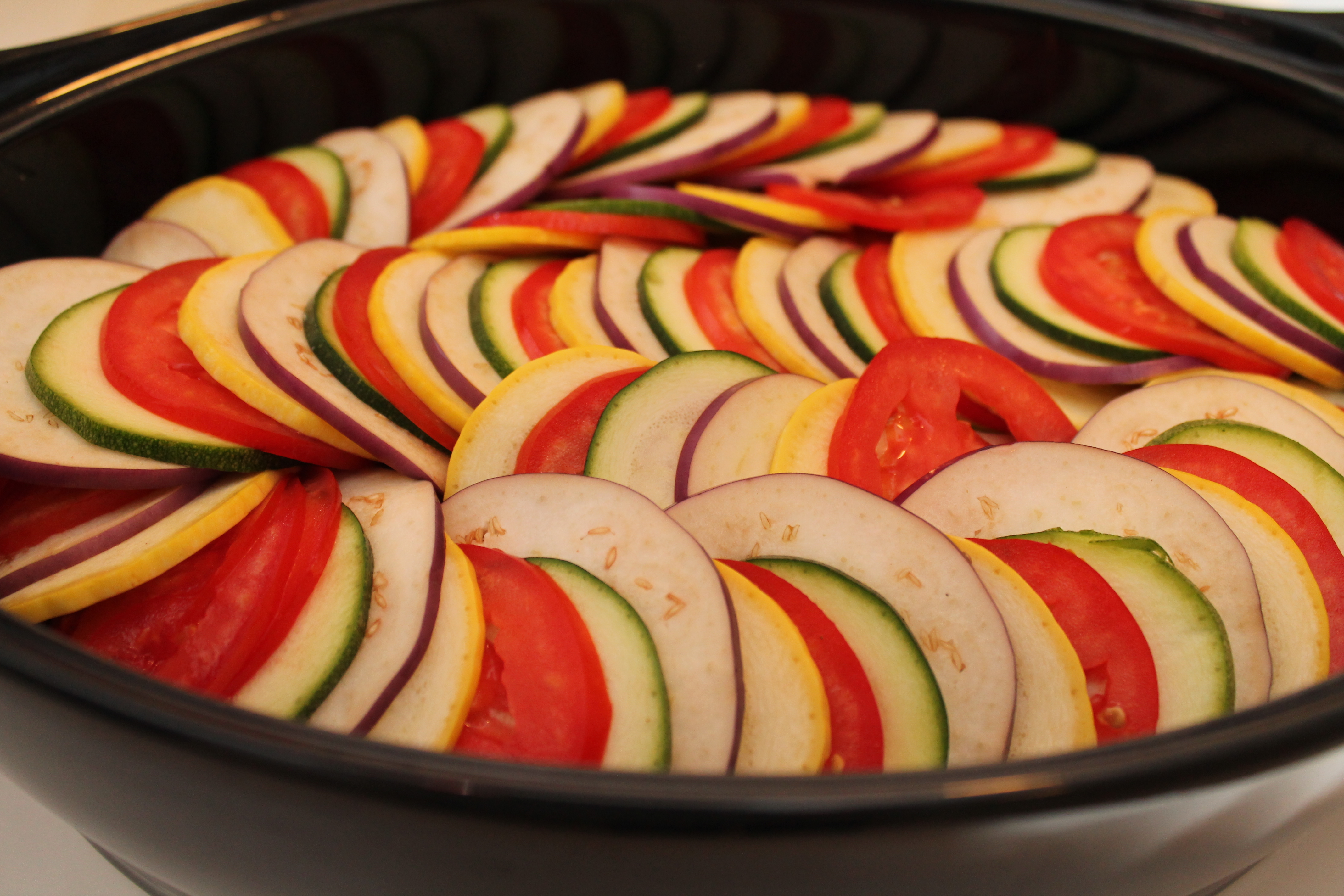 Repeat the layering process.
At this point, you can refrigerate the dish overnight if you want to split up the prep and the cooking time. Keep in mind that you still have *gasp* at least 2 hours of cooking ahead of you! I like to do this over two days. Just be sure you take the ratatouille out of the oven 30 minutes to 1 hour before you intend to bake it, so it can come back up to room temperature.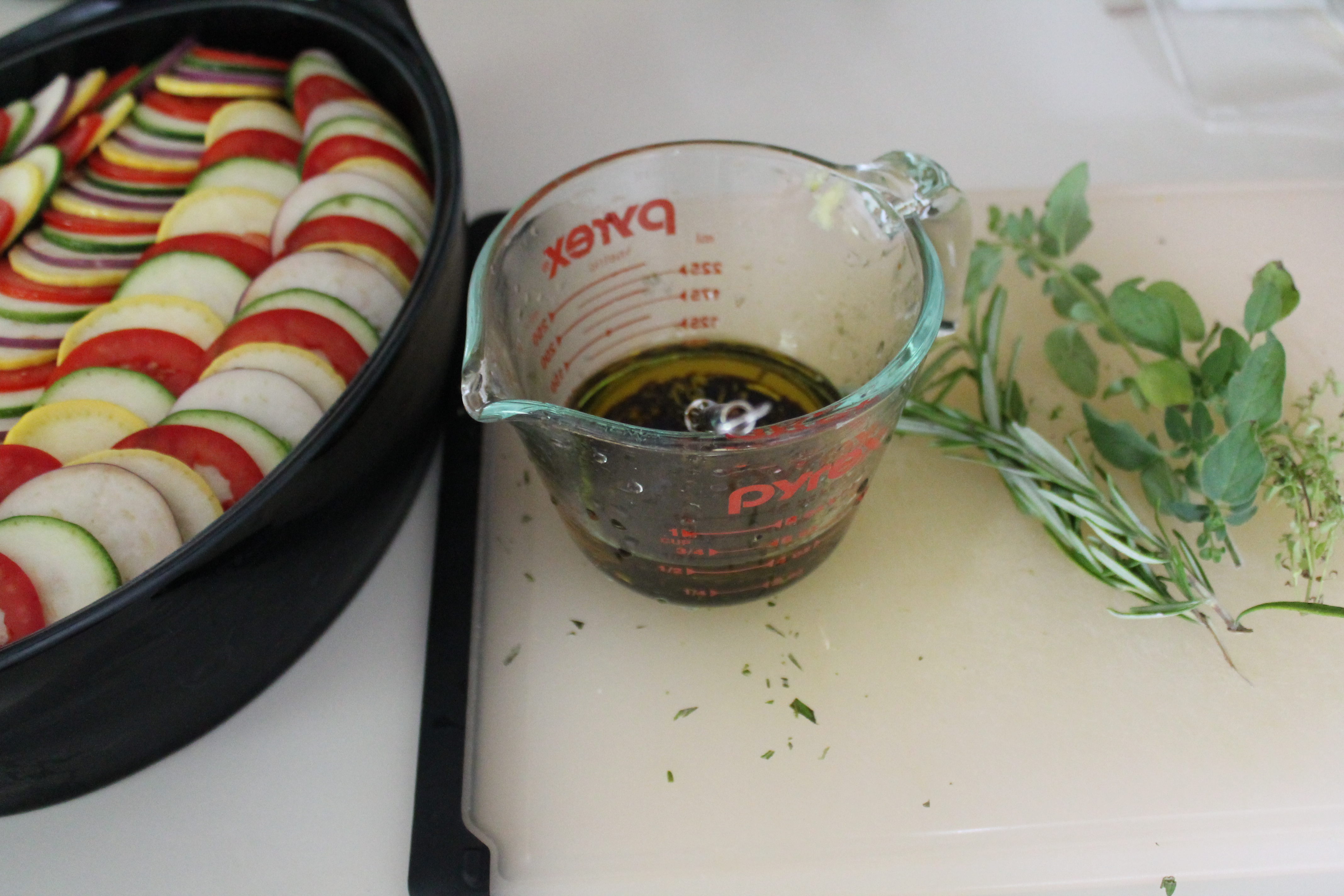 Whisk together a little vinaigrette of olive oil, balsamic, garlic, rosemary, thyme, and oregano. Season lightly with salt and pepper. Pour the dressing over the ratatouille. As you can see, I was a little aggressive with my herbs…which I liked, but it did sort of hide the pretty design a little.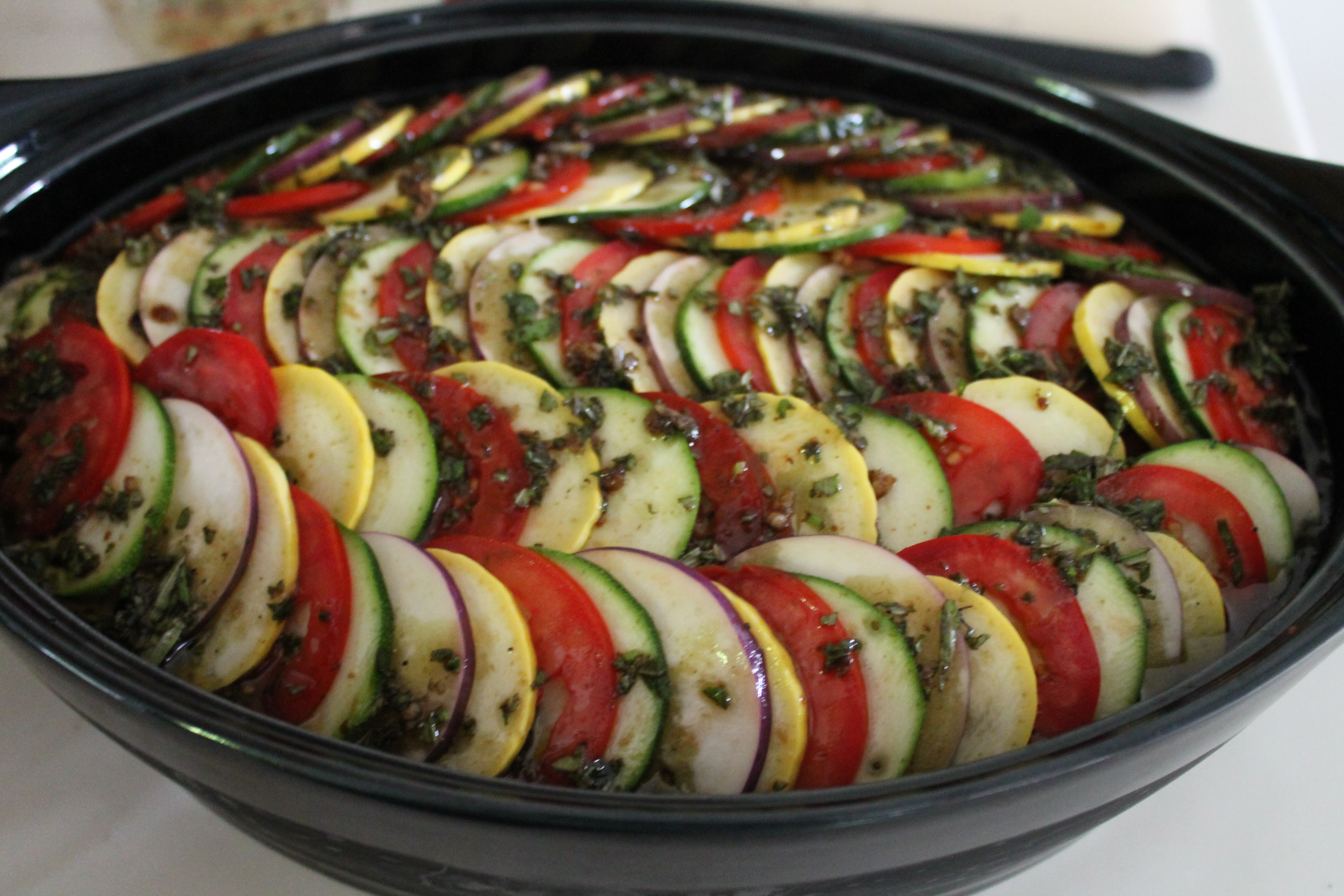 Cover the pan with foil and bake for 2 hours at 275°. I don't recommend increasing the cook temperature to decrease the time, because you need to walk a fine balance of not turning the sliced squashes and tomatoes into complete soupy mush and getting them cooked nice and tender. It's true, the classic ratatouille is a soup…but if you wanted soup, why did you spend all that time slicing and making a picture-perfect casserole?
Remove the foil and cook another 30 minutes, to let some of the liquid steam off. You don't want the top to brown, however, so again please don't raise the temperature!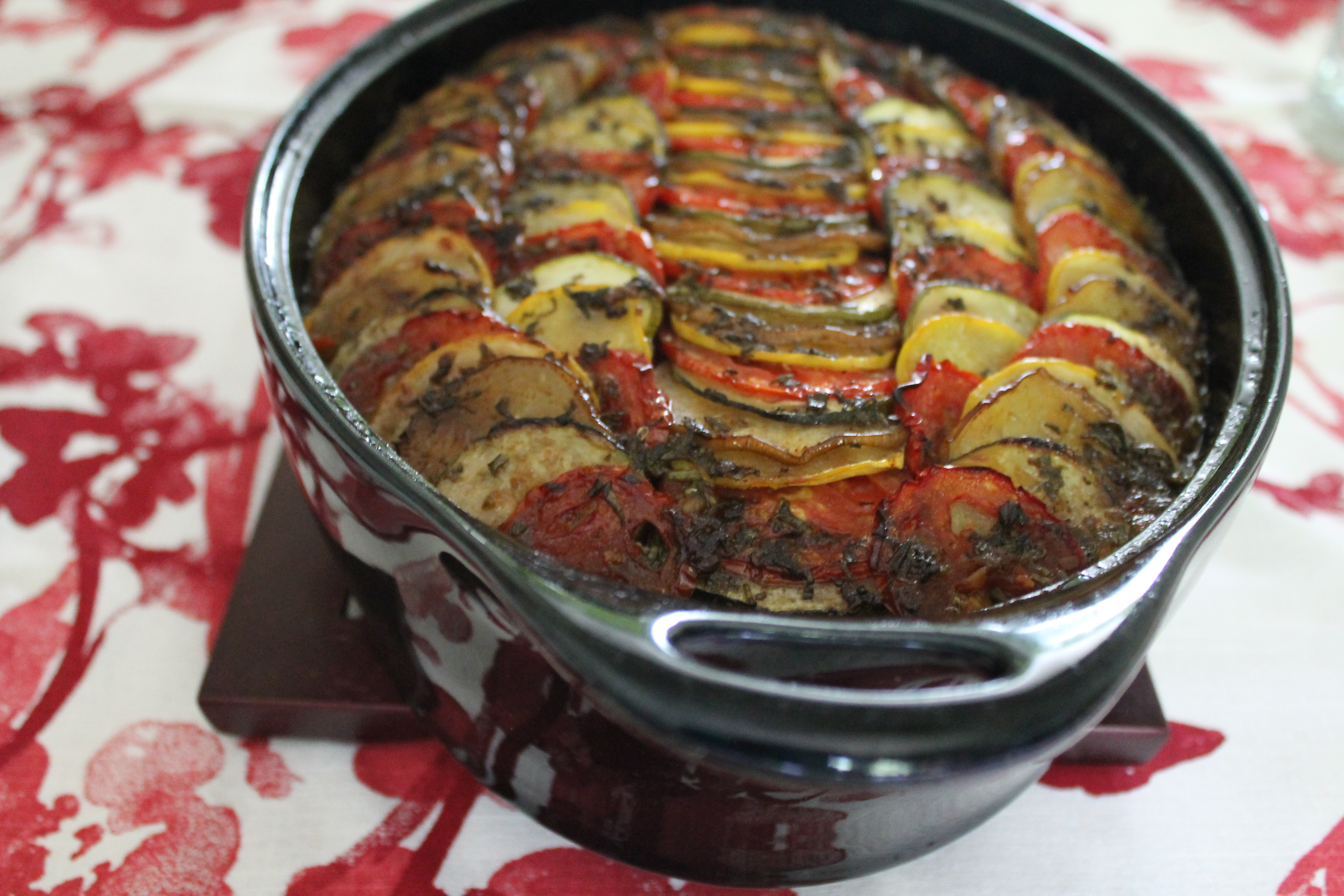 Carefully slice the ratatouille into large chunks. Serve with extra piperade (you could neatly swipe some on the plate and make it all fancy, just like the movie! I never do that, because by this point I am too hungry…but you could! I'm just saying).
By the way, I usually find that there is a little excess liquid in the dish, despite my best efforts to let it cook off. You could set your dish on the stovetop and try to cook it off that way, but my stoneware isn't rated for the stove so I never do. Oh well. Just serve it with a slotted spoon and all the good veggie flavors will end up on the plate, undiluted by extra water.
Yum. That's all that needs to be said.
Movie Ratatouille
lightly adapted from Thomas Keller
serves 4–6
Piperade Ingredients:
1 red bell pepper
1 yellow bell pepper
1 orange bell pepper
3 tbsp. olive oil
1 large clove garlic, minced
1 cup finely diced yellow onion
6 4oz. tomatoes, skins removed
3 sprigs fresh thyme
1 sprig flat-leaf parsley
1 bay leaf
salt
Vegetable Ingredients:
1–2 zucchini*
1–2 japanese eggplant*
1–2 yellow squash*
6–8 Roma or plum tomatoes*
Vinaigrette Ingredients:
3 tbsp. olive oil
1 large clove garlic, minced
2 tsp. balsamic vinegar
chopped fresh herbs (oregano, thyme, rosemary)
salt and fresh ground black pepper
Directions:
For the piperade, preheat the oven to 450°.
Slice all the peppers in half vertically and remove the seeds and ribs. Place pepper halves on a foil-lined sheet, cut sides down. Roast until skin loosens, about 15 minutes. Remove from heat and let rest until cool enough to handle. Peel and chop finely. To facilitate the peeling process, it may be desirable to chill the roasted peppers in the fridge or freezer until the skins loosen.
Combine oil, garlic, and onion in medium skillet over low heat until very soft but not browned, about 8 minutes.
Meanwhile, dice the tomatoes and reserve any released juices. Add to the sautéed onion the tomato and juice, thyme, parsley, and bay leaf. Simmer over low heat until very soft and very little liquid remains, about 10 minutes, but do not brown. Add diced peppers and simmer to soften them. Season to taste with salt and discard herbs.
At this point, the piperade can be stored up to 24 hours before using.
When ready to proceed, spread about half the piperade in the bottom of a 2-quart casserole dish.
For vegetables, preheat oven to 275°.
Arrange a strip of alternating slices of vegetables (eggplant, zucchini, squash, tomato) down the center of the casserole dish over the piperade, overlapping so that ¼″ of each slice is exposed. Continue arranging vegetables in an expanding fan out toward the edges of the dish.
When the bottom layer is done, spread about ¾ of the remaining piperade over the vegetables and build a second layer of vegetables.
Whisk together all vinaigrette ingredients and sprinkle over the vegetables. Cover the dish with a top or with foil, edges sealed.
Bake until vegetables are tender when tested with a paring knife, about 2 hours. Uncover and bake 30 minutes more. If the ratatouille starts to brown, tent with foil.
If, at the end of the baking period, there is excess liquid in the dish, place over medium heat on the stove until reduced.
At this point the ratatouille may be cooled, covered, and refrigerated up to 2 days.
To serve, heat broiler and place ratatouille underneath until barely golden. Slice and very carefully lift onto plate. There may still be juices at the bottom, especially if the ratatouille was stored for a few days.
Best served hot with remaining piperade.
*Note: The vegetables must all be approximately the same size in diameter, or layering will be frustrating and not very attractive.
Enjoy!
One year ago: Black Bean Burgers
Two years ago: Veggie and Fontina Pizza