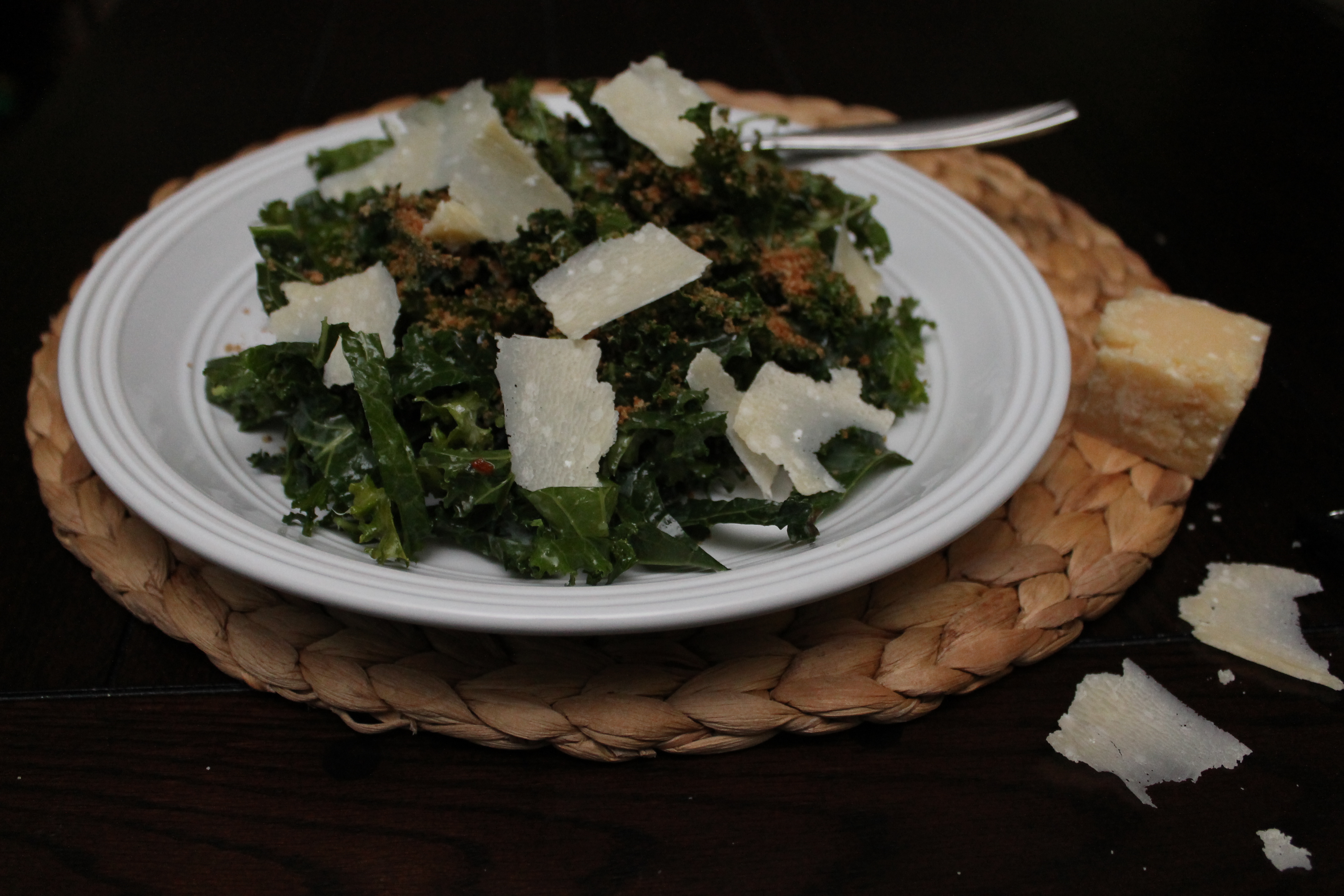 Kale is beautiful.
I bought some kale a few weeks ago at the farmer's market so I could make a kale salad. I was so excited! Sarah came over and she got excited, too! But the recipe I had was a little weirdly written…and to make a long story short, there was too much dressing. Tooooooo much. Slimy kale salad. Gross.
But I got kale two weeks in a row from CSA! So I tried again!
You may be scared of raw kale. But I promise, this salad is delicious! Just try it. I know you'll be glad you did!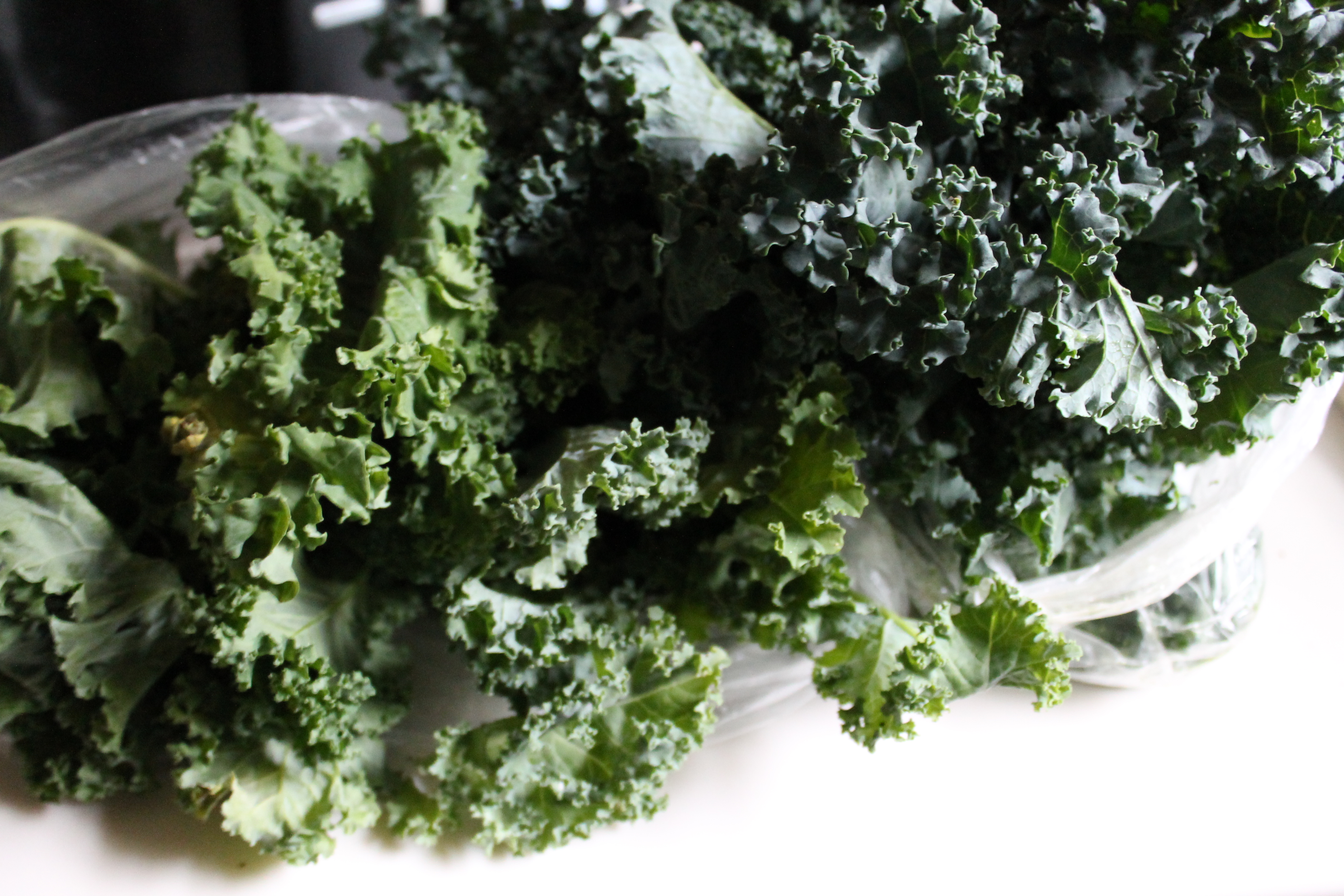 So I was a little worried about using curly kale to make this salad, and I'll tell you why. Curly kale tends to be a bit tougher than flat-leaf kale. But since that's what I had from the CSA, and I really didn't think it was smart to go buy even more kale when it was already exploding out of my produce drawers in all its dark, leafy glory, I just went for it.
My verdict is this: curly kale is just fine for making a raw salad, but the end result is probably a little bit chewier and a zillion times harder to spear or scoop up with a fork. That is all.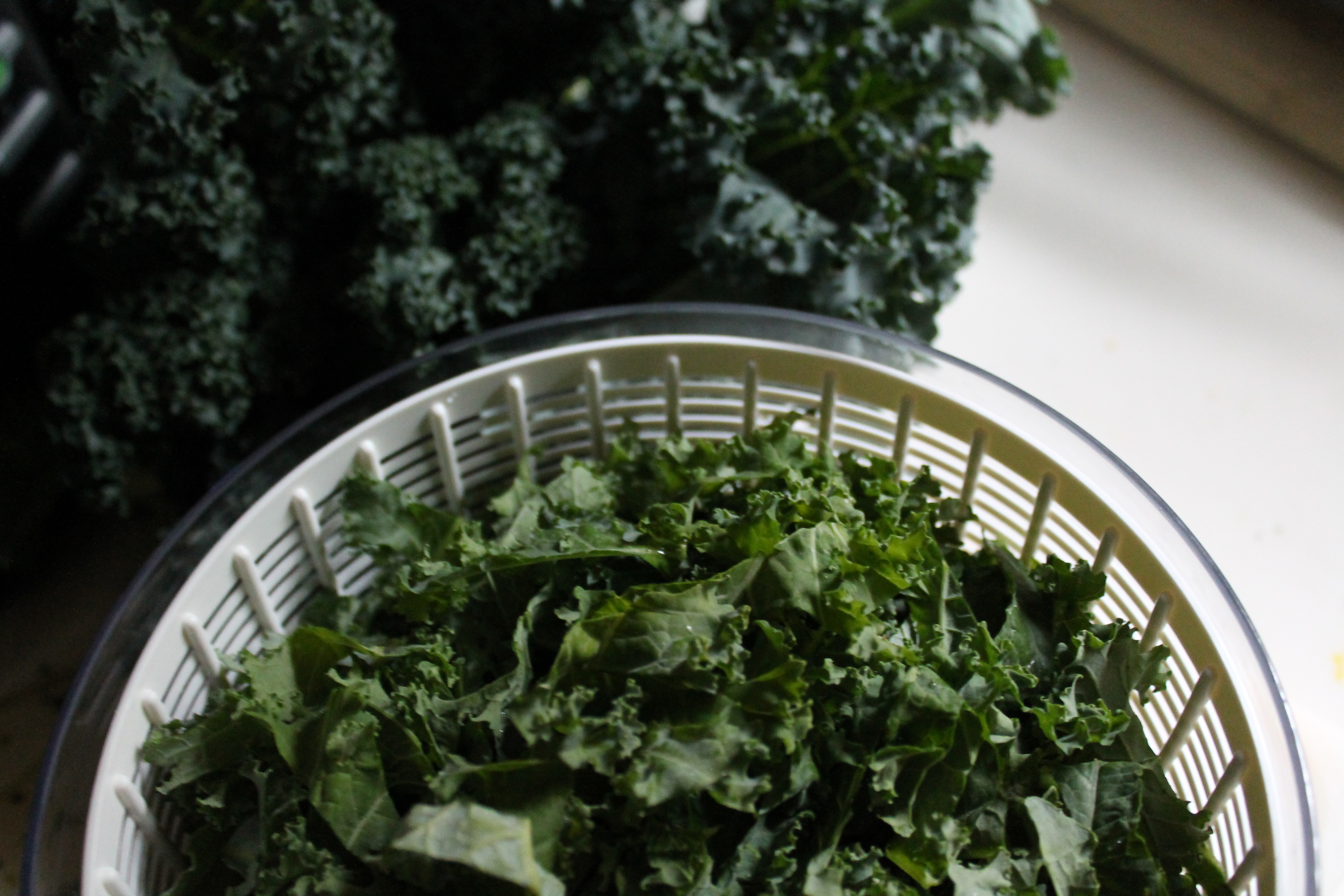 It's also harder to slice into strips. But just do it.
Here's an important detail. You should start with 14–16 oz. kale. After you remove the ribs and slice, you should have 6–8 oz. of sliced leaves when you are done! The original recipe was awkwardly worded, so Sarah and I ended up having twice the amount of dressing we needed. Don't let that happen to you.
Side note: You may be tempted to use slightly wilted kale, because it seems like it will be less chewy and tough. But don't. Whether you use curly kale like I did here, or Tuscan/black/dinosaur/lacinato kale like the original recipe called for, the only thing that truly matters is that the kale be firm and crisp. Otherwise you will end up with a sad, limp salad.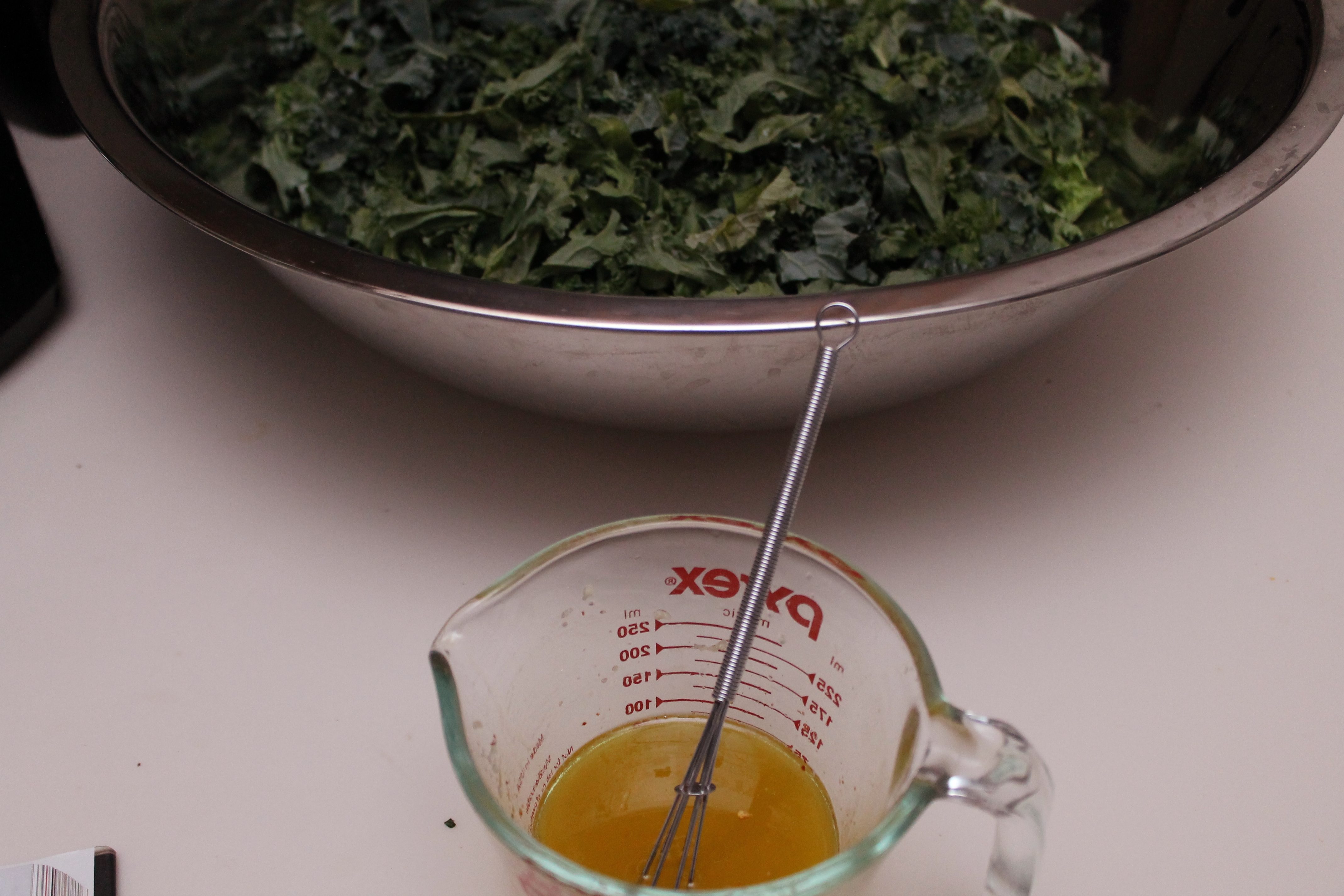 Make a little dressing out of olive oil, lemon juice, garlic, sea salt, and crushed red pepper. The flavor of this dressing actually turned out to be pretty mild against the kale! It just gave the hint of garlic and lemon and really brought out the rich, full kale-y-ness of the greens. Sounds weird…was delicious.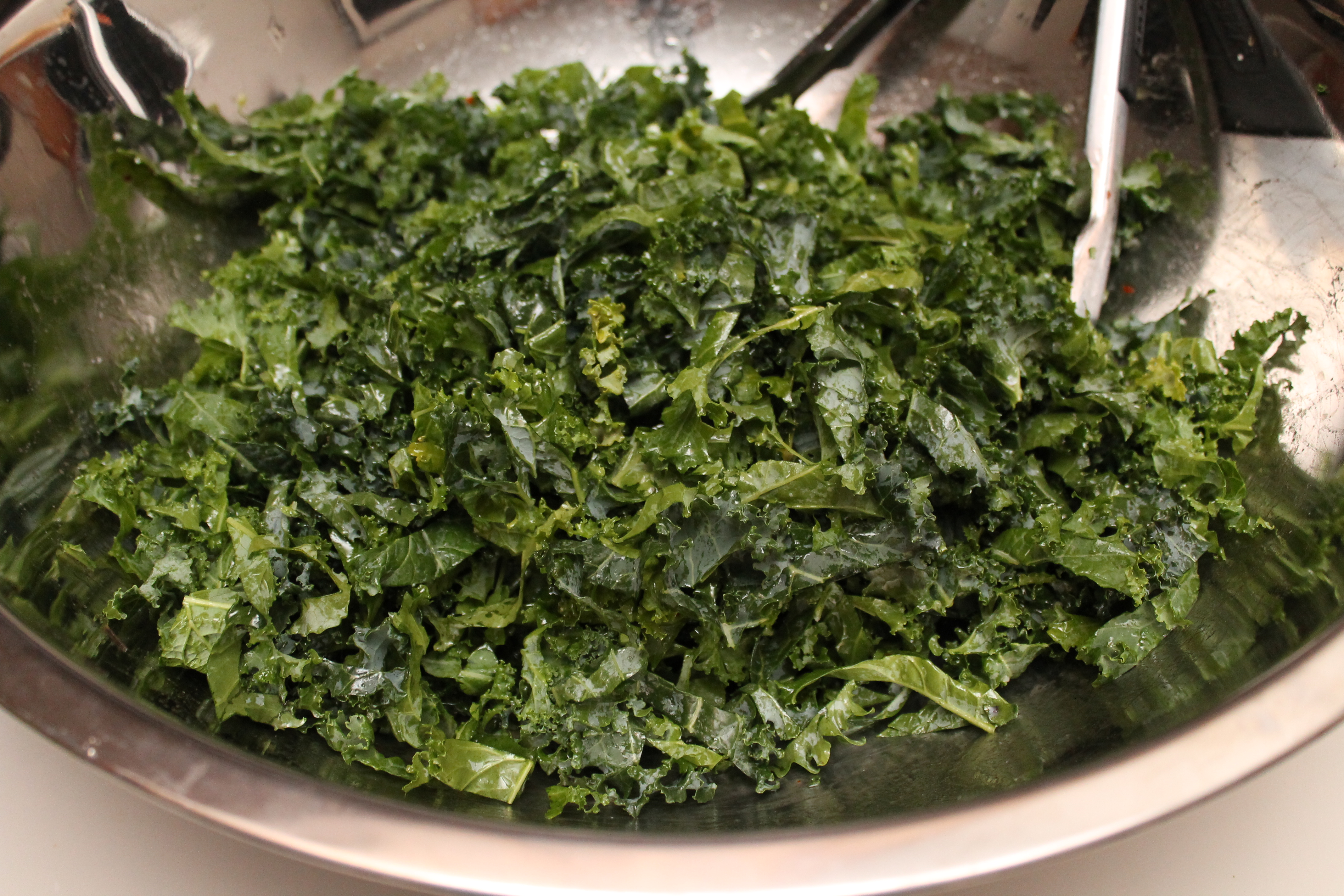 Toss the dressing with the kale. There should be just enough to make the leaves all glisten. If you have any soupiness at the bottom of your bowl, then there is too much dressing! The strips should not be swimming in dressing. Not only will the flavor of the dressing overpower the greens, but the texture will end up kind of gross and lifeless. Do us all a favor and don't let your kale sit in a puddle of dressing.
But do let your lightly dressed kale sit on the counter for 10 minutes (or up to 30).
Meanwhile, grab a slice of 100% whole wheat sandwich bread and pulverize it in a food processor. Toast the crumbs in the oven on a cookie sheet for 3–5 minutes at 300°. You may want to shake or stir them…or you may not. I let my crumbs turn a medium brown, partially because fresh breadcrumbs really need a bit of extra toasting in order to dry out.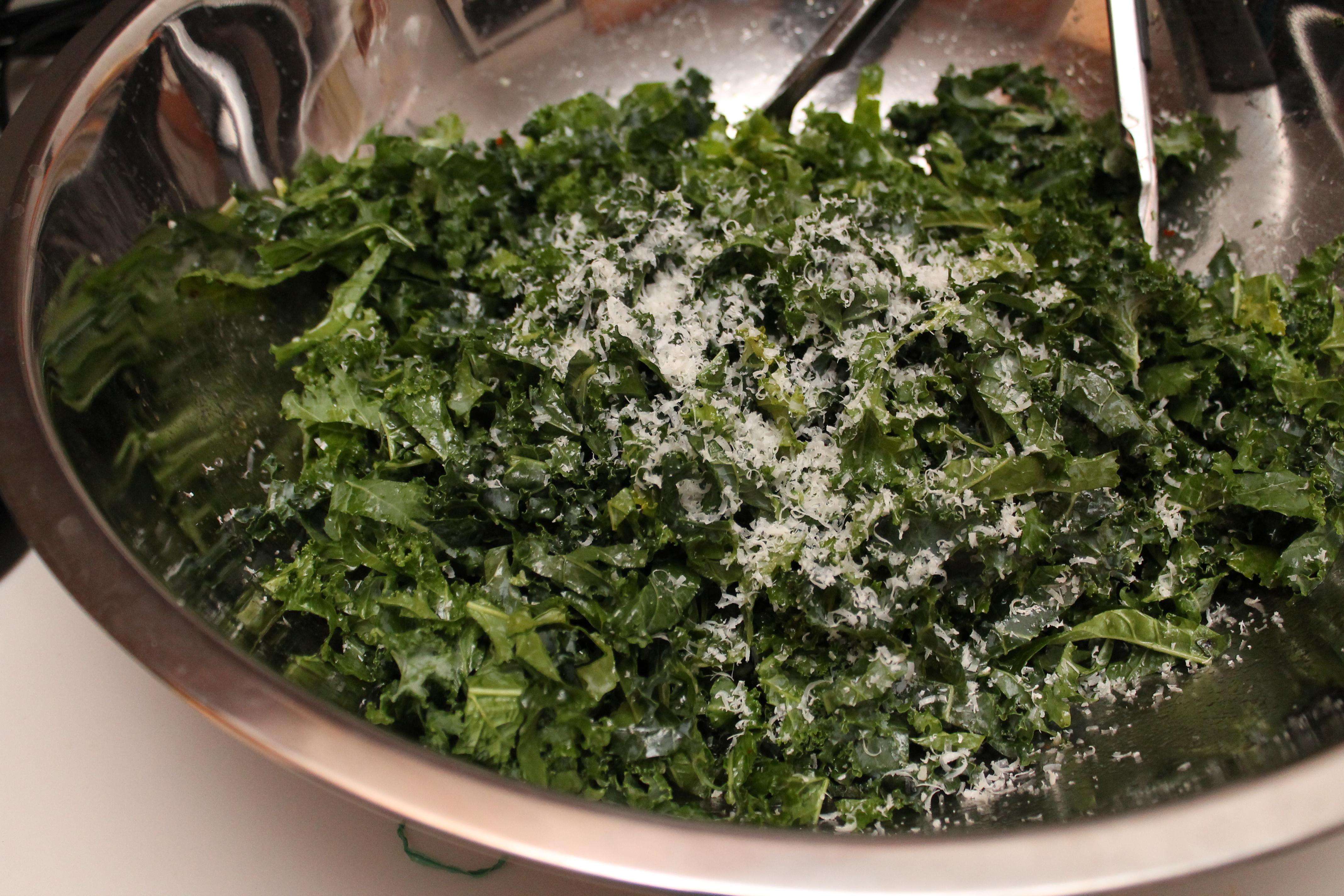 When you are about ready to eat, grab a hunk of parmesan and your microplane zester. Yes, it is vitally important here that you buy an actual chunk of cheese and grate it yourself. I know I often go the easier route of buying the little tubs grated by the grocery store (um, but never ever use the Kraft parmesan dust…gross), but in this case, you really do want the finely shaven cheese. Grate as much as you like over the dressed salad. I used about ½ cup. Toss the cheese with the greens. The fine little curls will all but disappear, which means that the dressing has absorbed them and the hint of rich, salty parmesan will permeate the salad. It won't alter the texture of the salad or overpower every bite, because you used the microplane! Hooray!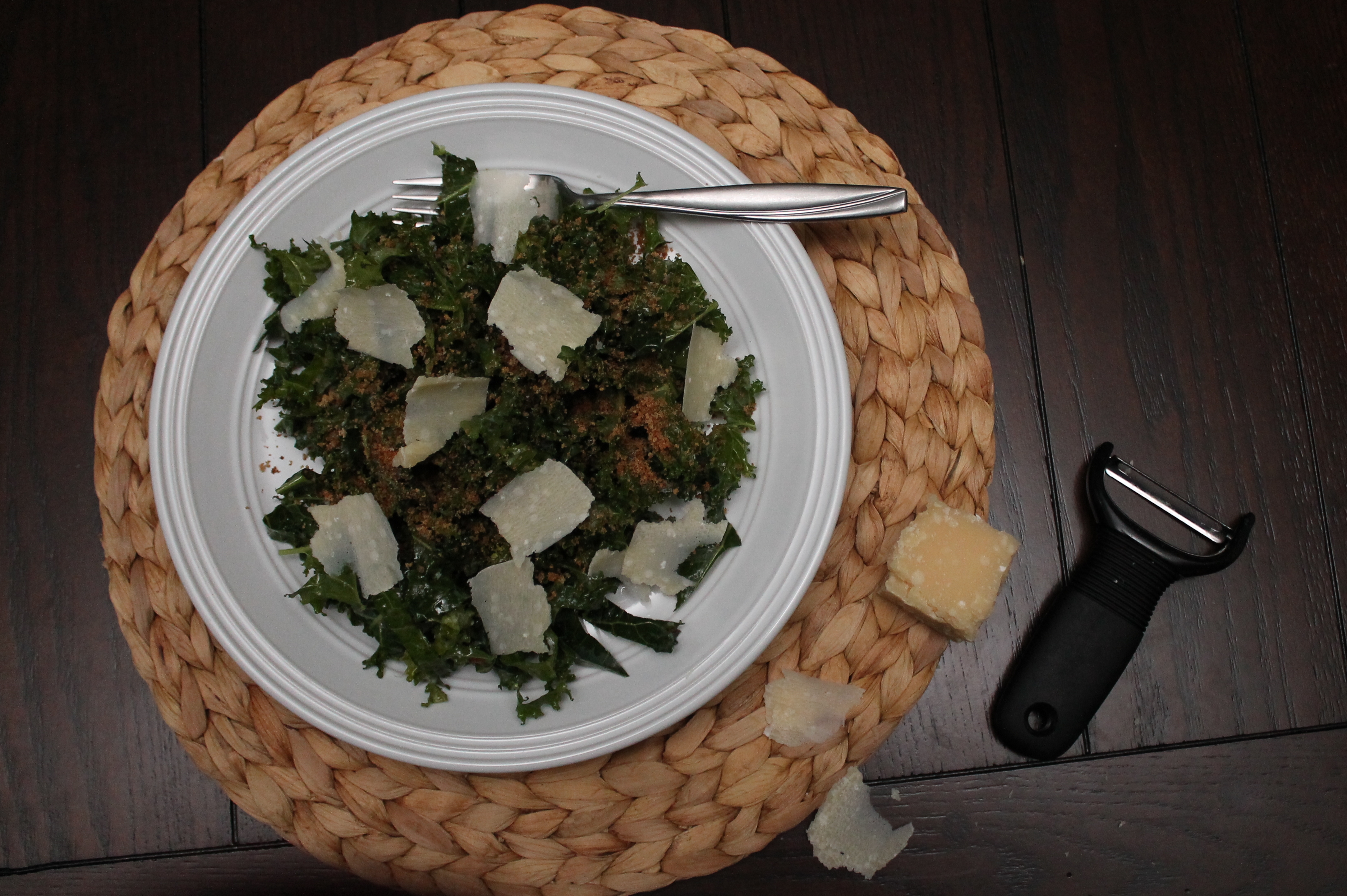 Transfer the salad to plates and sprinkle with the toasted breadcrumbs. Grab a vegetable peeler (or your favorite cheese-shaving tool) and shave several slices of your hunk of parmesan over the salad.
Aaand gobble it up.
Raw Kale Salad
lightly adapted from True Food
serves 4
Ingredients:
14–16 oz. kale, ribs removed, leaves sliced into ¼″ strips
¼ cup olive oil
2 tbsp. lemon juice (about 1 lemon)
2 small cloves garlic, minced
large pinch of sea salt
pinch of crushed red pepper
1 slice whole wheat bread
½ cup finely grated parmesan
extra parmesan shavings
Directions:
Rinse the kale and thoroughly dry. Set in a very large bowl.
Whisk together olive oil, lemon juice, garlic, salt, and crushed red pepper. Toss into kale. Let the salad sit at room temperature for 10–30 minutes.
Meanwhile, pulverize the bread into crumbs. Toast in the oven until medium-brown.
Toss the greens with the grated cheese. Sprinkle with bread crumbs and garnish with extra parmesan shavings.
Cover any leftovers and refrigerate for up to 2 days.
Enjoy!
One year ago: Broccoli Cheddar Soup
Two years ago: Oatmeal Butterscotch Chip Cookies