My baby is 1!!
How did that even happen?
In keeping with my goal to one day turn into Annie of Annie's Eats, I planned the heck out of a birthday party for him. I landed on a Curious George theme (from the books, not the show), because my kid looooves to investigate anything he sees or gets his hands on. And he gets into everything. It seemed fitting.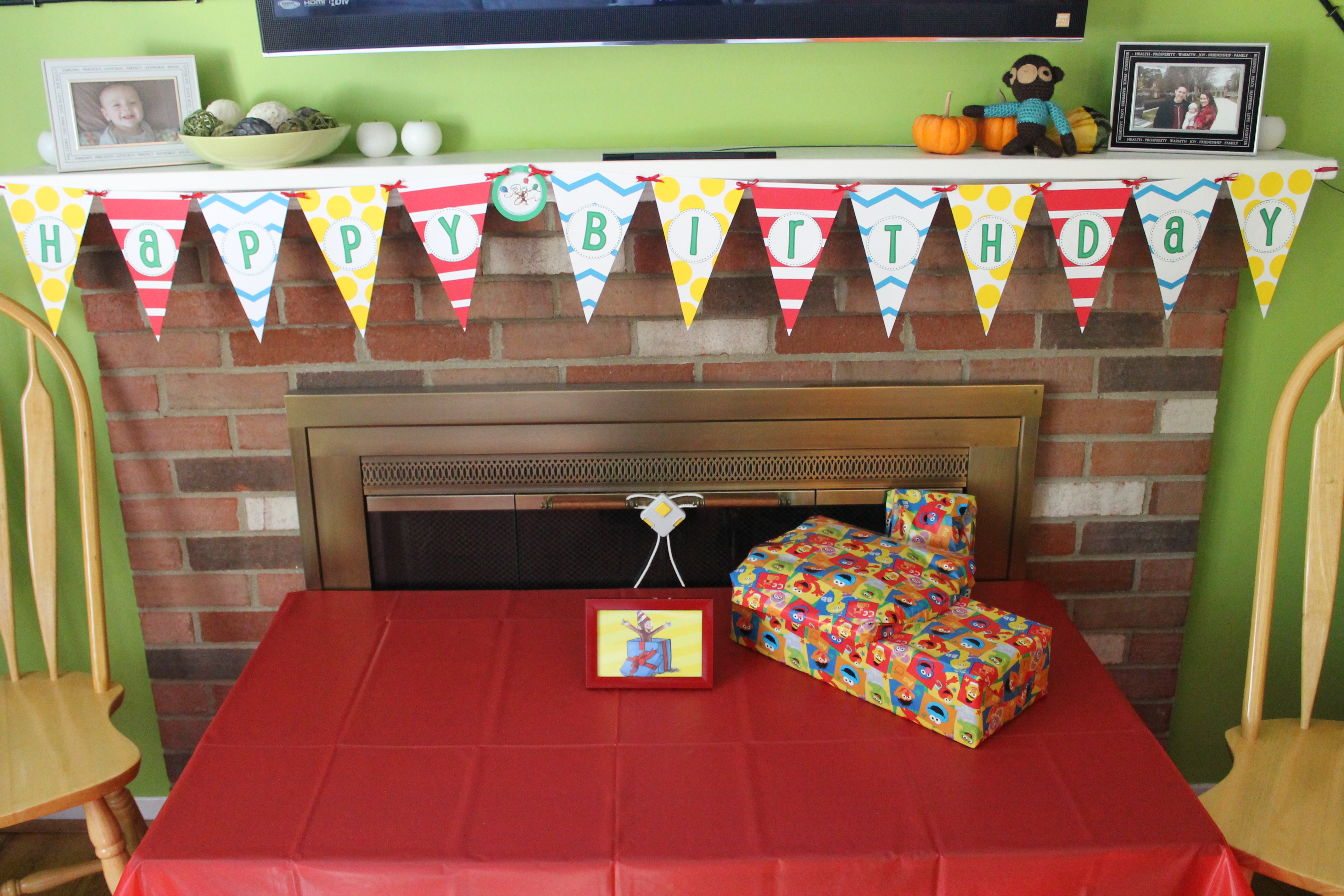 I spent days and days cutting cardstock into circles and stripes and triangles to make favor tags and birthday signs.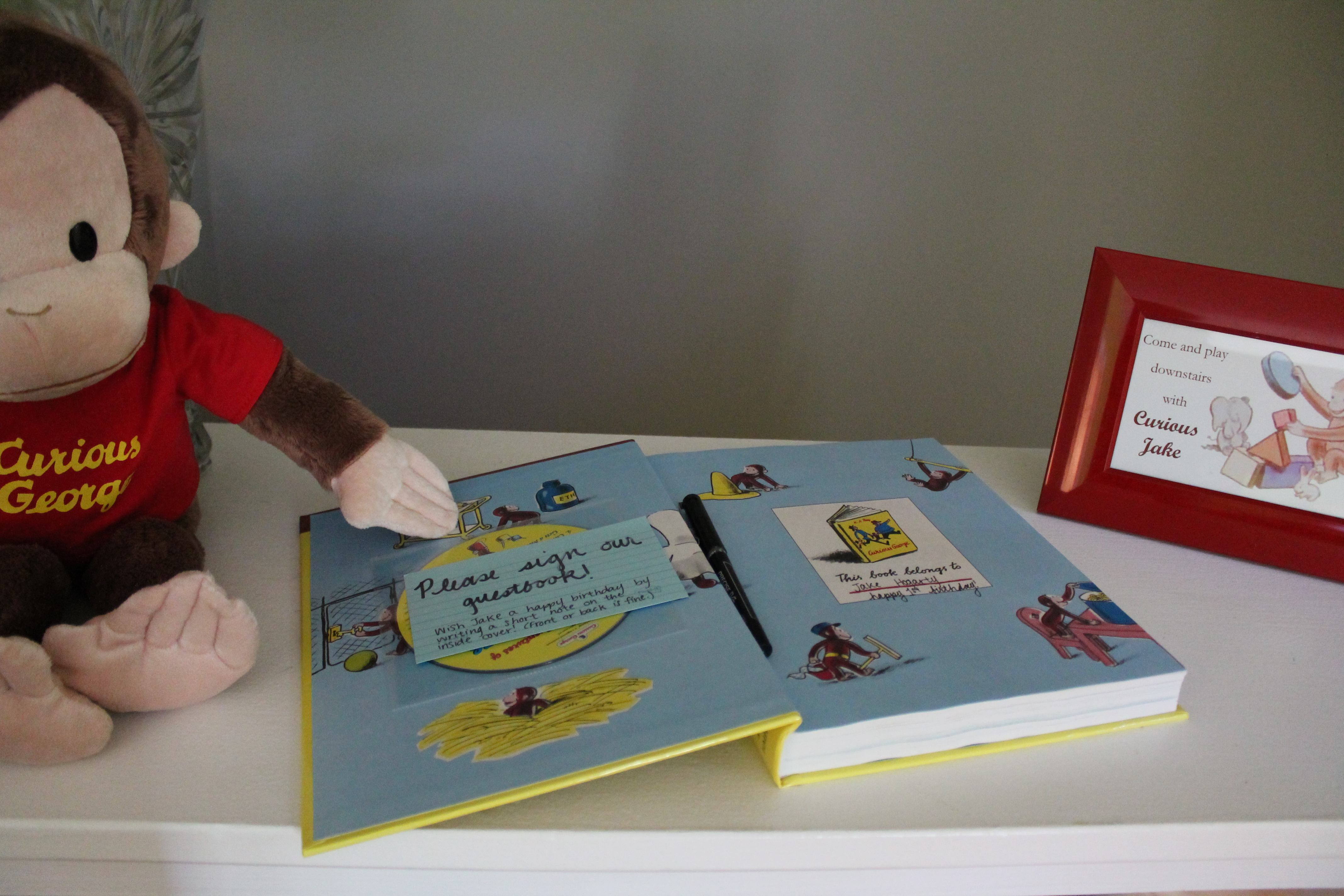 I framed pictures scanned from the Curious George books to accent the whole house (gift table, cake stand, activities for kids, you name it!).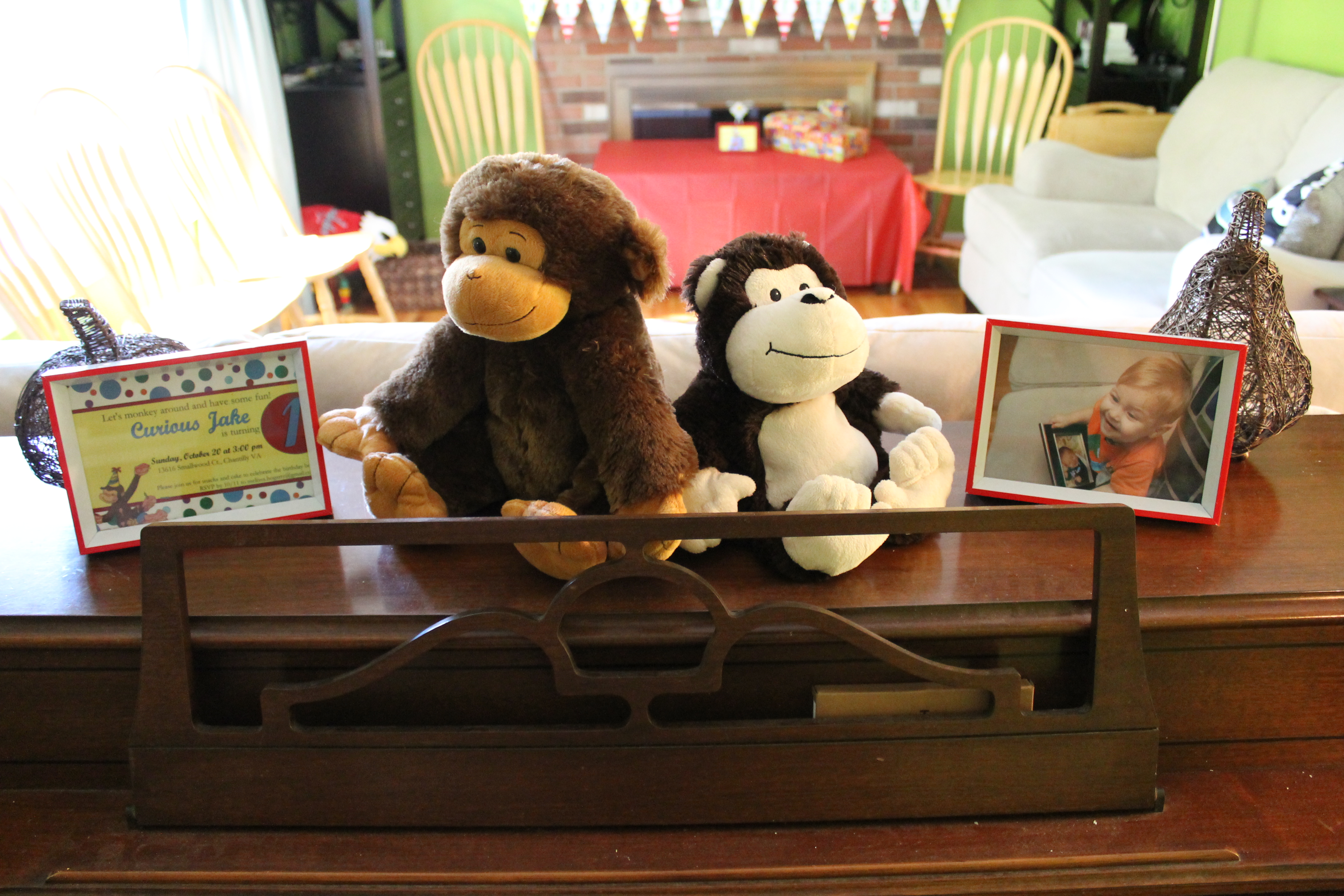 I put monkeys and photos all over the house. (And you can't see it, but on the far wall there is a giant slideshow of Jake over the last year!)
I blew up balloons and tried to redecorate the entire house into primary colors (um, yes, I did tack yellow vinyl tablecloths to the walls. I don't want to talk about it). It took a lot of effort. I got very little sleep. But in the end, I was so happy with how Jake's party turned out!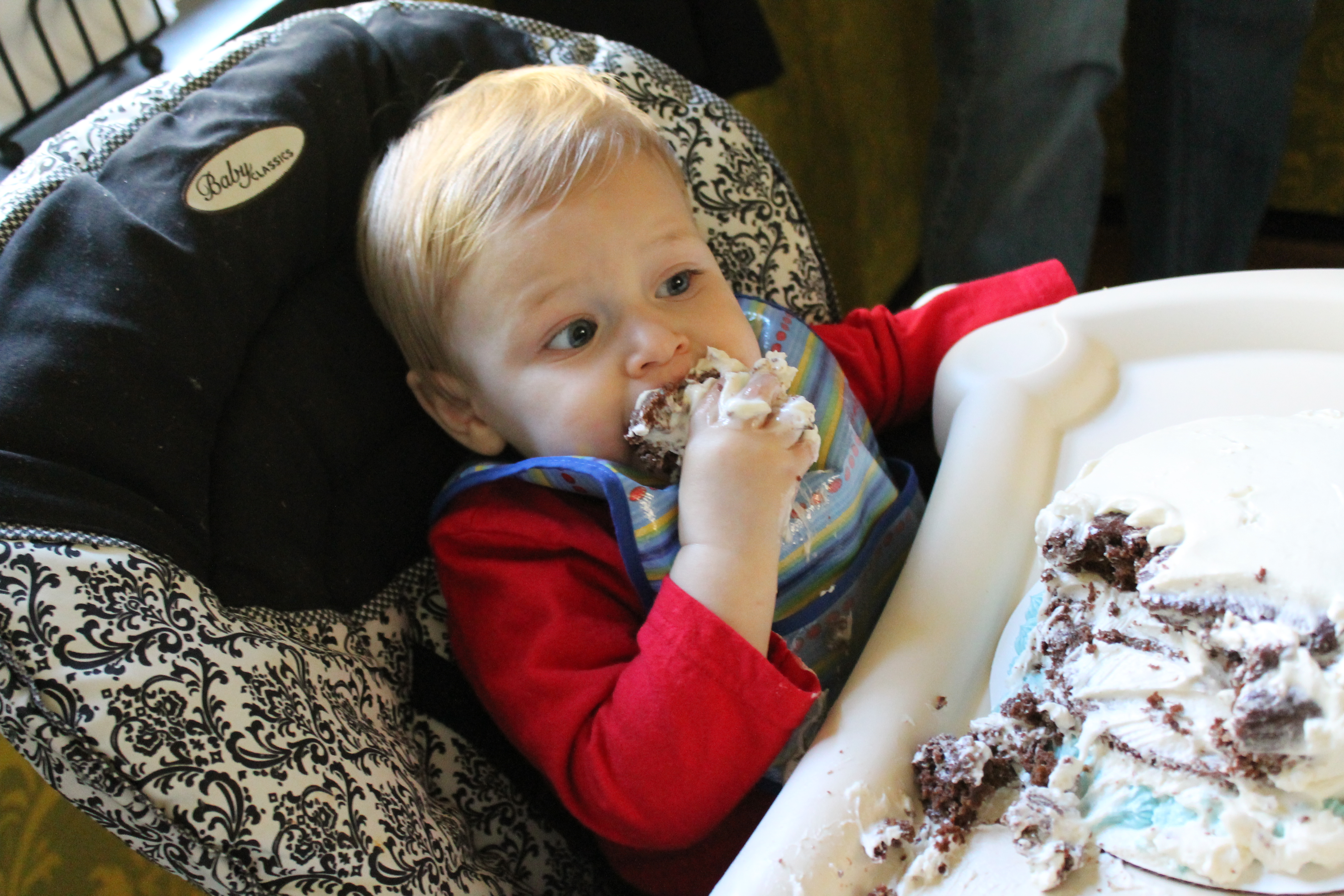 He seemed to have fun, too.
Especially with the cake (he is, after all, my son)! He grabbed a fistful of cake and shoved it into his mouth and ate/smeared/shared happily for 20 minutes. (P.S., I spent the entire birthday song choking back tears…how did my little bundle turn into a toddler already!?)
I am so proud of this smash cake! I wanted to make something that wouldn't overload him with sugar out the gate, since we have been very diligent with his diet up til now: the only sweetness he's ever had has been from actual fruits, and I'm not talking about juices or concentrates. I decided that I wanted to give Jake chocolate cake because it's clearly the best, but I also wanted it to be vaguely familiar to him, with minimal added sugar. So I decided to include fruits, which would lend flavor, texture, and sweetness, without being overpowering. Hence, chocolate prune cake!With that decision made, I looked online for chocolate prune cake recipes, and then low-sugar recipes, and honestly I didn't have much success. Most chocolate prune cake recipes have whole prunes or chunks of prunes, which didn't seem right for a baby; and most low-sugar recipes actually substitute honey, maple syrup, or some other alternative sweetener 1:1, which was not what I wanted to do. But sugar is a critical component of cake chemistry; it's not possible to just remove it and come out with any kind of cake worth eating.
So I did some research about sugar in my trusty copy of Bakewise. I won't bore you with the details, but my general conclusion was that if I increased the fat, I could decrease the sugar and the cake would still bake properly. That didn't sound quite like what I wanted, either. But, we've all heard that you can substitute unsweetened applesauce for oil in a brownie recipe, right? So, through a series of substitutions, I created a cake recipe for Jake that used only ¼ cup honey (he's 1! It's okay now! But you could also use maple syrup if honey still makes you uncomfortable) and the rest of the sweetness and texture in the cake were managed by prunes, applesauce, and oil.
I made a test cake. I topped it off with a butter roux (a.k.a., "ermine" or "boiled milk") frosting, which has about half the sugar (in terms of weight) of the average American or European style buttercream. Hooray! And that test cake? Um…I ate almost the whole thing by myself. It was delicious! The cake itself was lightly sweet, chocolatey and a little fruity but very mild; in contrast, the frosting tasted pretty sweet and made the flavors in the cake shine. I felt really good about giving it to Jake.
Okay. Shed a tear for your baby turning 1. Now let's make some cake.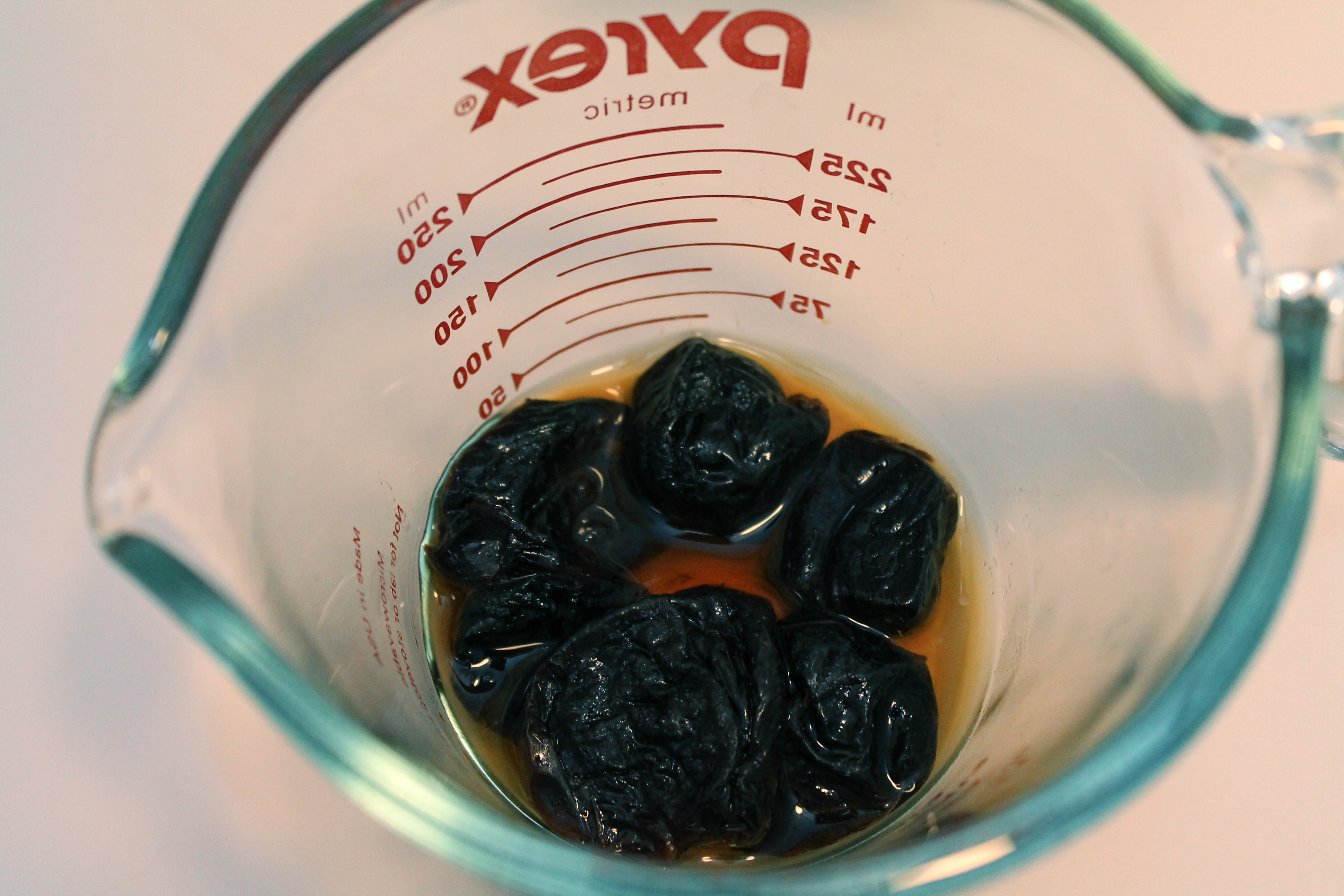 First, we have to soak the prunes in boiling water so they will be nice and velvety in the cake. My recipe says ¼ cup—I used 6 pitted prunes. Pour boiling water over them and then let the prunes soak for 30 minutes. The water will turn brown and the prunes will soften and plump up slightly.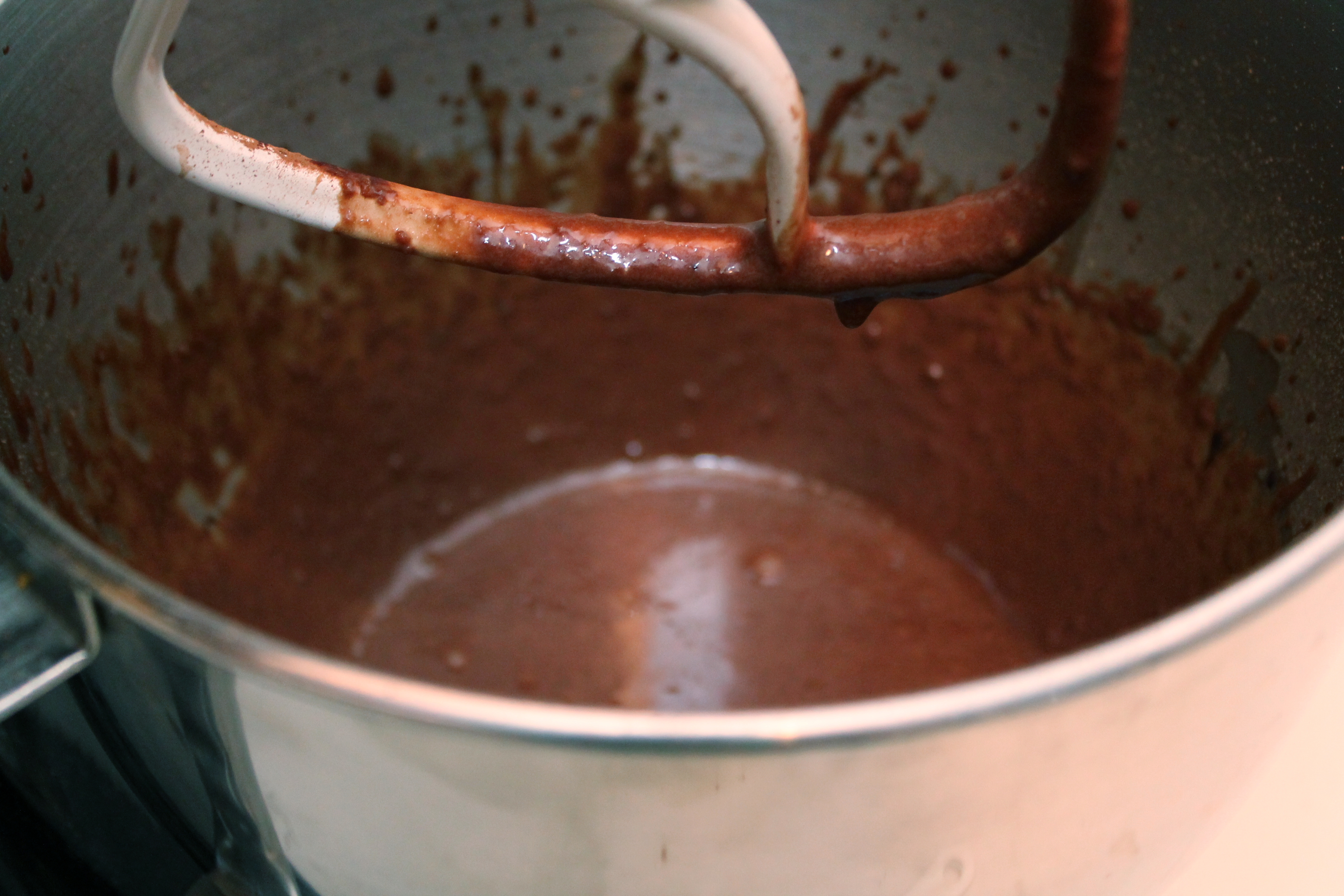 Meanwhile, beat together the honey, applesauce, oil, and cocoa powder. You could include the cocoa in the dry ingredients, but Shirley told me that fat delivers flavor the best, so I decided to include it with the wet ingredients.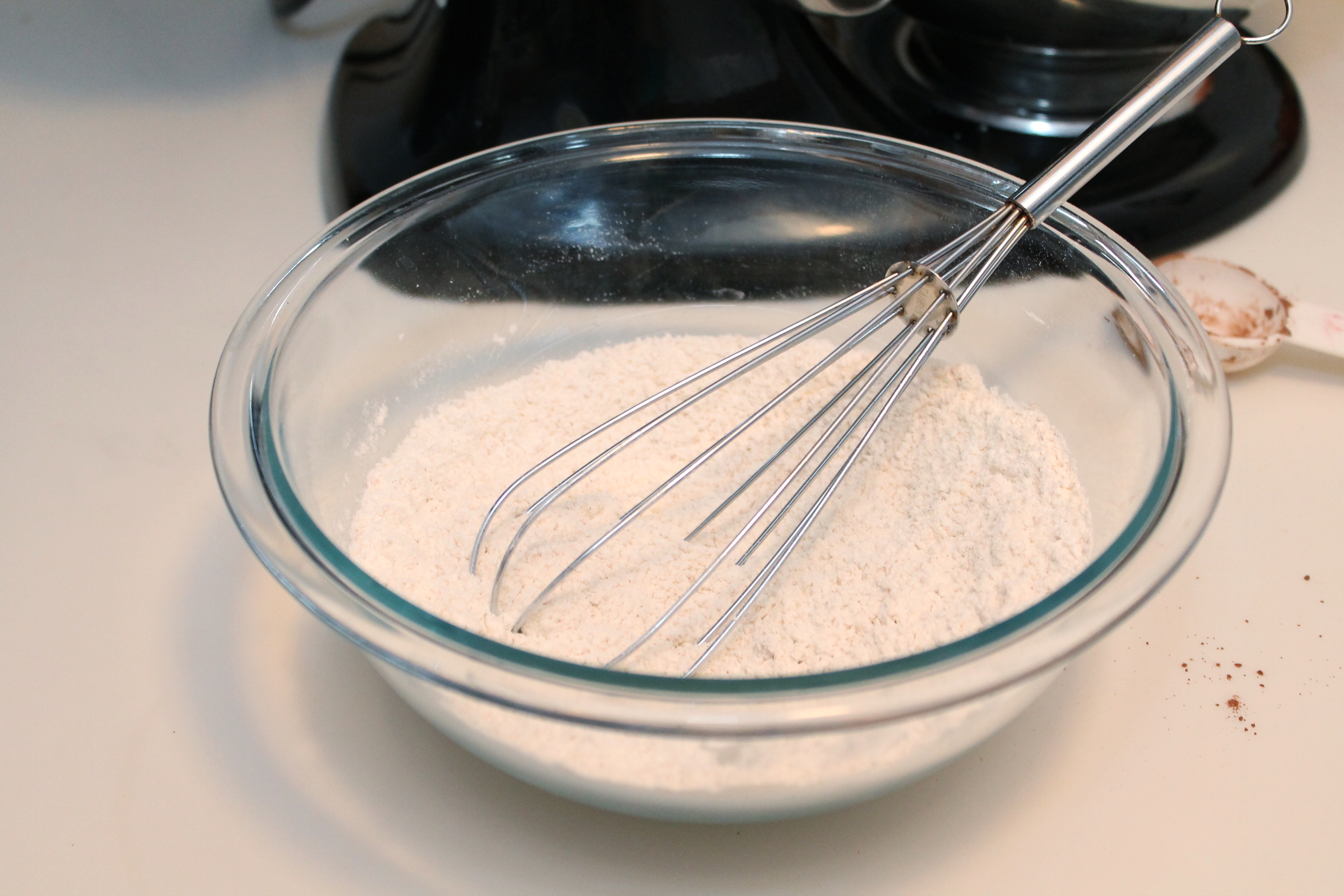 In a separate bowl, whisk together the dry ingredients: flour, wheat germ, baking soda, baking powder, and salt. Yes, I used wheat germ, which I do keep on hand. I wanted to make the cake a little more substantial, again to help avoid the inevitable sugar crash. It made the cake taste a little nutty, but since I used a fairly small amount it didn't make the cake chewy or tough at all. You could substitute an equal amount of whole wheat or all purpose flour if you don't keep wheat germ around!
Pour half the dry ingredients into the mixer bowl and stir to combine.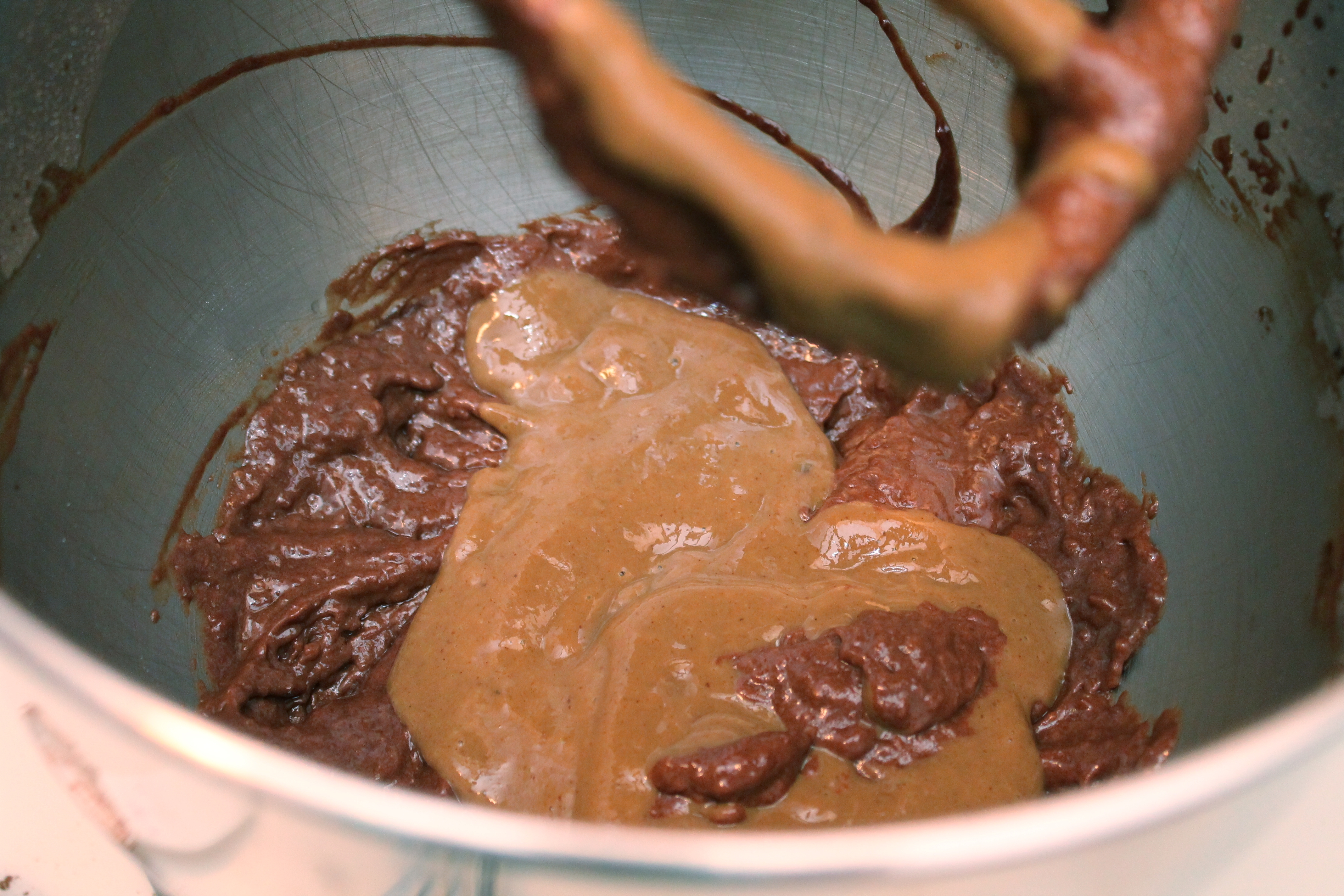 Meanwhile, take the soaked prunes and puree them with buttermilk until the mixture is thick and even.
Add the prune puree to the cake batter and mix well. Mix in the rest of the flour. Make sure you scrape the bowl well so everything is evenly incorporated.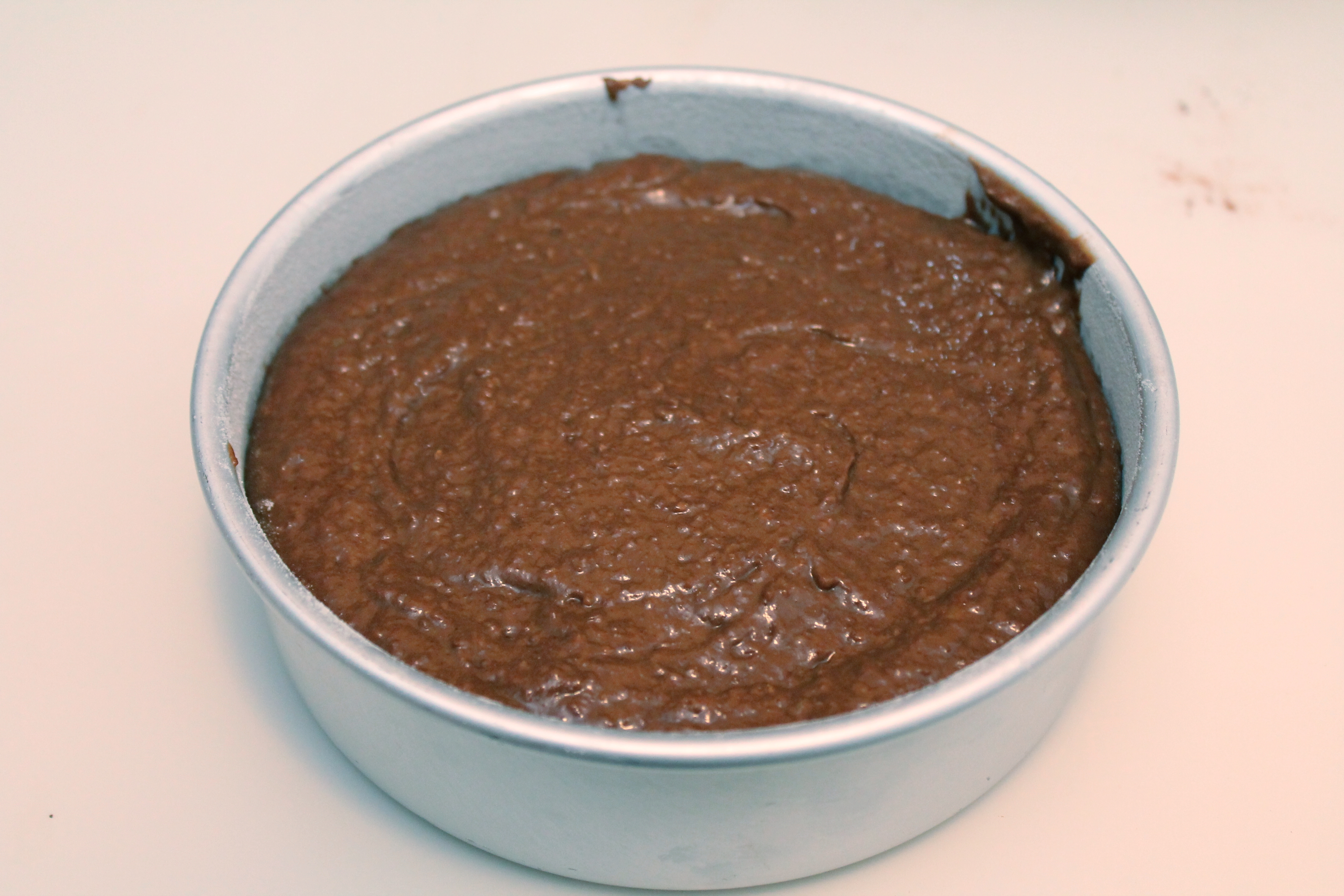 Scrape the batter into a greased and floured 6″ round cake pan. (Side note: This does make a rather large cake. Like the size of Jake's head. But it was the smallest cake pan I had, and he didn't eat the whole thing by any stretch. Most of it was on his face and the floor.)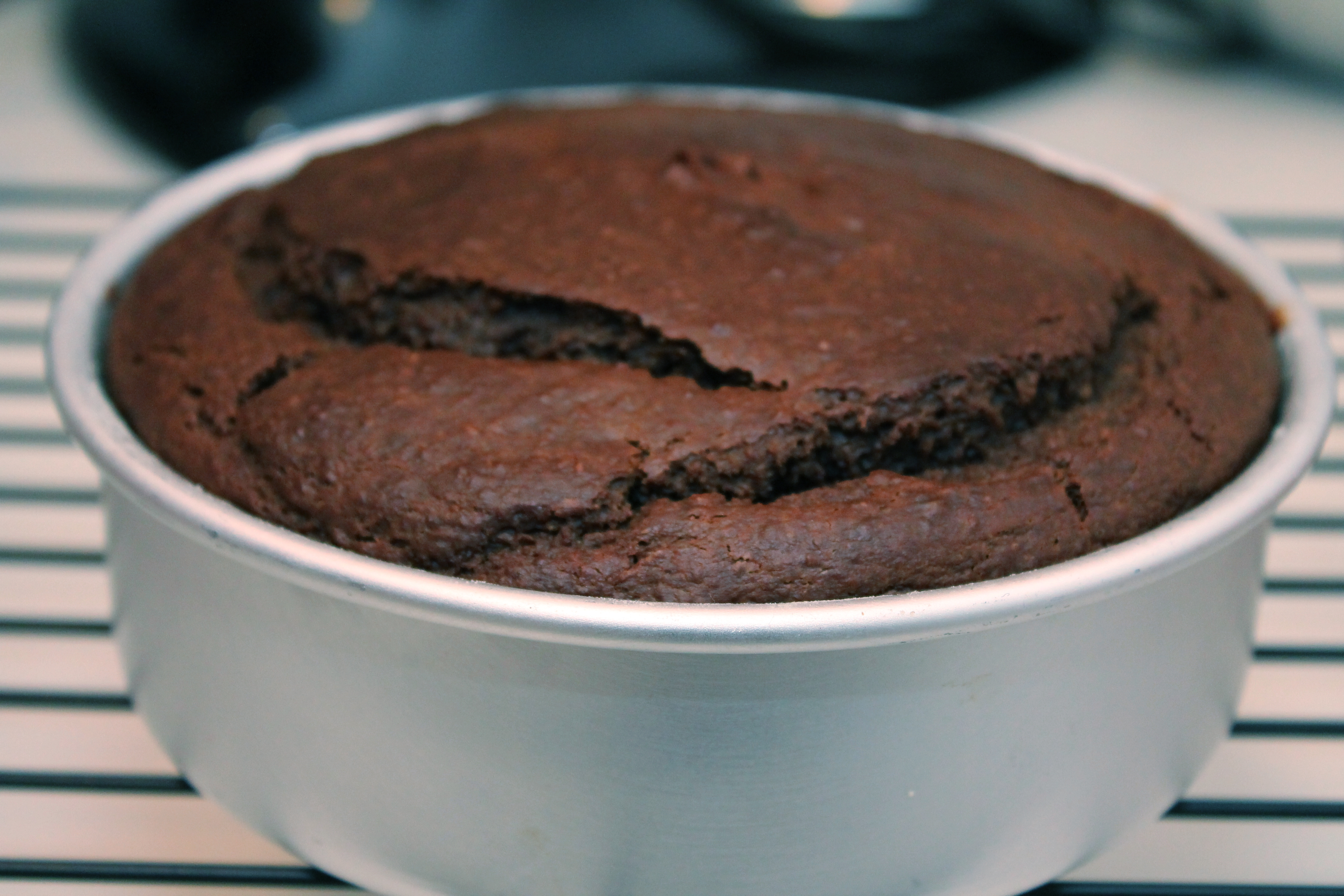 Bake for 35–40 minutes, until the cake passes a toothpick test.
Cool 10 minutes in the pan, then run a knife around the pan and invert it onto a wire rack.
Cool completely and then frost it with the frosting of your choice! I didn't take pictures of making the frosting, because I was doing it at 3 in the morning. Yeah. But here's how I frosted it!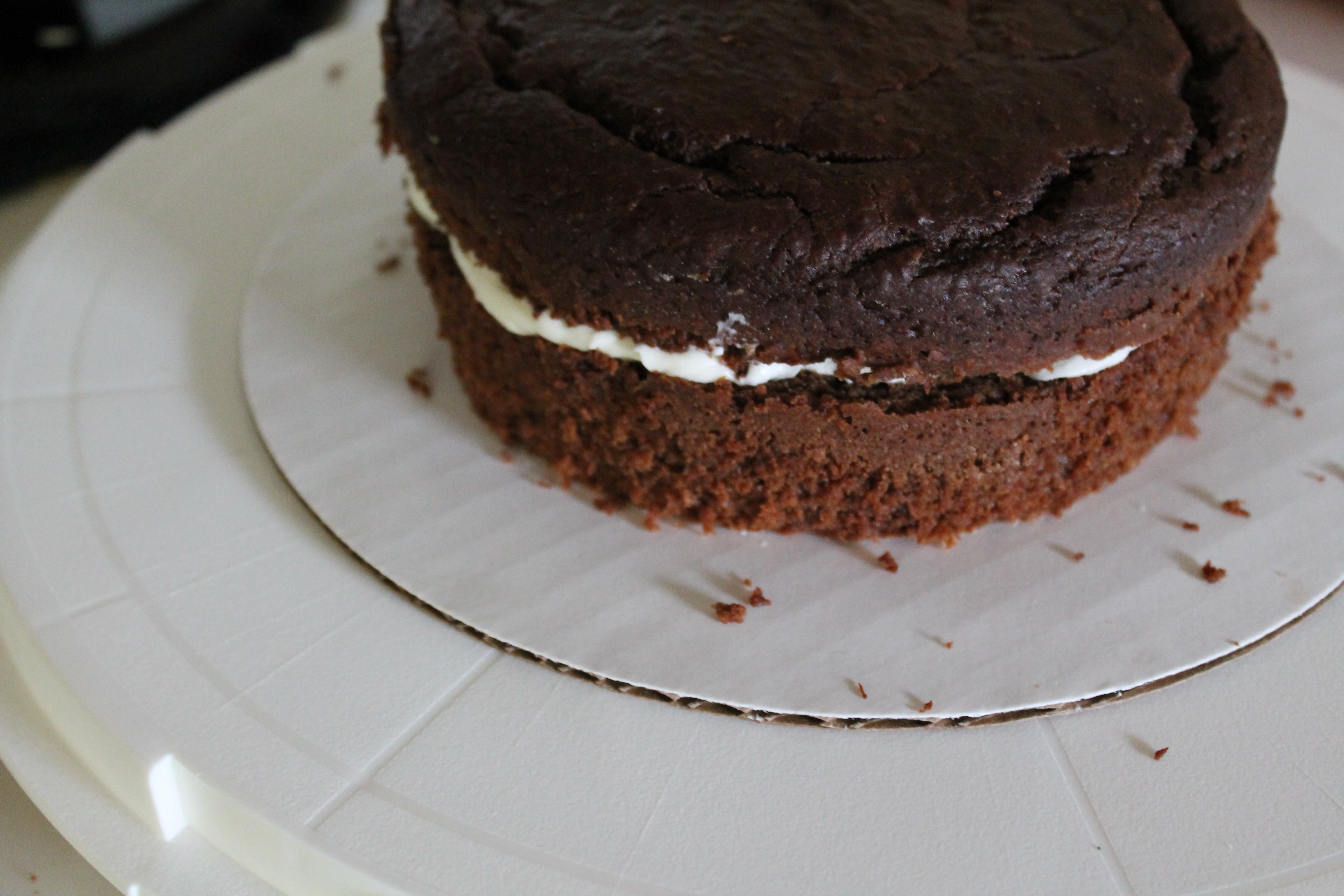 I cut the cake in half with a large, serrated knife so I could frost it in layers.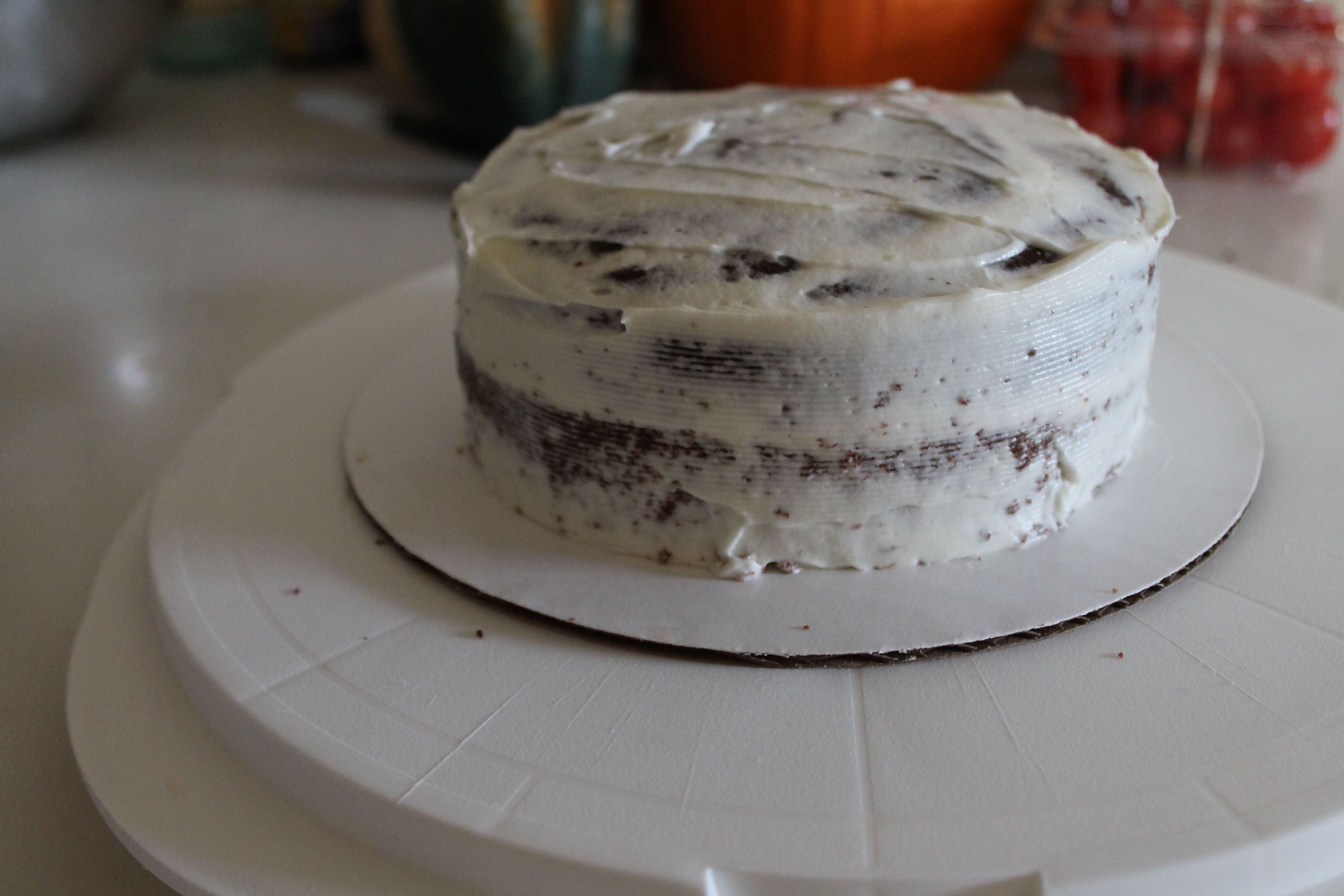 This cake definitely needed a crumb coat. Do you know what that is? It's when you put on a veerrryyy thin layer of frosting and kind of glue the crumbs down so they don't show in the final product. It's best to put a bit of frosting in a separate bowl so you don't get crumbs in everything!
Once you get the crumb coat on, chill the cake in the fridge for 10 or 15 minutes. This will help set the crumb coat so none of the crumbs will escape when you are spreading on the rest of the frosting!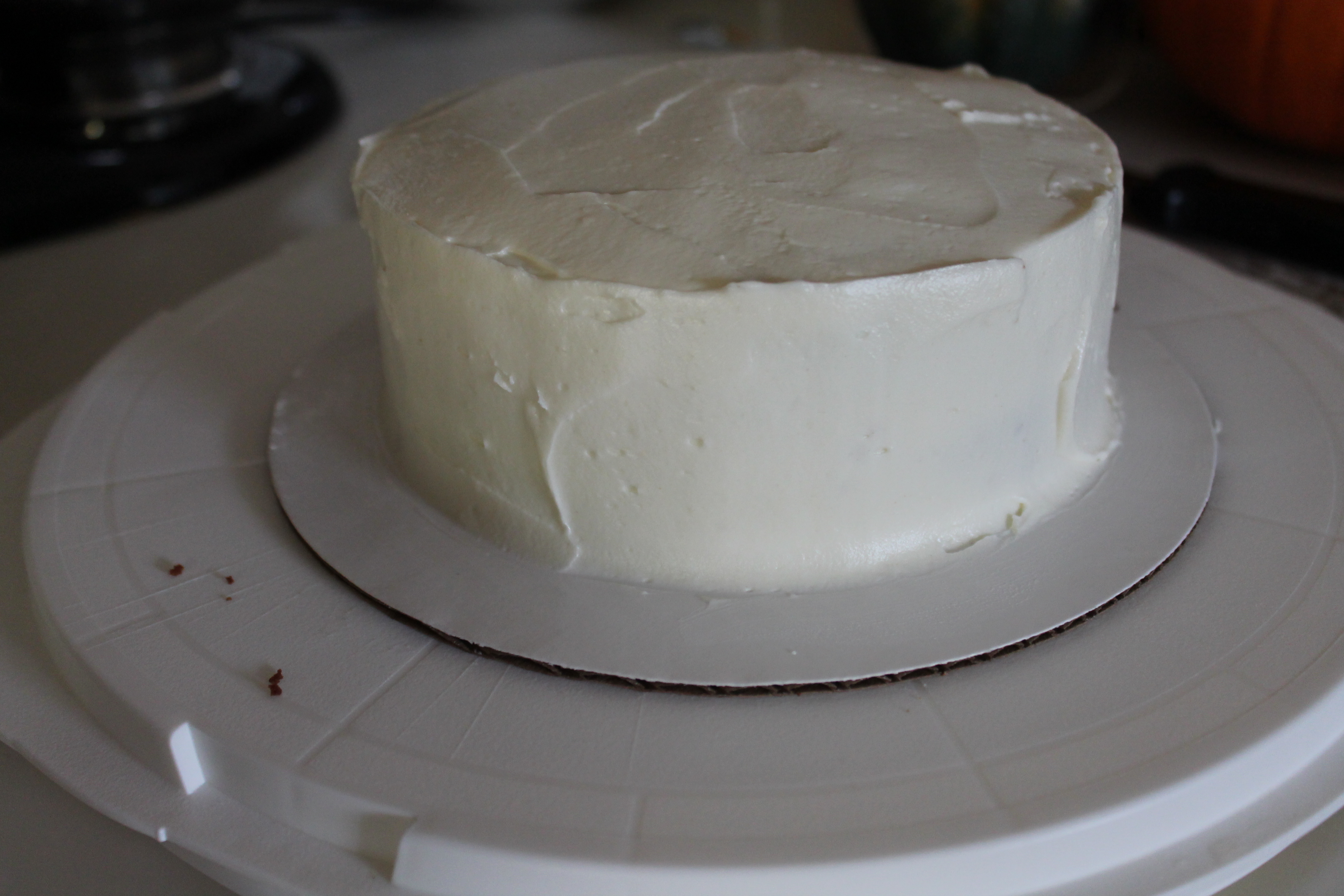 When you are ready, frost the rest of the cake. I tried to keep the frosting pretty thin, again because I didn't want to give Jake a ton of sugar all at once. I also kept the frosting white, which is boring, because I didn't want him, his clothes, or the walls to be dyed with far-flung frosting. I did pipe on some little blue stars, though.
I made Martha Stewart's one-bowl chocolate cupcakes for the party guests (I just couldn't bring myself to tell adults they were eating prunes…) and frosted it with the same butter roux frosting on Jake's cake.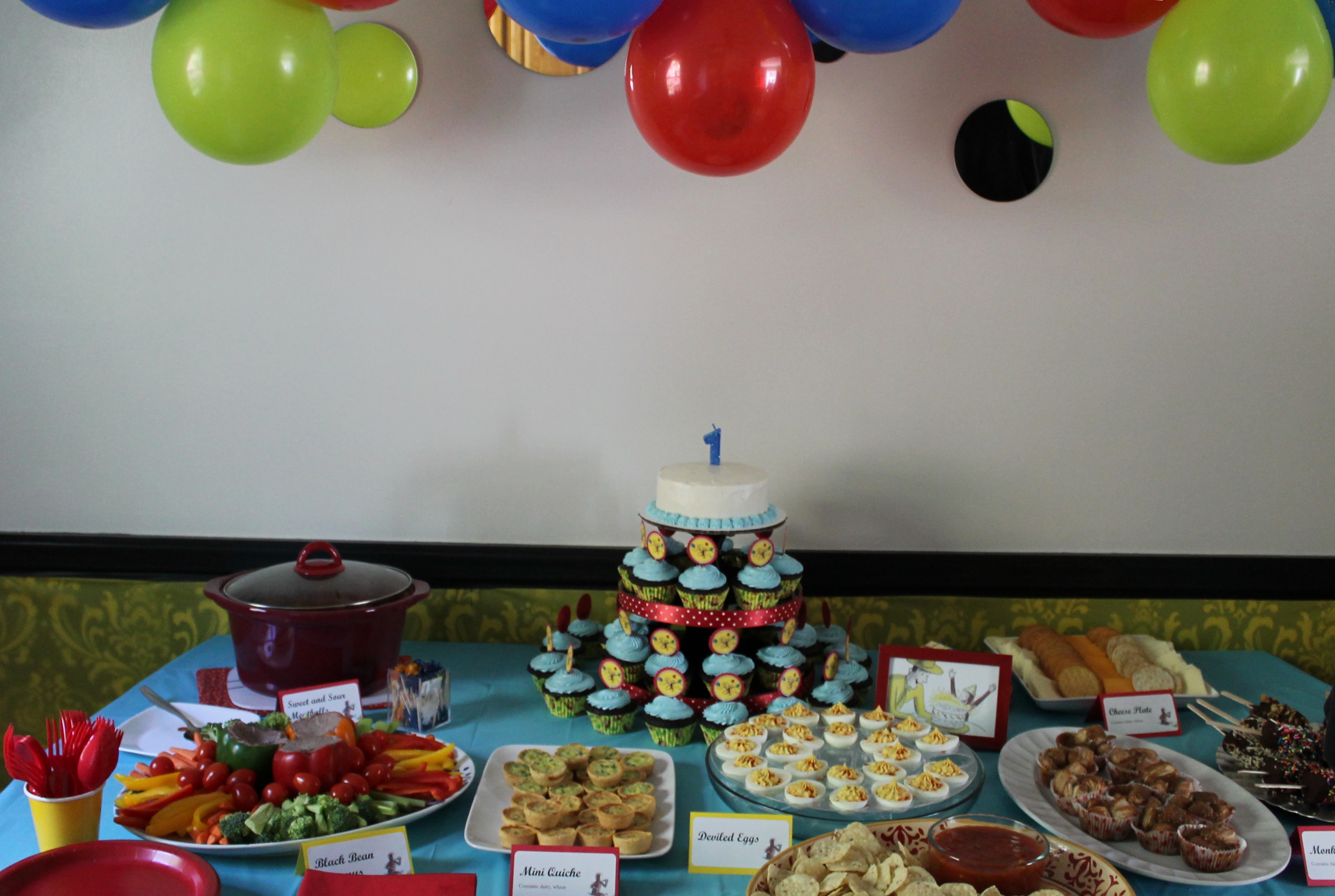 And if you're curious about what else I served at this shindig…well, I went a little overboard. Our menu was:
black bean hummus and veggies
mini quiche tarts
sweet and sour meatballs (I know…but all my friends and family are carnivores)
chips and Rothman's salsa (brought by my mom!)
cheese and crackers (brought by my sister-in-law!)
deviled eggs
mini monkey breads
frozen banana pops (brought by Sarah of Well Dined!)
There was too much food. Juuuust the way I like it (j/k) (not really).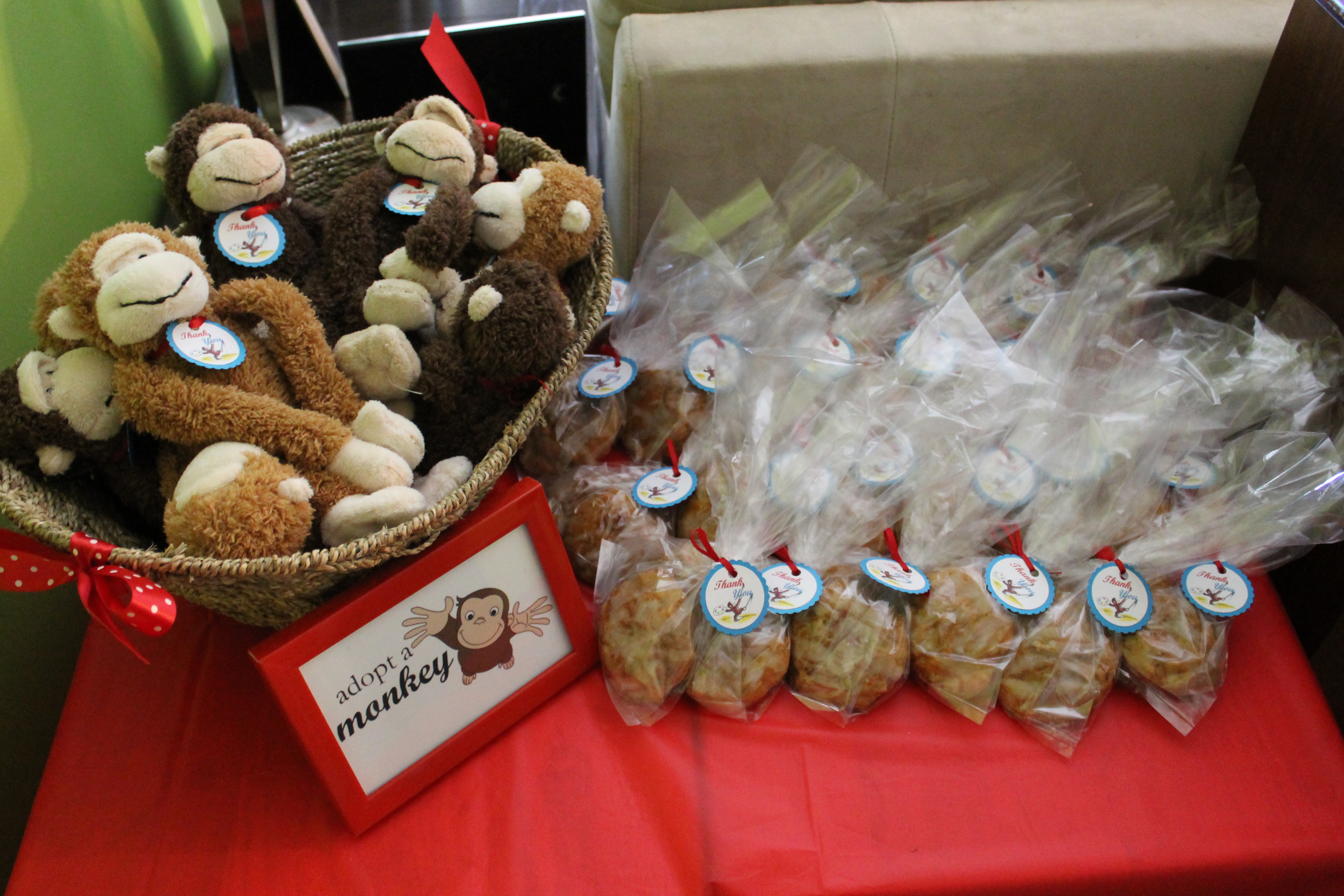 And for party favors, I got stuffed monkeys for the kiddos and made pumpkin cookies for the adults.
Chocolate Prune Smash Cake
Makes
1
6″ cake (serves 6)
Ingredients
¼

cup

pitted prunes

2

tbsp.

boiling water

6

tbsp.

oil

¼

cup

unsweetened applesauce

¼

cup

honey or 100% real maple syrup

2

tbsp.

cocoa powder

1

tsp.

vanilla extract

2

large

egg yolks

½

cup

buttermilk

1

cup

all-purpose flour

¼

cup

wheat germ

½

tsp.

salt

½

tsp.

baking soda

1

tsp.

baking powder
Instructions
Soak prunes in boiling water for 30 minutes.

Preheat oven to 350°. Grease and flour a 6ʺ round cake pan.

Mix together oil, applesauce, honey, cocoa powder, and vanilla extract. Add in egg yolks and beat for 2 minutes to aerate.

In a separate bowl, whisk together the flour, wheat germ, salt, baking soda, and baking powder.

When the prunes are ready, blend them (including the liquid) with the buttermilk in a food processor or blender until the mixture is thick and even.

Add half of the flour mixture to the chocolate mixture and stir thoroughly. Add all of the prune mixture, followed by the remaining flour mixture, and mix well, scraping the bowl as necessary.

Pour the batter into the prepared pan, smoothing the surface with a spatula.

Bake for 30–40 minutes, until the cake passes a toothpick test.

Cool completely, then frost as desired*.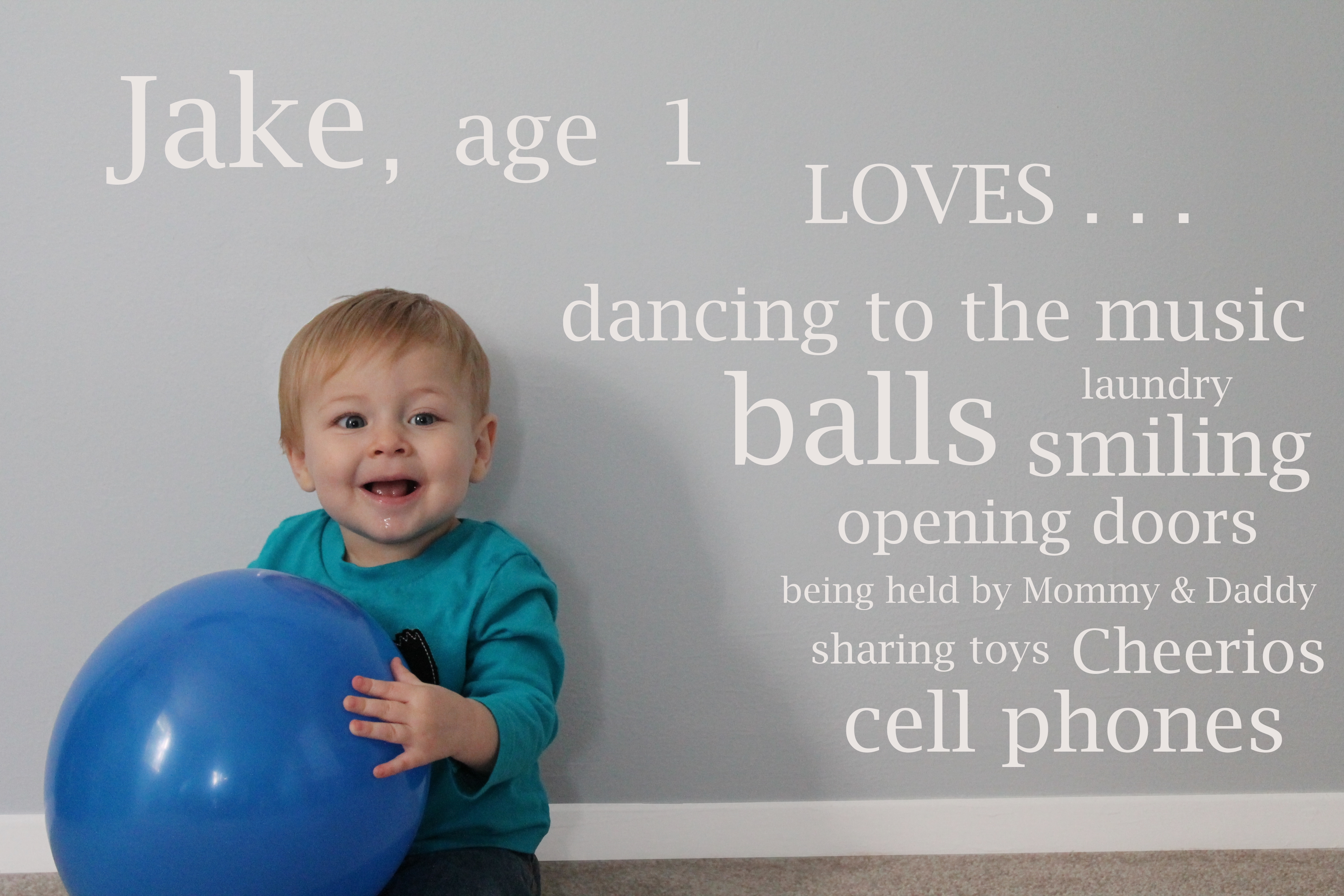 One year ago: Baby Jake
Two years ago: Pumpkin Snickerdoodles