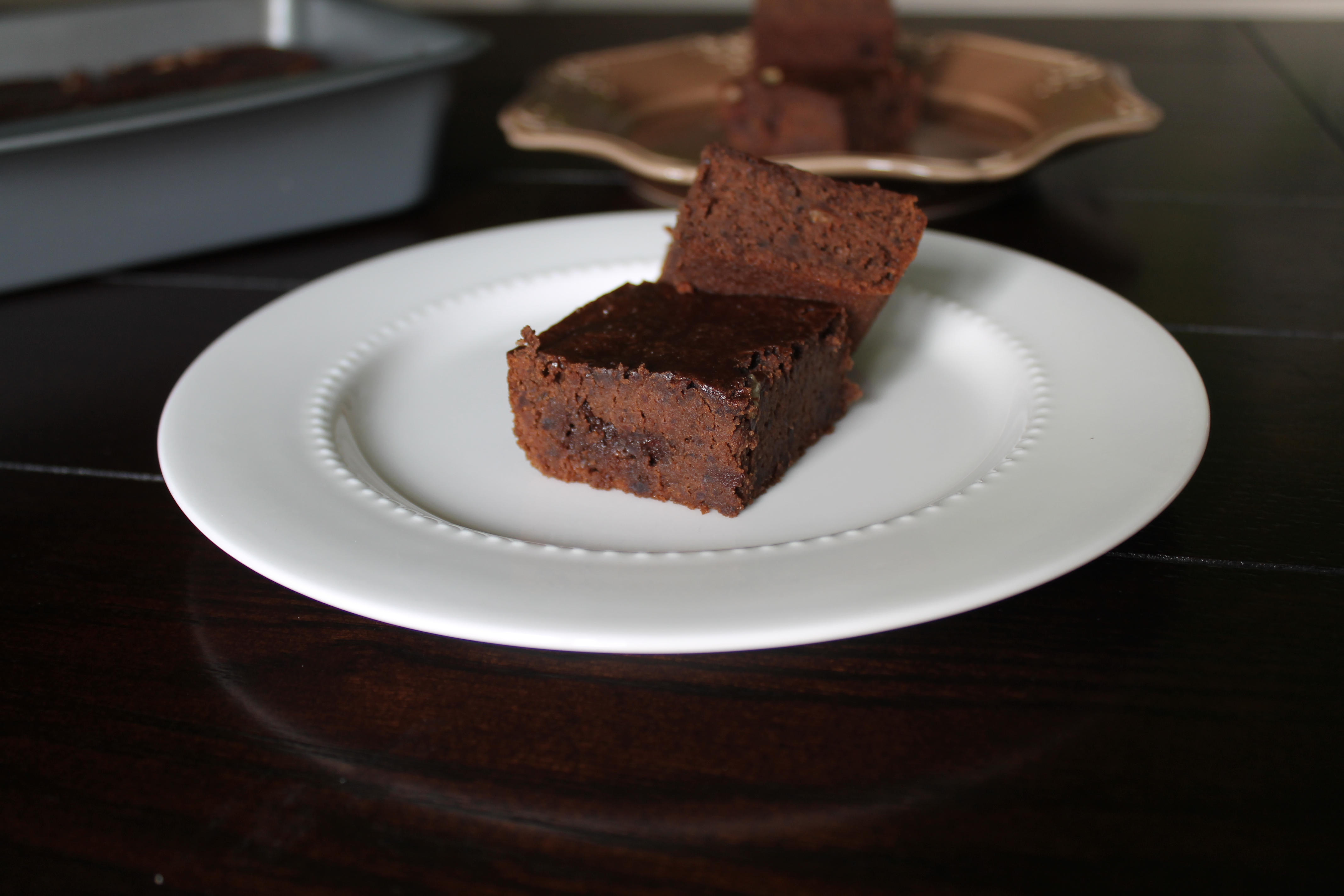 This month for the Secret Recipe Club, I was assigned the blog Jenny's Cookbook.
Boy did I have a hard time deciding what to make. Given the chilly weather, I was leaning toward one of her many delicious-looking (vegetarian!) soups, but when my eyes lit on the name Black Bean Brownies, I knew I was set.
You may have noticed that I named my blog after brownies. I really, really like them. And yet, if you scroll through the archives or recipe index, brownies and desserts in general aren't featured as prominently as you may expect. Maybe one reason for this oddity is that, um…I often don't let my brownie batter turn into brownies. Oops. And sometimes I am too eager to taste to bother with the labor of love known as food photography.
But also, I am pretty particular about brownies. They have to be spectacular if I am going to share them with you.
I like all kinds of brownies, really, but I have a special place in my heart for more creative recipes. Like a brownie that replaces all the flour with black beans, thus rendering it gluten free! In fact, I spent a few weeks last year testing a recipe for black bean brownies that honestly never came out right. It was vegan and gluten free, which I applaud…but unfortunately it had no structure or flavor. Not cool.
This recipe, however, is amazing. It's not vegan, but it is dairy free (if you monitor your add-ins), which means I can make brownies for my mom again! The flavor is spot on, a blend of rich chocolate, coffee, and vanilla. While the texture is somewhat different from a typical brownie, I would never guess there were beans in these brownies if I hadn't made them with my own two hands!

By the way, let's just do a little happy dance for recipes whose only directions are basically blend and pour. Hooray!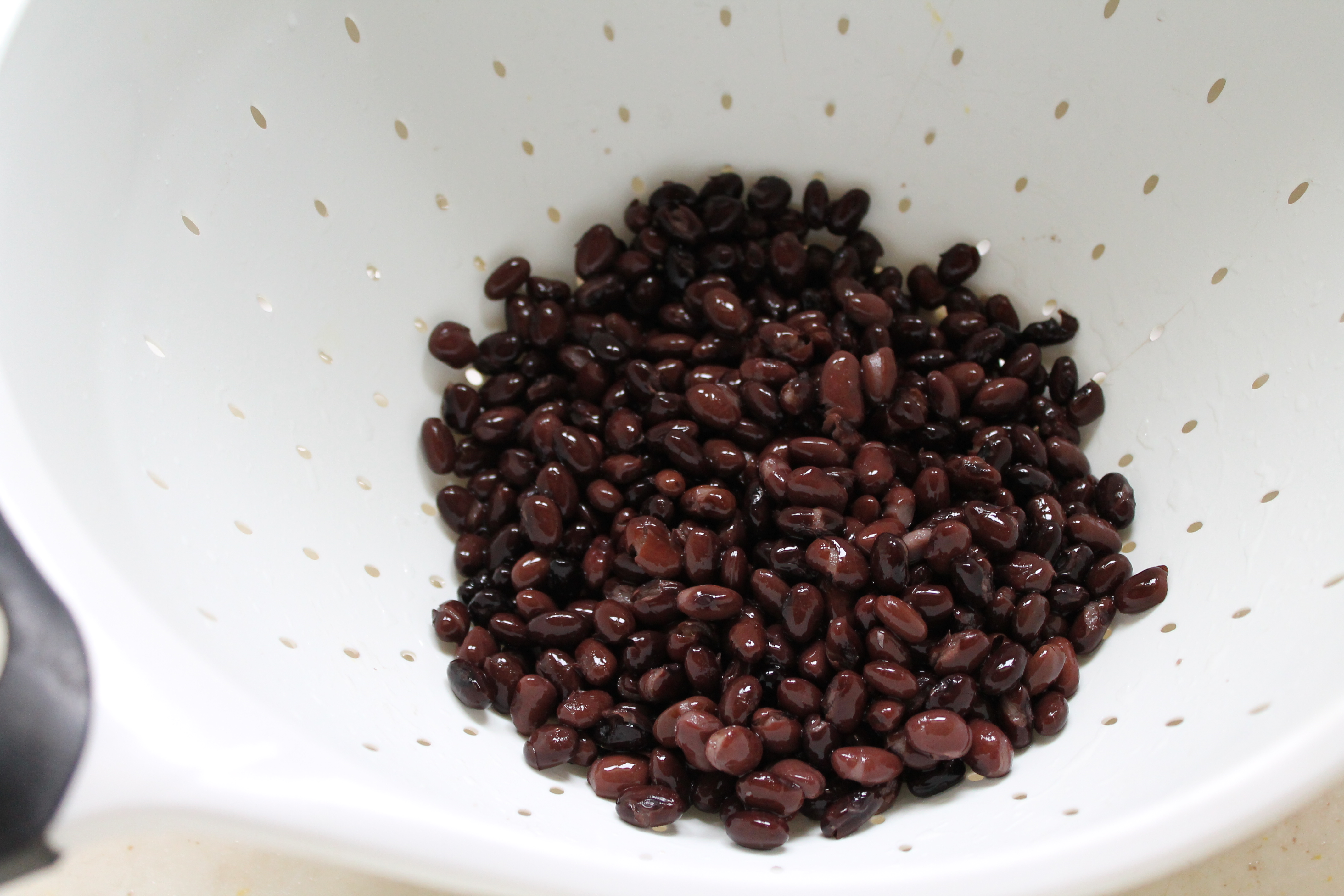 Rinse your black beans. I used one can, but if you want to get fussy with it, you could crack open two cans and measure out 2 full cups of beans, as Jenny's version of the recipe suggests.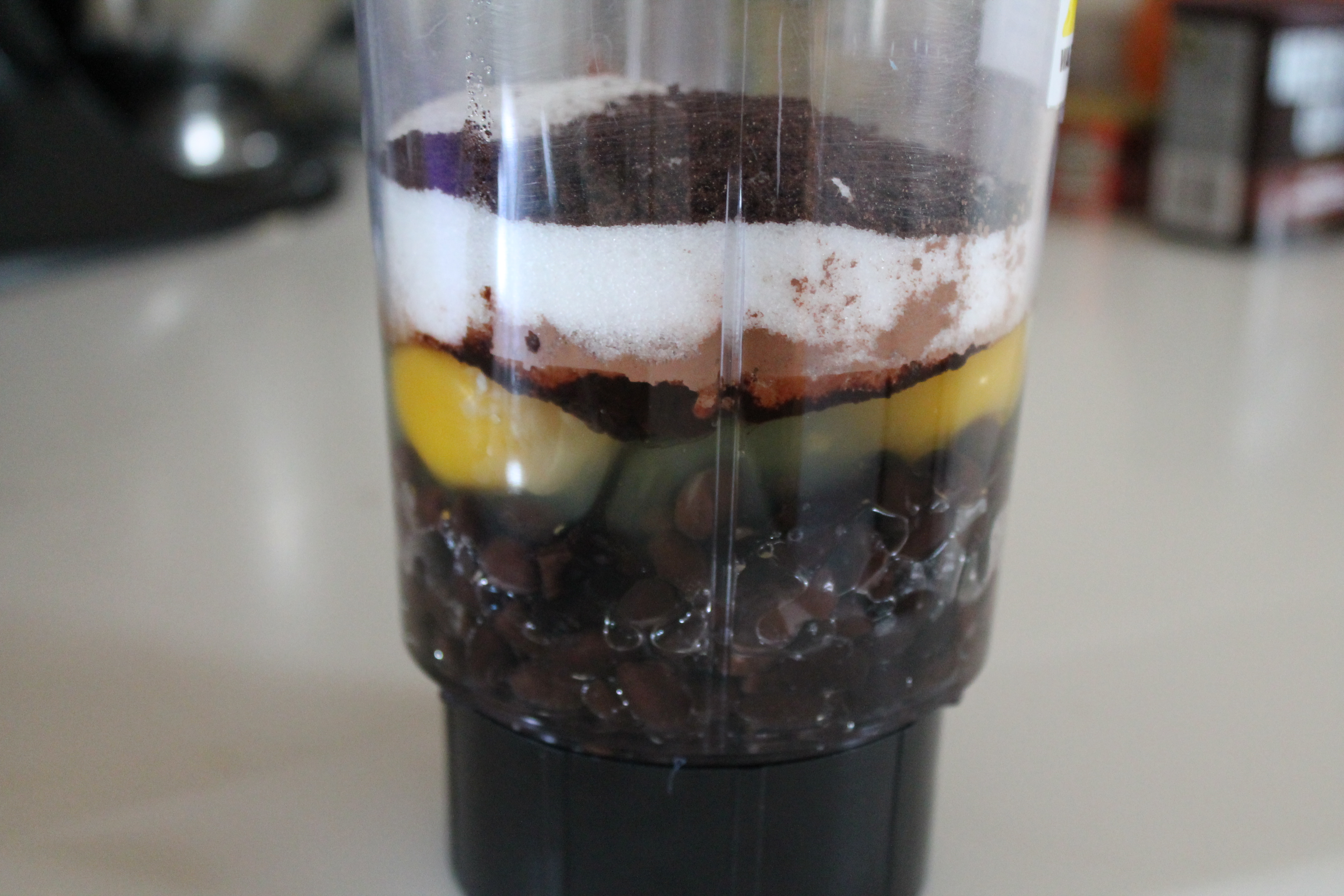 Add all of the brownie ingredients into a blender. Pretty, pretty layers!
Side note: You could still make these brownies vegan if you really want to. Just substitute 1 tbsp. ground flax seeds soaked in ¼ cup water for each egg. Honestly, I am not sure I really recommend this, because the eggs are so vital to building structure in the absence of flour; the flax mixture will produce denser brownies, more like sticky fudge. But I leave that up to you!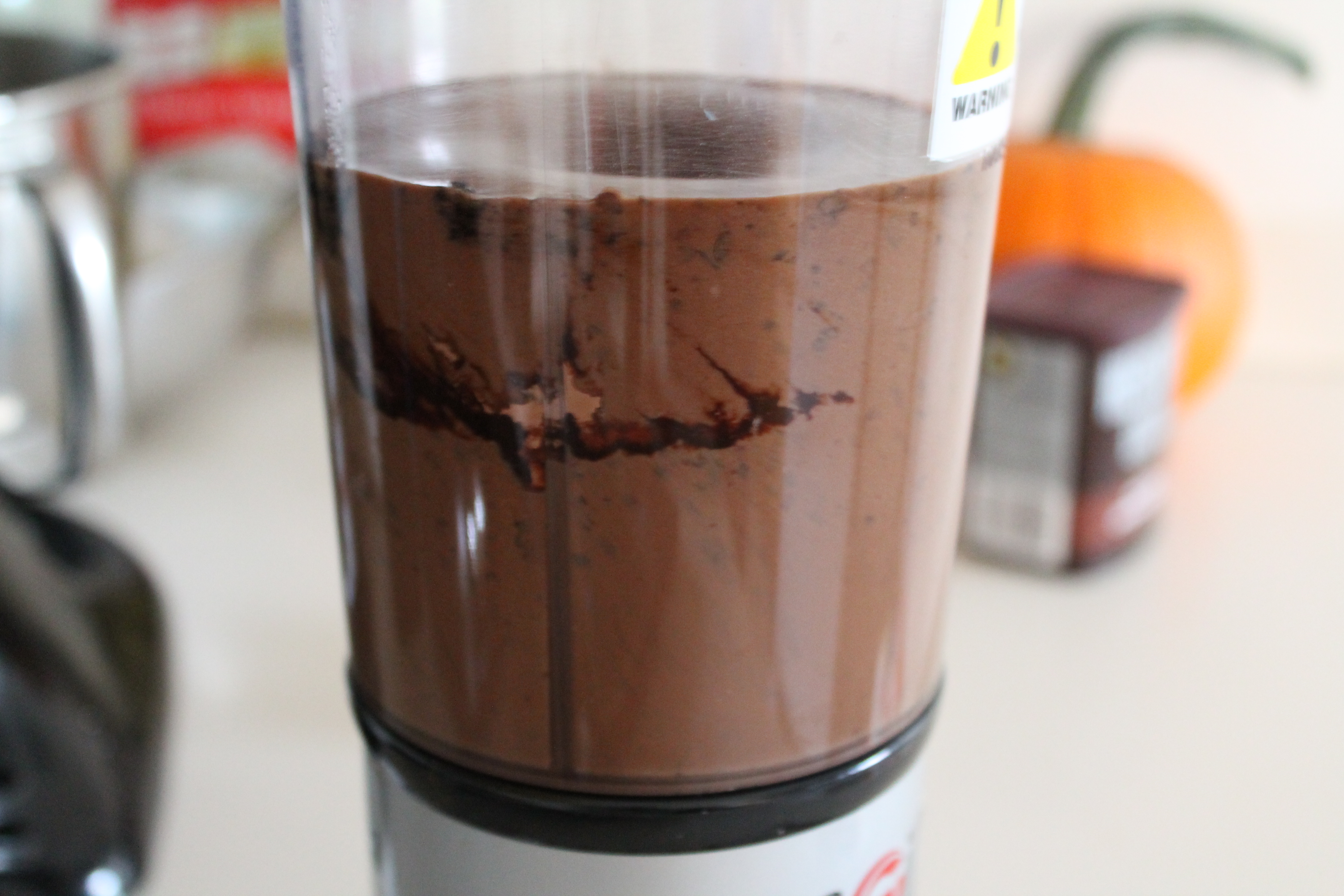 Blend until the mixture is smooth and even. Don't forget to scrape the edges of the blender down to snag any little bits of cocoa powder or sugar that are stuck there. And as you look at the mixture, don't panic when you see little bits of the black bean skin floating around. As long as there are no whole beans left in your batter, you are good to go!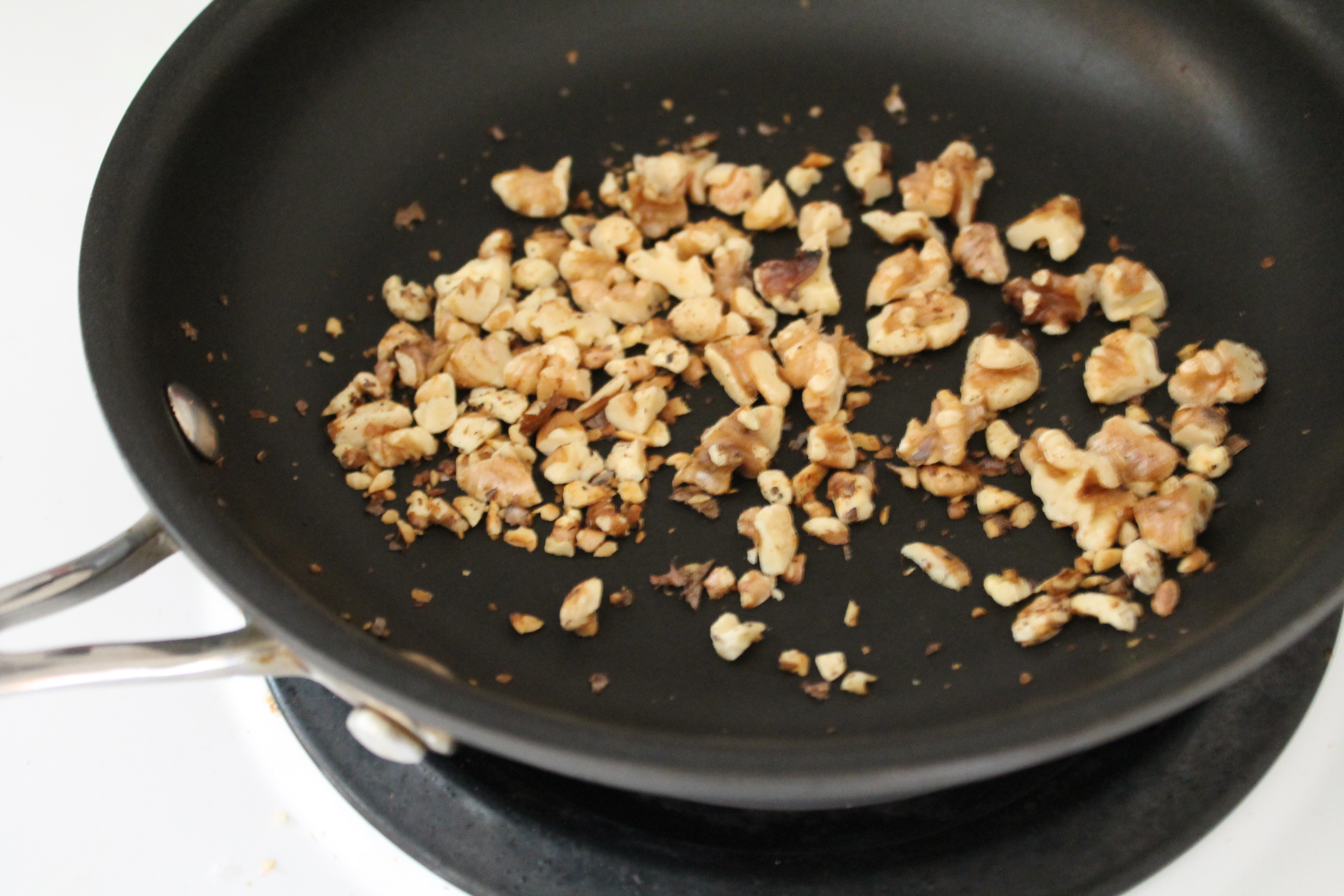 I decided, for my add-ins, to use lightly toasted chopped walnuts and chocolate chips. (Don't worry, Mom, I won't put either of those things in the brownies I make for you!) You can really add in anything you like, or keep them plain and simple! Of course, chocolate chips are not dairy-free, so if that is important to you, then you should probably stick to dried cranberries and nuts. Or something.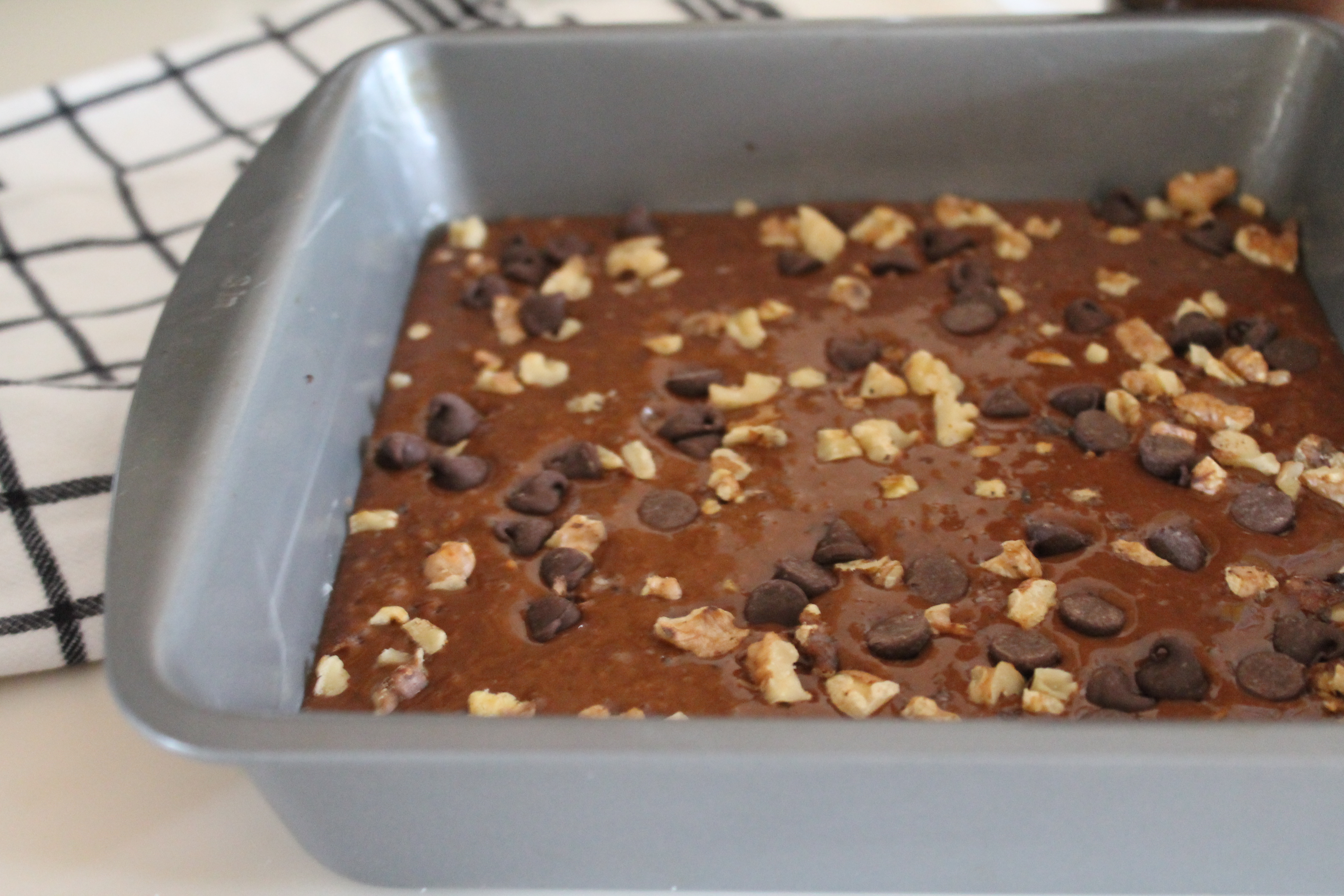 I wanted my nuts and chocolate to be distributed throughout the brownies, rather than sitting on top, so I poured half of the batter into a lightly greased 8″ square pan, then sprinkled my add-ins.
Another side note: I don't normally like nuts in my brownies, so I thought ¼ cup would suit me just fine (and it was similar to what the original recipe called for, anyway!). But after eating the brownies, I found myself really wishing for more nuts. While the chocolate chips just melted in and left little pockets of flavor, the nuts seemed incongruous because they were so sparse. Thus, I have increased the amount of nuts in the recipe below!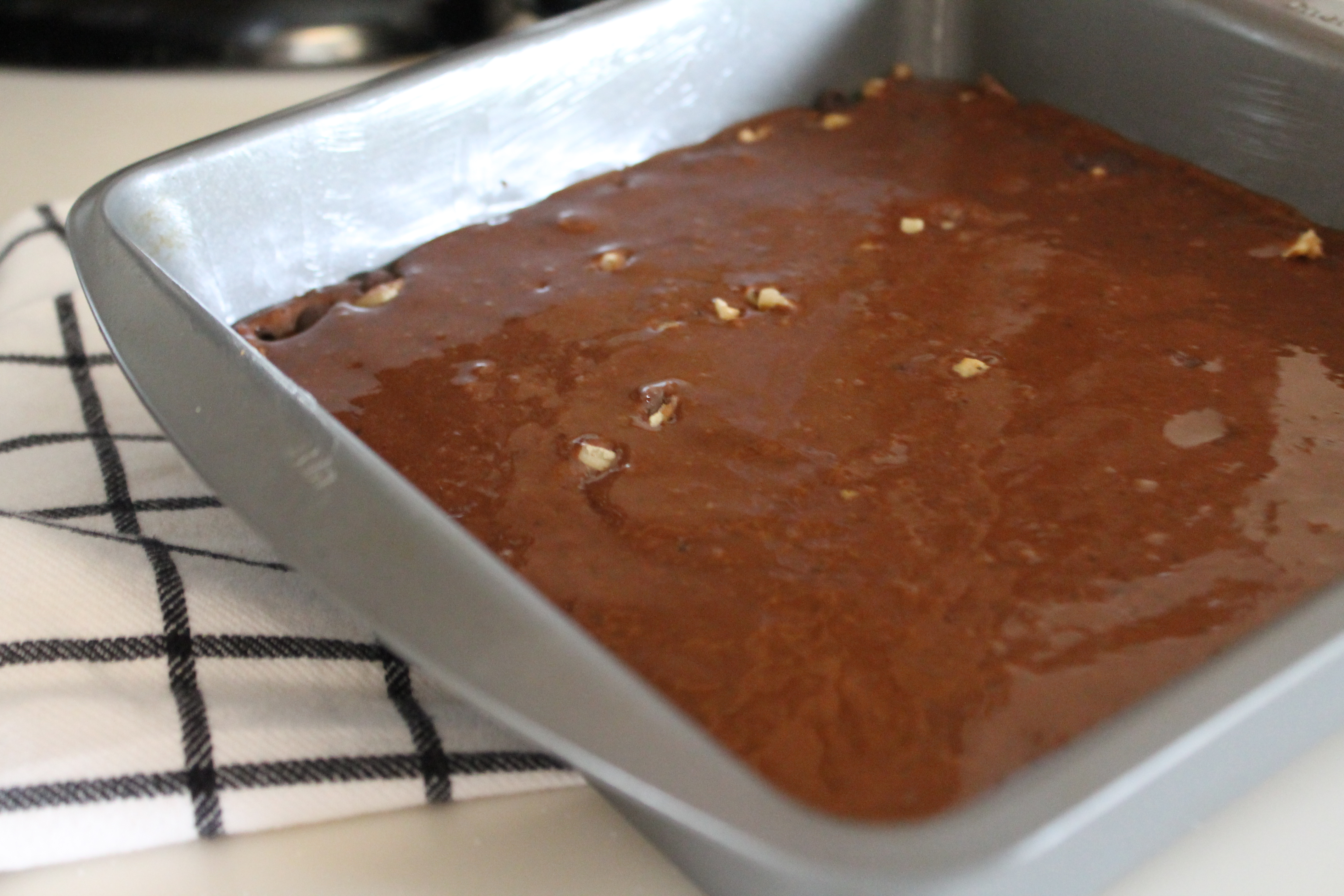 I poured the remaining batter over the nuts and chocolate, which mixed them throughout the batter.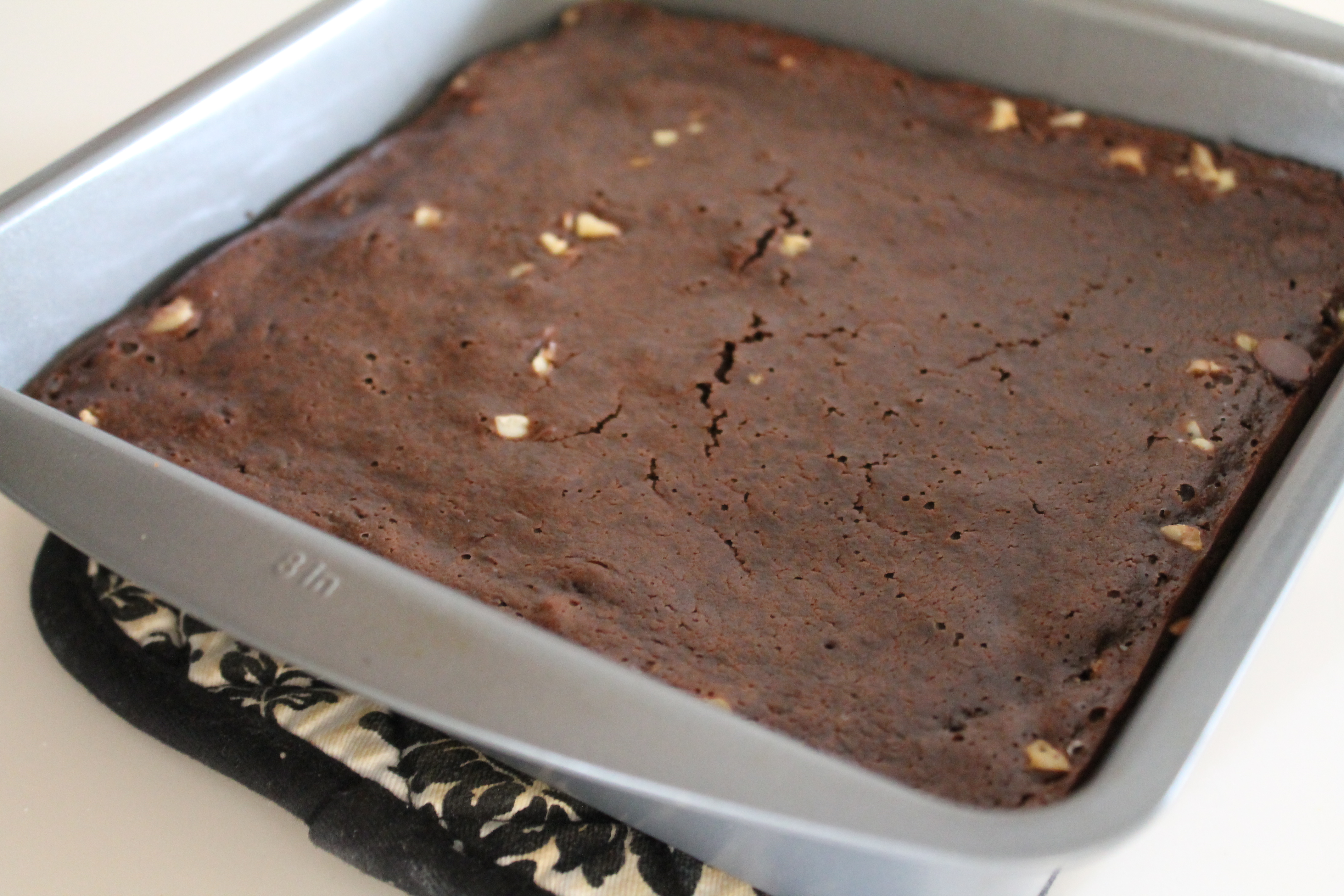 Bake the brownies for 30 minutes at 350°. The center should be firm to the touch; don't bother with the toothpick test. Since the brownies are gluten free, the toothpick test won't work properly.
By the way, I found that when I took these brownies out of the oven, they were all puffed up like chocolate cake. I was a little distressed, as this is a problem I've been having with another recipe I'm testing. But don't worry! As they cool, they will settle back down and resume being amazing brownies. (And in case you are tempted to eliminate the baking powder to solve this problem, don't! Without the baking powder, they will be much more like fudge than a brownie.)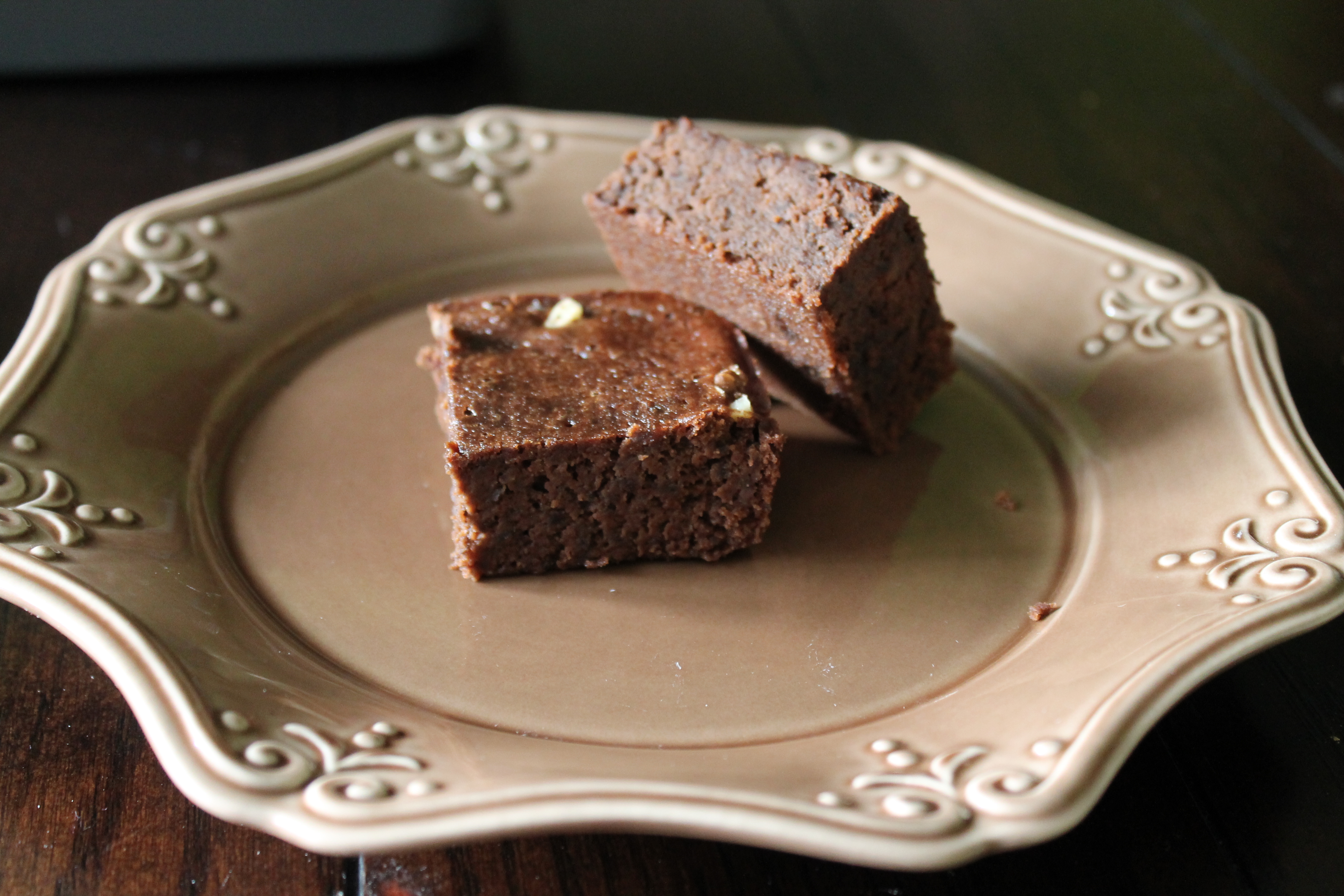 Cool completely before cutting. Serve with a steaming mug of coffee. Yum.
Black Bean Brownies
adapted from Jenny's Cookbook
makes 16
Ingredients:
1 15½oz. can black beans, drained and rinsed
3 eggs
3 tbsp. canola oil
1 tsp. vanilla extract
¼ cup cocoa powder
1 tsp. baking powder
¾ cup sugar
1½ tsp. instant coffee powder
pinch of salt
½ cup toasted chopped walnuts (optional)
¼ cup semisweet chocolate chips (optional)
Directions:
Preheat oven to 350°. Lightly grease an 8″ square baking dish.
Combine all ingredients except the walnuts and chocolate chips in a blender. Blend well, scraping the sides of the blender as needed.
Pour half the batter into the prepared dish. Layer on the nuts and chocolate. Pour the remaining batter evenly over the fillings.
Bake 30 minutes, or until the center of the brownies are firm to the touch.
Cool completely before cutting.
Enjoy!
One year ago: Apple Cheddar Quickbread
Two years ago: Butternut Squash and Goat Cheese Flatbread Pizza