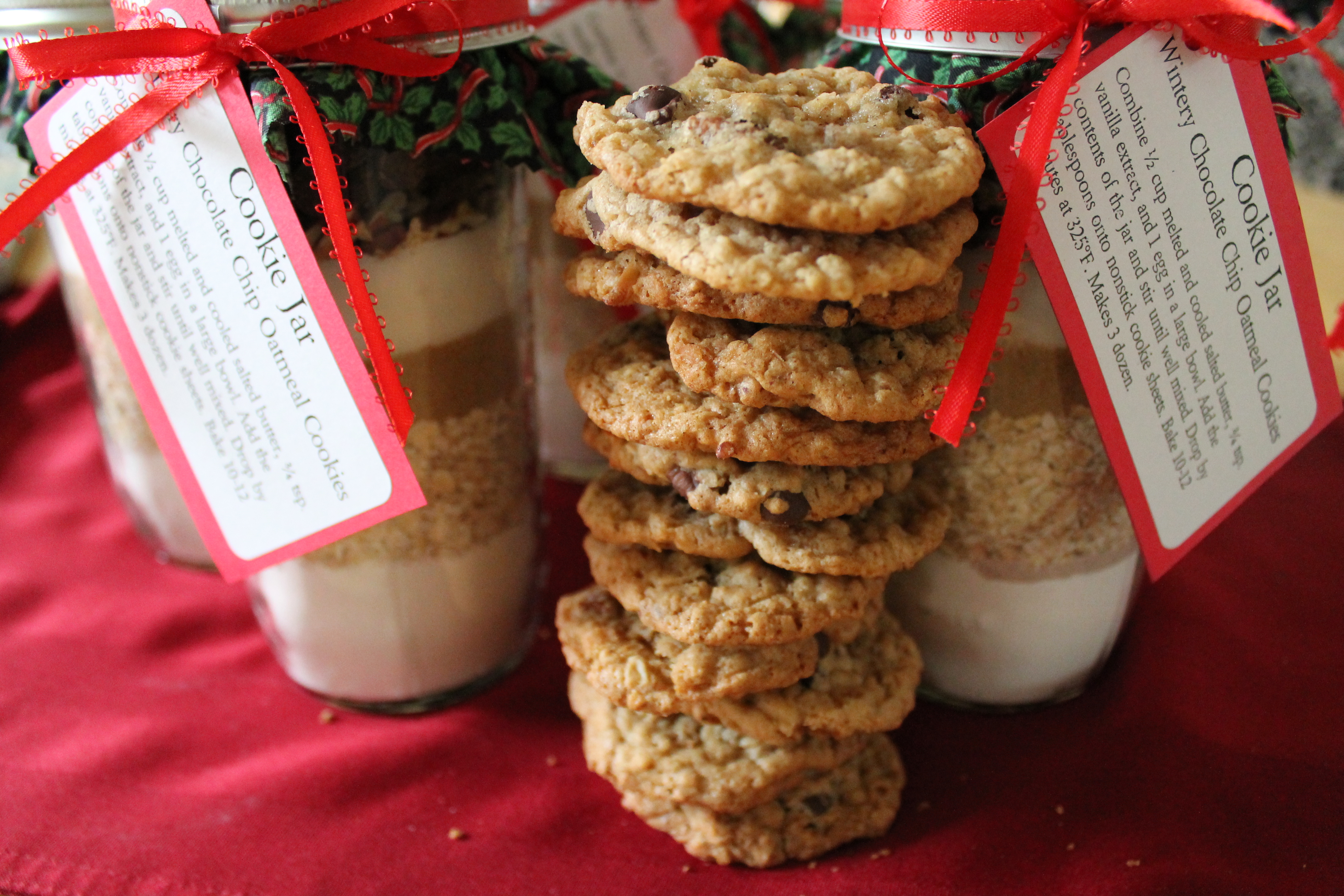 Have you ever met someone who says they don't bake because they don't like to measure?
(Are you that person?)
I have several friends who have confessed that or similar hang-ups about baking. But here's how I see it: it's Christmas! Everyone deserves fresh baked cookies, whether or not they wake up in the morning thinking about creaming butter and sugar!
That's why this year, I am giving the gift of baking. Err…cookies.
This is a great gift, even for people who do love to bake. It's sweet and inexpensive—I love finding little ways to tell someone I thought about them without breaking the bank or obligating them to give anything in return. It took me about 1 hour to put together 8 jars, and the cookies themselves are delicious! They are full of oats, spices, chocolate, toasted nuts, and cranberries. (Although I admit I subbed coconut for the cranberries in the batch I baked myself. That, too, was stupendous!)
You should go get some jars and make these cookies for your friends, too!
First of all, I should explain that I used an atypical jar size. That was partly because I decided to make cookie mix jars on a whim without consulting a recipe first. I decided to keep the 3-cup (pint-and-a-half) jars I purchased at Target even after discovering that most recipes call for 4-cup (1-quart) jars, because they looked like the size I really wanted to go for. This recipe made 3 dozen cookies: not too few, but not an overwhelming amount. And my test recipe, which was altered and scaled to accommodate the oddly sized jar, worked amazingly! However, if you want to make your cookie mixes in quart-size jars, you can either consult the original recipe and make alterations for spices, fillings, etc., or you can multiply the recipe I've given below by 4/3.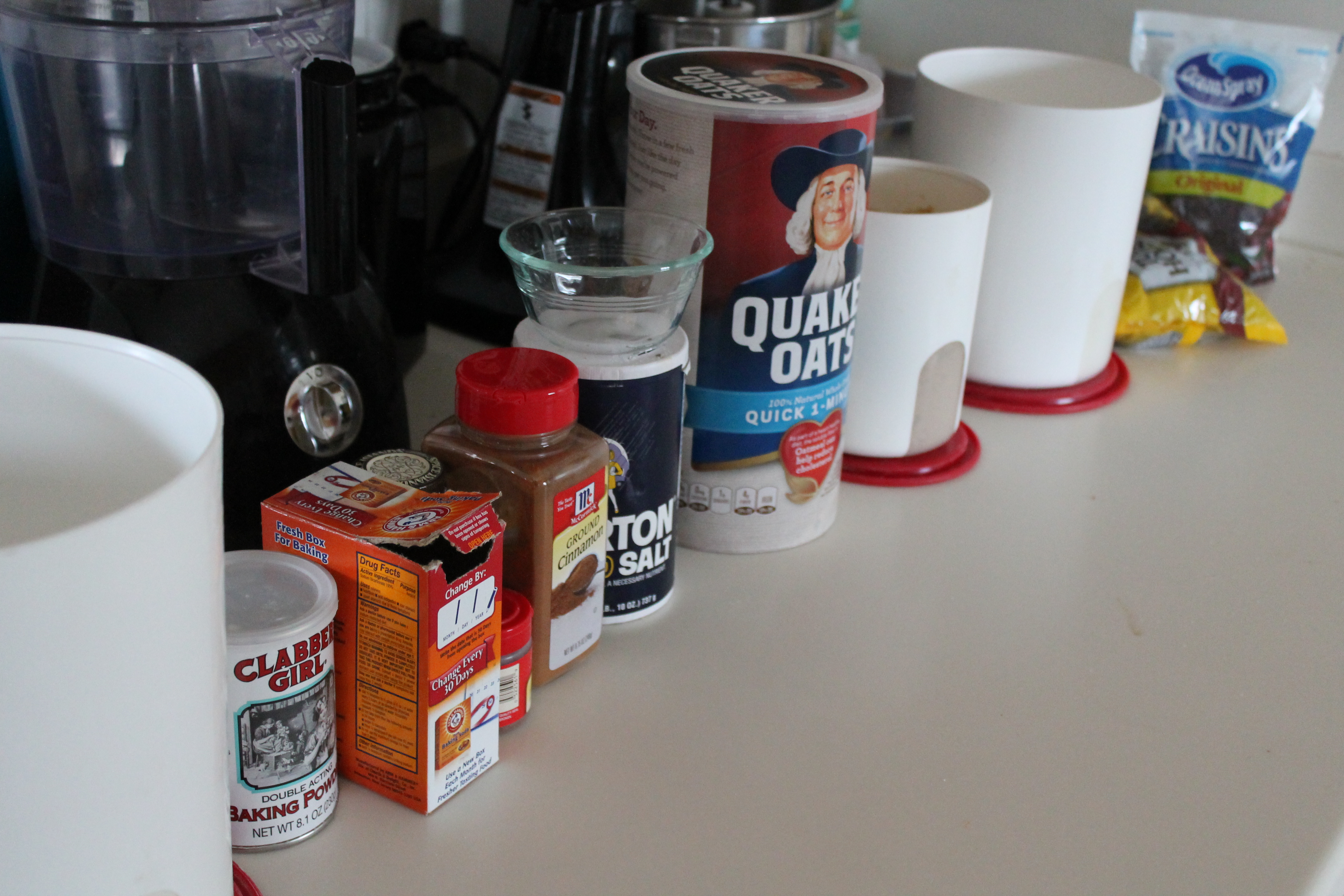 If you are making several of these, I highly recommend lining up all the ingredients and making these assembly line-style. One thing you definitely need to find is a flat, circular object to tamp down the ingredients. You may have noticed that the volume of all the ingredients together is greater than 3 cups, which is the size of the jar…so the only way it will all fit is if you really smash everything down. I promise it will fit, but you do need something to press the air out of all the ingredients as you layer them! I couldn't find anything exactly the right size, so I MacGyvered it with a salt grinder and the top to a jar of instant coffee. It was awkward, but it worked!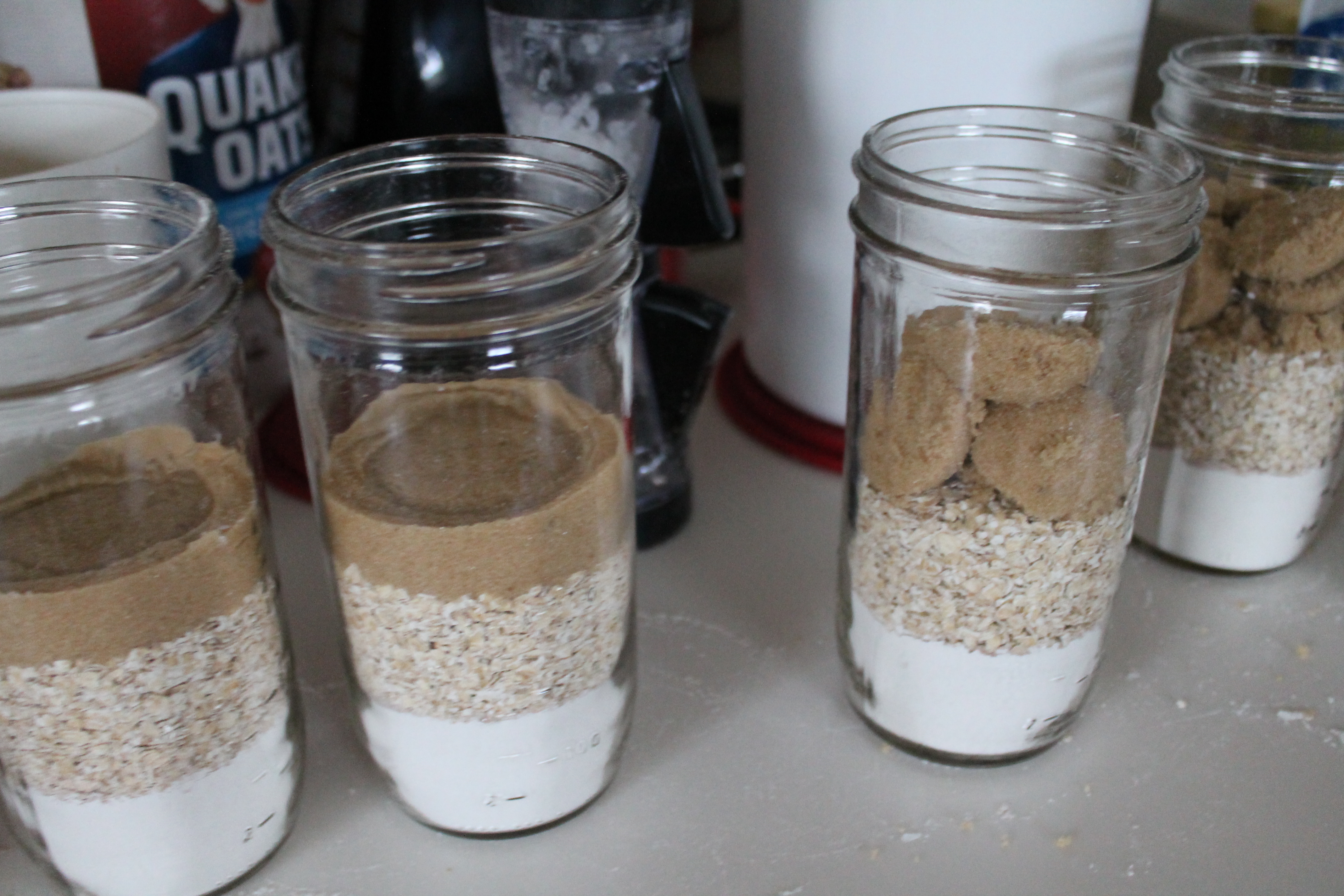 Layer the ingredients in the jars, working 1 ingredient at a time. You can really layer them in whatever order you'd like, as any alterations are purely aesthetic (for baking, you simply dump the entire jar into a bowl all at once, so order won't affect anything), but I at least recommend putting the looser ingredients such as chocolate chips and nuts at the top, where small bits of flour or sugar won't sink through them, disrupting the lovely layers.
Make sure to tamp each layer down before adding in the next! Not only does that allow all the ingredients to actually fit, but it creates even, beautiful lines.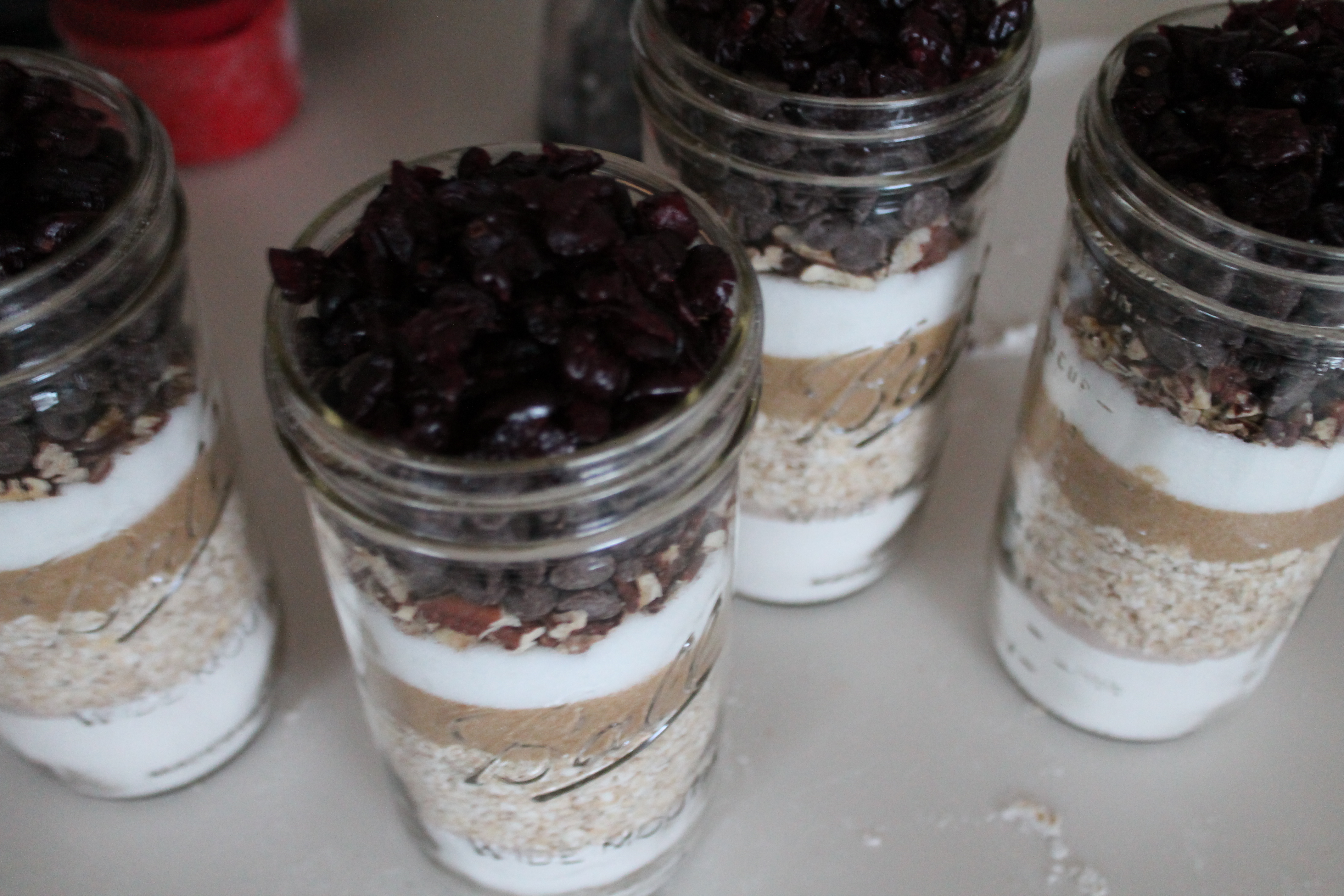 Now, for mix-ins, I wanted to go with a nice, wintery mix. I chose chocolate chips, toasted chopped pecans, and dried cranberries. But, as I said earlier, coconut is also lovely! Dave pointed out to me that coconut is a divisive ingredients, that people tend to feel passionately about whether or not it's delicious, so I left it out of the gift jars. You could also skip the nuts if you are aware of nut allergies among your friends. Really, any fillings you like can work, as long as you make substitutions in equal amounts.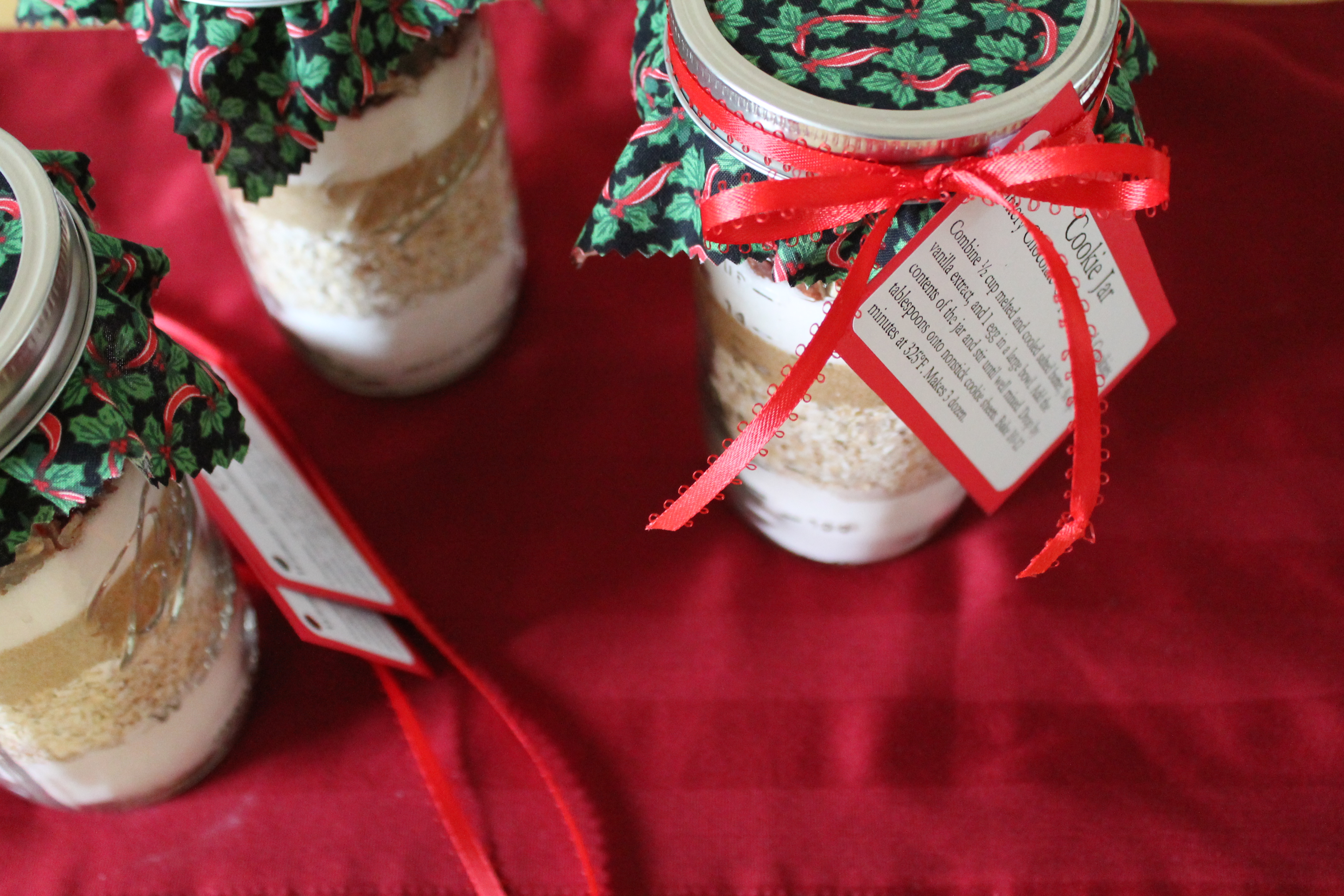 Line the lids with some cute fabric. Christmas fabric, or anything you'd like! You'll need about 6″ squares to cover the lids with a little left to hang over.
The last step is to write out directions for baking so your friends will know what to do with them! I also included a list of ingredients inside the jar, just in case anyone had food allergies I didn't account for. Attach the directions to the jars, maybe with some cute ribbon (Michaels usually has spools on sale for 50¢ each). And voilà! Cookie mix jars.
Wintery Cookie Mix Jars
adapted from Allrecipes.com
fills a 3-cup jar
makes about 3 dozen cookies
Ingredients:
1 cup flour
¾ tsp. baking powder
¾ tsp. baking soda
scant ¼ tsp. salt
½ tsp. cinnamon
¼ tsp. ginger
¼ tsp. nutmeg
1 cup quick-cooking oats
6 tbsp. brown sugar
6 tbsp. sugar
¼ cup toasted chopped pecans
½ cup plus 2 tbsp. semisweet chocolate chips
¼ cup dried cranberries
Directions:
Layer the ingredients in the jar, pressing down firmly with a large, flat, circular object between each layer in order to make room for everything to fit. Fit the lid tightly, with a 6″ square of fabric between the top and the screw-on apparatus.
Write the following directions on a card and affix it to the jar:
In a large bowl, combine ½ cup melted and cooled salted butter, ¾ tsp. vanilla extract, and 1 egg. Add the contents of the jar and stir until well mixed. Drop by tablespoons onto nonstick cookie sheets. Bake 10–12 minutes at 325°. Makes 3 dozen.
Enjoy!
One year ago: Butternut Squash Galette
Two years ago: Cookie Cutter Giveaway