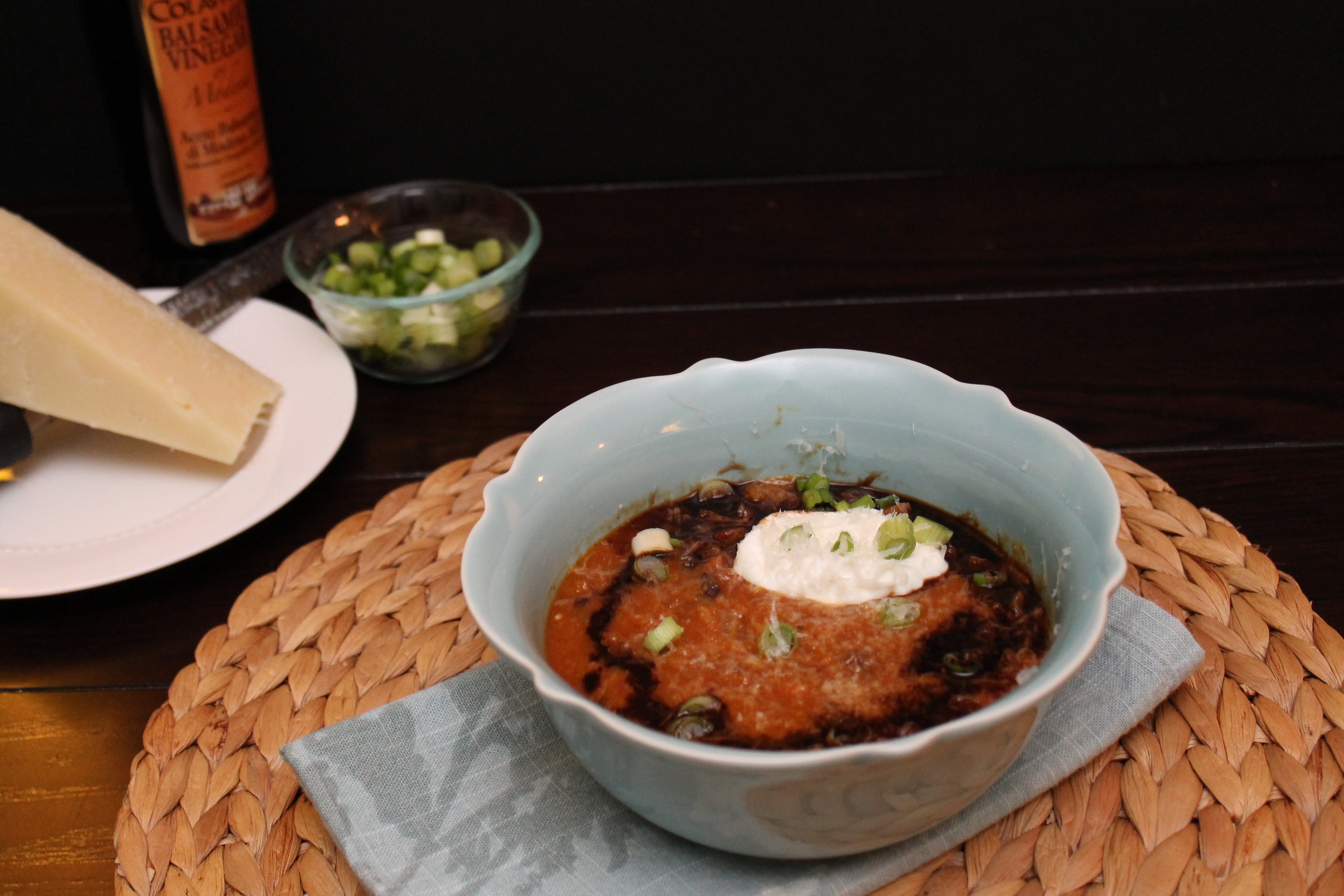 I just realized that the Superbowl is only a few days away.
Not that I actually care about football. To be honest, I don't even know which teams are playing! But what I do know is that Superbowl Sunday goes perfectly with a large pot of chili.
When I was growing up, my mom always made white chili for the whole family on Superbowl Sunday–this was, in fact, the first way I learned to appreciate chili, probably thanks to the mountain of crushed Doritos and shredded cheddar cheese I piled on the top before I dug in. Yum.
But this year, I think we should skip the ground meat (well, that's a no-brainer for me) and load in a rather humongous amount of winter squashes. This recipe uses winter squash in two ways: one, pureed pumpkin is mixed right into the saucy, tomato-y broth; and two, cubed for texture and bulk in the soup. It's so delicious with a generous splash of balsamic vinegar and shaved pecorino romano on top!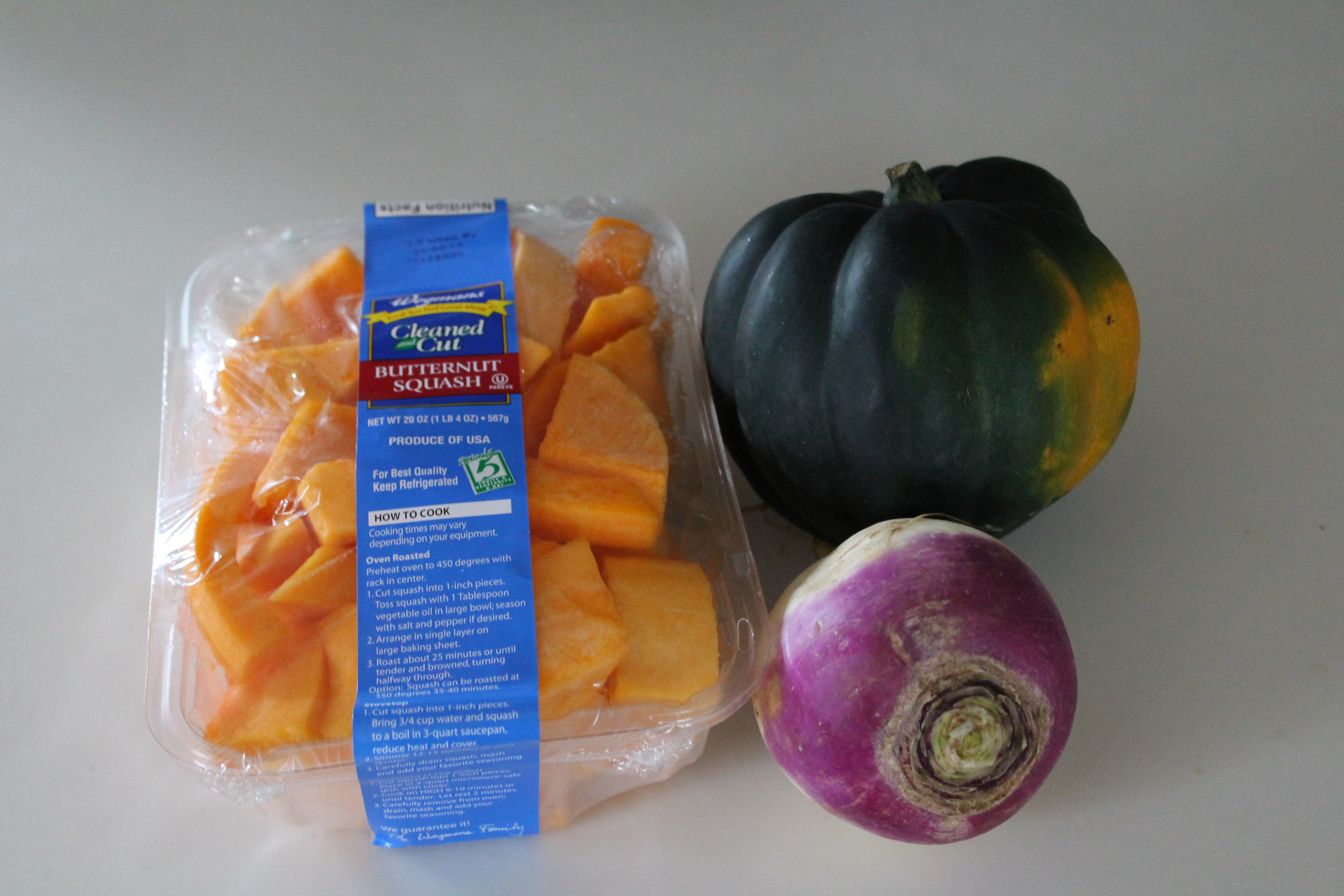 Okay. I am not going to lie. It took me about an hour to chop up all of the vegetables. That is the curse of vegetarian eating, I am afraid, and vegetarian soups in particular. Although they pack in a delicious variety of veggies and different nutrients, that does often require a hefty amount of prep work.
But I promise, once you get all the veggies chopped, it is smooth sailing! And the chili is quite forgiving, in that you can let it simmer for ages on the stove and the flavors will just continue building. So if you are hosting friends or family for the big game this year, this pot of chili will be delicious no matter if everyone arrives early or at halftime!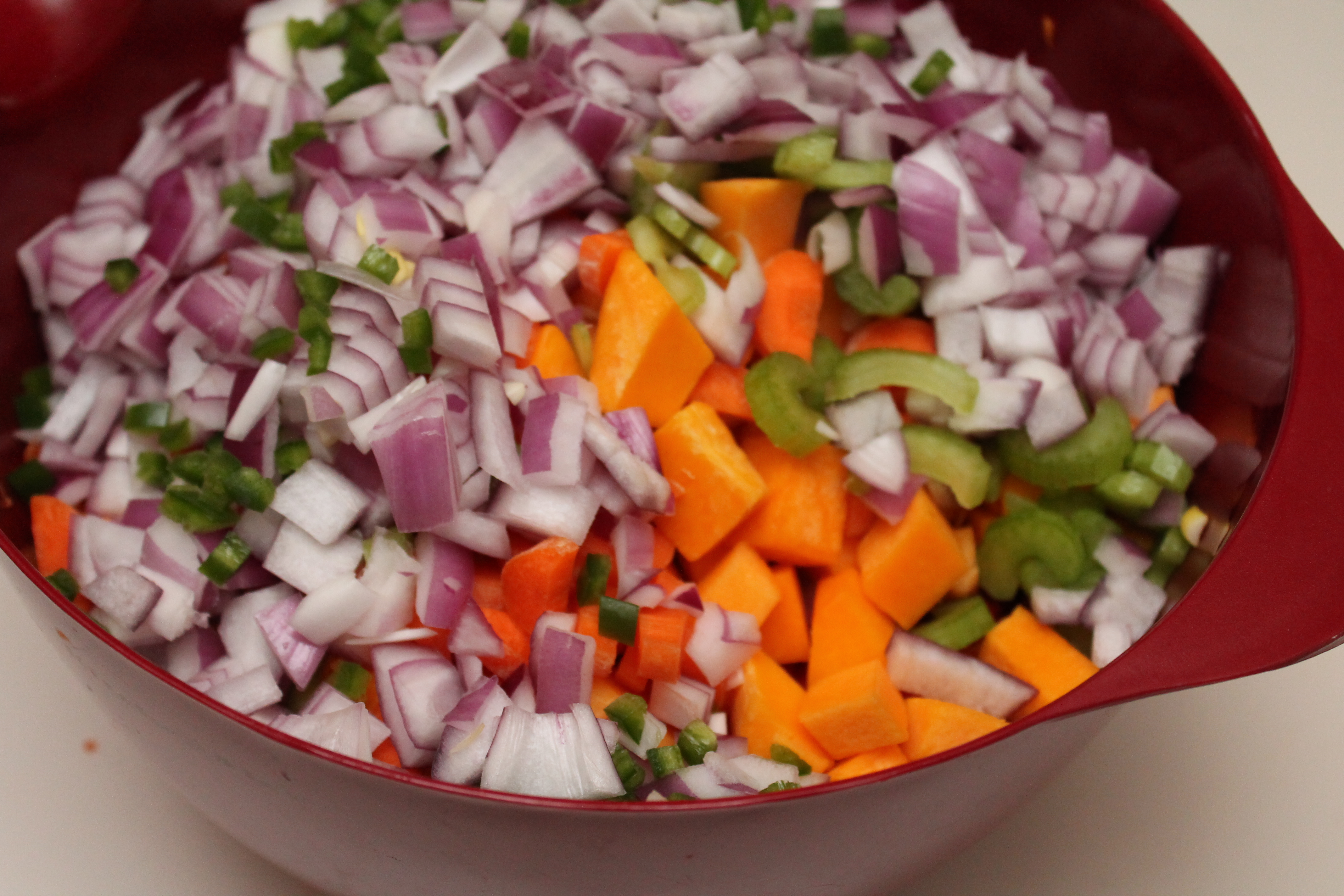 So. Big bowl full of chopped butternut squash, acorn squash, turnip, carrots, celery, red bell pepper, jalapeño, and red onion. That's a lot of tasty right there. Even if you aren't keen on spicier food, I still recommend using the jalapeño for flavor; the amount of produce you are using is so large that one spicy pepper isn't going to tip the scales that much. I removed all the seeds from mine, which is a great way to cut back on the heat. The best way to moderate the heat in this chili is to cut back on (or increase!) the amount of crushed red pepper.
Let me make a note about squashes: you can really use whatever orange-fleshed kind you'd like. Hey, if you froze some squash from earlier in the squash season, use it! If you really hate acorn squash or think it's a pain in the tush to peel (because it is), then sub out something else! You could even go for all one variety here. Be flexible. But what I will say is try not to buy any of the pre-cut squashes. Yes, you can see I have pre-cut butternut squash here. Unfortunately, that's all my friendly neighborhood Wegmans had when I went shopping. But I dislike these packages for two reasons: one, the squash isn't as fresh and can even taste a little plasticky as it gets older; and two, the cut pieces are generally in very strange sizes and shapes! You have to cut them down further, usually one at a time because they are weirdly shaped (so it takes a while), and it's hard to come out with evenly sized pieces in the end. I prefer working with whole squashes if at all possible. I'm just saying.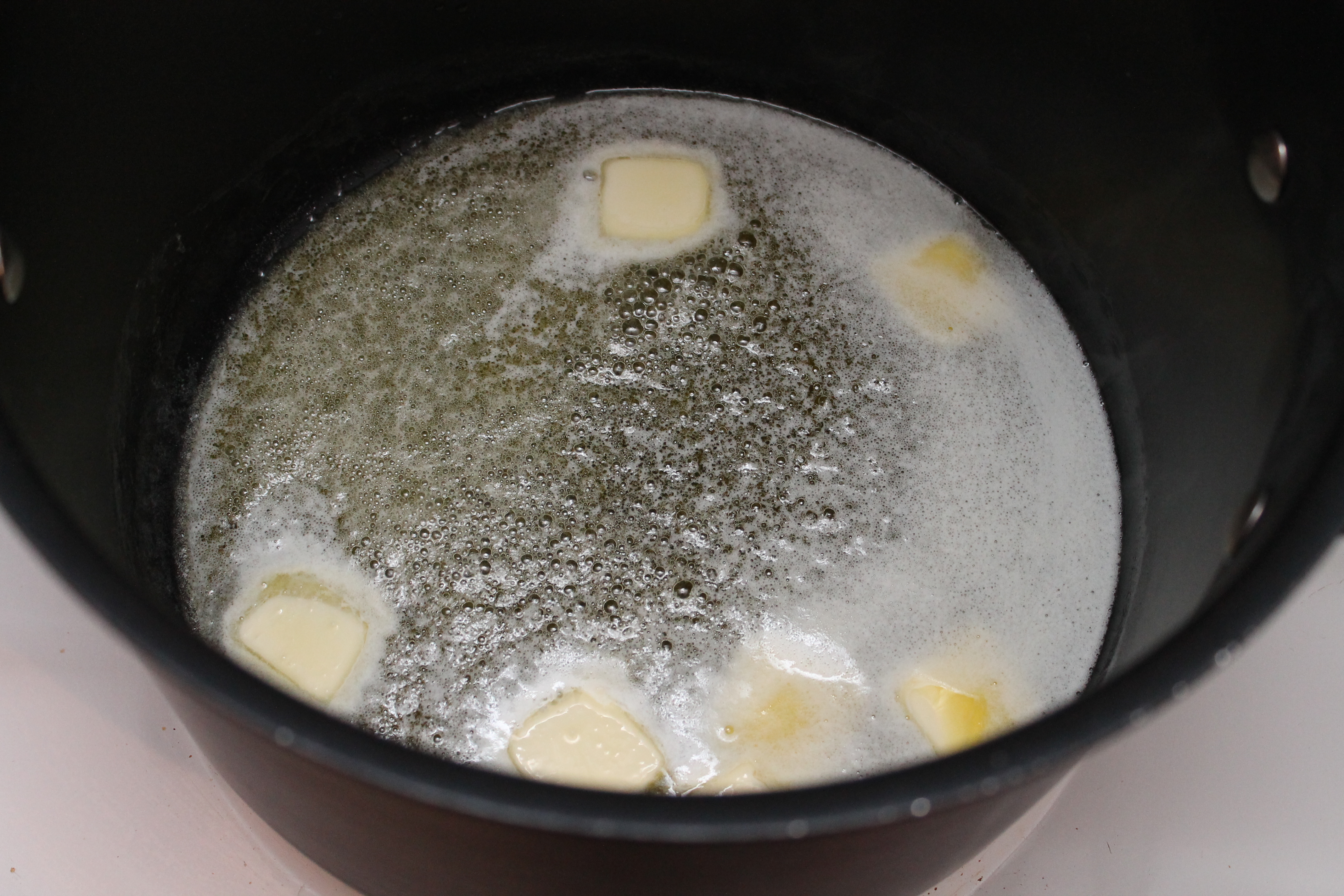 Now. Don't balk at the amount of fat you are about to use…just look back over at the insane mountain of veg you chopped and realize it's the right proportion to cook what you need to cook! I promise. (And, also, don't forget that vegetables are low in calories and fats, so you actually need to add some fats here in order to make the chili heartier and more filling.)
Combine one whole stick of unsalted butter and half a cup of olive oil in a large stock pot over medium heat. Of course, if you are lactose intolerant or vegan, one cup of olive oil works just as well, and still tastes great!
When the butter melts (or the oil is warm), whisk in the cornmeal until smooth.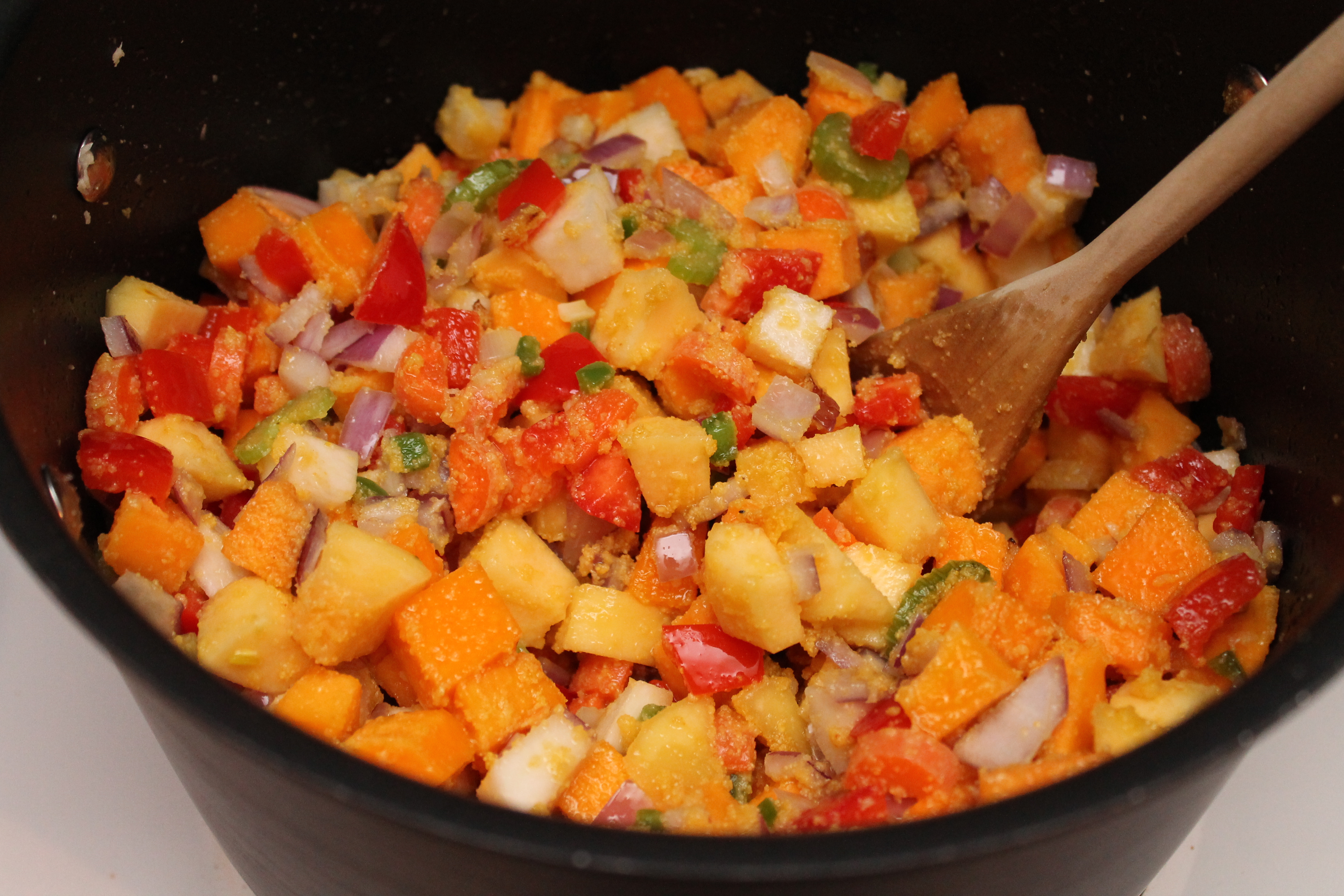 Add the entire bowl/mountain of vegetables. Don't forget to press your garlic in and add the tomato paste! Stir everything around to get the veggies coated in cornmeal.
Cook the veggies for about 10 minutes, stirring every two minutes or so.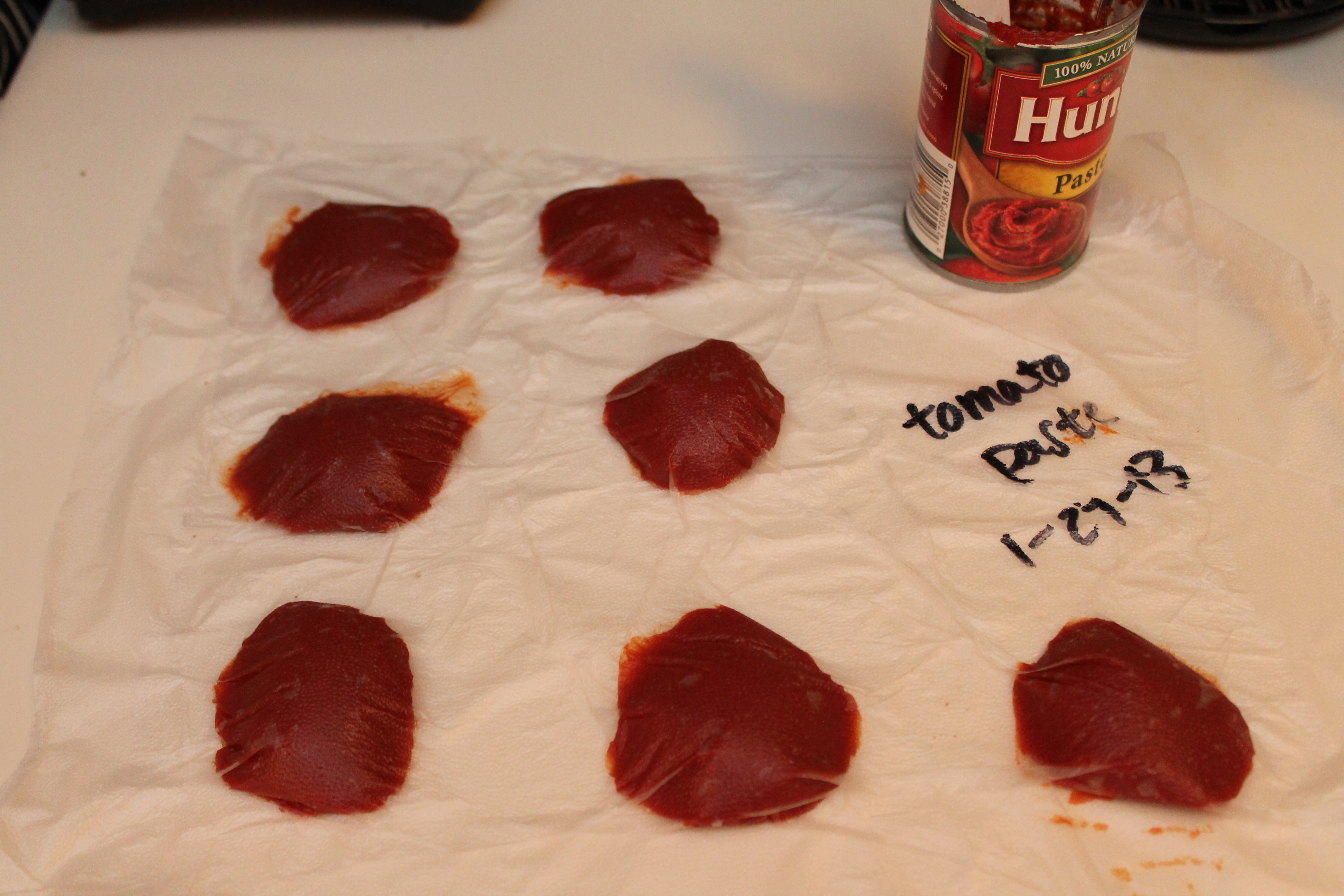 While that's cooking, let's riff for a minute on how frustrating it is that tomato paste comes in 6oz. cans, but so many recipes just call for a few tablespoons! If you hate wasting food, as I do, try this neat trick my mom taught me: lay a sheet of Press-n-Seal wrap on the counter, measure out the remaining tomato paste by tablespoons, and cover with another sheet of Press-n-Seal wrap. Seal everything up, squeezing out as much air as possible around each tablespoon of tomato paste. Write the date on the plastic wrap somewhere, then chunk that sucker in the freezer! Tomato paste will keep for ages, and this way it's already measured out in the amounts you need for future recipes! You can just cut off each piece as you need it. Waste not, want not.
Now where were we? Cooking veggies? Right.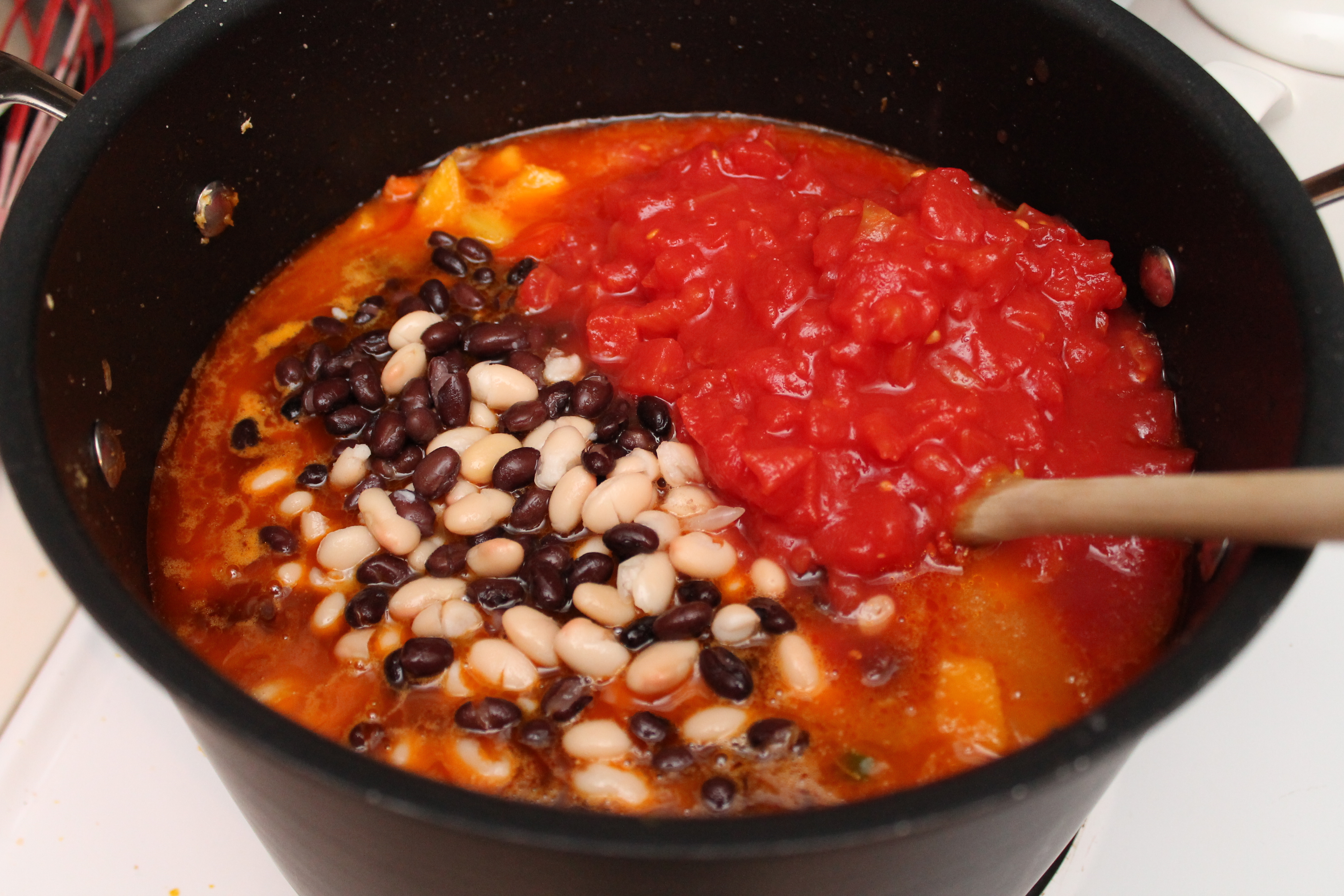 Time to sauce and season! Add a cup of pumpkin puree (I had roasted and pureed a few pumpkins in the fall, so I used puree I had previously frozen. You can also use canned pumpkin), a large can of petite diced tomatoes, two cans of drained and rinsed beans (I used black beans and great white northerns, but you can use cannellini beans, chickpeas, or really any kind of bean you'd like! You can also increase the beans if you prefer a higher bean:veggie ratio), veggie stock, and all of the spices. Stir, stir, stir.
I used all 4 cups of stock, because I intended to simmer my chili for a longer time and I wanted to ward against sludgy chili. My advice is to add liquid until the chili reaches the consistency you prefer, and then add more if the liquid begins to cook off while it simmers.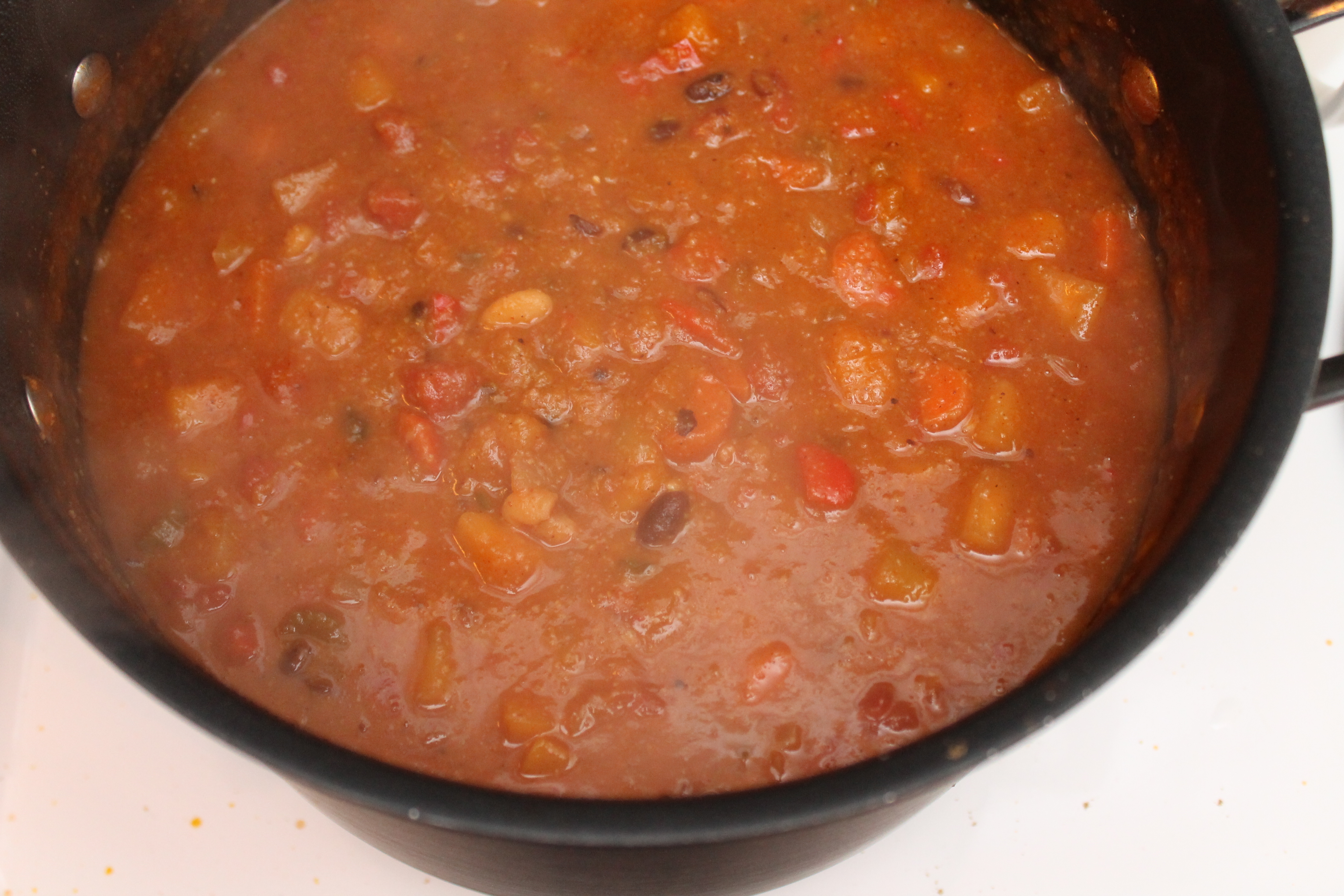 Cover the pot and let the chili simmer for at least 30 minutes. During this time, the hard squashes should become tender and the flavors will blend together.
Taste the chili. Super important step, as I always find I want to add more seasonings. I usually increase the cumin, chili flakes, salt, and sometimes even garlic.
If you are worried that the chili is still missing something, let me just say this: balsamic vinegar. The acidity of the vinegar brightens and intensifies all the spices and flavors of the veggies! I don't recommend adding it to the pot; let each person add it as a condiment to their own bowl. But don't stress too much about whether the chili packs a punch until you taste it with a bit of balsamic!
When you are ready to serve, make sure you have chopped scallions, shredded parmesan or pecorino romano, sour cream, and the all-important balsamic vinegar close by. (Again, the dairy is totally optional, but it does add a special creaminess if you are able to include it!)
Winter Squash Chili
heavily adapted from The Kitchn
serves 8
Ingredients:
½ cup unsalted butter
½ cup olive oil
½ cup finely ground cornmeal
1 lb. butternut squash, peeled and seeded, cut into small cubes
1 lb. acorn squash, peeled and seeded, cut into small cubes
1 large turnip, peeled and cut into cubes
1 large red onion, diced
1 large red bell pepper, diced (or roasted red pepper, diced)
1 medium stalk celery, sliced
3 medium carrots, peeled and sliced
1 jalapeño, seeded and minced
7 cloves garlic, minced
2½ tbsp. tomato paste
3–4 cups vegetable broth or water
1 cup pumpkin puree
1 28oz. can petite diced tomatoes
1 16oz. can cannellini or other white beans, drained and rinsed
1 16oz. can black beans, drained and rinsed
1 tbsp. chili powder
3–4 tsp. cumin, plus extra to taste
¾ tsp. cinnamon
¼ tsp. plus a pinch cloves
½ tsp. thyme
1 tsp. salt
½ tsp. black pepper
¼ tsp. crushed red pepper, or to taste
several dashes Worcestershire sauce
1 bunch scallions, thinly sliced
balsamic vinegar
pecorino romano, shredded (optional)
sour cream (optional)
Directions:
In a very large Dutch oven or soup pot, heat the butter and olive oil over medium heat. When melted and combined, whisk in the cornmeal until smooth, then stir in the chopped squashes, turnip, onion, bell pepper, celery, carrots, jalapeño, garlic, and tomato paste. Cook, stirring frequently, for about 10 minutes.
Add the broth, pumpkin puree, diced tomatoes, and beans. Stir in spices and seasonings. Add a few drops of Worcestershire sauce.
Bring back to a simmer then reduce the heat, cover, and cook for at least 45 minutes, stirring every 10 minutes or so. When the squashes and turnips are tender, the chili is ready—but it gets even better if simmered longer.
Before serving, taste and adjust seasonings as needed. Serve warm with chopped scallions, generous splashes of balsamic, shredded pecorino, and sour cream.
Enjoy!
One year ago: Spinach Dip