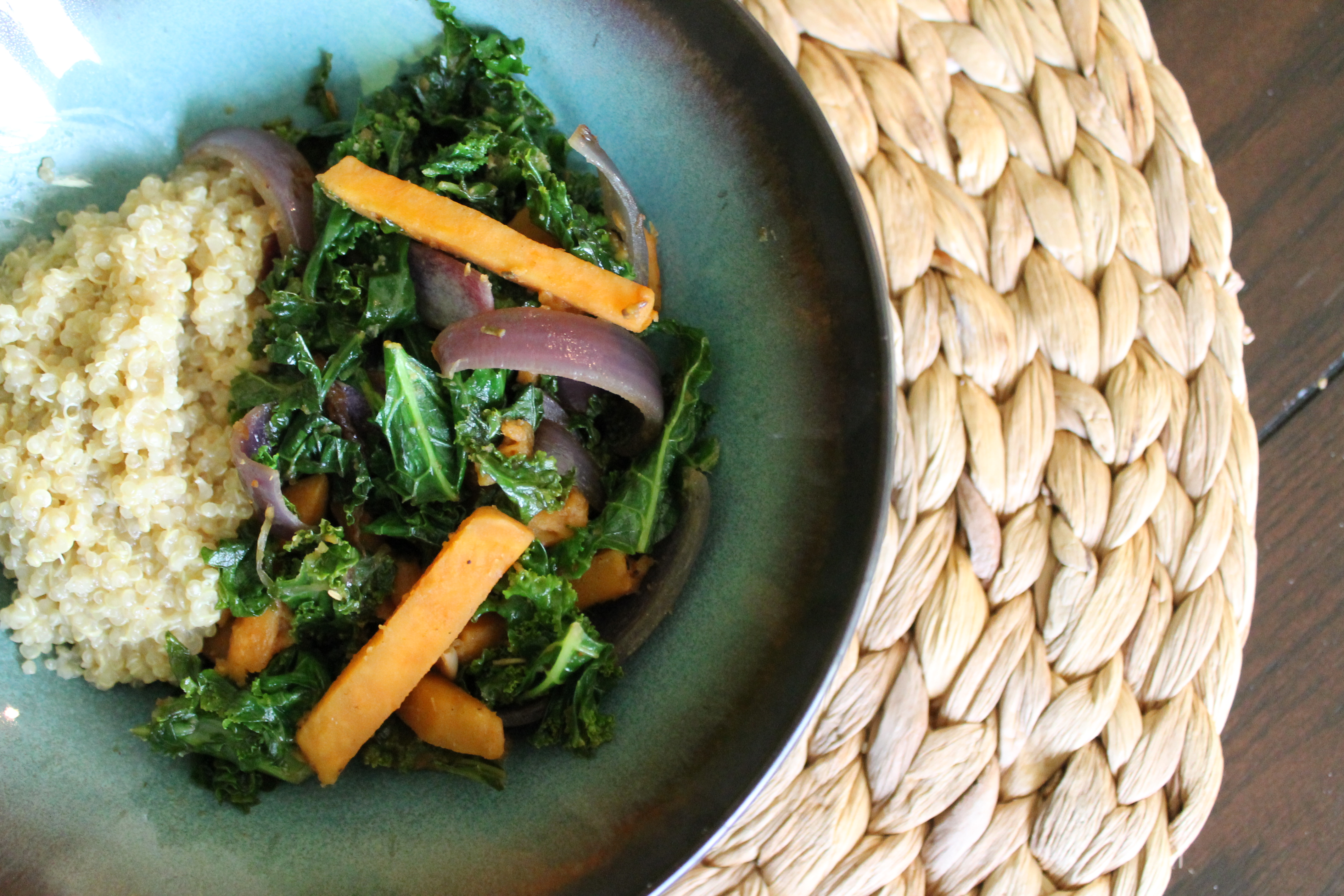 Do you ever buy things while you are grocery shopping and have no idea what you are going to do with them? I often find myself throwing greens and pickled peppers and hunks of cheese into my cart, even though they weren't on my list and I have no specific plans for them. Impulse shopping can be an expensive character flaw.
Worse yet, sometimes I buy ingredients to put together a meal that I end up not making because it doesn't strike my fancy when I get around to it (I can be a fickle meal planner)! Then I am left with sad little ginger roots and carrots wilting at the bottom of my crisper.
But my husband and I are on a mission to let no food go to waste, which means I have to become a little more diligent and creative about emptying out the fridge each week or so.
I am so glad that this week when I looked through my drawers and shelves, I found a bag of orphaned kale and a huge, lonely sweet potato, because this lunch was warm and tasty! What a happy accident!
I am sharing this with you, even though the method could probably use a few tweaks, because it was yummy…and also because I want to encourage you to be brave and pull out the sad leftover items from your fridge and pantry and try to make use of them (without first going to buy a bunch more ingredients that will yield their own sad leftovers). Food is expensive! Let's make the most of it. (Besides which, it would sort of defeat the purpose for me to go out and buy more kale and sweet potatoes just so I could play around with chopping things differently or cooking in separate pans!)
I also believe that learning to cook by feel is a useful skill—my Grandma hardly ever used recipes when she was cooking, and she made truly mouthwatering, simple Southern delights for every meal. I encourage you to channel your inner grandma (or even Italian grandma, if that conjures up a more specific image for you) and make this meal your own!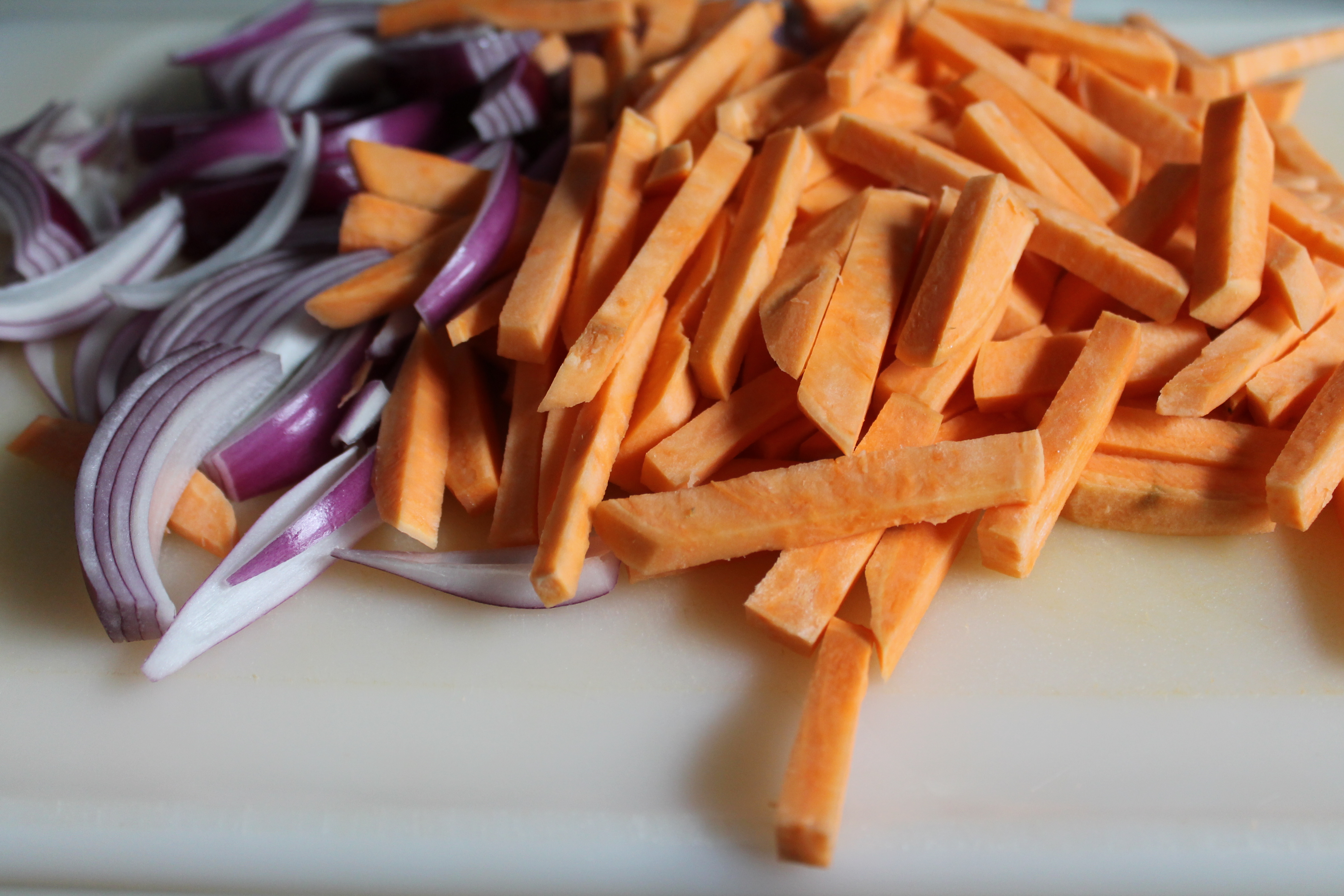 I originally bought the sweet potato to bake some spicy fries to go along with fish. With that vaguely in mind, I set out to cut the sweet potato in chunky wedges. But…I got distracted by my child cavorting through the kitchen and found myself absentmindedly making matchsticks. Oops.
I had a vague intention to braise my veggies when I started out, following a few recipes I had stumbled across on the Kitchn, but as I began thinking that through more, I realized that the kale might turn out a bit slimy and black if I actually covered it in liquid. So I decided to simply sauté.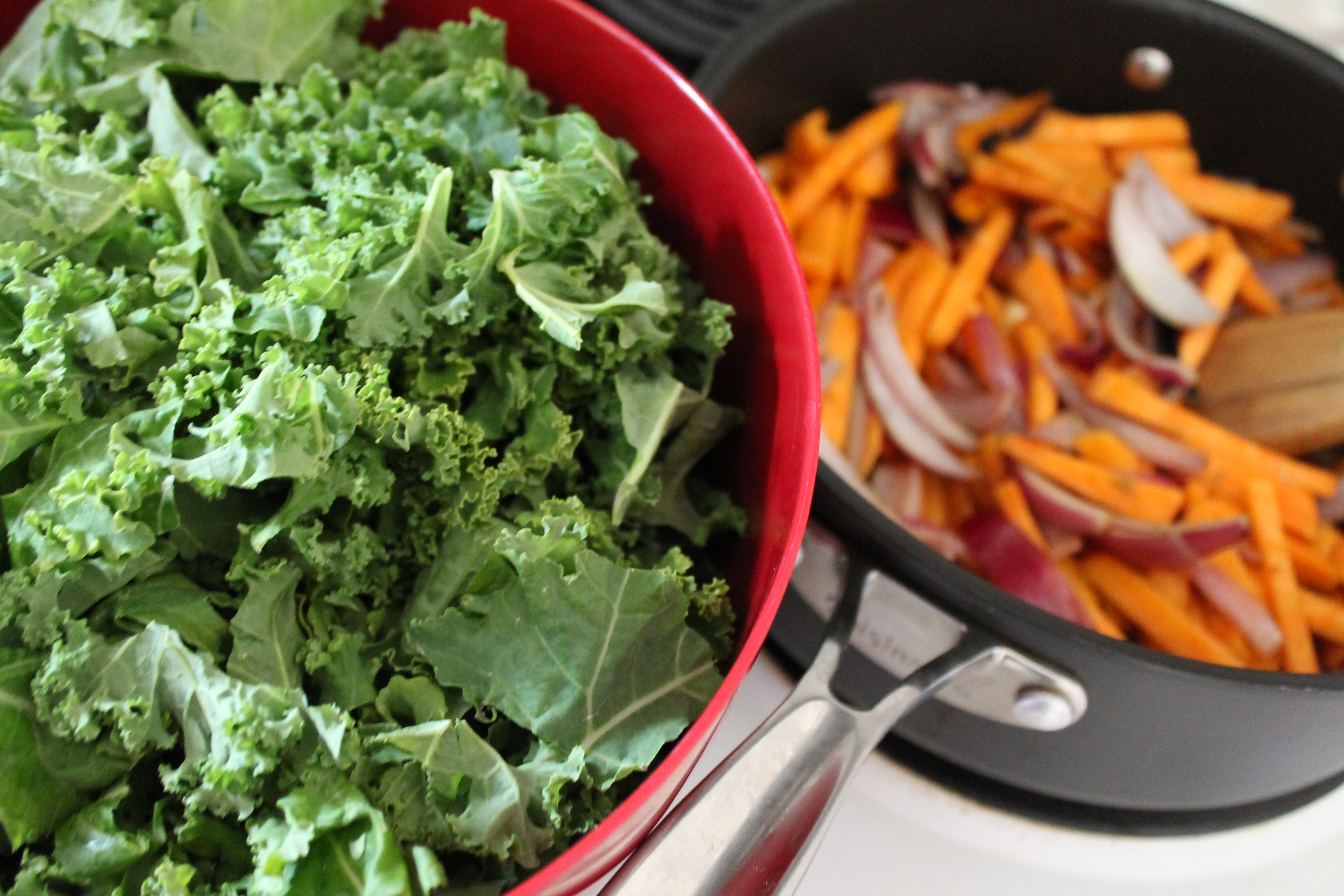 Grab the absolute largest pan you have (my bad, I was using my medium skillet…which made the kale situation a little overflow-y). Sweet potatoes take longer to soften than kale, so they go in first, together with a big red onion sliced into skinny wedges.
If I'd had fresh rosemary, that would have been stupendous here, but I settled for dried. You can use fresh, if you want, just chop it roughly and toss it right in!
Sauté over medium heat for a few minutes, then stir and throw in a handful of smashed garlic cloves. I used about seven (but they were very small and shrimpy), which was as many were left on the head of garlic I found in the pantry. Yum. Sprinkle a hearty dose of crushed red pepper over the sweet potatoes, because sweet and spicy are a genius combination. Sauté another minute or so over medium heat.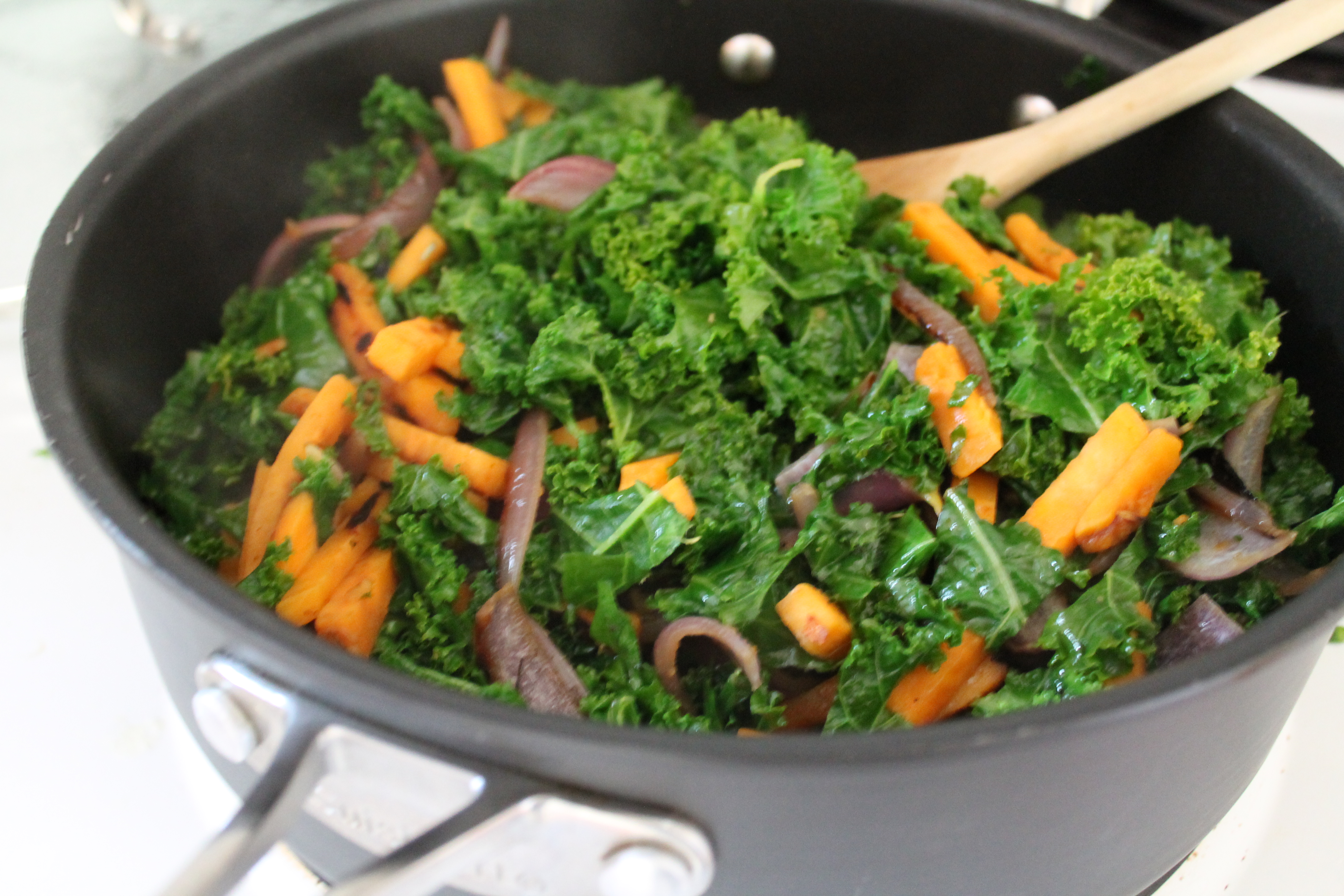 Here is where you have a few options. I will tell you what I actually did, as well as share a few ideas for making the whole process slightly easier (if not neater).
When the sweet potatoes are browned on one side, turn the heat to low. Toss your kale into the pot. If you've used a very large pan that has a lid, then you are good. Stir to combine and get the kale mixed into the warm potatoes, then throw the lid on. Let the kale begin to wilt while the sweet potatoes and onions continue to brown. Stir the veggies every 3-4 minutes to encourage even cooking.
However, if your pan is not big enough (as mine was not) to fit all the kale and actually toss the veg together, then you may have a challenge here. You don't want the sweet potatoes on the bottom to burn while you are waiting for the kale to wilt enough to work with it. As I see it, there are three options, though the first two involve identifying your space issue early.
If you realize your pan is too small for the big, bushy kale before you put it in, you can heat up a little oil in a second skillet and begin to sauté the kale separately until it wilts, about 5–7 minutes. This allows you to manage the heat on the two different veggies separately and prevent the potatoes from becoming mushy or burnt until you can stir in the kale. Good option.
If you realize your pan is too small early, you can do a quick blanch on the kale by submerging in boiling water for 2 minutes. Of course, this will require you to thoroughly drain it before you can toss it in with the sweet potatoes.
If you realize your pan is too small to allow you to stir the kale into the sweet potatoes after you add the kale, never fear! Just add ¼ cup water to the pan and cover it. This is what I actually did. The kale wilted, I tossed everything together, and all was grand. The main problem with this strategy was that the sweet potatoes finished by boiling instead of by sautéing. Because they absorbed extra liquid (and because I absentmindedly cut them quite thin), many of the potatoes were softer and more prone to falling apart. Oh well.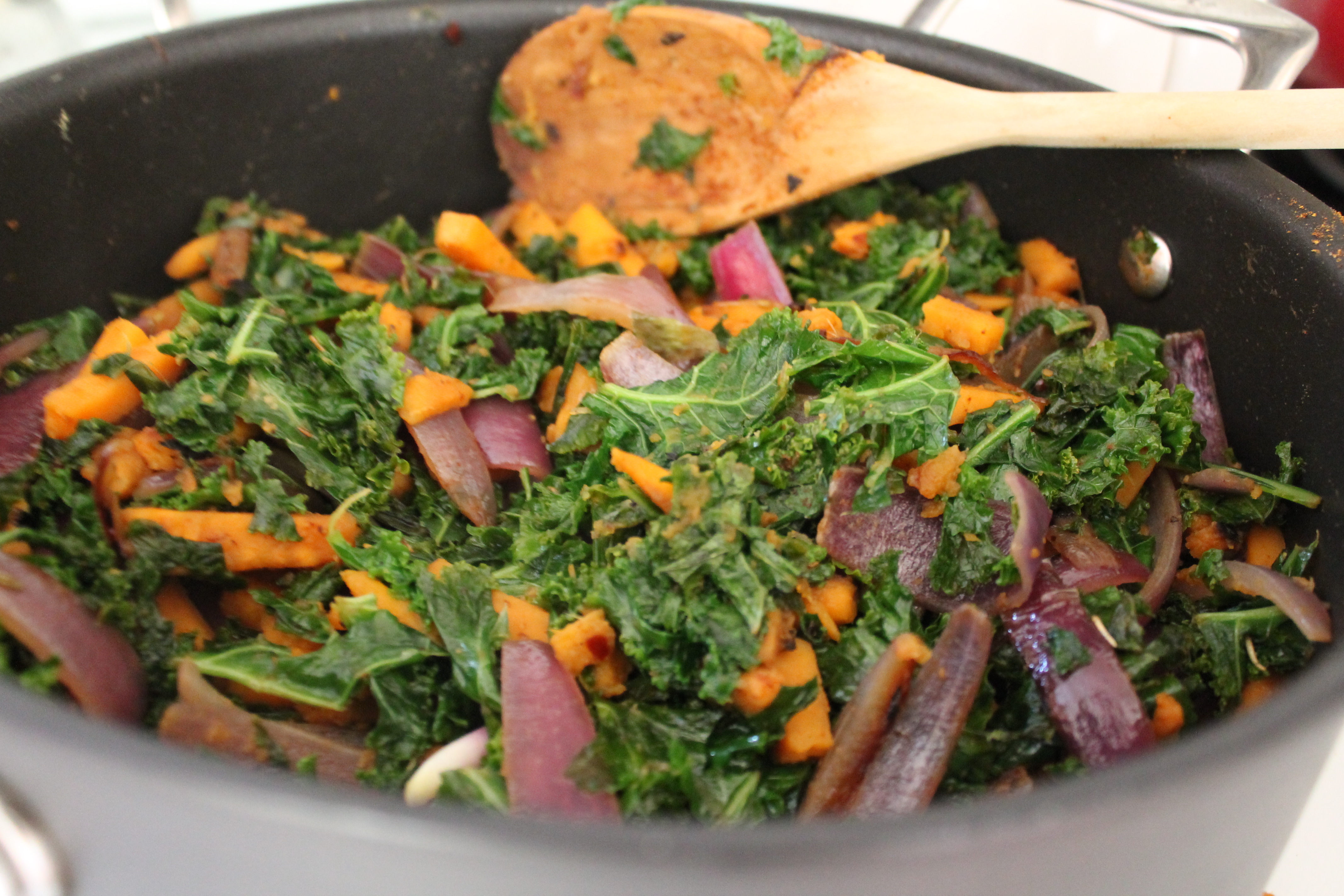 But let me re-emphasize that whatever you decide, this dish is delicious! When you do finally get the kale wilted and combined with the sweet potatoes, add in the dry mustard. Continue cooking for another 5–10 minutes over low heat, until everything is tender.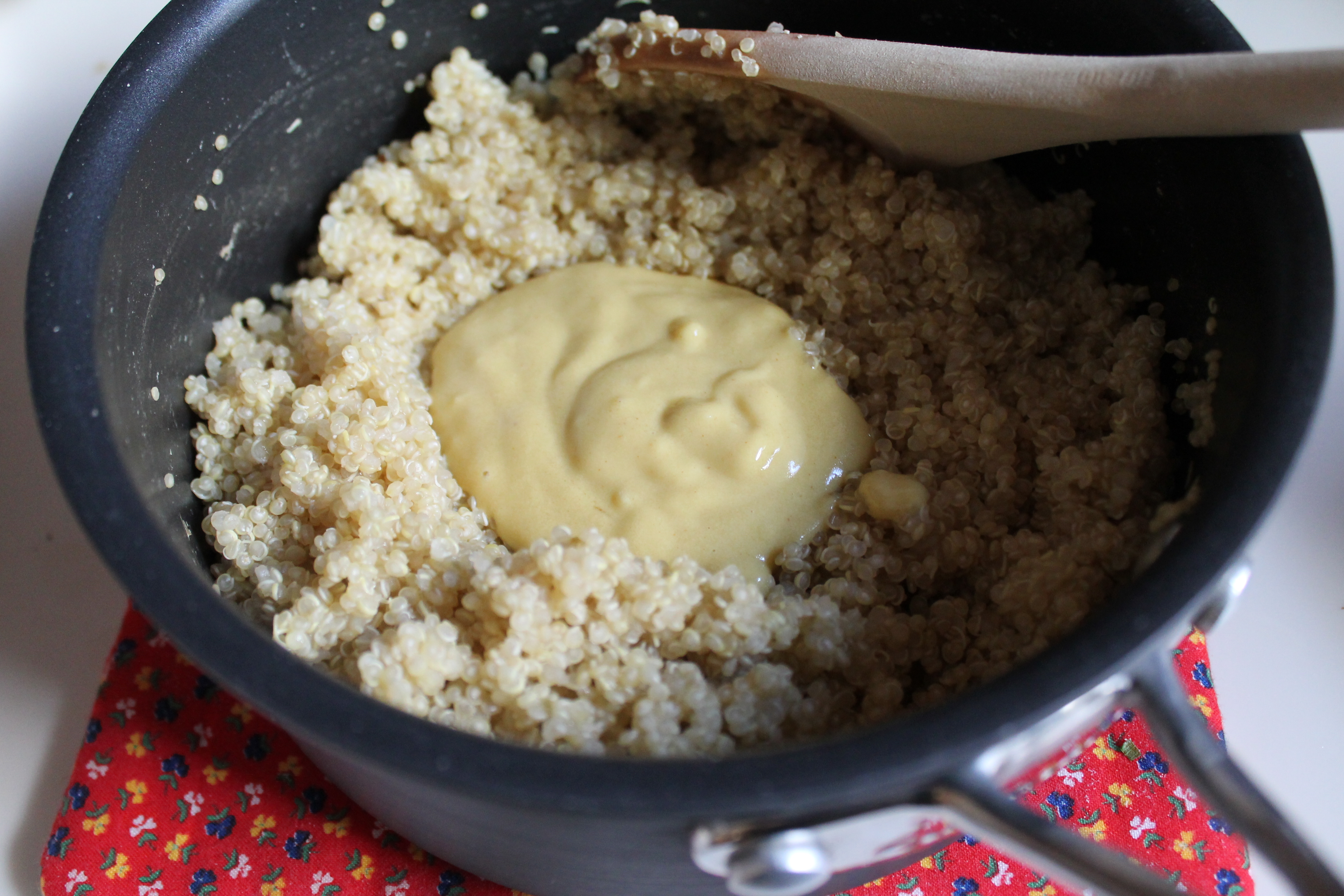 Meanwhile, you should be boiling your quinoa into fluffy curlicues.
Also, whisk together a quick garlic-mustard sauce! This is super easy, and mustard goes great with kale and sweet potatoes!
When the quinoa is completely cooked, stir in the mustard sauce.
When the sweet potatoes and kale are ready, remove from the heat and season lightly with salt and black pepper. Taste and adjust seasonings (more dry mustard? more crushed red?) if needed.
Toss the quinoa into the veggies and enjoy a delightful lunch!
Quinoa with Kale and Sweet Potatoes
a Melissa original
serves 2–3
Ingredients:
3–4 tbsp. olive oil, plus 2 tbsp.
1 red onion, sliced into wedges
1 large sweet potato, sliced into fat wedges or 1¼″ cubes
1 tsp. rosemary, or 2 tsp. fresh chopped rosemary
6 medium cloves garlic
¼ tsp. crushed red pepper, or to taste
1 cup dry quinoa
2 cups water
8 oz. kale greens, all stems removed, chopped
2 tbsp. Dijon mustard, plus extra for serving
½ tsp. mustard powder
sea salt and black pepper
Directions:
Heat 3–4 tbsp. olive oil over medium heat in a very large skillet that has a lid.
Add in the sliced red onions, sweet potatoes, and rosemary. Let cook for 3–5 minutes, until the sweet potatoes begin to brown on one side and the onions become less opaque.
Peel and crush 5 cloves garlic. Add the garlic and crushed red pepper to the pan, stir, and continue to cook another 2 minutes.
Meanwhile, combine the quinoa and water in a small pot over medium-high heat. Bring to a boil, then lower the heat to medium-low. Cook until the curlicues pop out of the quinoa and all the water is absorbed.
Toss the kale with the sweet potatoes and onions in the skillet. When well combined, cover the pan and let the kale cook down, about 10 minutes, stirring every 3 minutes or so to prevent the bottom from burning.
Whisk together the Dijon mustard and the remaining 2 tbsp. olive oil. Mince the final clove of garlic and stir it in. Very lightly season with salt and black pepper. Stir the mustard sauce into the cooked quinoa and set aside.
When the kale has wilted, uncover and stir in mustard powder. Continue cooking another 5–10 minutes, until the sweet potatoes and kale are tender. The kale should be dark and chewy but not slimy or stringy. Season lightly with salt and pepper. Taste and adjust seasonings as needed.
Toss the veggies and mustardy quinoa together. Serve with an extra dollop of Dijon for a little extra kick.
Enjoy!
One year ago: Cheesecake Swirl Brownies
Two years ago: Farro Broccoli Salad