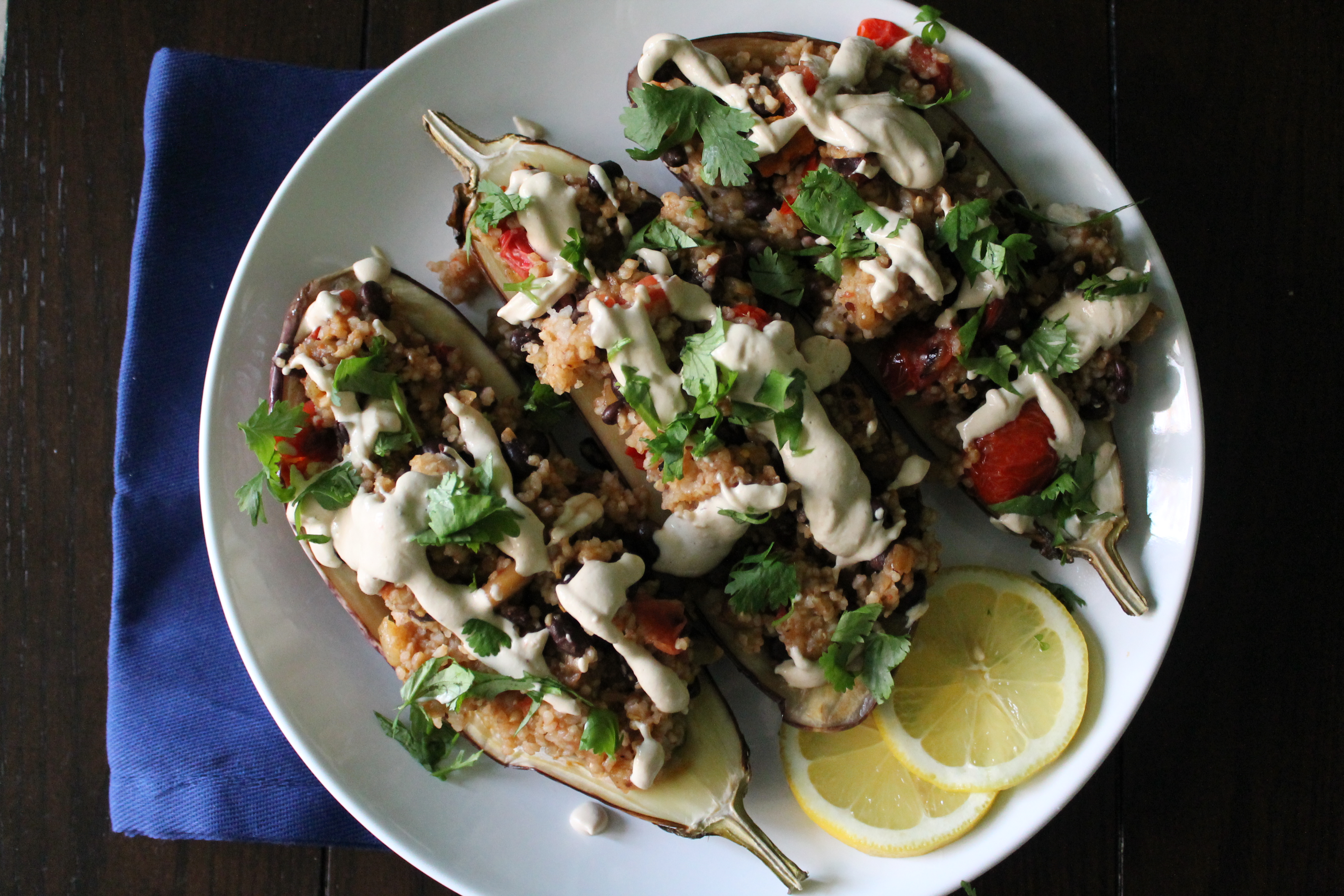 Can I please just riff for a moment about things going wrong? Because you know that happens to you when you are making dinner, too.
Like…sometimes I get all set and purchase all the ingredients I need to make a delicious gluten-free, vegan meal with my mom…and then when I open the pantry, my chickpeas are mysteriously not there. And I'm forced to use black beans. (Deep breath. It's okay. Beans are beans, right? So what if the meal no longer seems like a fun play on hummus. It'll still be delicious.)
Like…I whip my tahini sauce into a pale, thick, delicious frenzy. And then instead of being able to drizzle it elegantly over my pretty eggplants, it falls off my spoon in horrifying globs. (Deep breath. Globby-looking sauces aren't the end of the world.)
But then. My son. Has some kind of allergic reaction to eggplant. While he is happily eating something that is not grilled cheese for the first time in a week. AUUUGHHHH! (Don't worry, he was fine! I don't think he even noticed his golf-ball lip or rash. It just made for a stressed-out mommy.)
You may be wondering why I am even bothering to share this meal with you. But seriously, it was so good. And so easy to make! You really should try it. And just remember to take deep breaths! And maybe stock some Benadryl for the under-3 set. You know. Just in case.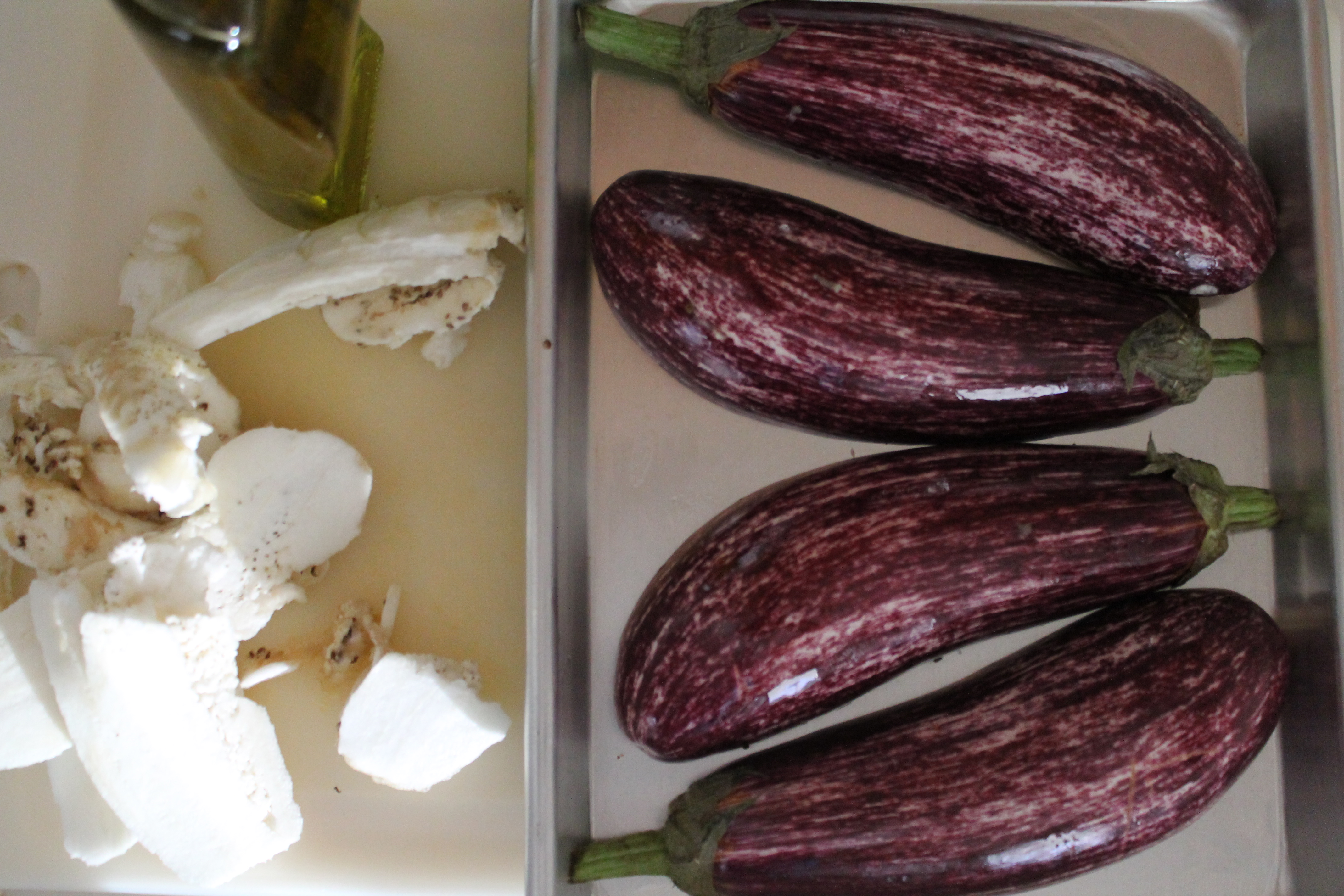 Start by cutting the eggplants in half lengthwise. Scoop out the seedy interior flesh, leaving behind a ¼″-thick hollow shell. Dice the eggplant flesh and set it aside.
I used two to make this particular dinner, but I later roasted up a third and I still had couscous filling left over. I actually recommend using 3–4 small eggplants, but chopping only half of the interior flesh to go into the couscous.
Rub the inside of the eggplant halves with olive oil. Lay them face down on a cookie sheet and roast for 15–25 minutes.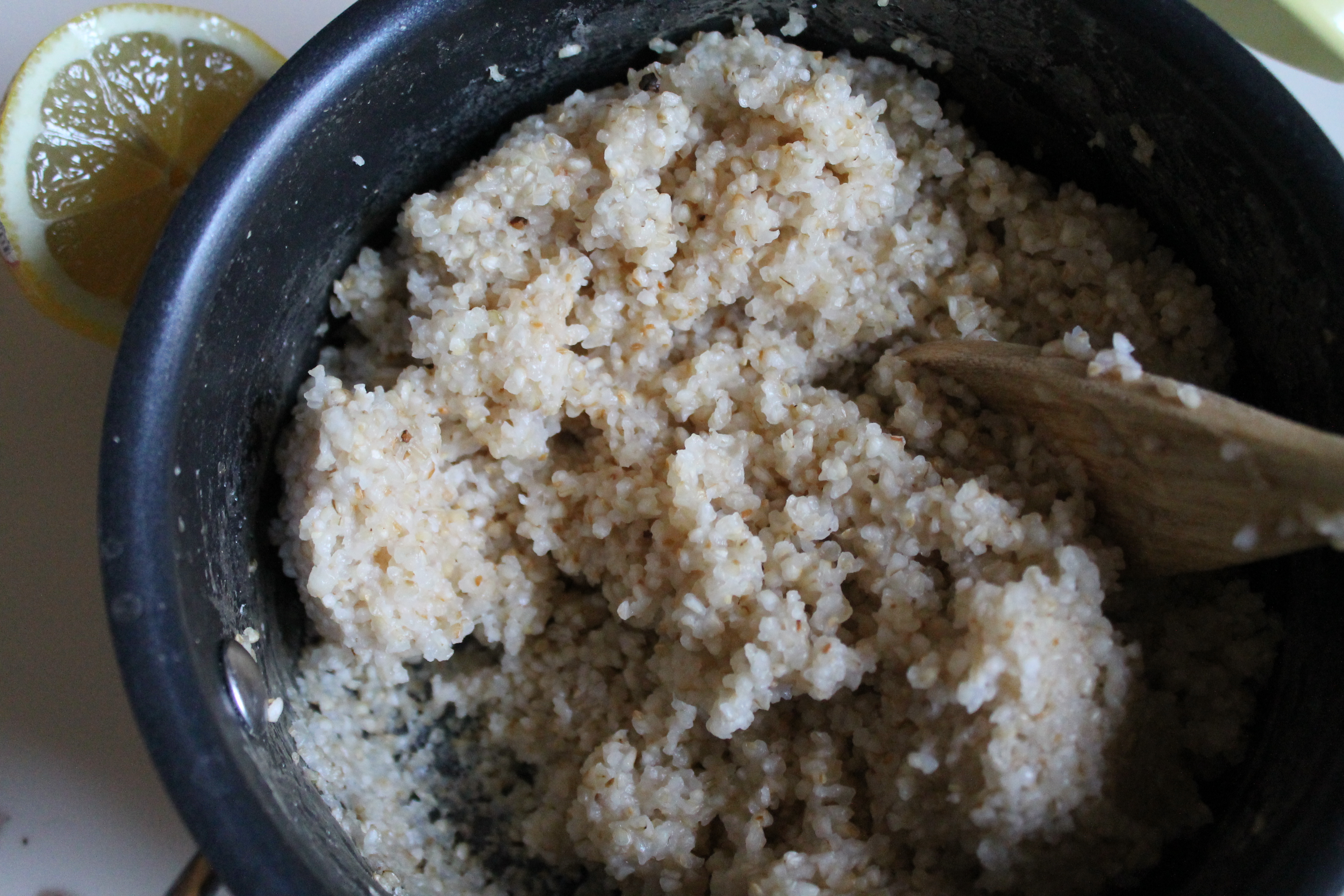 Cook the couscous according to the package directions. I used brown rice couscous, which is actually more plentiful at my grocery store than wheat couscous, and it is gluten free! But you can certainly substitute your favorite grain or use wheat couscous!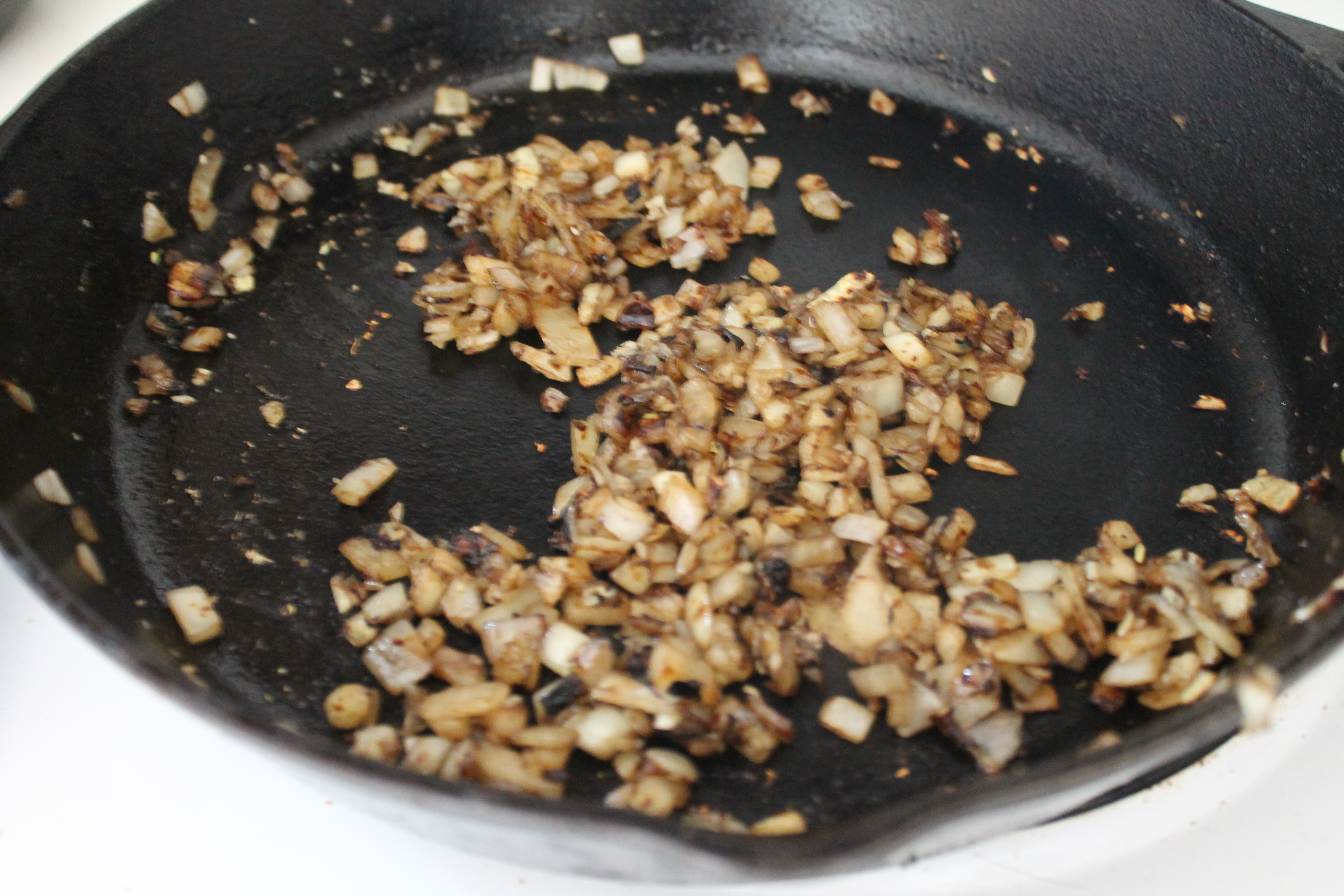 Meanwhile, dice an onion. Sauté the onion in olive oil with minced garlic.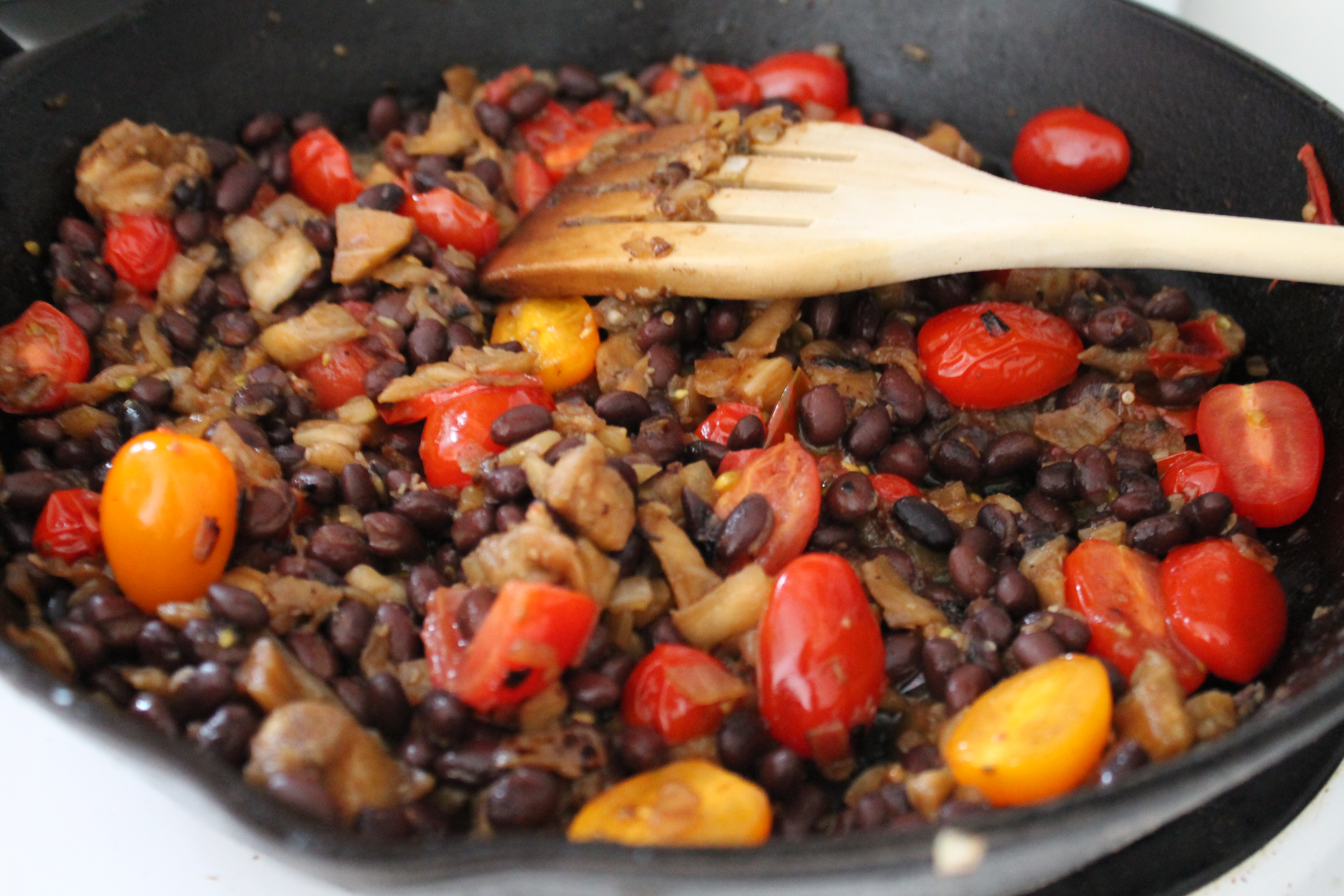 When the onion is translucent and lightly browned, add the tomato, eggplant, and beans. I used black beans, for previously mentioned mysterious reasons. But chickpeas really would be excellent! You choose. Lower the heat and continue cooking at least 5 minutes, stirring regularly.
Combine the ingredients for the tahini sauce and pulse them until combined. Set it aside.
Okay. The couscous should be cooked by now. I can't believe it gets so fluffy! Go ahead and stir it into the veggie mixture.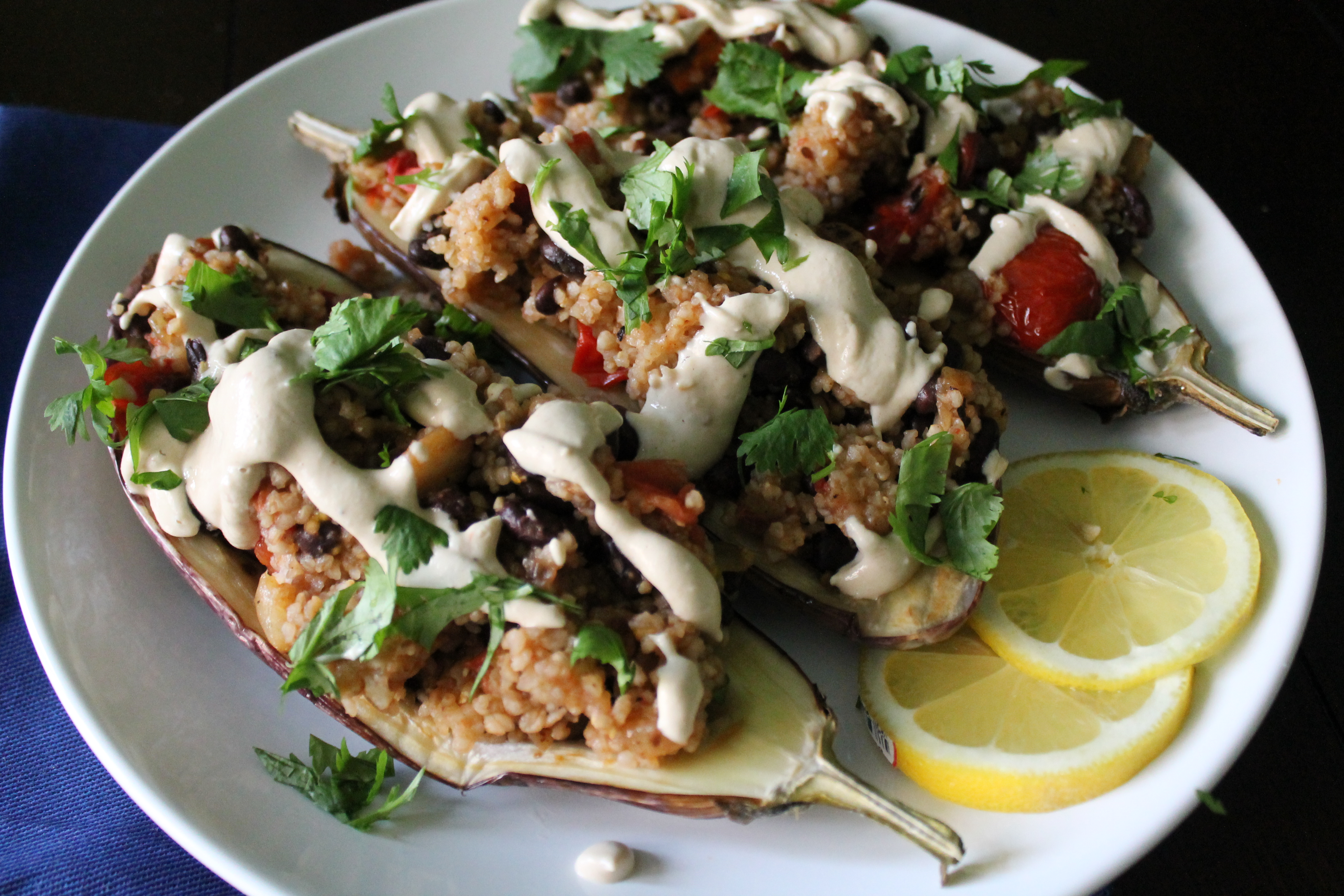 The eggplants should also be lightly browned by now. Turn them over and scoop the couscous filling into the shells.
Spoon the tahini sauce over the eggplants and sprinkle chopped cilantro over them. Yum.
Couscous-Stuffed Eggplant with Tahini
lightly adapted from Dishing Up the Dirt
serves 4–6
Ingredients:
3 medium Italian or graffiti eggplants
2 tbsp. olive oil, divided, plus extra as needed
1 cup dry brown rice couscous (or other couscous)
2 cups water
1 medium yellow onion, diced
3 large cloves garlic, minced
1 pint cherry tomatoes, halved
1 15 oz. can chickpeas or black beans, drained and rinsed
salt and black pepper
¼ cup chopped fresh cilantro
Tahini Sauce Ingredients:
¼ cup tahini
2 tbsp. fresh lemon juice (from 1 large lemon)
1 cloves garlic, minced
¼ cup water
dash of salt, black pepper, and crushed red pepper
Directions:
Preheat oven to 375°.
Halve the eggplants lengthwise (through the stem) and scrape out the flesh with a spoon, leaving a ¼″-thick shell. Set the flesh aside.
Rub the insides of the eggplants with half of the olive oil, just to moisten. Set the eggplants hollow-side down on a cookie sheet. Roast for 15–25 minutes, until the flesh begins to brown.
Meanwhile, cook the couscous in water over medium heat, stirring occasionally.
While the couscous cooks, sauté the onion and garlic together in the remaining 1 tbsp. olive oil. Dice half of the eggplant flesh and discard the rest.
After about 5 minutes, when the onion becomes translucent, add the cherry tomatoes, beans, and diced eggplant. Season lightly with salt and black pepper.
Remove the eggplant halves from the oven. Turn them over and let them cool slightly.
Stir the cooked couscous into the veggies. Spoon the couscous mixture into the eggplant shells.
Combine all the ingredients for the tahini sauce in a small food processor and pulse until well combined. Spoon the tahini sauce over the couscous-stuffed eggplants.
Sprinkle liberally with chopped cilantro and squeeze a little extra lemon juice over top, if desired.
Serve hot.
Enjoy!
One year ago: Strawberries and Cream Cake
Two years ago: Trail Mix Cookies
Three years ago: Creamy Hummus