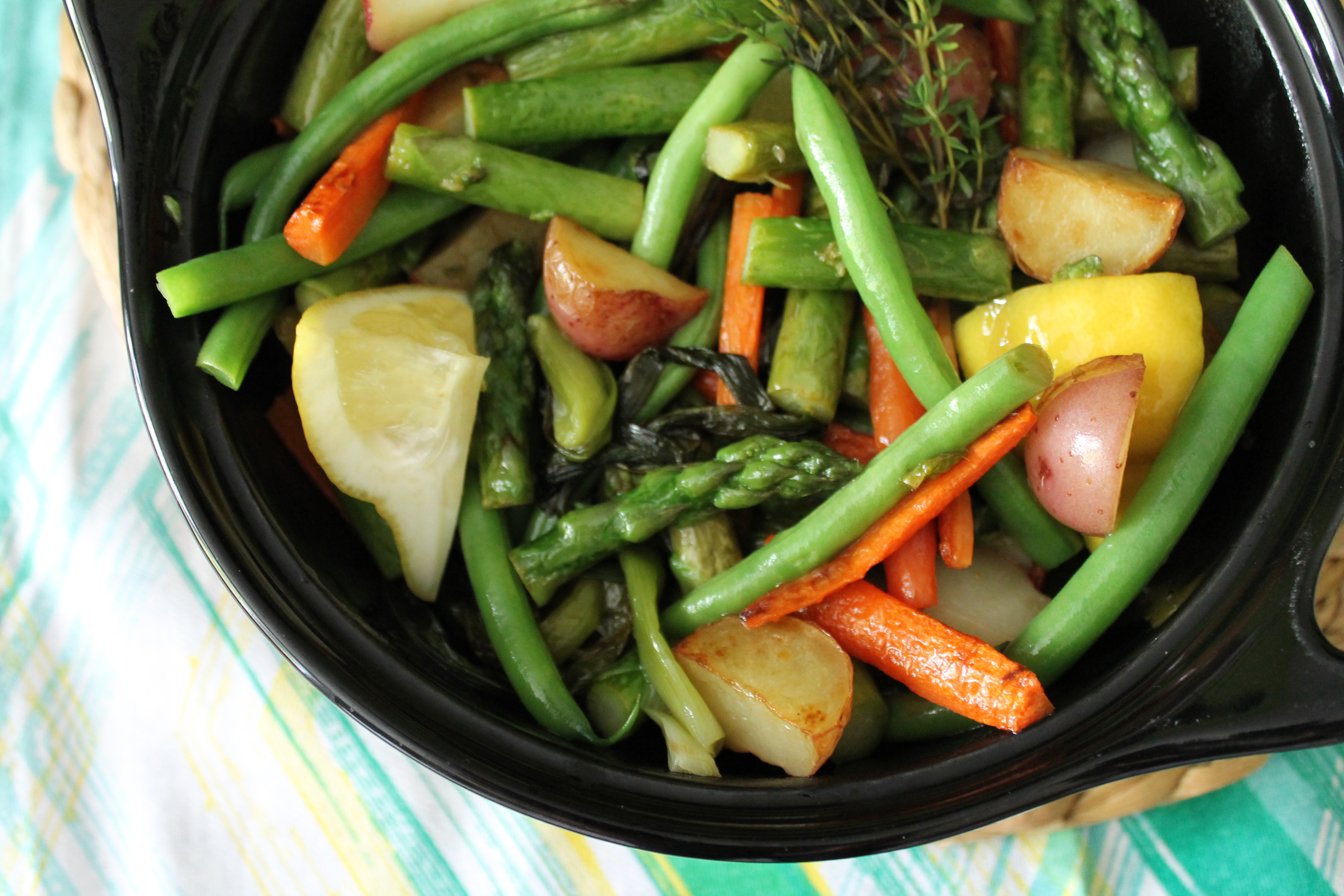 Recently a few good friends pointed out a personal flaw to me. (Don't you love how friends can tell you the real truth?)
As we sat around a huge table, stuffing waffles and frittatas into our mouths and rocking with cuddly babies, they gently informed me that although they like reading about food, they don't often try the recipes I post here because they are, in fact, too complicated.
They told me (with great glee…although that may have been the mimosas) that I really should stop saying every recipe is "so easy, but…"
Hm. I take your point, MGs.
But listen. This recipe really is easy. And quick! I mean seriously. It has three steps: cut veggies, toss into skillet, cover and walk away. You can change up the veggies if you want. You can read a magazine while everything cooks. You can have your cake and eat it, too.
You should definitely make this side dish! It's the right thing to do. And I will work on being more realistic and truthful. Because that, too, is the right thing to do.
As I said, you can use different veggies if you prefer, but look for things that are fresh in Spring! I chose baby potatoes, carrots (ideally young carrots…but I opted against spending more money when I already had smallish carrots in the crisper), asparagus (I used big, fat asparagus, but you can use whatever thickness you like best), and green beans. Plus, of course, scallions (which you could trade out for baby leeks, spring onions, or even ramps if you can find them).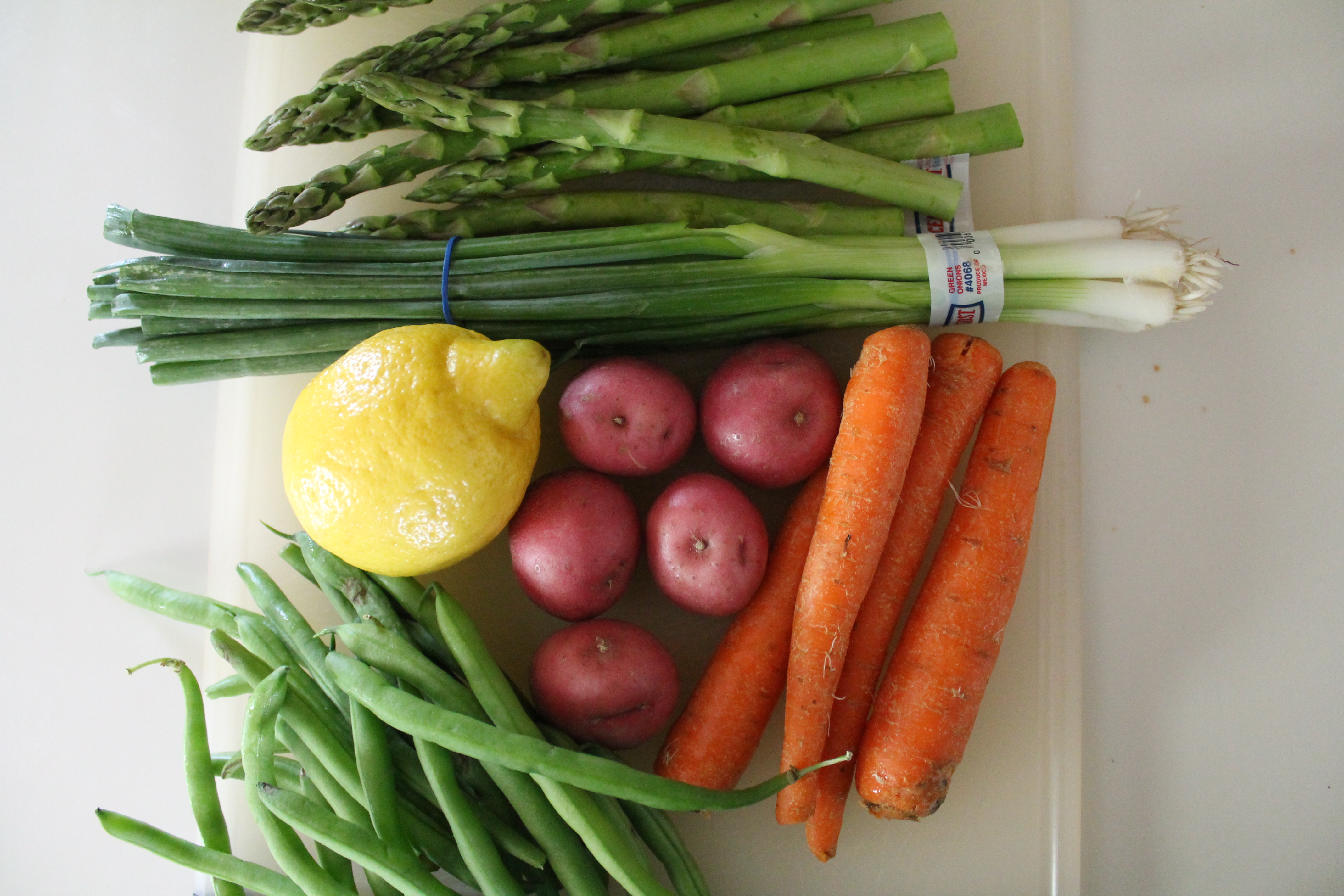 Cut the veggies into reasonable pieces. You can do this all at once, or in two rounds, working on the softer veggies while the long-cooking ones are simmering.
For the potatoes, either halve or quarter them to make them bite-size. Don't bother peeling! That would remove half the nutrients, plus it would violate the spirit of quick and easy. For the carrots, cut them into long sticks. (Okay, I did peel mine, but I didn't have young, tender carrots. My carrots had hairy skins. Yuck.) Trim the green onions—don't go crazy, just cut off the rooty end and cut a few inches off the green shoots, too.
(These are the round 2 veggies, if you want to consolidate your total time.) Trim the woody ends off the asparagus and cut into segments. Trim the woody ends off the green beans (you could cut these, too, but I opted not to.) For the lemon, cut it into about 8 wedges and pick out the seeds that are right on the surface.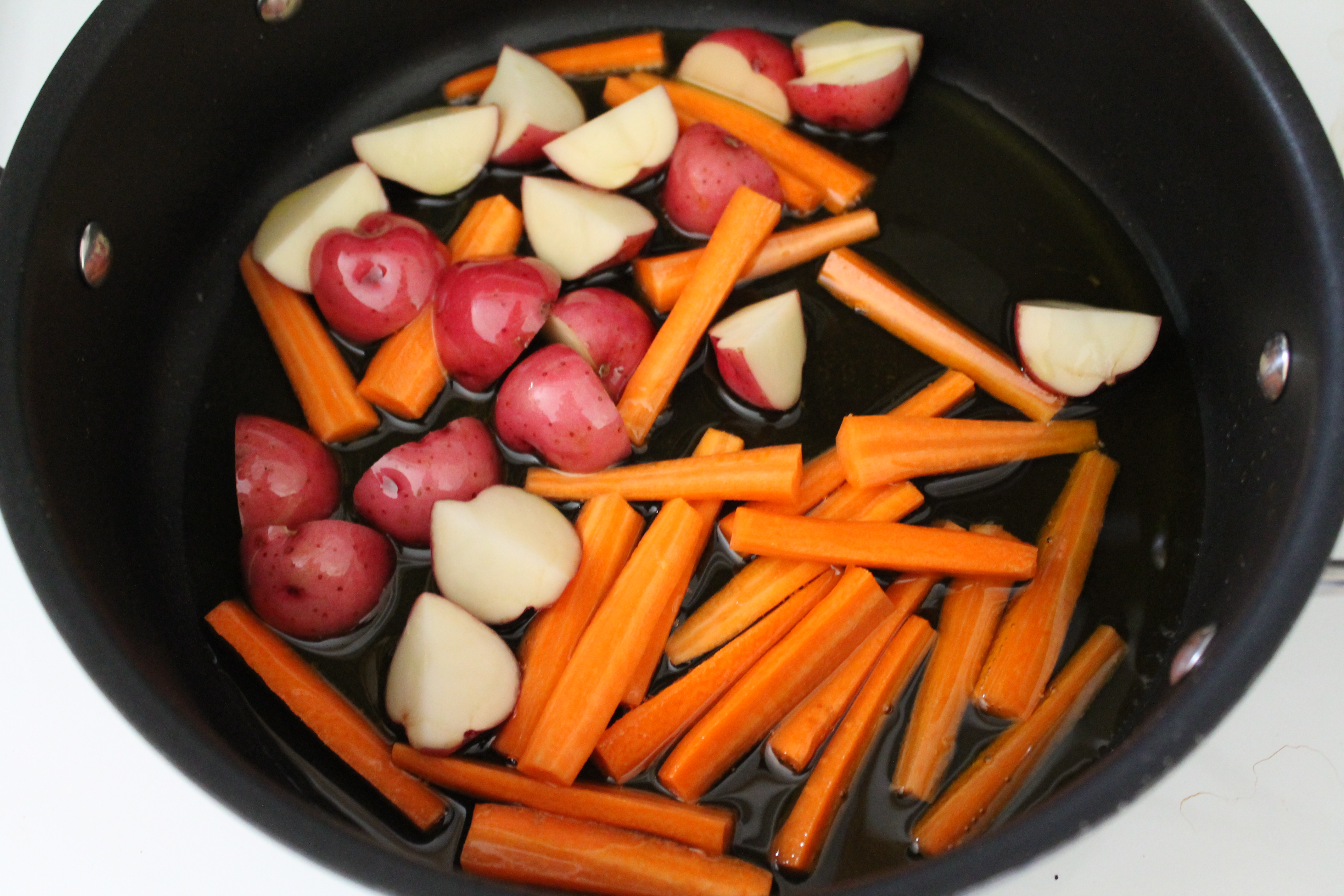 Heat olive oil in a large skillet over medium heat. You definitely don't want the oil to start smoking (because that's toxic) and you don't want it to be hot enough to brown or blacken the veggies either. They will be in the oil for a while, and a gentle simmer is better!
Add in the hard veggies: in this case, carrots and potatoes. Let them cook for a minute or two (you could finish trimming your green beans or seeding your lemon during this time!) and then toss in the green onions.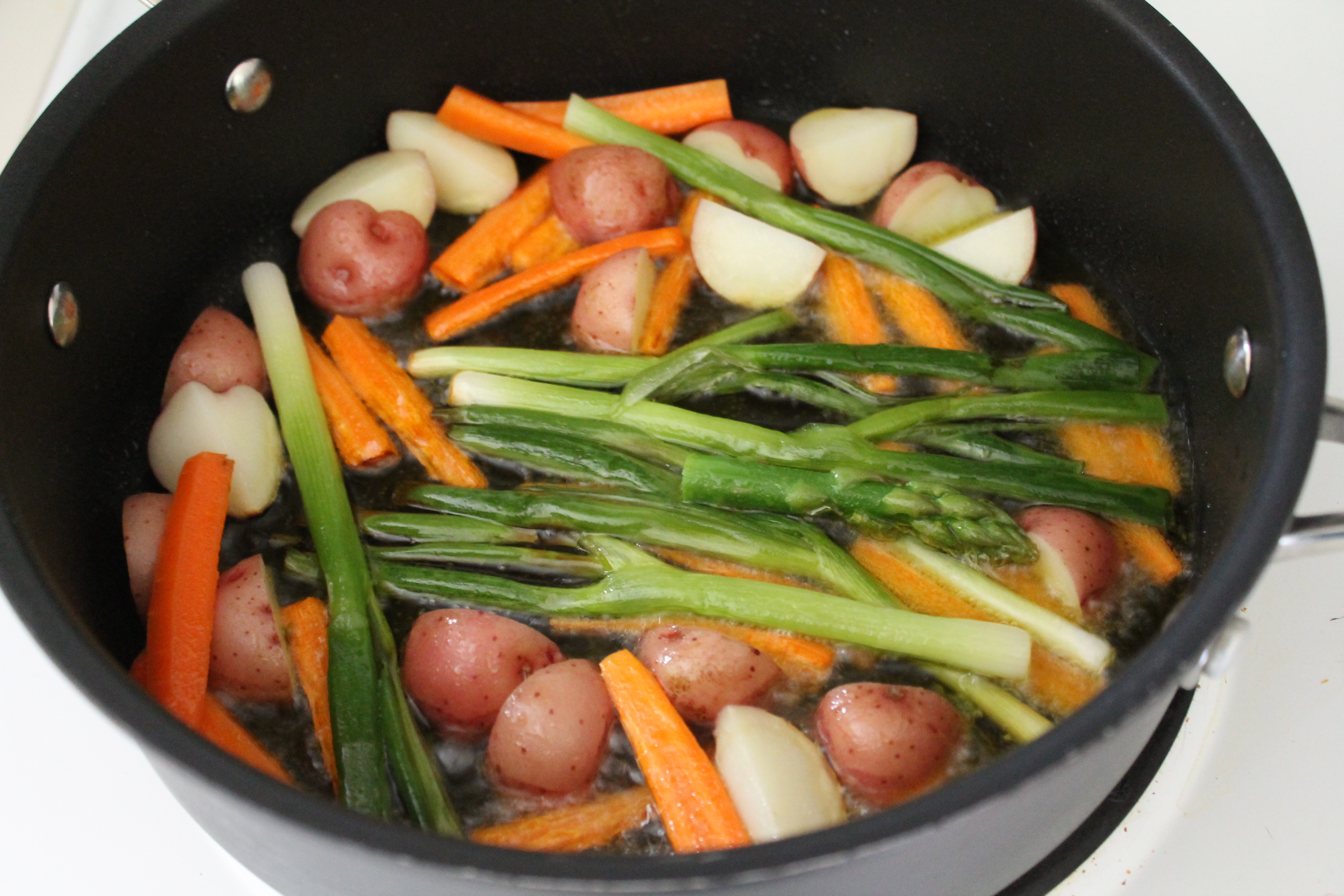 Cover the pot and let it simmer for 10–15 minutes.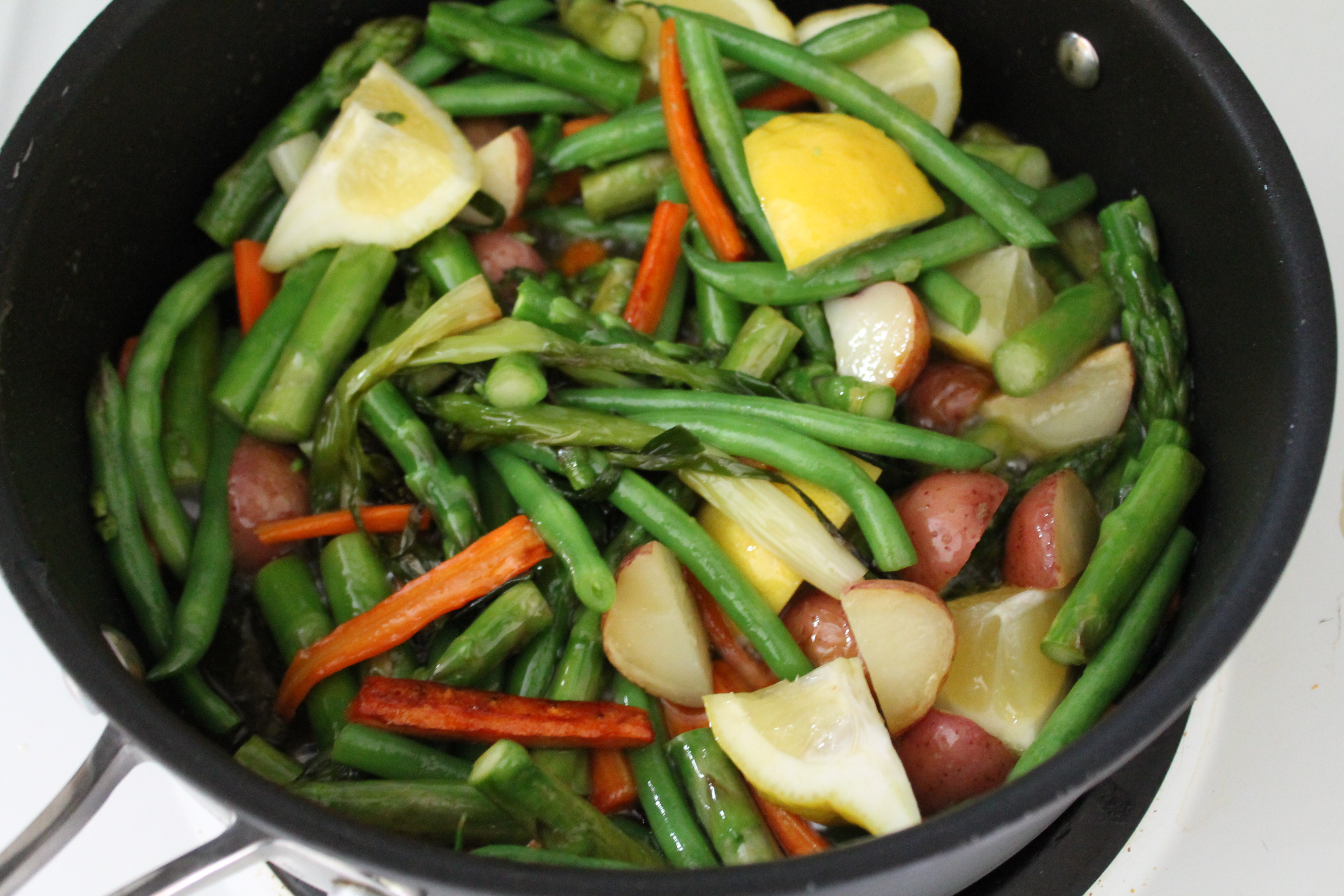 About 3 minutes before the end, toss in the asparagus. Re-cover and continue cooking. (If you are using skinny asparagus instead of big, fat spears, then wait until 1 minute is left, and add the rest of the veg all together). When about 1 minute is left, add the green beans and the lemon wedges.
As soon as the green beans and asparagus are turn bright green and soften slightly, remove the skillet from the heat.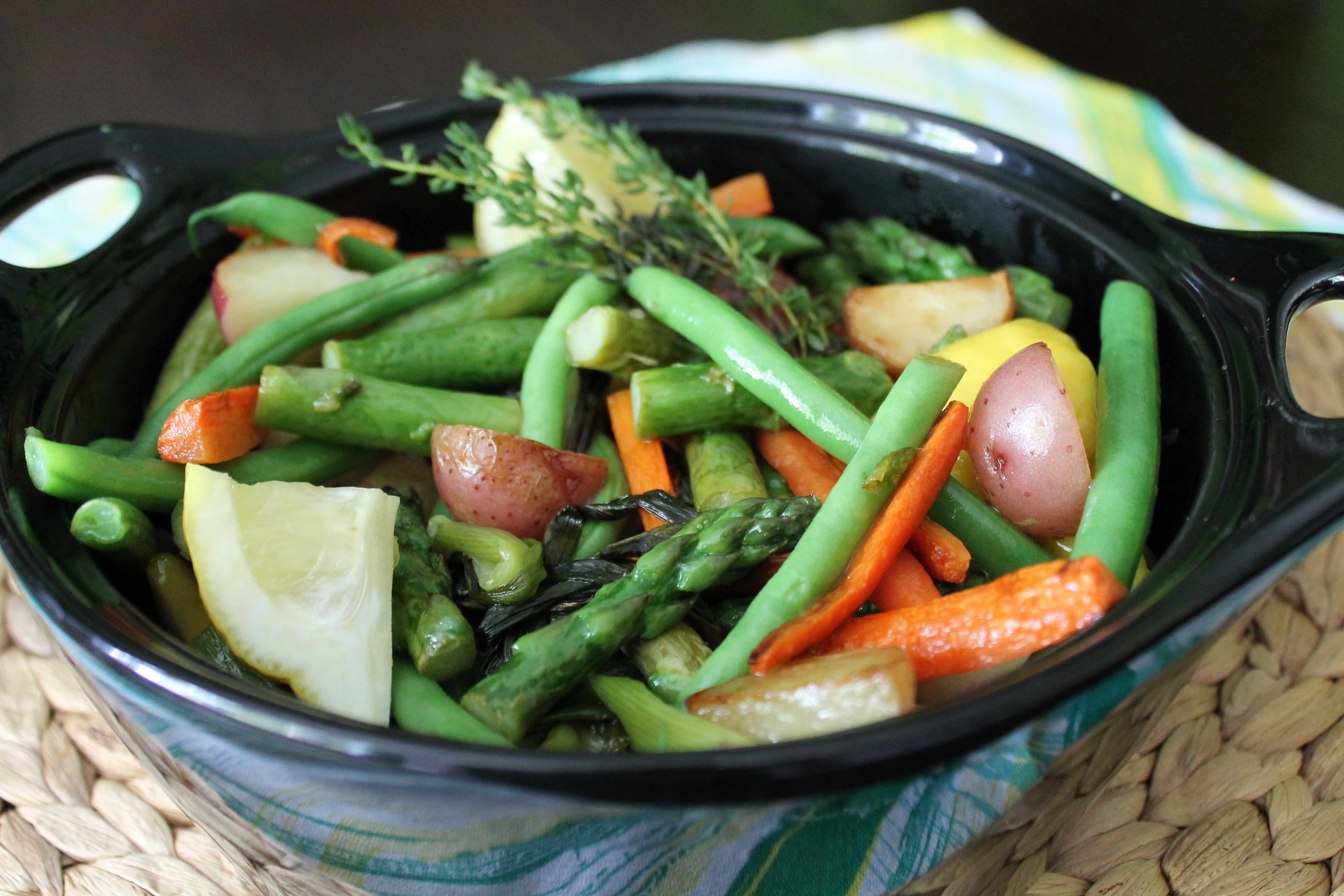 Transfer the veggies to a serving bowl, keeping the lemons off to the side as garnish (oh, how many times have I served something that was cooked with chunks of lemon, with what I thought was obvious pieces of lemon nestled in with the other veg, only to have someone complain that they got "a bite of lemon rind"…). Sprinkle with your favorite fresh herbs (I chose thyme) just before serving.
You can serve these braised veggies alongside a nice piece of grilled or roasted fish, or you can toss it into a mound of quinoa and make a grain salad. You can just stand at the counter and eat them with your fingers (watch out, they're hot). However you serve them, they will be simple and bright and delicious!
Olive Oil-Braised Spring Veggies
lightly adapted from 101 Cookbooks
serves 4
Ingredients:
½ cup good quality extra virgin olive oil
4 oz. new potatoes, cut into bite-size chunks
4 oz. young carrots, cut into sticks
¼ tsp. sea salt
6 spring onions, trimmed
8 oz. asparagus, trimmed and cut into 2″ segments
4 oz. green beans, trimmed
1 lemon, cut into large wedges
fresh thyme or other herbs
Directions:
Heat the olive oil in a very large skillet over medium heat. When warm but not yet simmering, add the potatoes, carrots, and sea salt. Cook for 2–3 minutes.
Add the spring onions and stir the veggies. Cover the pot and cook 10–15 minutes.
One minute before the end of the cooking time, add the asparagus, green beans, and lemon wedges (or, if the asparagus is very fat, add that first 2 minutes earlier). Finish braising: the asparagus and green beans should be bright green and all the veggies should be crisp-tender.
Immediately transfer to a serving dish. Set the lemons to the side of the dish as garnish, and sprinkle the veggies with thyme leaves.
Enjoy!
One year ago: Tabasco and Asparagus Quinoa
Two years ago: Trail Mix Cookies
Three years ago: Cardamom Tea Cakes