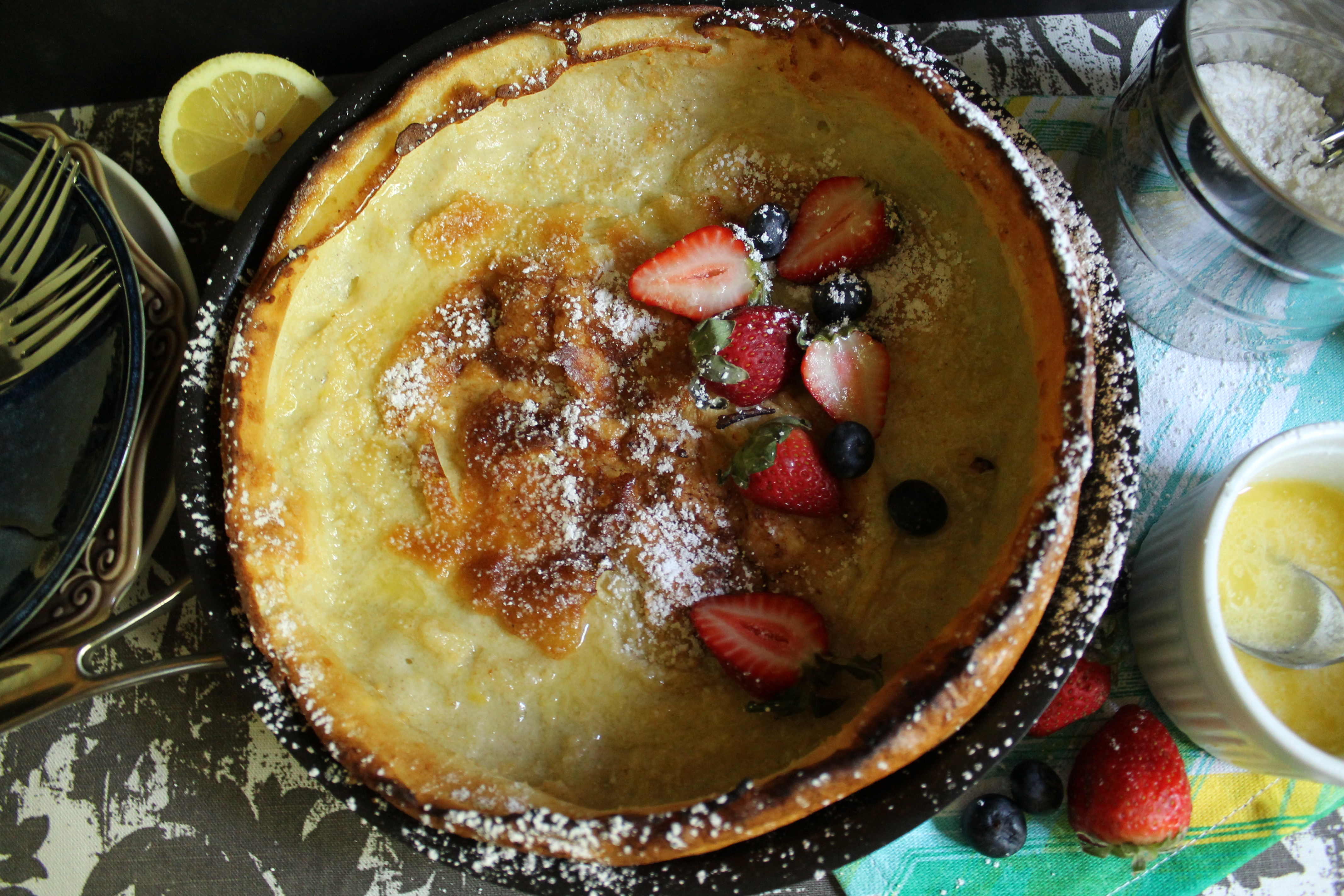 It was Mother's Day a few weeks ago. Not to brag, but I had a pretty stupendous day!
I should probably backtrack and mention that my husband isn't big into celebrating special occasions and events, or at least that he doesn't care whether holidays are celebrated on time. He is more of the mind that a birthday is just a day, Christmas is just a day, Mother's Day is just a day… And in a way, he is totally right—but I do love celebrations. I love the magical feeling and the pageantry. I love thinking about how all the prep is going to turn into something memorable. I love the memorable moments.
So. Guess how Dave decided we would celebrate Mother's Day? He got up early and made me breakfast! In fact, he made me two breakfasts, because he did a trial run a few days earlier to make sure that Mother's Day would be perfect.
(I'll wait. While you say, "Awwwwww!")
I got to choose the meal, and I racked my brain for something delicious but not too indulgent, simple but not boring. And I came up with a Dutch Baby!
A Dutch Baby is like a cross between a pancake and a popover. Topped off with lemon butter and powdered sugar, it is tart and sweet and a little doughy and, really, just everything a mom could hope for on Mother's Day. We liked it so much that I made it again a few days later, just so I could share it with you!
We made our Dutch Baby with whey, leftover from recent experiments in homemade mozzarella! But you can certainly use milk instead!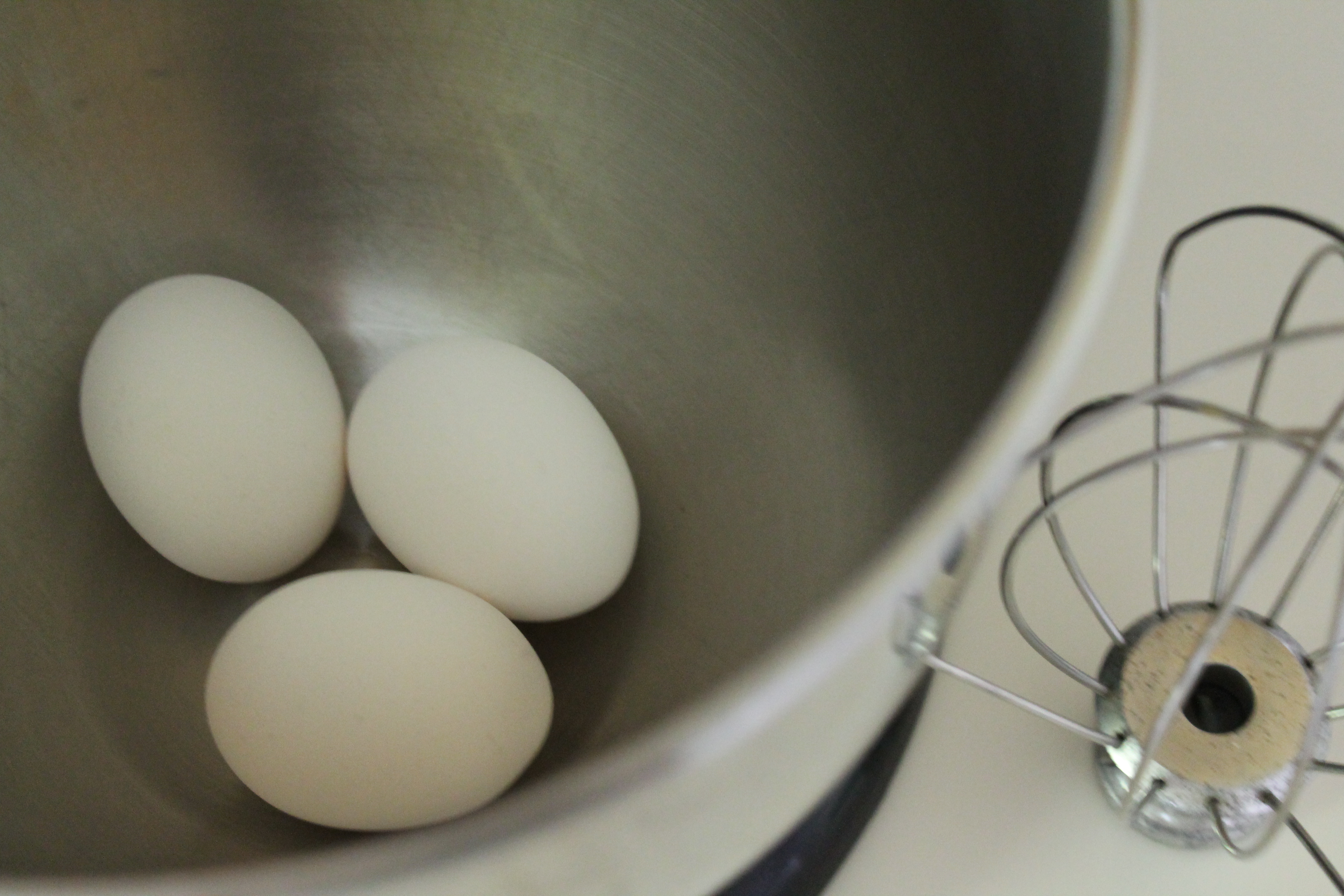 Your eggs and dairy need to be at room temperature. This takes about an hour on the counter. But don't worry! If you forgot to set yours out, you can warm them in the microwave for a few seconds at a time until they warm up. Make sure, if you are microwaving, that you roll the eggs over (easiest if they are in a bowl) so you don't cook the bottoms, and stir the whey or milk. Don't exceed 5 seconds at a time!
When you are ready to make breakfast, start by putting a 10″ oven-safe skillet in the oven and heating the oven to 450°. You don't have to use a cast-iron skillet, here, as long as your skillet is rated for oven use. However, if you are using a skillet that you typically place on the stovetop, I highly recommend wrapping the handle as soon as you pull it out of the oven…otherwise you are liable to forget that the normally cool handle is actually heated to 450°. Yep, both Dave and I burned our hands while we were working on the Dutch Baby, so learn a lesson from us!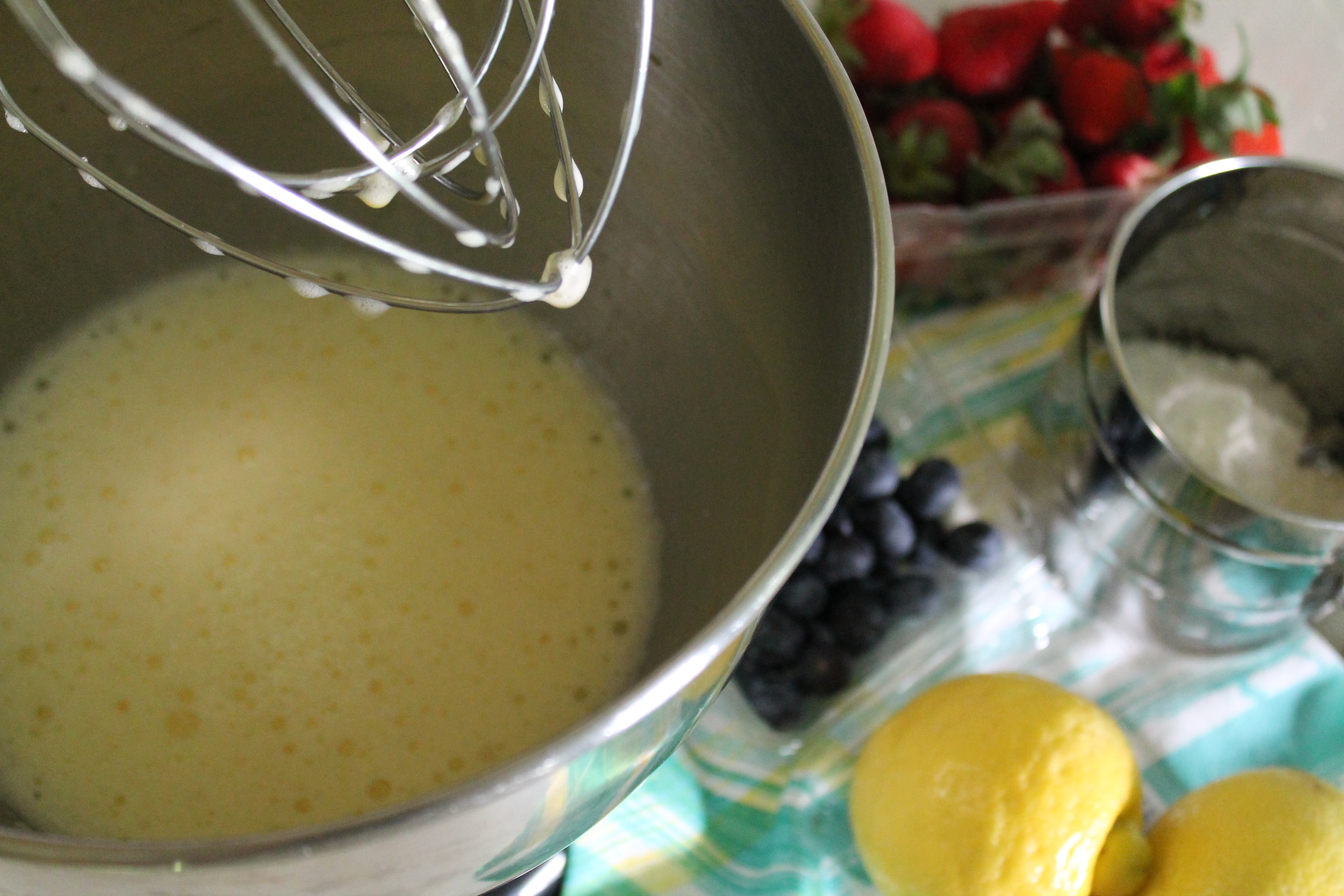 While the skillet heats up, prepare the batter. First, whip the eggs until they are foamy. Then whisk in the remaining ingredients: flour, whey (or milk), vanilla, cinnamon, nutmeg (fresh is best, but you can use a pinch of pre-grated nutmeg if that's all you have), and salt. The batter should be thin and uniform.
Cut half a stick of unsalted butter into small cubes. Carefully remove the pan from the oven (remember what I said about wrapping the handle! ouch! hot!) and toss in the butter cubes. Swirl the pan until the butter melts. Some of the butter will start to brown during this process. Delicious.
Pour in the batter. It will start cooking on the bottom immediately.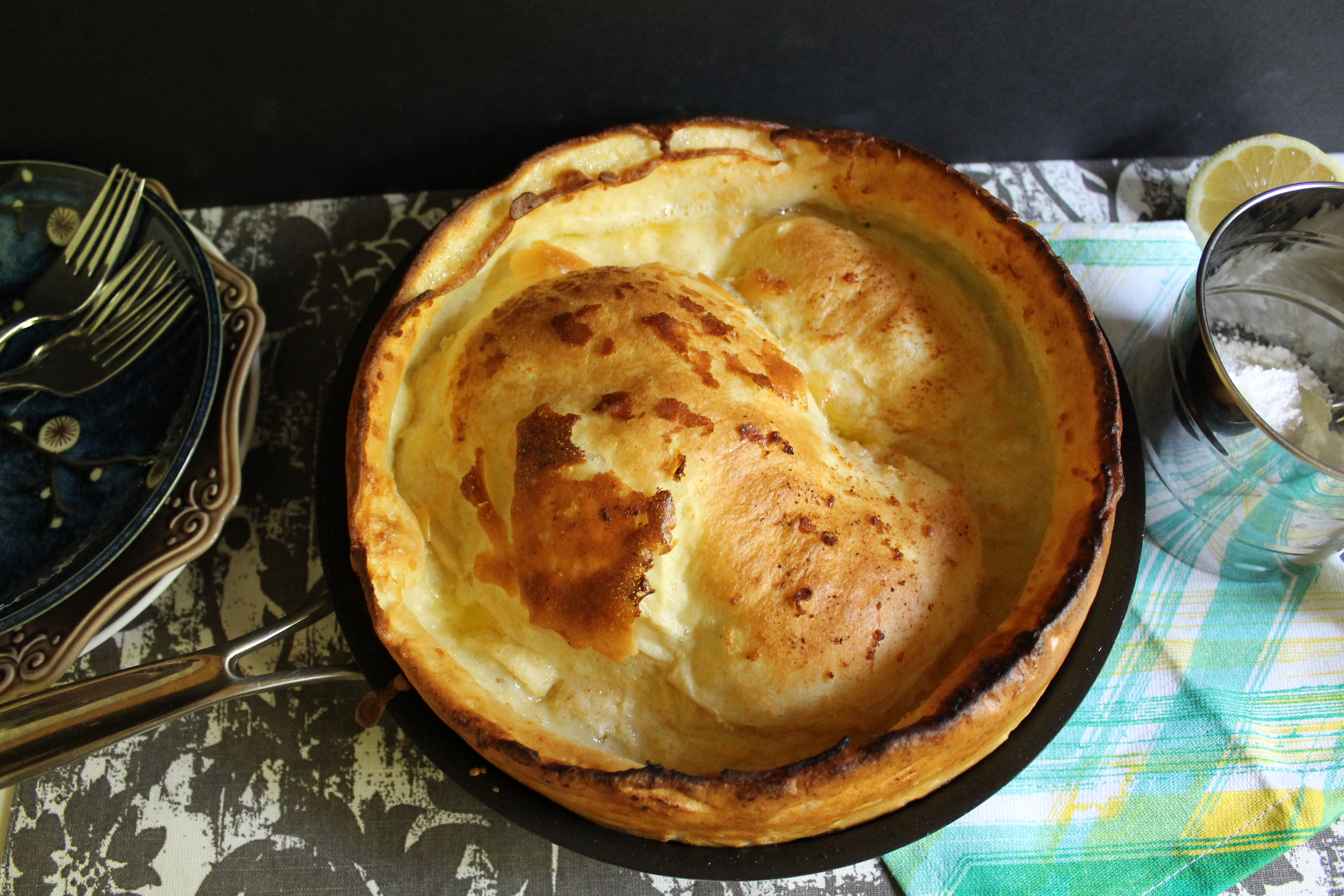 Return the skillet to the oven and bake for 15–20 minutes. The Dutch Baby can burn easily, so make sure to start checking it at 15 minutes (ours have been completely done at 15 every time)! When it is done, the edges and center will be puffed and browned. As it cools, the center will deflate and you will be left with a large, bowl-shaped pancake.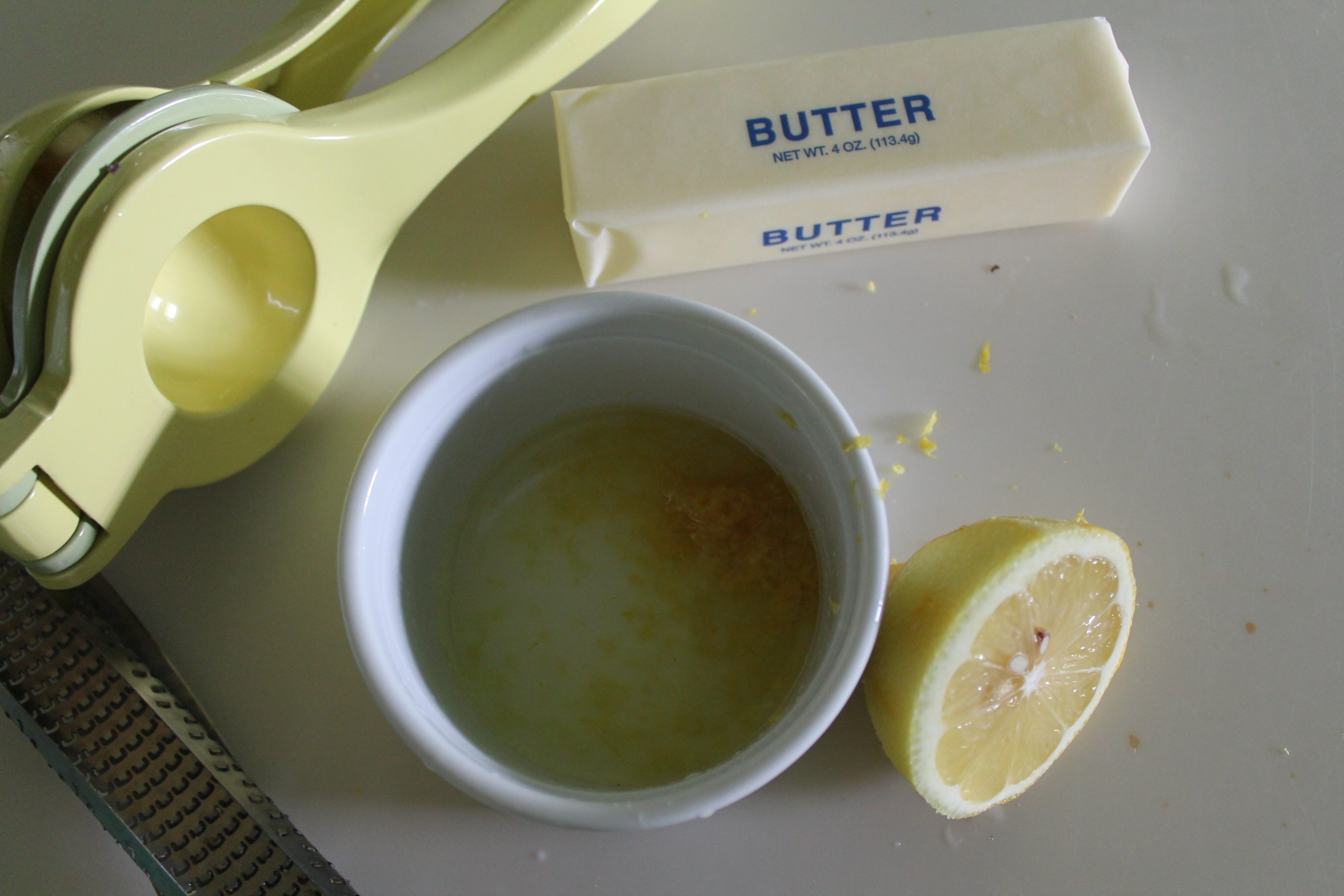 While the Dutch Baby is baking, make the lemon butter for drizzling. This is super easy, and you can alter it to taste. Simply grate about half a lemon's worth of zest into a small bowl, then squeeze the juice of half the lemon into the bowl. Add half a stick of salted butter and heat in the microwave until melted. Stir, taste, and add more lemon juice or butter as needed to get the taste you like. We went for fairly tart. You will likely have much more lemon butter than you really need here, but we found these amounts convenient for mixing. After breakfast, you can save the remaining lemon butter for another use (maybe another Dutch Baby…tomorrow…)!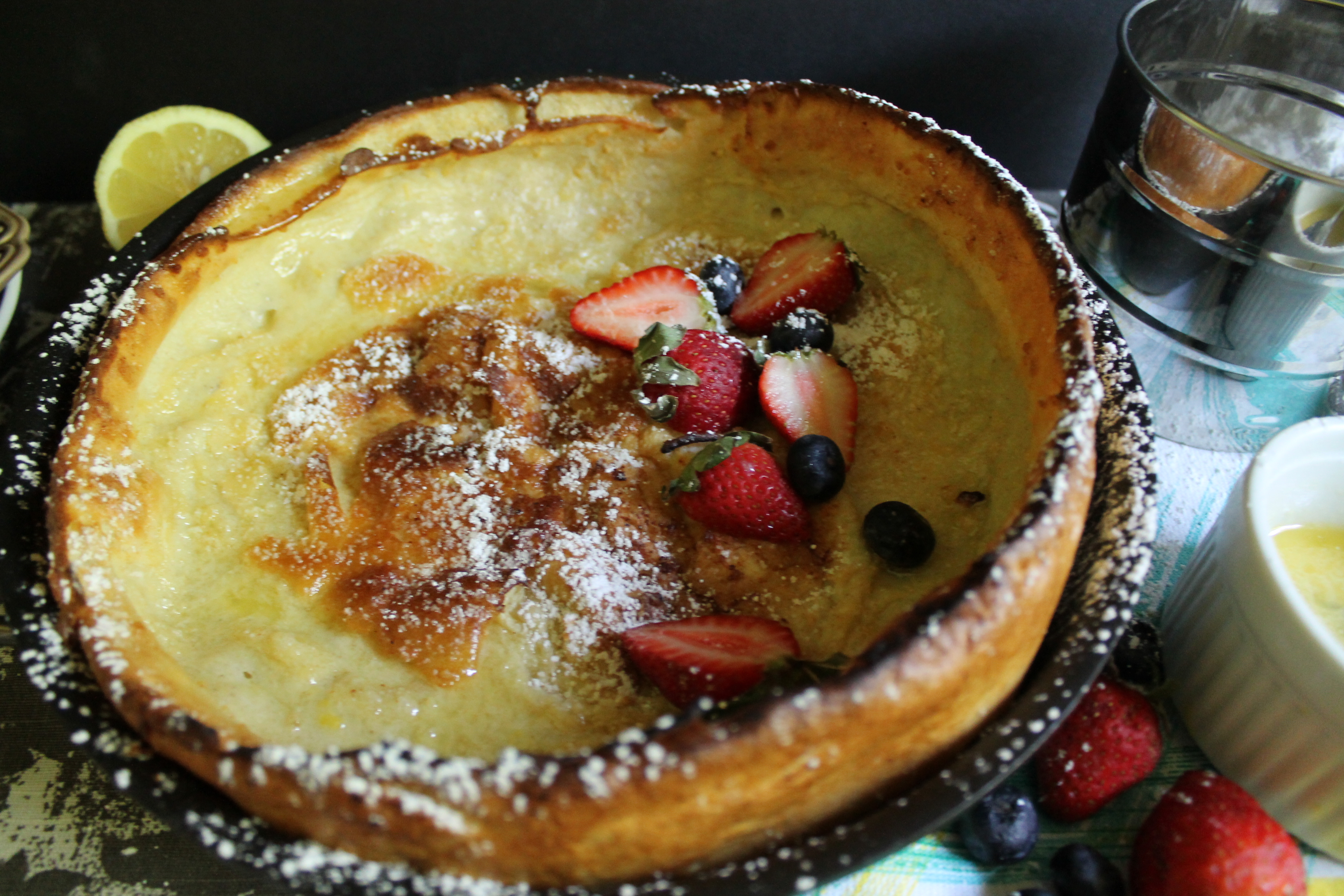 While the Dutch Baby is still hot, transfer to a serving plate (it should slide right out of the skillet without much encouragement). Drizzle with lemon butter and sift confectioner's sugar over top. Slice into quarters and serve!
Dutch Baby with Lemon Butter
adapted from Epicurious
serves 2–4
Ingredients:
3 eggs, room temperature
⅔ cup whey or milk, room temperature
⅔ cup flour
¼ tsp. vanilla extract
scant ¼ tsp. freshly grated nutmeg
⅛ tsp. cinnamon
⅛ tsp. salt
¼ cup unsalted butter, cubed
zest and juice of ½ large lemon
¼ cup salted butter
¼ cup confectioner's sugar, sifted
Directions:
Place a 10″ skillet in the oven and heat the oven to 450°.
Meanwhile, whip the eggs until frothy, then whisk in whey, flour, vanilla, nutmeg, cinnamon, and salt. The batter will be thin.
When the oven is hot, carefully remove the hot skillet. Place the cubed, unsalted butter into the skillet and swirl constantly until the butter is completely melted. Pour the batter into the skillet and immediately return the skillet to the oven.
Bake for 15–20 minutes, until puffed and browned on the edges.
Meanwhile, combine the lemon zest and juice with the salted butter in a small bowl. Heat in the microwave until the butter melts; stir to combine.
When the Dutch Baby is baked, remove from the oven. Drizzle with lemon butter to taste and sprinkle with confectioner's sugar. Slice and serve hot.
Enjoy!
One year ago: Rhubarb Pie
Two years ago: Green Onion Potato Salad
Three years ago: Greek Caponata