Leftovers are my kryptonite.
I never really know what to do with them! Sure, I sat down to plenty of "leftover nights" when I was growing up, but we ate a fairly meat-and-potatoes style diet, so even if the leftovers were mismatched, they still made sense together in their original forms.
Leftover nights around our house are a little strange. One person is eating two different kinds of pizza while the other person is eating a salad burrito. The side dishes are really my personal nightmare…I so often eat one-dish meals that when there is a leftover side dish, I hardly know what to do with it. What I need to learn is how to look at the shelves stacked with cooked veggies and baggies of extra ingredients and imagine what they could become…something else entirely.
My husband, on the other hand, knows just what to do with leftovers (when he's not ignoring them, that is): turn them into soup. Which—after I yanked a bag of leftover boiled corn on the cob out of the fridge and declared, "We are never going to eat this! I am just going to throw it away!"—is exactly how this corn soup was born.
And it's so good! It is exactly the kind of thing I would have planned specifically to make, gone to the farmer's market to shop for…and then found myself wondering what to do with those two extra ears of corn I had to buy "just in case."
Well. Baby steps.
This soup was super easy to make. You can use fresh corn on the cob or a few ears that have been previously boiled boiled or steamed.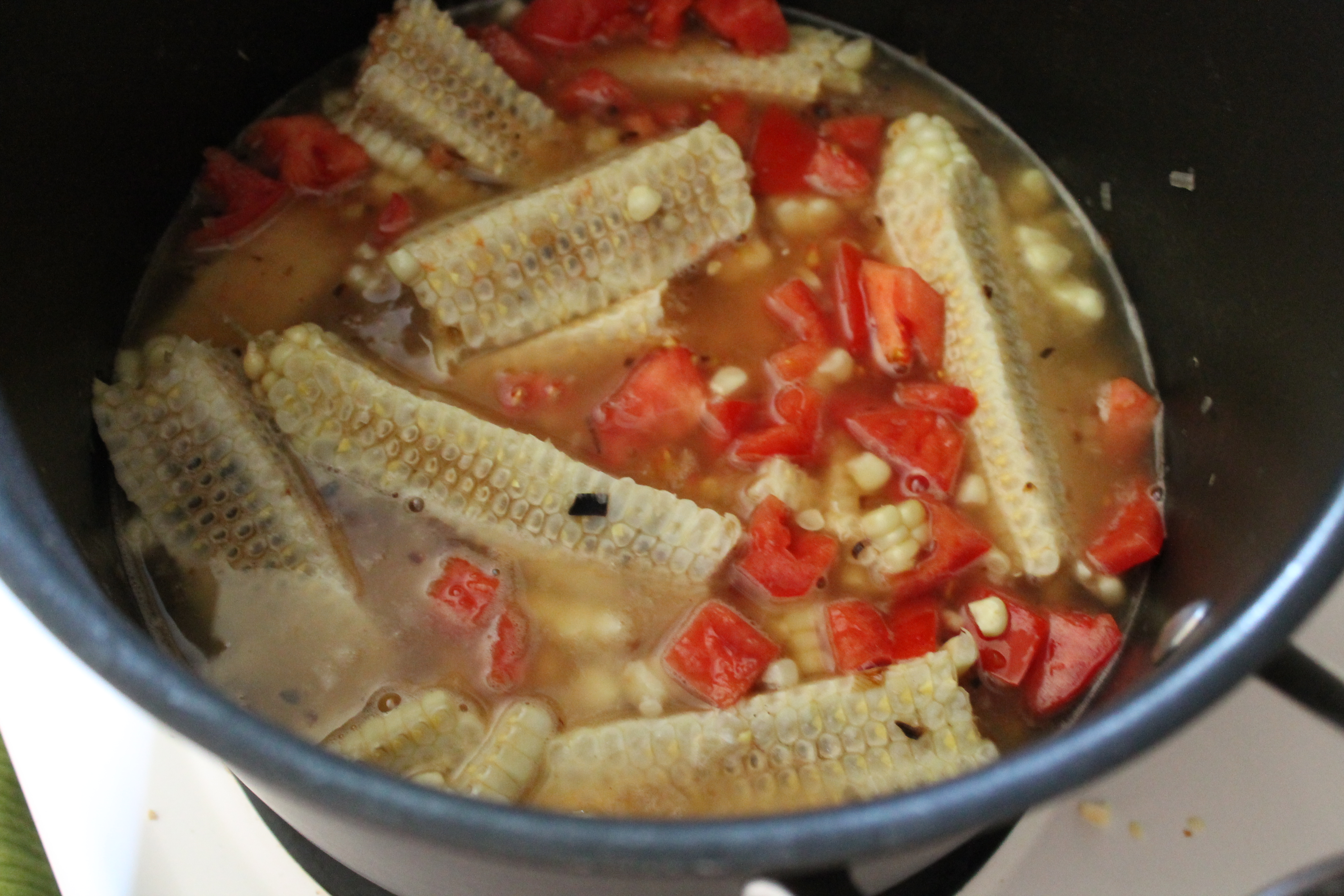 Chop up a shallot (or half a yellow onion) nice and small. Cook the shallot in butter over medium heat until translucent and beginning to brown. Add in some nice earthy spices: cumin, cayenne, a pinch of turmeric (for color).
While the shallot cooks, cut the kernels off of 4 ears of corn and dice a large tomato.
Add the tomato, corn, and cobs to the pot with 4 cups of water. I suppose you could go with stock, but honestly I don't think veggie stock adds much flavor, and I don't use meat stocks.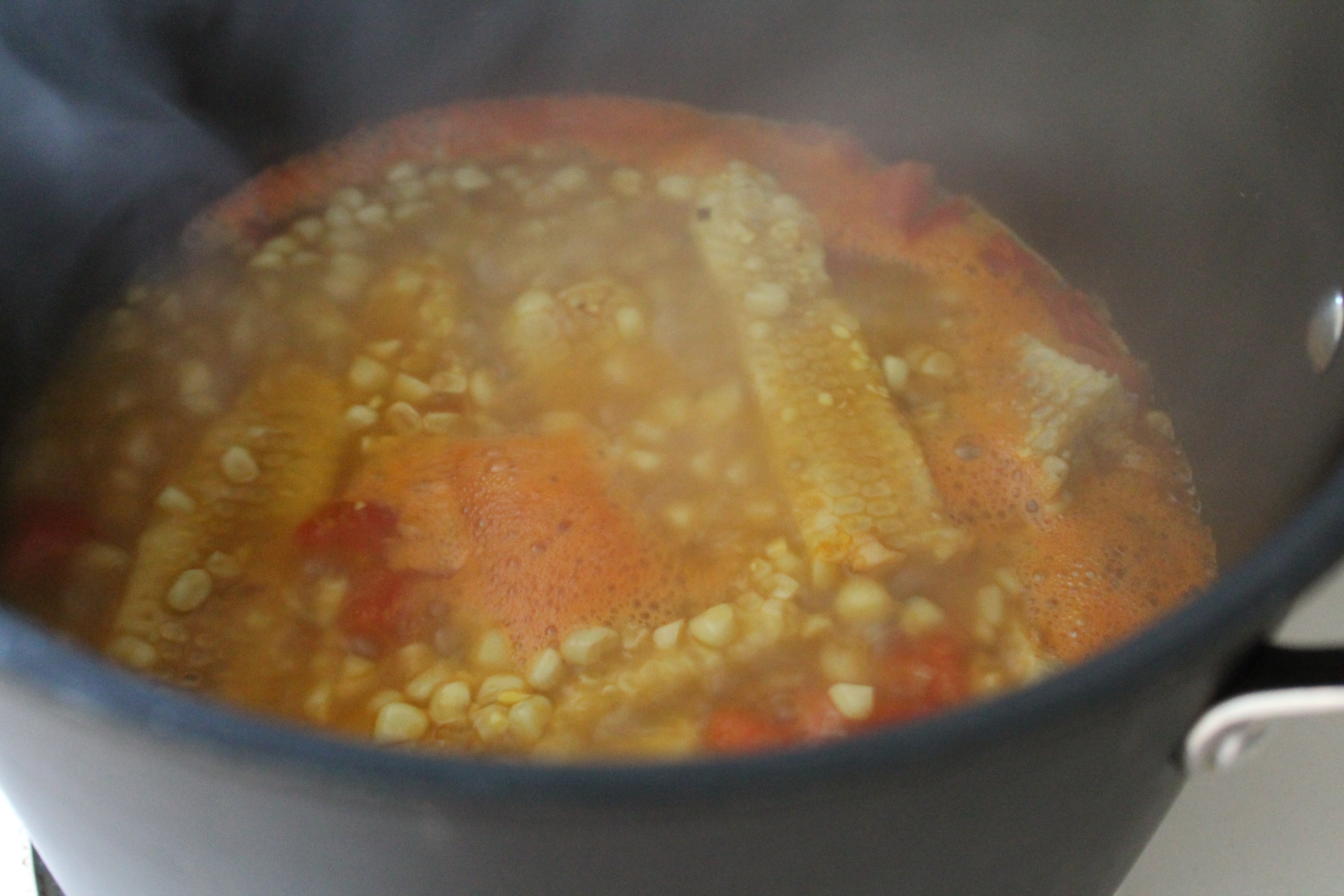 Let this simmer for 20 minutes or so, until the corn kernels are very tender and the cobs have flavored the liquid.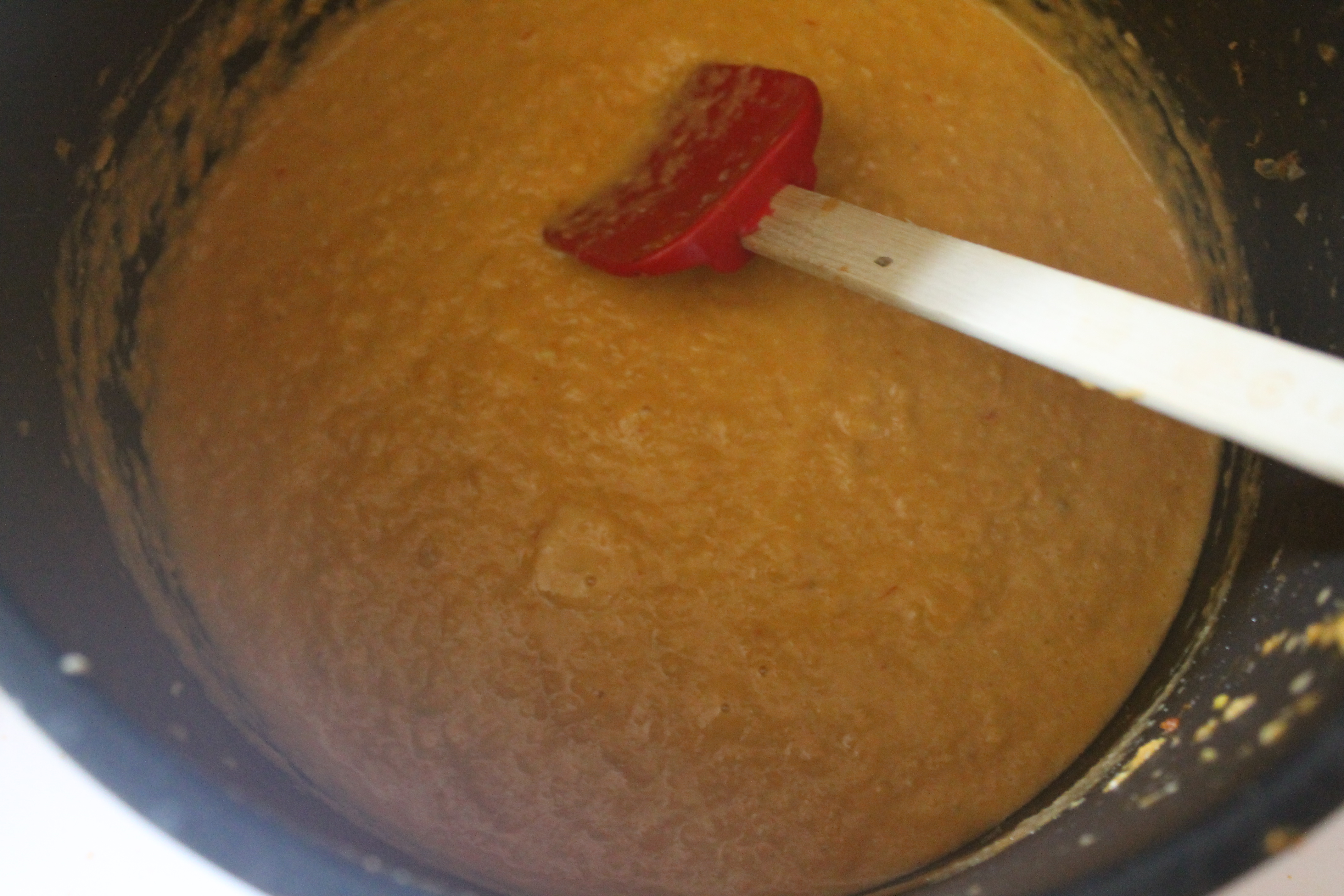 Remove the cobs, then puree the soup. I tried pureeing with my immersion blender, but it didn't go well with all the corn kernels, so I recommend carefully pouring the soup into a blender and pureeing on high until smooth.
Return the soup to the pot and continue to heat for 5–10 minutes. If the soup is too thick, thin with extra water. Taste and adjust seasonings as needed. We made our soup a little more spicy with some extra cumin, cayenne, and pepper.
While the soup heats, prepare the toppings. I love pureed soups, but Dave really prefers chunky soup, so to make this a meal for both of us I gathered a lot of things to stir into the soup: extra corn kernels, chopped tomatoes, lime wedges, crispy baked tortillas, fresh cilantro, feta (queso fresco would also work), and even extra spices! You can never go wrong with a little freshly cracked black pepper, and it's so pretty!
Serve the soup warm (or cold, if you prefer), with the toppings of your choice.
Mexican Sweet Corn Soup
adapted from Food Network and A Cozy Kitchen
serves 4
Ingredients:
1 medium shallot
2 tbsp. unsalted butter
5 ears sweet corn, shucked, divided
2 large, ripe tomatoes, divided
½ tsp. cumin, plus more to taste
¼ tsp. cayenne
large pinch of turmeric
4 cups water
¼ cup heavy cream (optional)
sea salt
2 limes
crumbled queso fresco, cotajilla, or feta
chopped fresh cilantro or parsley
Directions:
Finely dice the shallot. Melt the butter in a large soup pot, then add the diced shallot. Cook over medium heat until the shallot is soft and beginning to brown.
Meanwhile, remove the kernels from 4 ears of corn and reserve the cobs. Dice 1 tomato.
Add the cumin, turmeric, and cayenne to the shallots and stir to combine. Cook 30 seconds more.
Pour the water into the pot, followed by the corn cobs and their kernels and the diced tomato. Bring to a boil, then reduce heat and simmer for 20 minutes, until the corn is tender.
Remove the cobs from the pot. Carefully puree the soup, either in batches in a blender or with an immersion blender. Return to low heat.
Add the cream and a small pinch of sea salt. Taste and adjust seasonings as needed. Continue to heat the soup another 5 minutes.
Prepare the garnishes for the soup: cut the kernels from the last ear of corn, seed and dice the remaining tomato, and gather the cheese, lime, and fresh cilantro.
When ready to eat, spoon the soup into bowls and top with corn, tomato, cheese, fresh herbs, and a squirt of lime.
Enjoy!
One year ago: Green Pepper and Onion Stromboli
Two years ago: Ginger Scones
Three years ago: Brown Sugar Shortbread