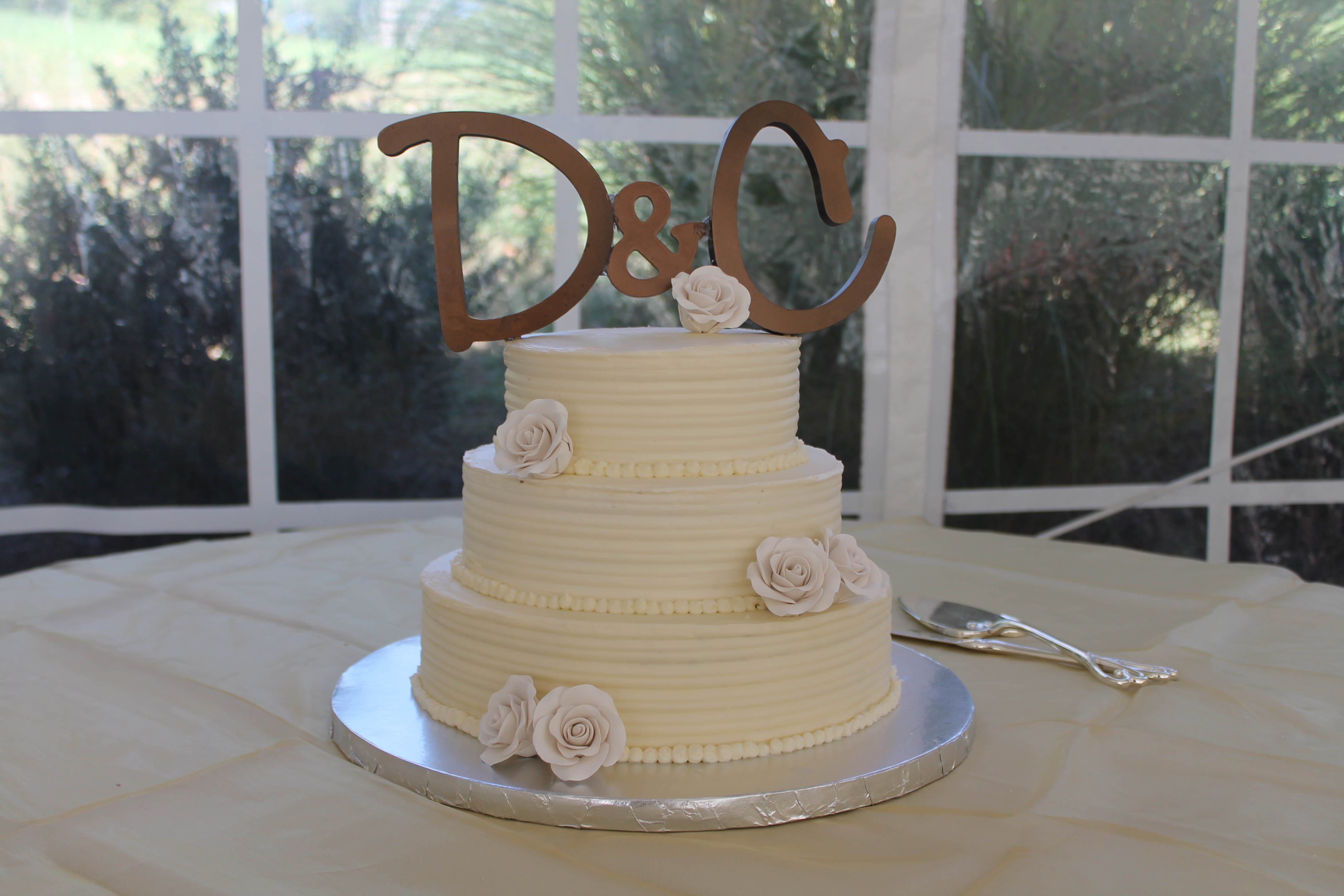 I may have been somewhat MIA over the last several weeks, but I promise I have not been idle. I have been hard at work on a wedding cake for a good friend of ours!
When the idea first came around, it was almost a joke. You see, I have a frustrating tendency to volunteer for everything. And even to make up events so I can then volunteer to do everything. It's a sickness.
So as the groom-to-be was teasing me for volunteering to make a dairy-free Sweet Sixteen cake several months ago, he suddenly asked, "Hey, do you want to bake our wedding cake?"
And months of planning later…here I am!
I think one of the most challenging parts of making a wedding cake, aside from the pressure to execute it perfectly, is figuring out what to make.
A wedding cake has to be so many things at once! First, it must be delicious…because why are you doing it if not to make something delicious? But also, the cake itself must bake very reliably and rise fairly evenly, must be sturdy rather than delicate, and must be able to maintain its moisture for several days, since it is impractical to try to make and frost the entire cake in one day. The filling and frosting for the wedding cake must be firmer rather than softer, otherwise the cake will not be stable and the layers will not look even and pristine once frosted. Challenging!
Once it became clear that I was actually going to be making this wedding cake, I decided to give the bride and groom a cake tasting, just like a real bakery would have done, so they could end up with flavors they really liked. They had given me a few basic guidelines—no coconut or nuts, for example—and then the bride-to-be casually mentioned that her ideal wedding cake would be pumpkin spice filled with cheesecake.
Um…awesome!
Cake Tasting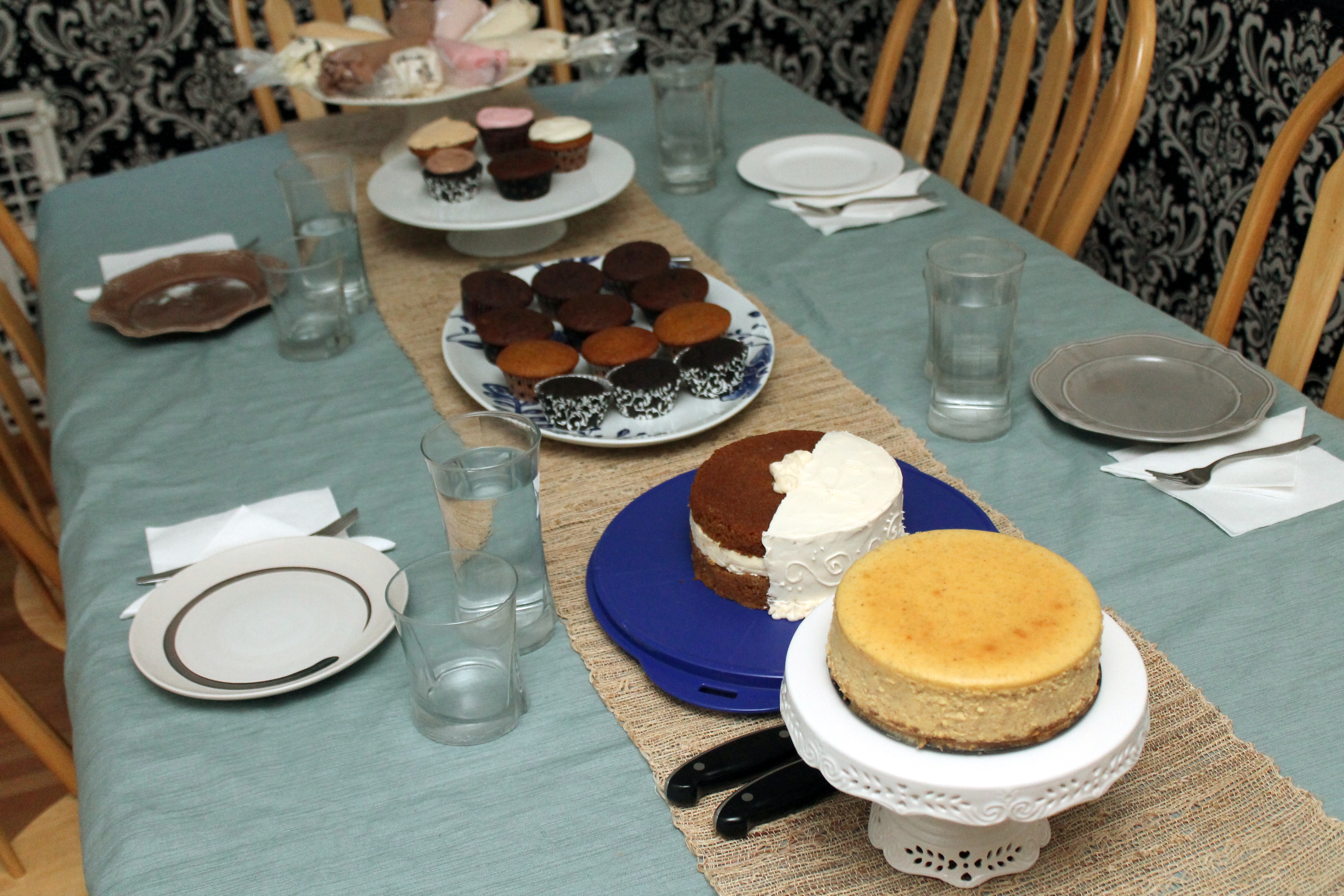 For the tasting, I ended up making four kinds of cake, plus a pumpkin cheesecake (because both bride and groom told me they really liked cheesecake better than cake), as well as 12 kinds of frosting. Because you never know what will turn out to be a favorite!
I even made up a rating and comments sheet so everyone could keep track of what they liked and what they didn't. It was all very dorky and organized.
And the pièce de résistance was a sample top tier, just what they had requested: pumpkin spice cake, filled with a thick layer of soft cheesecake, and half-frosted with cream cheese frosting (the other half was naked, which was another idea the bride wanted to test). This pumpkin-cheesecake combination was the winner by a landslide!
The Big Plan
Next, we talked concept.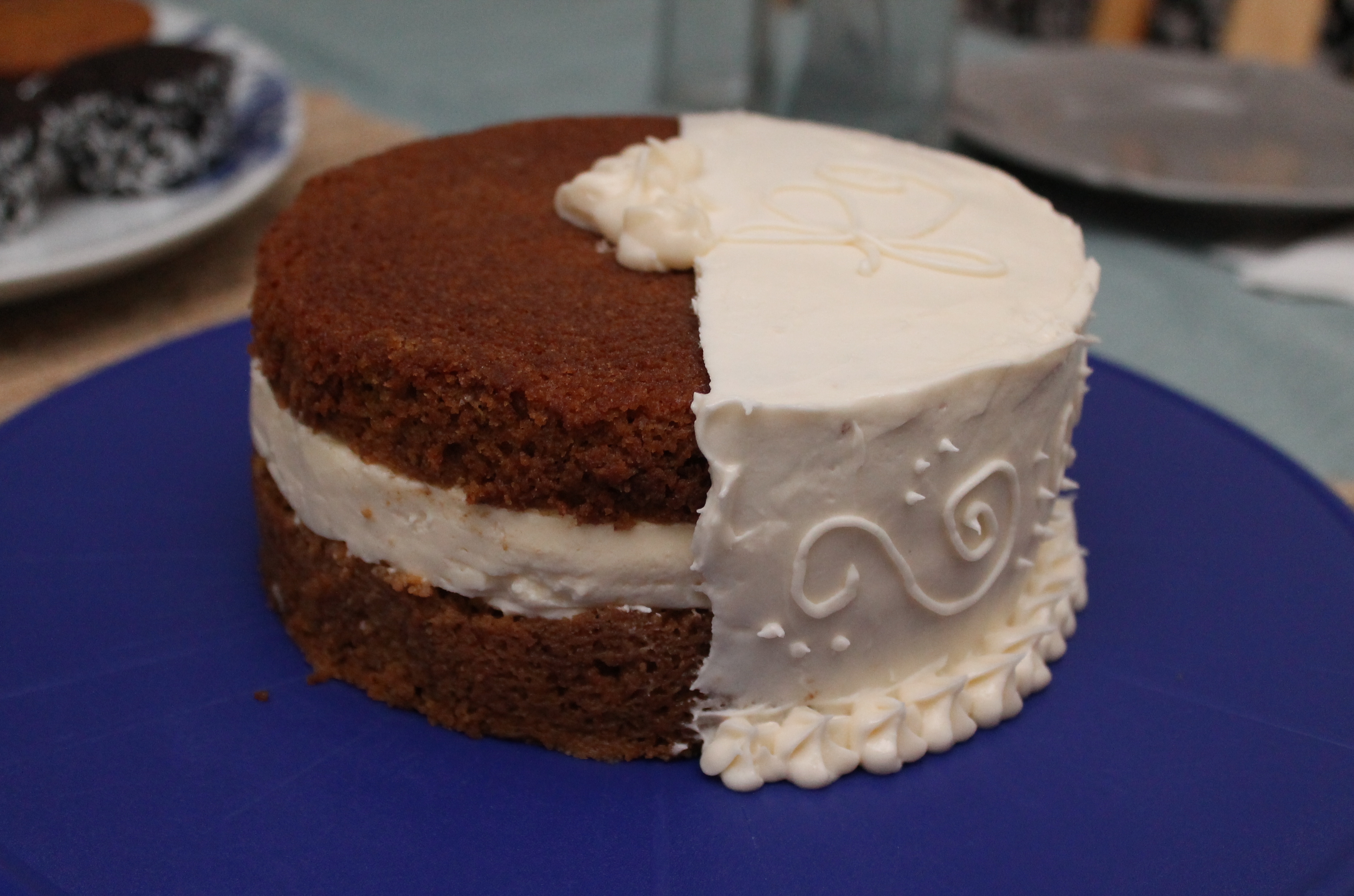 We nixed the idea of a naked cake (a cake that is filled, but lacks exterior frosting) pretty quickly, since it would be much more challenging to keep the layers looking reliably neat and pristine, especially due to the cheesecake filling layer; instead we decided on a thin layer of Baileys-infused cream cheese frosting for the outside. Luckily for me, the bride wanted a simple cake without a lot of frips and frills, which meant that I  didn't have to spend hours and hours practicing my piping skills!
Second, you need to know how many people you are serving. This was going to be a fairly large wedding, with nearly 200 guests! Happily, the bride and groom didn't want a huge cake large enough to serve every guest. Their plan was to have a small, 3-tiered cake to cut and share with their wedding party and family members, and sheet cakes to serve to the rest of the guests. (Naturally, I tried to volunteer to make the sheet cakes, too, but my wise husband forbade it!)
By the way, though the cake I made was smaller (10″ layer on bottom, 6″ layer on top), it actually could have served about 75 people!
As you probably know, most couples save the top tier of their wedding cake to eat on their first anniversary, as a reminder of their special day and how far they have come since then. But I decided I would make them a fresh top tier in a year, rather than having our friends eat freezer-burnt cake. (This also meant that the top tier was free to be served at the wedding.)
Finally, because the cake needed to be practical to stack and not too heavy, we decided to cut the cheesecake filling down by half. This also improved the taste ratio of pumpkin:cheesecake!
Cake Testing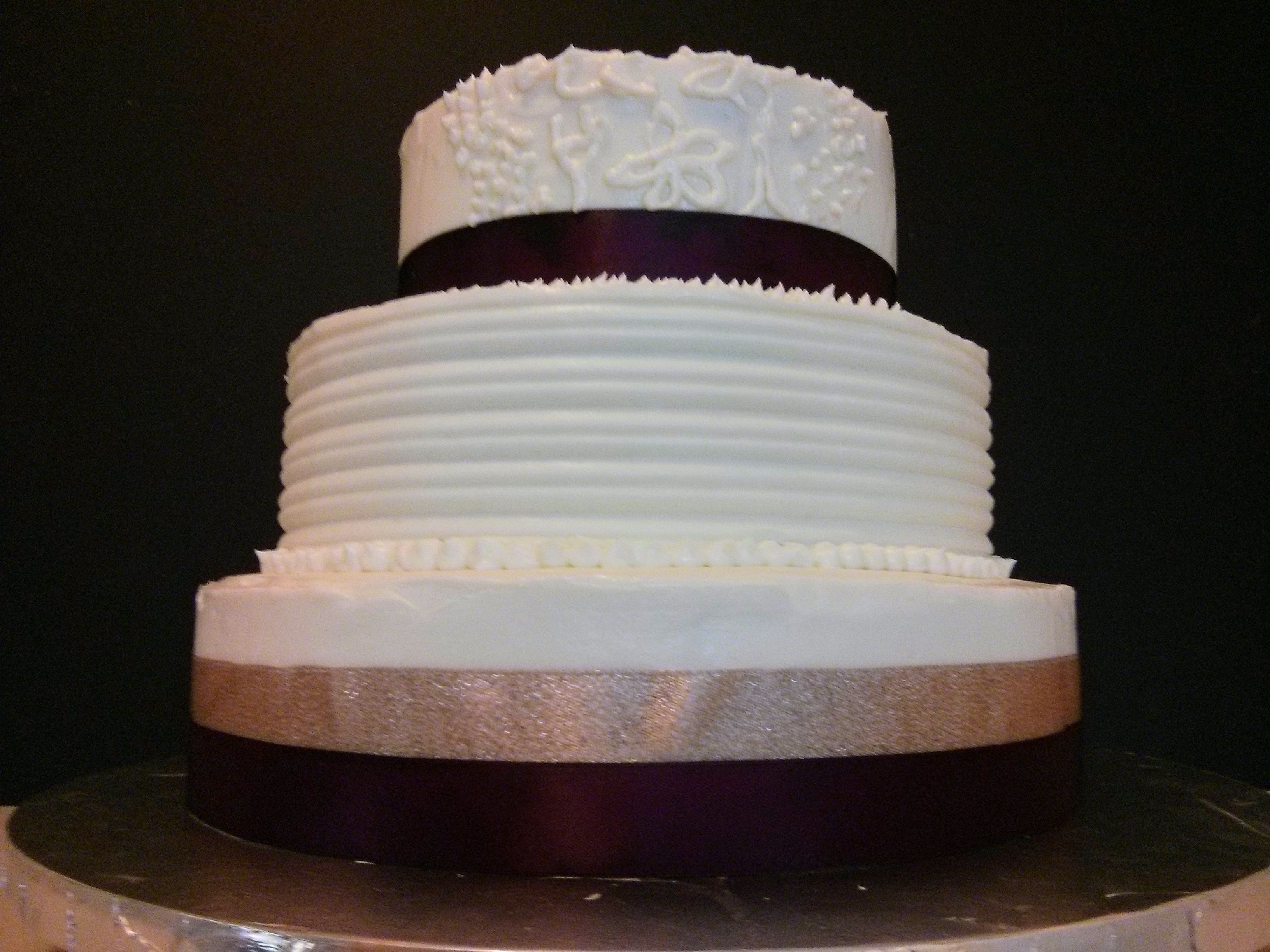 After you decide on a flavor combination, it's really important to bake test layers to see how well the cake bakes in different size pans. Luckily, the cake recipe the bride and groom chose during the tasting was extremely easy and not at all finicky (no creaming involved!). It came out moist and dense in testing, and it rose properly in the center no matter what size cake pan I was using. Hooray! That really made my life easier, because I didn't end up needing to test multiple recipes or do any baking math. (I'm sure all the professional bakers out there just had a heart attack.)
That being said, it is important to choose a cake recipe that bakes well, is unlikely to need longer or shorter baking times on the big day, rises and bakes properly in the center even in a large pan, and is moist enough that it won't dry out or crumble while you are working on it!
I also frosted and put the whole cake together once before the big day. It obviously looks quite different from the final design! The testing gave me an opportunity to make notes about baking times, perfect my frosting-smoothing technique, and to see what it would really be like to assemble a wedding cake in my tiny kitchen. I didn't want to be panicked or have any surprises when I was making the real cake!
(By the way, I also invited the bride and groom over to practice cutting the test cake I made. You'd be surprised how awkward it is to cut into a tiered cake without disturbing the other layers! This also gave them an opportunity to finalize the decorative style they wanted on their wedding cake.)
Next Time…
Clear out your fridge and freezer, because they are going to be stuffed full of cake soon!
This particular wedding cake was a four-day process.
Day 1—cheesecake filling
Day 2—pumpkin spice cake
Day 3—cream cheese frosting and frosting each tier
Day 4—assembly
One year ago: CSA in Review
Two years ago: Sweet Potato Chocolate Chip Muffins
Three years ago: Thai Red Curry with Tempeh