As a vegetarian, I often miss out on foods that other people rave about. Sometimes there is an easy substitution, like a delicious veggie burger. But sometimes, as with pot pies, I more often find that vegetarian versions are disappointing or weird than satisfying and comforting.
No doubt, to turn a meaty classic into a delicious vegetarian dish can be a challenge! It usually requires about a thousand more ingredients and a lot of extra time. Building a balanced flavor that is as hearty and satisfying to a carnivore as to a vegetarian is involved!
Part of this is definitely personal prejudice on my part. I'm sorry, but a potato is a starch! And, to be honest…peas are pretty darn close to a starch. So if those are the only "vegetables" in an already creamy and crusty pie, you've kind of lost me. If I am going to spend hours making crust and stirring fillings and then baking a pie, I want to be eating something absolutely stuffed with a rainbow of vegetables (and therefore nutrients), as thanks for my trouble!
Cue this pot pie, full of hearty Fall vegetables: butternut squash, carrots, brussels sprouts, and cauliflower are all at their best and brightest in the cool months! Add some browned mushrooms and onions for a nice, savory base, plus the most deliciously herby and peppery crust, and I honestly think you couldn't ask for anything more!
Sarah made these cute pot pies with me, and we both agree that two sets of hands are way better than one for this meal! Unfortunately, it took ages to make this, even with both of us chopping and stirring. (Luckily, she brought along some dark chocolate truffles as treats to encourage our efforts!)
The prep work really takes the bulk of the time on most vegetarian fare.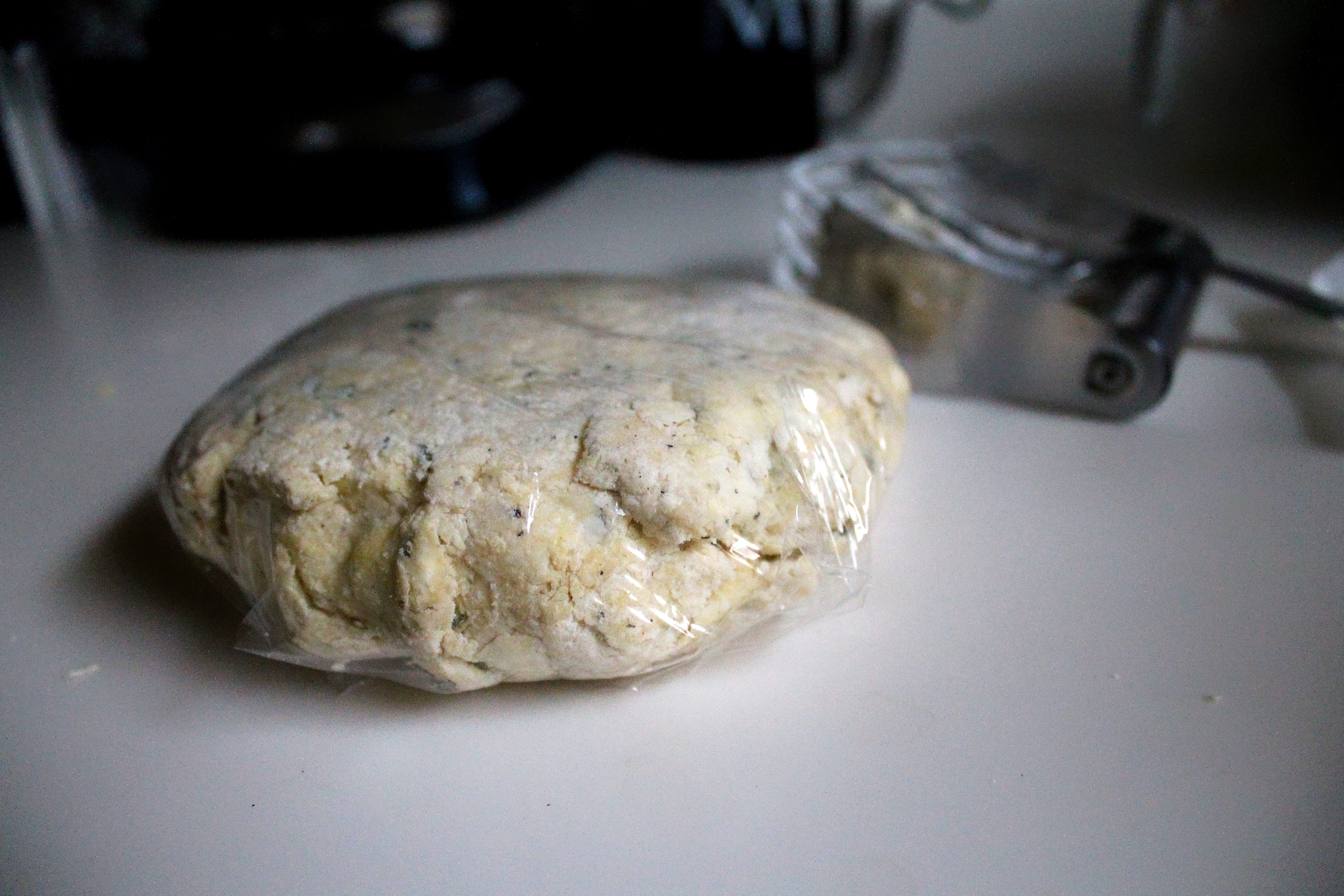 I pulled together the crust for these pot pies while Sarah chopped veggies. Don't you dare even think of buying a pre-made pie dough for this pot pie! The rosemary-black pepper combination in the crispy crust is what really makes the pot pies sing, and without it you would seriously be missing something!
Pie crust is easy, I promise. Whisk together the flour, baking powder, salt, chopped rosemary, and black pepper. I used fresh cracked pepper, which has a stronger, less powdery flavor that's totally worth it. Now cut in the butter. You could use a food processor for this, but it really only takes 1 minute of work with a pastry cutter to get the butter into small, pea-size chunks.
Whisk together 2 egg yolks and some buttermilk and stir it into the crust. I like to use a fork and a fluffing action for adding liquid to a pie crust, because heavy-handed stirring (er, and also food processing…) can make a less flaky crust. You may need extra buttermilk to get the crust to come together, but also be cautious here, because extra liquid means a puffier, less crisp crust in the end.
Knead in the bowl a few times to work in the extra shaggy, floury bits, then shape the dough into a large disc. Wrap in plastic wrap and chill in the fridge while you work on the veggies.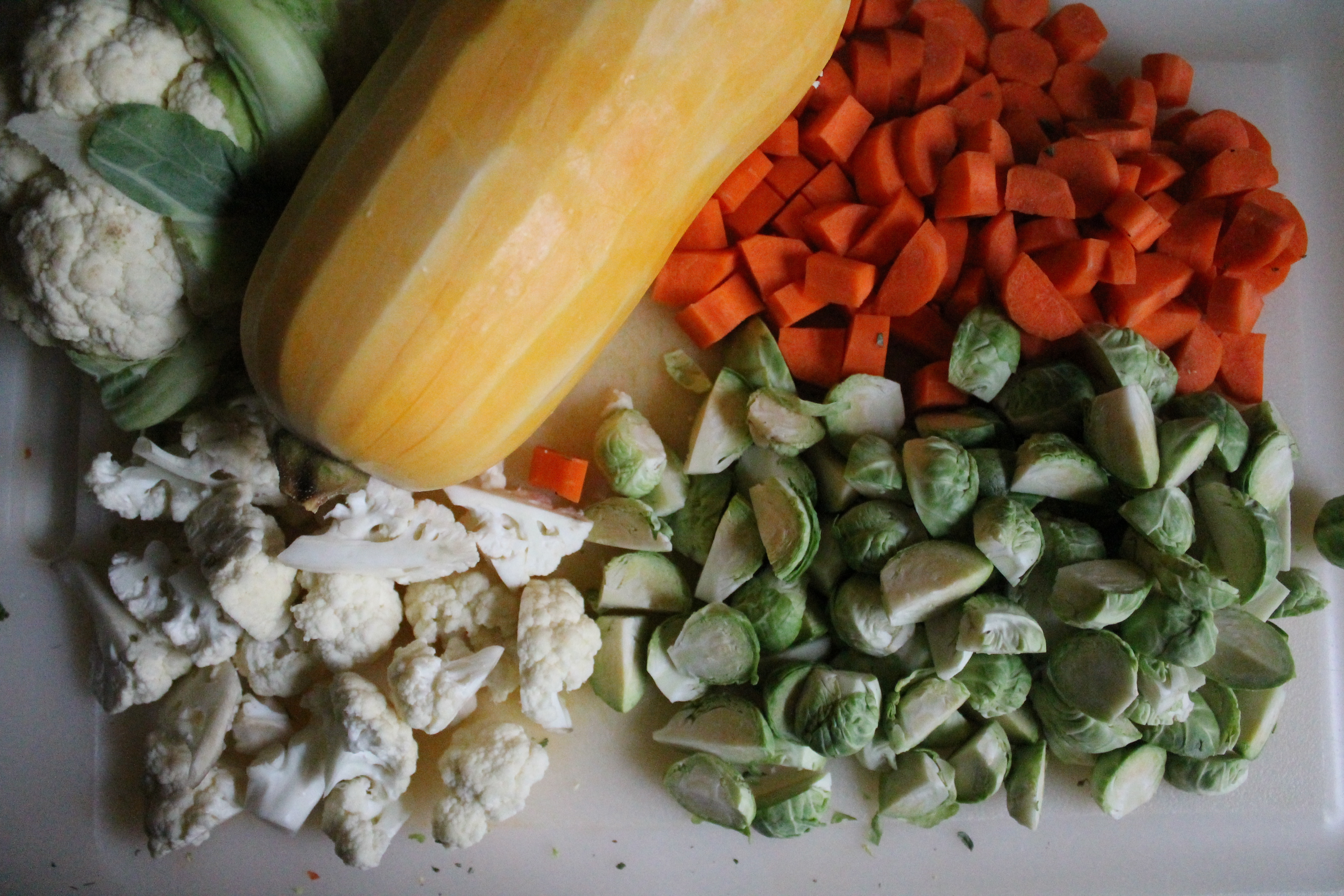 Sarah and I were very careful about deciding what combination of veggies to include here. We wanted to highlight butternut squash, because it's awesome! But we also wanted a good balance of savory flavors, so we made sure to heap in the cauliflower and the brussels sprouts. We decided against specifically including a starch like potatoes, because the pot pie will have plenty of carbs with just the crust and sweeter veggies! The only thing that I would consider doing differently in the future is subbing some parsnips for some (or all) of the carrots, because parsnips have a nice sharpness that carrots lack.
Chopping the veggies for roasting really does take a while. You could try to save time and buy some pre-cut squash and cauliflower, but I usually find that the size of pre-cut veggies is much larger than I want, so you may still need to do some chopping! Aim to get all of the veggies to about ¾″ cubes, so they can cook more quickly.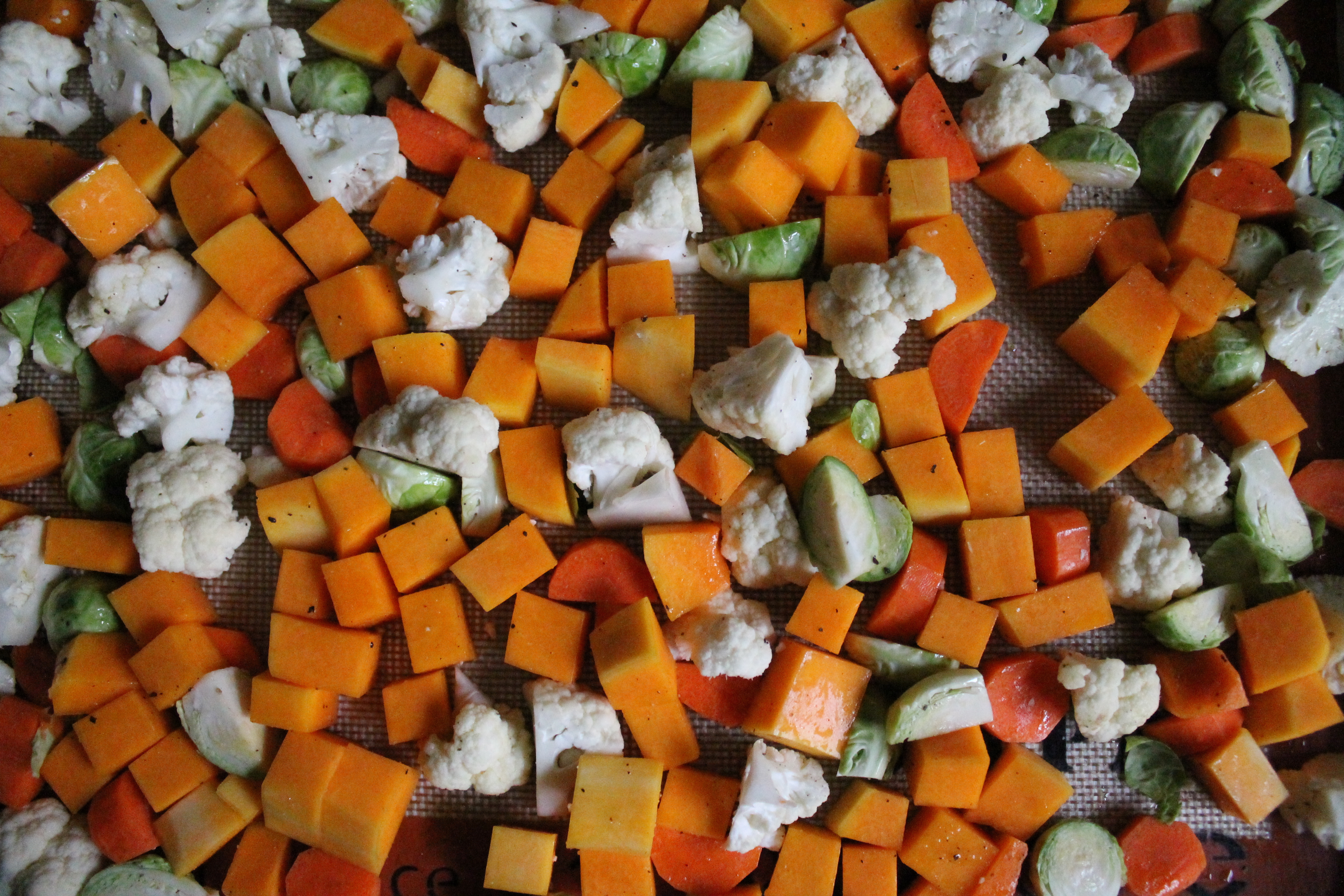 Toss the quartered brussels sprouts, cauliflower pieces, chopped carrots, and cubed butternut with oil, salt, and black pepper. Spread them in an even layer on two large cookie sheets. Roast for 25–30 minutes, or until fork tender and slightly browned on top.
Meanwhile, chop up an onion and thinly slice a pound of mushrooms. (You could buy the pre-sliced mushrooms to save time, but I like to slice my mushrooms a little thinner so they cook through more quickly and aren't such a big mouthful in the pie.)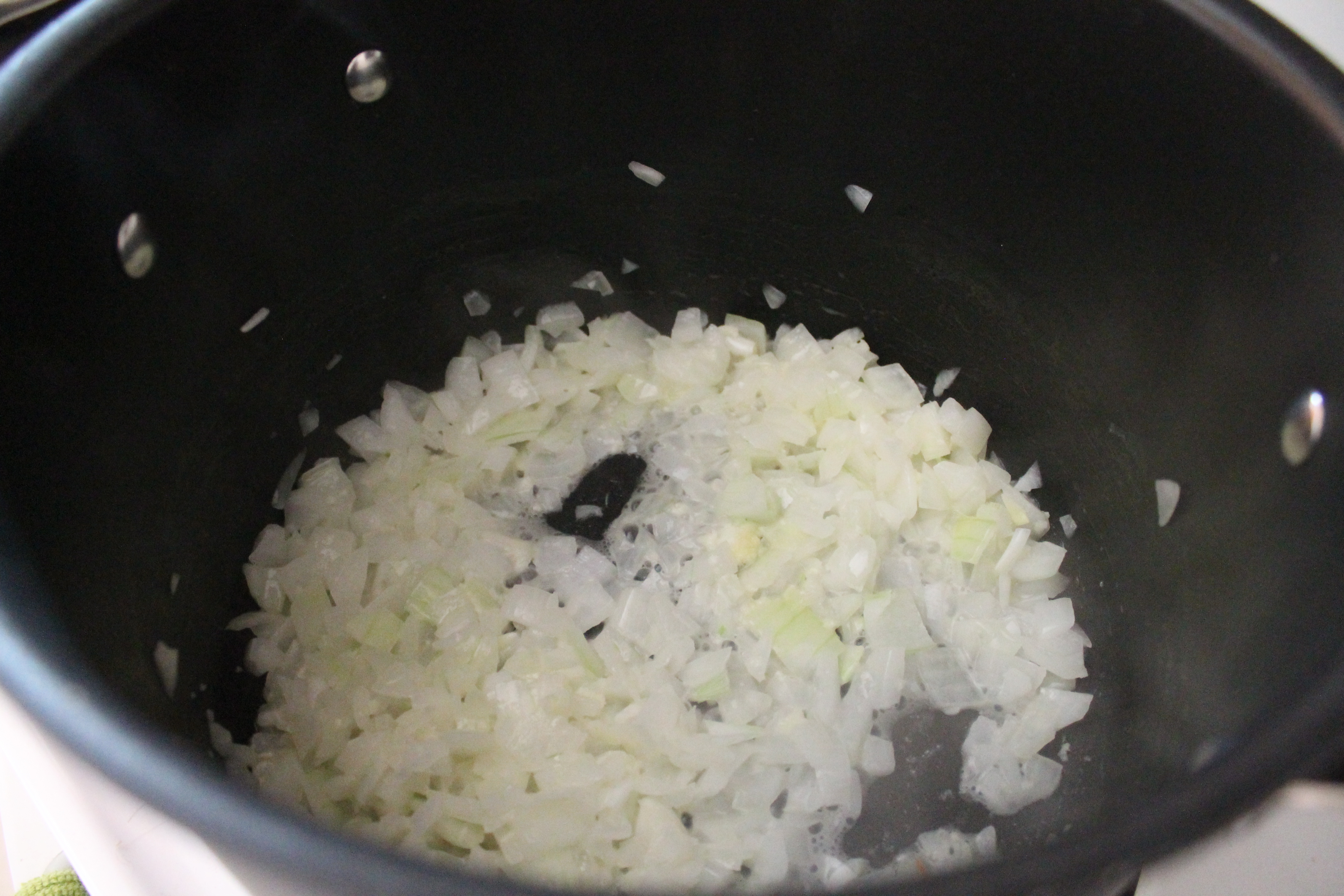 Cook the onions and minced garlic in butter until beginning to caramelize. (Does anything smell better than onions cooking in butter!? No.) They should first turn translucent, and then just start to brown. Season the onions with salt, pepper, and my favorite: crushed red! Add the mushrooms and cook for 5–10 minutes, until they are brown and have released their liquid.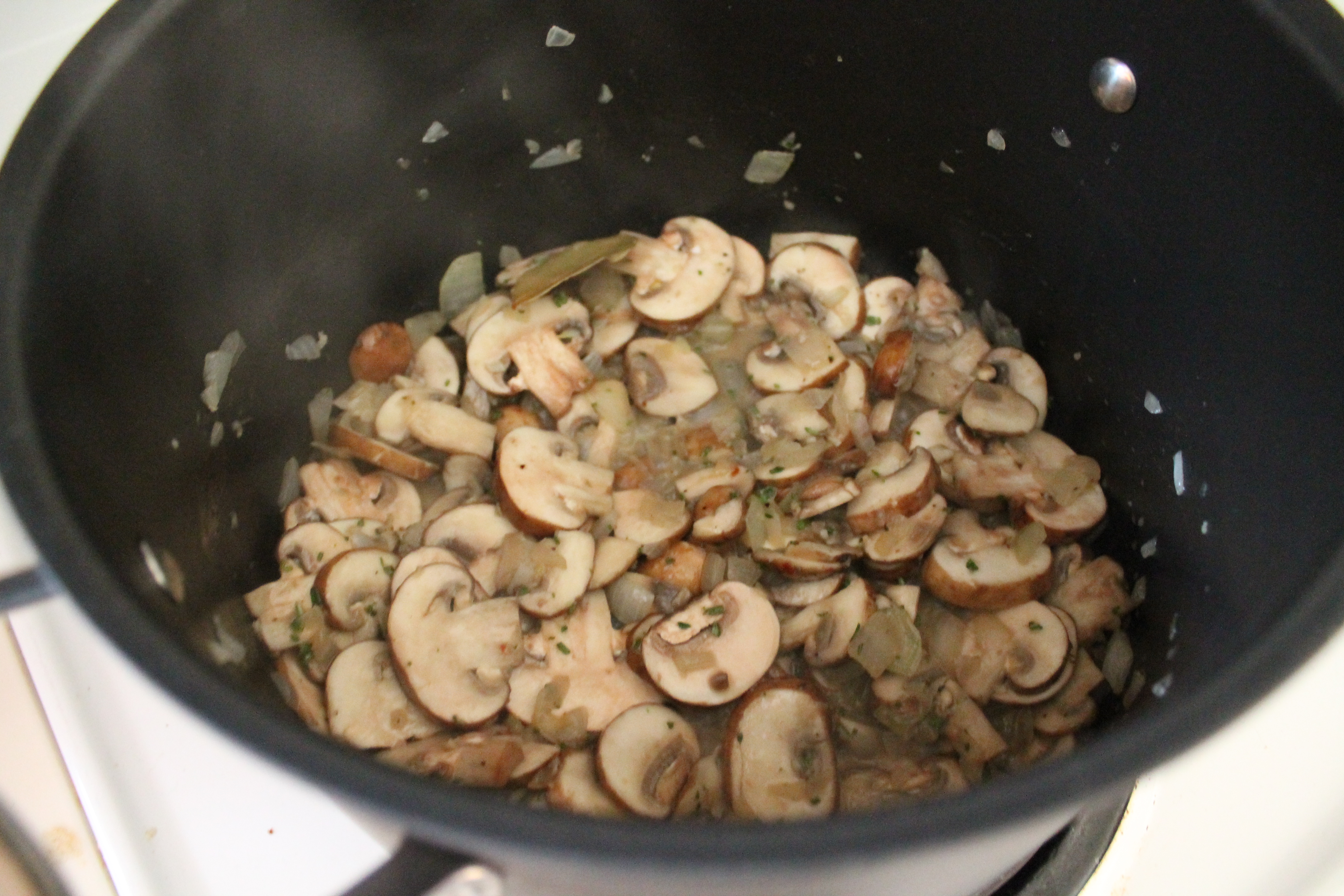 Add the chopped rosemary, thyme, and the bay leaves and cook another 2–5 minutes.
Now push the onions and mushrooms to the side and add more butter! Don't feel guilty, vegetables have virtually no fat in them, so you are just making this dish filling, not really fatty! Now add the flour to the liquid in the bottom of the pan. Stir around so the flour gets absorbed, then stir back together with the veggies.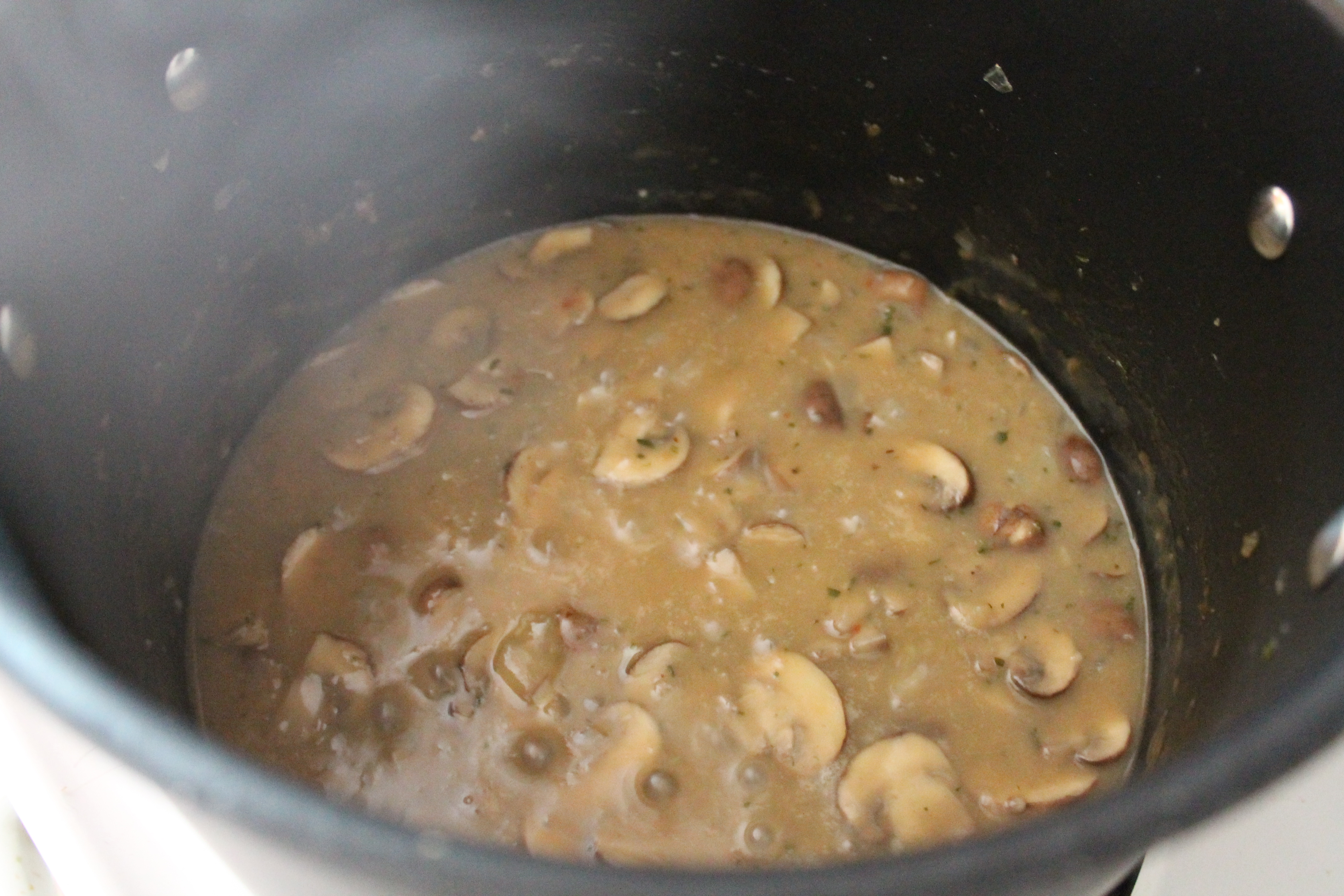 Pour in the veggie stock (or water) slowly. Let the mixture thicken, stirring occasionally, for about 10 minutes. During this time, the other veggies will probably come out of the oven.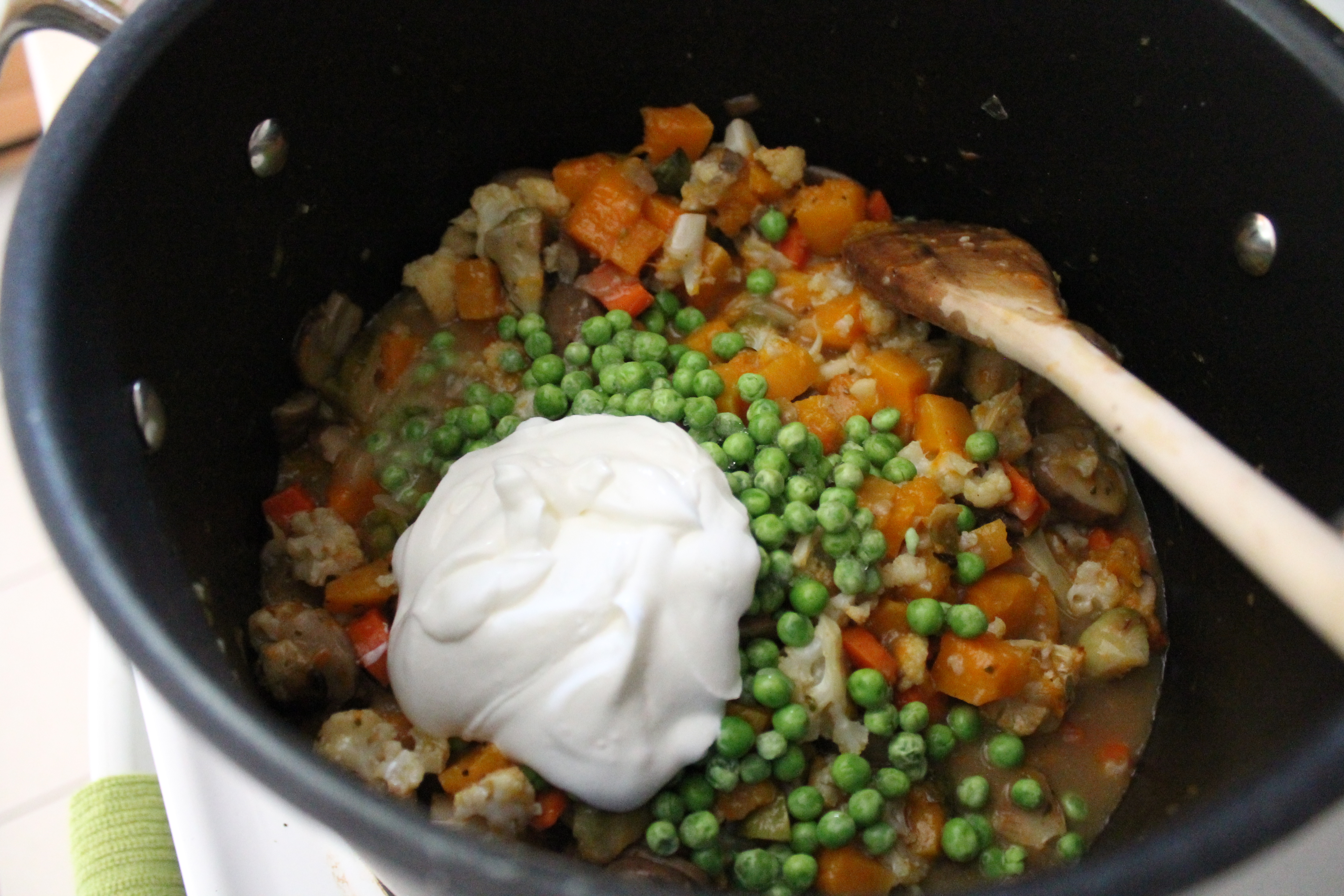 When the mixture has thickened just enough to coat the back of a spoon, remove the bay leaf, then add the roasted vegetables and thawed peas to the pot. We want the mixture to be a bit stew-like, which is to say thick rather than soupy, but still looser than just a pile of vegetables. If there is not enough liquid in the pot, add ½–1 cup more.
Stir in the Greek yogurt.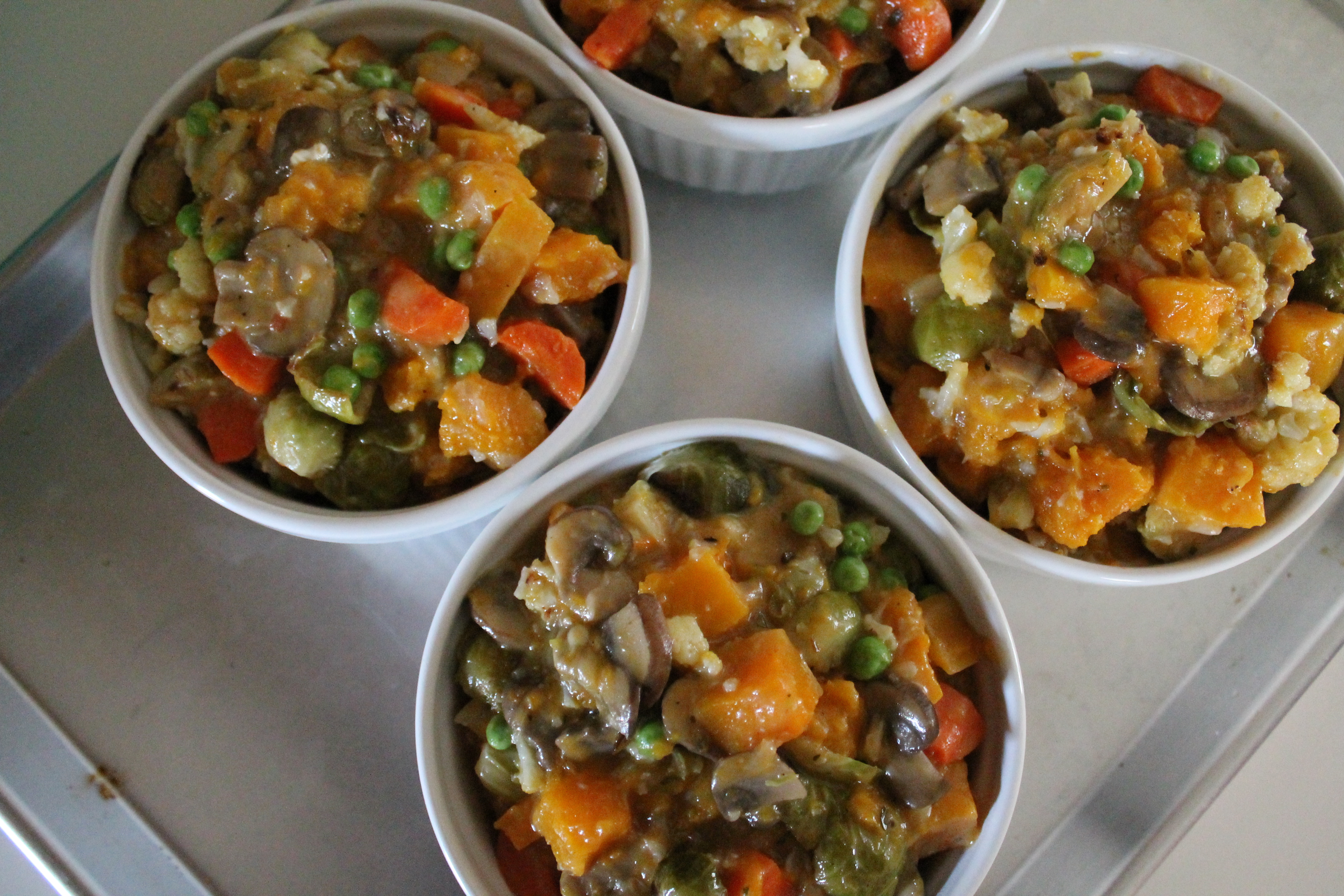 Now spoon the veggies into large ramekins or a 9″x13″ baking pan. Even though Sarah and I used cute, 4-cup ramekins for these pies, we actually recommend making this recipe in a large baking dish. Here's why: even though the ramekins made great blog photos, they actually held more than a single serving of pot pie, which is awkward on two fronts! Not only do you end up with a bunch of weirdly shaped leftovers, but because the "individual" pies were so deep, the crust:filling ratio was heavily skewed toward the filling. This meant also that a lot of the crust dough didn't make it on to the pies. We thought that the crust was so delicious, with its nice herby-peppery crispness, that we really felt bummed about wasting some of it. If you bake in a large baking dish, not only will you be able to use (and therefore eat) all of your crust, but you will also save yourself the effort of rolling and cutting four separate crusts.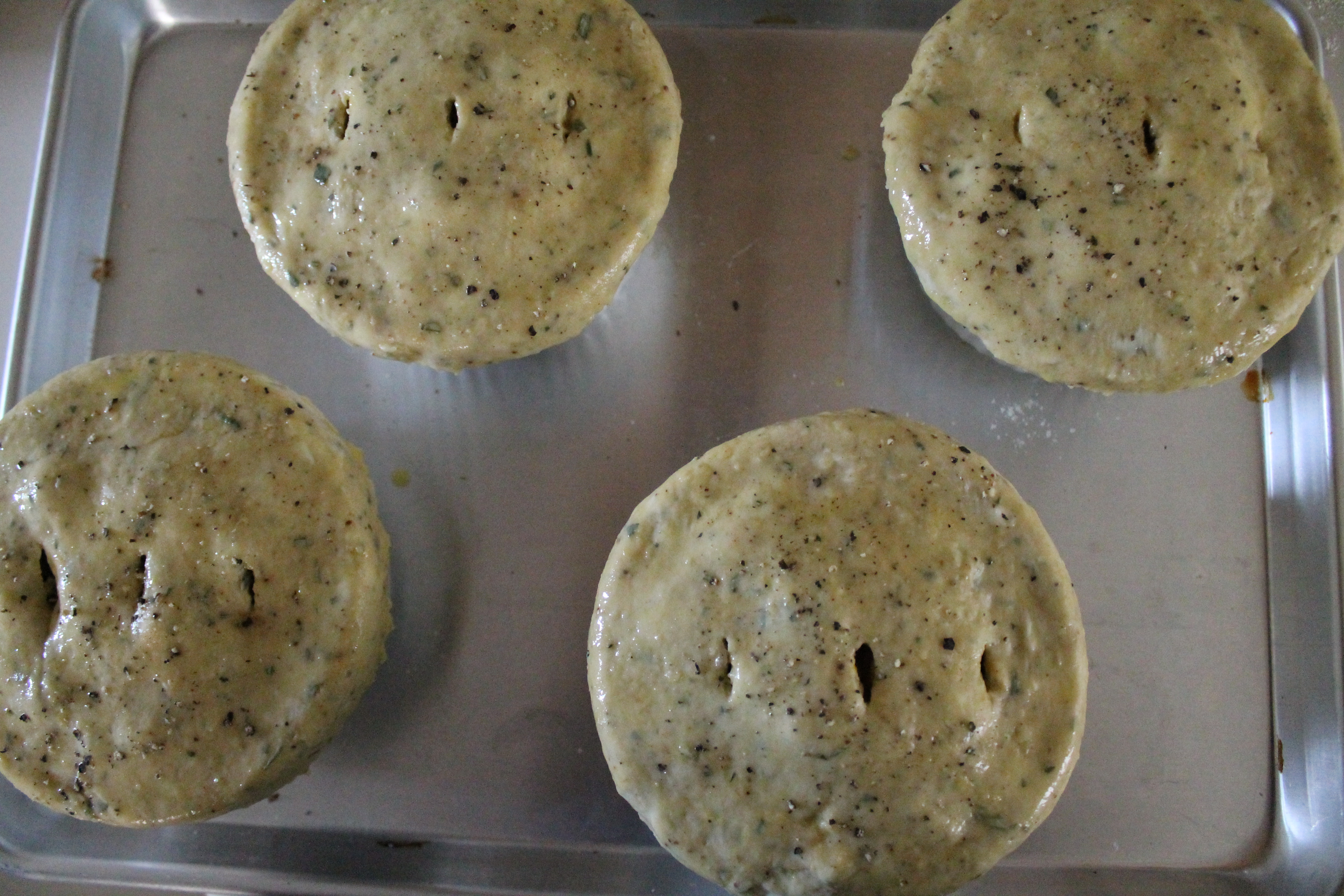 Roll the crust dough out to about ¼″ thick. Cut it to slightly overlap whatever baking dish(es) you chose and lay it gently over the pot pie filling. Don't forget to cut some vents in the top!
Brush the top of the crust with an egg wash (1 egg whisked with 1 tbsp. water) and sprinkle with some coarsely ground black pepper.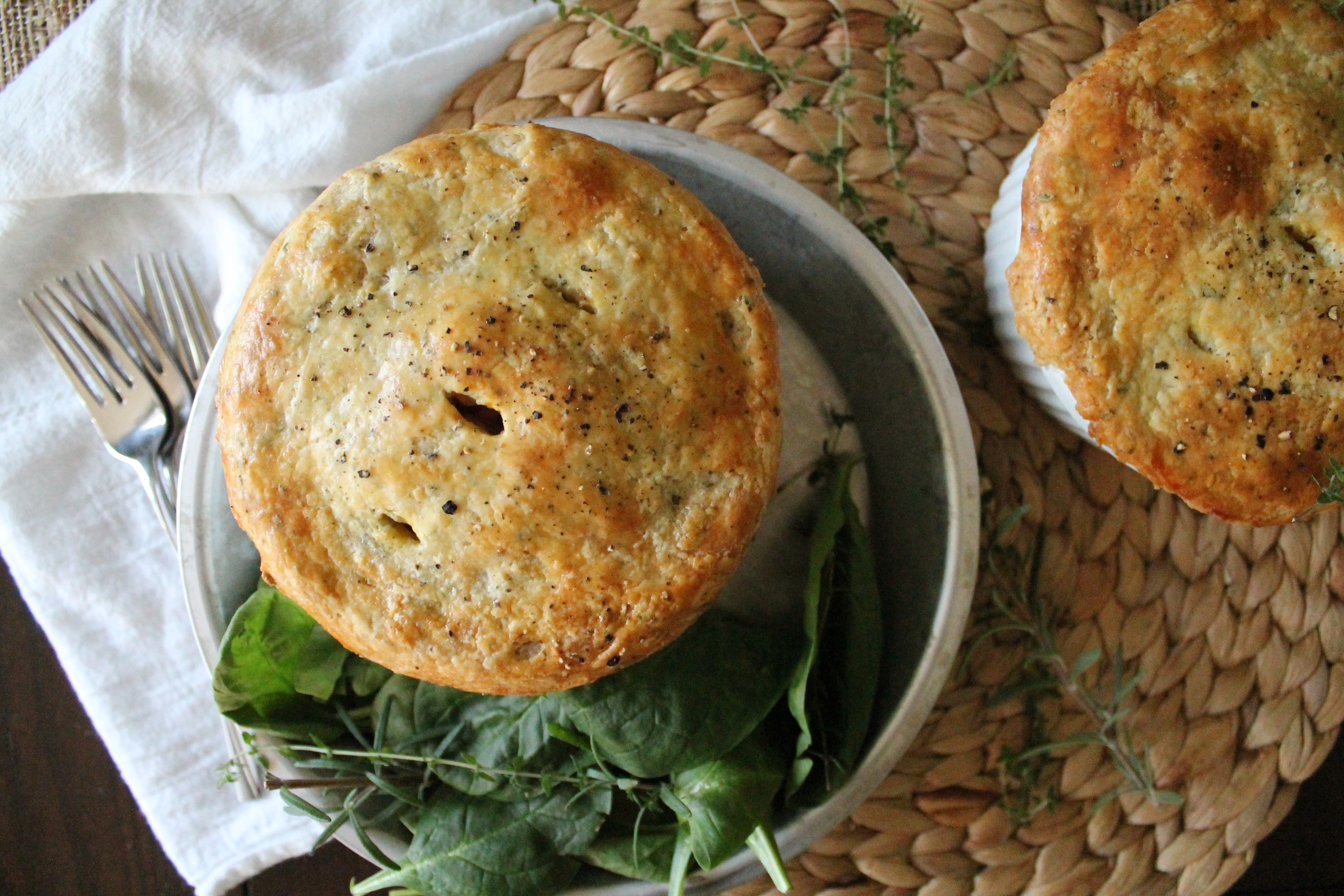 Bake the pot pie for 25 minutes, or until the crust is browned and crisp. Let the pies cool for at least 5 minutes before serving.
Roasted Autumn Vegetable Pot Pies
lightly adapted from The Candid Appetite
serves 6–8
Crust Ingredients:
2 cups flour
½ tsp. baking powder
½ tsp. salt
1½ tsp. fresh ground black pepper
1 tbsp. minced fresh rosemary
½ cup cold unsalted butter, cut into cubes
2 egg yolks
½ cup buttermilk
Filling Ingredients:
1 small butternut squash, peeled, seeded, and cut into ¾″ cubes (no more than 1½ lbs. cubes)
3 large carrots, peeled and cut into ¾″ cubes
½ large head cauliflower, cut into small chunks
1 lb. brussels sprouts, trimmed and quartered
2 tbsp. olive oil
salt and black pepper
4 tbsp. butter, divided
1 large onion, finely diced
4 large cloves garlic, minced
1 lb. cremini mushrooms, thinly sliced
pinch of crushed red pepper
1 tsp. minced fresh thyme
1 tsp. minced fresh rosemary
2–3 bay leaves
3 tbsp. flour
2–3 cups vegetable stock
¾ cup frozen peas, thawed
½ cup Greek yogurt
egg wash (1 egg whisked with 1 tbsp. water)
Directions:
Preheat oven to 425°.
Start with the crust. Whisk together the flour, salt, baking powder, black pepper, and rosemary. Cut in the cold butter until it is roughly the size of small peas.
In a separate bowl, whisk together the egg yolks and buttermilk. Stir the liquid into the flour mixture with a fork using a fluffing motion, until there are several dense clumps of wet dough. Knead in the bowl 4–5 times to incorporate the shaggy, floury bits, adding more buttermilk only if absolutely necessary to bring the dough together.
Form the dough into a disc and wrap with plastic wrap. Chill in the fridge until ready to roll.
Now begin roasting the vegetables for the pot pie filling. Combine the butternut squash, carrots, cauliflower, and brussels sprouts on two large, Silpat- or parchment-lined baking sheets. Toss with olive oil, salt, and black pepper.
Roast in the oven for 25 minutes, tossing the vegetables halfway. The squash cubes should be tender enough to easily pierce with a fork, but not so tender that they fall apart. When the veggies come out of the oven, reduce the temperature to 375°.
Meanwhile, melt 2 tbsp. butter over medium heat in a large Dutch oven and cook the onions until soft and translucent. Season with salt and black pepper. When the onions begin to brown slightly, add the mushrooms. Cook for 5–10 minutes, until the mushrooms brown and release their liquid. Add the crushed red pepper, thyme, rosemary, and bay leaves and cook for 2 minutes more.
Scoop the onions and mushrooms to the side of the pot and add the remaining 2 tbsp. butter. Once melted, stir in the flour, cooking the flour mixture for 1 minute. Stir the onions and mushrooms back in. Slowly add 2 cups vegetable stock, stirring constantly. Let the mixture cook and thicken for 10–15 minutes, until it can just coat the back of a spoon. Remove the bay leaf.
Transfer the roasted vegetables to the Dutch oven and stir gently to combine. If the mixture seems dry, add more vegetable stock until it is loose (not soupy) and stew-like.
Stir in the peas and Greek yogurt. Heat for another minute or so, then taste and adjust seasonings as needed. Transfer the filling to a 9″x13″ pan or four large ramekins.
Roll the crust out on a lightly floured surface. Carefully lay the crust on top of the pot pie, laying the edges over the rim of the pan(s).
Brush the crust with the egg wash and cut vents in the surface for the steam to release while cooking. If desired, sprinkle the top with coarsely ground black pepper.
Bake the pot pie for 25 minutes at 375°, or until the crust is crisp and browned. Allow to cool for 5–10 minutes before serving.
Enjoy!
One year ago: Mini Kale Soufflés
Two years ago: Pecan-Crusted Salmon
Three years ago: Black and White Cookies