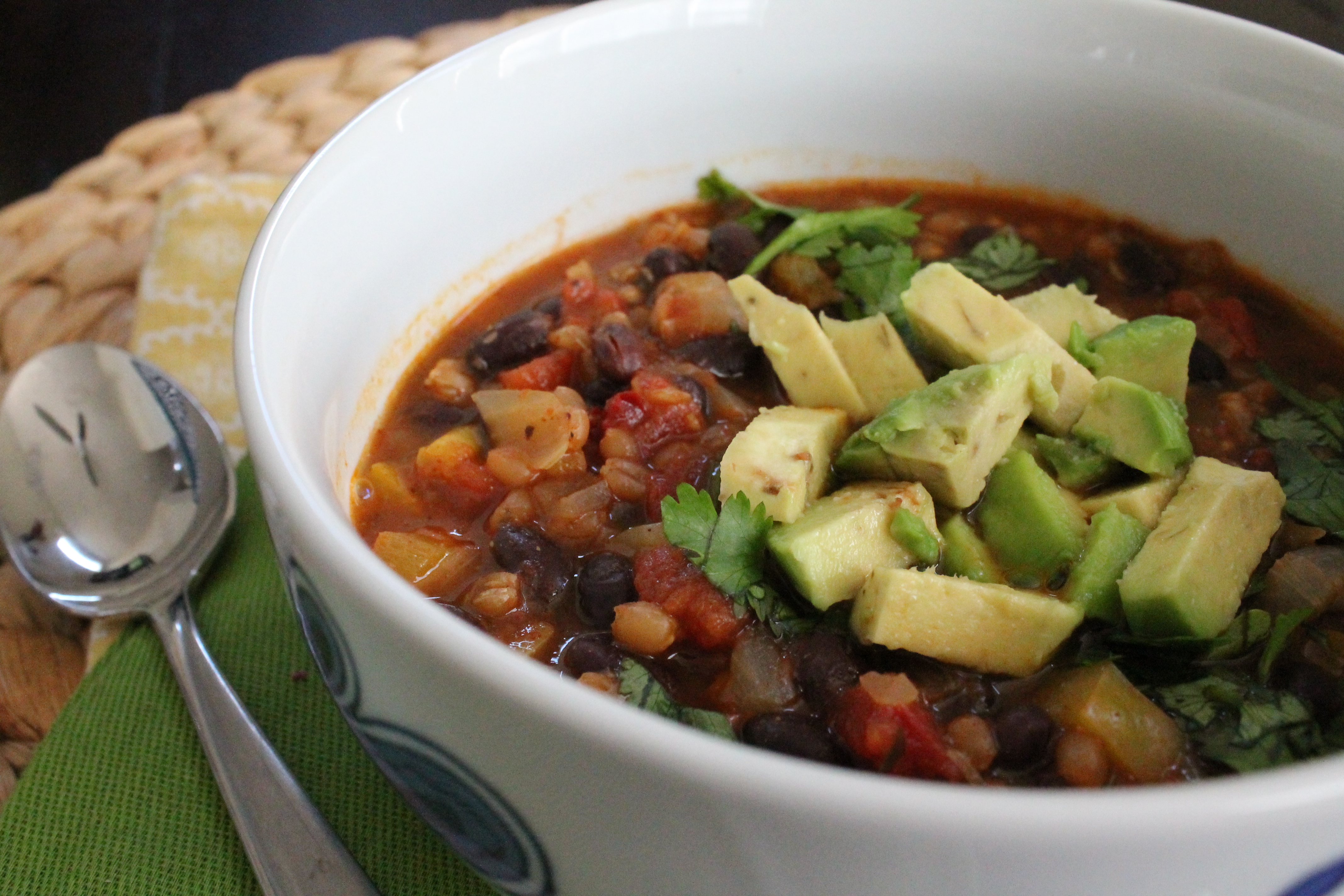 This chili is stupendous. It really is. And I absolutely love that it's basically a complete meal in a bowl! It's got whole grains, protein, veggies, flavor for miles…
I'm not going to go on and on about it, because you should really just grab some pots and spoons and make it!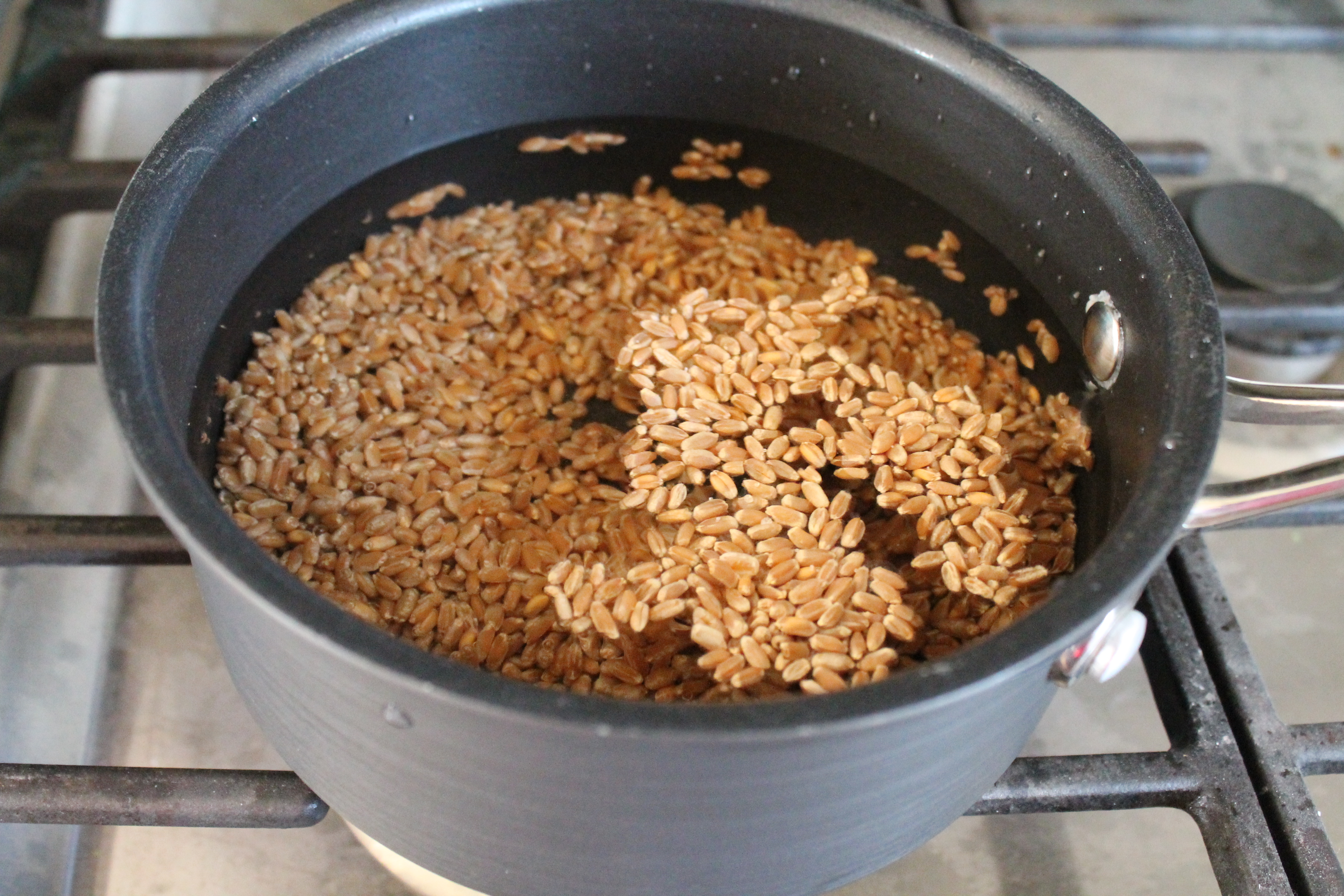 Start by getting the wheatberries on the stove. Wheatberries are super easy to cook: just add water to the pot, cover it, and walk away for an hour. When you come back, the wheatberries will be plump and chewy!
Of course, if you don't eat wheat, you could substitute a different whole grain, like barley!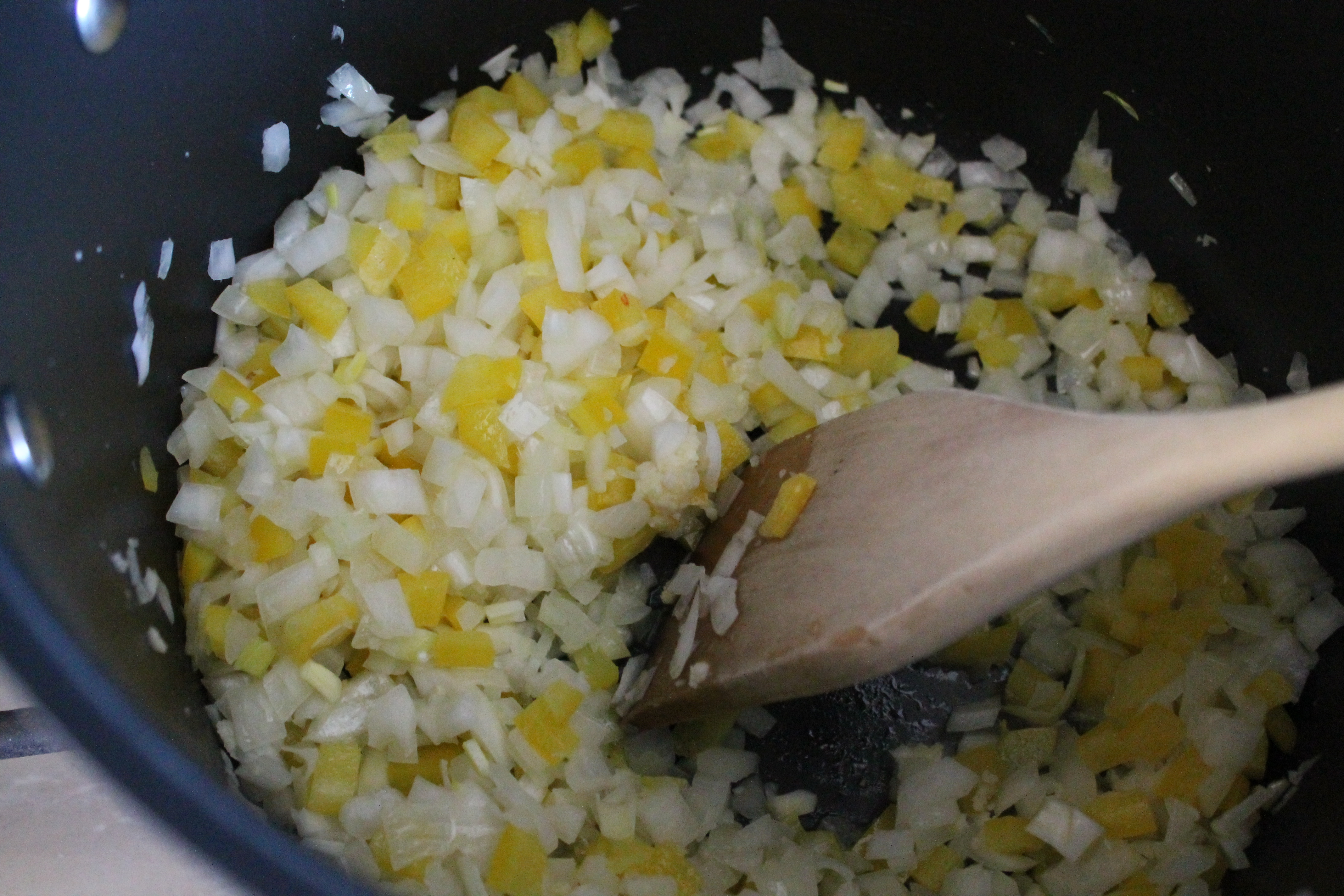 Meanwhile, you have plenty of time to chop your veg. There isn't even that much to dice, so it will be a breeze!
When you are ready, add the onion, bell pepper, garlic, and spices to a large pot with hot oil. Cook them until the onions and bell peppers soften, about 5 minutes.
Add the canned tomatoes, drained and rinsed beans, chopped chipotle pepper, and maple syrup. If you don't have 100% maple syrup, you could use light brown sugar.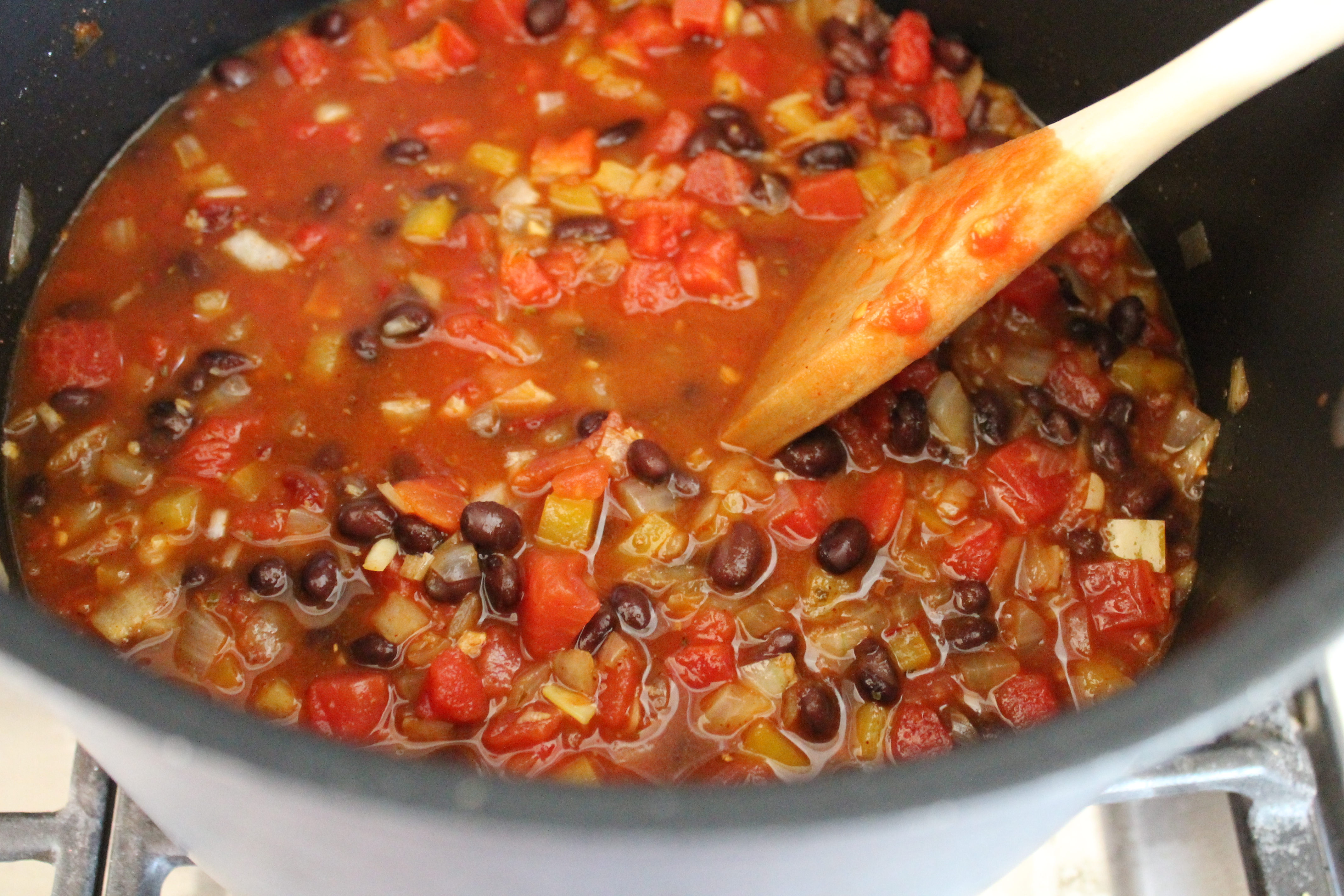 Pour in the stock and bring the chili to a simmer. Cover the pot and let the chili simmer for 25 minutes. Or, let's be honest, as long as you want past 25 minutes. Hey, this is the perfect meal for dinner guests! The flavors just continue to develop the longer the pot is on the heat, and as long as you keep the pot covered, the chili will not dry out.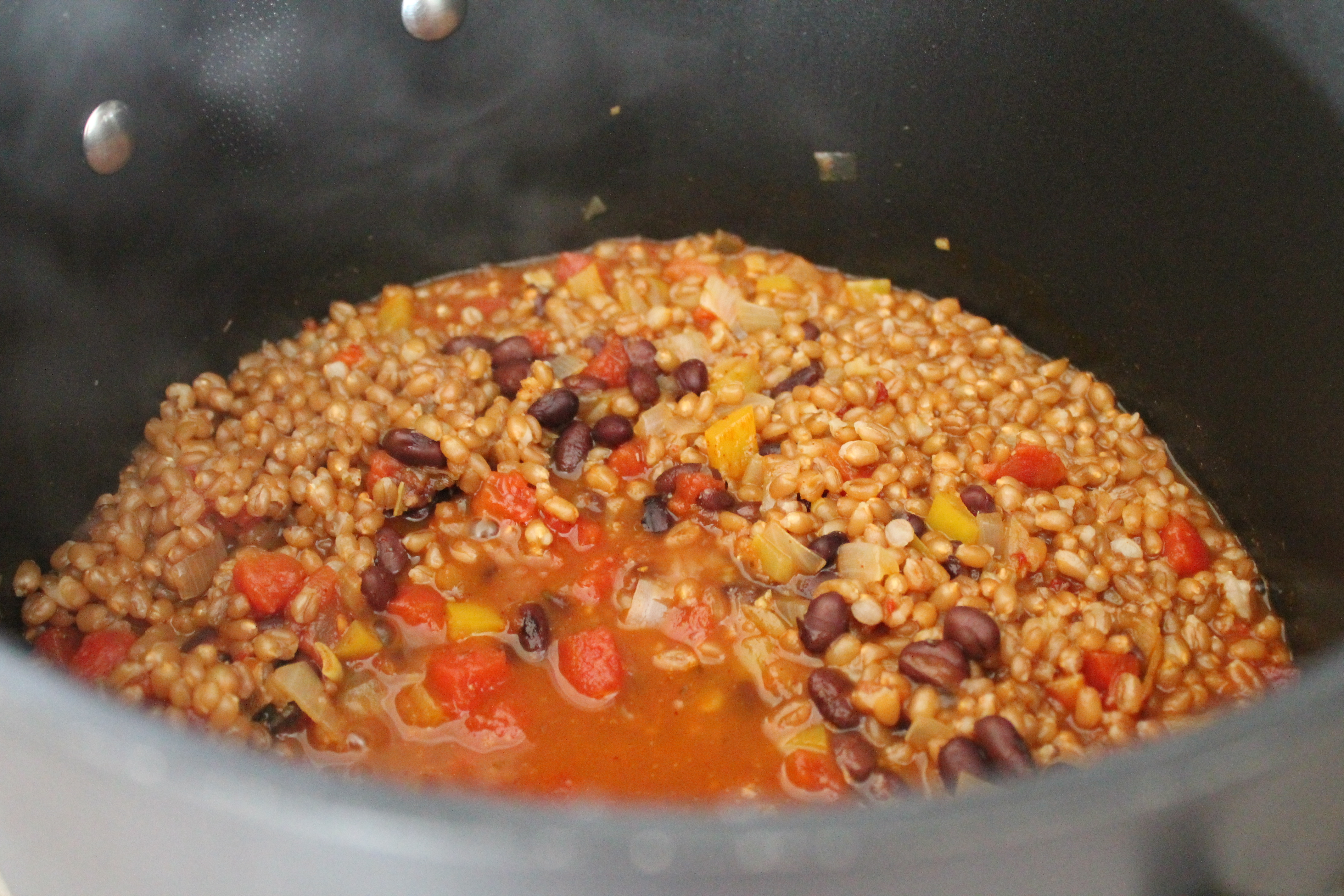 Five minutes before serving, stir in the cooked wheatberries. Let the wheatberries soak up some of the flavors from the chili broth. Stir in a squeeze of lime juice.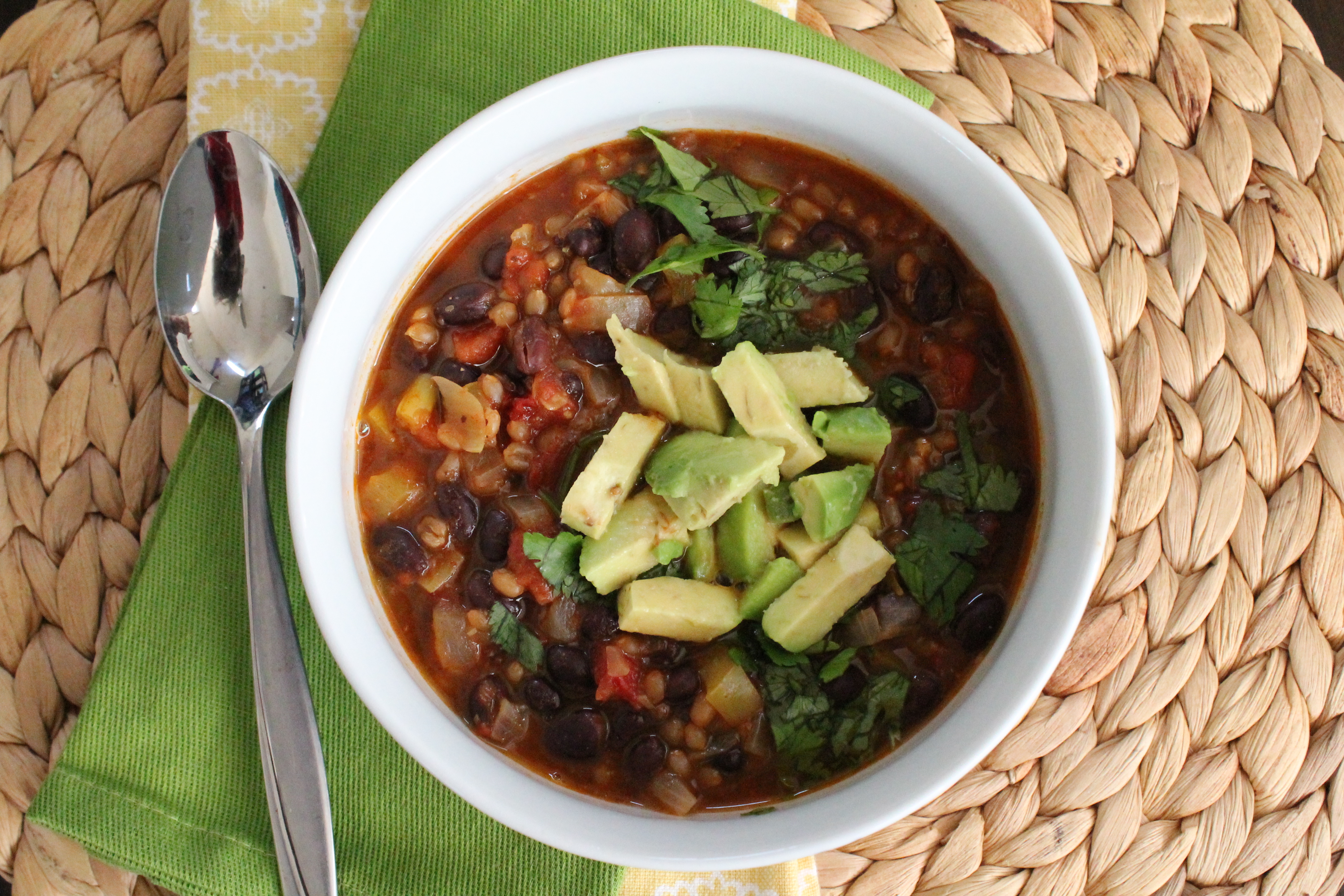 Serve the chili with extra lime, chopped cilantro, and diced avocado. Delicious!
Zippy Wheatberry Chili
lightly adapted from Eating Well
serves 4–6
Ingredients:
1 cup dry wheatberries
3 cups water
2 tsp. olive oil
1 large yellow onion, chopped
1 large yellow bell pepper, chopped
5 cloves garlic, minced
2 tsp. chili powder
1½ tsp. cumin
1 tsp. oregano
½ tsp. salt
½ tsp. fresh ground black pepper
2 15oz. cans black beans, drained and rinsed
2 14oz. cans petite diced tomatoes
1 chipotle pepper in adobo sauce, minced
2 cups vegetable stock
2 tsp. 100% maple syrup
juice of 1 lime, plus extra limes as desired
2 avocados, diced
½ cup chopped fresh cilantro
Directions:
Sort through wheatberries carefully, discarding any stones. Rinse well under cool water. Place in a large, heavy saucepan with the water and about ½ tsp. salt. Bring to a boil over high heat, then reduce heat, cover, and simmer gently for 1 hour, stirring occasionally.
Meanwhile, heat olive oil in a Dutch oven over medium-high heat. Add onion, bell pepper, garlic, chili powder, cumin, oregano, salt, and pepper. Cook, stirring occasionally, until tender, about 5 minutes.
Add beans, tomatoes, chipotle, stock and brown sugar. Bring to a boil, then reduce heat, cover, and simmer for 25 minutes.
Stir in cooked wheatberries. Continue to cook the chili until heated through, at least 5 minutes, to allow the wheatberries to absorb some of the flavors.
Remove from heat and stir in lime juice. Serve garnished with avocado, cilantro, and extra lime wedges.
Enjoy!
One year ago: Vegan Chocolate Peanut Butter Bites
Two years ago: Creamy Balsamic Vinaigrette
Three years ago: Coffee Brownies