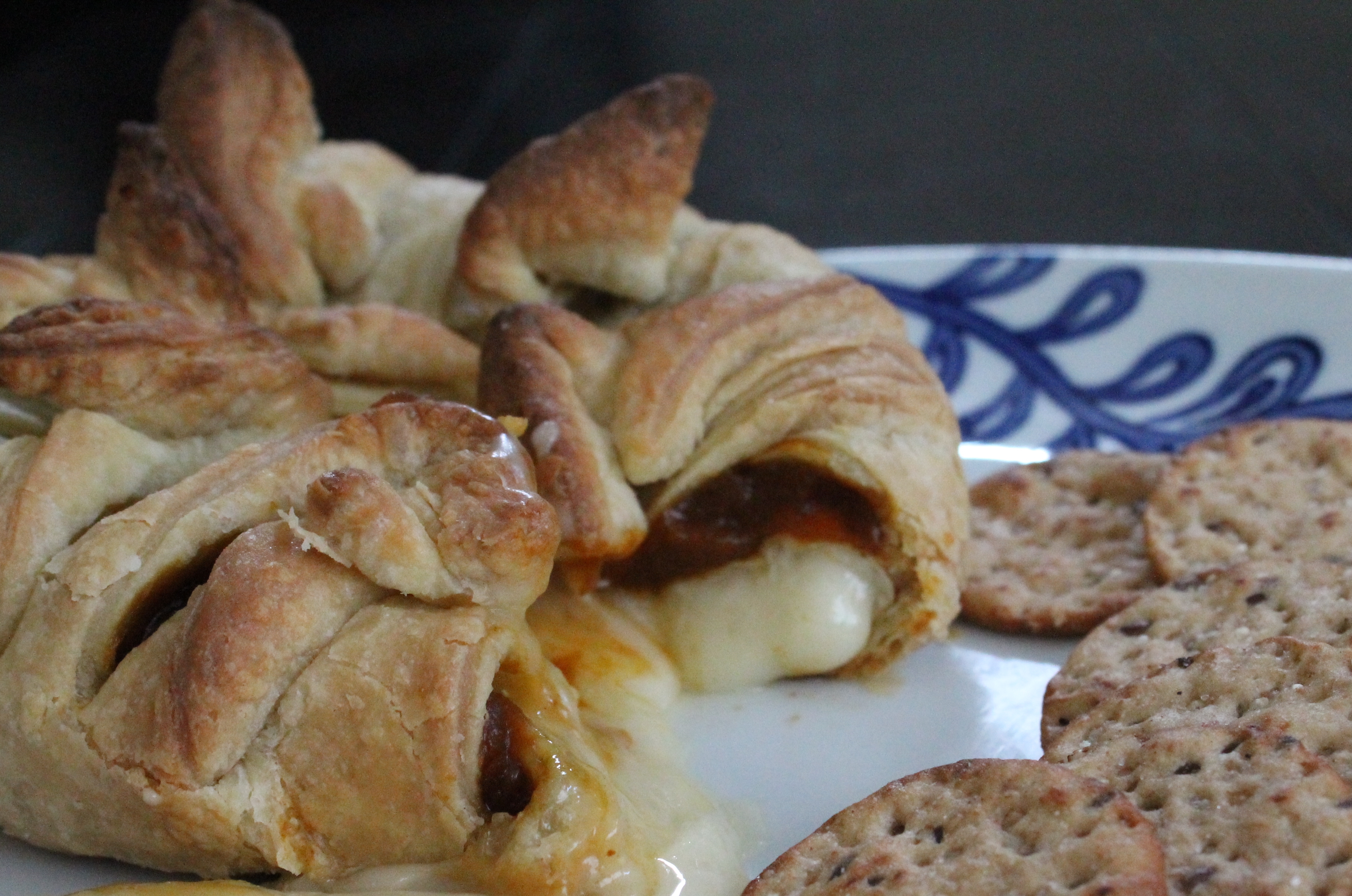 Let's talk about really easy, elegant appetizers. Appetizers that look like they took a lot of work, but in fact, took you about 5 minutes. Appetizers that are amazing and yummy and full of butter and cheese. Like appetizers should be.
Because it's appetizer season!
(Around our house, we readily agree that the only reason to be excited about the Superbowl is good food.)
This baked Brie is so simple and so delicious! It will be a huge hit at any party, whether you plan to eat it on the couch in front of a big TV or around a table with a group of girlfriends.
You can customize this baked Brie any way you like (including making it way more complicated by making your own puff pastry!). My personal favorite involves a large wheel of Brie smothered in pumpkin butter, wrapped in *gasp* pre-made puff pastry. I like the pumpkin butter, which has a strong, sweet flavor, because it requires no work and also isn't overly fruity. (You know, the whole fruit-hating bit.) But you could substitute your favorite preserves or you could even make an apple-cinnamon compote from scratch if you are feeling super ambitious!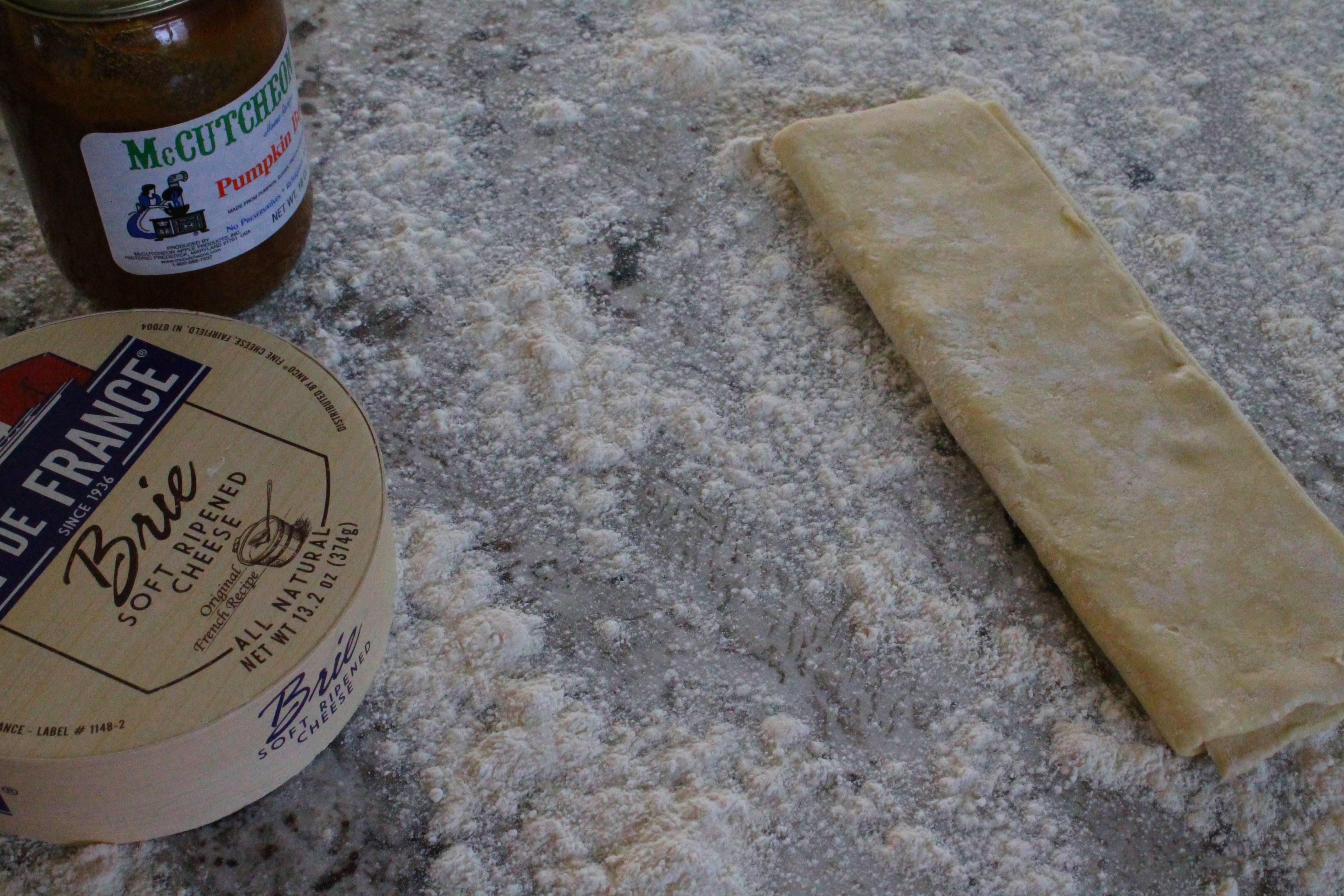 I definitely have made my own puff pastry for this app, and it was so delicious! But in this busy season of life I like to give myself a break now and then and let someone else do part of the hard work!
So. Simply thaw a half pound of your favorite puff pastry on the counter. Remove the pieces of paper from between the layers.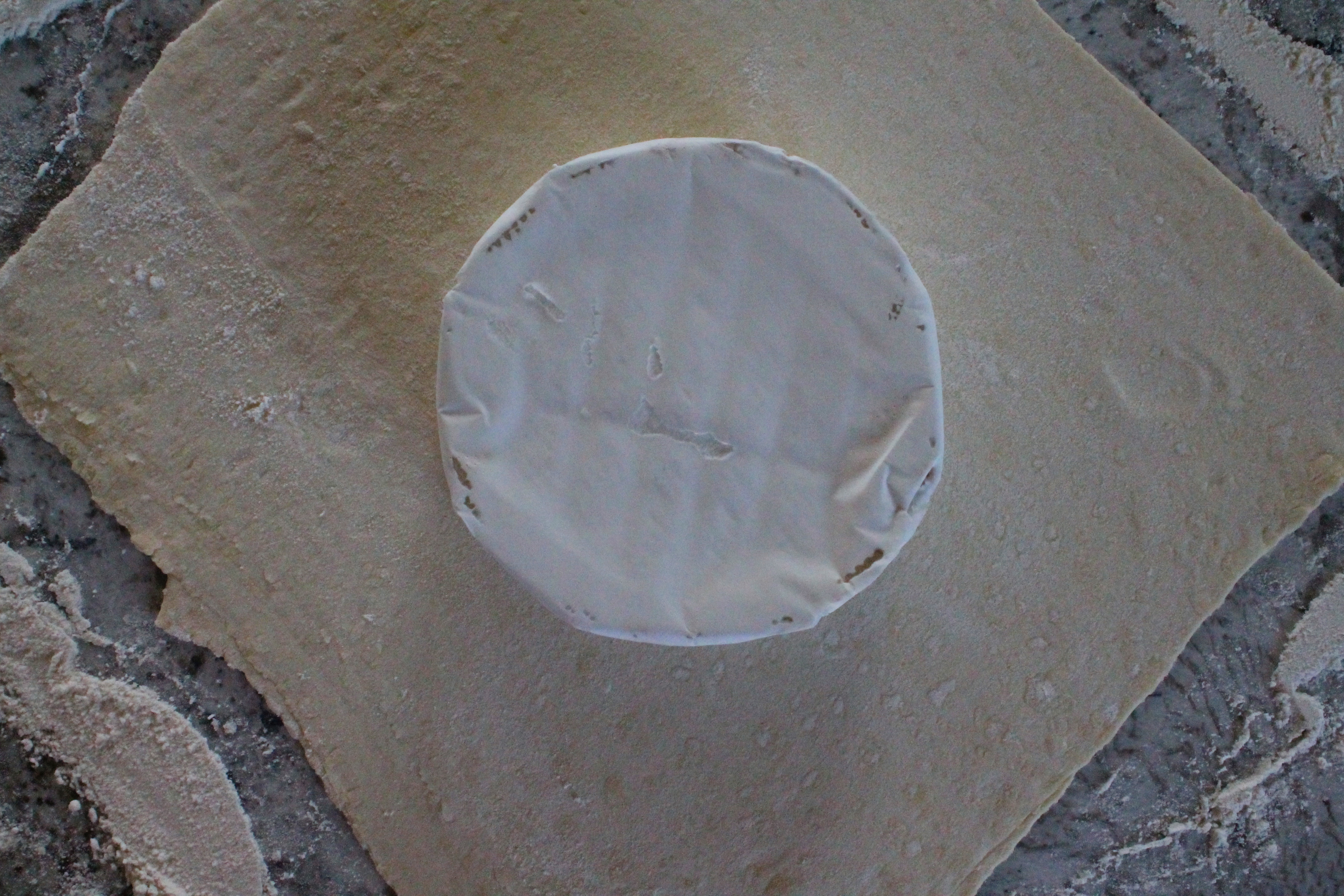 Set the pastry, still folded into a long, skinny rectangle, on a lightly floured surface. Roll it, then fold in half and roll it again until you have a square large enough to wrap around the entire wheel of Brie.
Now unwrap the Brie and set it in the center of the square.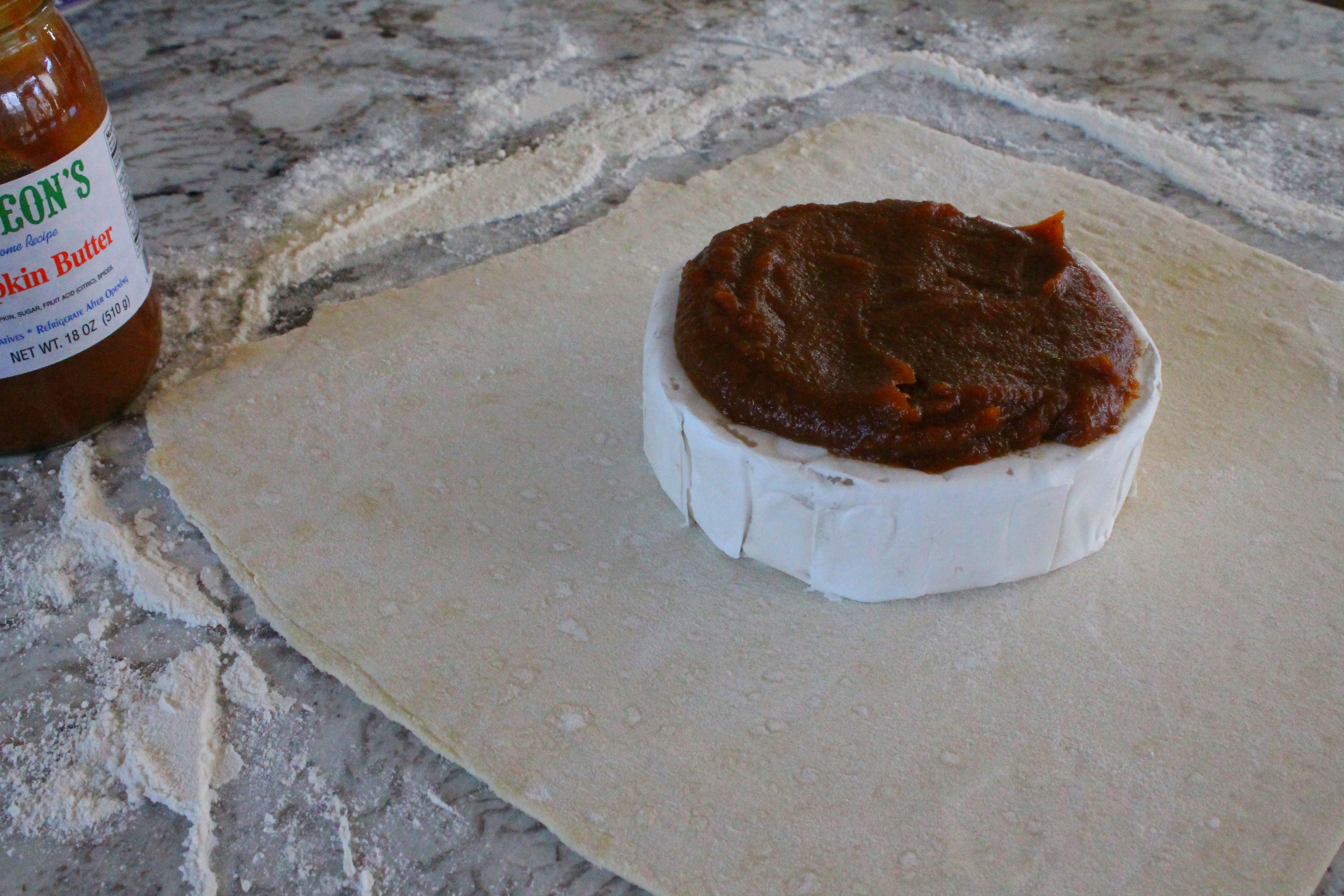 Top the Brie with pumpkin butter (or preserves). I used about ½ cup pumpkin butter, but you could make a thinner layer if you like. And, of course, if you have a smaller wheel of Brie then you will not need as much.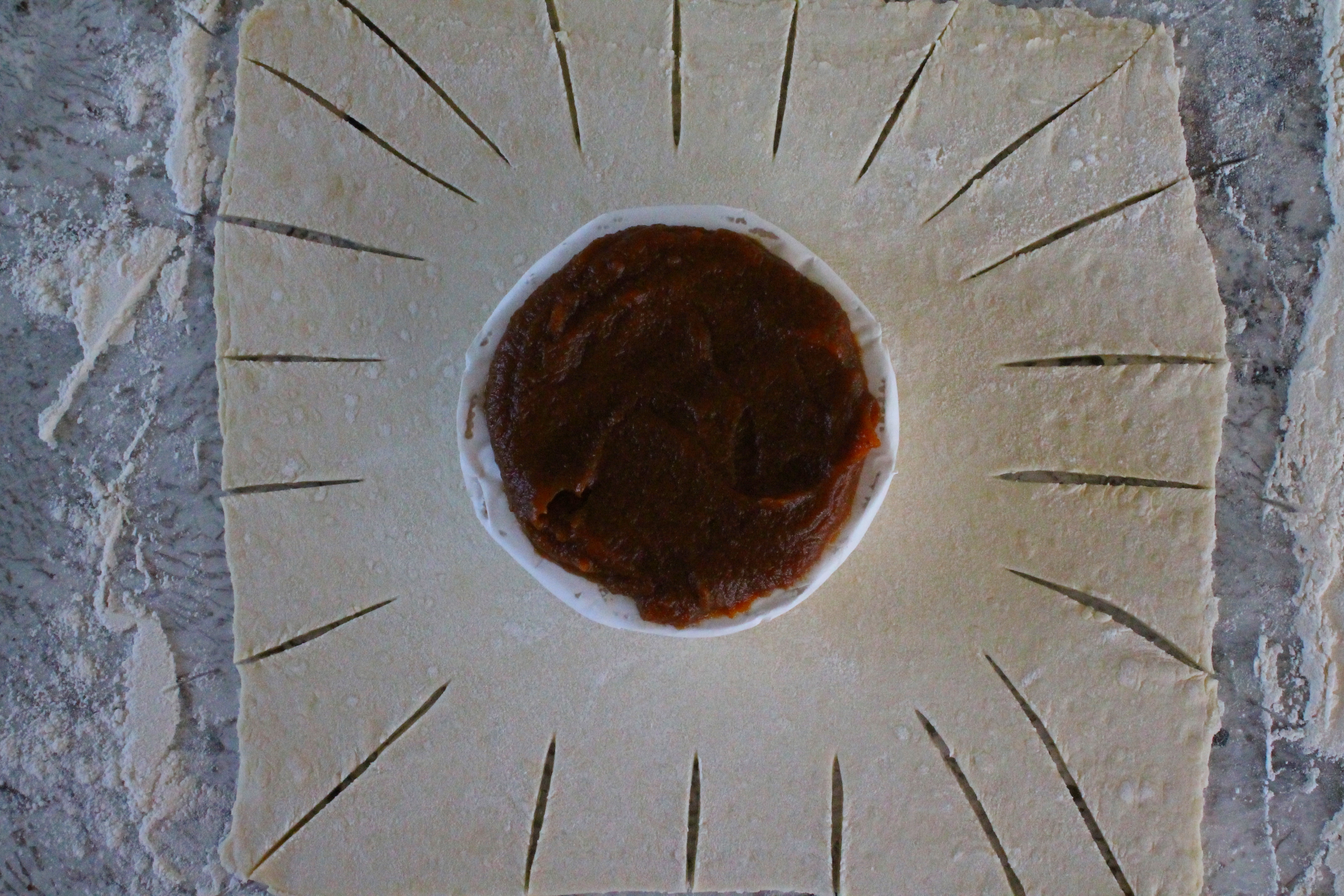 Cut a sort of sunbeam shape around the Brie, so that you can fold the pastry up in strips. There are two important reasons to do this: 1) it allows you to fold the pastry over the top evenly so that it can bake through properly, and 2) it creates small vents for the Brie inside, so that the whole shebang doesn't explode or leak messily.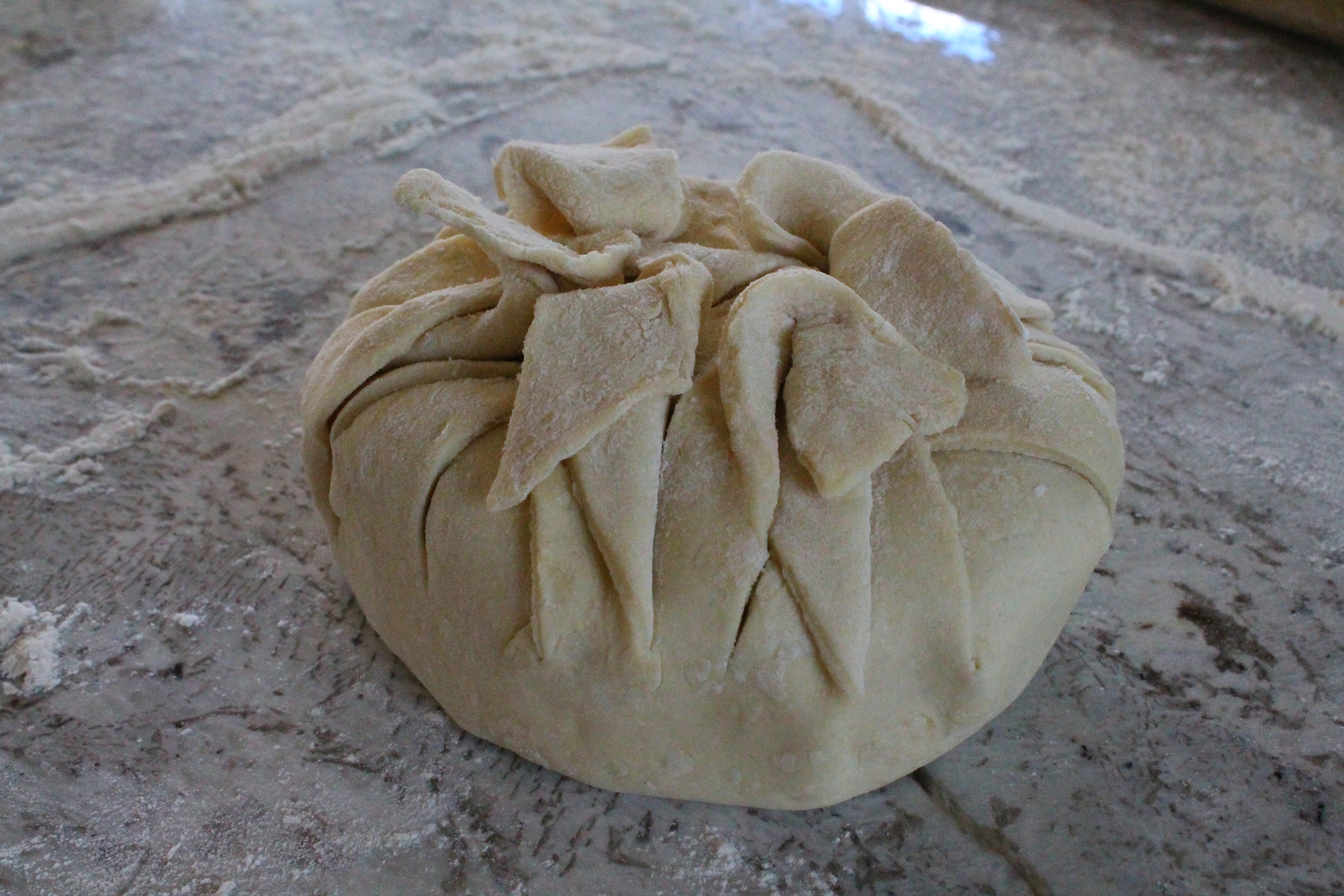 Fold the pastry strips up around the top of the Brie. You may even want to make a pretty design, or fold some of the strips back partway so that they aren't layered too thickly. This will help the pastry to cook fairly evenly, and to puff in the oven.
Bake for 35 minutes at 400. I pulled mine out and brushed it with butter when there were 5 minutes to go, just to help it brown a little.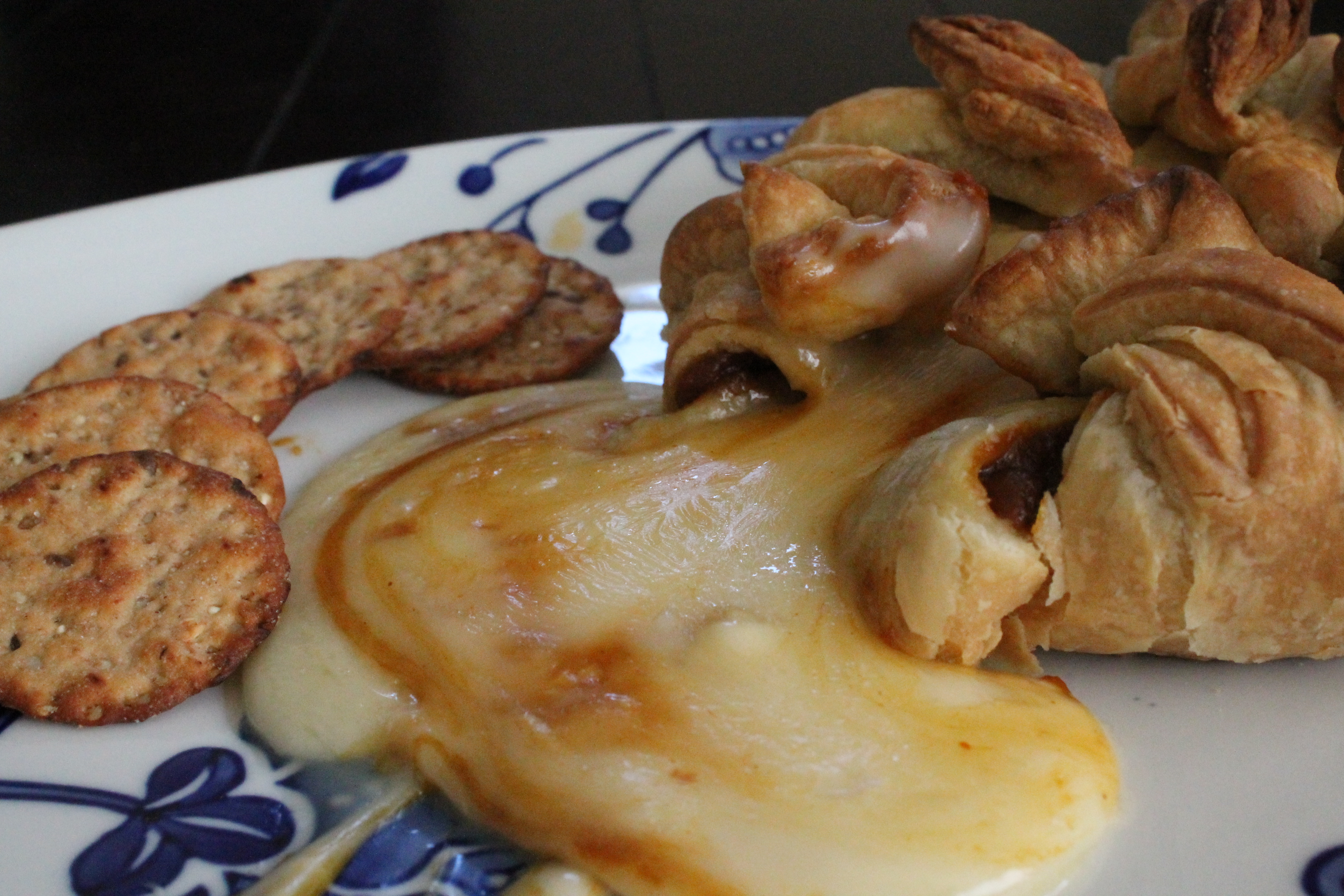 Wait at least 15 minutes before cutting into the baked Brie. When I cut into mine, it oozed all over everywhere—which is totally fine if you want to scoop the Brie up with crackers! I did that, and let me say yum!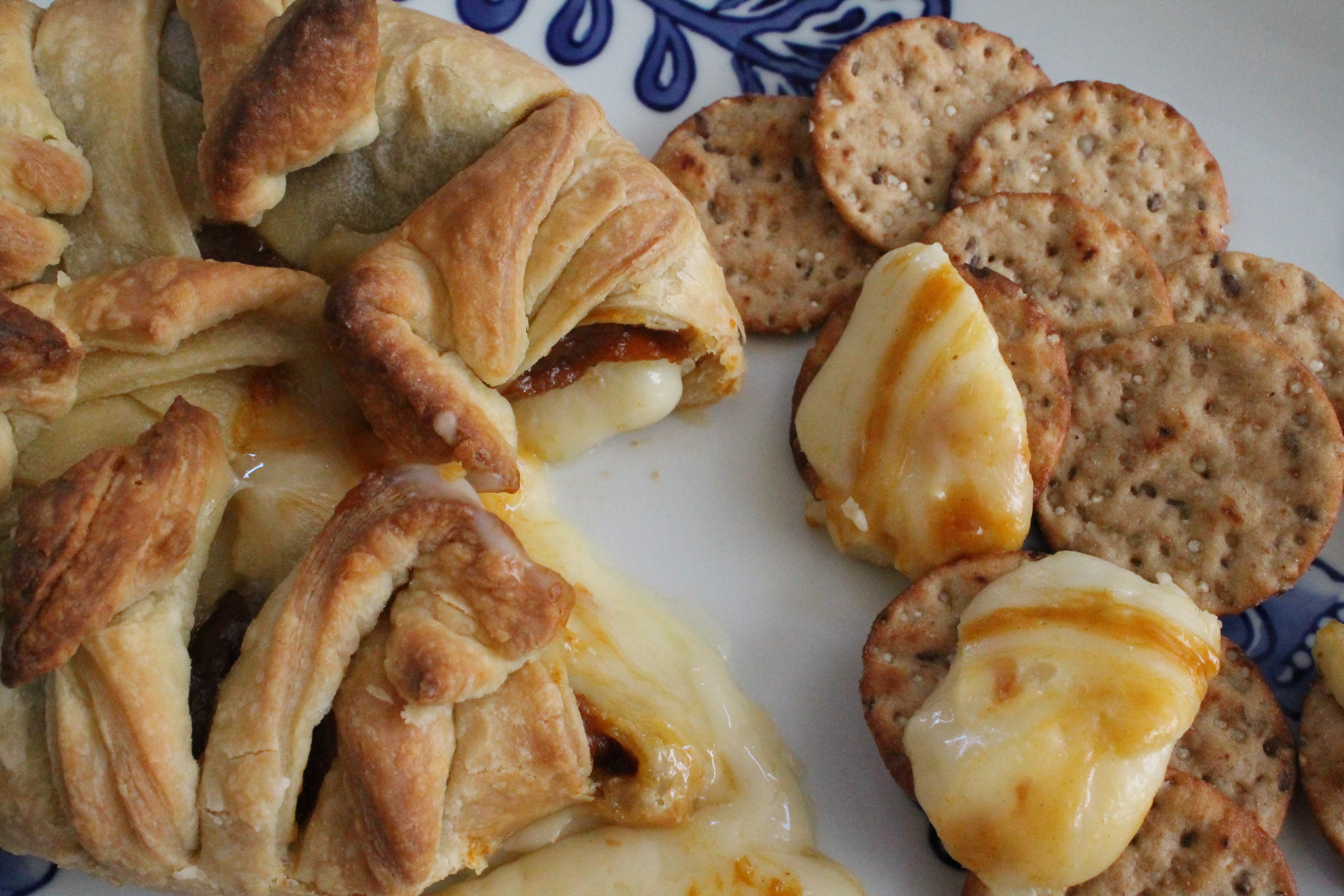 But if you want to serve some  warm, layered wedges, then wait a bit longer for the Brie to be less molten before you cut. Either way, be it messy or neat, the sweet, spiced pumpkin butter will perfectly complement the salty, tangy, melty cheese.
Oh, and bonus! This is a treat that even pregnant women can enjoy, since the Brie has been cooked! Hooray!
Baked Brie with Pumpkin Butter
a Melissa original
serves 10–12
Ingredients:
½ lb. prepared puff pastry, preferably all-butter
13 oz. wheel of Brie
¼–½ cup pumpkin butter
2 tbsp. butter, melted
crackers (optional)
Directions:
Preheat oven to 400°. Line a baking sheet with parchment or a Silpat.
On a lightly floured surface, roll out the puff pastry into a large square or circle. Set the Brie in the center of the circle. Spread as much pumpkin butter as desired on top of the Brie, leaving a very small gap at the edge of the wheel of cheese.
Cut the puff pastry around the Brie into strips and fold the strips over top of the cheese. Transfer to the prepared baking sheet.
Bake 30 minutes, then brush gently with melted butter and continue baking another 5–10 minutes, or until the pastry looks flaky and browned.
Let the baked Brie sit at least 15 minutes before cutting. Serve either warm or at room temperature, with crackers if desired.
Enjoy!
One year ago: Black Bean Hummus
Two years ago: Spinach Dip
Three years ago: Moroccan-Spiced Spaghetti Squash