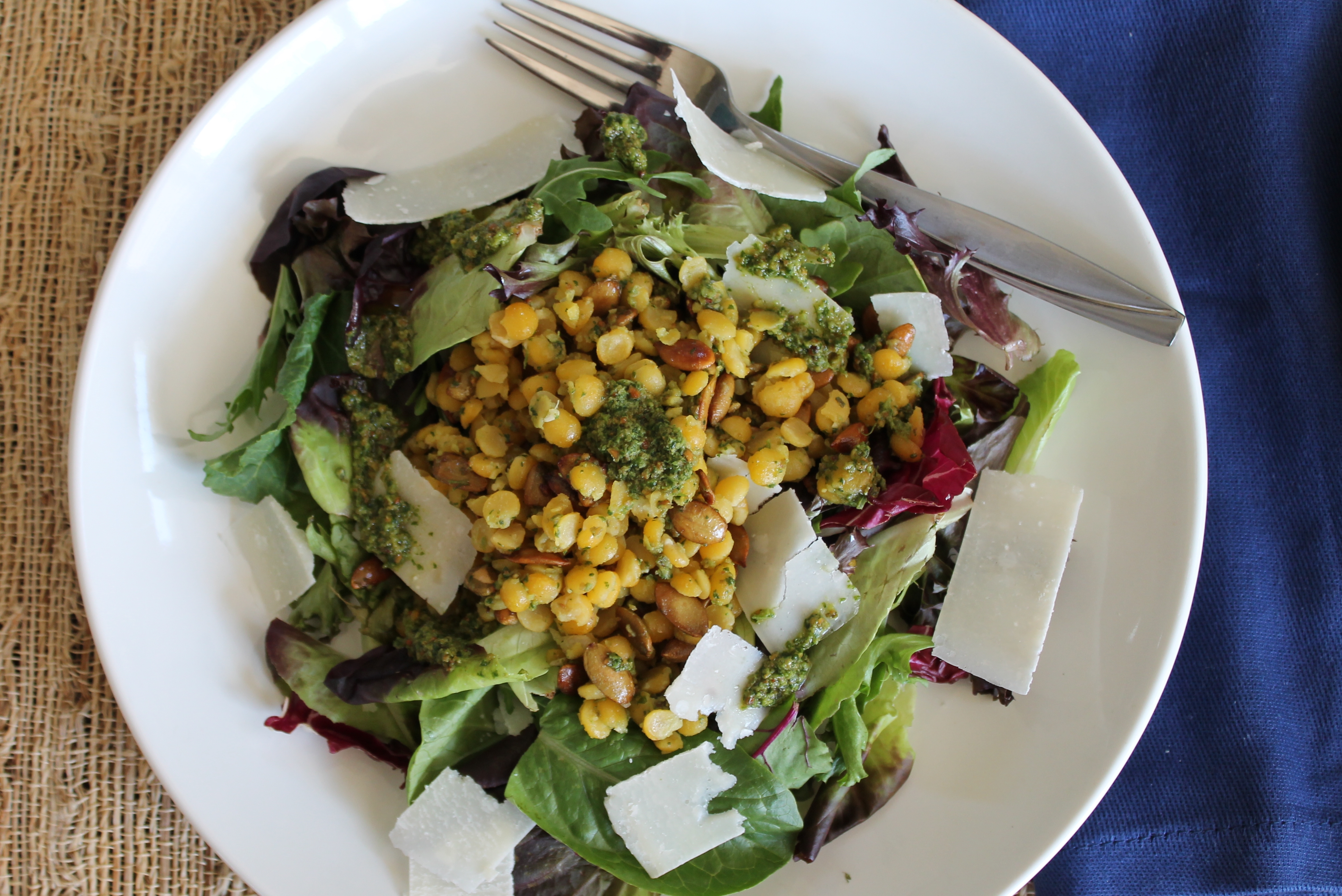 Baby weight.
Boo.
Salad.
Yay!
This salad is spicy and filling and full of fiber, vitamins, protein…. It comes together in about the time it takes to cook the split peas al dente, and the peas will keep in the fridge for up to 1 week! Perfect for throwing together a leftover salad in between feeding a starving infant, amiright?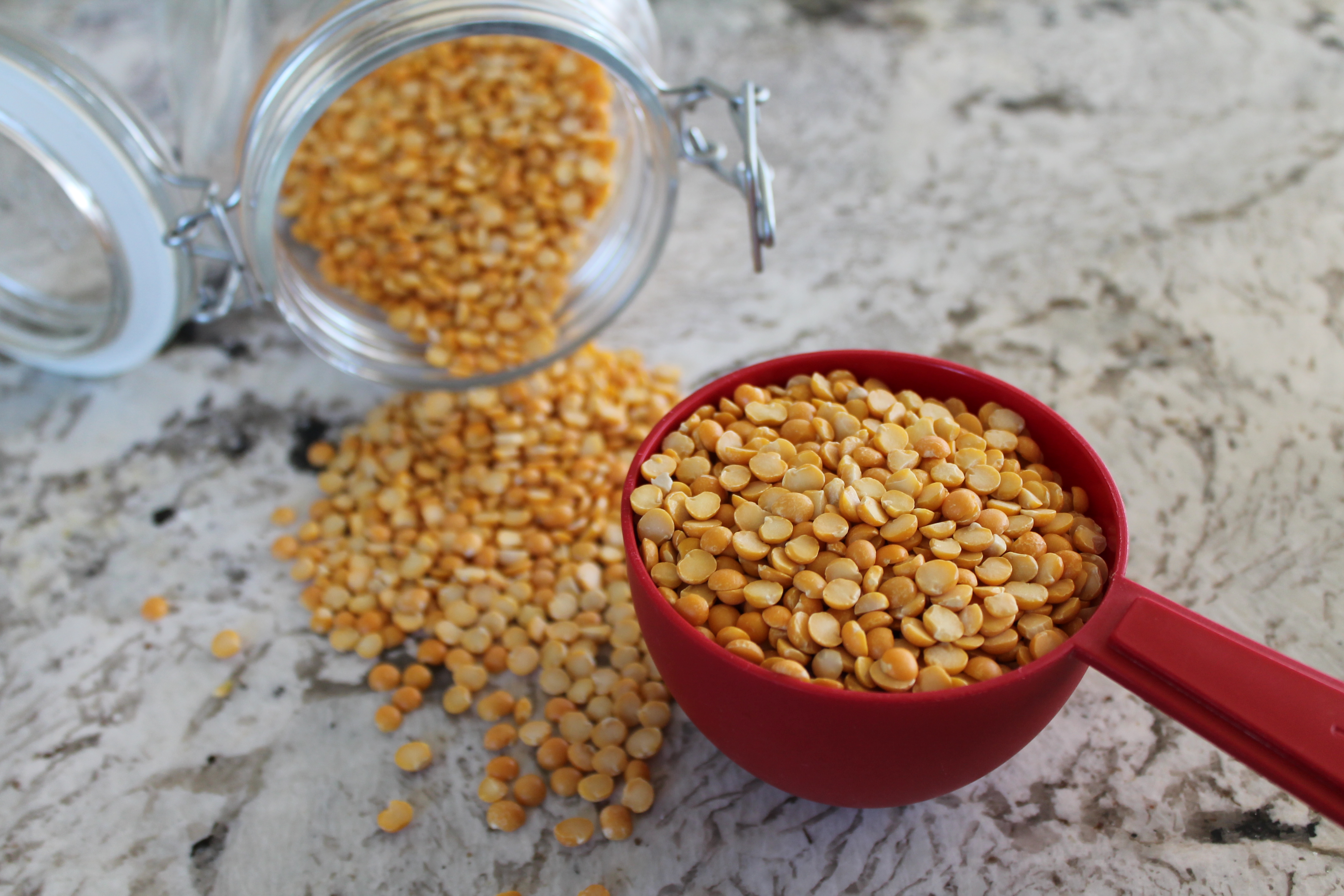 So. Boil some split peas! I used yellow split peas, mainly for the color effect against the greens. You could use green, if you like! Add a little salt to the water so the split peas will be more flavorful.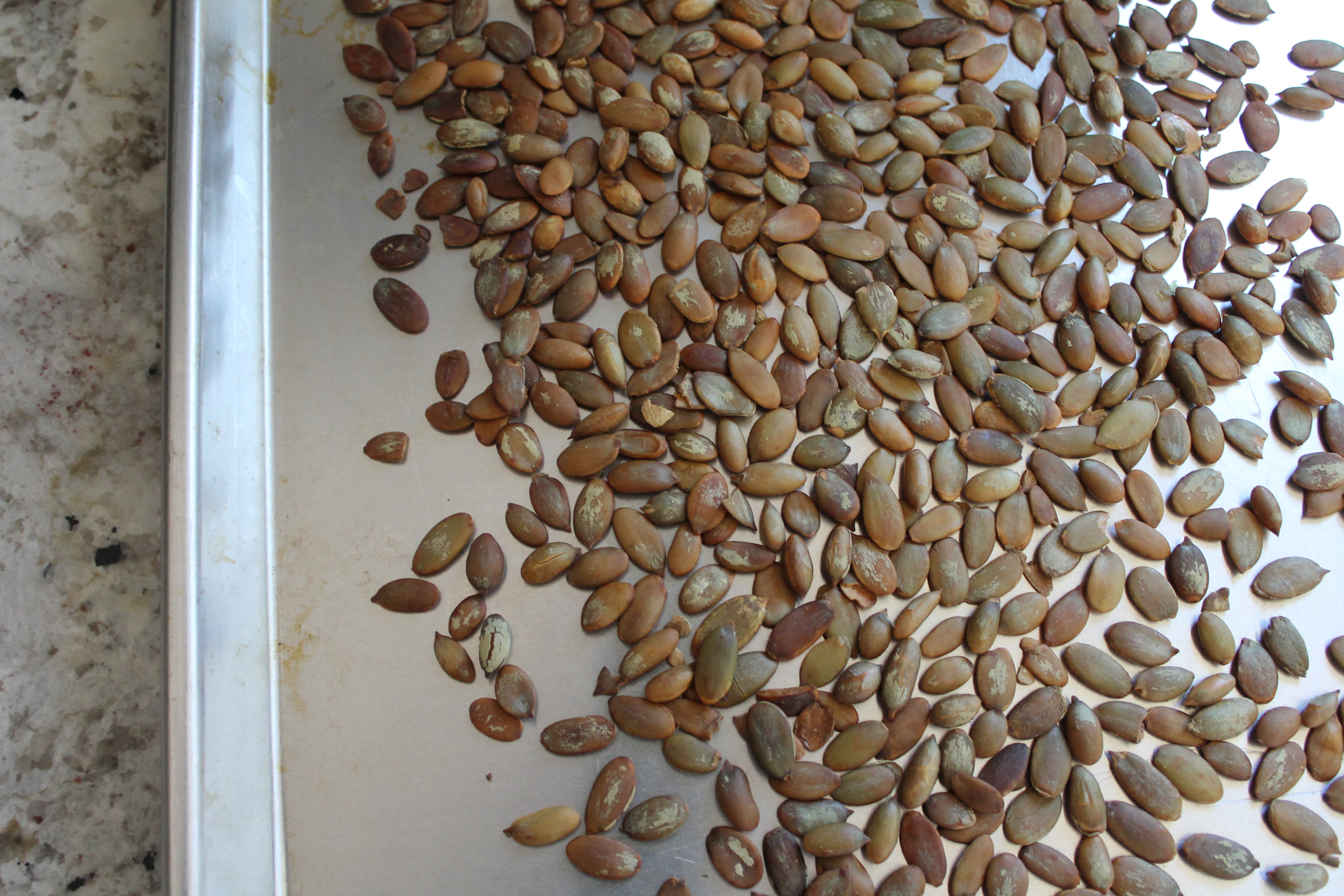 Meanwhile, toast some pepitas (raw pumpkin seeds). I like to dry toast mine in the oven on a cookie sheet for about 10 minutes, shaking the pan once halfway. The seeds should brown slightly and become crisp.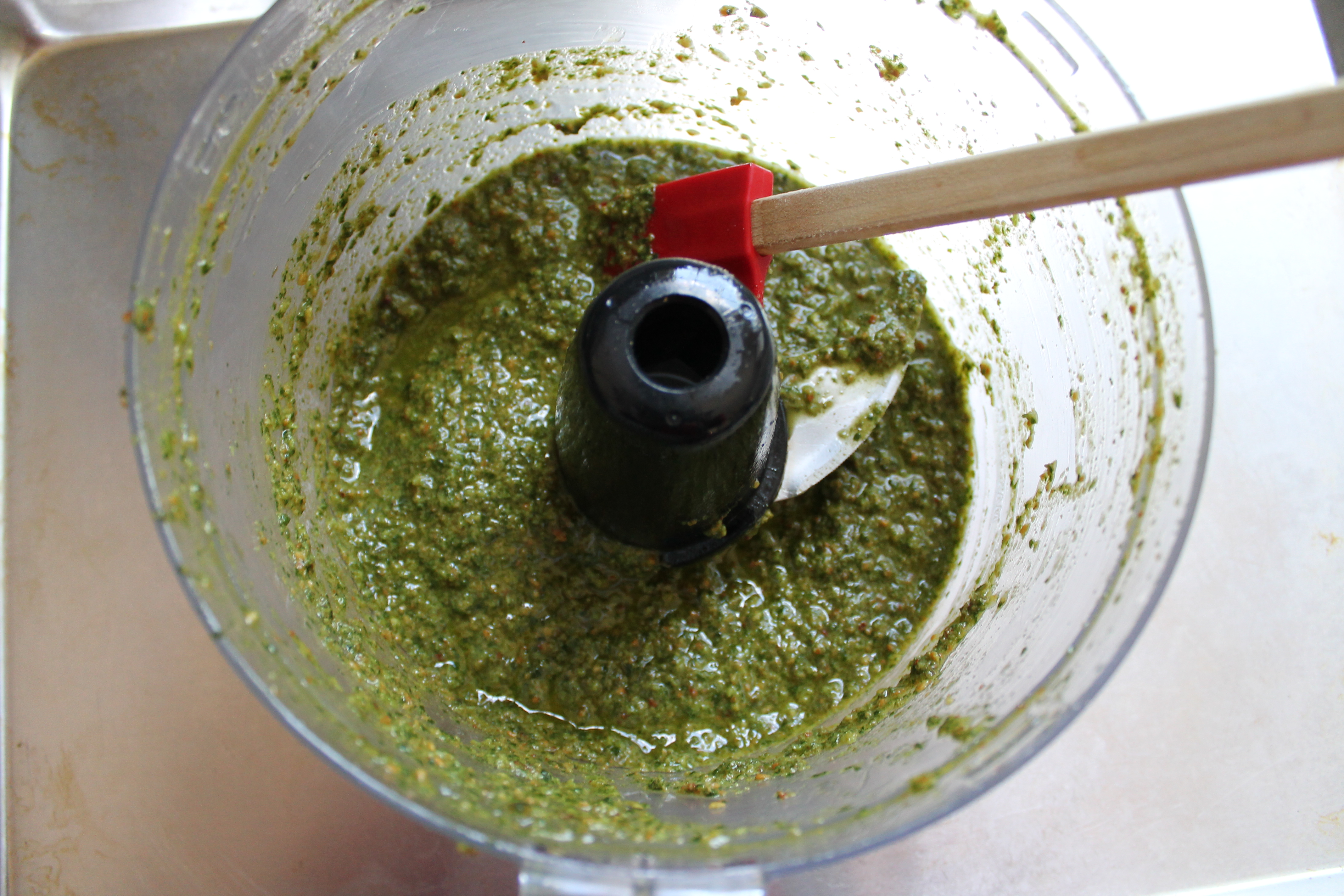 Then we make a spicy cilantro pesto simply by tossing a bunch of ingredients (cilantro, some pepitas, a jalapeño, garlic, oil) into the food processor and whirling until it is smooth! I made this salad with my mom, who doesn't eat dairy, so we very simply adapted the pesto recipe by omitting the parmesan. I garnished my salad with cheese, and she got to eat the vegan version!
Feel free to put your cheese directly into the pesto or leave it out, whatever suits your taste and dietary preferences. And, of course, I won't judge you if you shave a little extra parmesan over top of your salad before digging in…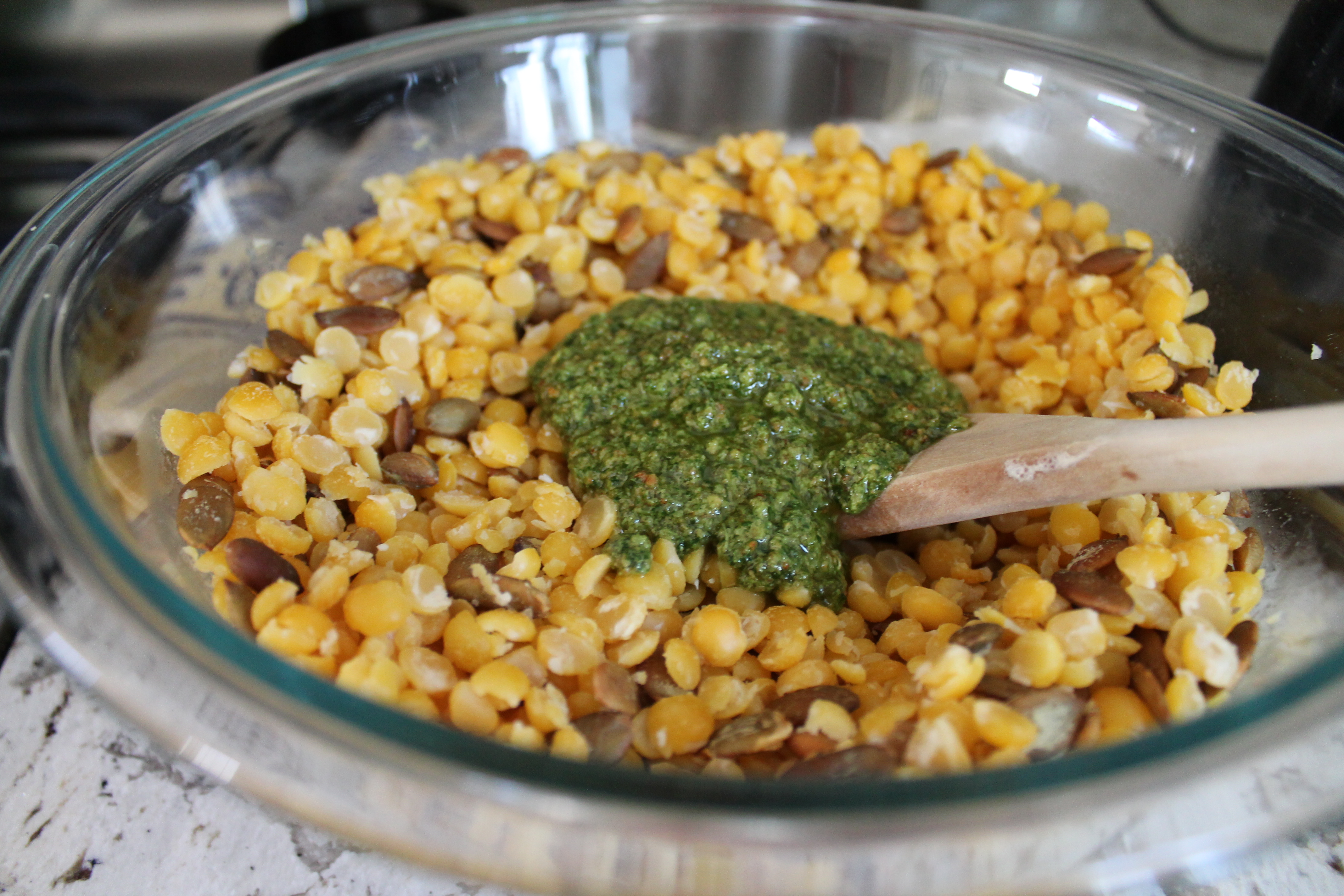 Once the peas are cooked and drained, all that is left to do is a little stirring! Toss the peas with the leftover toasted pepitas and the cilantro dressing. I used all of the dressing, because sauce is delicious. Season with extra salt and pepper as needed.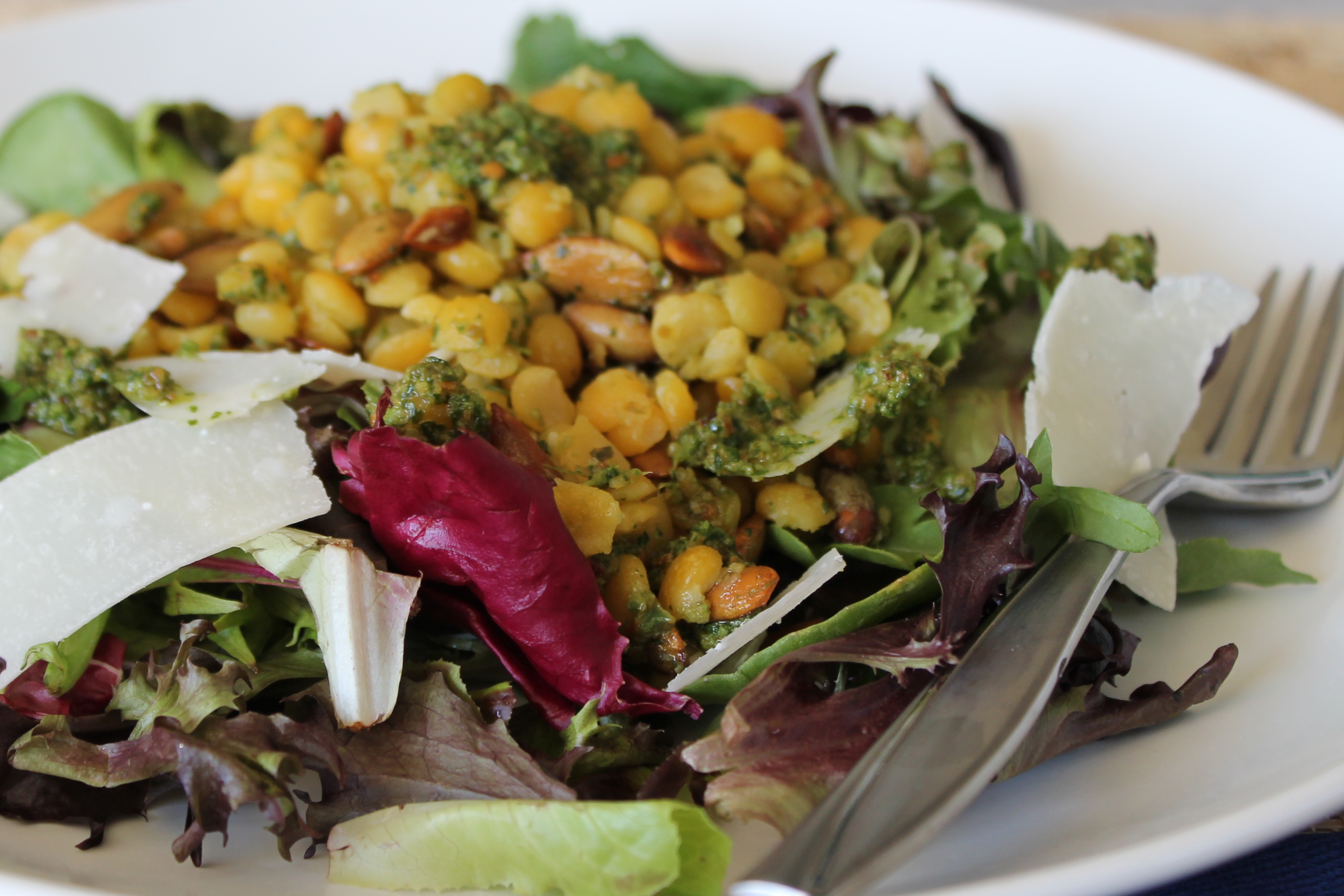 Then simply top your greens with the split peas (and extra cheese, if you want) and tuck in!
Yellow Split Pea and Mixed Greens Salad
barely adapted from Super Natural Every Day
serves 6
Ingredients:
1½ cups dried yellow split peas, rinsed and picked over
sea salt
1 cup pepitas, divided
1 cup lightly packed fresh cilantro
3 large cloves garlic, peeled
1 tbsp. fresh lemon juice
1 jalapeño pepper, seeded if desired
⅓ cup fresh grated parmesan, plus extra for serving
⅔ cup olive oil, as needed
5 oz. mixed greens
Directions:
Bring 5 cups water to a boil. Add the split peas and a small pinch of sea salt and cook for 20–30 minutes, or until the peas are tender but not mushy. Drain the peas in a colander and let them cool.
Meanwhile, heat the oven to 350°. Spread the pepitas in a single layer on a cookie sheet and toast for 10 minutes, shaking the pan halfway. The pepitas should become golden and crisp.
Make the cilantro pesto. Combine the cilantro, ⅓ cup toasted pepitas, garlic, lemon juice, jalapeño, parmesan, and ¼ tsp. salt in a food processor. Process until the cilantro is finely chopped. With the food processor running, slowly stream in the olive oil until the pesto is smooth and slightly runny. Taste and adjust seasonings if needed.
Toss the cilantro pesto with the split peas and remaining ⅔ cup toasted pepitas. Toss with the greens. Top the salad with extra shaved parmesan if desired.
Enjoy!