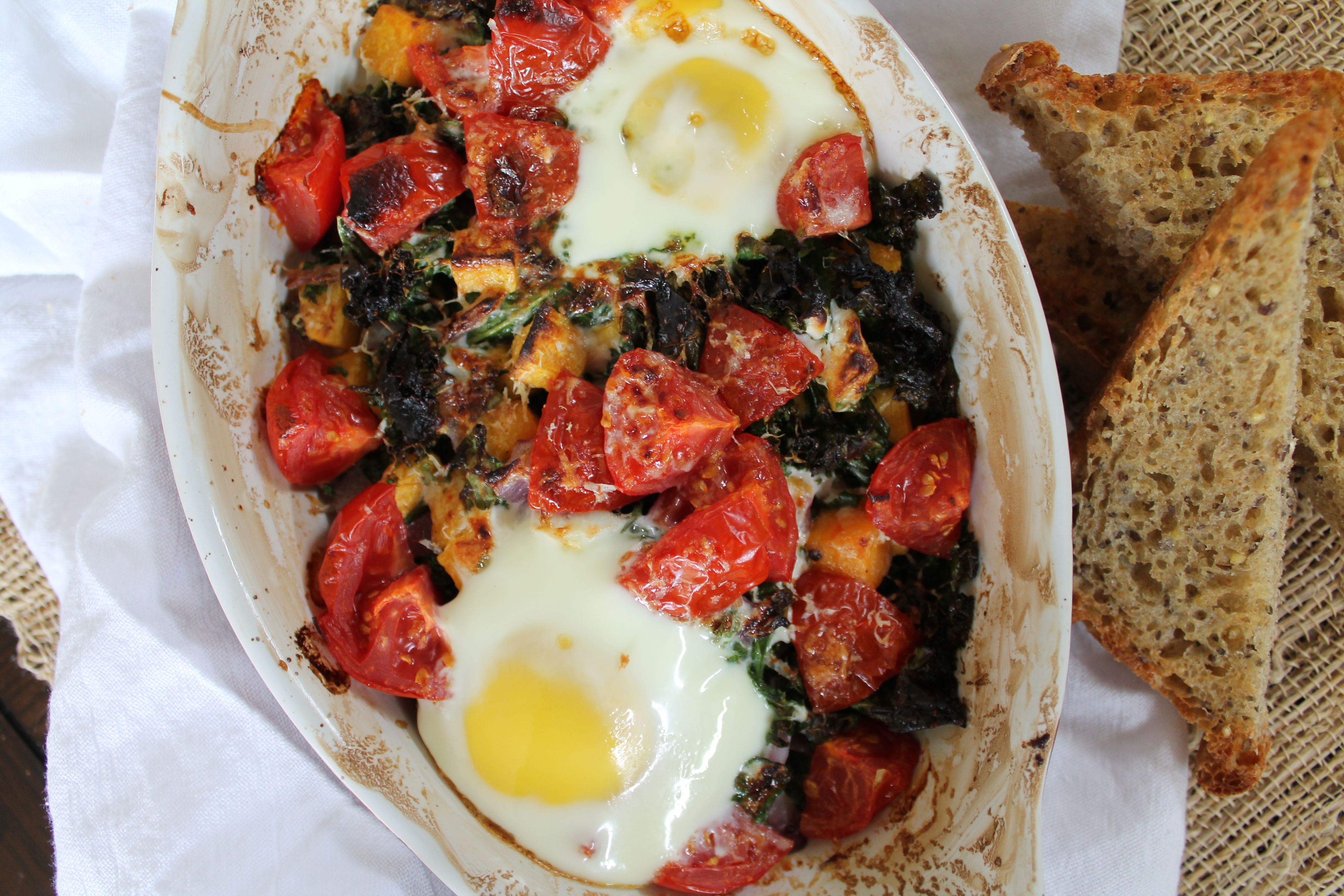 As you may be aware, my husband and I have radically different food tastes.
If he could eat whatever he wanted for the rest of his life, he would be staring down a long succession of barbecues, charcuterie, spicy chicken wings, corned beef and cabbage, anything that goes well with rice (basically all Asian cuisines, especially dishes that are spicy and beefy and porky), Irish black tea, buckets of cola, mountains of fresh fruits covered in sugar to make them super juicy. I'd wager you would find nary a vegetable on the list, unless it appeared incidentally with the meat.
I, on the other hand, would be wolfing down cheese pizza by the pie, any dessert that has chocolate in it (especially cookies, brownies, ice cream, cake, tarts…oh my gosh, sweet tooth), butter, cheese, bread, buttery cheesy bread, salmon, crab cakes, ripe tomatoes, toasted nuts, Riesling, gallons of black coffee…and let's throw in some salads for good measure. Because as much as I would love to eat nothing but foods half held together by butter, I definitely spend hours each week obsessing over how to eat more vegetables and be more healthy.
As you may imagine, this can make dinner time a little stressful (and it's one of the reasons we love to eat out: to each their own!).
Thank God for eggs.
Seriously, thank you, God, for eggs. Because without eggs, Dave's and my taste buds might have to declare war on each other.
And because of these eggs, I have a favorite little memory tucked away: Dave came home from work the day after I made these colorful eggs for the first time, and he announced: "All day long I was craving bulgogi. And then I realized that I didn't want bulgogi. I wanted more of the eggs you made last night!"
(Cue victorious fist pump. Dim lights. End scene.)
These eggs are really healthy—any dish that spans the colors of the rainbow contains a wide variety of nutrients your body needs!—and really easy to make. I have gotten really into doing dinner prep in the middle of the morning (ahem…two tiny tots…), and this meal is perfect for that! A little bit of chopping, a quick sauté, and toss it all into a pan under the broiler. Dinner.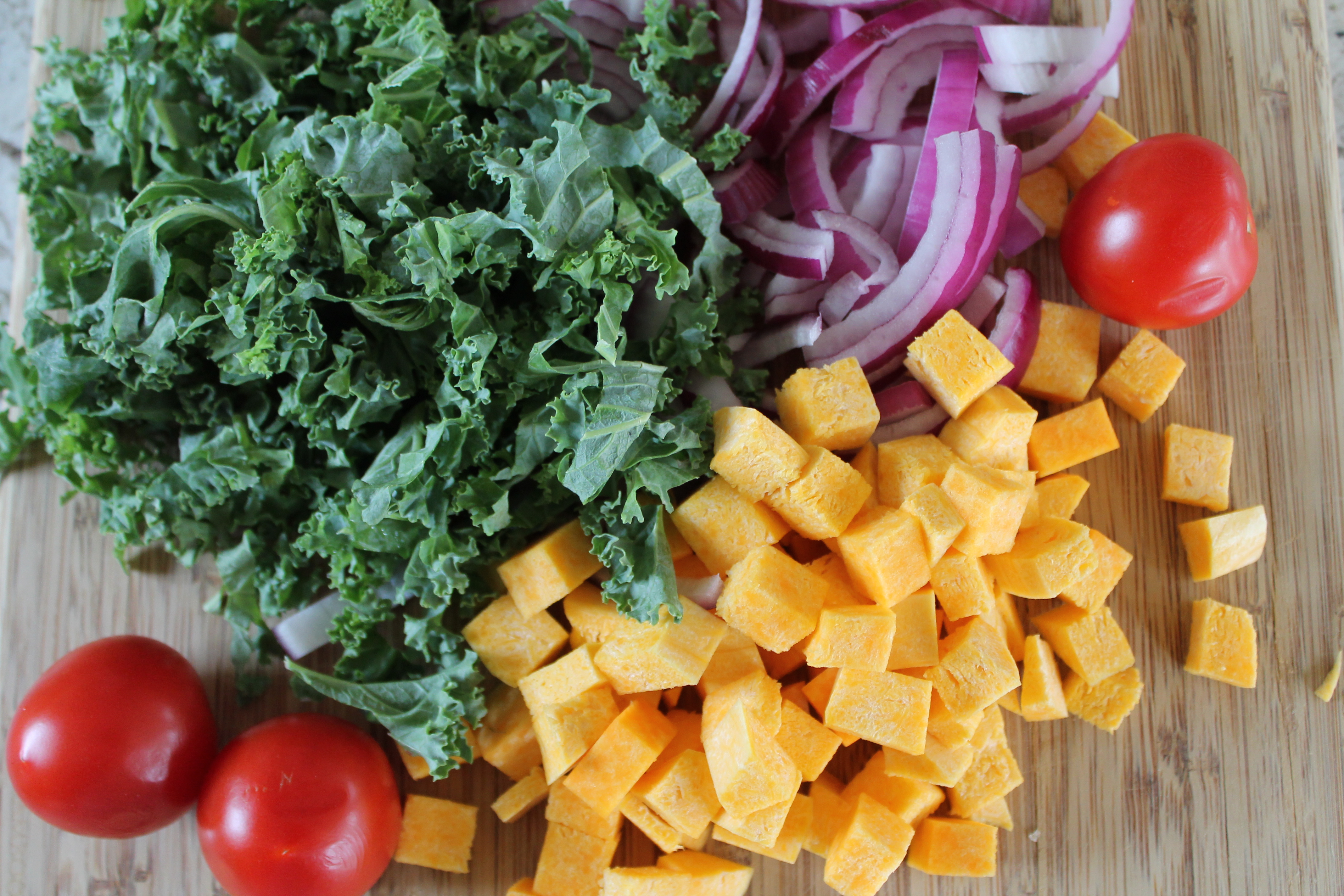 Start by chopping up some butternut squash and red onion. I used about half a red onion and just 3 inches or so from the neck of a big butternut. Aim for small cubes with the squash and thin half-moon slices with the onion. And the beauty of this dish is that you can easily increase the proportions to serve more people, or alter them to use up ingredients in your pantry and refrigerator!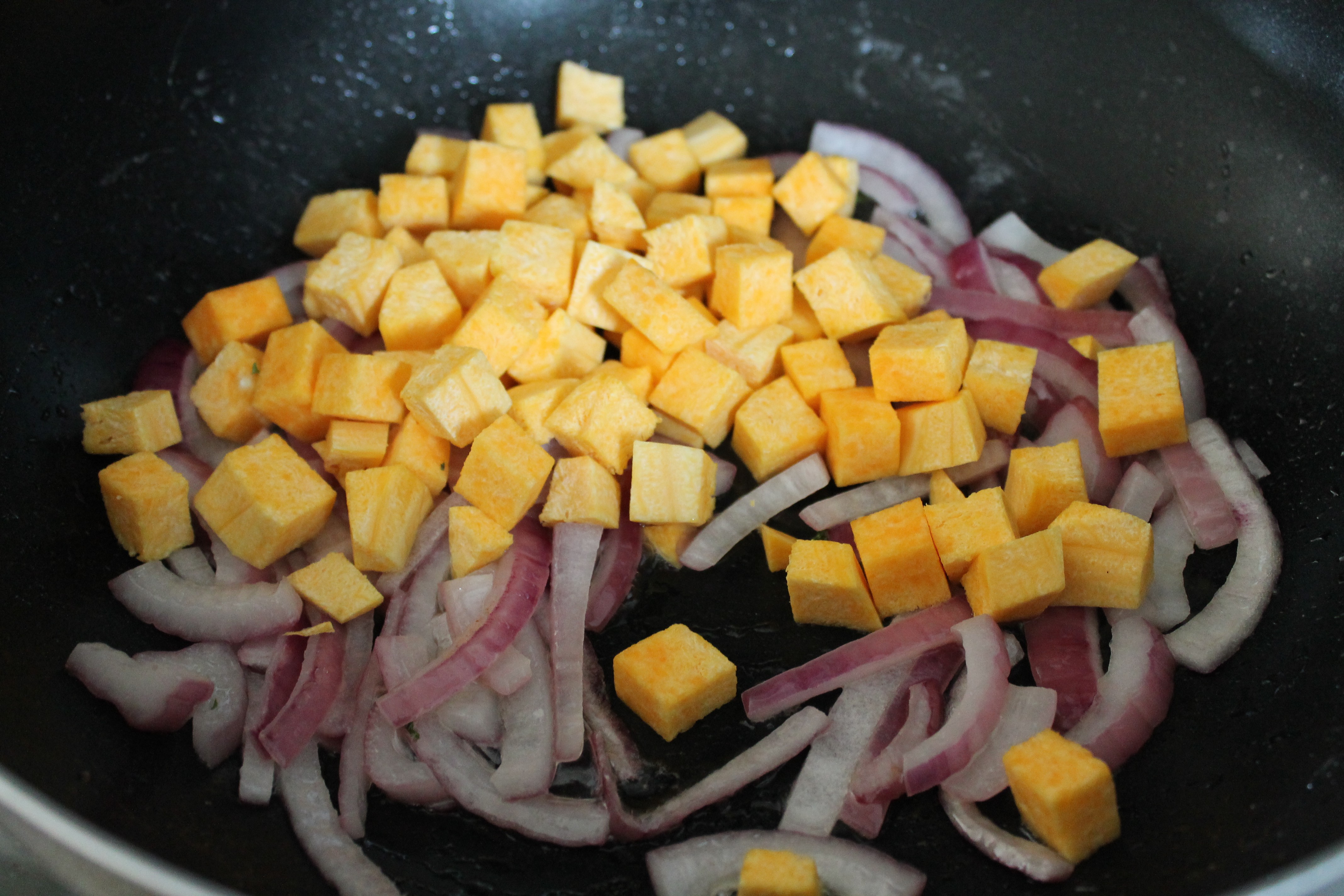 In a sauté pan, melt some unsalted butter. Add in the veggies you just chopped and let them cook over medium-low heat, stirring occasionally, until the squash is fork-tender but not mushy.
Meanwhile, thinly slice a few leaves of curly kale and chop up some tomatoes. I used campari tomatoes here, which are small and round and generally decent year-round (assuming you let them ripen until fragrant on the counter), but any tomato you have on hand will do, even a handful of halved grape tomatoes!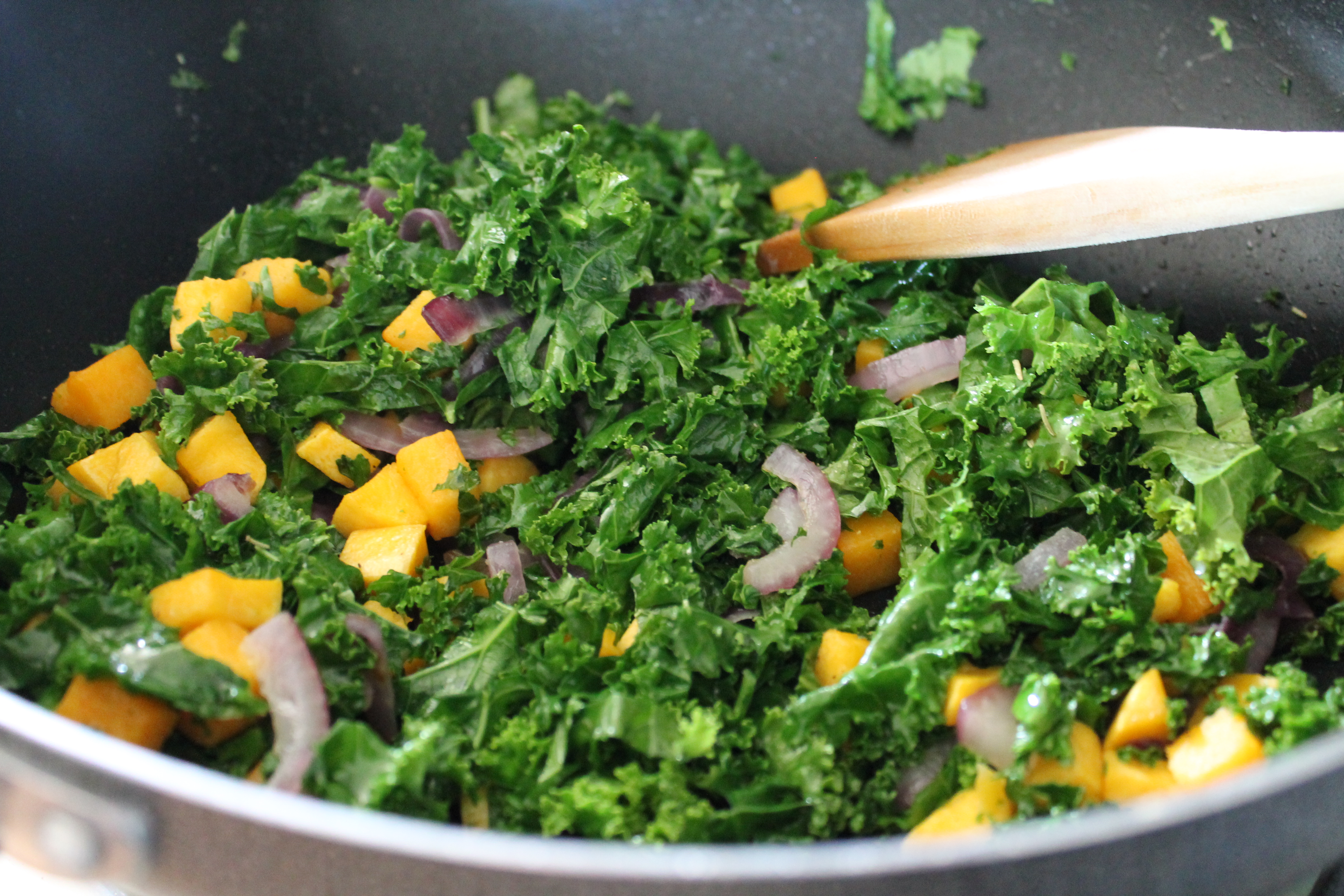 When the squash is tender enough to pierce easily with a fork, toss the kale into the pan and stir until it doesn't look dry. Season the vegetables with salt, a little black pepper, dried or fresh rosemary, and garlic powder.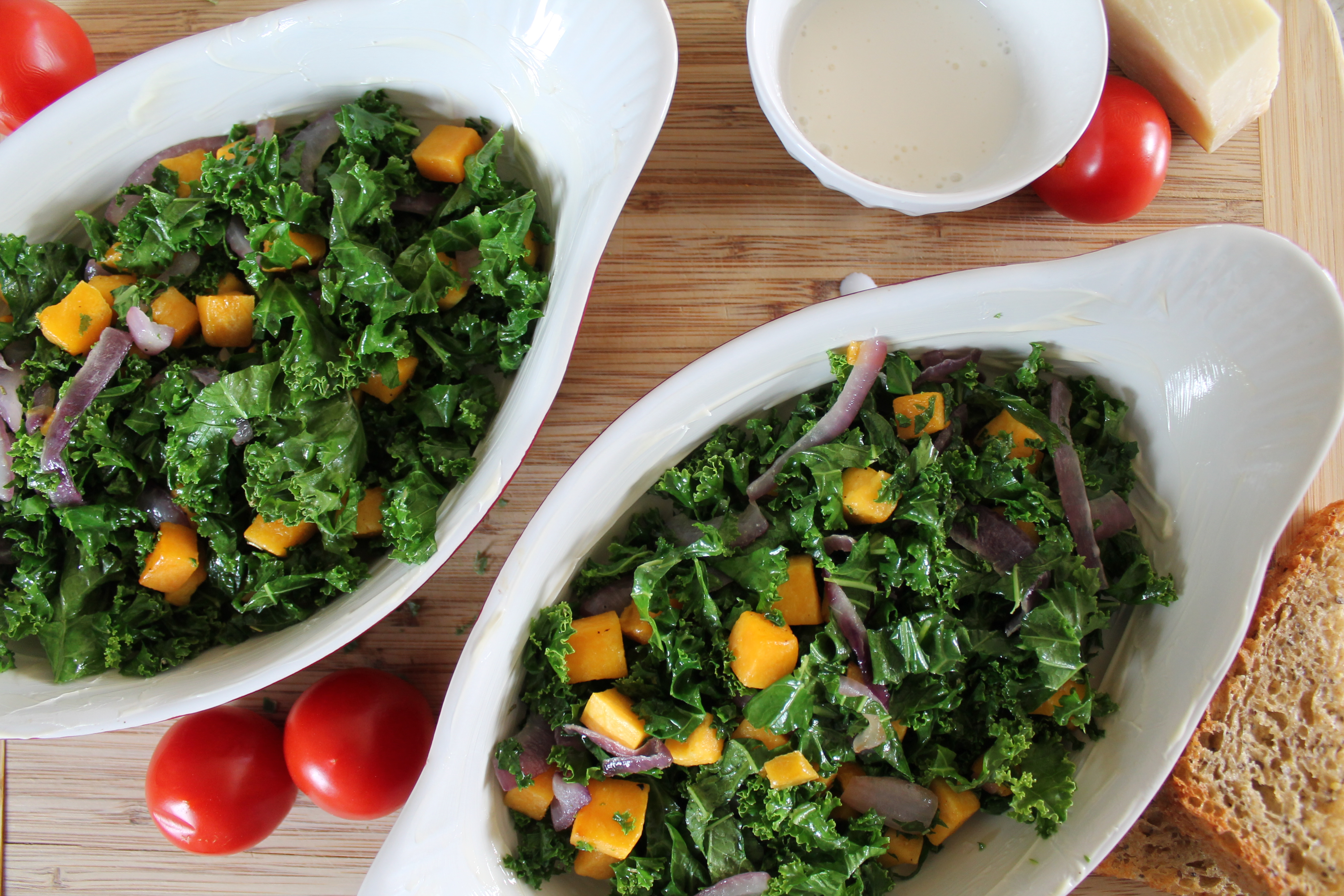 Divide the veggies into two small, buttered gratin dishes. If you don't have gratin dishes (or if you are serving more than 2), don't worry! You can easily use any baking dish you want and then serve the baked eggs out onto plates instead.
Distribute the chopped tomatoes over the kale-squash mixture.
If you are prepping your meal ahead of time, this is a good place to stop! Cover your dishes and plunk them in the fridge until 15 minutes before you are ready to serve.
If you are cooking all at once, forge ahead! Heat up the broiler.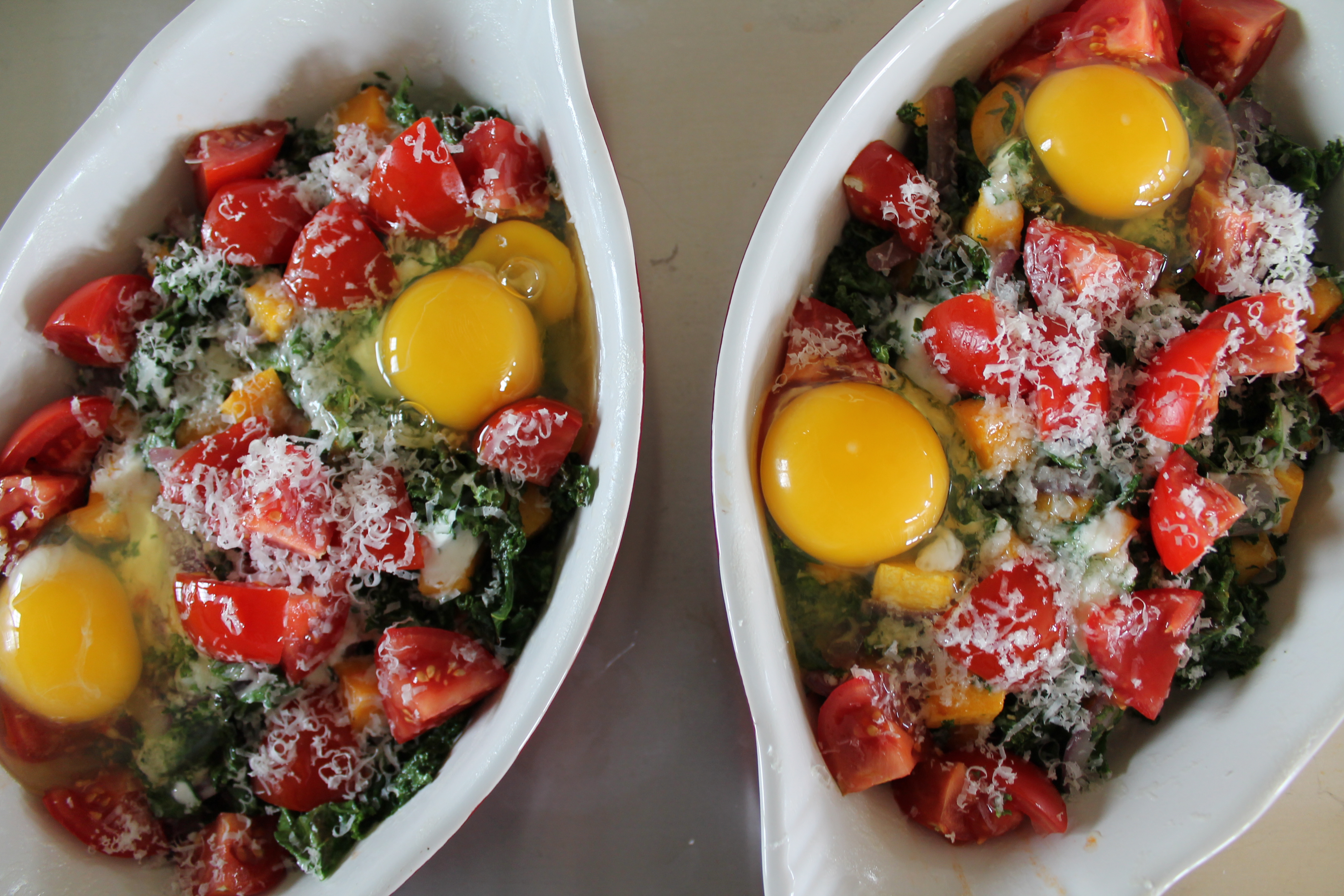 Grate parmesan over the veggies and pour a few tablespoons of cream into the bottom of the gratins. This adds a bit of salt and a lovely hint of richness. Plus, in a meal with no carbs (!), it's good to use some fats to make the dish more filling.
Set the gratins on a baking sheet. Place them under the broiler, at about a 6″ distance. Broil for 1 minute (2 if you pulled the gratins out of the fridge a minute ago) just to warm the bottoms of the dishes.
Pull the gratins out of the oven and break 2 eggs into each. Back into the oven!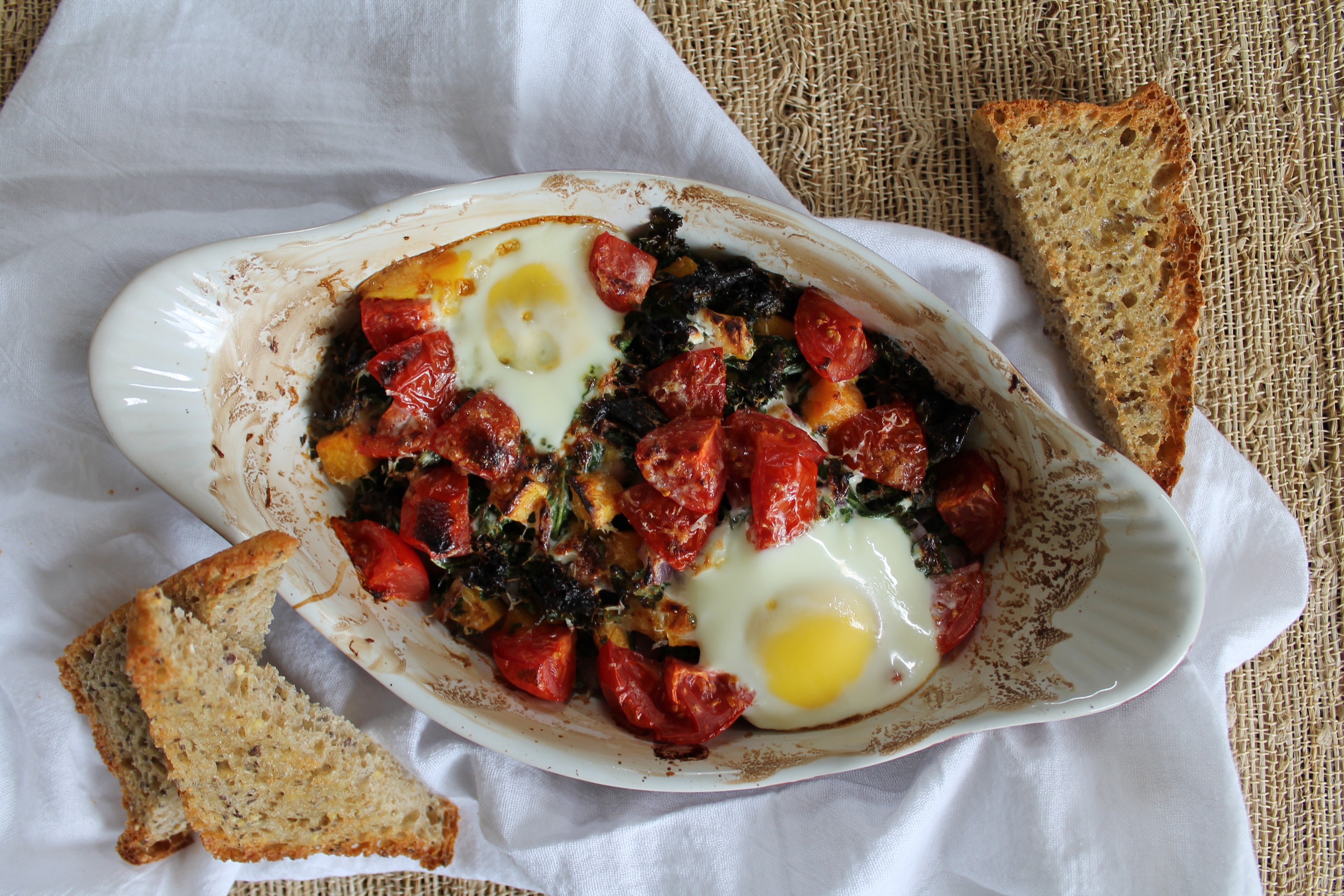 Broil the eggs for 7 minutes. If you use large eggs, as I do, this should be exactly enough time to set the whites while leaving the yolks runny in the center. If you use extra large eggs, then you will need to add time to set the whites properly. Don't eat liquid egg white, people.
When this dish is done, the kale is nice and crispy, the salty cheese complements the sweet squash, and the egg yolk mixes with the cream and juice from the tomatoes and makes a sauce at the bottom of the dish.
I do like to serve these eggs with a little toasted bread, rubbed with half a clove of fresh garlic, just to sop up the delicious, yolky, creamy sauce swimming at the bottom of the dish. But feel free to skip the carbs entirely!
Rainbow Baked Eggs
a Melissa original
serves 2
Ingredients:
5 tbsp. butter, divided
1 cup sliced red or white onion (from about ½ medium onion)
1½ cups cubed butternut squash (from about ¼ lb.)
4 packed cups chopped curly kale (from about 4 large leaves)
salt and black pepper
½ tsp. garlic powder
pinch of rosemary
4 campari tomatoes, chopped
1 oz. parmesan cheese
2 tbsp. heavy cream
4 eggs
garlic-rubbed tostini, for dipping (optional)
Directions:
In a large skillet over medium-low heat, melt 3 tbsp. butter. Add the onions and squash to the pan and cook, stirring occasionally, 5–7 minutes, or until the onions become translucent and the squash is tender but not mushy.
Add the kale to the pan and toss to combine. Season with salt, pepper, garlic powder, and rosemary, and remove from the heat immediately.
Use the remaining 2 tbsp. butter to thoroughly butter two small gratin dishes (or a 9″ square baking dish), leaving the excess at the bottom of the dishes.
Distribute the sautéed veggies across the two dishes. Drop the chopped tomatoes evenly on top of the kale mixture.
Heat up the broiler and set the oven rack about 6″ below the heat source. Place the gratins on a baking sheet.
Finely grate parmesan over the vegetables in the two gratins, then drizzle with cream.
Broil the vegetables for 1 minute, then remove from the oven.
With a spoon, make two small divets in the vegetables in each gratin. Break 2 eggs into each dish, aiming for the divets. Return the gratins to the oven and broil for 7 minutes.
Let the eggs cool at least 3 minutes before serving with garlic-rubbed toast!
Enjoy!