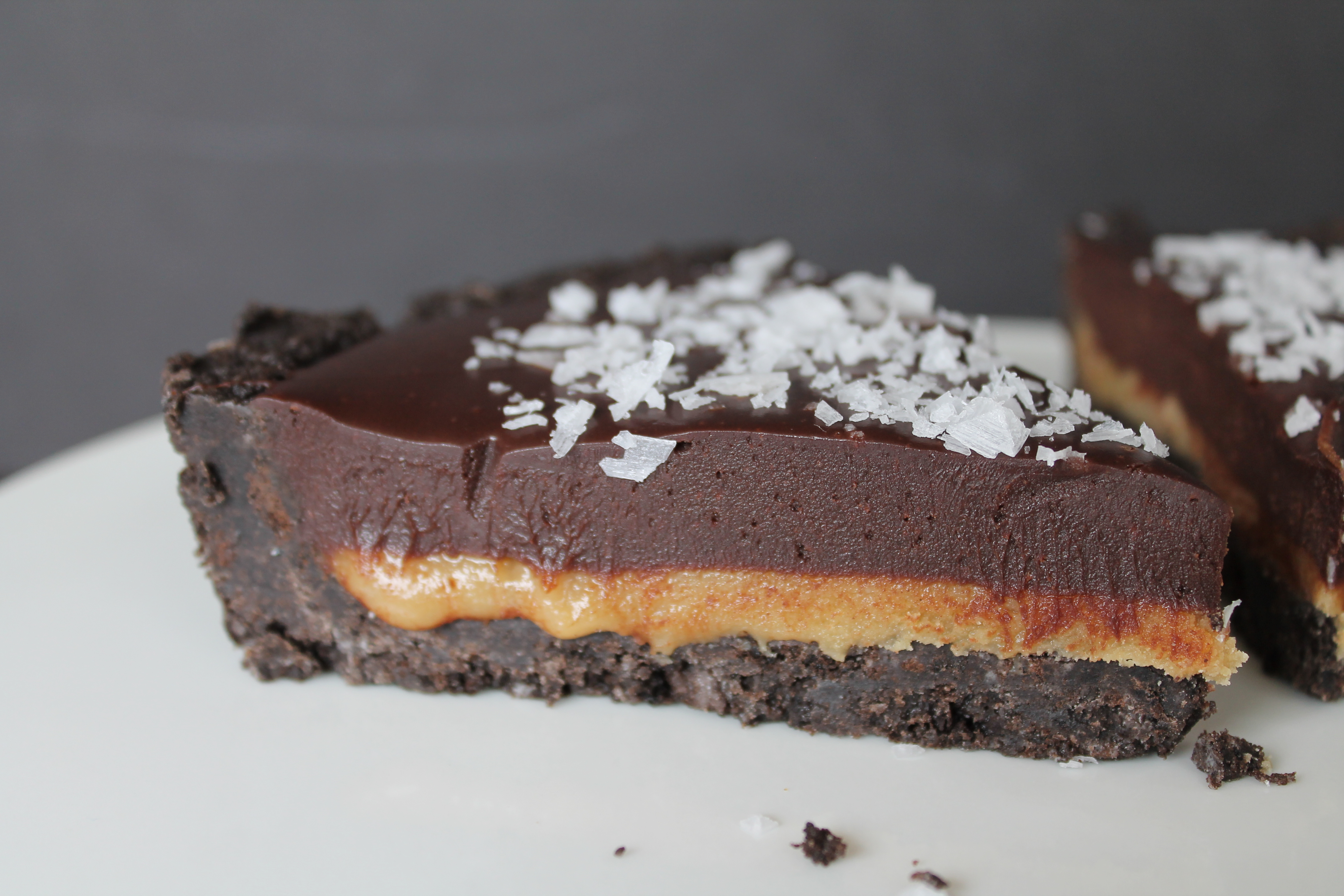 I turned 30.
I had a small midlife crisis, which resulted in a writing a long and silly bucket list—my 30 after 30. (Friends, don't be surprised if I try to rope you into tap dancing class or hot air ballooning. Don't be surprised if I start speaking to you in Irish—though the only phrase I have mastered is ólaim fíon!)
And, of course, I made dessert. Because what good is a birthday without dessert?
This amazing tart is exactly what you should make for every single celebration you ever attend from now on. Initially I thought of this as the 30th birthday tart, after I made it for my best friend's 30th earlier in the year…but it's too good not to share year round.
Not only is this tart rich and decadent and impressive, worthy of any special event you can think of, but it is actually incredibly easy to make! There are only six ingredients, and no baking or candy thermometers involved!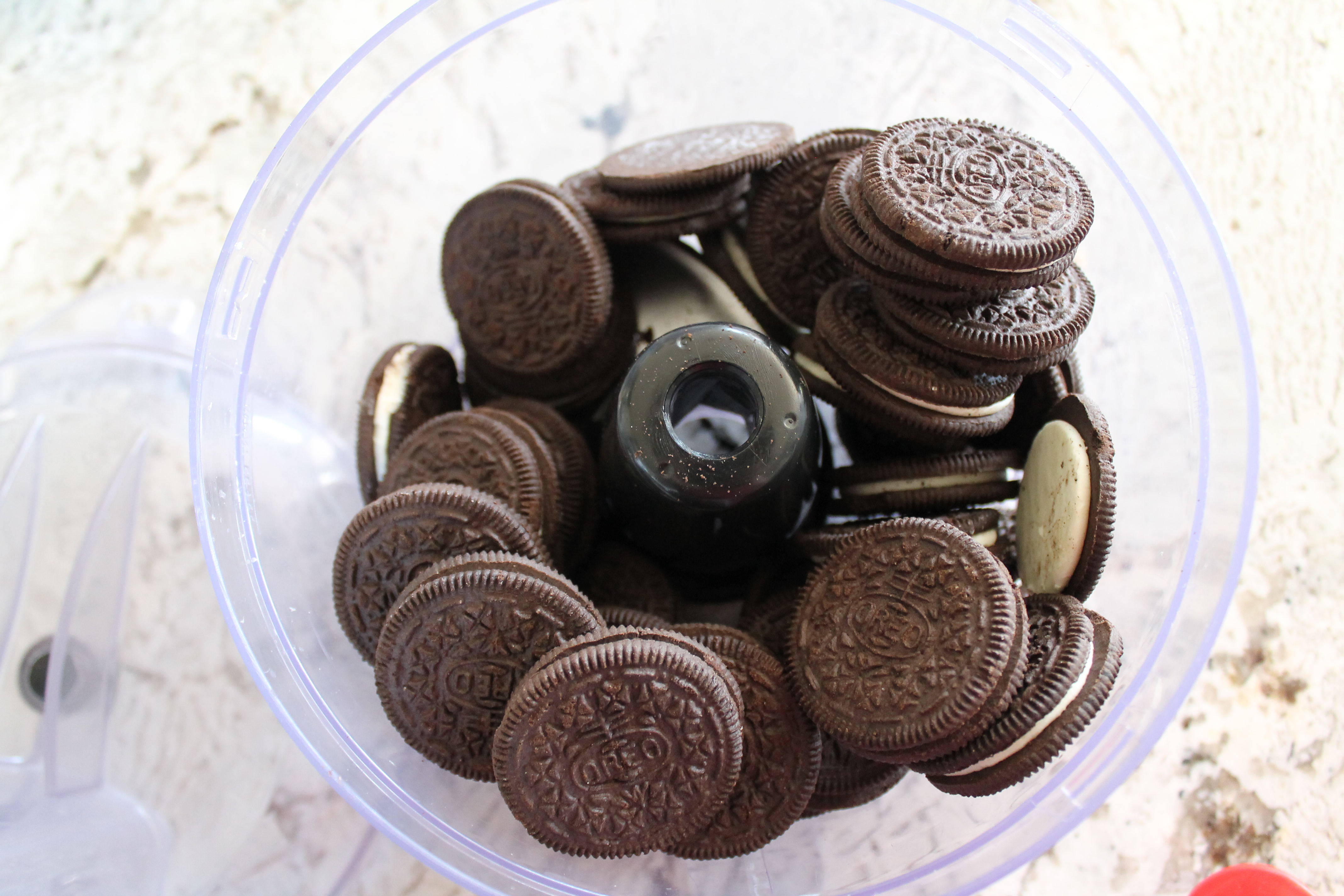 We start with a whole package of Oreos. I prefer the original, "single-stuf" for making crusts, because they grind up better and the effect is chocolate-y-er. So process your Oreos in a food processor for about 1 minute, until very fine and powdery.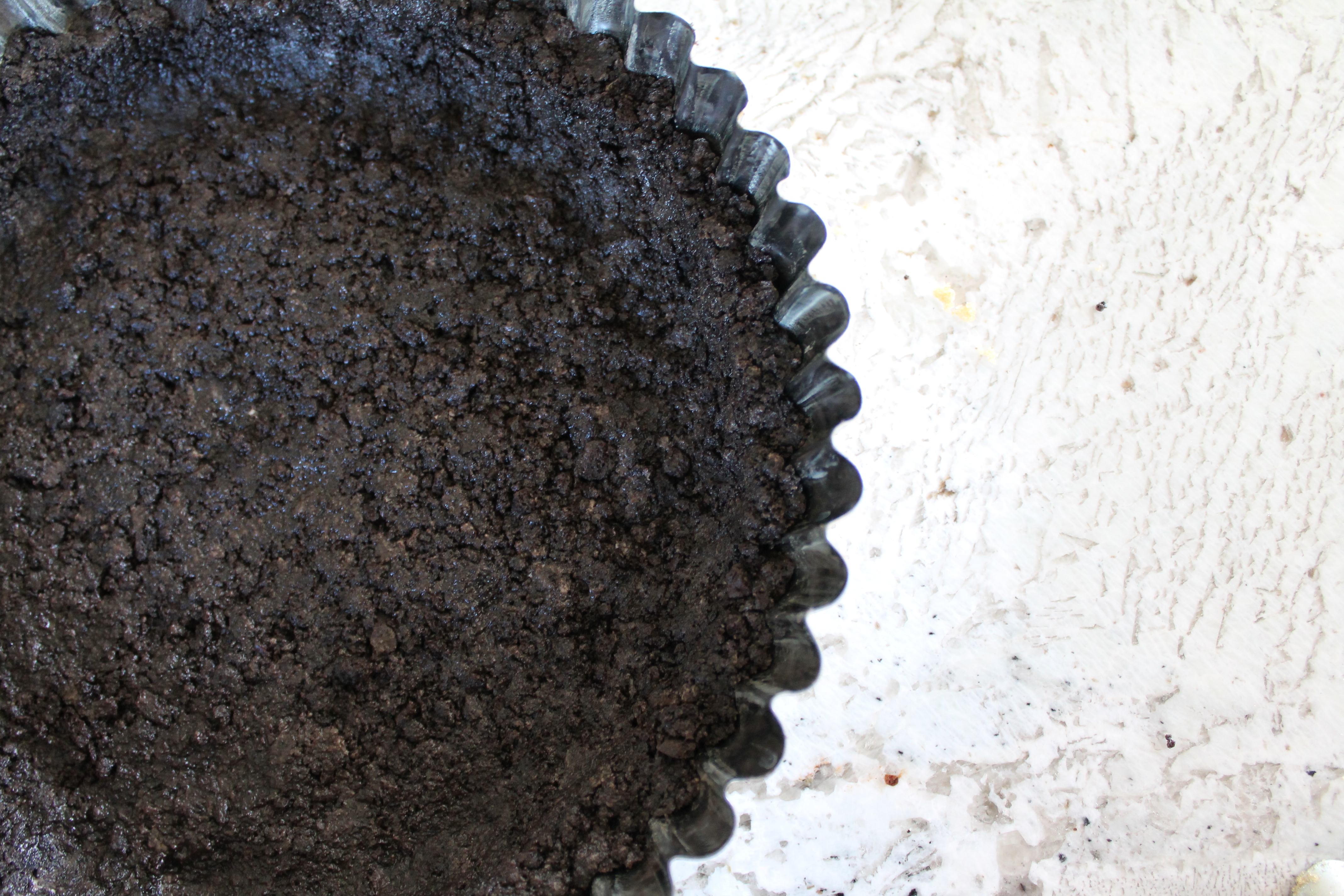 Mix the Oreo crumbs with melted butter and press into a 10″ tart pan. I used this tart pan, which was great because the sides are 2″ deep, and the bottom is removeable for easier serving! But you could also even use a large pie plate, ideally 10″ round.
Make sure when you make the crust that you build the sides at least 1″ tall, otherwise it won't be deep enough to hold all of the chocolate ganache.
Freeze the tart shell for 10 minutes or so to set it.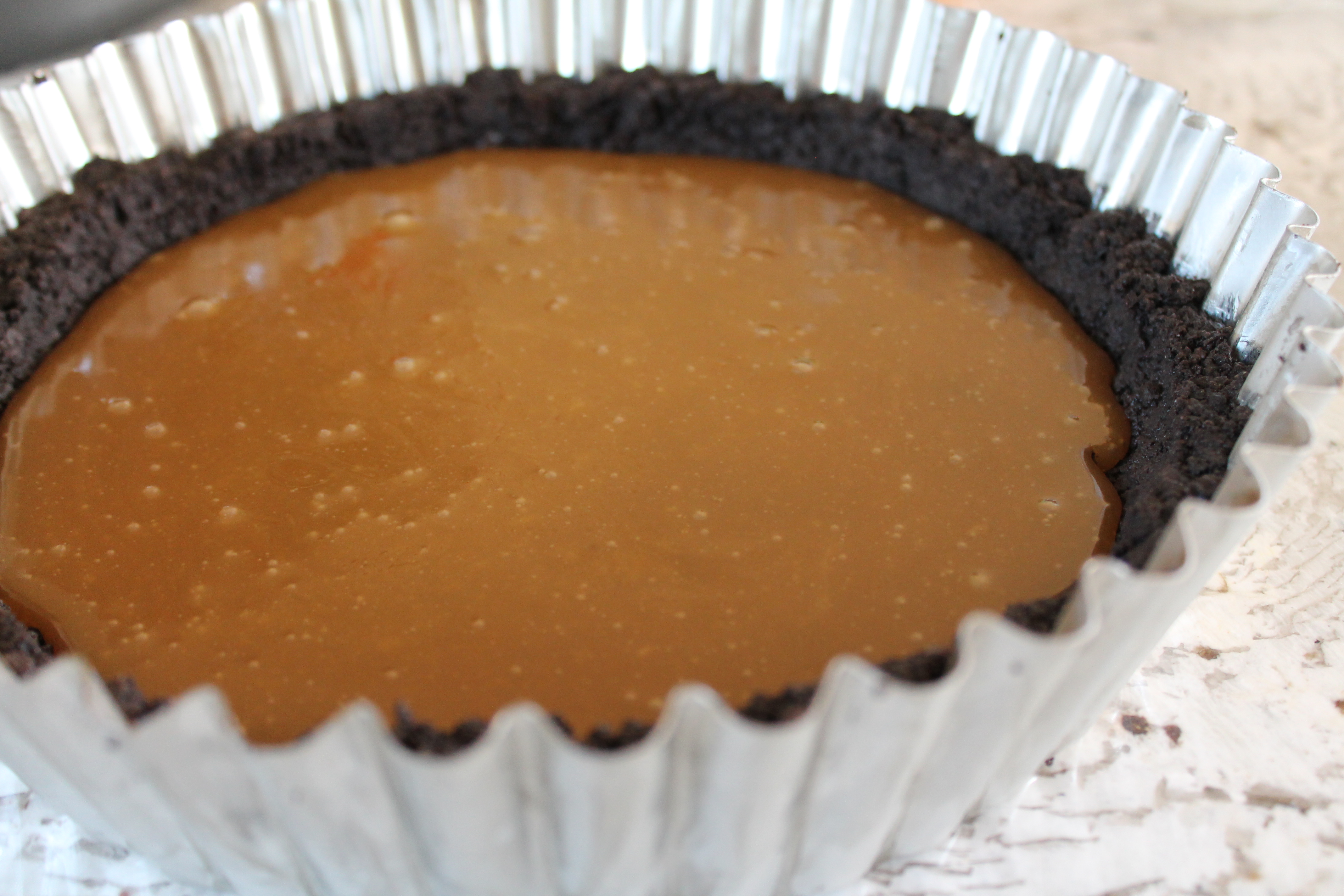 Meanwhile, make the caramel! This is the easiest caramel I have ever encountered. You don't need a candy thermometer, and you don't have to worry about it bubbling up or burning because you aren't starting with dry sugar.
Combine butter (salted, of course) and brown sugar in a large saucepan over medium heat. Whisk constantly as the butter melts. Continue whisking. When the mixture starts to bubble thickly, set a timer for 1 minute and continue cooking and whisking for that minute.
Remove the pan from the heat and slowly whisk in ¼ cup heavy cream. Set the caramel aside to cool for 15 minutes.
Drizzle the caramel into the chilled tart shell, using the back of a spoon to spread it to the edges of the crust. Return the tart to the freezer for 30 minutes, to cool and set the caramel. But be careful—we don't want the caramel to freeze! Don't leave it in the freezer any longer than 45 minutes, or you may end up with a hardened, crunchy caramel layer instead of a smooth, soft, slightly oozing filling.
After the caramel has been in the freezer 30 minutes, it's time to make the ganache. I am a fan of doing this the easiest way possible: in the microwave. Dump the chocolate chips into a microwave-safe bowl and pour the rest of the heavy cream over top. Microwave it for 45 seconds or up to 1 minute, then let it stand for 30 seconds. Whisk until smooth.
Now, I totally embrace making ganache in the microwave, but it's really important not to burn the chocolate! It's easier to burn dry chocolate than chocolate already swimming in cream and/or butter (which is what we have here), but it's still very important to use short bursts of heat and whisk longer than you think should be necessary.
But just so that it's said, here is my advice on chocolate in the microwave: never put dry chocolate in the microwave for more than 15 seconds at a time. Always whisk after every short burst of heat in the microwave. Whisk longer than you think you need to, because the heat of the chocolate may continue causing it to melt while you work. If your chocolate truly isn't smooth or melted after you have stirred for a minute or so, then you can put it back in the microwave for another short burst. But hear me on this: if you have microwaved your chocolate and it is starting to look firm, like a more solid mass rather than a dark shiny liquid, you have overdone it! Whatever you do, don't put it back in the microwave. You can save it by adding a very small amount of cream, but it will never set firmly like a candy shell again.
In our case, we are making a soft, creamy ganache, which shouldn't give you any problems in the microwave. But if you are nervous or a purist, then you can either scald your cream first and pour it over the chocolate, or you can melt your chocolate over a double boiler and then slowly whisk in the cream.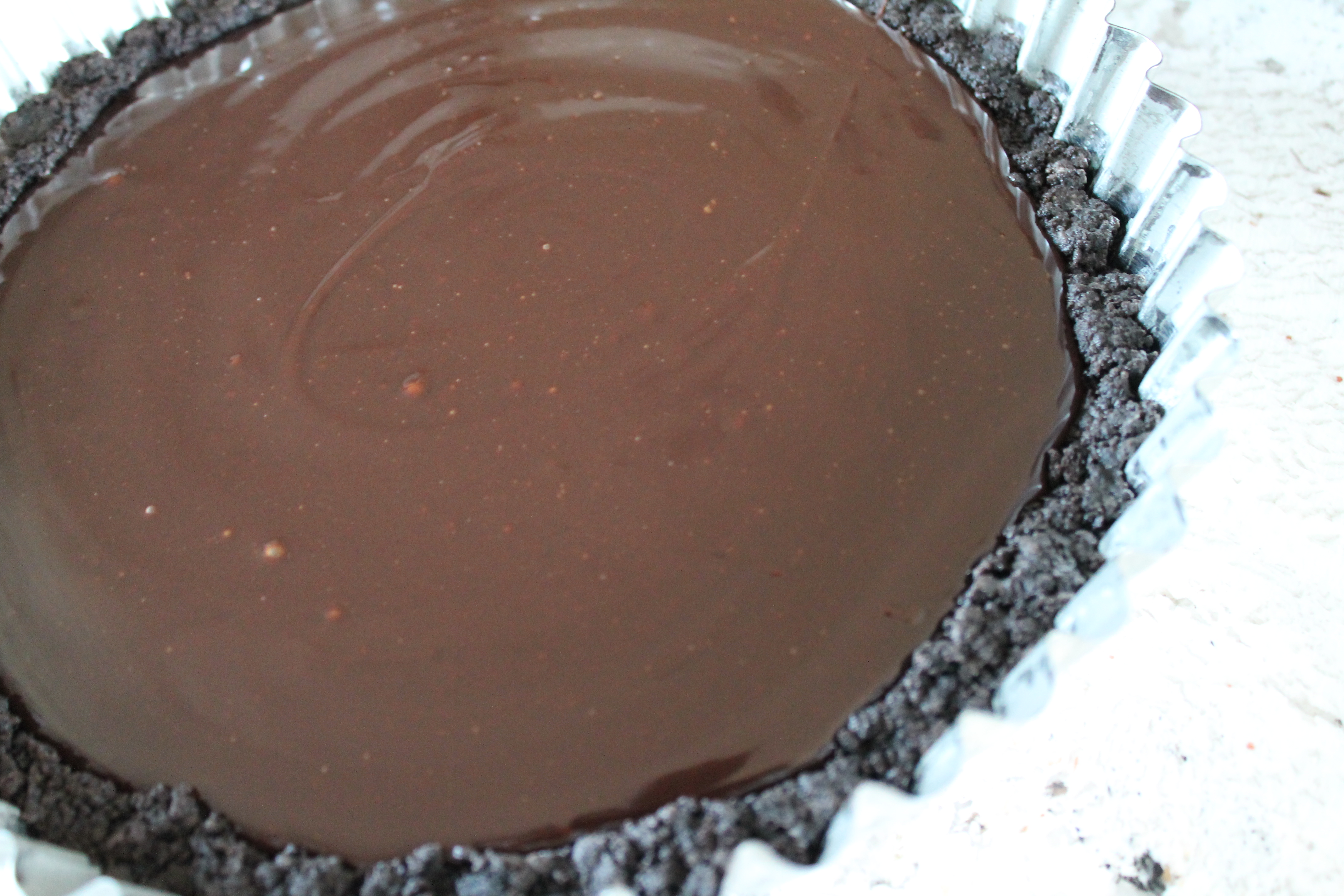 Whatever your method, you should end up with a completely smooth and shiny chocolate mixture. Pour it over the caramel in the tart shell and use the back of a spoon to spread it evenly.
Chill this tart in the fridge at least 8 hours. I know…agony. It's a long time. But the longer you chill it, the better the caramel and chocolate layers will be set. We want them not to jiggle or run when cut, but still to be soft and luxurious.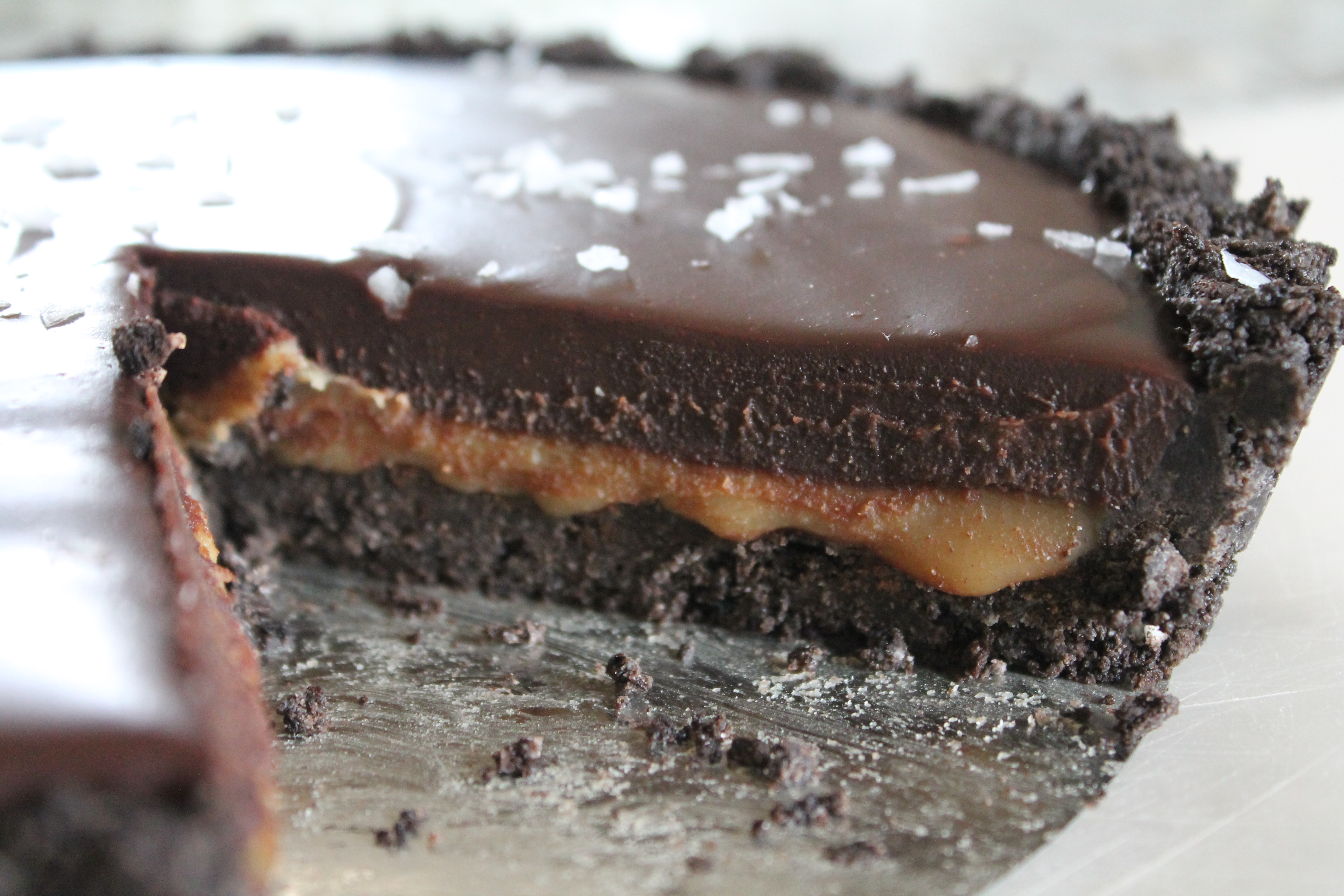 Before serving, sprinkle the tart generously with flaky salt. The salt is so important for pulling all the flavors together and really making this dessert sparkle. Don't skip the salt! If you are cautious, you can use a smaller amount to begin with or let each person salt their own slice to taste!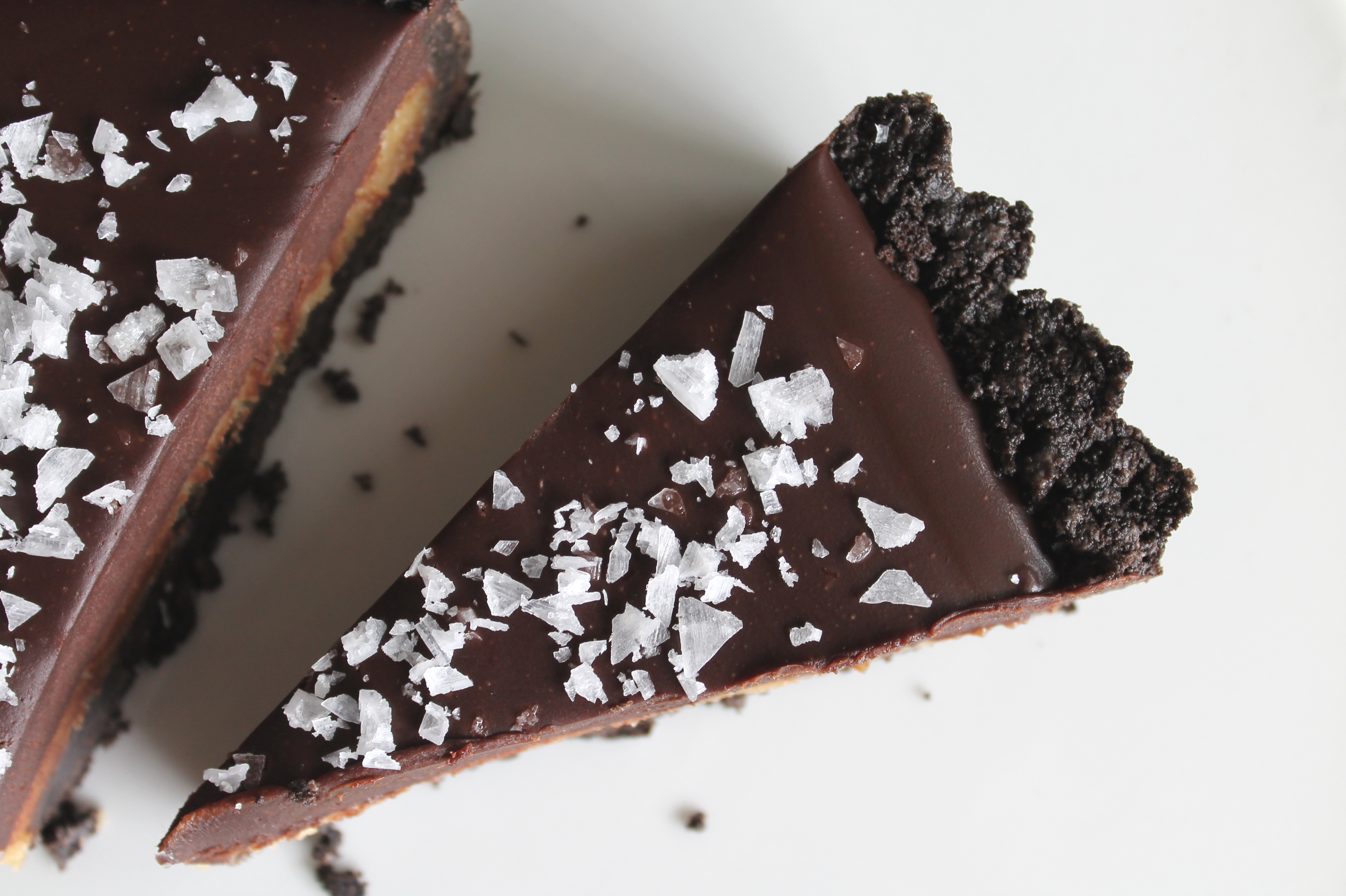 I definitely recommend sharing this tart with your friends. And not just so that they will fawn over it (and you), but because it's bad news bears to have a whole one in your fridge, all to yourself. I really can't overstate it: this chocolate-caramel-Oreo concoction is delicious! I'm so glad I started off my 30s in such yummy style!
Salted Chocolate Caramel Tart
from Kevin & Amanda
serves 16
Ingredients:
1 package original Oreos (36 Oreos)
1 cup salted butter, divided
⅔ cup light brown sugar
1¼ cup heavy cream, divided
12 oz. (2 cups) semisweet chocolate chips
flaky sea salt
Directions:
Process the Oreos in a food processor until fine and even. In a separate bowl, melt ½ cup butter. Combine the melted butter with the Oreo crumbs, stirring until all the crumbs are moistened.
Press into the bottom and 1ʺ up the sides of a 10ʺ fluted tart pan. Freeze crust for 10 minutes until set.
Combine remaining ½ cup butter with the brown sugar in a medium saucepan. Cook over medium heat, whisking constantly, until mixture begins to bubble thickly. Continue cooking, whisking constantly, for 1 minute. Remove from the heat. Slowly whisk in ¼ cup heavy whipping cream until smooth. Cool the caramel in the pan about 15 minutes.
Pour the caramel over the Oreo crust, then return to freezer for about 30 minutes, until just chilled and set. (Don't leave the caramel in the freezer longer than 45 minutes or it may freeze and harden.)
When the caramel has been in the freezer 30 minutes, combine the chocolate chips and remaining 1 cup heavy cream in a microwave-safe bowl. Microwave for 45 seconds at high power. Let the chocolate stand for 30 seconds, then whisk until smooth. If necessary, heat the chocolate an extra 15 seconds and whisk again.
Pour the ganache over the caramel and chill in the refrigerator for 8 hours (or freeze for 30 minutes), until set.
Before serving, sprinkle the tart generously with flaky sea salt.
Enjoy!