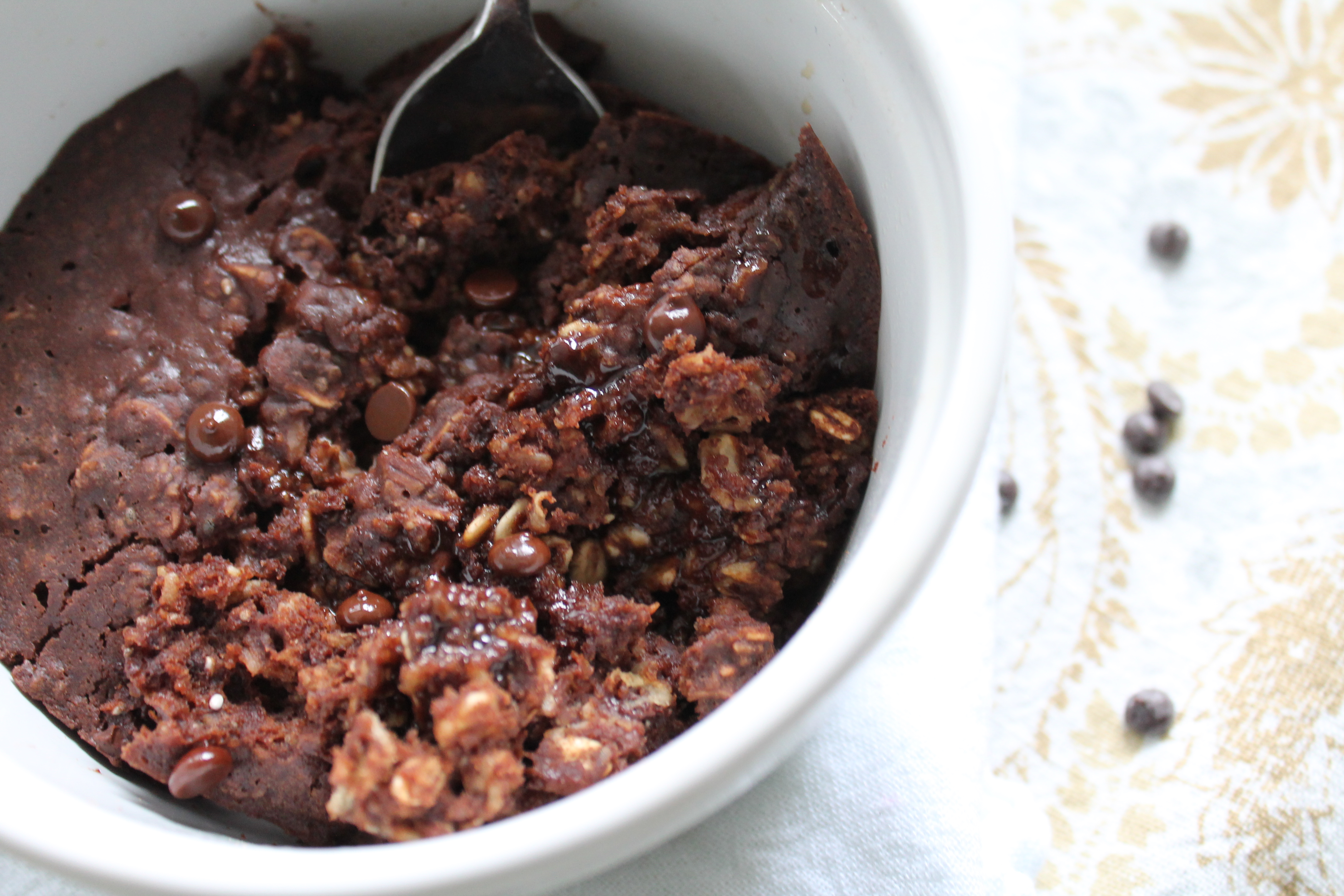 One of the hardest parts of giving up dairy has been figuring out what to eat for breakfast.
There have been a lot of mornings in the last month and a half that found me staring listlessly into the open refrigerator for five minutes, walking away grumpily, going back two times, and then opting to just drink coffee and wait until lunch. (P.S., those days also found me binge eating Triscuits with hummus at 11:20 because I was just too hungry to keep waiting…)
Before you go on suggesting all the things you think I should eat, let me just remind you: no dairy, no meat, no fruit (because yuck.), no refined sugar first thing in the morning. And let me nip it in the bud before you start telling me about all the great fake dairy I can use instead of butter.
Butter. I miss you. Nothing could ever take your place.
(P.P.S., I made a lot of my Christmas cookies with Earth Balance this year, and I would be totally lying if I pretended that my refrigerator standoff hasn't ended with me hiding in the corner of the kitchen, despairingly eating butterless cookies for breakfast. At least three times. And then suffering the sugar coma consequences.)
Isn't it amazing that in a world full of buttery, yogurty breakfasts, there are also dishes of baked oatmeal that are vegan and taste just like brownies?
Brownies are the best. I have been known to eat my feelings, and this is just the best possible way to do that! Brownies are indulgent and comforting, and yet we could even call this brownie healthy! There are whole grains, chocolate (we have to take care of our souls, too, people), chia seeds, healthy fats, and no refined sugars!
Breakfast, above all, should be easy to make. This brownie bowl is easy to make…but like all baking, it requires a bit of measuring. And then waiting. You can mitigate that by making a quadruple recipe instead of a single serving! But I definitely think this baked oatmeal is best when it's fresh and just a little gooey…and I don't like to share. (Cue me, still hiding in the corner of the kitchen, shoving spoonfuls of hot breakfast brownie into my mouth.)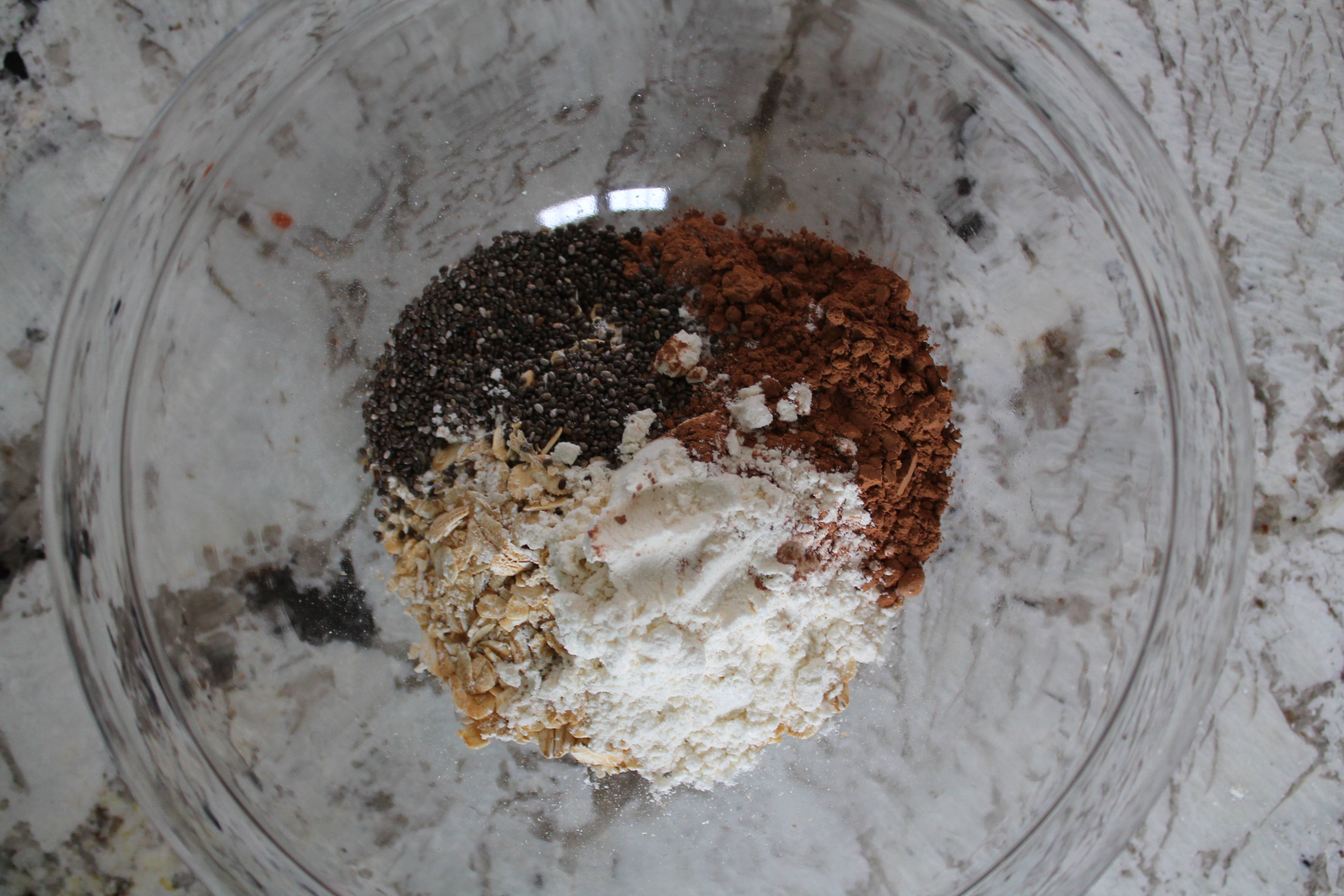 Whisk together rolled/old fashioned oats, flour (hey! are you gluten-free? You can use any flour you want here, from whole grain to GF), cocoa powder (or even cacao powder, for some extra vitamins), chia seeds, and baking powder with a pinch of salt.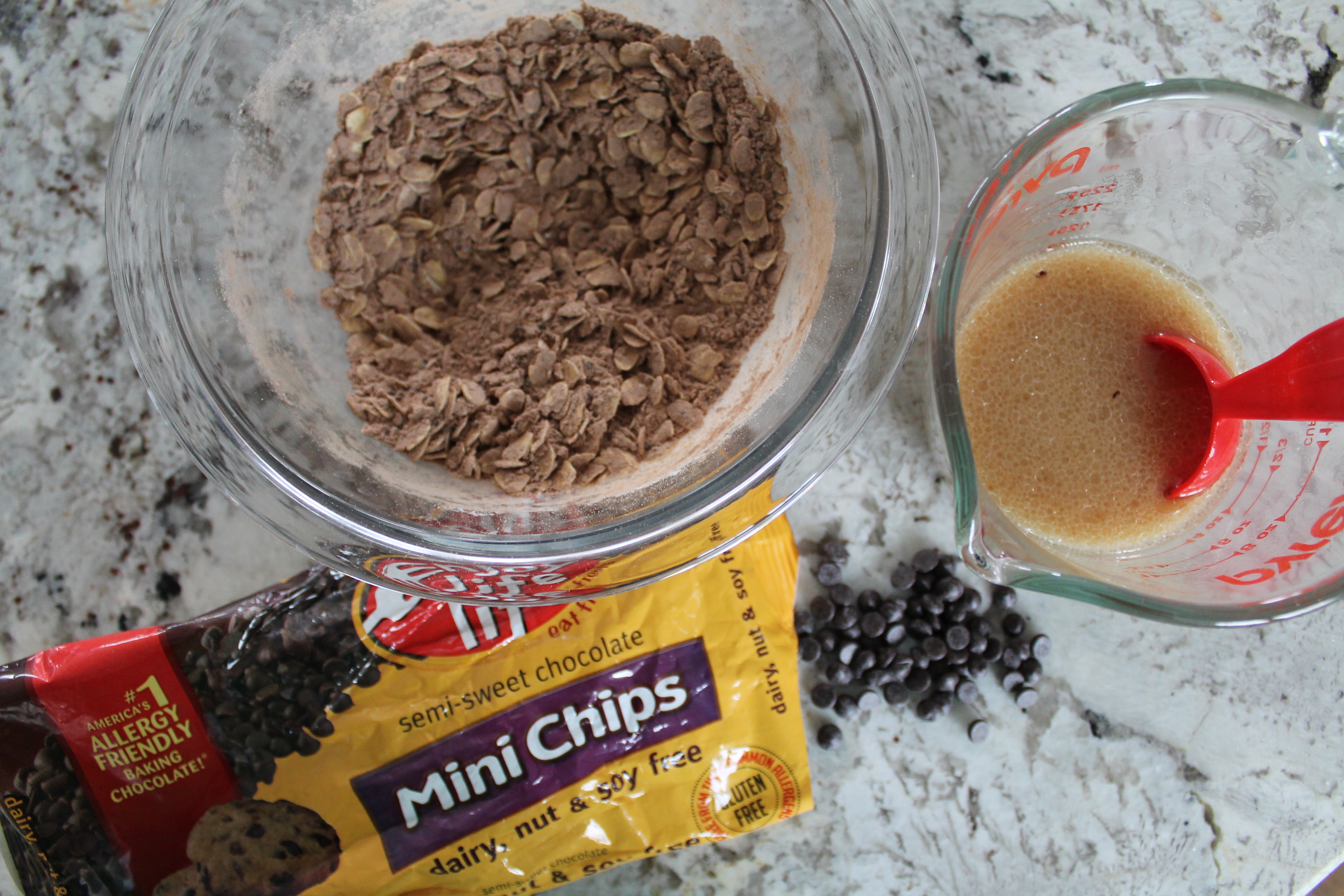 In a measuring cup, stir together almond milk (I highly recommend using unsweetened and unflavored, because less processing and less sugar is better for you), melted coconut oil, vanilla extract, and maple syrup.
By the way,the worst part about having to go dairy free is that there are no substitutes that can mimic the same creamy mild flavor. Most non-dairy milks taste like nuts or coconuts. Most non-dairy fats taste like coconut or else weird grease.
But if you combine two different flavors together, like coconut oil plus almond milk, neither is overpowering, and they kind of fade into the background!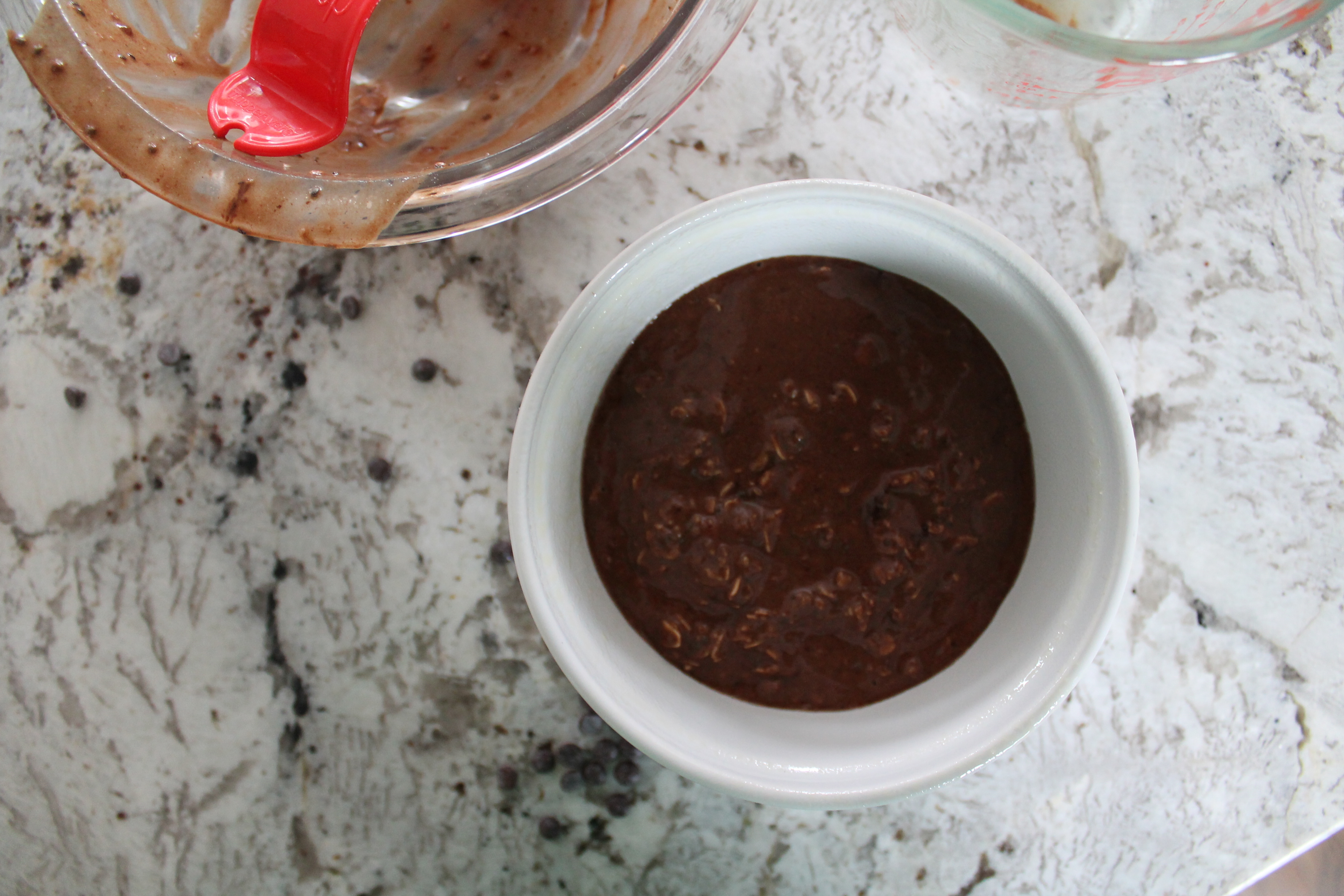 Stir the liquid into the dry ingredients. Now you can add some dairy-free chocolate chips! We deserve chocolate. But if you just don't think that chocolate chips in the morning is a good plan, you could also substitute some chopped toasted nuts, like hazelnuts or pecans, or some raw cacao nibs.
Scrape the oatmeal mixture into a large, greased ramekin (or, if you are making a multiple batch, a square baking dish).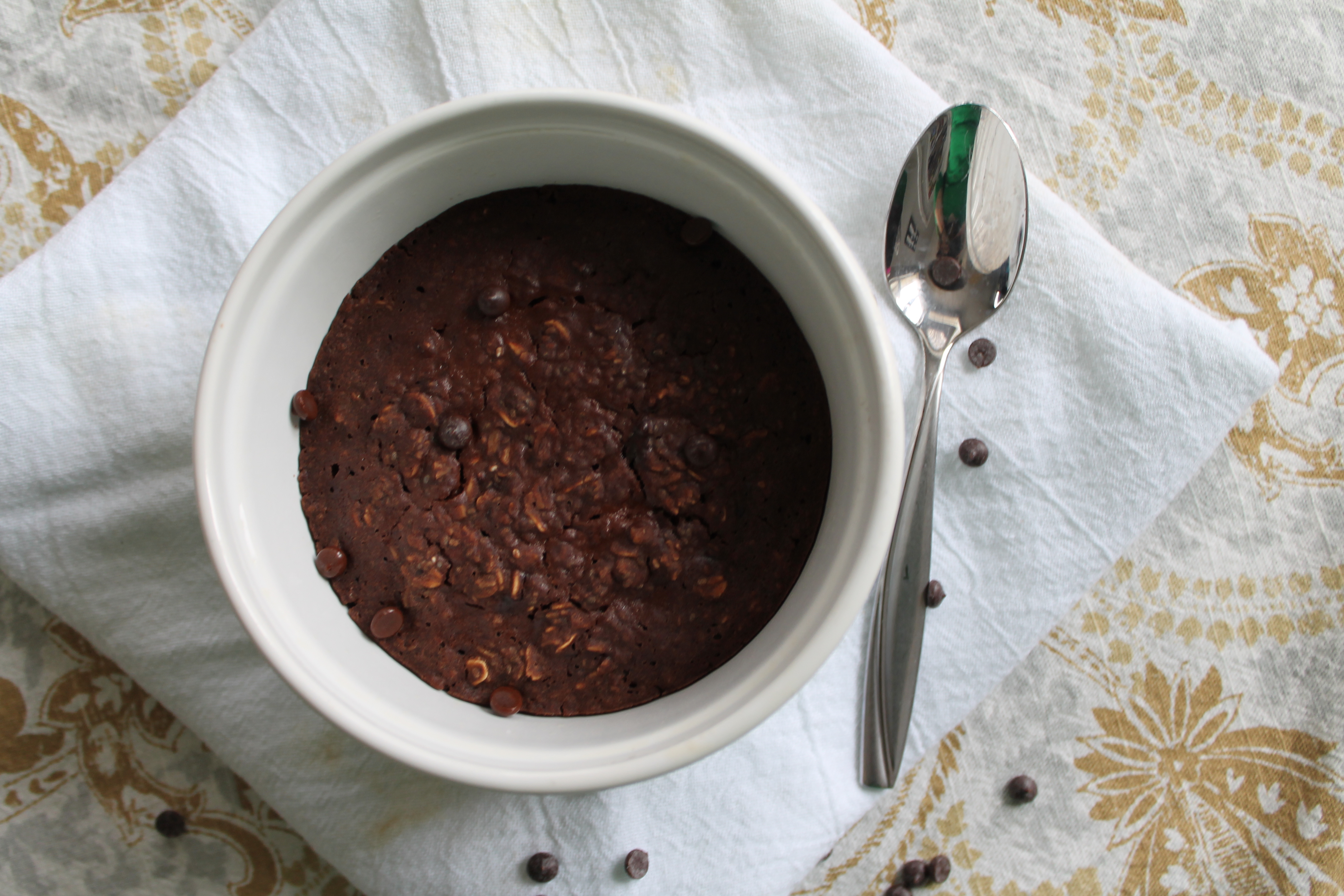 Bake for 12-15 minutes at 325°. Eat it immediately. The center should still be soft and a little gooey, while the edges are a little bit chewy. Like a perfect brownie!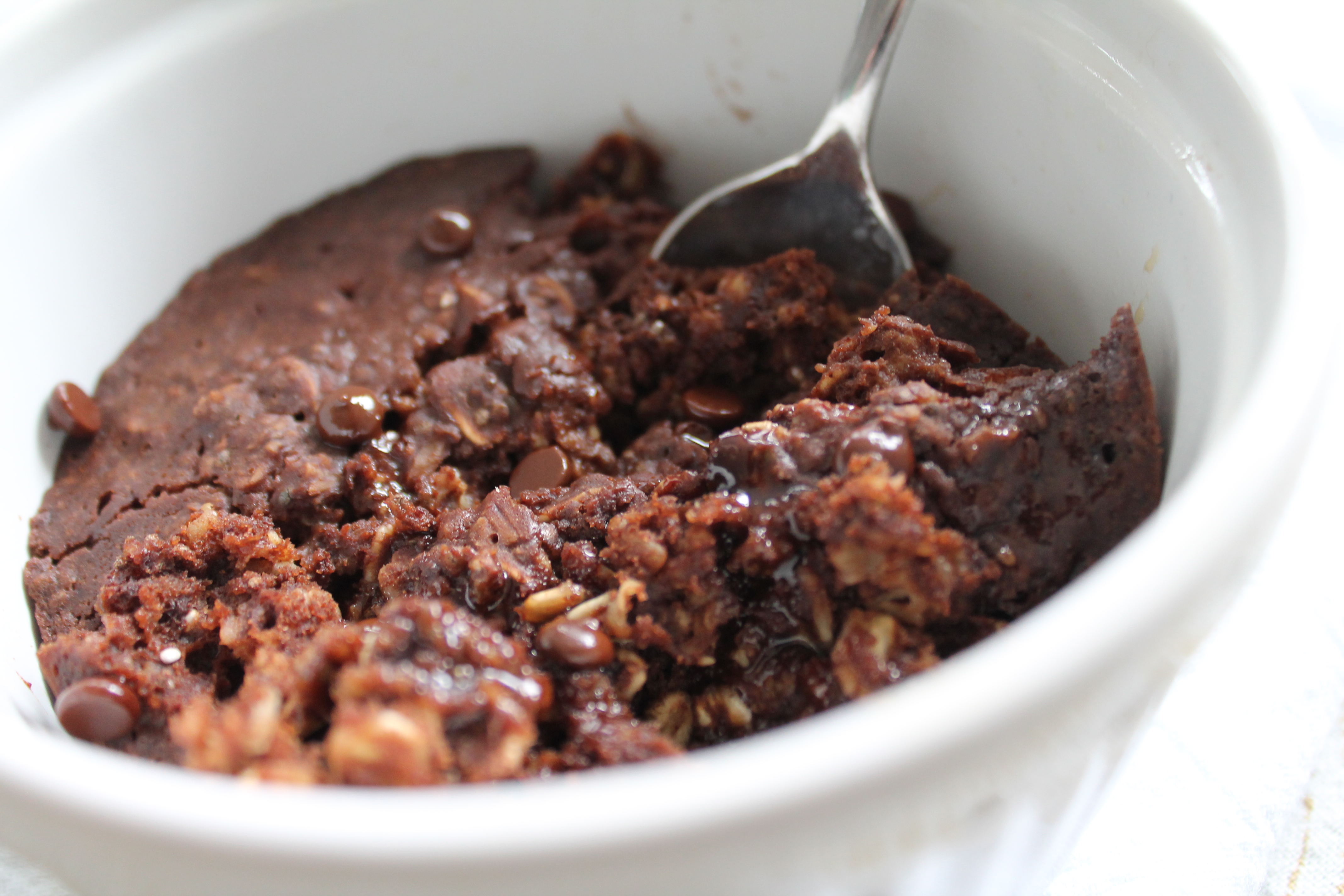 Brownie Baked Oatmeal
lightly adapted from Running with Spoons
serves 1
Ingredients:
⅓ cup rolled oats
2 tbsp. flour
1 tbsp. cocoa powder or raw cacao powder
1 tsp. chia seeds
¼ tsp. baking powder
large pinch of salt
⅓ cup unsweetened almond milk
1 tsp. melted coconut oil
1 tbsp. pure maple syrup
1 tsp. vanilla extract
1 tbsp. Enjoy Life mini chocolate chips, or other dairy free chips
Directions:
Preheat oven to 325°. Lightly oil a large ramekin or other oven-safe dish.
Whisk together oats, flour, cocoa powder, chia seeds, baking powder, and salt in a small bowl.
In a separate bowl, stir together almond milk, coconut oil, maple syrup, and vanilla.
Mix the liquid and the chocolate chips into the dry ingredients. Transfer the oatmeal to the prepared ramekin.
Bake for 12–15 minutes, depending on desired gooeyness or chewiness.
Enjoy warm!