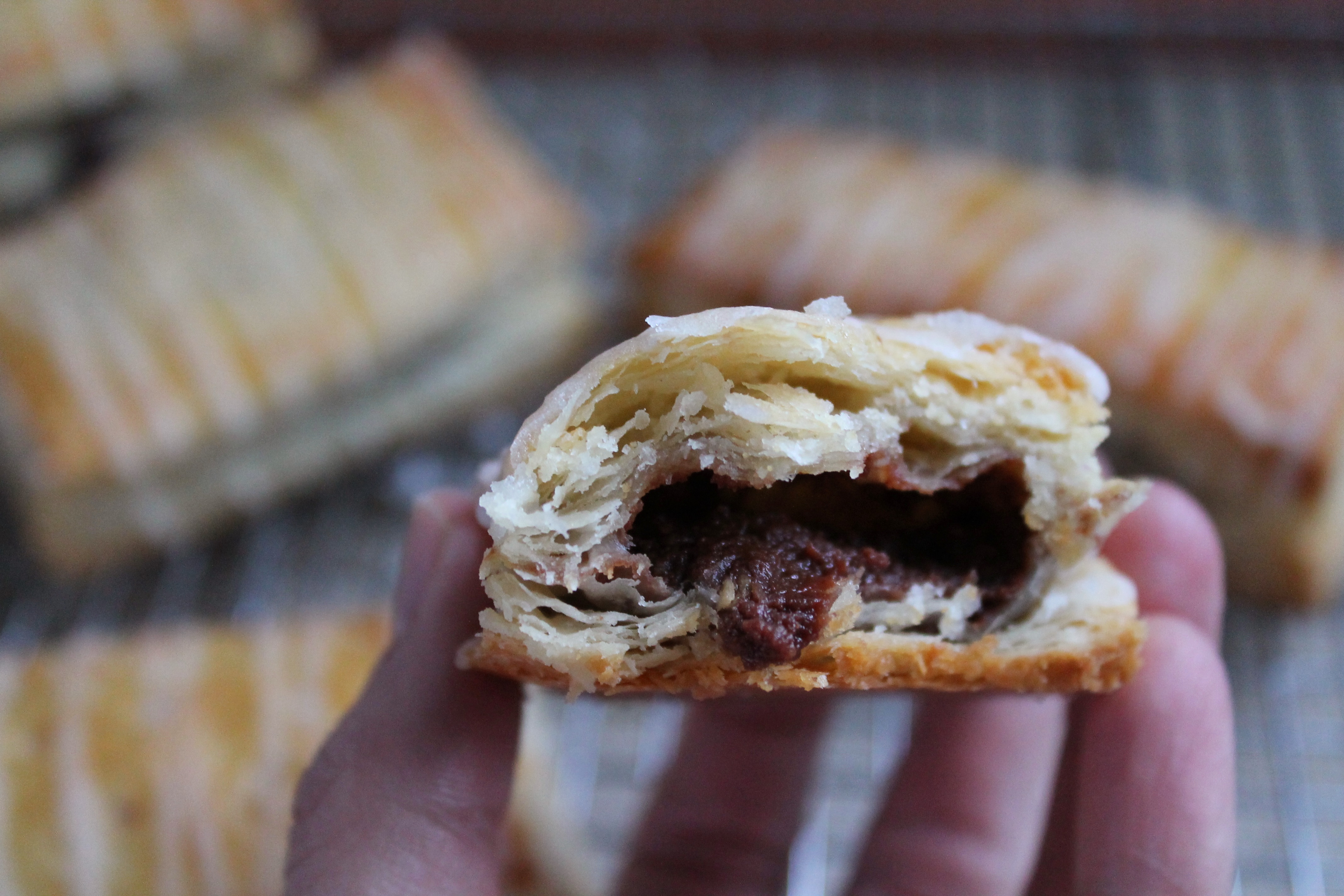 I know you are probably getting sick of sweets from me. And I was all geared up to share a few simple savories…but then I realized it's going to be Valentine's day very soon.
And I have a long tradition of covering you in chocolate for Valentine's day. Chocolate is, after all, one of my first loves.
So here we are. And you may, if you have been tracking with me for a while, notice something special about the amazing pastries I am sharing with you today: they are full of BUTTER!
Woot! Caitlin's pediatrician cleared me to eat dairy again. This may or may not have happened two days after I had a small psychotic break and ate a cupcake that I totally meant not to eat.
Anyway. You better believe I have been loading up on all the cheese and butter and cream I have been craving for the last few months. Because as delicious as food can be without dairy, it's hard to achieve true decadence in the absence of butter.
So I decided this year that we would indulge in breakfast instead of saving all our chocolate for dessert. (Though, let's be honest, these strudels make an amazing dessert if you have the patience to wait for dinner time!)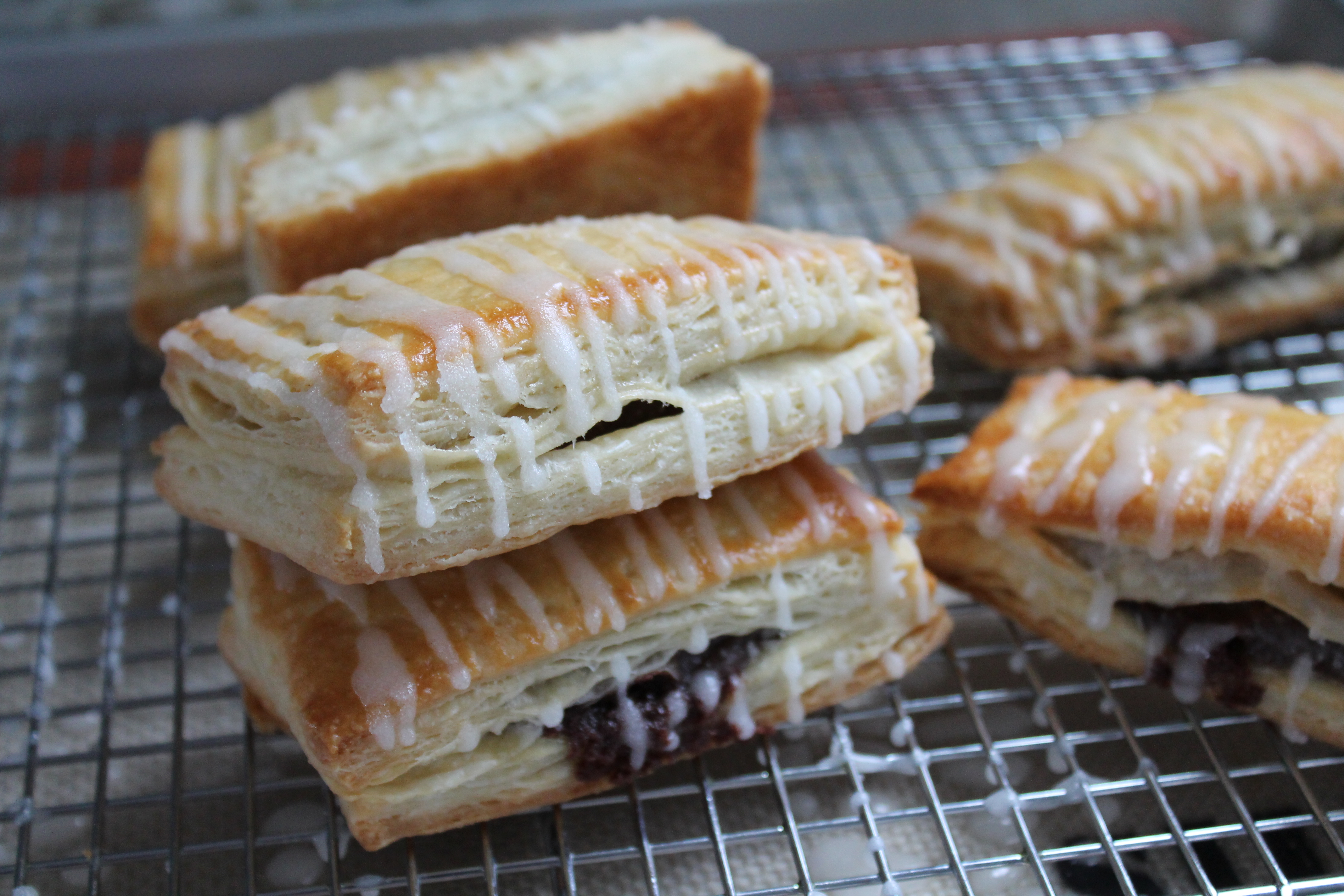 When I was a kid, I ate lots of Pop-Tarts. Chocolate Pop-Tarts were a staple of my childhood, right alongside sugarless cereal and peanut butter toast. I loved flaking off every last morsel of icing, nibbling the crusts, licking the frosting, testing the limits of my parents' patience by taking 15 minutes to eat a single Pop-Tart…
But the real treats were toaster strudels. They were buttery and crispy and so much fancier than a regular old Pop-Tart. Every flaky, sugary bite was like a bite of heaven. It was always a luxury when toaster strudels appeared in the freezer, and we saved them for special occasions, like Valentine's day and the fourth of July.
Now that I'm a seasoned baker, I resist buying things in the store that I know I could make at home. It's really a point of pride, knowing that I could make it if I chose to. Of course, every time I think about making Pop-Tarts, it seems like more work than just buying a box…. If you are sensing a vicious cycle that ultimately resulted in me not eating Pop-Tarts for almost a decade, then you are spot on.
But in a rare "aha!" moment as I was thinking about Valentine's day desserts, I realized that I had some homemade puff pastry in the freezer, Nutella in the pantry, and a hankering for a toaster strudel.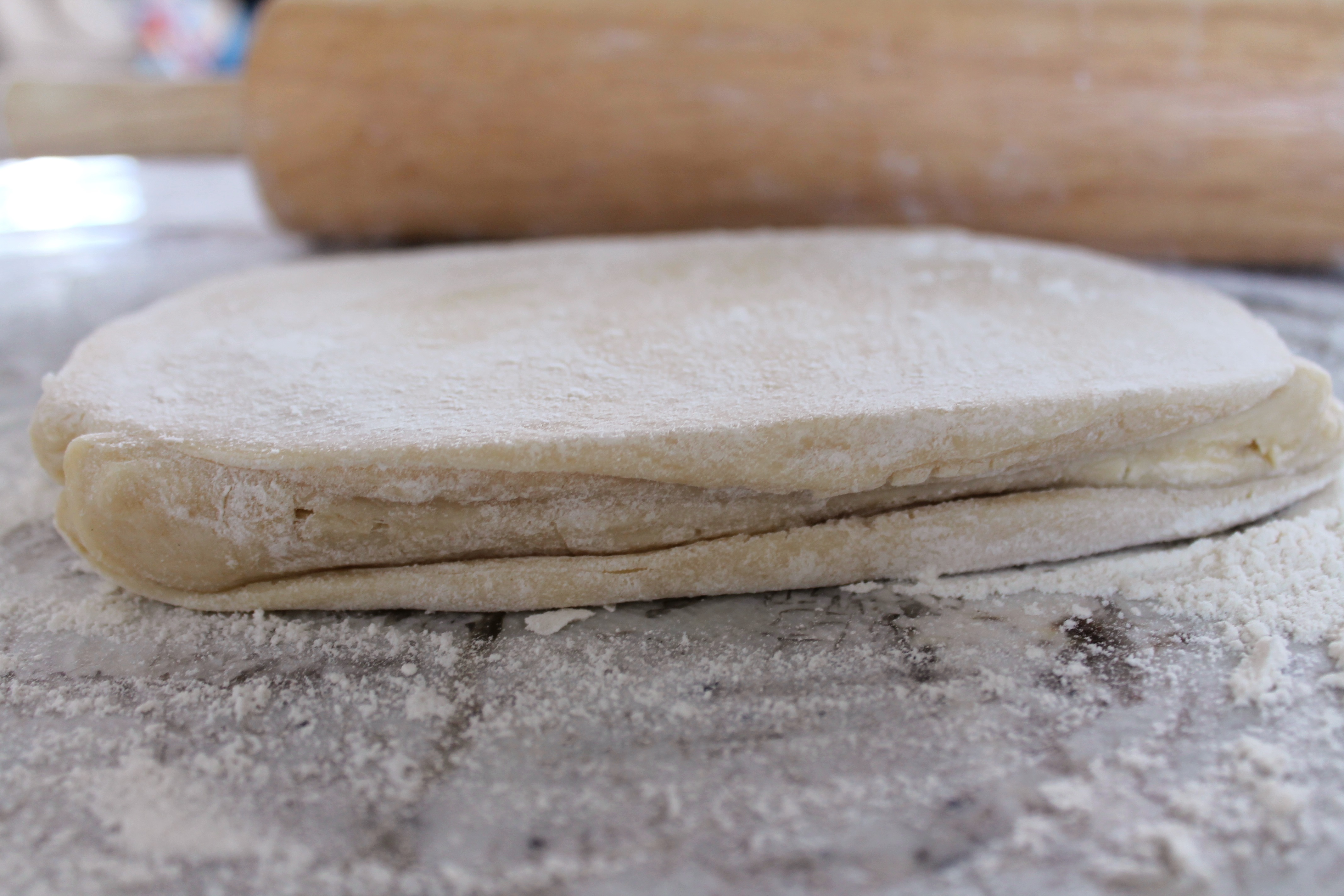 First of all…you do not have to make your own puff pastry. (Dufour makes a respectable all-butter puff pastry, and you can buy it online if your grocery store doesn't carry it.) But! I will promise that it's not as terrifying to make your own as it sounds. The great thing about making your own is that you can use natural ingredients and skip all the funny preservatives. And the really great thing about making your own is that you can freeze it, and rediscover it a few months later, just in time to make some amazing filled pastries….
I will teach you how to make puff pastry another time. For now, we are just going to whip out some super delicious strudels in so much less time than you think.
By the way, in case you can't tell from the amazing puff and flakiness in the photos, we are not making Pop-Tarts here. That would require a shortcrust rather than puff pastry. We are making something far superior to Pop-Tarts. We are making a beautiful, light, filled pastry, the best possible version of those toaster strudels I enjoyed as a kid: a cross between a turnover and a chocolate croissant.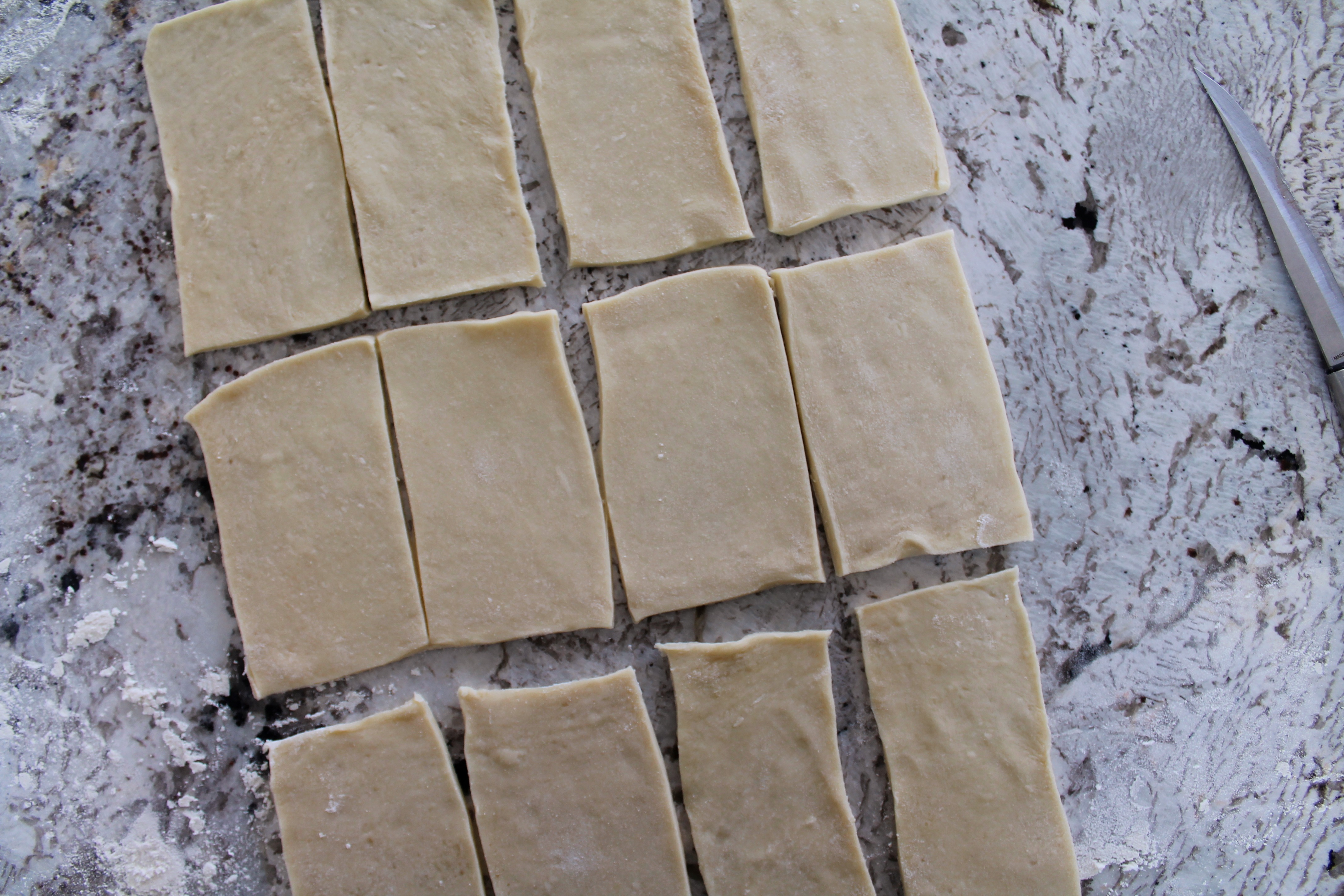 Roll out the puff pastry to a large rectangle, about ¼″ thick and about 10″ by 18″. Trim the jagged edges and cut the pastry into twelve 3″x5″ rectangles, as equally as you can. I folded my dough in half and cut my rectangles so that I could be sure there would be matching rectangles! If you want to get really precise about it, you can use a ruler and a straightedge. But I usually find that the pastry shrinks and wiggles a little as I cut it, so I don't really bother with getting terribly precise. Rustic is tasty, too.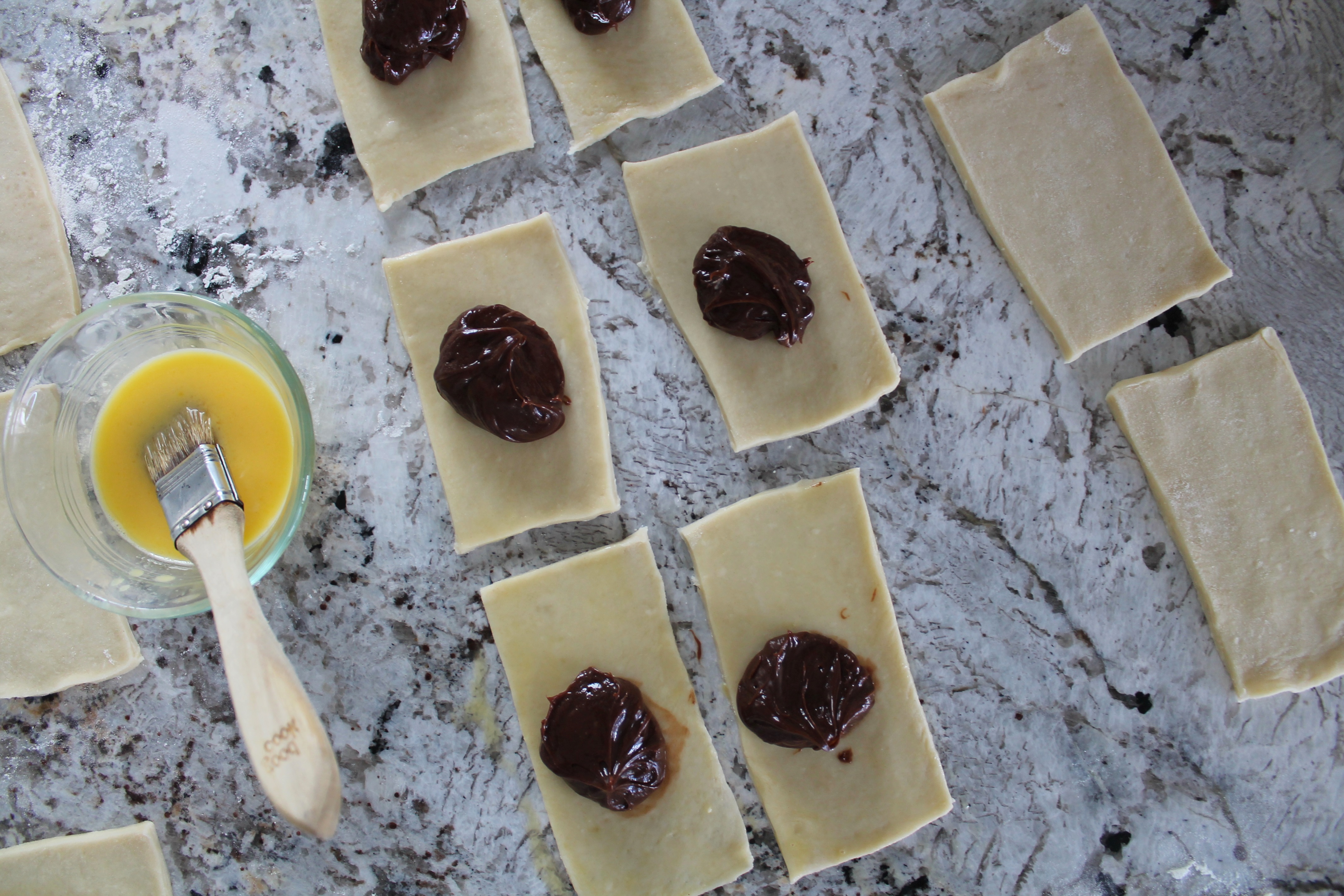 Now that the pastry is cut, it's time to prep the filling!
I have eaten several homemade Pop-Tarts that had dried out or burned filling. We are filling these puppies with Nutella, which is so creamy and delicious! Plus, it doesn't require you to temper any chocolate. But to make sure the filling stays nice and smooth and silky when we bake it, we will mix in a little Greek yogurt! I love to use 10% fat Cabot yogurt for its delicious, mild flavor. It tastes just like crème fraîche. YUm. Not to mention that adding the Greek yogurt gives these pastries a tiny boost in the protein department, to offset the sugar in the Nutella.
In a small, separate bowl, whisk together an egg wash (1 egg plus ½ tbsp. water). Brush half of the pastry rectangles with the egg wash. This will be the base of the strudels, and the egg will help the top layer of pastry to seal properly!
Spoon the filling into the center of the brushed pastry rectangles. Spread it out a little, leaving at least ¾″ space around the edge.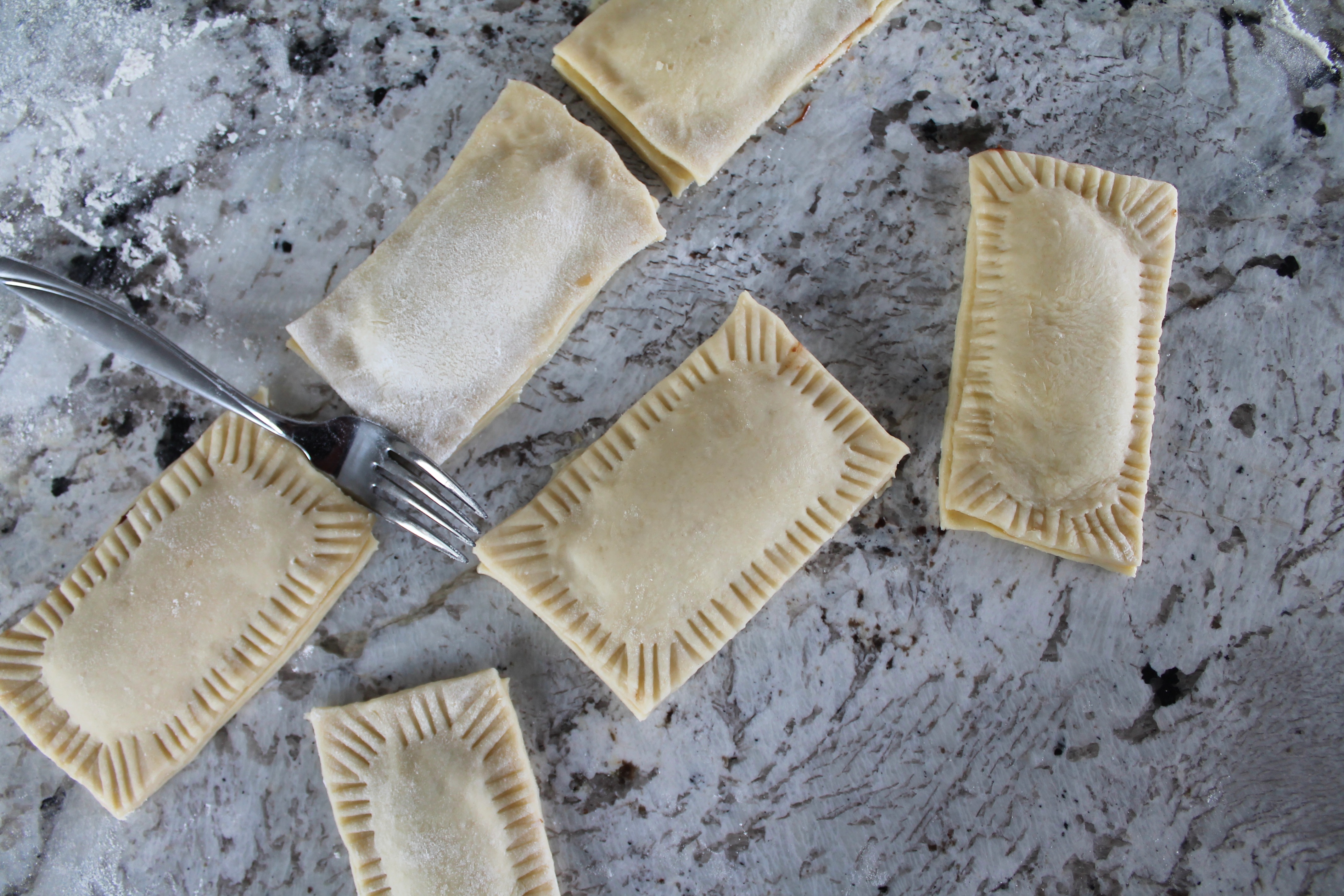 Top the strudels with the matching pastry rectangles and seal the edges by pressing with your fingers. If you like, crimp the edges with a fork. I did this, not because the pattern will be visible (remember, these are puffed strudels, not Pop-Tarts) but because I wanted to be sure the edges were sealed as well as possible so they wouldn't explode in the oven.
Place the strudels on a lined cookie sheet and chill for 30 minutes.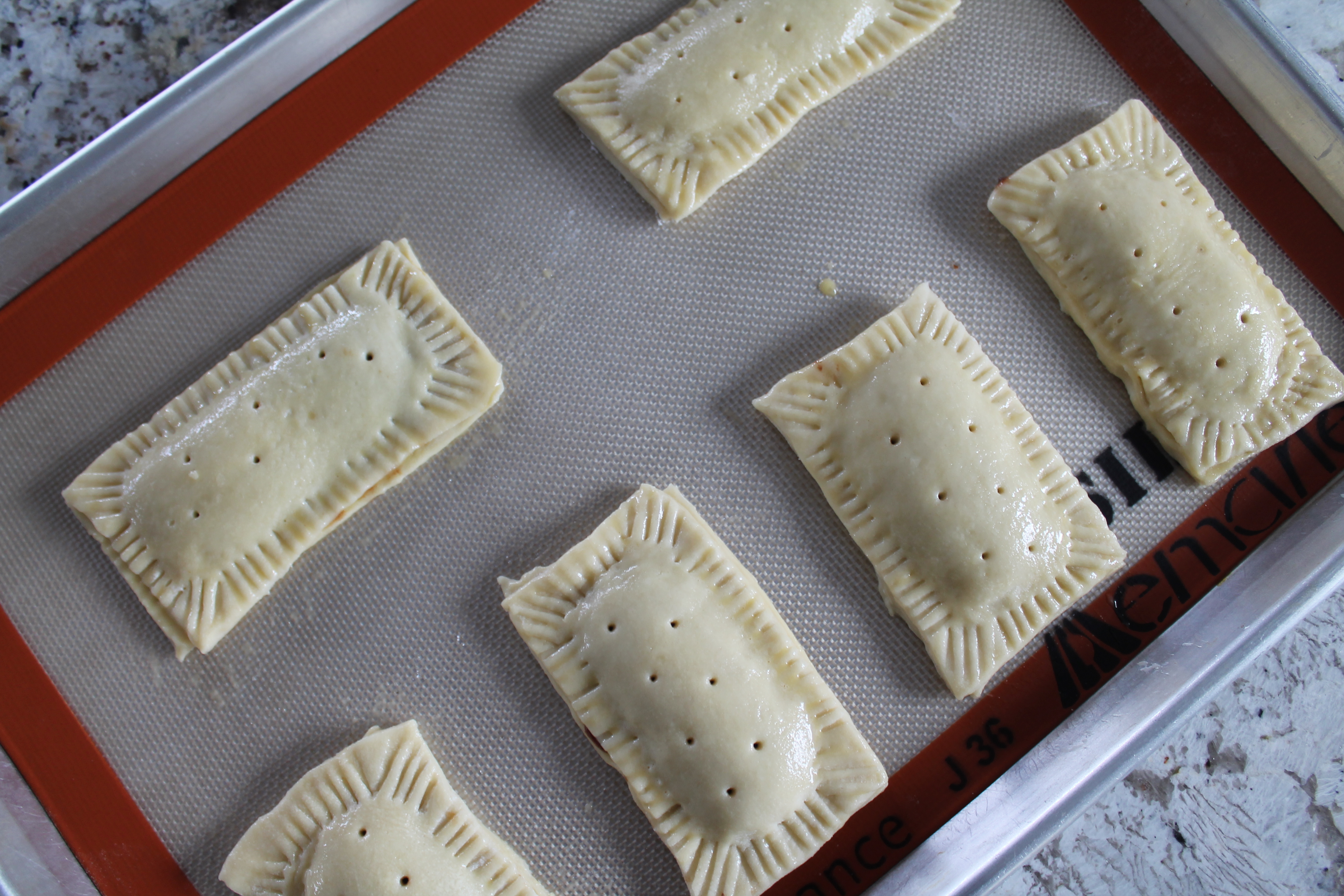 Before baking, pierce the tops several times with a fork or a skewer to vent the filling a little as it bakes. This will also make the pastries less likely to pop open. Brush the pastries with the remaining egg wash so that the tops will brown beautifully as they bake.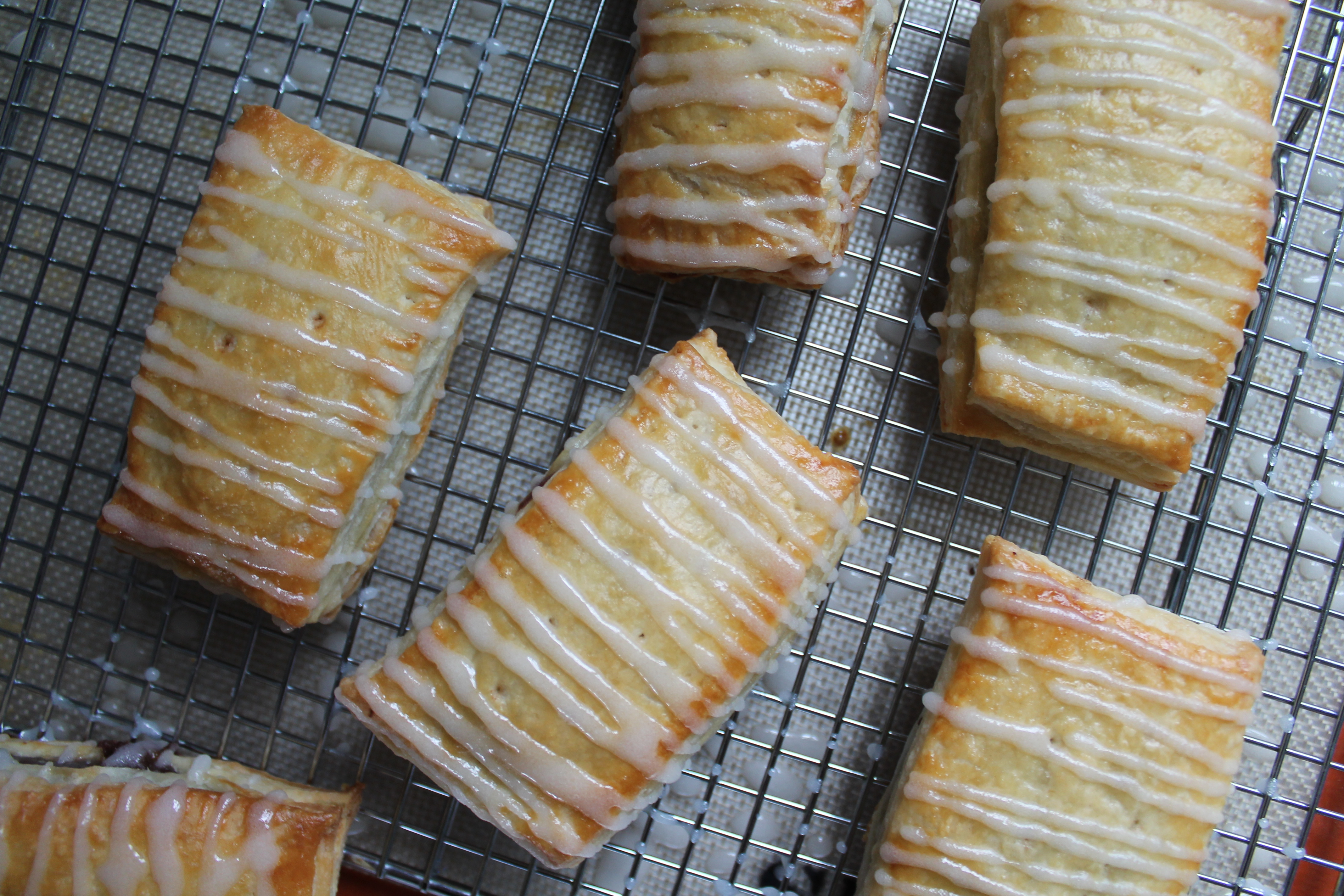 Bake for 25–30 minutes at 375°. The strudels should be beautifully puffed and golden on top. Maybe a little of the filling leaked out. Maybe not. Gorgeous.
If you like, drizzle the pastries with a little glaze. Or spoon it on. Leave them plain. Add sprinkles. You do you. But make these strudels for a special occasion! Make them for your friends or your sweetheart. They are amazing.
Nutella Breakfast Strudels
a Melissa original
makes 6
Ingredients:
1 lb. all-butter puff pastry
1 egg mixed with ½ tbsp. water
¼ cup Nutella or other chocolate hazelnut spread
2 tbsp. Greek yogurt (Cabot 10%)
½ cup confectioner's sugar
1–2 tbsp. whole milk
Directions:
Roll the puff pastry out into a thin rectangle, about 10″x18″. Cut the dough in half and lay the top half over the bottom. With a sharp knife or a pastry wheel, cut into 6 rectangles.
Separate the pastry rectangles into matching top and bottom squares.
Brush the egg wash over half of the pastry. These will be the strudel bases.
In a small bowl, stir together the Nutella and Greek yogurt. Place 1 tbsp. of the mixture in the center of each brushed pastry rectangle. Lightly spread the filling on the pastry, leaving about ¾″ space from the edge.
Place the matching tops on the strudels and press to seal the edges. Pierce the top of each strudel several times to vent the filling. Brush the tops with the remaining egg wash.
Chill the strudels for 30 minutes.
Heat the oven to 375°.
Bake the strudels for 25–30 minutes, or until puffed and golden on top.
While the strudels bake, whisk together confectioner's sugar and 1 tbsp. milk to make a thick glaze. If the glaze is too thick to drizzle, add more milk, little by little, to thin it out.
Let the strudels cool for 5 minutes, then drizzle with glaze.
Enjoy warm or at room temperature!