Last week, we went to the beach.
It was eventful, to say the least. (Just picture losing not one but two of your children for several heart-stopping minutes, while the third eats sand every single time you look away.)
After we decided to stay off the beach (gee…I wonder why?), we basically spent the rest of our time stuffing our faces with donuts and edible cookie dough and crab tots and all-you-can-eat crab.
Which means that this week, I am looking for a some easy ways to treat my body nicely, to put healthy things in, lighter things, things that will help me feel less greasy and weighed down.
And one of those things is romesco.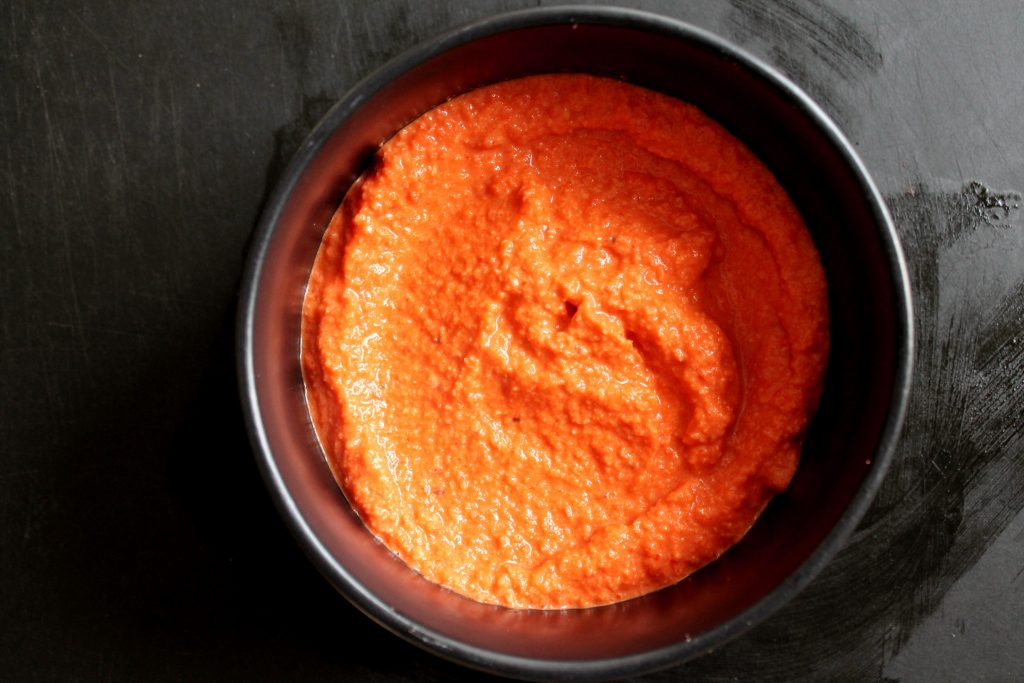 Have you had romesco? It's a roasted red pepper sauce, high in protein from almonds, made from just six ingredients in a food processor! So, so easy, and so delicious!
I have thrown it over pasta and used it as a spread in fancy tacos, but my favorite thing to do with romesco is spread it over grilled cauliflower, an idea I originally got from Love and Lemons. The smokiness of the cauliflower perfectly complements the sweetness of the peppers. It's a simple meal, full of summery flavors, and it's vegan and gluten-free and just dang good.
I like to roast my own red peppers, because it's cheap and easy. Just set them on a cookie sheet and throw them under the broiler.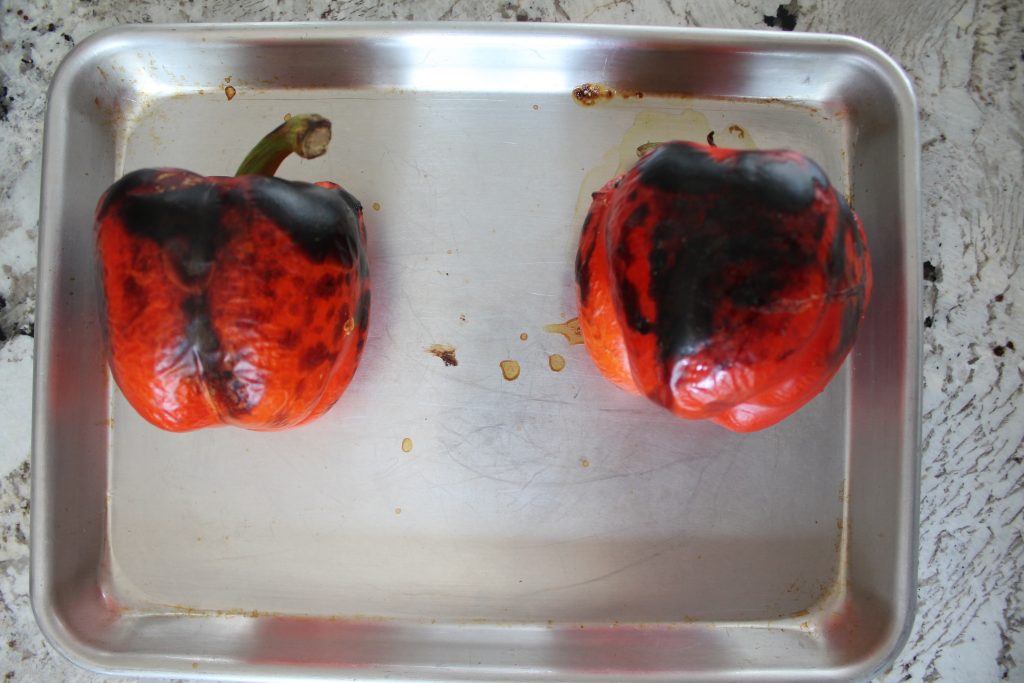 Turn them every 3 minutes or so, until the skins blacken and blister all the way around. When the peppers cool, the skins will peel off in a flash, and the seedy stem will just pull right out.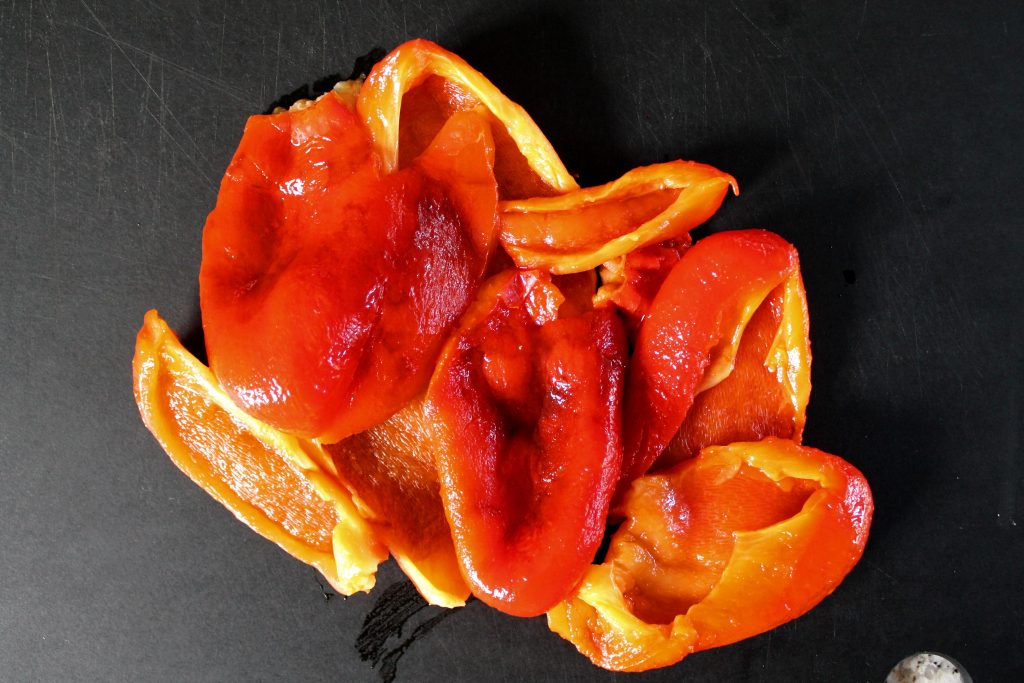 Ta-daa! You have fresh roasted peppers!
The only other prep step is to toast your almonds.
Mollie Katzen's romesco recipe, which I love for its simplicity, calls for blanched almonds. In case you don't know, blanched almonds are skinless, which makes them more tender.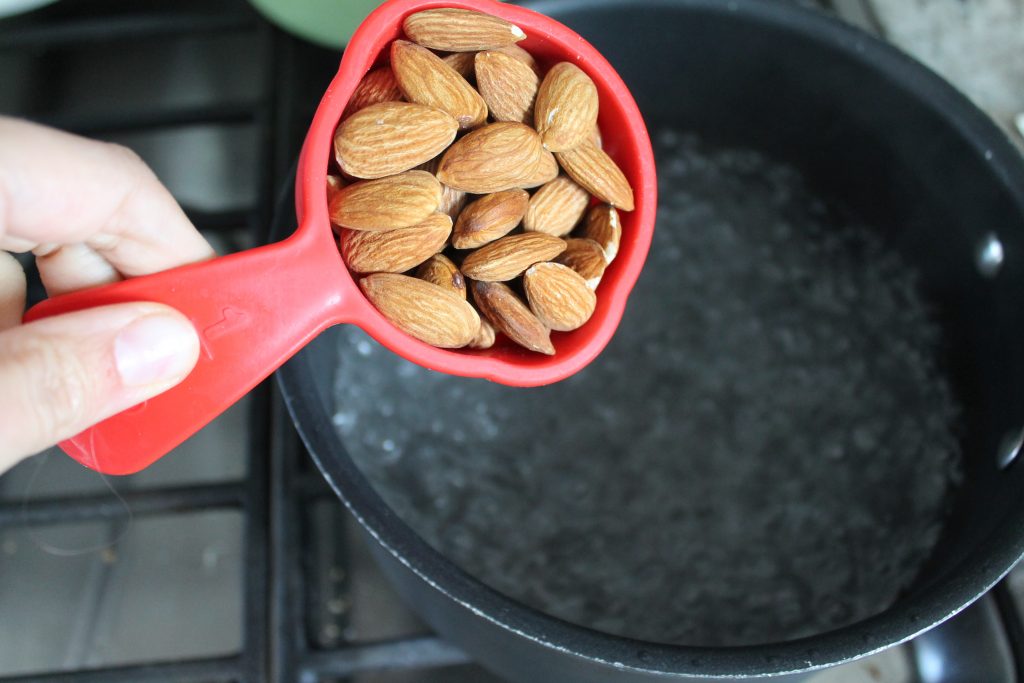 I decided to try blanching my own, and it was a lot easier than I expected! Just boil the almonds for 1 minute, until they all float, and then rinse in cold water to cool. When you pinch them, the loosened skins will burst and a little naked almond will squirt out.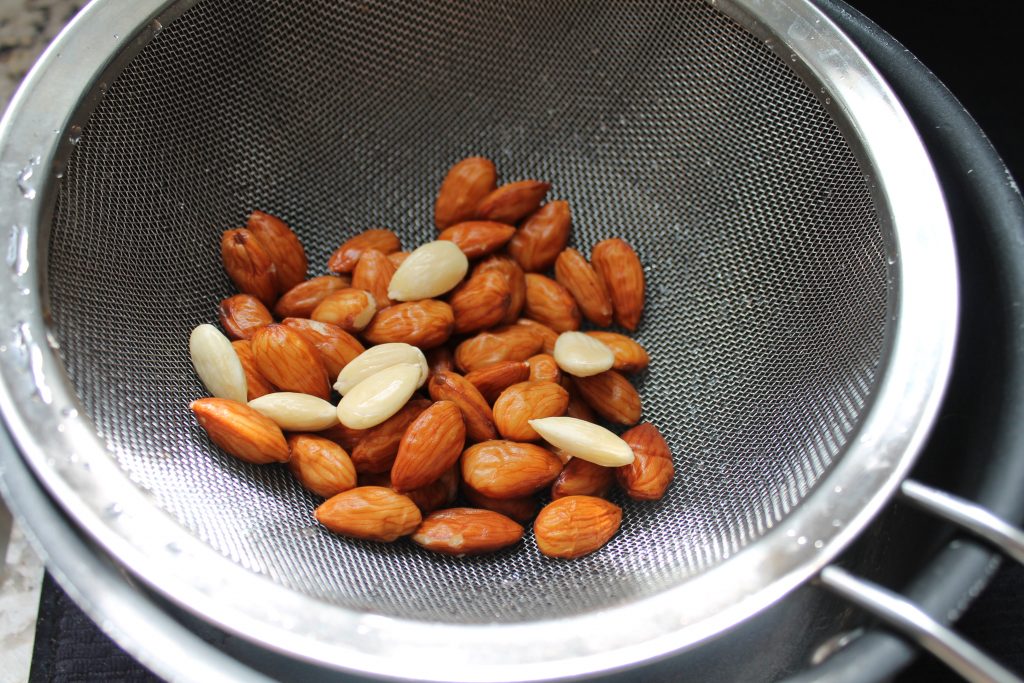 This step did take some time, kind of like de-stringing beans or shelling peas (with the same methodical rhythm). Normally I would buy what my store calls "slivered almonds," which are pre-blanched and partially chopped, but since I didn't happen to have those on hand, I worked with what I had.
To toast your blanched almonds, just stick them in a 300° oven on a rimmed cookie sheet, and shake the pan every 5 minutes. After 10–15 minutes, they should be warm and fragrant and lightly browned.
Now it's just a matter of throwing everything into a food processor!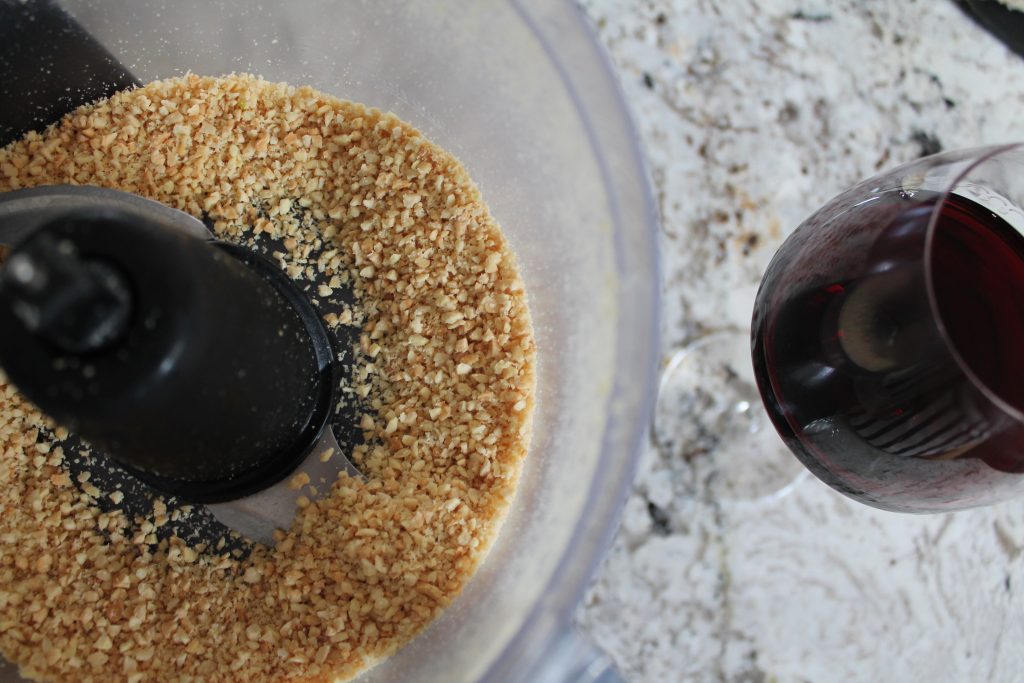 It's a good idea to do the nuts first. Process until they are about the texture of coarse sand.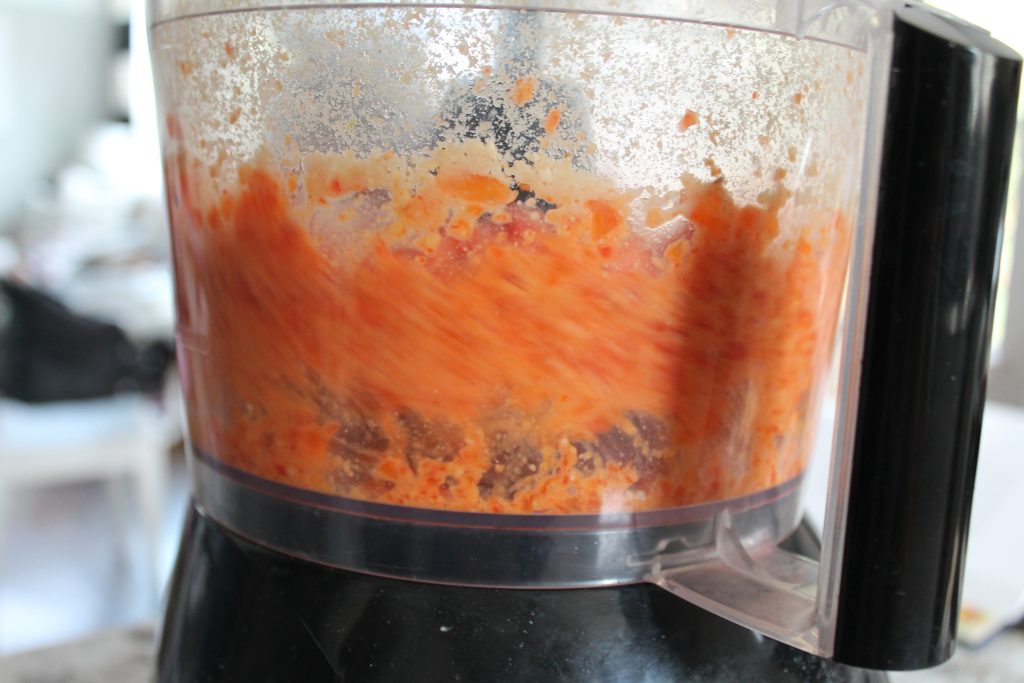 Then add garlic, the roasted red peppers, red wine vinegar, salt, and crushed red pepper. Puree until smooth, about 2 minutes.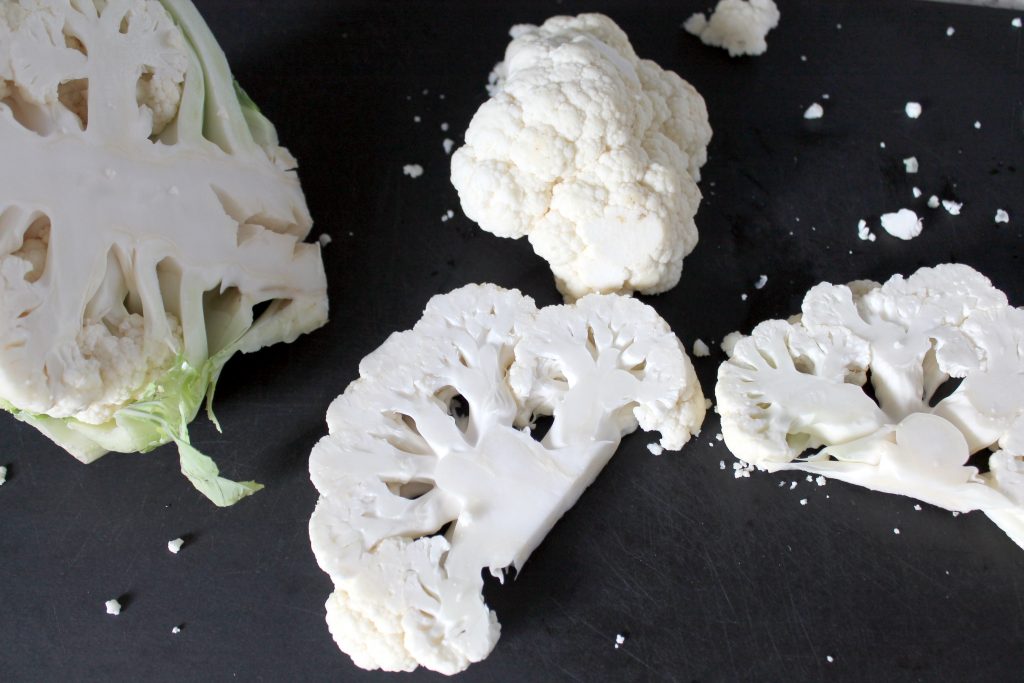 If you like grilled cauliflower, and I can't see why you wouldn't, it's very easy to make! Now that the weather is starting to cool off, you could use your grill outside. I am slightly intimidated by my grill, so I actually used a cast-iron grill plate on my stove. Same effect, with lovely grill marks and a smoky flavor!
Just cut the leaves off your cauliflower and cut two 1″ thick slices from the middle. (You can also slice up the rest, but it won't be connected to that center stem, so only the middle chunks will come out looking like a thick, solid "steak" of cauliflower.)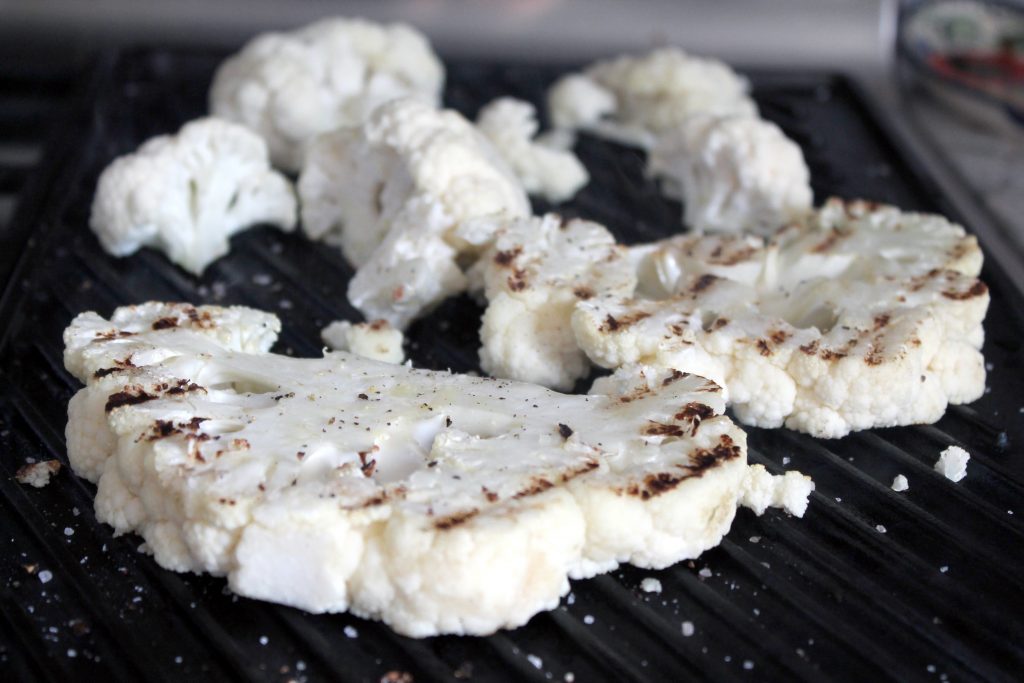 Lightly rub both sides of the cauliflower steaks (and any other chunks of cauliflower you have) with olive oil and season with salt and pepper.
Grill over medium-high heat for 3–5 minutes per side, until the cauliflower is beginning to look slightly less opaque and has nice grill marks on each side.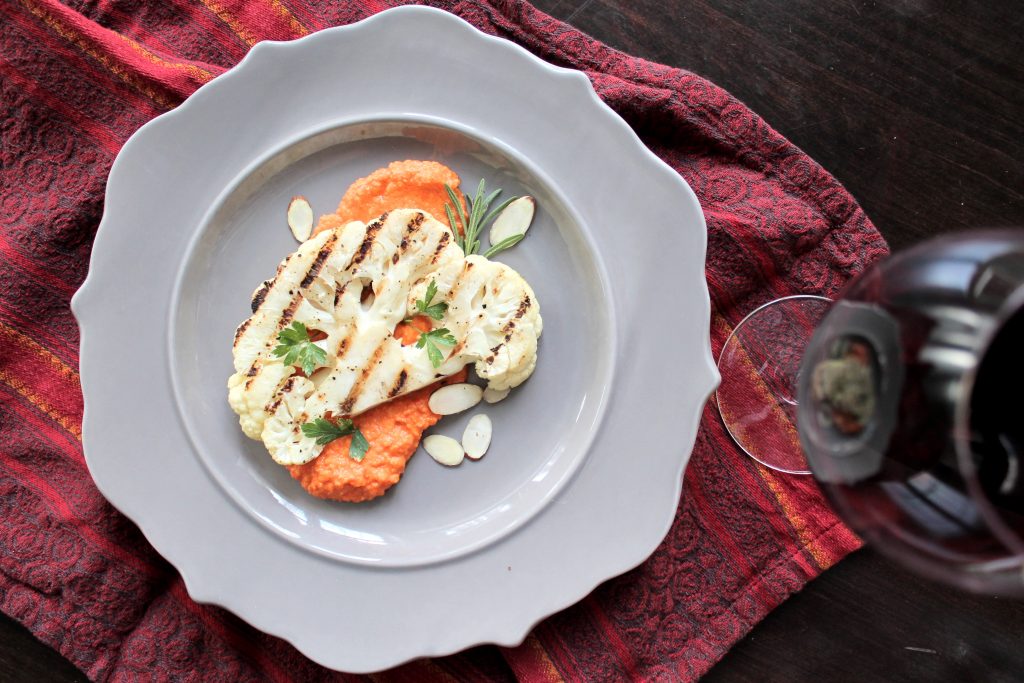 Serve over the romesco! I also love rosemary and parsley with roasted red peppers, so I ran out to my herb garden and plucked a few fresh herbs to throw over the top of my plate.
I'm still trying to convince my children that roasted peppers are delicious, so I made them a quick batch of buttered noodles to mix in with their romesco, but you could also add a chunk of seedy bread to round this meal out and keep it vegan.
Easiest Romesco Sauce with Grilled Cauliflower
Ingredients
2

large

red bell peppers*

½

cup

blanched almonds**

3-4

large

cloves garlic,

roughly chopped

2

tsp.

red wine vinegar

½

tsp.

salt

⅛-¼

tsp.

crushed red pepper

1

small

head cauliflower

fresh chopped rosemary or parsley

(optional)
Instructions
Preheat the broiler and place the red peppers on a cookie sheet.

Broil the peppers for 3 minutes per side, until the skin is blistered and blackened in places all the way around. This may take up to 20 minutes, depending on how hot the broiler is and how long the peppers take to heat up.

Allow the peppers to cool completely, then peel off the skins and remove the stem and seeds.

Toast the almonds either on a medium-hot skillet or in a 300° oven for 10-15 minutes, until lightly browned and fragrant. Make sure to stir or shake the pan intermittently to prevent the nuts from burning. (If you use slivered almonds, this step will take less time!)

Place the almonds in the food processor and pulse until they reach the texture of coarse sand.

Add the roasted red peppers, garlic, red wine vinegar, salt, and crushed red pepper. Process until the sauce comes together in a smooth puree.

Remove the leaves from the cauliflower and slice it in half through the center. Cut a 1″ thick slice from each half of the cauliflower (i.e., work from the center of the cauliflower head) to make two cauliflower steaks. The rest of the cauliflower can be cut into florets or slices as you wish, but they won't hold together as "steaks."

Rub the cauliflower lightly with olive oil and season with salt and pepper.

Grill the cauliflower steaks and florets over medium-high heat for 3-5 minutes per side, until they can be pierced with a fork and they have grill marks.

Serve the cauliflower with the romesco and fresh herbs (if desired), alongside your favorite bread for dipping!
Notes
*Or use a 12oz. jar roasted red peppers, drained.
**To blanch your own almonds, simply boil them for 1 minute, then pinch to squeeze the nutmeat out of the loosened skins. Dry the blanched almonds before toasting them.
The romesco may be stored in the refrigerator for up to 2 weeks in an airtight container, covered with a very thin layer of olive oil to preserve freshness.