This week it finally got cold. I can smell a crisp chill in the air.
You know what that means. It's chili season!!
When I add chili powder and cumin to a big stewpot, my kitchen is instantly converted into a space of warmth and comfort. I have always found bean chilis to be more interesting and flavorful than their meaty friends, which is why lately I find myself gravitating toward this super simple three-bean version! It is spicy and a little smoky and warms me from my stomach all the way up to my heart.
Unlike my other favorite chili recipe, there is barely any chopping for this recipe: just onion and bell pepper. I use green bell peppers, but you could go with any color. (If you use the sweeter peppers, you may want to scale back on the maple syrup later.)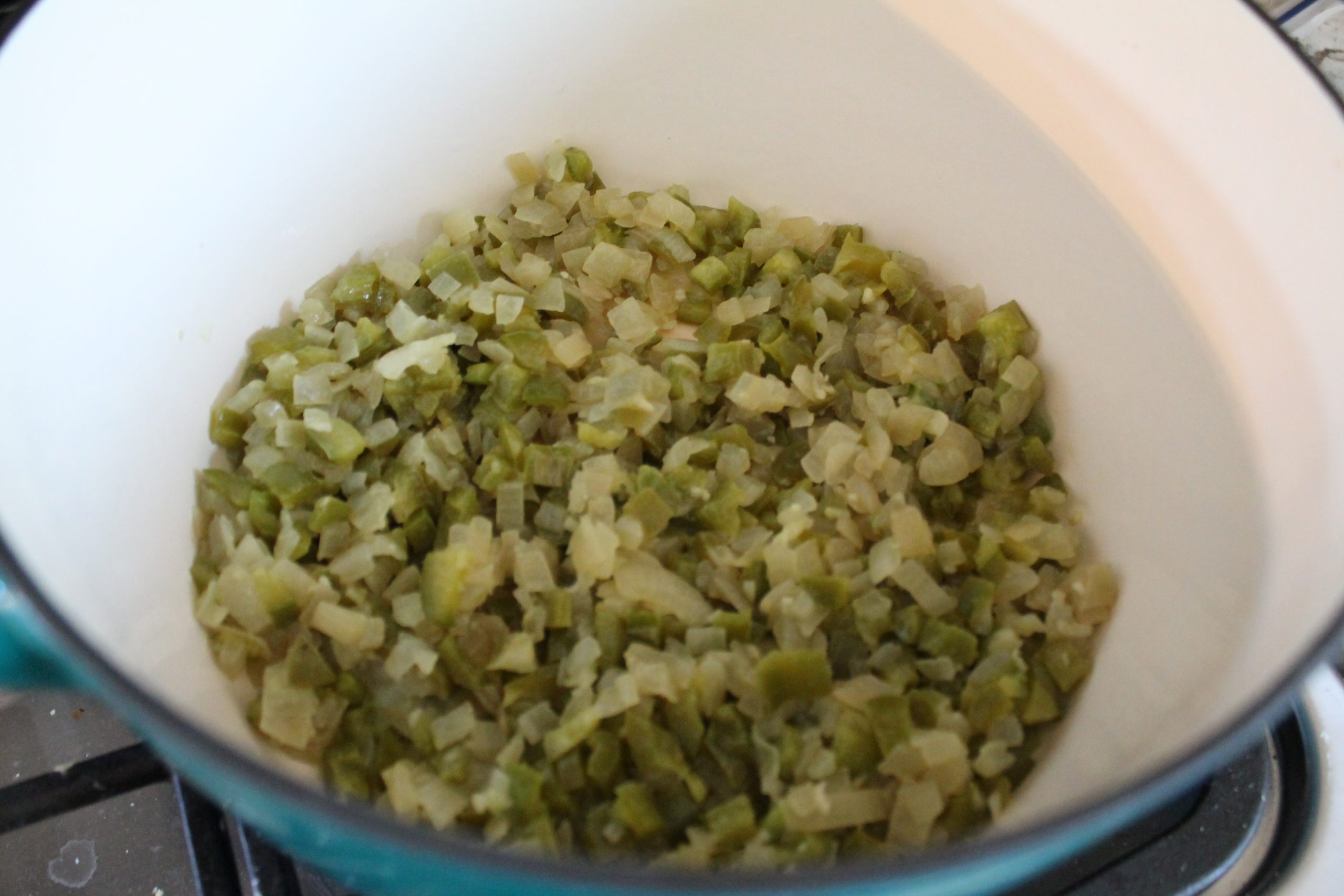 In a Dutch oven, sauté the chopped veggies over medium heat until the onions are translucent. I usually sauté in butter, but you can use olive oil to keep this chili vegan/dairy-free!
Add minced garlic and sauté another minute or two, until the garlic is very fragrant.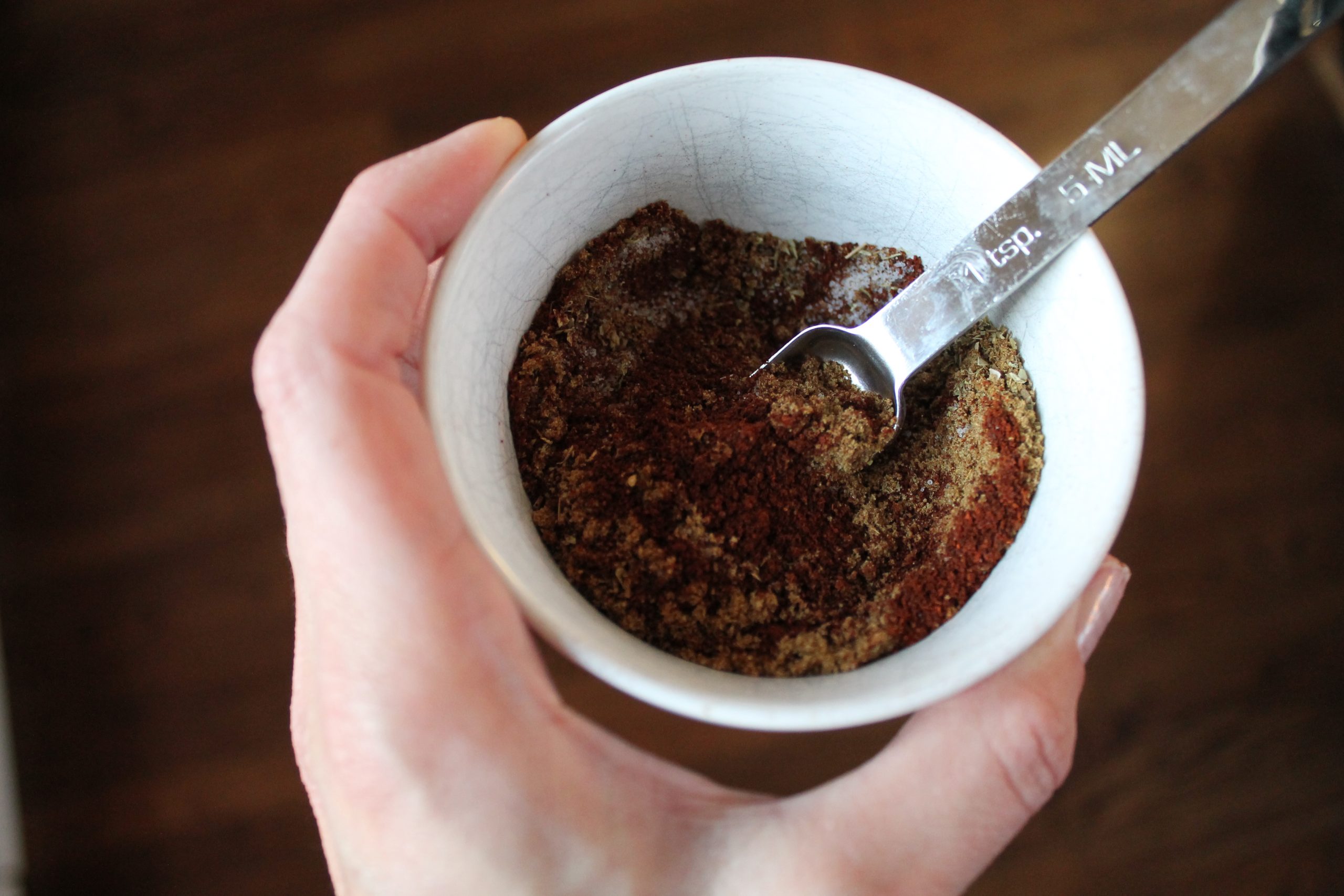 Stir in all the spices. Yum.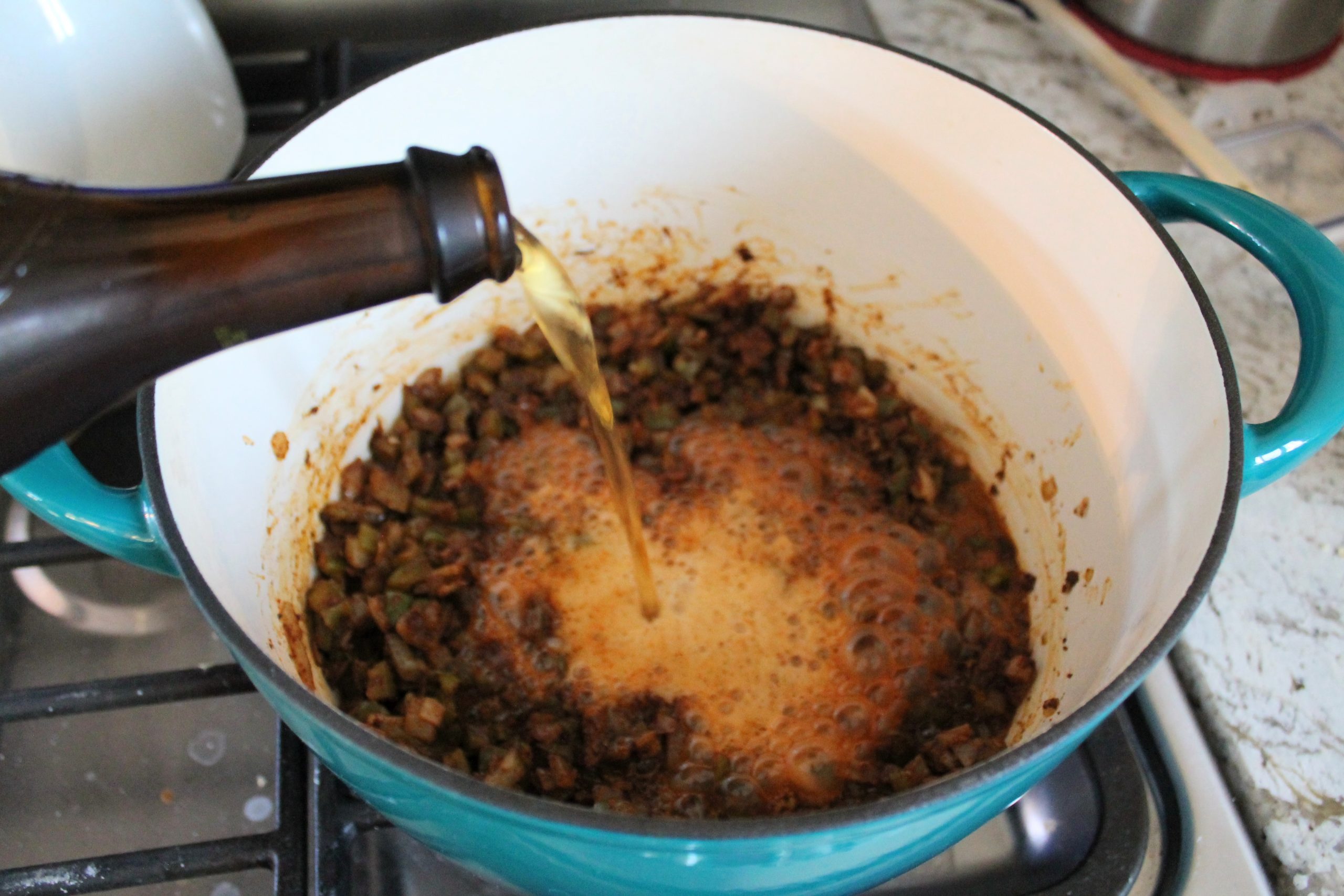 Now deglaze the pan with beer. I use pale ale. In fact, we keep pale ale on hand just to make this chili, because neither my husband nor I like to drink it, but we love chili.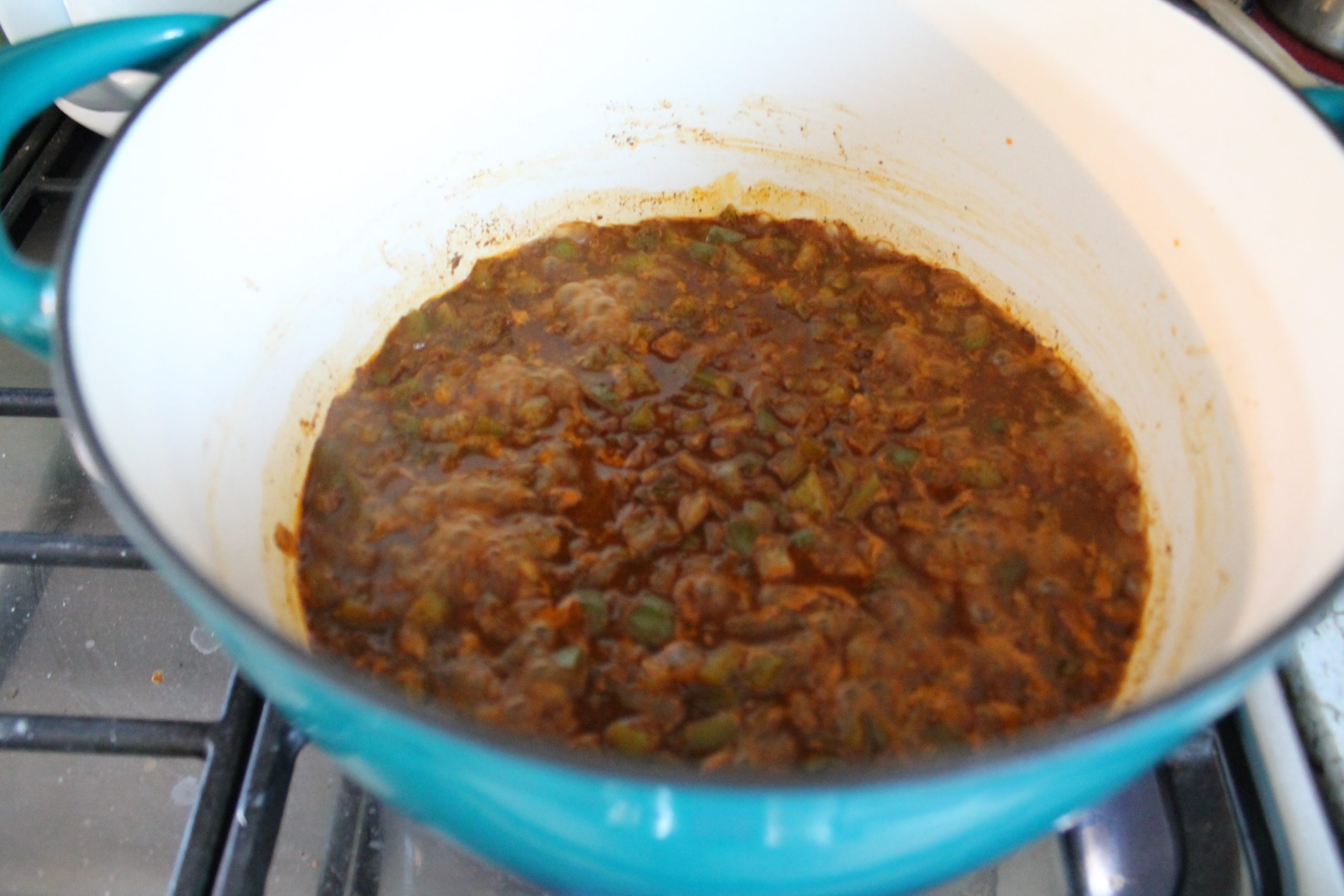 Allow the veggies to simmer, stirring occasionally, until the beer is reduced by half.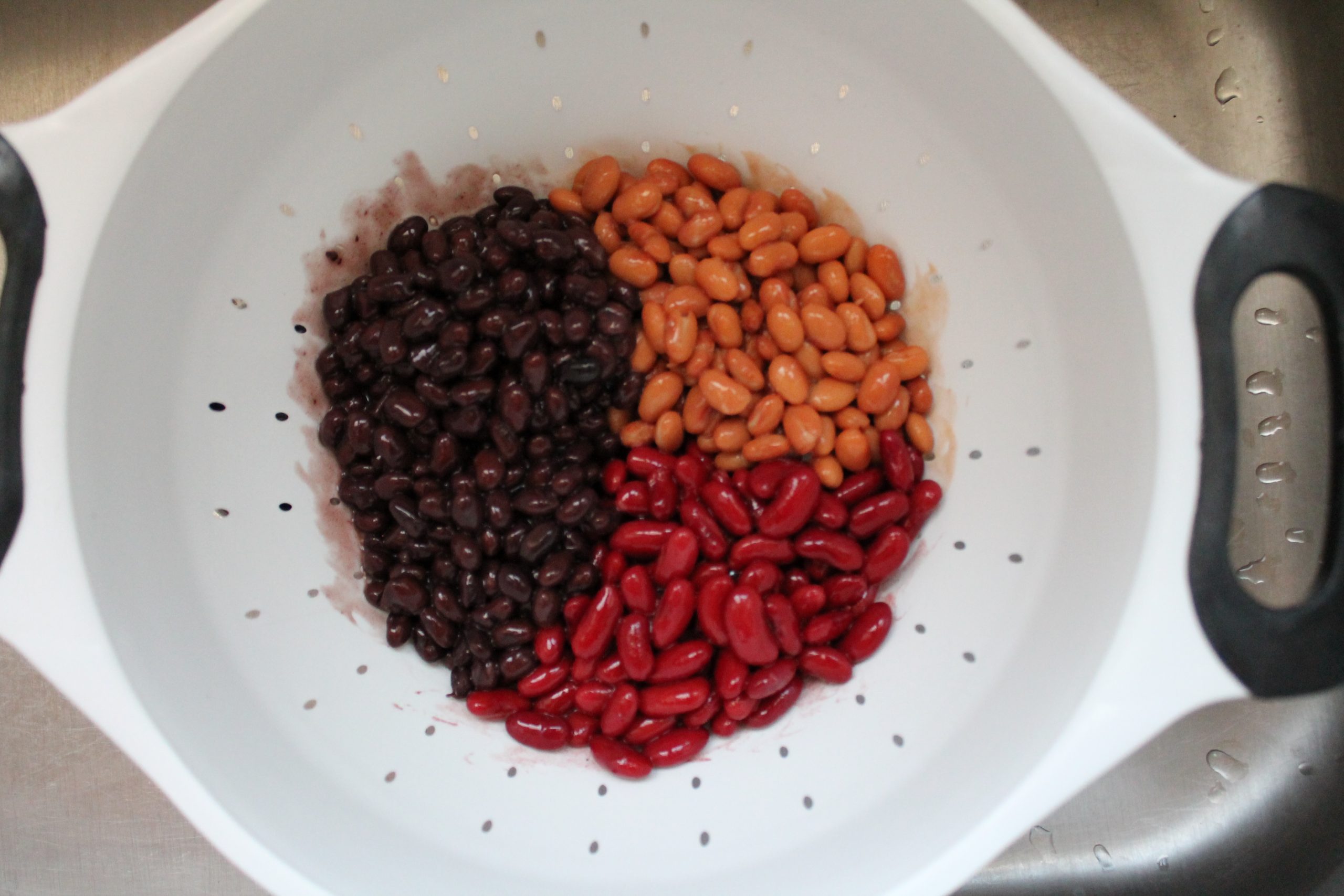 Add all the remaining ingredients: rinsed and drained beans (any three varieties can work, but I usually use dark red—the classic chili bean—with pinto and black); petite diced tomatoes, tomato paste, liquid smoke (NOT NEGOTIABLE. JUST DO IT), adobo sauce (highly, highly recommended for both its spice and smoke qualities), maple syrup, and water.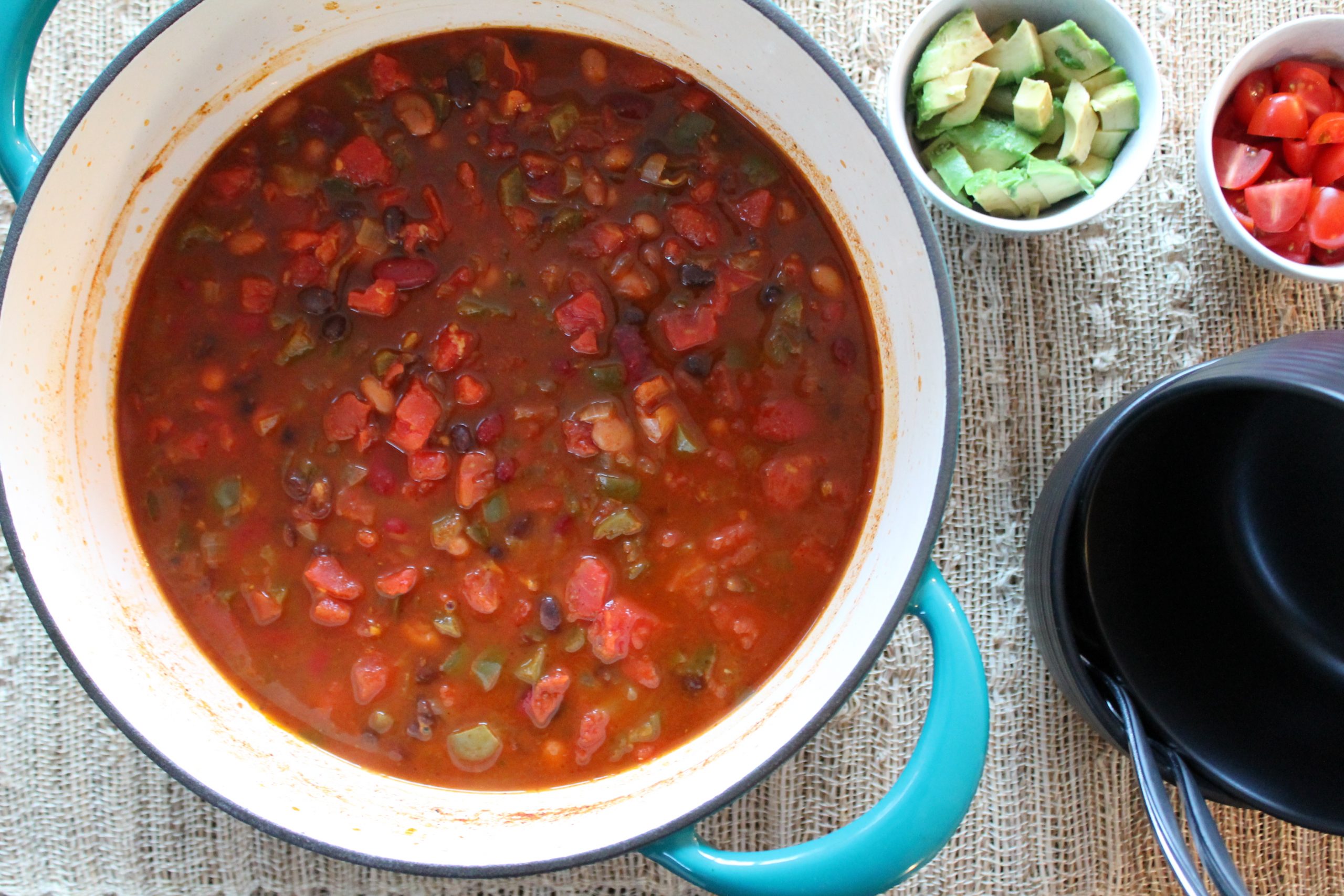 Simmer away, uncovered, at least 10 more minutes (but really, as long as you like—you can always add extra water if it thickens too much!).
This chili is great topped with avocado, cilantro, and pickled onions or a spritz of lime for a bright, sour hit of flavor. For non-vegans, I also highly recommend cheddar cheese and sour cream! Serve alongside some sweet cornbread (here is a super simple recipe) for a hearty and completely satisfying Fall meal!
Smoky Spicy Three Bean Chili
Ingredients
2

tbsp.

butter or olive oil

2

medium

yellow onions,

diced

2

medium

green bell peppers,

diced

4 large

cloves

garlic,

minced

2

tbsp.

chili powder

1

slightly heaping tbsp.

cumin

1

tsp.

oregano

1½

tsp.

salt

12

oz.

pale ale

1½

tsp.

adobo sauce

(optional)

3

–5 drops liquid smoke

2

–3 tsp. pure maple syrup

15

oz.

black beans,

drained and rinsed (1 can)

15

oz.

can dark red kidney beans,

drained and rinsed (1 can)

15

oz.

pinto beans,

drained and rinsed (1 can)

30

oz.

petite diced tomatoes

(2 15oz. cans)

1

tbsp.

tomato paste

1

cup

water
For serving
lime wedges

chopped fresh cilantro

chopped avocado

chopped scallions or pickled onions

chopped tomatoes

sour cream

shredded cheddar
Instructions
In a Dutch oven, melt the butter over medium heat.

Add the onions and green peppers to the pot and cook for 5 minutes, until soft and translucent. Add the garlic and cook another 2 minutes, until the garlic is warm and fragrant.

Add the chili powder, cumin, oregano, and salt. Cook for 1 minute, stirring, until the vegetables are glistening and dark brown.

Add the beer, scraping up any bits that are stuck to the pot. Bring to a low boil and allow the beer to reduce by half.

Add all the remaining ingredients and stir to combine.

Allow to simmer another 10-30 minutes, so the flavors combine.

Serve with toppings as desired.