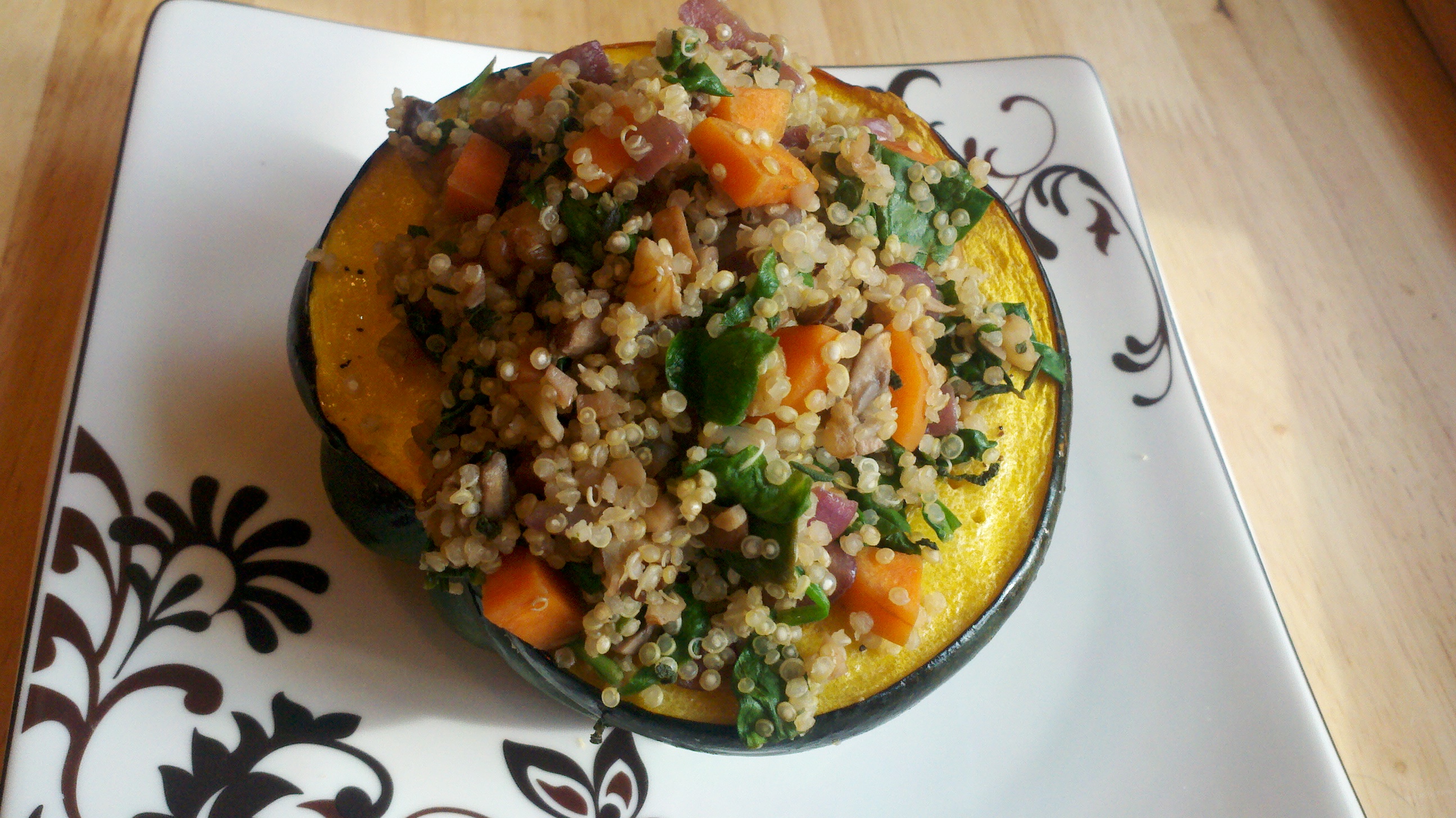 Happy New Year!
What is it about fresh starts that is so exciting, so full of promise? I made like 10 resolutions this year (of course, about 5 of them are already shot…oops).
Like…well, every American after the holiday season is over (ahem), several of my resolutions centered around eating well and getting back in shape. If you are anything like me, you might also be looking to detox a little from all the cookies and appetizers and late night slices of pie. So…let's roast some squashes and fill them with quinoa!
This meal is is the perfect answer to any New Year's resolution. It's filling and tasty, and so healthy! It's vegan and gluten free, low-fat, high awesomeness. And the best part? Quinoa is a super grain: both whole grain and protein! (Though, of course, if you don't have quinoa, you could also use brown rice or even couscous.)
Stuffed squash is so simple to make (er, if you don't count how much chopping is involved), and you could serve this for a sophisticated lunch, a main course at dinner, or even a side. It is a little sweet, a little spicy, a little tart, a little crunchy, and full of my favorite veggies.
By the way, I made this meal for the first time with my friend Sarah. You can read about her take on the recipe, and maybe even about what a scatterbrained cook I am (she's fantastic, though…when I got to her house, she had already chopped up her ingredients and put them in cute little bowls! I was amazed), at her blog, Well Dined!
Sarah and I just made two servings, because, well…her husband announced that he wanted nothing to do with squash and mine was nowhere to be found. But the recipe below is for four, and it's just as easy to make four servings as two.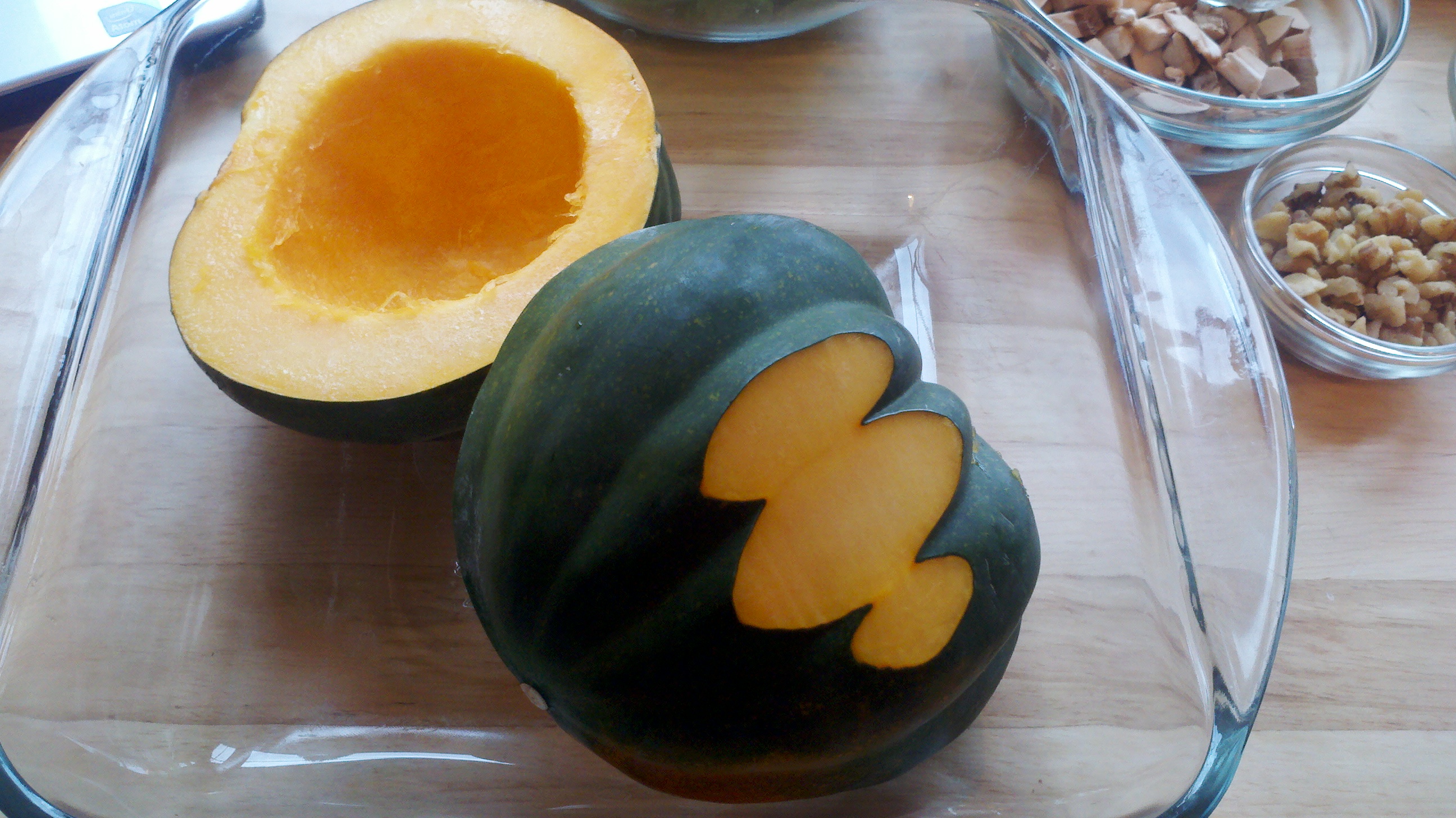 Start by cutting the squash in half lengthwise. Scoop out all the seeds, as well as the shallow layer of slimy flesh. Cut a little sliver off the bottom of the squash so that they will sit flat. Rub the insides of the squash lightly with olive oil and then season with salt and pepper.
Roast for 45 minutes, or until they are fork tender (i.e., a fork easily slides into the flesh, especially in places where the squash is thicker).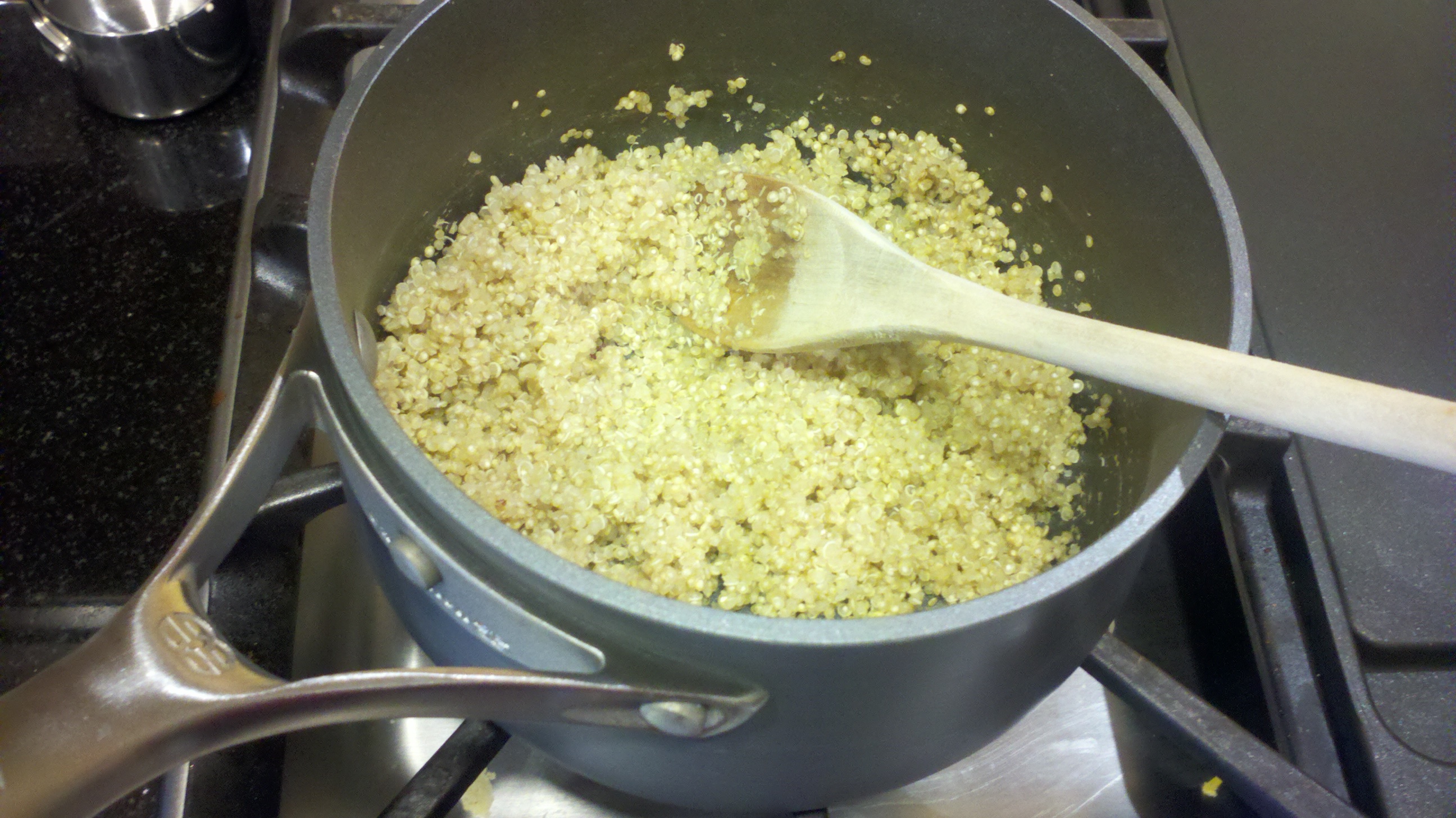 Meanwhile, start the quinoa cooking.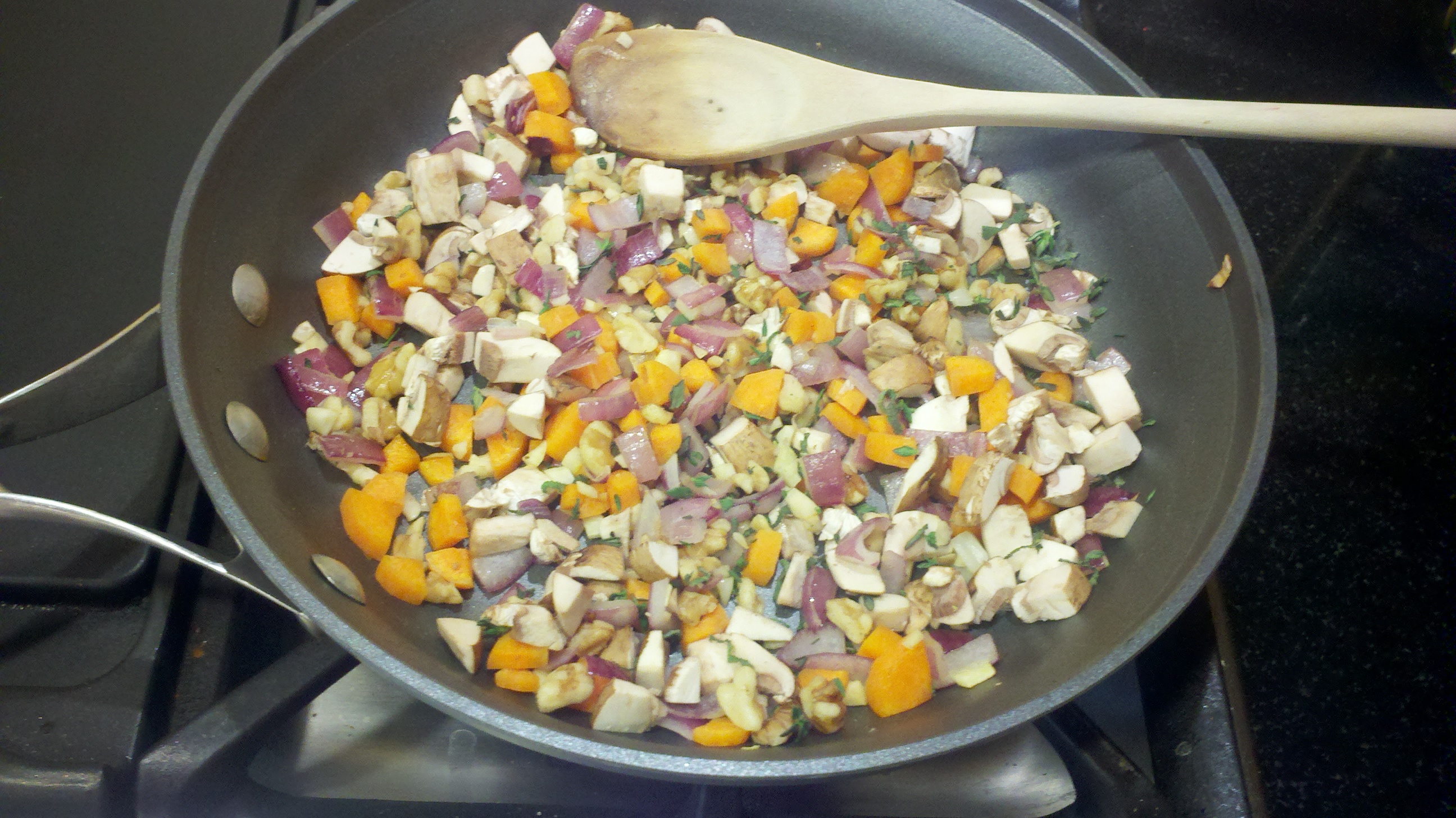 Sauté the onion over medium heat until it is translucent. Stir in the garlic, carrots, and serrano. Or, if you are cooking with someone who can't stand the heat, sauté the hot pepper separately, to stir in later 🙂
After about 3 minutes, add in the mushrooms, chopped fresh herbs, and nuts. When the mixture becomes wonderfully fragrant, remove from the heat.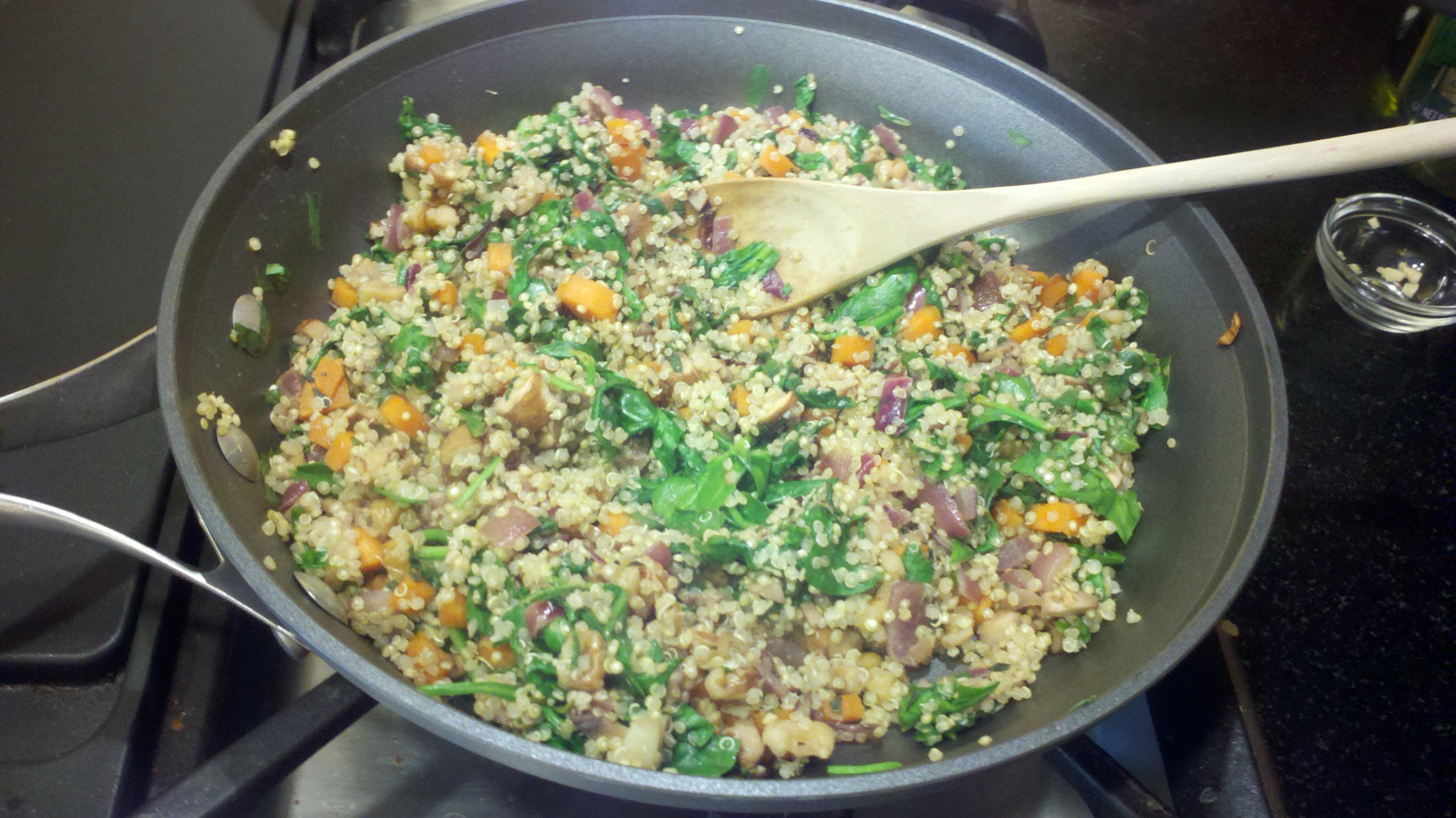 When the quinoa is soft, with just a little bite, stir in the chopped fresh spinach. Allow the spinach to wilt slightly, then stir in the sautéed mixture and the lemon zest and juice. Season to taste with salt and pepper and continue to stir until the spinach wilts completely.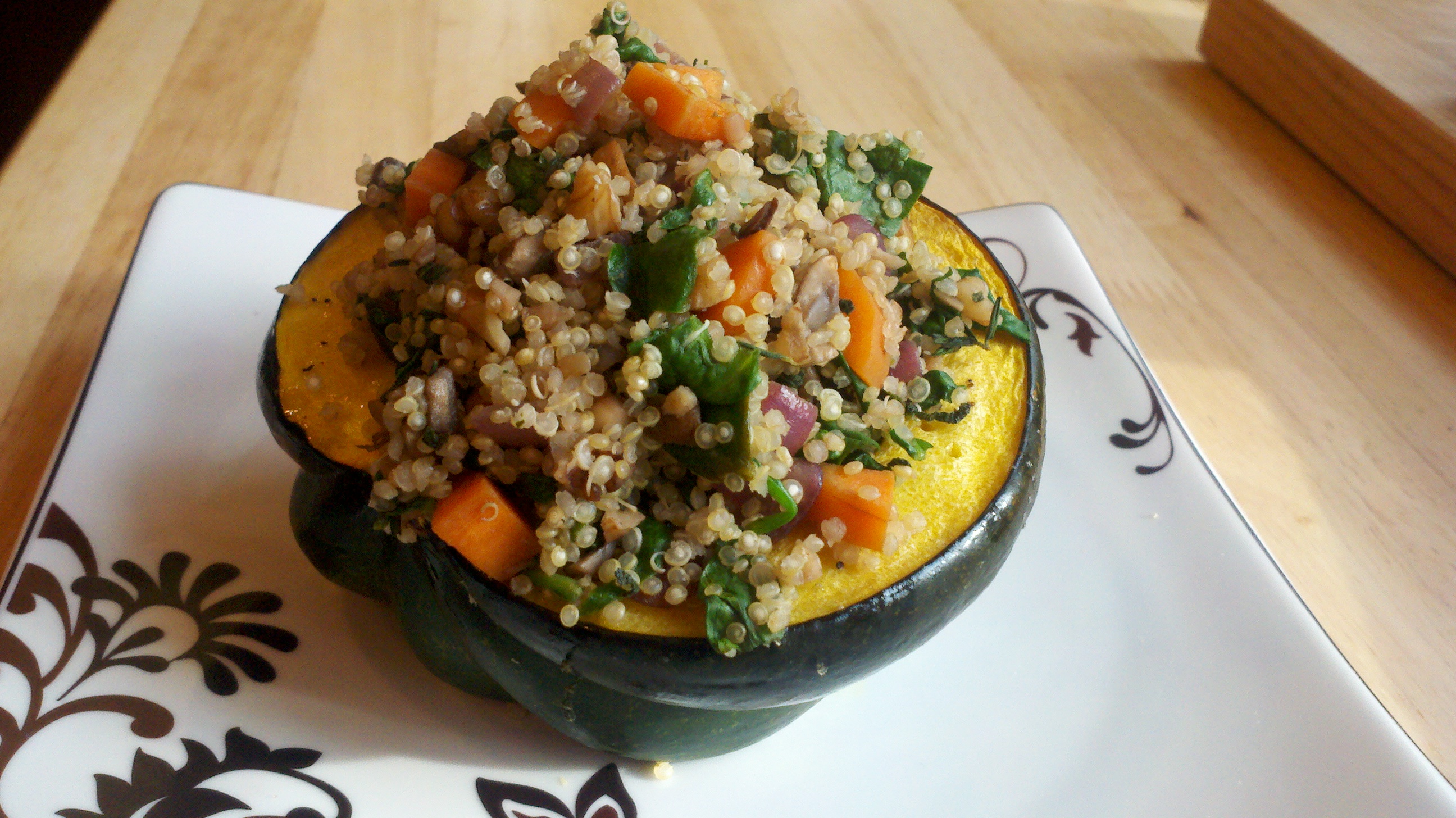 Remove the acorn squash from the oven. Spoon the quinoa filling into the squash. Garnish with a sprinkle of extra herbs and, if you like, a few shavings of your favorite hard cheese, such as parmiggiano-reggiano.
Quinoa-Stuffed Acorn Squash
a Melissa original
serves 4
Ingredients:
2 acorn squash, halved lengthwise and seeded
3 tbsp. olive oil, divided
fine sea salt and fresh ground black pepper
2 cups water
1 cup dry quinoa
1 medium red onion, diced
2 medium carrots, diced
2 cloves garlic, minced
1 serrano or jalapeño pepper, seeded and finely chopped
4 oz. baby bella mushrooms, roughly chopped
fresh chopped sage (about 4 or 5 large leaves)
fresh thyme (about 2 or 3 large sprigs)
¼ cup broken walnuts or pecans
2 large handfuls fresh baby spinach, roughly chopped
juice and zest of 1 lemon
grated parmesan or parmiggiano-reggiano (optional)
Directions:
Preheat oven to 375°.
Rub the insides of the squash with 1 tbsp. olive oil, then season to taste with salt and pepper. Set into a glass baking dish. Bake 45 minutes, or until tender.
Meanwhile, boil the water. Stir in the quinoa and reduce heat to low. Simmer, stirring occasionally to prevent sticking, for 15 minutes, or until all of the liquid is absorbed.
While the quinoa cooks, sauté the chopped onion in the remaining 2 tbsp. olive oil over medium heat. When the onion is tender and nearly translucent, stir in the carrots, garlic, and jalapeño. Cook another 3–4 minutes, then add the mushrooms, fresh herbs, and nuts.
When very fragrant, remove the sautéed vegetables from the heat. As soon as the quinoa is completely cooked, stir in the fresh spinach, the sautéed veggies, and the lemon zest and juice. When the spinach has wilted completely, taste and season with salt and pepper. Remove the quinoa stuffing from the heat.
Once the squash is completely roasted, remove from the oven and fill with stuffing. Garnish with extra herbs, a drizzle of olive oil, and cheese if desired.
Enjoy!