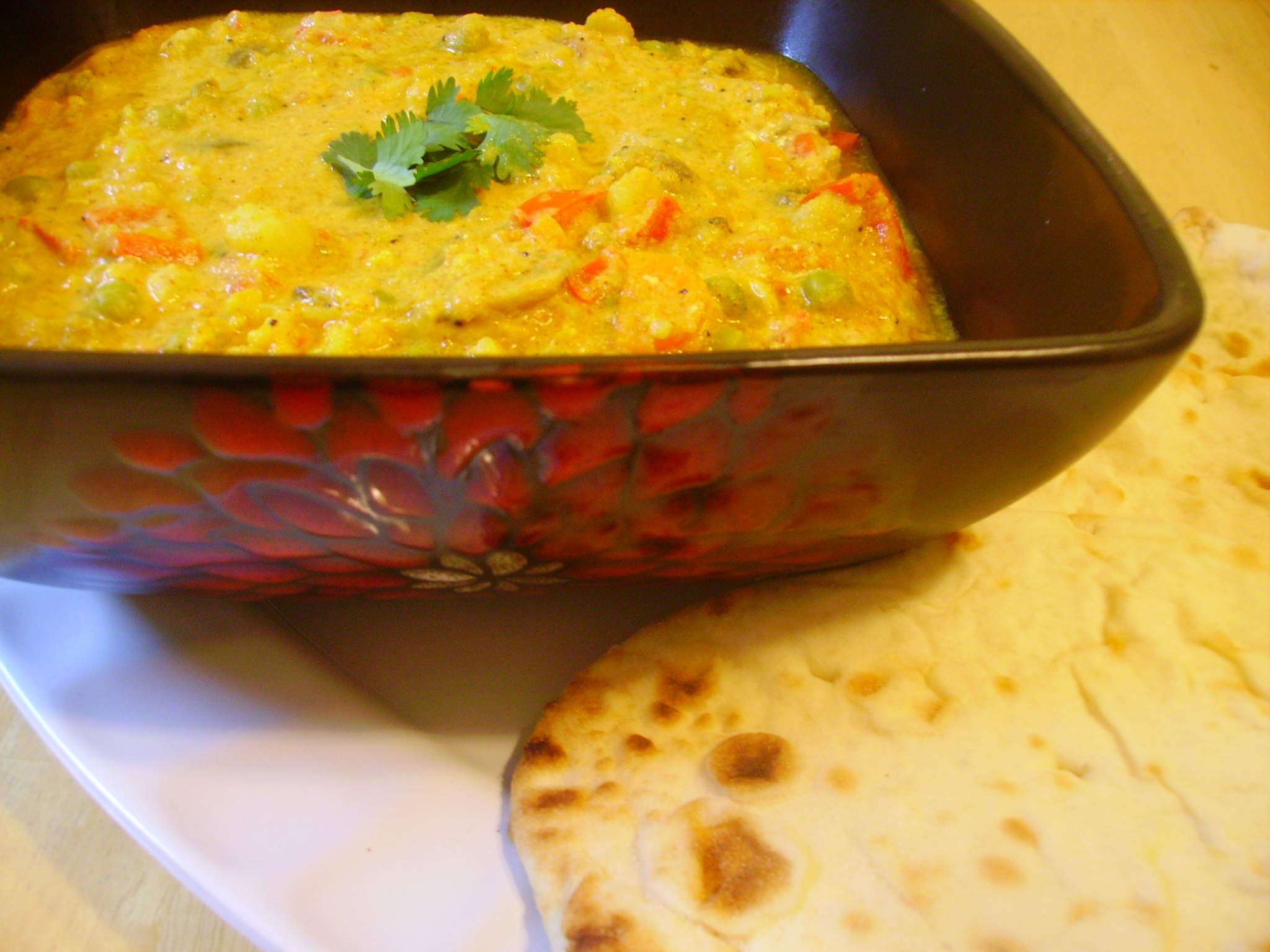 This month for the Secret Recipe Club, I was assigned the blog Samayalarai: Cooking is Divine.
What an interesting blog—and something of a challenge for me, an Indian food rookie! Looking through the pages and pages of recipes, mostly for things I had never previously heard of, was a real education for me. I mean, my Indian food experience is fairly limited to the most common of dishes: naan, various kinds of masala, jalfrezi…
Let's just say I spent a lot of time looking up Indian food terms on Google as I browsed the blog.
I landed on a dish called Dhingri Mutter, which means mushrooms and peas. One of the things that drew me to this dish is that it seemed like something I could easily make at home without buying too many exotic ingredients that would later go to waste. It also looked really healthy, and reminded me of a favorite Indian dish that I've been meaning to make for a while, Navrattan Khorma. Both are made with a fresh tomato-onion paste and yogurt sauce; the main difference is in the vegetables included. Since I'm not a huge fan of peas, I decided to expand this dish to include a few other vegetables as well, making it even more similar to the khorma I enjoy so much. I hope I didn't compromise the integrity of the meal too much by tinkering with the ingredients! All I know is that I sure enjoyed it.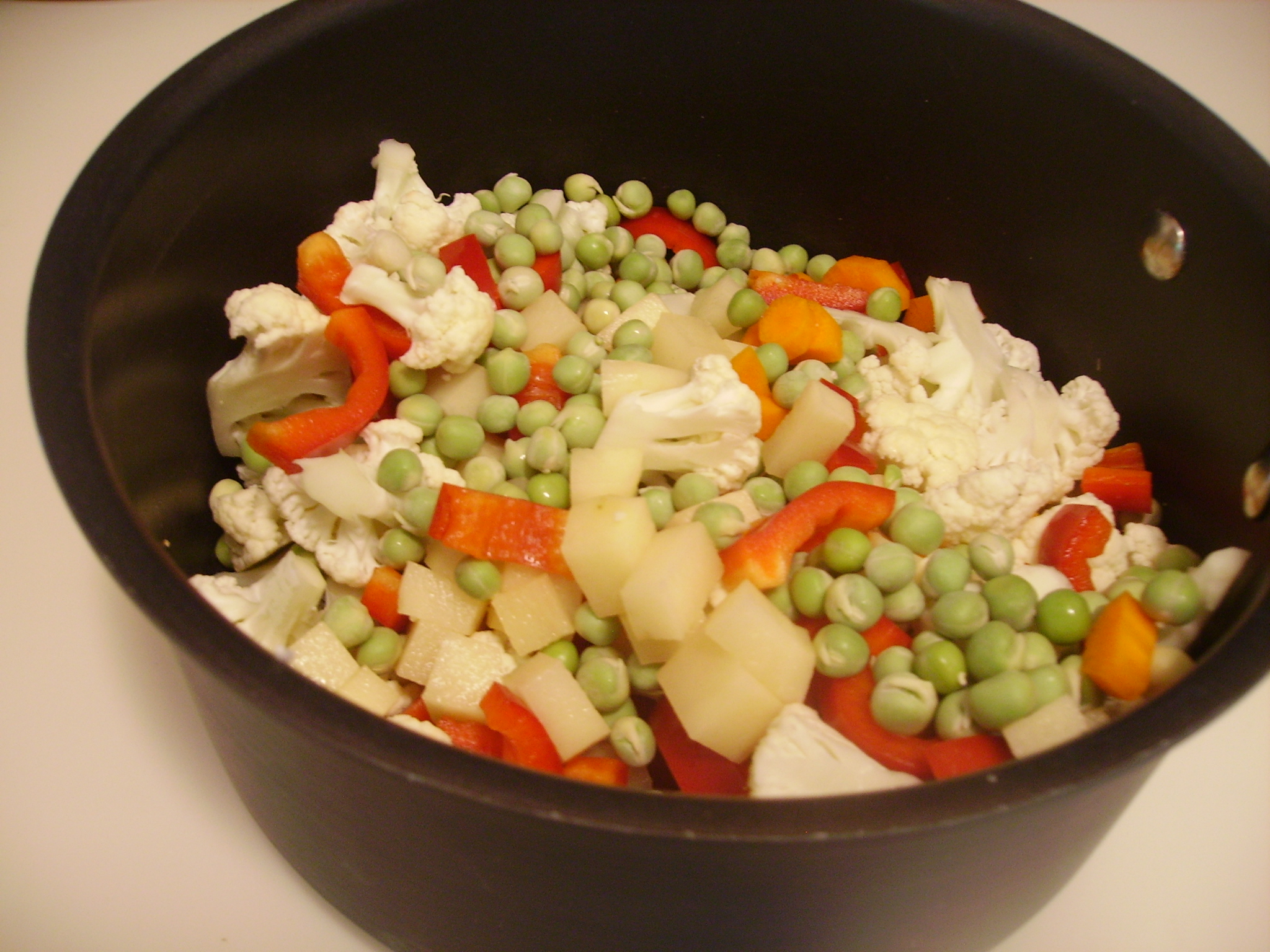 Start by prepping the vegetables you will need to boil. Peel and cut up the carrot and potato, chop the bell pepper into short strips, cut the cauliflower into bite-size pieces. Put all of these, plus the peas, into a large pot. I used fresh peas, but you can also use frozen if that's what you can find. Add 3 cups of water to the pot—this probably won't seem like enough water, but since you will be partially steaming the vegetables, it won't matter.
Cover the pot and cook for about 10 minutes on medium-high heat, until the vegetables are cooked through. Remove the pot from the heat and let stand to cool. Don't drain the water; you will need some of it later.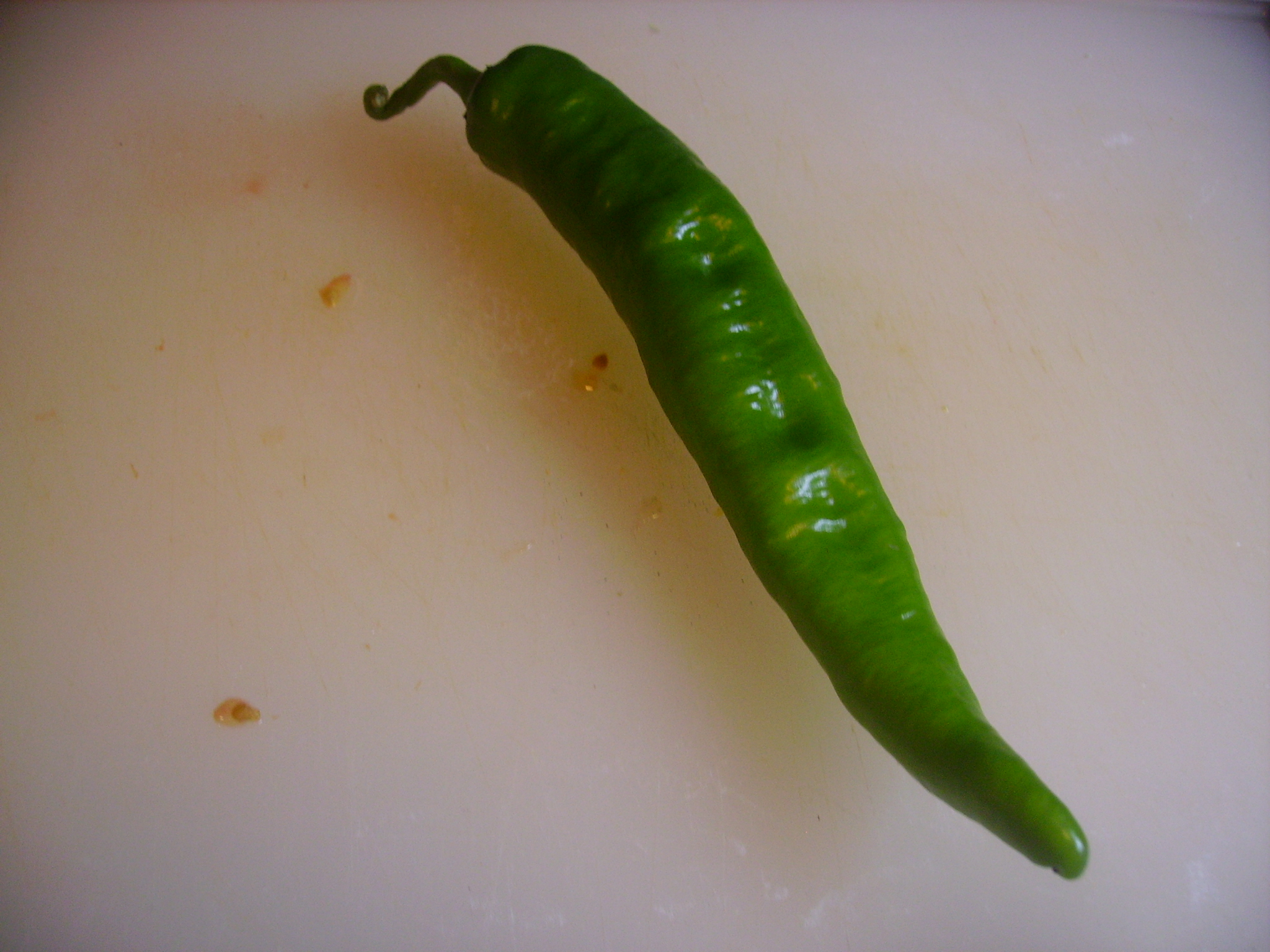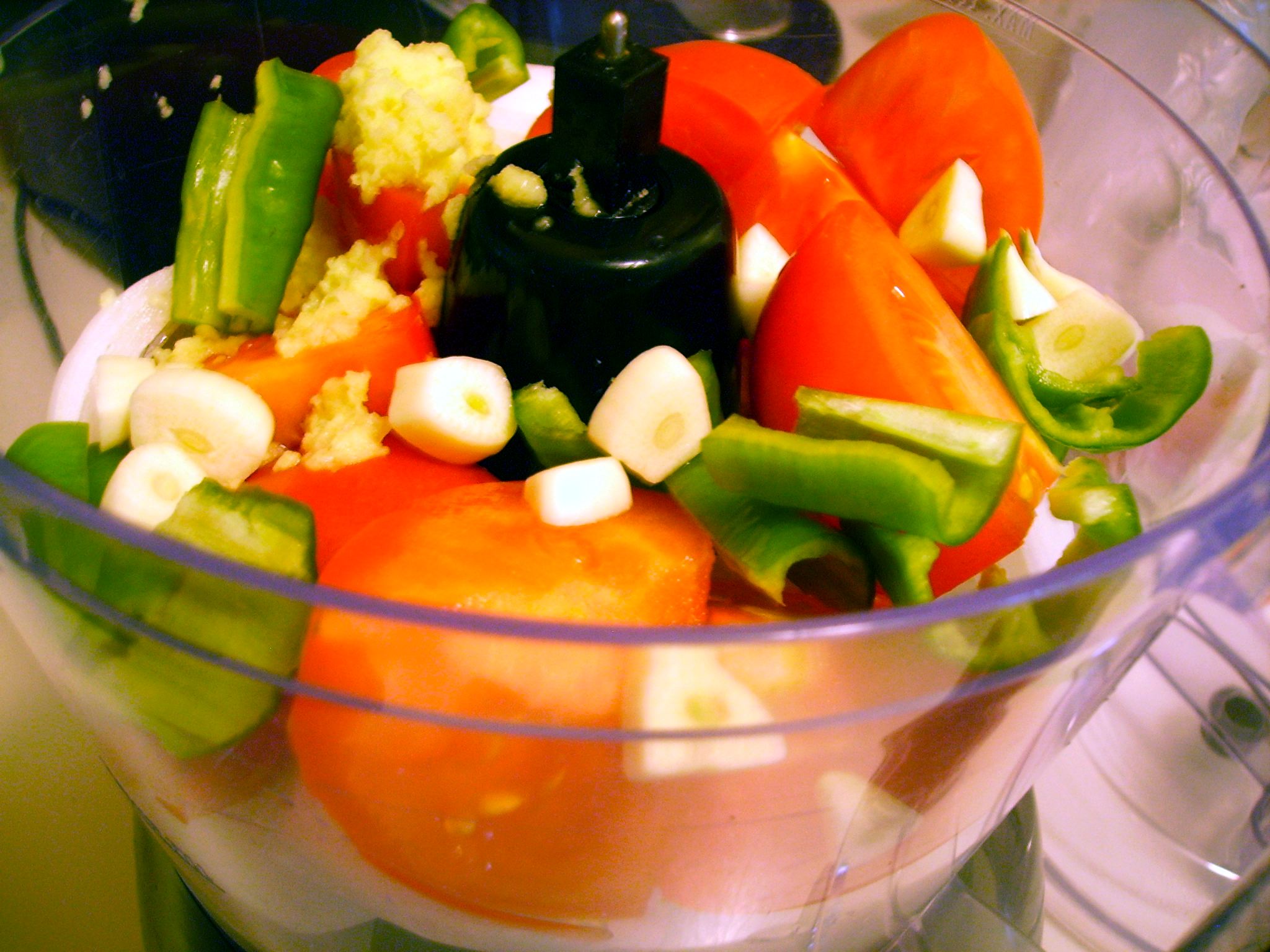 Meanwhile, prepare the tomato sauce. Grate the ginger into a food processor. Roughly chop the tomatoes, onions, garlic cloves, and hot pepper and add them into the food processor as well. I went to an Asian supermarket to get my vegetables, and the Asian long hot chili looked interesting to me, so that's what I used. Having never tried one before, I really wasn't sure how hot it was, but it didn't smell too spicy so I scraped out the seeds and used the whole outer pepper. I didn't find the end result terribly spicy, so next time I might even include a few of the seeds. Puree the contents of the food processor until it looks a bit like a gazpacho.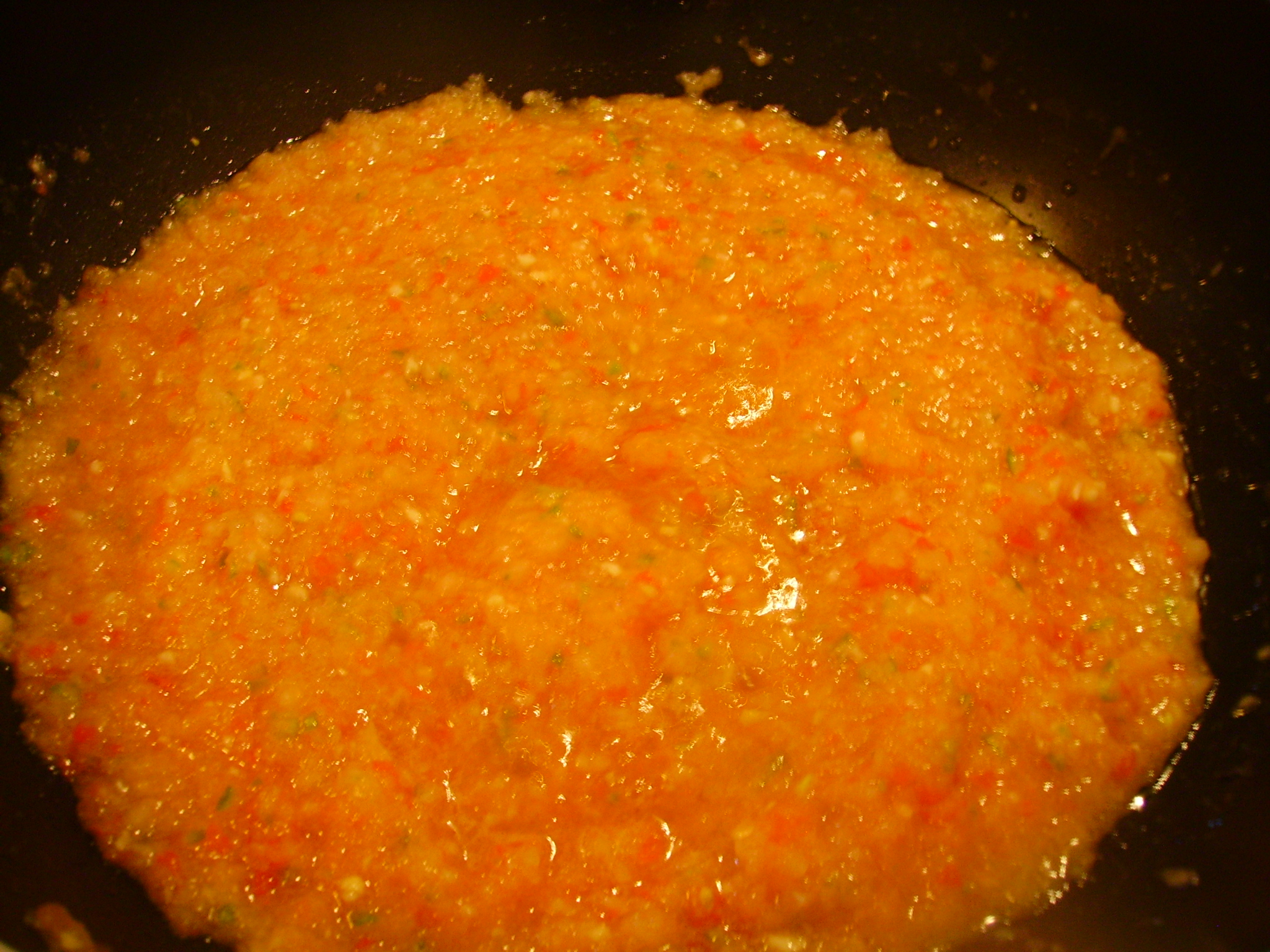 Heat the oil in a large wok. Add in the tomato sauce and heat it until it stops smelling raw and the oil begins to bubble around the edges. Add in the mushrooms and cook until they become soft and a bit darker in color.
Stir in all of the spices and cook for 2 minutes to let them permeate. Garam masala, in case you are unfamiliar with it, is a mixture of coriander, cumin, ginger, chili, cloves, cinnamon, and bay leaves. It's not usually spicy, but rather pungent. The ratio of the spices can vary wildly depending on who makes it; I think mine was light on the cumin and heavy on the cinnamon judging by the sweet smell that permeated my kitchen after I added it.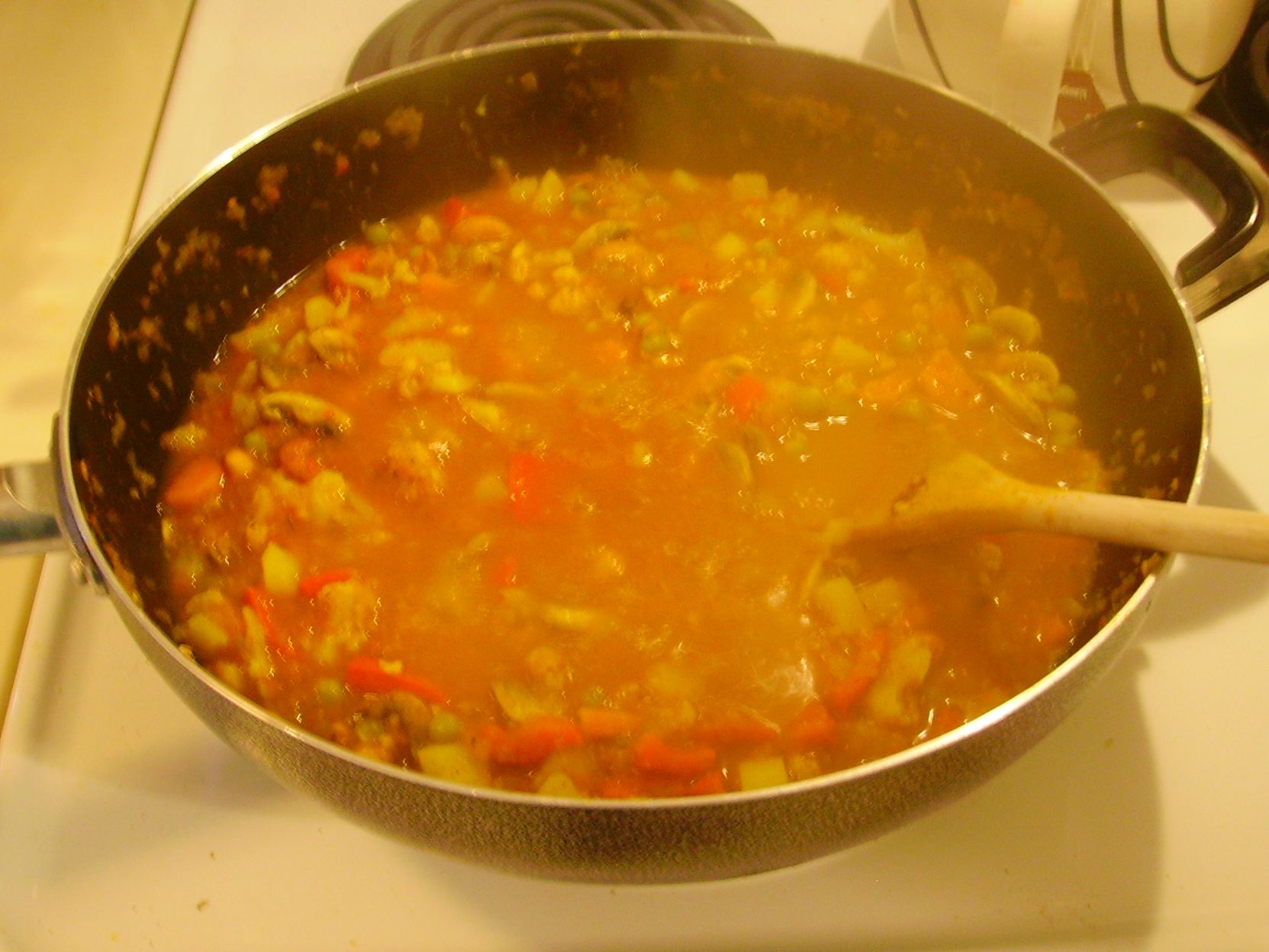 Add in the vegetables with only ½ cup of the liquid. You may want to add more liquid later, but adding too much right now will waterlog the flavors and the texture.
While the vegetable mixture heats, make a paste from a few of the cashews and a scant tablespoon of poppy seeds. Use a few drops of hot water to help soften the nuts. I used a mortar and pestle to crush the nuts into a rough paste. Add this paste, plus the remaining cashews, to the wok and stir to combine.
Continue to boil the khorma mixture for 5 minutes, blending everything together. Don't let it get too thick—if it begins to form huge popping bubbles, and there is no excess liquid at all, you may want to add in some more of the reserved boiling water.
Season to taste with salt. Adjust the other seasonings as necessary. I needed an extra ½ tsp. of cumin. I also added a few shakes of crushed red pepper since my khorma was tasting pretty mild to me. At this point, don't worry if the mixture seems too spicy for you (perhaps your garam masala is mixed differently than mine!); you will still be adding in the cooling yogurt!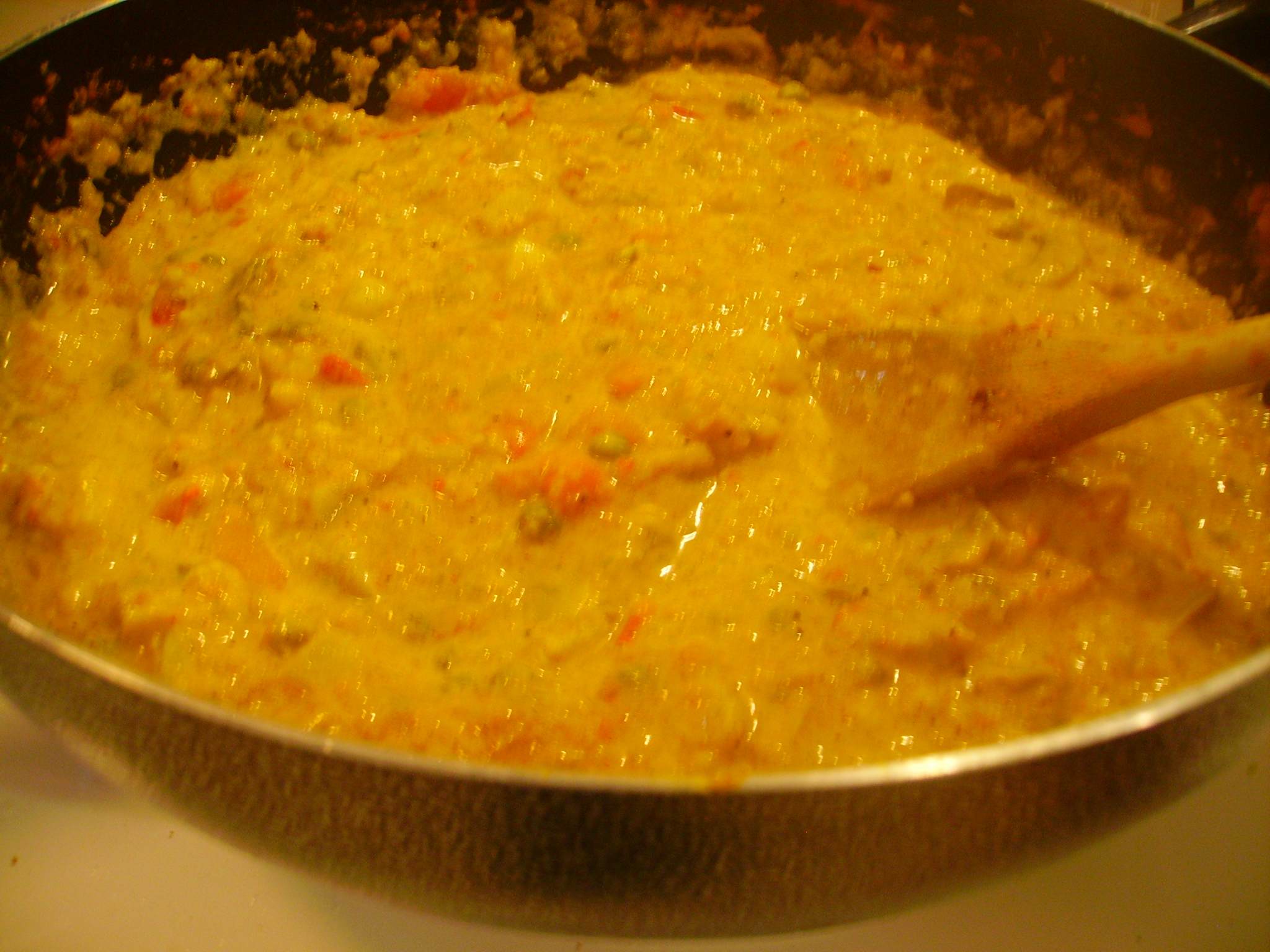 Stir in the yogurt and remove from the heat. Ideally, you would use Indian yogurt (available at Asian markets), but I went with Greek since I knew I would eat up the remainder later. Garnish with cilantro and heat up some naan or other Indian flatbread to eat the khorma with. Yum.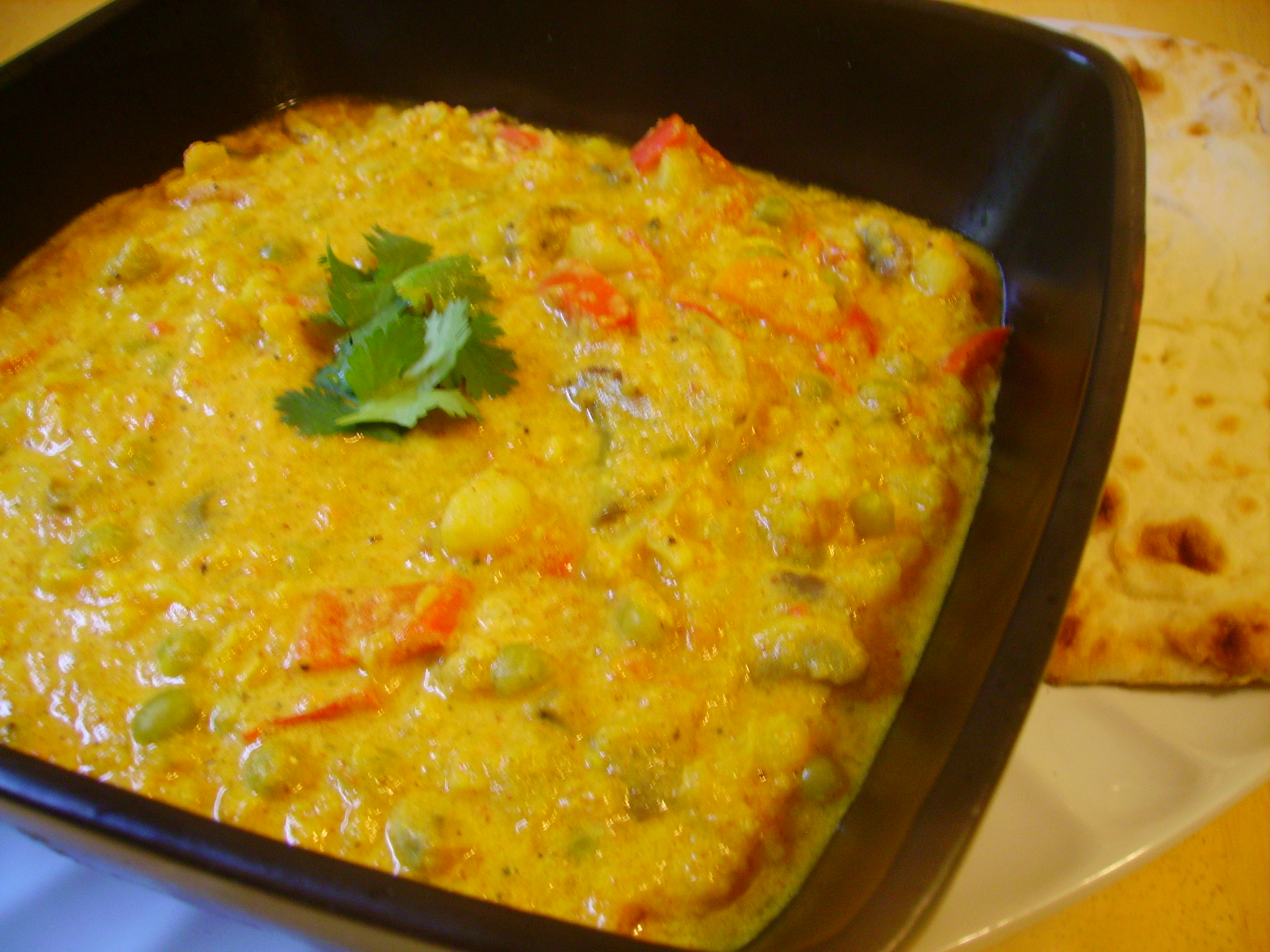 Vegetable Khorma
heavily adapted from Samayalarai: Cooking is Divine
serves 4–6
Ingredients:
¾ cup green peas (frozen or fresh)
1 small potato, peeled and cut into ½ʺ cubes
1 medium carrot, peeled and cut into ½ʺ pieces
1 cup cauliflower pieces
1 red bell pepper, cut into short strips
2 cups water
1 tbsp. poppy seeds
6 cashews, plus ¼ cup
2 medium yellow onions
3 medium tomatoes
1 green chili (Asian long hot), seeds removed
5–6 cloves garlic
1ʺ fresh ginger
8 oz. button mushrooms, stalks removed, sliced
2 tsp. oil
1½ tsp. chili powder
2 tsp. garam masala*
¾ tsp. turmeric
2–3 shakes crushed red pepper
1 cup plain yogurt, preferably Indian and low-fat
7–8 sprigs of cilantro, roughly chopped
Directions:
Begin by boiling the peas, potatoes, carrots, cauliflower, and pepper in water in a covered pot. After bringing to a boil, remove from heat and set the entire pan aside; do not drain.
Meanwhile, soak the poppy seeds and 6 cashews in hot water. When the nuts soften, drain most of the water and grind into a smooth paste. Set aside.
Separately puree the onions, tomatoes, green chili, garlic, and ginger into a sauce.
In a wok, heat the oil over medium heat, then add the tomato and onion sauce mixture and sauté it until the raw smell disappears and oil begins to collect around the edges of the mixture. Add the sliced mushrooms and fry them until soft.
Toss in all of the spices and continue fry for 2 minutes. Add the boiled vegetables and about ½ cup of the boiled water. (Reserve the rest of the water; you may want to alter the wetness of your khorma later). Mix well.
Add the cashew paste and the remaining whole cashews. Season to taste with salt. Boil for about 5 minutes over low heat; if the mixture begins to thicken too much, either add some of the reserved water or reduce the heat even further to help it remain fluid.
Add the yogurt. Mix well and continue to heat for 2 minutes; be careful not to let the yogurt curdle. Taste and adjust seasonings as necessary.
Garnish with chopped cilantro. Serve with your favorite Indian flatbread.
*Note: Depending on the mix of the garam masala, it may be necessary to adjust the spices later, particularly to increase the cumin.
Enjoy!