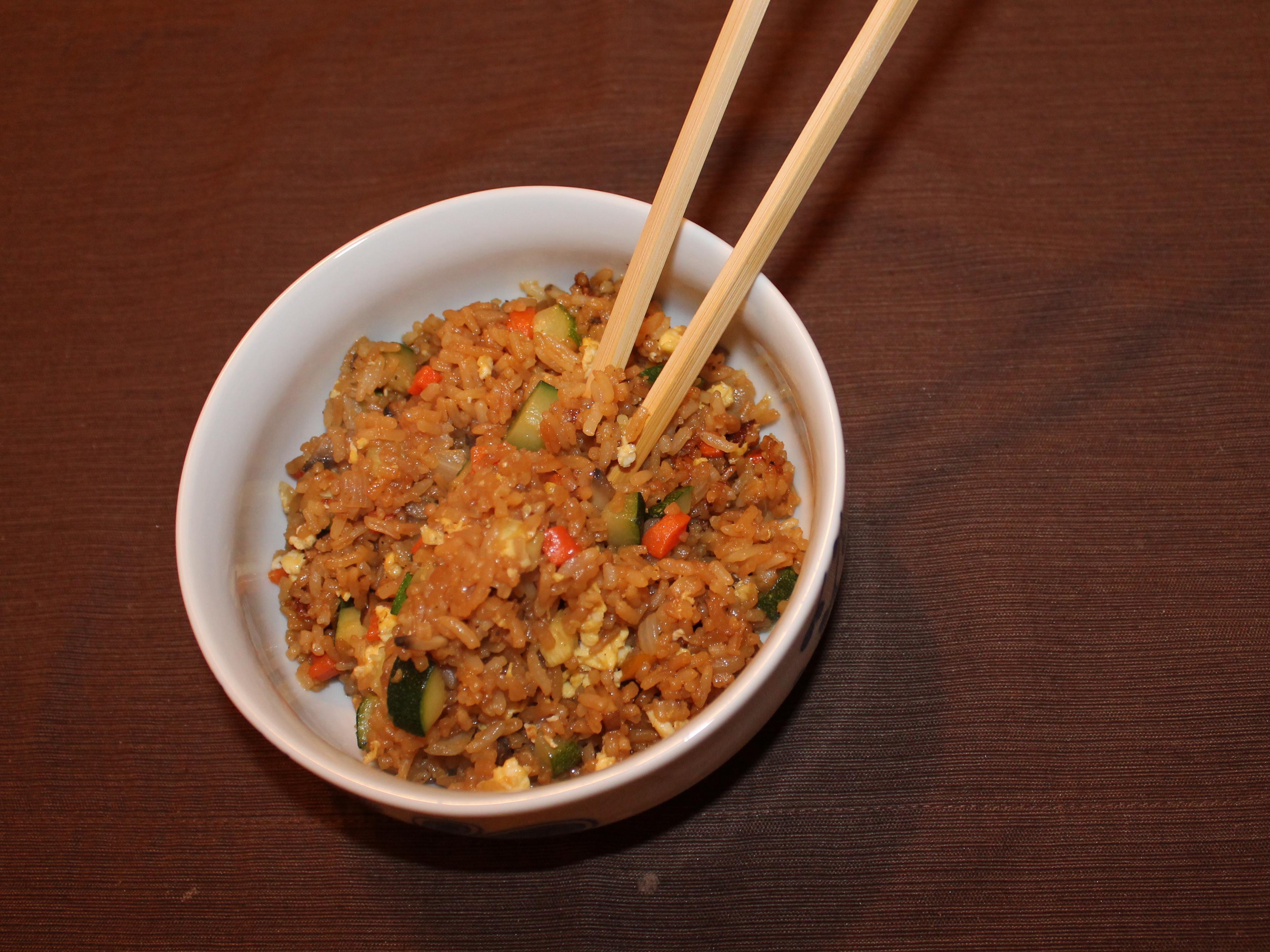 I regularly find myself standing in front of the fridge trying to figure out what to do with all the little leftover odds and ends in my crisper. Halves of bell peppers, lonely carrots, three baby bellas that didn't make it into a salad earlier in the week…
Inspiration finally struck as I was struggling to find a way to use up two cups of leftover jasmine rice pilaf. I am not really a rice person; I am not even the kind of person who thinks every meal should include a starch. So that Tupperware container of rice had been staring at me for almost two weeks.
And finally, as I was trying to plan a meal to make with my mom, who can't have wheat or dairy, a light bulb clicked on over my head. Fried rice!
You can use any kind of cooked rice and any vegetables you want when you are making fried rice. So why not jasmine rice baked in veggie broth with a few shallots already tossed in? And all those veggies hiding in my refrigerator drawers were a perfect match.
This one-pot meal came out so delicious that my husband ate about four servings of it. I won't stress about how much white rice he consumed in one sitting…I will just use brown rice next time and rejoice that I've finally found a simple Asian dish I can make at home for him!
Let's make a meal out of all our leftovers!
Fried rice is about ratios. You can really add in whatever you want, as long as you follow a basic template.
1 cup diced raw veggies : 1 tbsp. oil : 1 cup cooked rice : 2 tbsp. soy sauce : 1½ tsp. rice vinegar : 1 egg
I made about 4 cups worth. It was such an easy, low-pressure meal—I know it will appear regularly in our dinner rotation.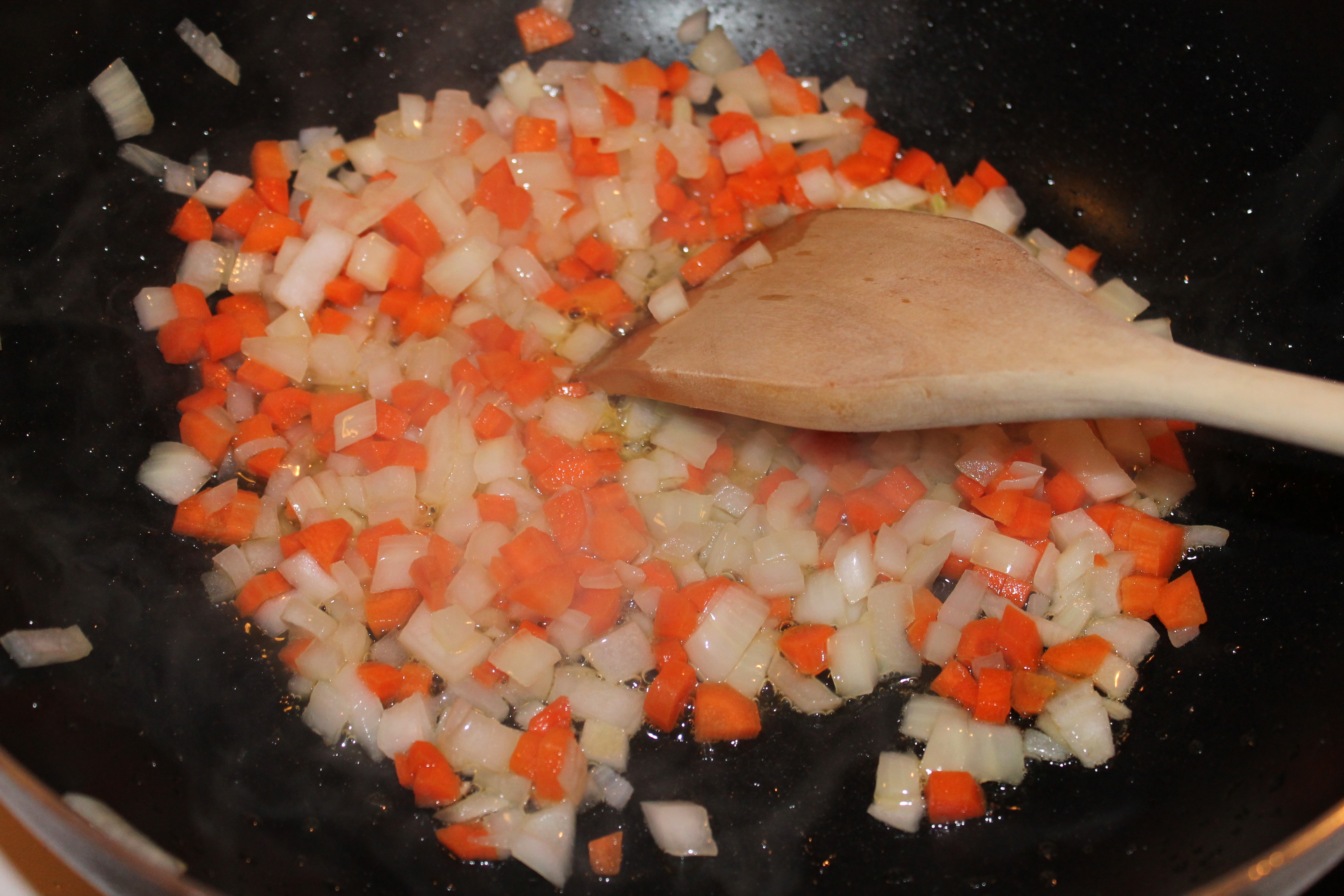 Start by sautéing your veggies, beginning with the crunchiest ones and adding others in as the first round becomes fragrant and tender. My first round included onions, garlic, and carrots.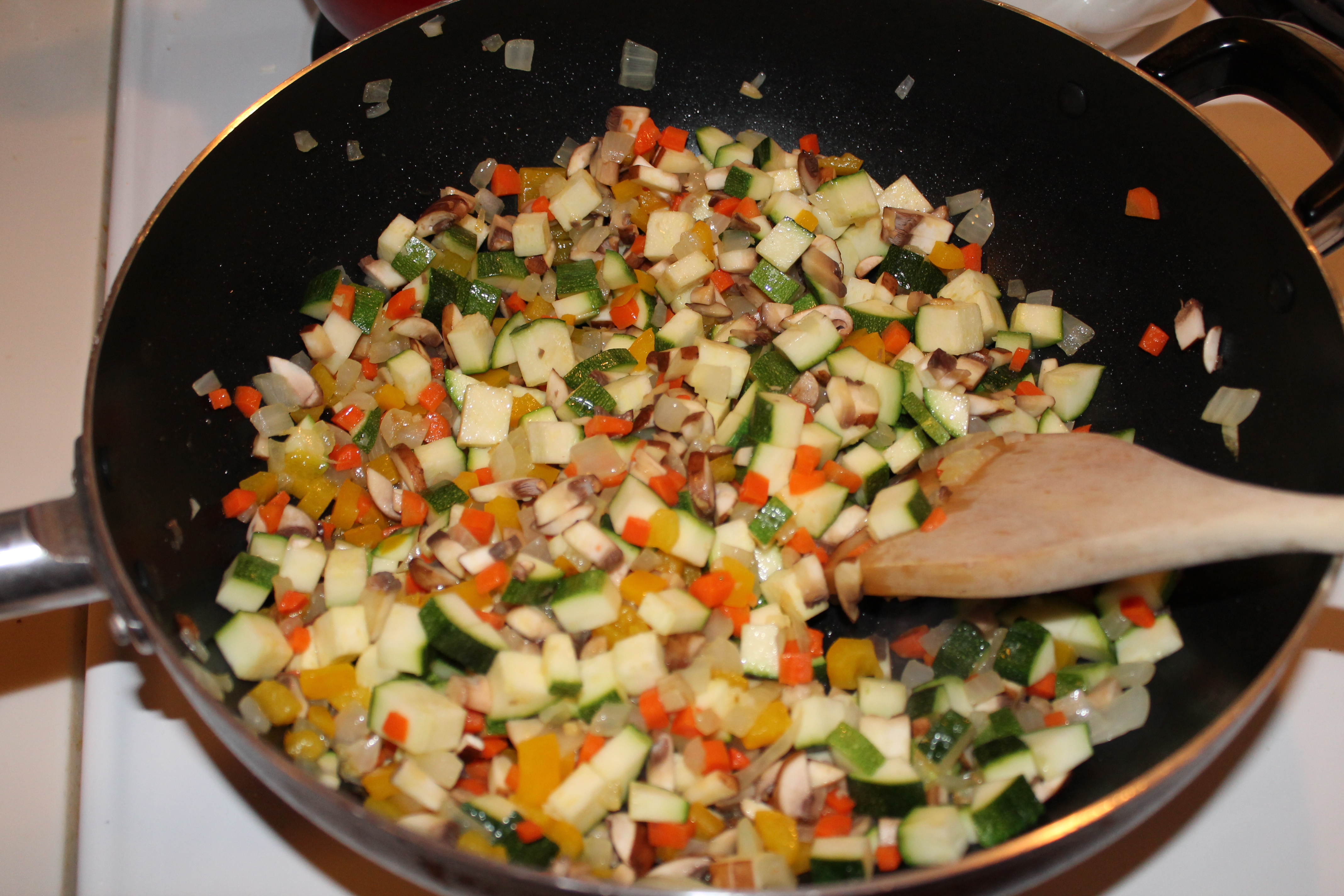 Then I added in some yellow bell pepper, zucchini, and chopped mushrooms.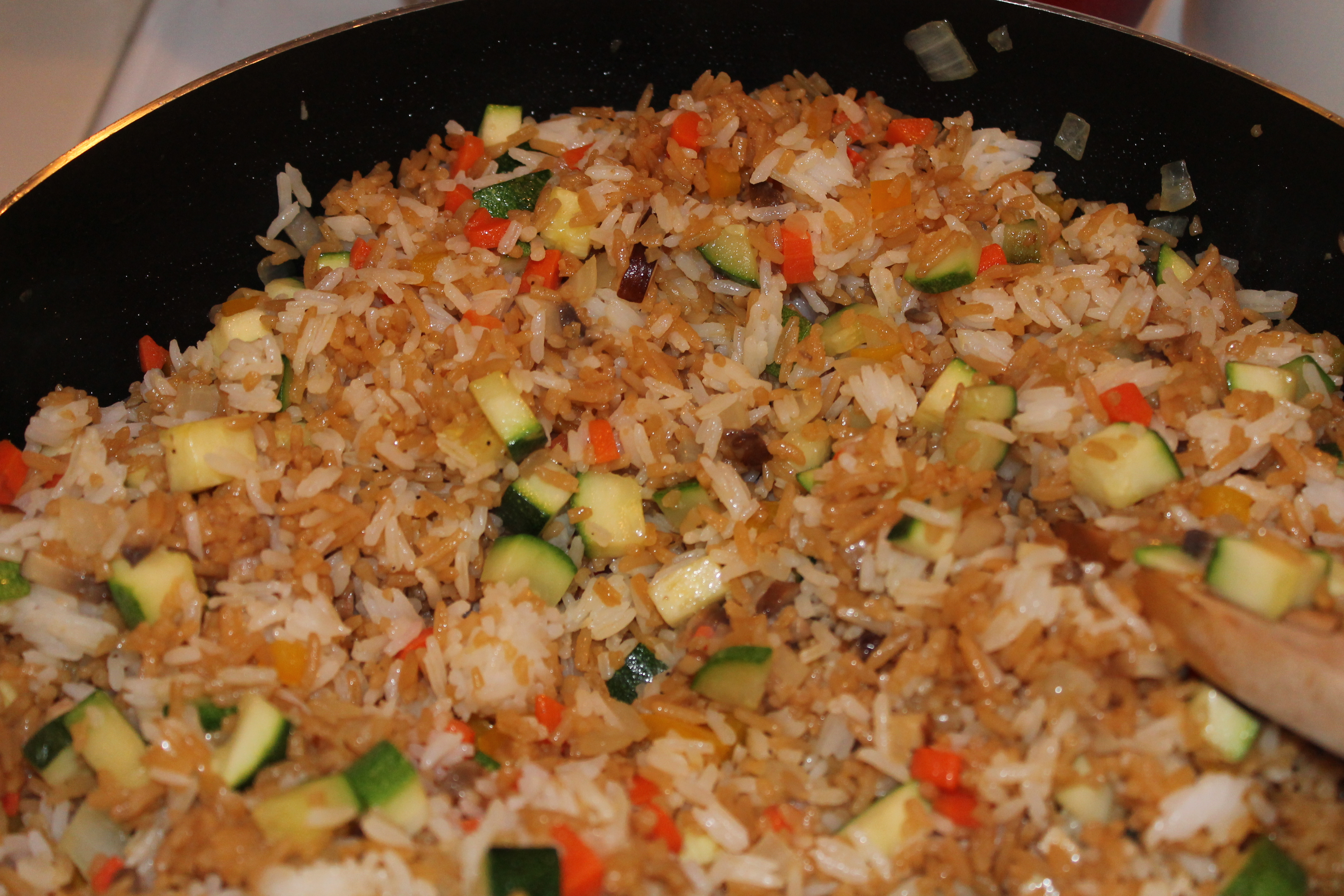 When everything gets nice and tender, add in the cooked rice. As you can see, I used half rice pilaf cooked in veggie broth (sooo it resembles brown rice) and half steamed white rice.
Stir it all together and let the rice reheat and absorb some moisture from the hot, steamy veggies.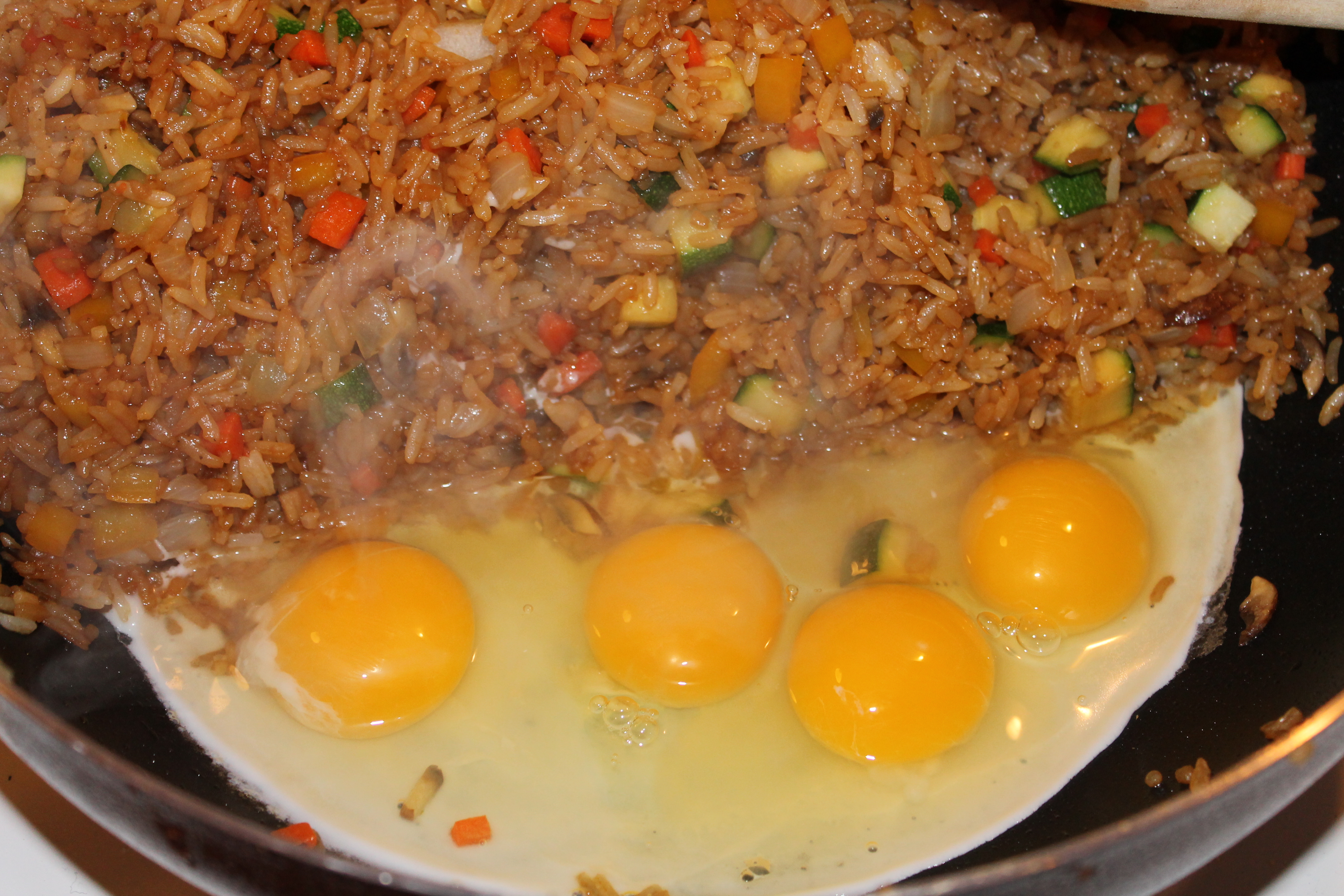 Stir in soy sauce and vinegar. Remember, if you are serving someone who has food allergies, you need to use gluten-free soy sauce! Push the rice off to one side of the pan. Break 4 eggs into the open edge of the pan. Scramble them.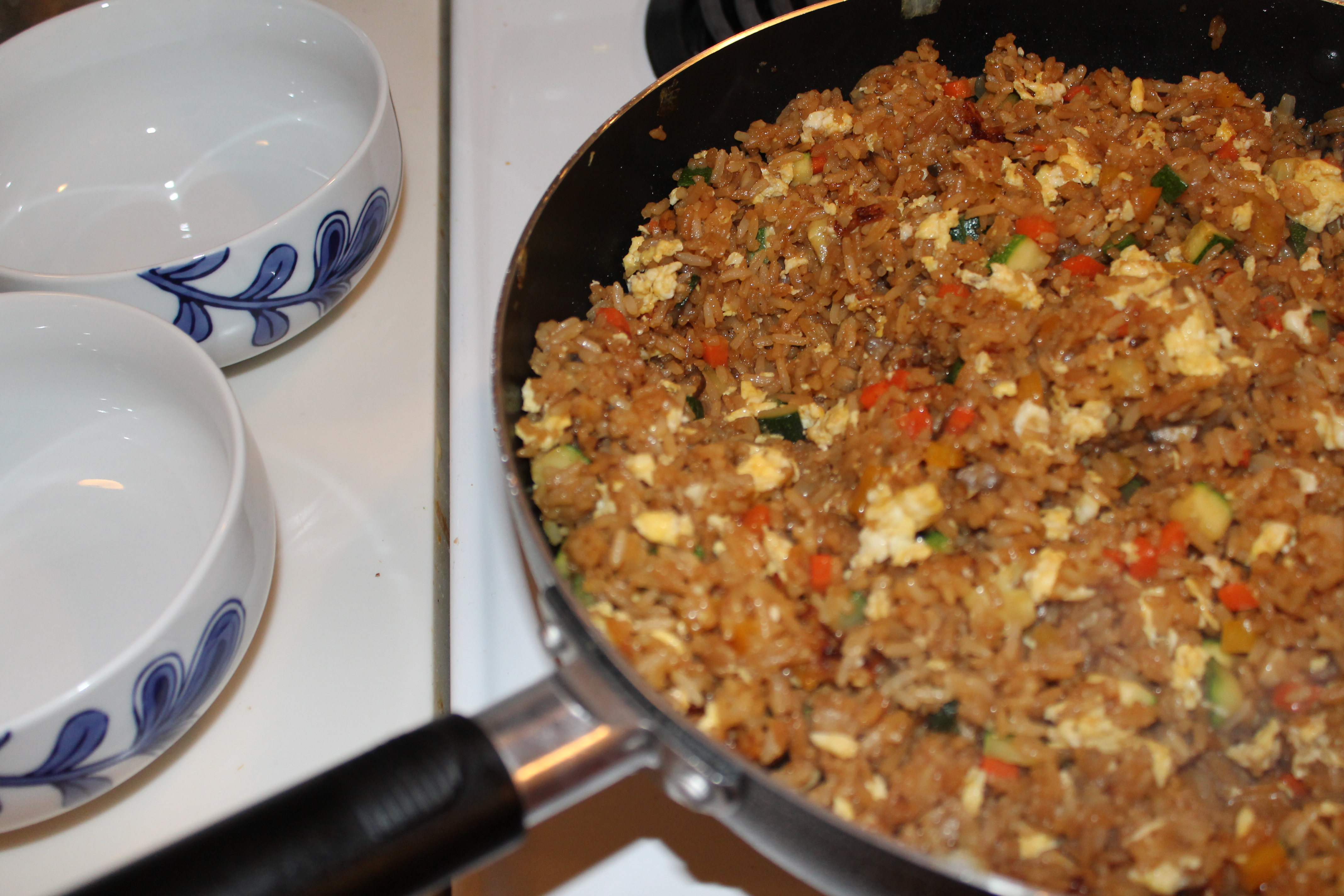 When the eggs are completely cooked, mix them into the rice and veggies. Heat for another minute or two, then scoop onto plates or into bowls and serve.
Veggie Fried Rice
a Melissa original
serves 4–6
Ingredients:
3–4 tbsp. canola oil
½ large yellow onion, diced (about 1 cup)
3 medium carrots, peeled and diced
2 cloves garlic, minced
2 small zucchini, diced
1 bell pepper (any color), seeded and diced
4–5 baby bella mushrooms, chopped
4 cups cooked rice, any variety, cold
½ cup gluten-free and/or low-sodium soy sauce
2 tbsp. rice vinegar
black and crushed red pepper, to taste
4 eggs
Directions:
Heat the oil in a large wok. Sauté the onion, garlic, and carrots until onion becomes translucent and carrots soften, about 5 minutes.
Add remaining veggies and sauté until mushrooms have released all their liquid and the pan is dry again, about 3 minutes.
Add cold cooked rice to the wok and mix with the veggies. Cook until rice is heated through. Stir in soy sauce and vinegar. Season with pepper to taste.
Push the rice mixture to one side of the wok. Break eggs into the open side of the pan and scramble; keep the eggs separate from the rice until they are completely cooked. Break up any large pieces of egg as you stir them into the rice mixture.
Serve hot.
*Variations: Almost any vegetable would work in this dish. Alternatives include peas, scallions, finely chopped broccoli, bok choy and others from the cabbage family, and many more!
Enjoy!