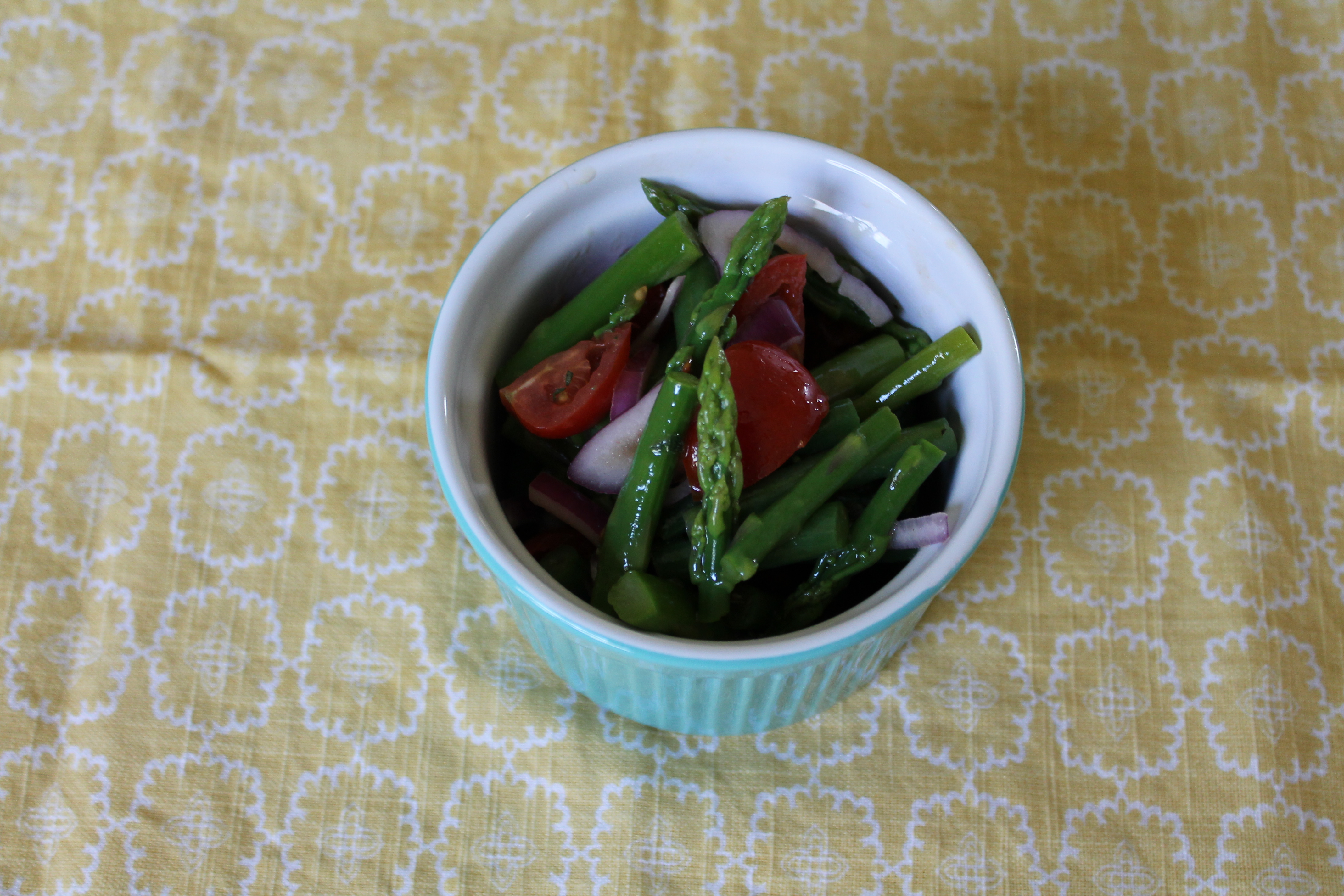 Right after Jake was born, a bunch of amazing friends brought us food for a few weeks to lighten our load. And thank goodness! Otherwise I am not sure we would have eaten anything except cereal, cereal, cereal.
It was a great opportunity to try new things! One of my new dishes was this side salad, full of bright colors and flavors. The best thing about this asparagus and green bean salad was that it brought me and Dave together.
You see, I have never really been a fan of green beans (gasp!). Of course, I will eat them when pressed (and, I admit a certain sense of relief that most Southerners prepare their green beans with bacon or ham, giving me an easy out…), but I hardly ever go out of my way to track them down.
Dave, on the other hand, hates asparagus. I'm still reeling from that pronouncement, given that it's one of my favorite vegetables of all time.
So, flash back to our first respective bites of this salad, in which I thought, "Here are some green beans I can get behind!" and Dave thought, "I could eat asparagus more regularly if it tastes like this!"
And history was made. (Also, I recently made this for a friend who hates tomatoes with much success…so I'm pretty sure this salad is magical.)
Let's make some veggies and evangelize more green bean or asparagus skeptics!
Honestly, this salad couldn't be easier.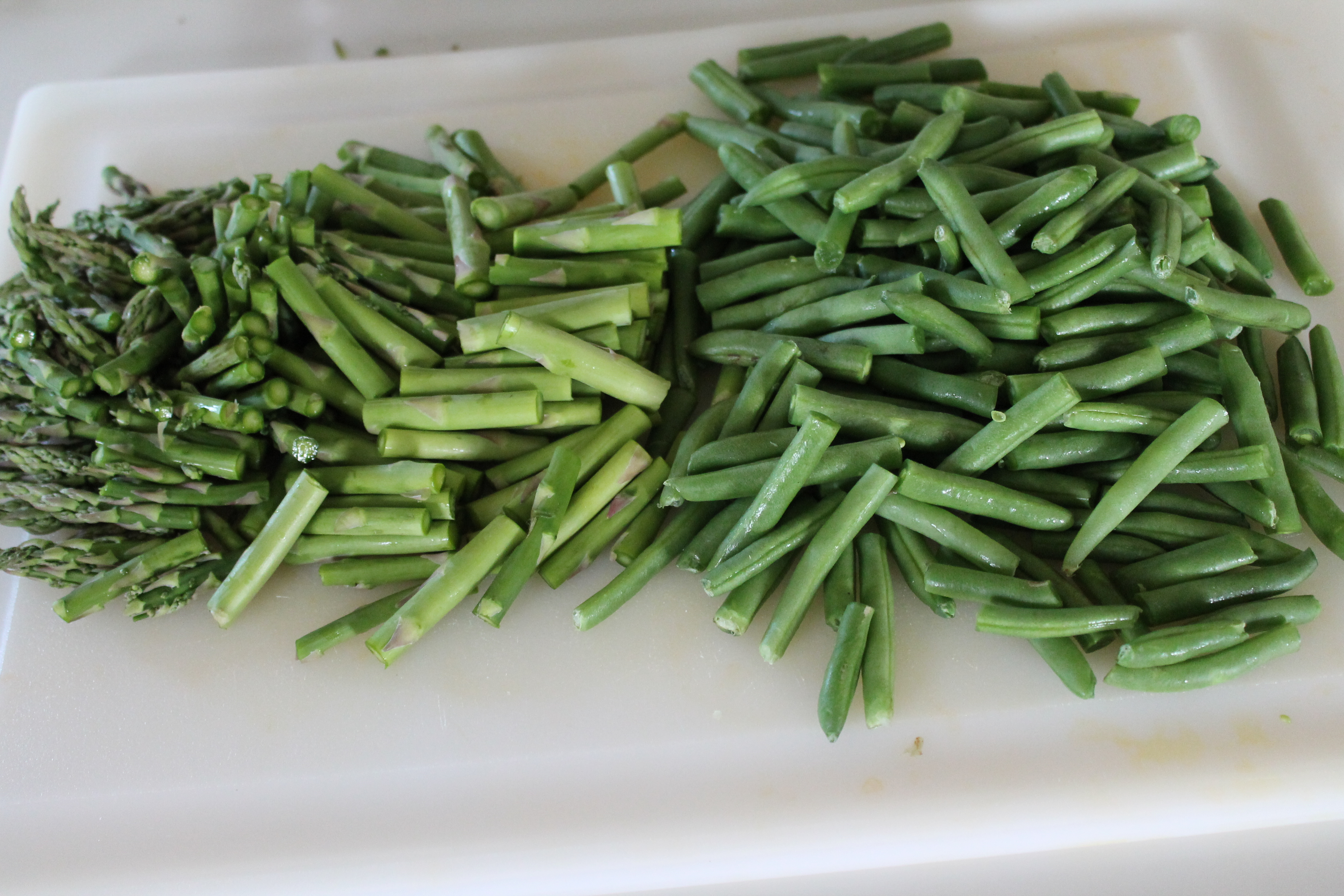 Just cut all of the green vegetables into bite-size segments, about 1½″ long. I find it easiest to cut my asparagus when it is still bundled (why make a thousand cuts when you can make 3?). The green beans were a little more annoying, since they didn't come all neatly tied together in the same direction, but just cut them in half (or occasionally in thirds)…it will only take about 5 minutes to get through them!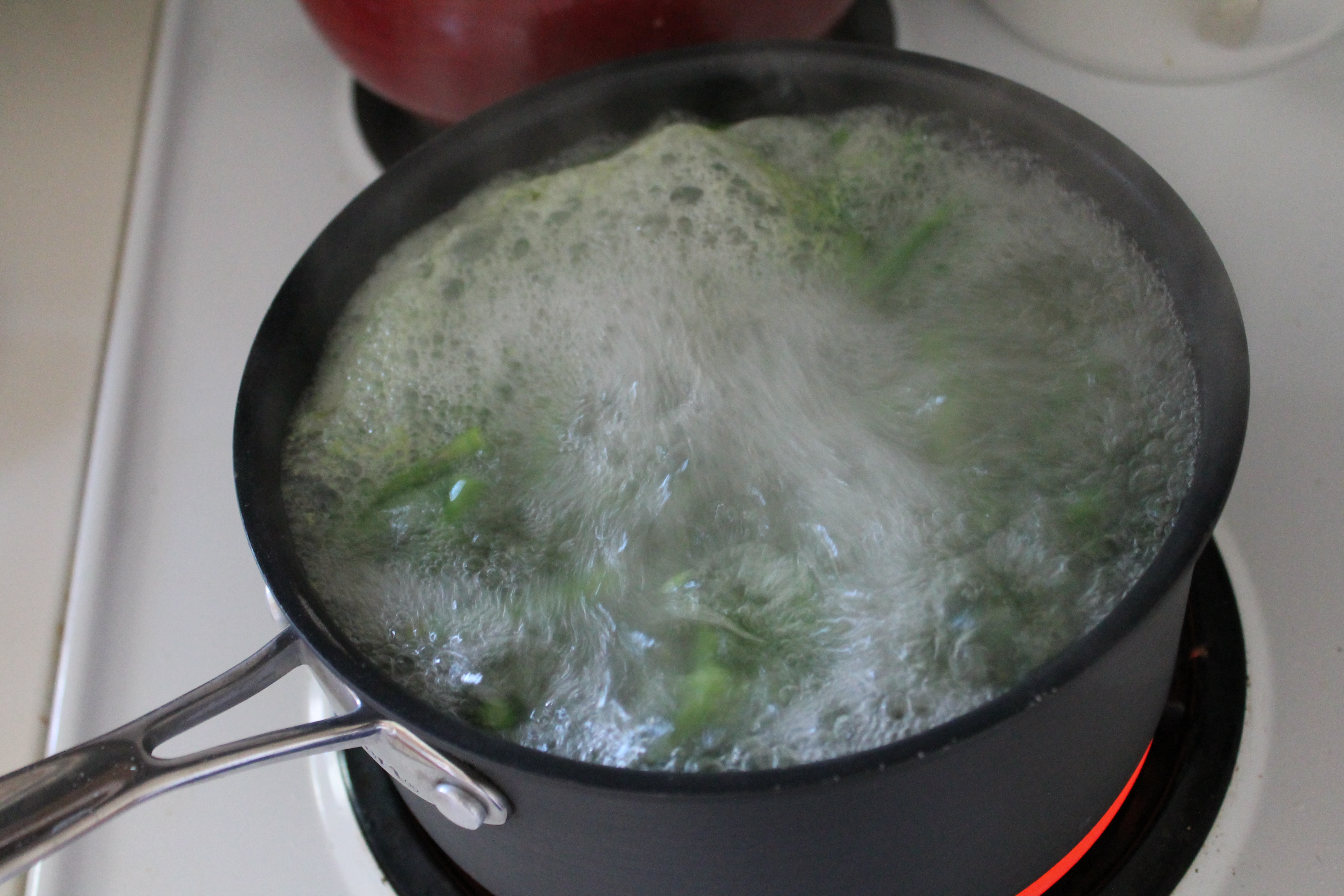 Now you can either blanch or lightly sauté the veggies. I've done it both ways, and here is my conclusion: when you blanch, they are a little squeakier and fresher tasting, but when you sauté, the flavors blend a little better and you need a little less vinaigrette. Whatever you choose, the goal is to get them tender while still leaving a crisp bite; basically, you just want to take the raw edge off.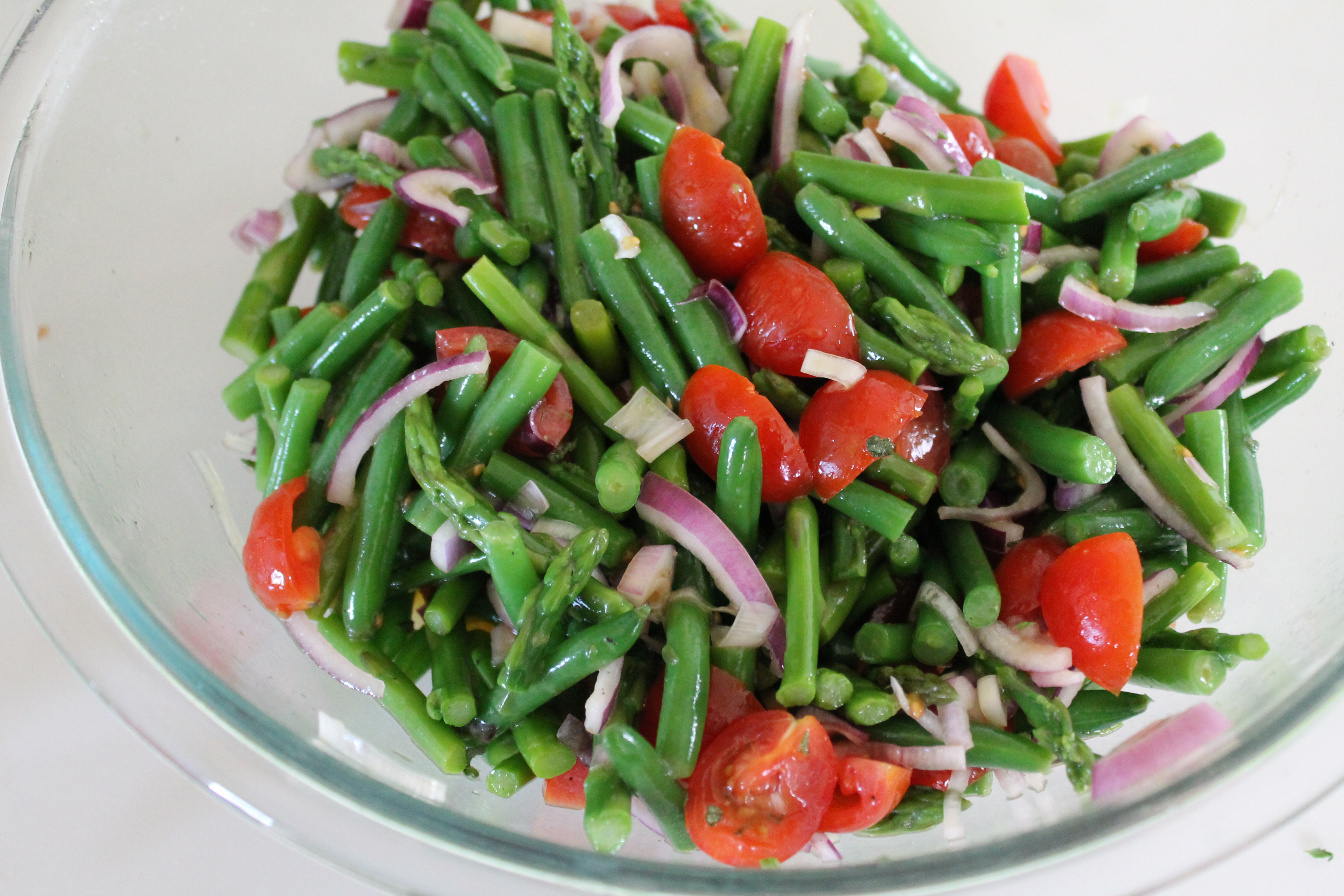 Toss the cooked veggies with sliced onions and quartered cherry tomatoes.
Make a quick, lemony dressing with olive oil, lemon juice, salt, pepper, garlic, and fresh oregano. You can actually use whatever fresh herbs you prefer or have on hand. I meant to use parsley, but forgot to buy it…and Dave said that oregano was an upgrade from parsley anyway!
Toss everything together and voilà! You're done.
Asparagus Green Bean Salad
adapted from Allrecipes.com
serves 6–8
Ingredients:
¾ lb. slender asparagus spears, trimmed and cut into 1½″ segments
¾ lb. green beans, trimmed and cut into 1½″ segments
½ small red onion, quartered and thinly sliced
1 pint cherry tomatoes, quartered
2–4 tbsp. olive oil, plus extra if sautéing
2–4 tbsp. lemon juice
salt and black pepper
¼ tsp. garlic powder
2 tbsp. chopped fresh oregano or parsley
Directions:
Blanch (boil) the asparagus and green beans for 2 minutes –OR- sauté in olive oil for 4–5 minutes, until vegetables are crisp-tender. Immediately remove from the heat and transfer to a large serving bowl.
Toss with onions and tomatoes.
Stir together the remaining ingredients and pour over the veggies. Toss again.
Serve cool.
Enjoy!
One year ago: Vegetable Khorma
Two years ago: Double Chocolate Buttermilk Cookies