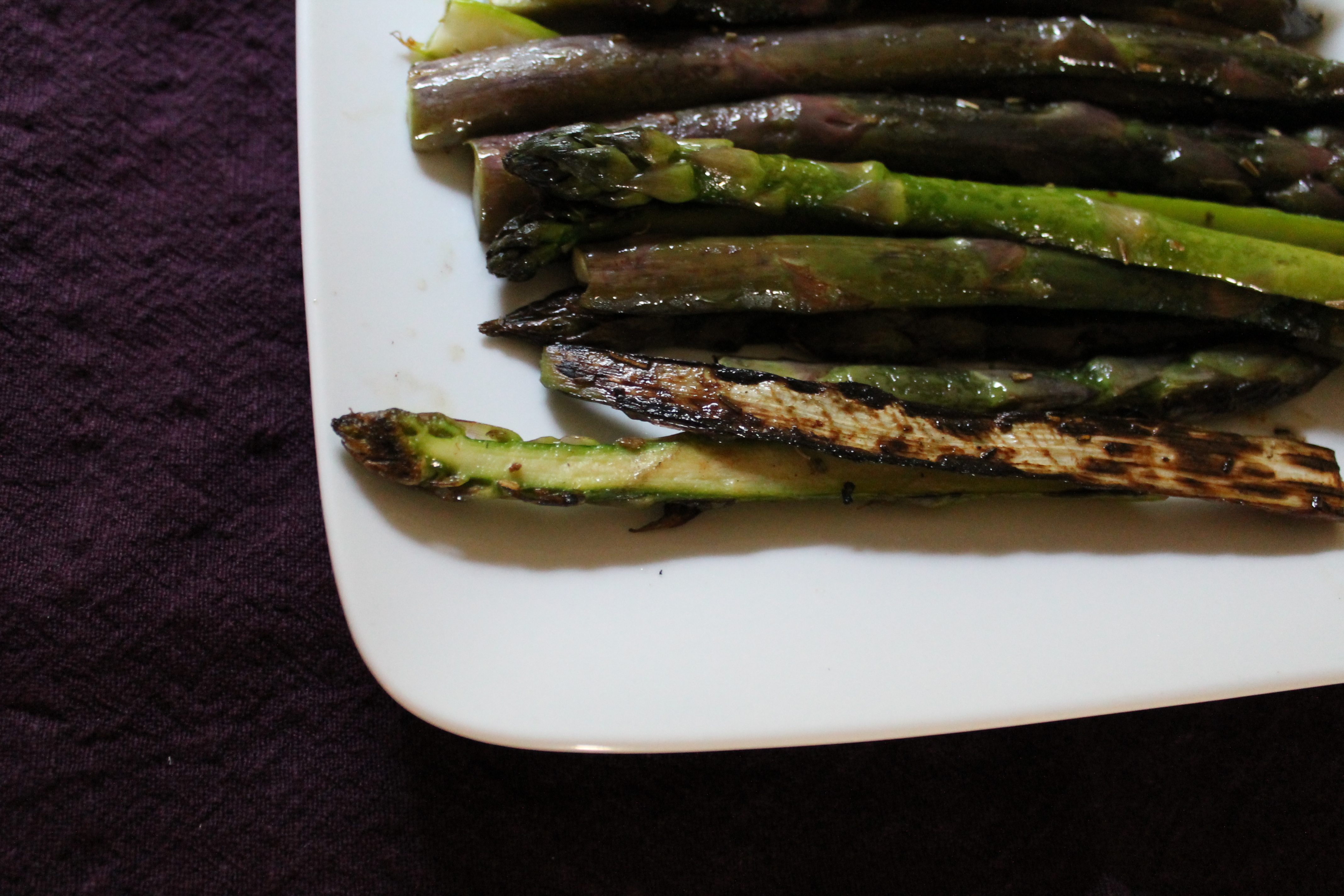 Did I tell you we joined a farm?
Maybe joined isn't the right word, but I definitely think about it as my farm these days! What we actually did is buy a CSA share for the summer.
In case that's an unfamiliar acronym, CSA stands for Community Supported Agriculture, and it's a program that many farms across the country do to encourage local, seasonal eating…and of course, to boost patronage and earn enough money to keep growing great foods the next year! Each farm will establish their own specifics, but the basic gist is that you pay a lump sum up front and then you get a box of fresh produce every week! How amazing.
Great Country Farms also runs a U-Pick operation, so we've trekked out to Bluemont twice now to take advantage of asparagus and strawberry season! When we went last week, they were still selling big, beautiful asparagus…so in case you were lamenting the end of Spring and the impending dearth of delicious asparagus, don't stress just yet! At least in our neck of the woods, asparagus plants are still edible!
I have always been a little wary of giant asparagus. In my mind, they are stringy and tough. But when I saw these huge, purple stalks, freshly cut and just waiting to be grabbed up at the GCF market last week, I thought I should give them another try.
Boy am I glad I did, because they were delicious! They were so fresh, they were actually juicy, and they tasted earthy and flavorful. The key, as with cooking any asparagus, is not to overcook it. Overdone asparagus is mushy, less vibrant, and often hard to cut, since the extra heating brings out the stringiness.
So let's make some asparagus, maybe the last of the season! Grab your sauté pan and bring your appetite.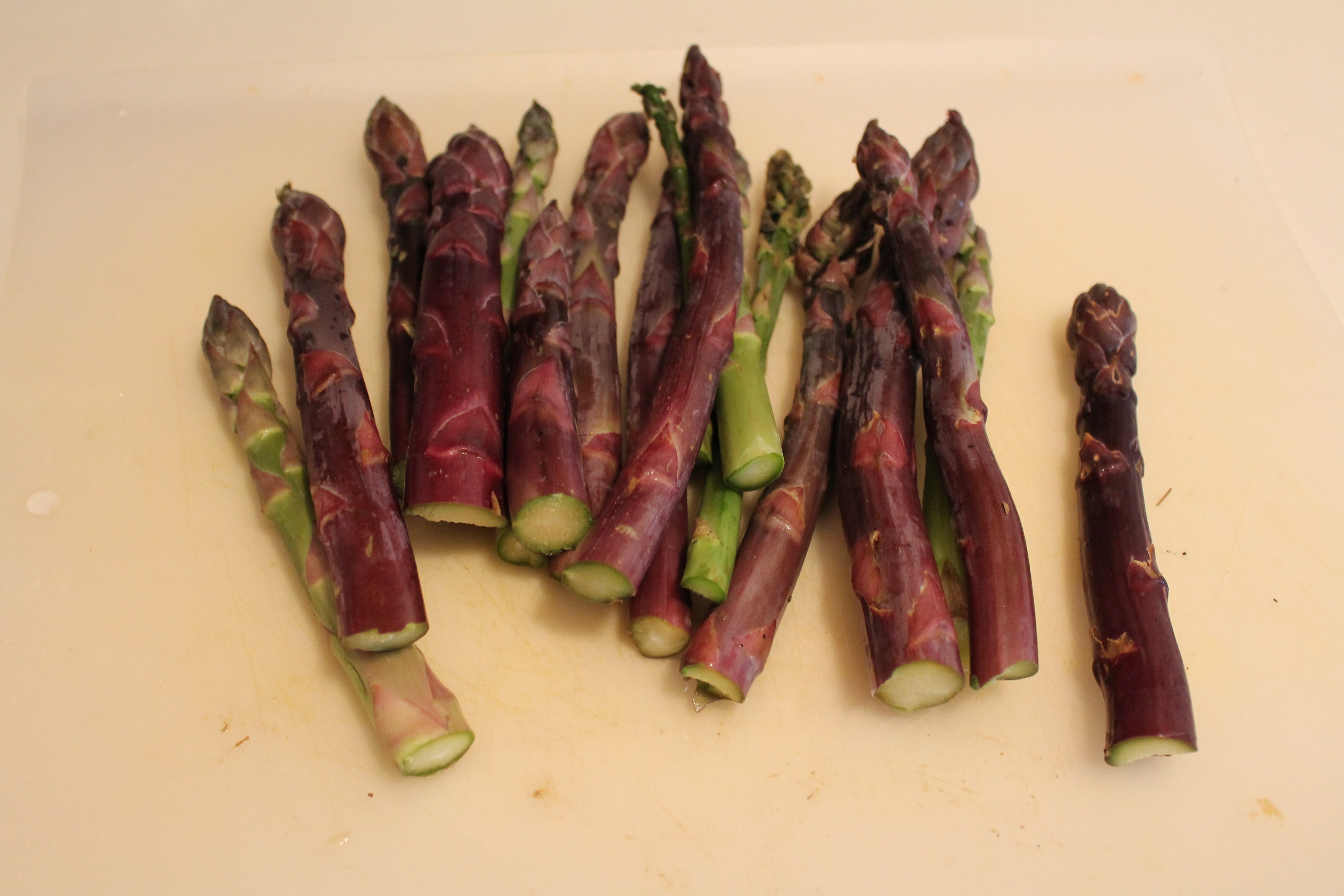 Trim the tough ends off the asparagus. If you bought a bunch from the grocery store, a simple trick is to pull one of the asparagus out of the bunch, hold it roughly in the middle and at the bottom end, and break it. Then line the stalk up with the rest of the bunch and cut the whole bunch to the same length as the broken stalk.
I actually broke each of mine individually this time, though. Because they were so big, I wanted to be sure I was only going to eat the yummy parts. The giant stalks snapped very satisfyingly when they broke. Mmmm…For me, it only took about a minute to break all of mine, but I only had about 20 stalks all together. Use whichever method you feel most confident about!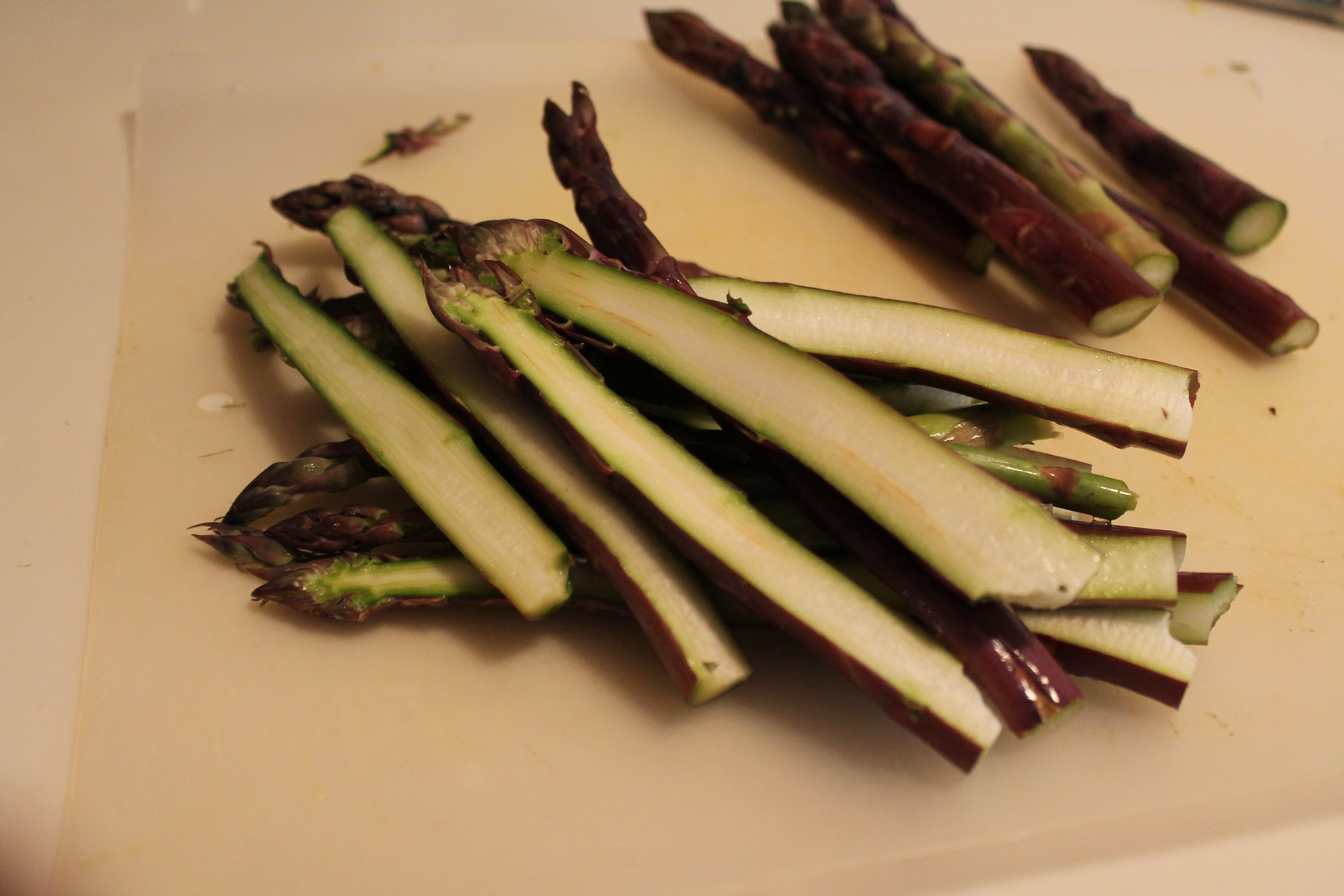 Because these asparagus are so big, let's go ahead and slice them in half lengthwise. This will make it easier for us to cook them properly, and of course, we will be done faster!
I also like them halved because then the insides can get a nice sear, which is pretty AND tasty!
Of course, if you have skinnier asparagus, you may not want to halve them. I would recommend only halving the ones that are finger-thick (gauge by your pinky or ring finger, unless you have tremendously skinny or large fingers) or larger.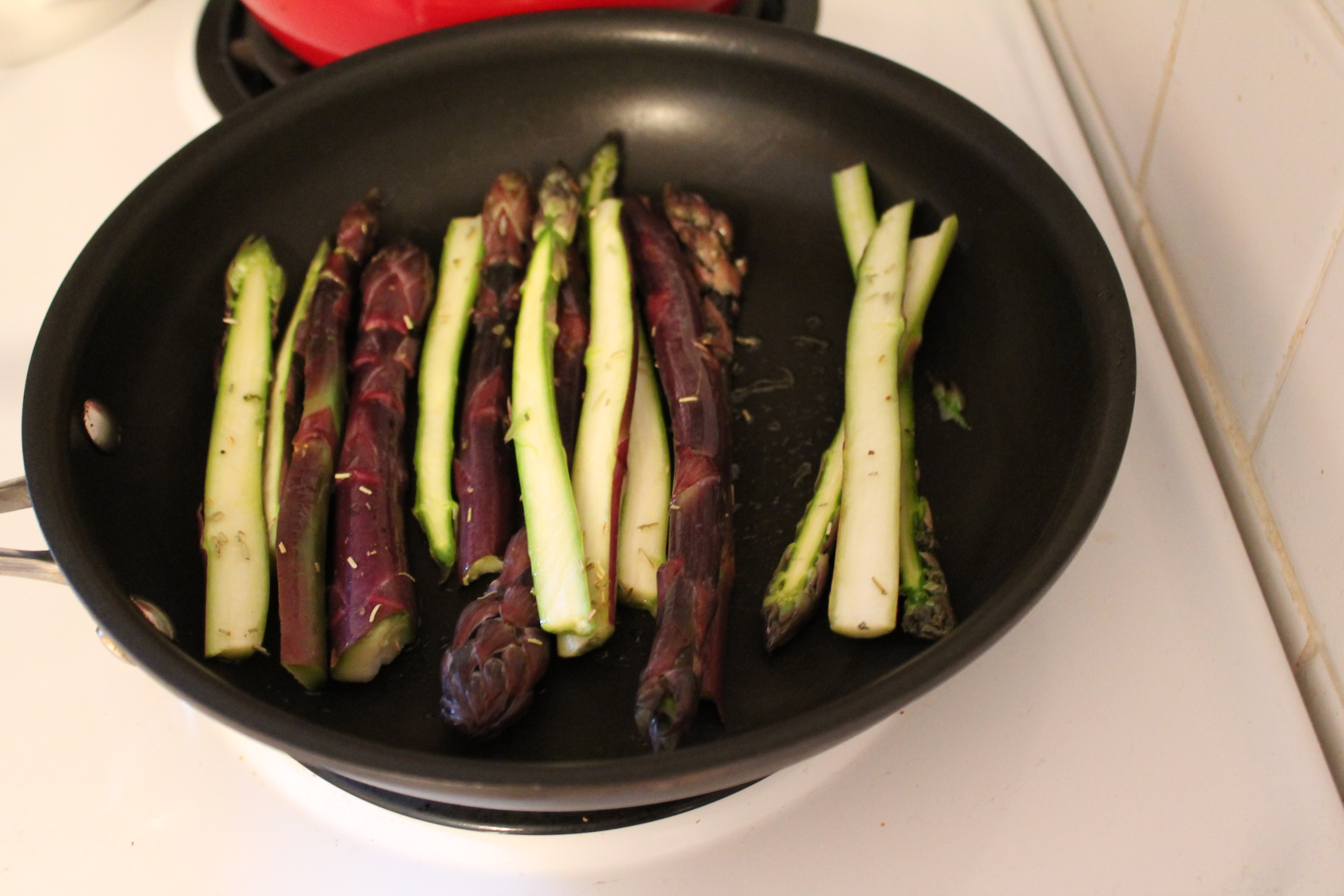 Toss the asparagus into a large sauté pan with some hot olive oil. Sprinkle with dried rosemary. I prefer not to salt or pepper my asparagus when I sauté it, because I think it dulls the bright, fresh flavor. If you decide to season yours with salt, please sprinkle timidly!
Sauté for 3–7 minutes, depending on the thickness of your pieces. You don't need to stir too frequently, because you want to get that pretty char on the down-sides of the asparagus, but do move the pan around every minute or so. Mine cooked for 5 minutes, and when I took them off the heat, they still had a crisp bite to them.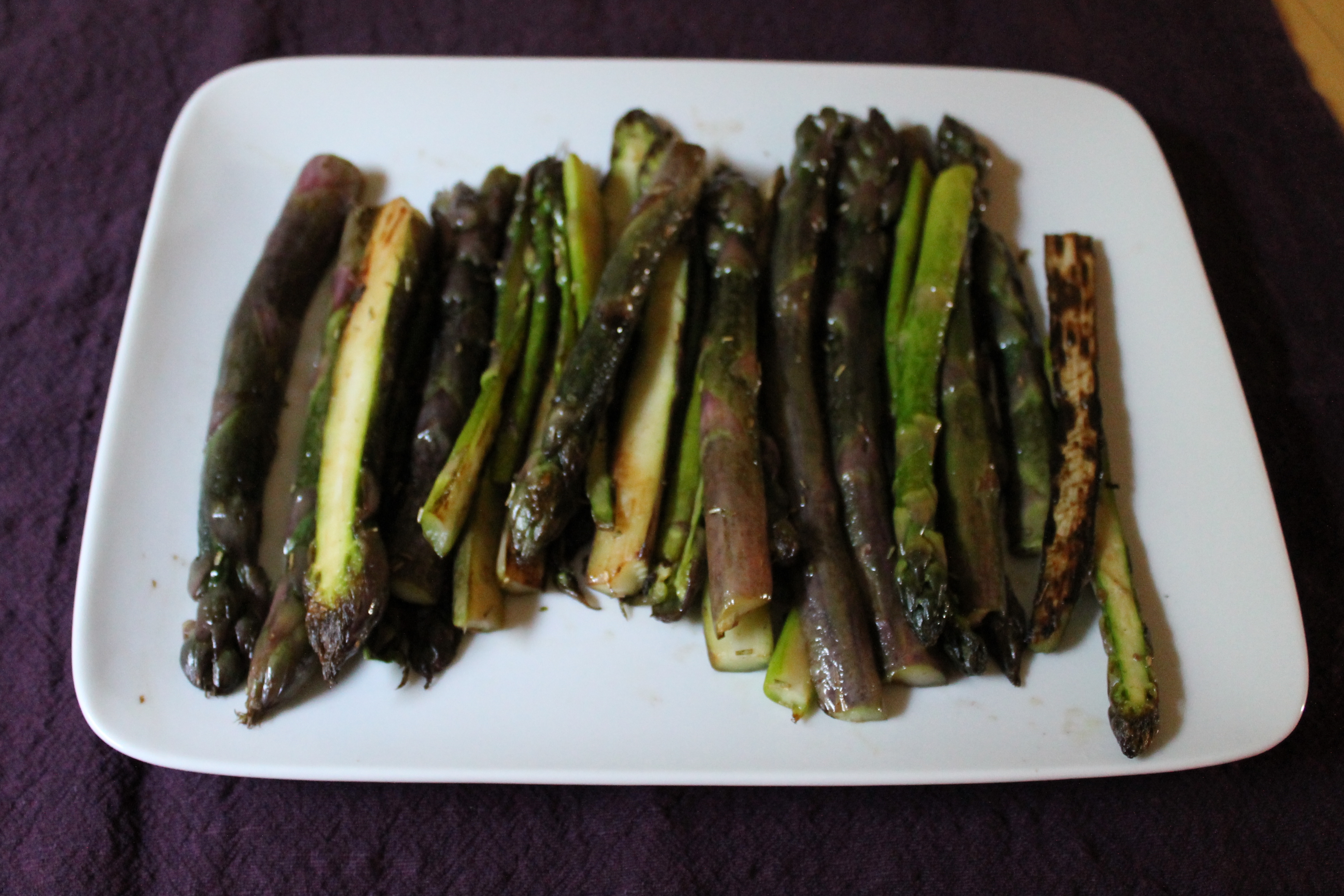 Also, interestingly, the purple stalks began to turn a little green as they became tender!
Sautéed Purple Asparagus
by Melissa
serves 4
Ingredients:
1 lb. thick purple or green asparagus (about 15–20 fat stalks)
2 tbsp. olive oil
½ tsp. rosemary
Directions:
Trim or break the woody ends off the asparagus stalks. Slice the trimmed asparagus in half lengthwise.
Warm the olive oil in a large pan over medium-high heat. Add the asparagus and rosemary. Sauté until crisp-tender, about 5 minutes. Test a few stalks with a fork to check the consistency: the fork should easily pierce the asparagus, but the flesh should still be firm.
Serve warm.
Enjoy!
One year ago: Baked Brownie
Two years ago: Ricotta Gnocchi