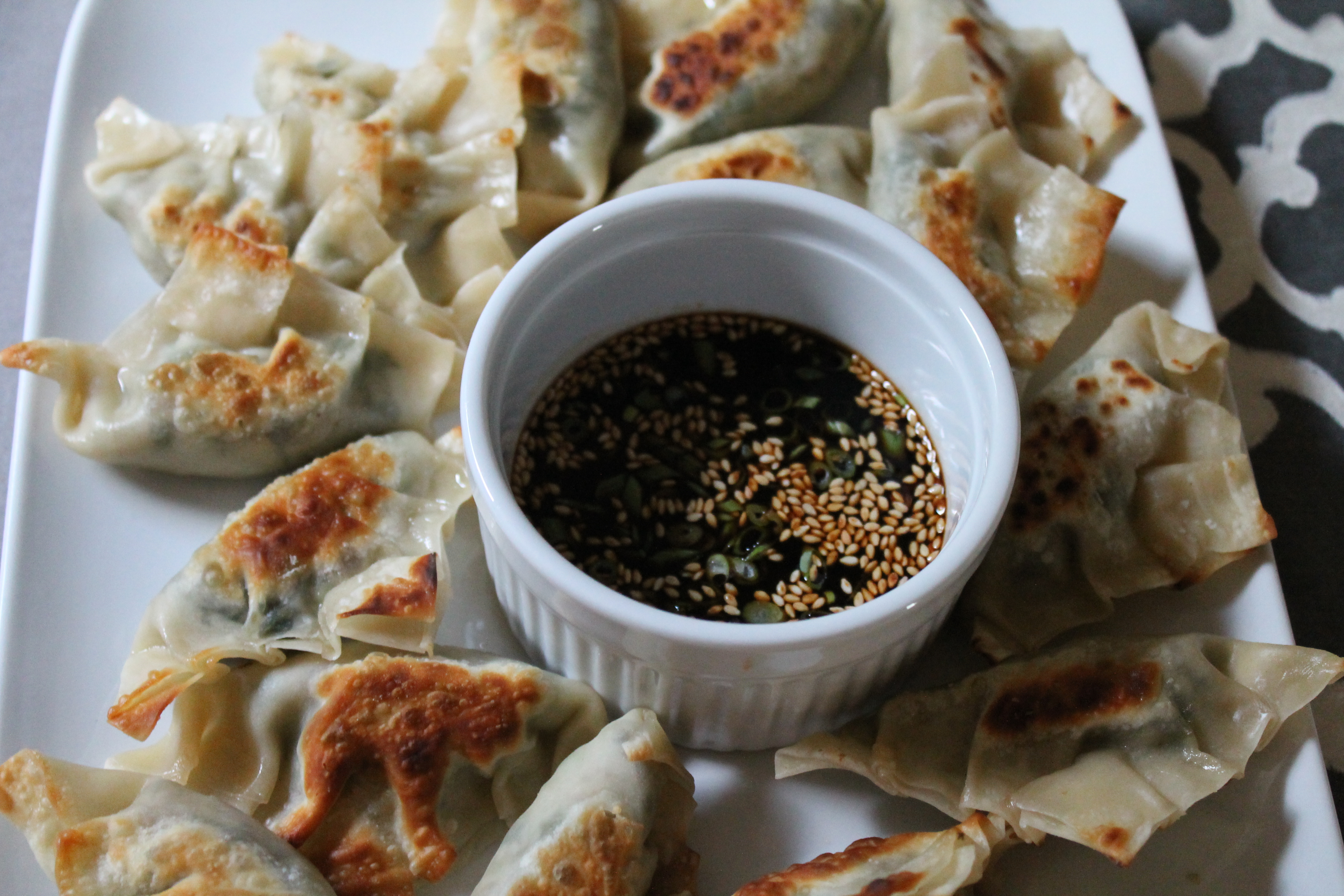 A few weeks ago, I stumbled across a recipe for spring veggie potstickers that immediately peaked my interest. So last week when I opened up my CSA box and found a bounty of late-spring produce, I immediately figured out how to adapt the recipe to the veggies in my box.
What I received for week 2 of my CSA share was: a huge bundle of kale, almost a pound of asparagus, several spring onions, a few large radishes, and a pint of cherries.
You can adapt this recipe to whatever veggies you have on hand! I thought that the radishes, kale, and asparagus went perfectly with a small handful of chopped mushrooms that I happened to have languishing in my fridge. The mushrooms upped the umami factor of the potstickers, which was a definite plus for my husband (who didn't even complain that they were vegetarian!). This meal actually turned out so great that I made it twice!
These potstickers aren't hard to make, unless you have an unhappy baby who doesn't understand why you are spending 15 minutes pinching wonton wrapper seams together. In that event, you might want to give yourself some extra time and patience. I'm just saying.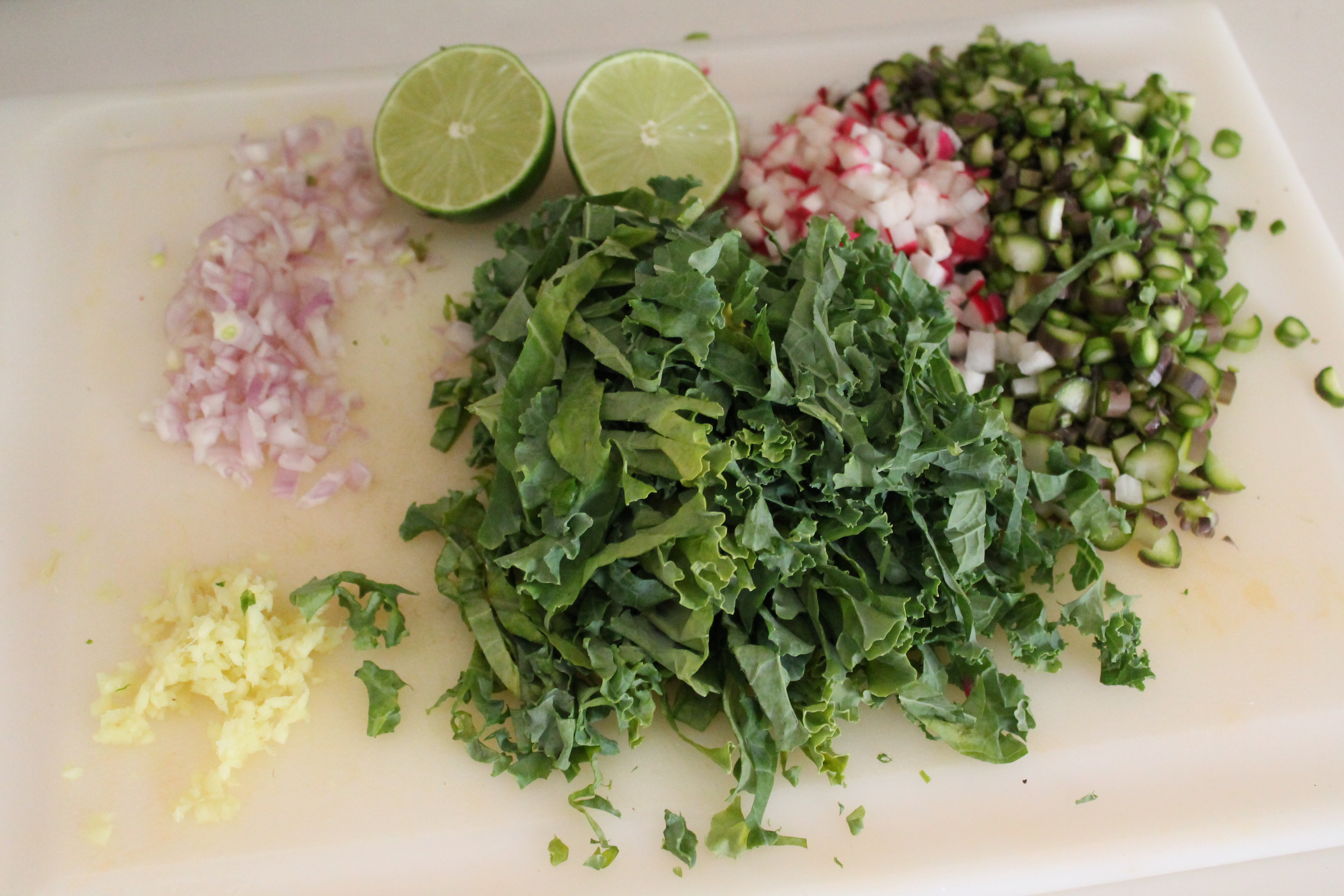 First you have to dice up all of your veggies. Dave says that potstickers usually have "long" ingredients in them, but I think it is a lot easier to scoop the filling onto the wonton wrappers if you go for a small dice. It took me about 10 minutes to chop up a shallot, 10 stalks of asparagus, 2 kale leaves, 3 radishes, and 4 baby bella mushrooms. (BTW, Jake happily played with a bunch of paper grocery bags on the floor while I sliced and diced. What a sweet kid!)
Don't forget to chop up some fresh ginger! Chop it as small as you possibly can. Don't try to use a microplane zester here, because the ginger will basically just turn to a wet mush. It's actually nice to have a bit more substance of spicy flavor in these potstickers.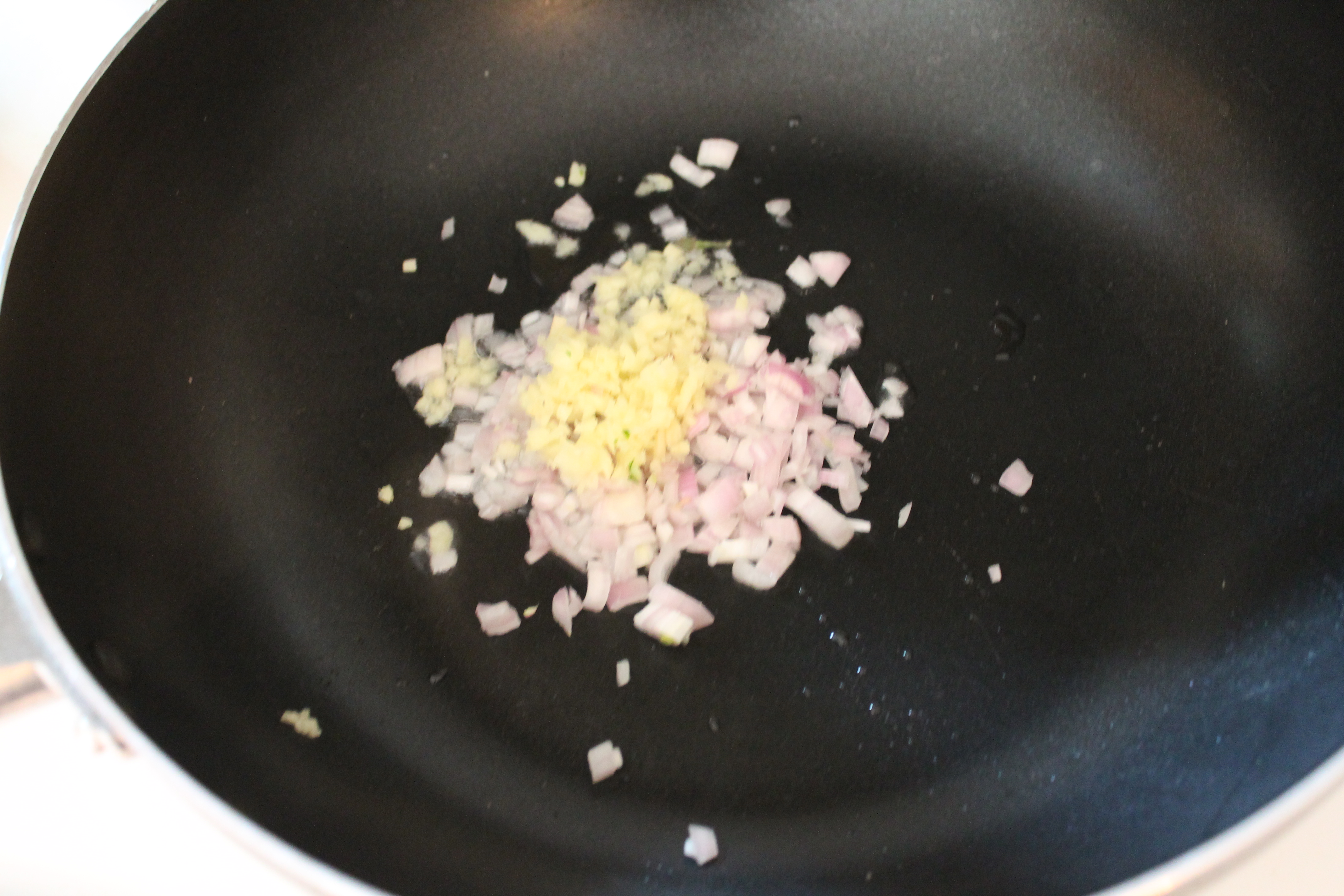 Sauté the shallots and ginger in about 2 tsp. oil. I used coconut oil, but you could use sesame or canola if you prefer!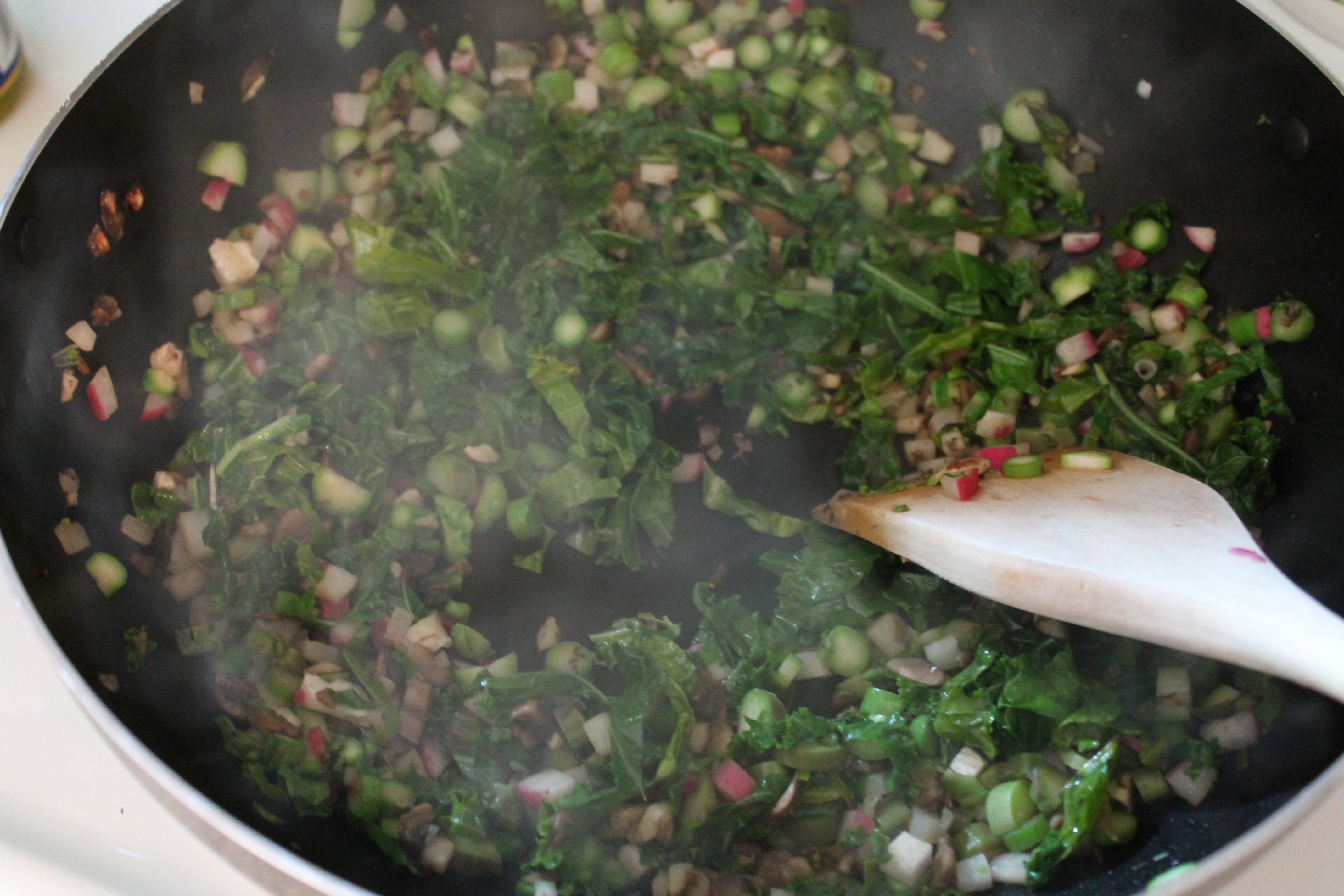 When the shallots begin to become translucent, add in the radishes, asparagus, and kale. Continue to cook until the kale is completely wilted.
Squeeze in the lime juice and season with salt and pepper. Set the vegetable mixture aside to cool to room temperature. (This just makes it easier to handle during assembly.)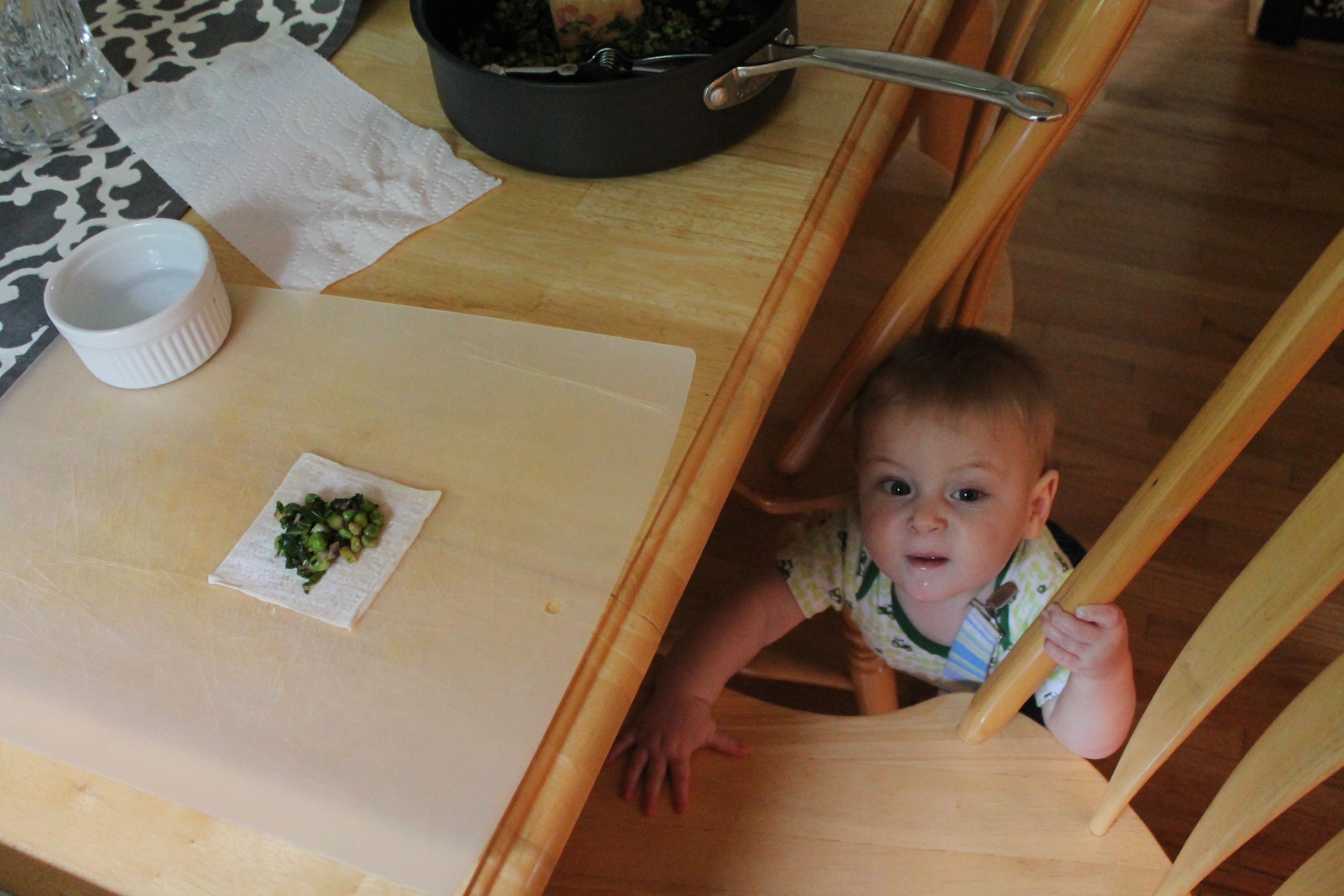 When you are ready, set up a little assembly station. You will need the filling, a cookie scoop or spoon, a dry work surface, a small bowl of water, a towel, and a parchment-lined baking sheet or plate. Set a wonton wrapper onto your clean work surface and drop a scoop of filling into the center. Try not to get too many strands of kale in any one scoop (although they like to cling together, so don't stress too much if you make several kale-y-er potstickers). Now dip a finger into the water and wet two adjacent edges of the wonton wrapper. Quickly dry your finger and then pinch the seams of the wonton wrapper together. I used a fold-pinch action to get the creases, but you could just seal the edges straight, too!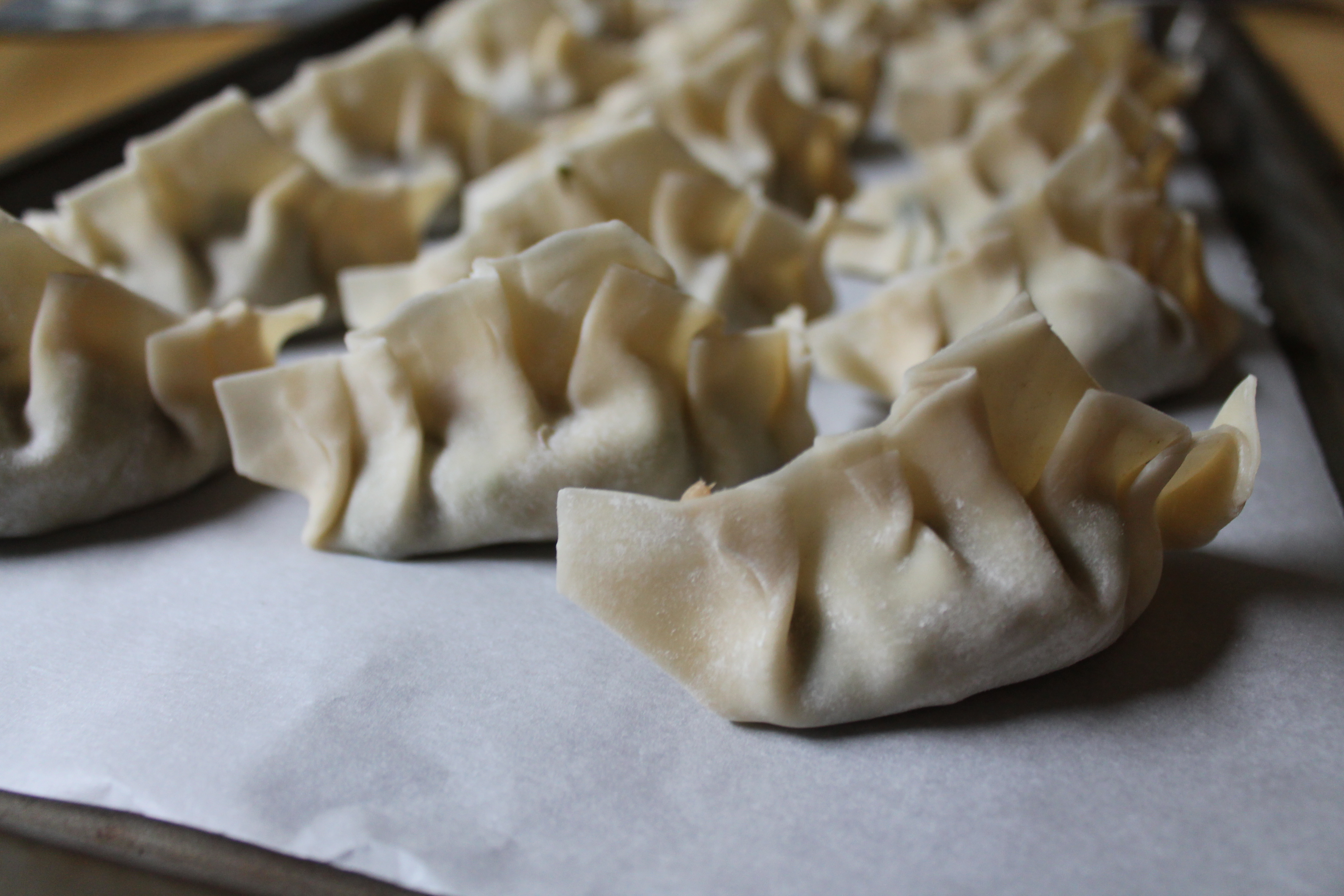 You should have enough filling to make 24-30 potstickers. Set the assembled potstickers onto the parchment-lined landing area.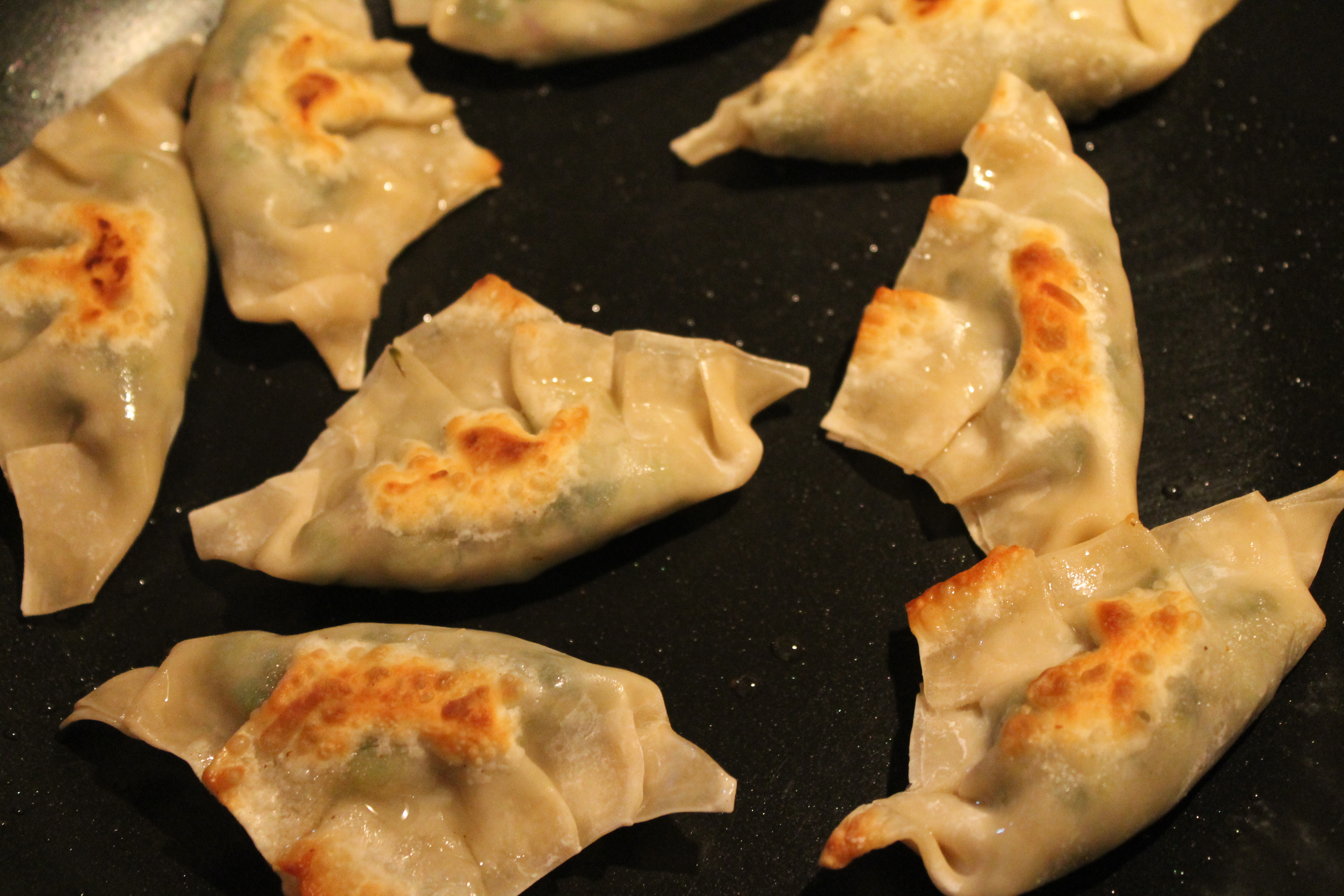 You can cook the potstickers in one of two methods. The easiest way is to simply sauté, 1–2 minutes per side, in a small amount of sesame oil.
Dave prefers it when I blanch the potstickers first, although this way definitely adds a little more frustration to the process because the wonton wrappers are so sticky when wet (um…they are called pot-stickers for a reason). Drop about one third of the potstickers into boiling water. After 1 minute, scoop them out and immediately set them into a sauté pan with 1 tbsp. hot oil. They will sizzle a little scarily, but don't worry! The smoke will die down in a few seconds, just in time for you to turn them over and sauté the other sides.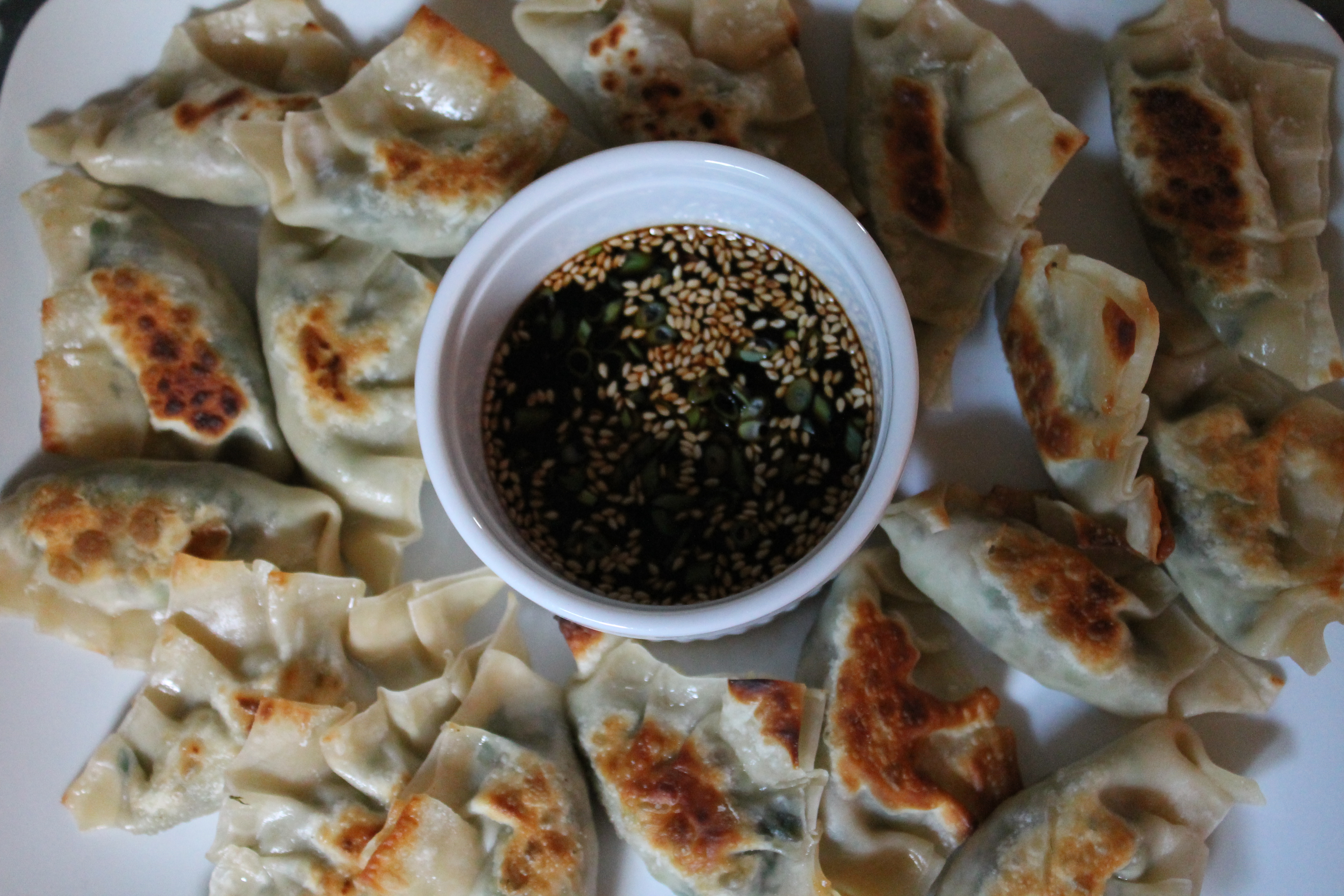 Serve with the sweet chili soy sauce. All you need to do to make the sauce is stir all the ingredients together! I used a lot of the green stalks of spring onions in mine. Yum!
Vegetable Potstickers with Sweet Chili Soy Sauce
adapted from The First Mess
serves 2–3
Potsticker Ingredients:
1½ tsp. coconut oil or canola oil
1 shallot, diced small
2 tbsp. minced fresh ginger
10 medium stalks asparagus, diced small
3 radishes, diced small
1 cup slivered kale (about 2 leaves)
4 medium baby bellas, diced
juice of 1 lime
salt and black pepper
24-30 wonton wrappers
sesame oil, as needed
Dipping Sauce Ingredients:
¼ cup low-sodium soy sauce or gluten-free soy sauce
2 tbsp. honey
1 tsp. grated fresh ginger
splash of sesame oil
1 tsp. ground red chili paste or ¼ tsp. crushed red pepper
2 spring onions, green parts only, sliced thinly on a bias
1½ tsp. toasted sesame seeds
Directions:
Heat the coconut oil in a large sauté pan over medium heat. Add the shallots and ginger to the pan. Sauté about 2 minutes, until shallots are fragrant and nearly translucent.
Add the asparagus, radishes, kale, and mushrooms to the pan. Sauté until the asparagus is bright green and the kale is wilted.
Add the lime juice, season the mixture to taste, and remove from the heat. Allow the vegetable mixture to cool.
Divide the filling amongst the wonton wrappers, placing about 2 tsp. in the center of each wonton square. Moisten half of the edges with a bit of water and fold the potstickers up, pinching the tops shut as you go.
Bring a medium-size pot of water to a boil. At the same time, clean out the sauté pan and heat a small amount (no more than 1 tbsp.) of sesame oil over medium heat. Quickly blanch one-third of the potstickers in the water, then scoop out of the water, shake to release excess liquid, and toss into the pan with the oil. Stand back to avoid the smoke and sizzle. Fry the potstickers until they're golden brown on both sides, about 1–2 minutes per side. Repeat with remaining potstickers, adding more oil to the pan as needed.
Whisk together all of the ingredients for the dipping sauce.
Serve the potstickers hot with the sauce on the side.
Enjoy!
One year ago: Giada's Bruschetta
Two years ago: Herb Mustard Salmon