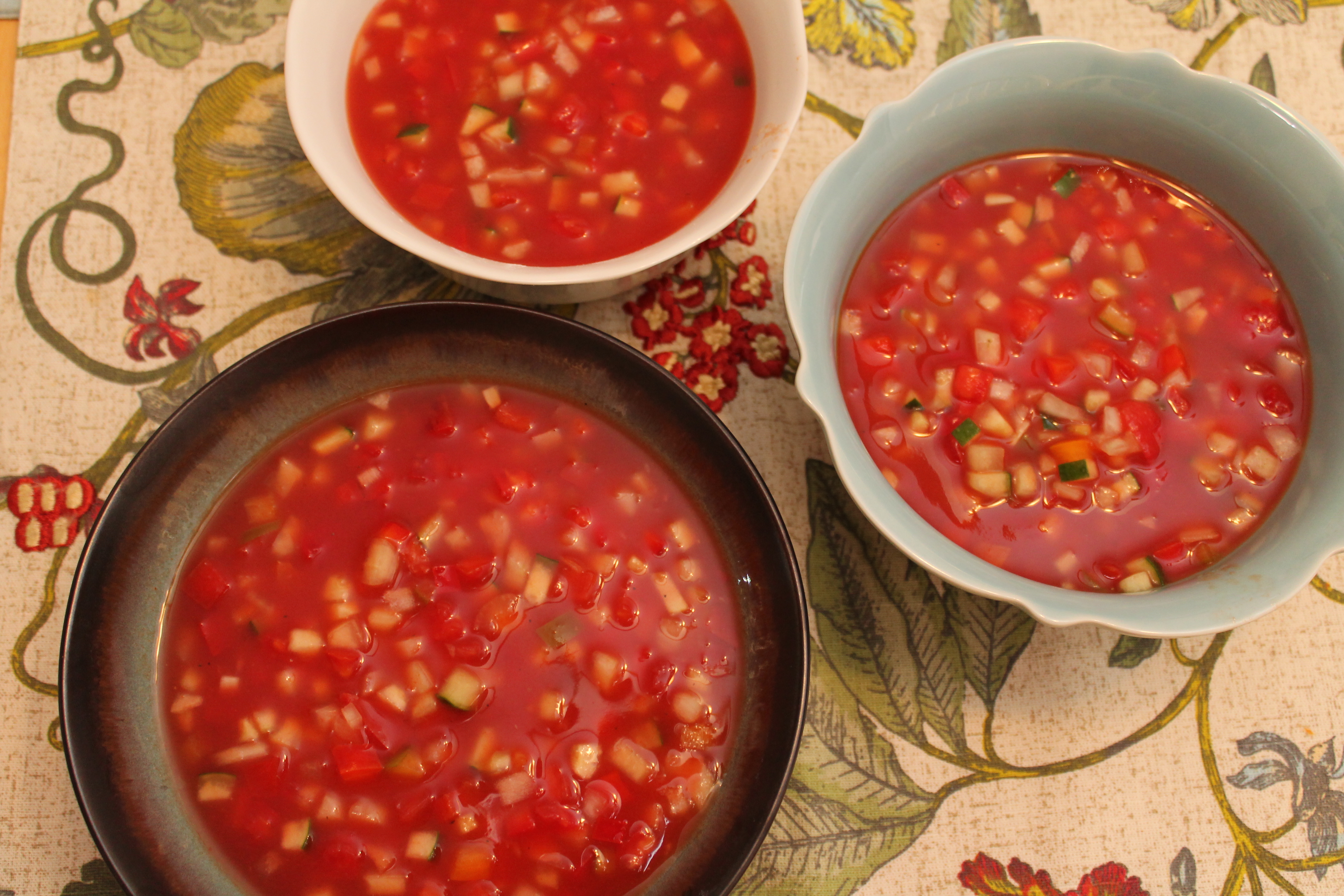 The first time I ever had gazpacho, it was more like a mealy pureed tomato than soup.
I decided gazpacho wasn't worth my time and promptly forgot about it.
But last week, with three cucumbers and one beefsteak tomato in the same CSA box, I got to thinking. When three more tomatoes and a bell pepper arrived this week, I knew I should probably give gazpacho another try.
I consulted my trusty New Best Recipe and read that the best versions of gazpacho aren't pureed at all, but instead are full of finely diced veggies swimming in tomato broth. I made my peace with the two hours it would probably take me to dice that many veggies, and the resulting gazpacho was delicious!
In Spain, they call it liquid salad…it looks and smells of high summer, and is the perfect end to a sweltering day!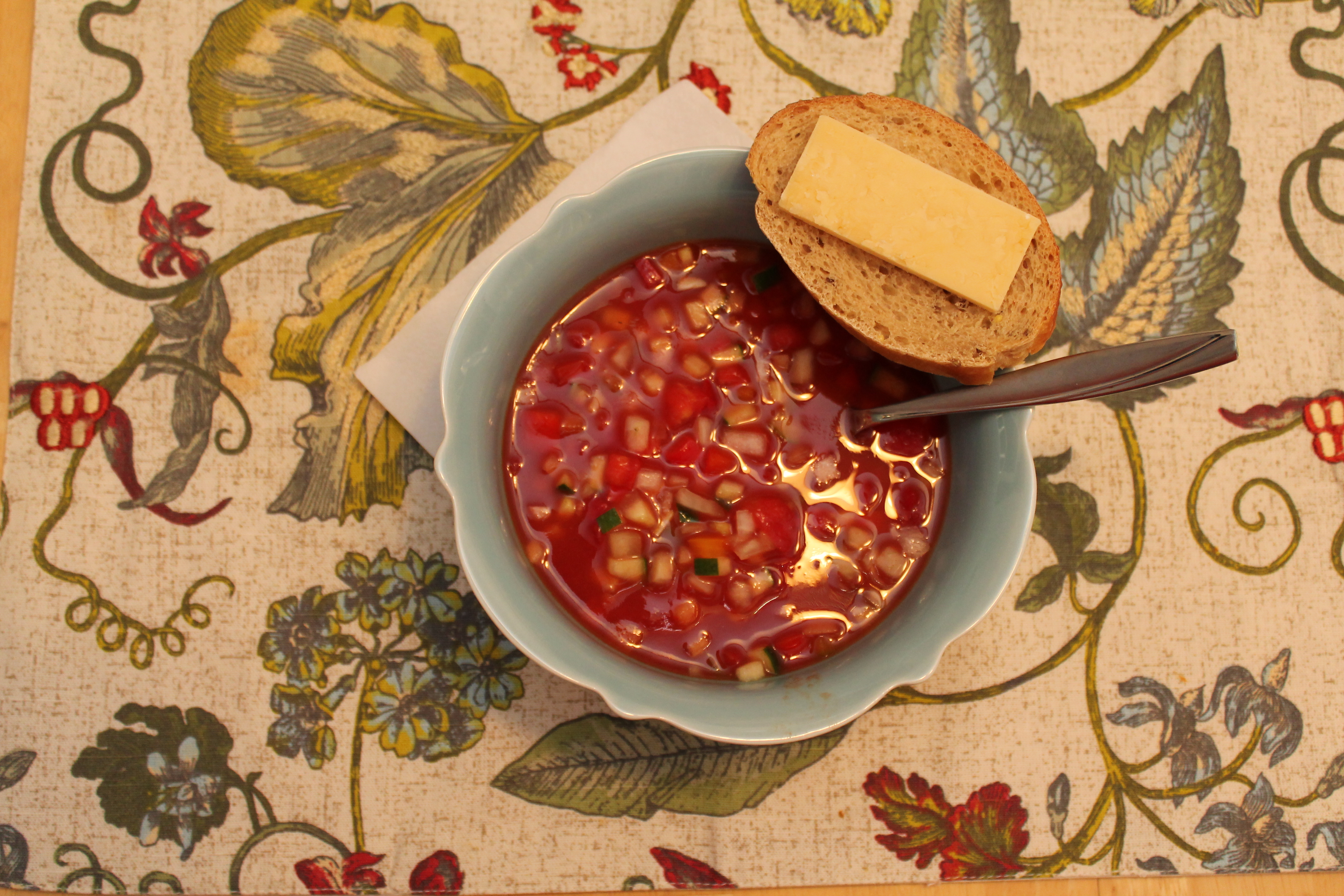 And here's an idea! Serve it with a hunk of artisan bread and a few thick slices of your favorite cheese (we went for Dubliner Irish Cheddar this time). Summer's answer to the grilled cheese and tomato soup!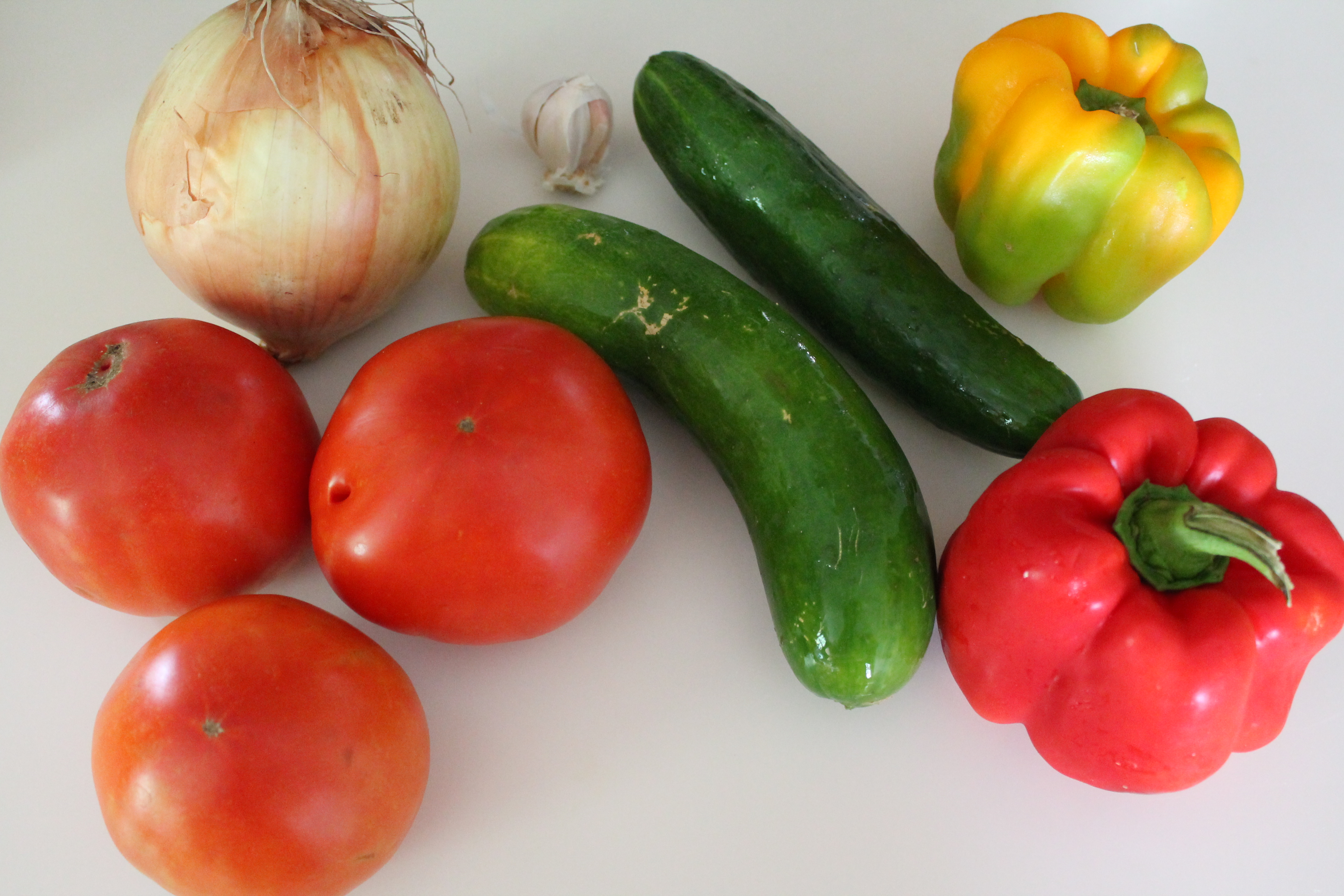 You need to get this soup started about 6 hours earlier than you intend to serve. (Though, if you are an amazing dicer, you could cut it a bit closer!)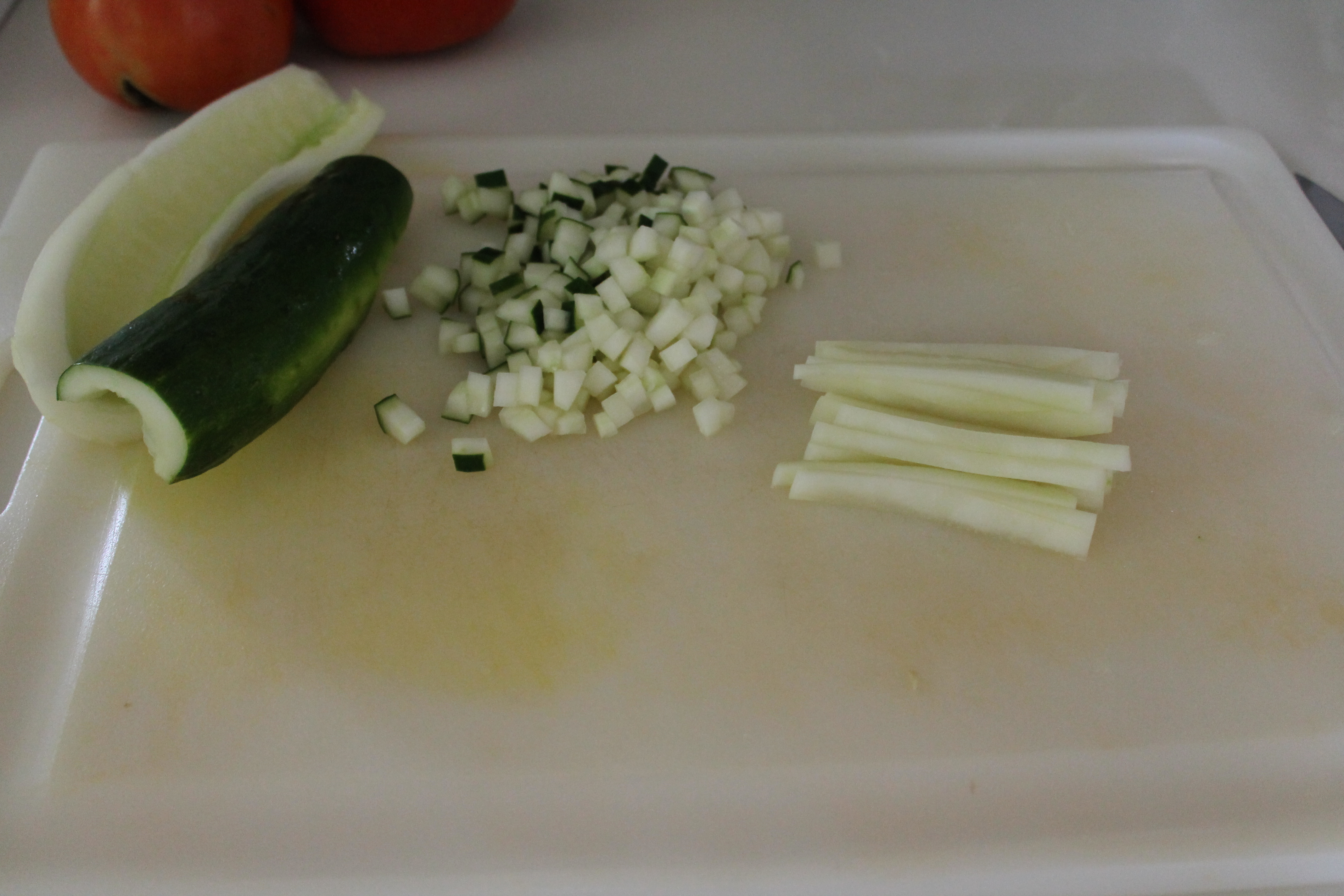 Peel one of your cucumbers. Seed both of them and then chop into a ¼″ dice. This is easiest if you cut each cucumber half into long sticks, then turn and cut into cubes. If you have a particularly bent cucumber, you can cut it in half lengthwise and do it in two (er…four) parts!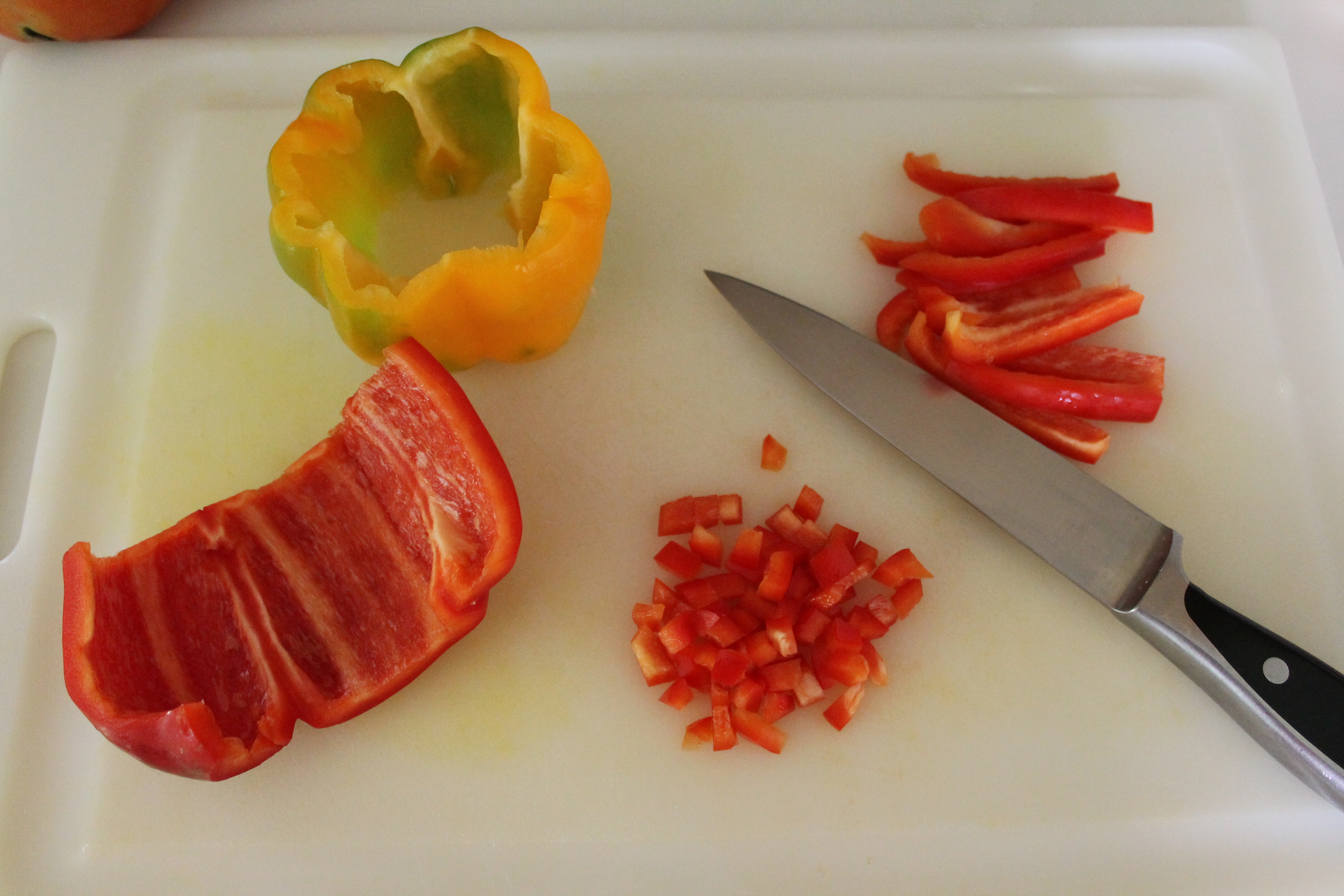 Next, seed and dice the peppers. I actually got these peppers at a farmer's market. I really enjoy the multicolored peppers, but Cook's Illustrated recommends using red peppers because they are a little sweeter. I compromised and used one of each.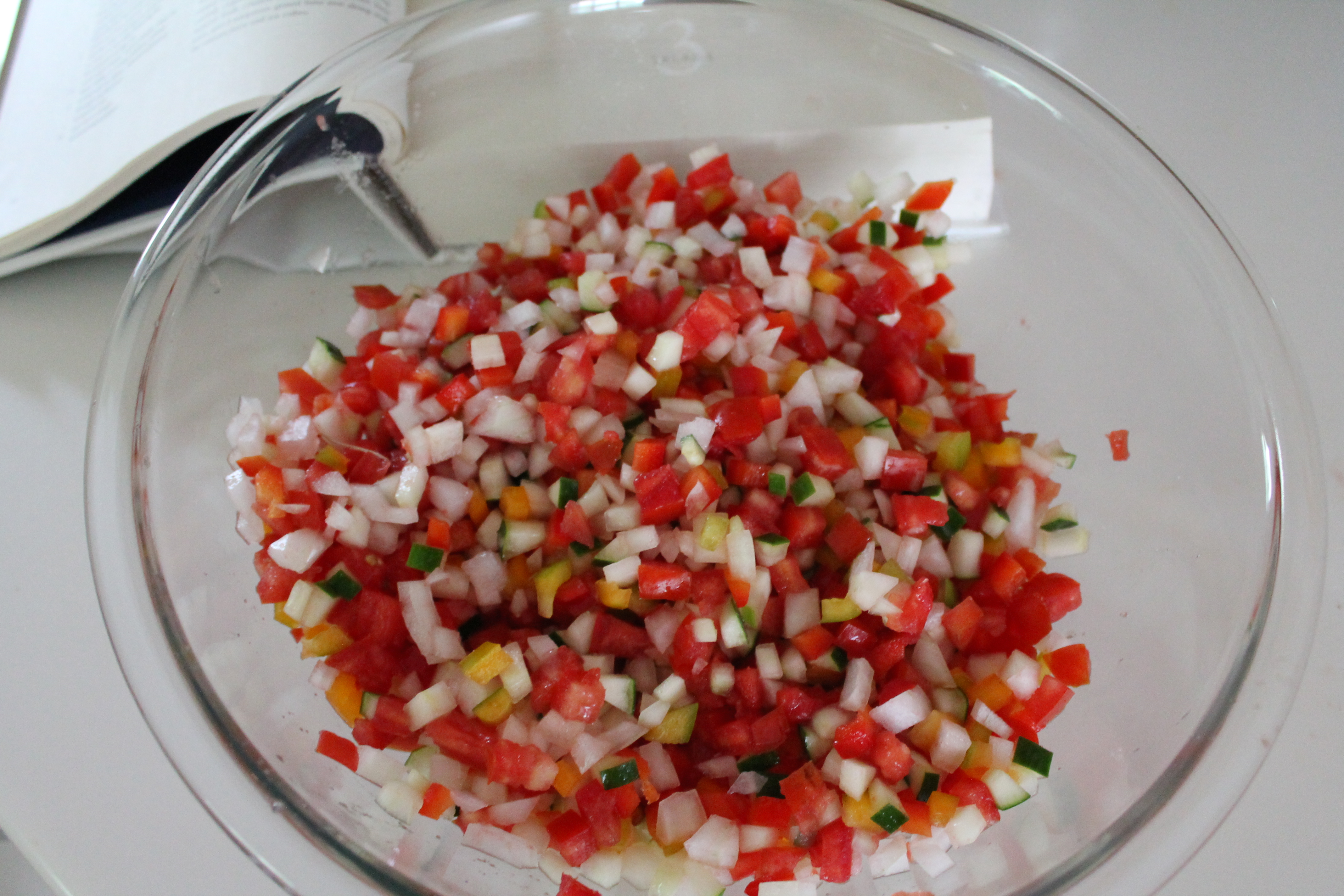 Now comes the tomatoes. These are harder to dice because they are so soft. Start by cutting them in half vertically (through the stem area). Cut out the tough, white core and discard it. Use a spoon and scoop the pulp and seeds into a small bowl. You won't use them for this recipe, but they could make a delicious pasta or pizza sauce!
Cut the empty outer shells of the tomatoes into strips, then turn and cut into cubes.
Finally, dice half of a sweet onion, such as a Vidalia.
Combine all of the diced vegetables in a very large bowl, at least 4 quarts. Add the garlic, white wine vinegar, salt, and pepper. Stir and let them sit for 5 minutes or so, until they begin to release their liquid.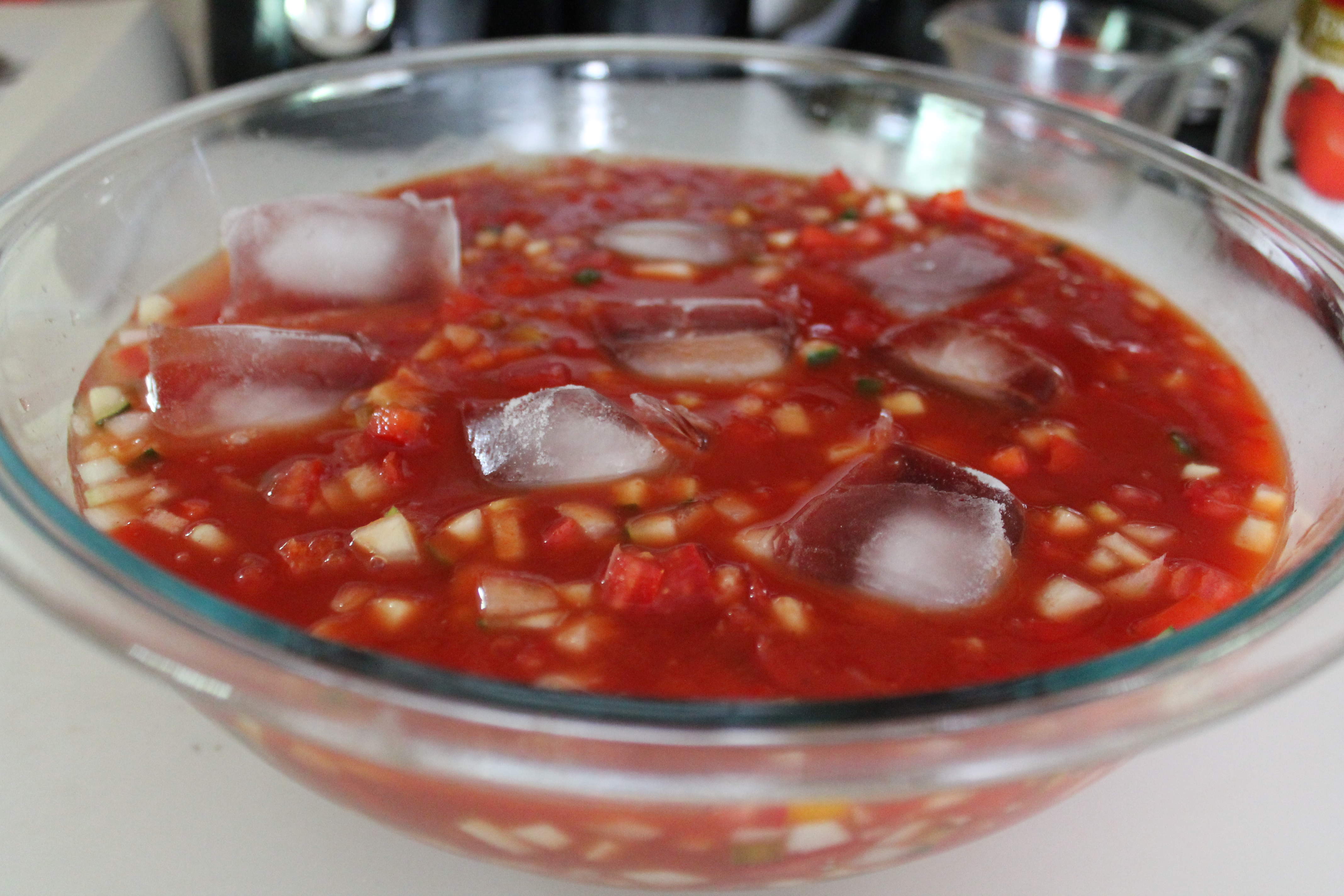 Add in the tomato juice and ice cubes. Cook's Illustrated recommends using Welch's tomato juice, which I couldn't find. I used Campbell's, which was fine, but had a higher salt content, so the end result was a bit saltier than I preferred. (After eating a bowlful, I decided to add extra ice cubes to help balance the salt a little. I also made a note to decrease the added salt next time, so I could have the option to season to my taste! That change is reflected below; feel free to add more salt before you serve.)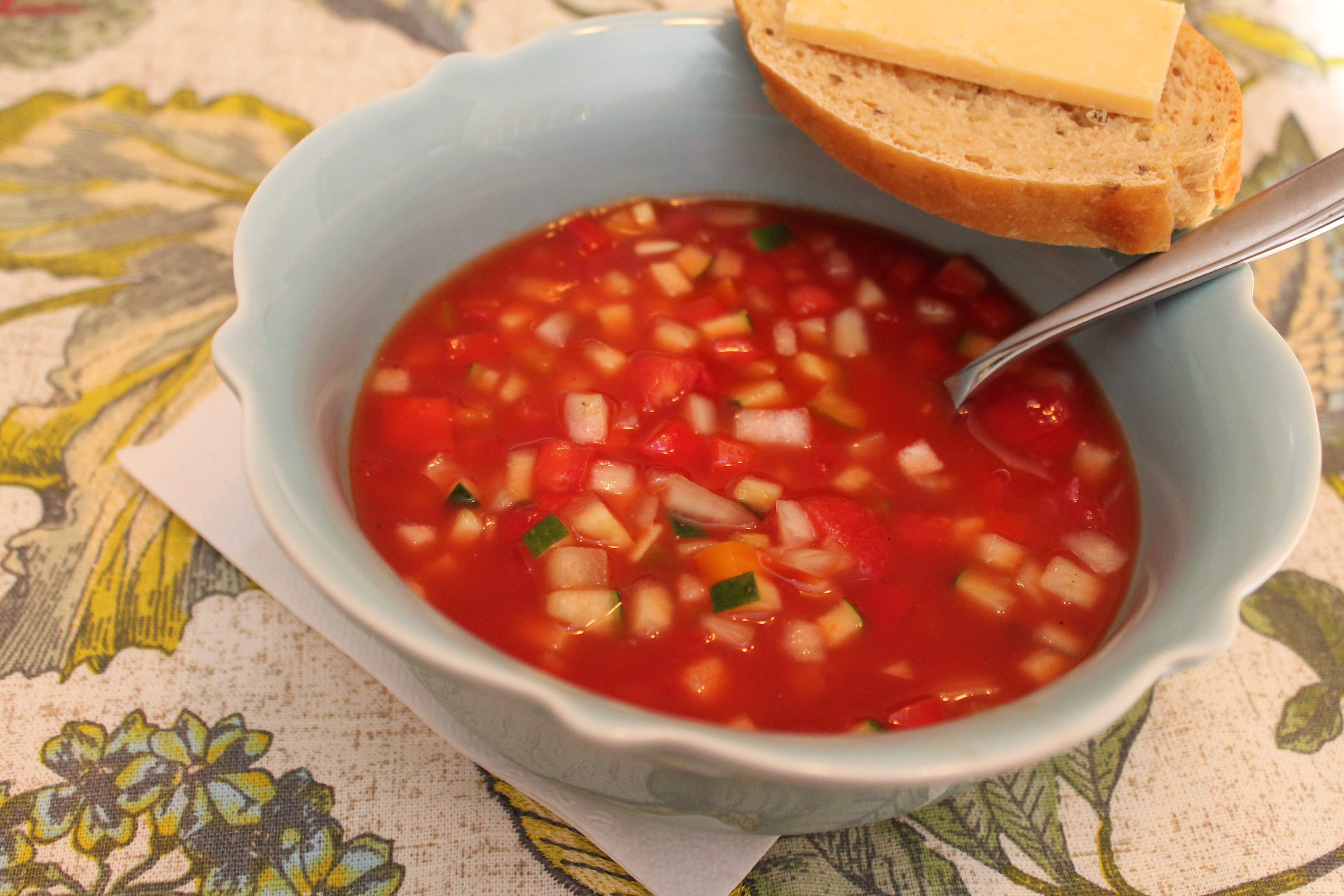 Your gazpacho needs 4 hours to marinate. The flavors will meld and blend and become completely delicious! Serve very cold. If there are any chunks of ice left over, you can pull them out before serving.
Classic Gazpacho
lightly adapted from The New Best Recipe
serves 8
Ingredients:
3 ripe beefsteak tomatoes (about 1½ lbs.), cored and pulped, cut into a ¼″ dice
2 medium bell peppers, preferably red, seeded and cut into a ¼″ dice
2 small cucumbers, one peeled, both seeded, cut into a ¼″ dice
½ sweet onion, such as Vidalia, cut into a ¼″ dice
2 medium cloves garlic, minced
1½ tsp. salt
⅓ cup white wine vinegar or sherry vinegar
fresh ground black pepper
5 cups tomato juice (Welch's)
1 tsp. hot pepper sauce
8 1oz. ice cubes (or 1 cup cold water)
olive oil, for serving
Directions:
Combine the tomatoes, bell peppers, cucumbers, onion, garlic, salt vinegar, and black pepper to taste in a large, 4qt., nonreactive bowl. Let stand until the vegetables just begin to release their juice, about 5 minutes.
Stir in the tomato juice, pepper sauce, and ice cubes. Cover tightly and refrigerate to blend the flavors, at least 4 hours and up to 2 days.
Adjust the seasonings to taste and remove any unmelted ice cubes. Serve cold, drizzled with about 1 tsp. olive oil per bowl.
Enjoy!
One year ago: Marbled Mocha Coffee Cake
Two years ago: Feta Alfredo