Jump to Recipe
---
I looked in my fridge this week and almost had a panic attack.
It has finally hit me…the overwhelming overabundance of veg. You know, when I told my friends that I was joining a CSA for the summer, anyone who had ever done a CSA before me immediately commented that although it was a fun experience, there was just too much produce to manage.
I scoffed. I am a vegetarian! I eat a lot of vegetables! I'll definitely be able to keep up.
Ha.
Ha.
Ha.
I admit it. I have called friends and neighbors to pawn vegetables off on them. I have let fruit go bad on the counter…good food has gone to waste. But there is just so much produce!
CSA week 12 brought a humongous melon, corn, tomatoes both large and cherry, green peppers, a yellow squash, green beans…plus I was sitting on several weeks' worth of potatoes, more and more corn, grapes, and even a dreaded cucumber. Sheesh. And (don't judge me) I also had some veggies from the farmer's market hiding in there. Hey, sometimes a girl just likes to choose her own squashes and tomatoes!
Anyway, let's just review our grocery list here and count ourselves blessed that the French gave us salade Niçoise! We can use up all those potatoes and green beans! We can make a serious dent in the tomatoes! Add some olives and capers and beautiful seared tuna, and we are seriously on our way to an amazing salad!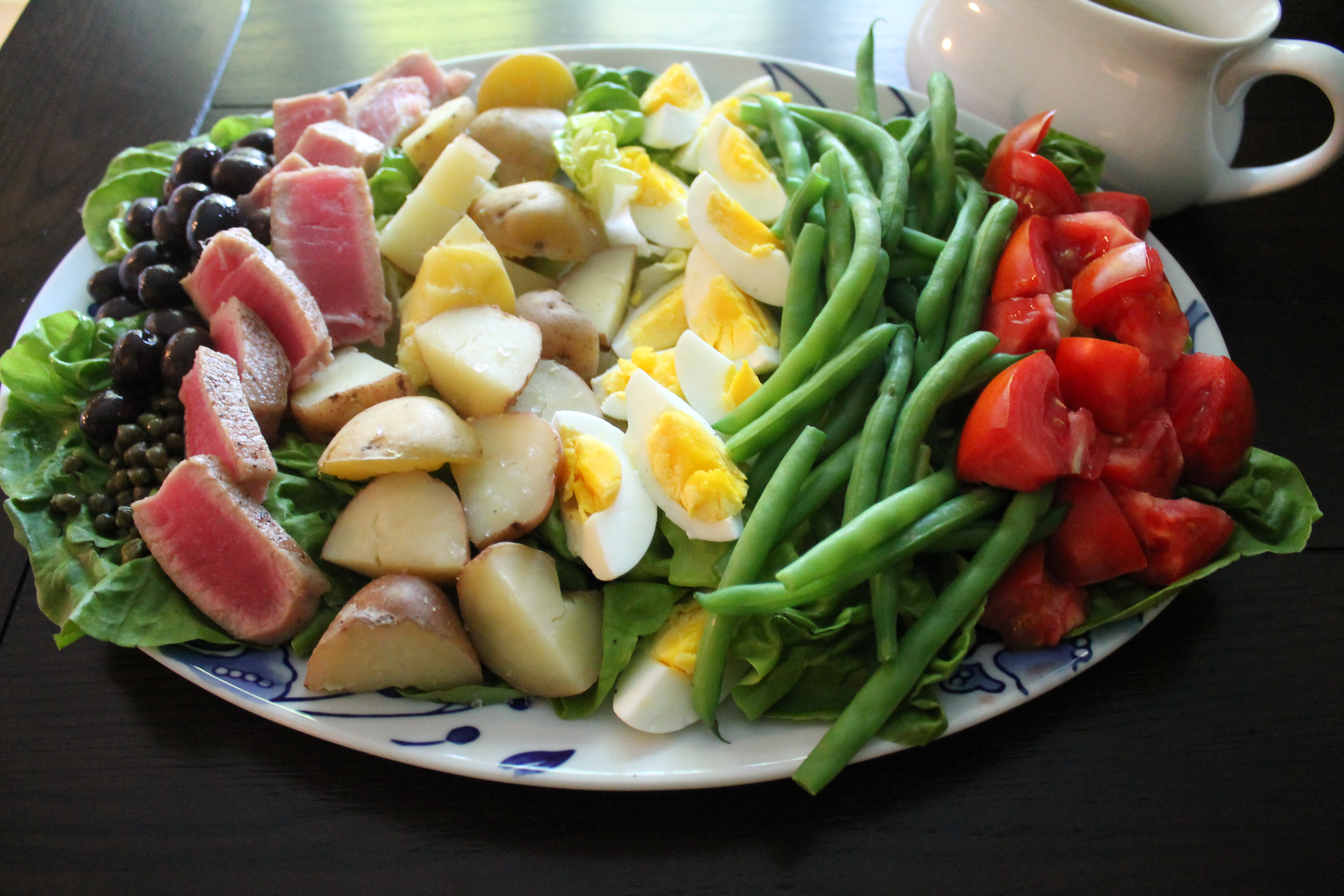 Um…I have to admit something else. I didn't really take any pictures of making this dish. But honestly, it's just lightly cooking a few separate parts and then assembling! You can do that on your own, can't you?
The only tricky part might be the tuna. Here's what you do: get yourself about one pound of fresh, not fishy, tuna steaks. They should be about 1½″ thick. I had to use tuna medallions, which was all I could find; that was fine, except that it took slightly longer to sear off the edges, since there were a lot more of them.
Lightly salt and pepper both sides of your raw tuna. Make sure the flesh is dry, otherwise it won't sear nicely.
Set the tuna into a hot pan (let's call it medium-high heat…I set my burner at 6½ out of 10). Watch it! You will see the flesh turn white as the pan heats it. When about ¼″ of the flesh has turned white (this took about 2 minutes on my stove), turn the tuna over to cook the other side. Tuna is best when it's basically raw in the center. Again let ¼″ sear through, leaving a thick, red stripe in the center of the fish.
Turn the fish up onto its sides, holding it with the tongs. Sear it just long enough to turn the side white, about 10–15 seconds, then turn and sear the remaining sides in the same way. I found that I needed to add a little extra oil while I worked, but I did have a lot more sides to sear because I was working with medallions!
Slice the tuna nice and thin, showing off the pretty red centers. Mmm.
Quickly whisk together a sharp vinaigrette. All you need is olive oil, white wine vinegar, Dijon mustard, sugar, and some salt and pepper. I also cracked the clove of garlic and dropped it into the dressing. Then whisk away until everything is combined!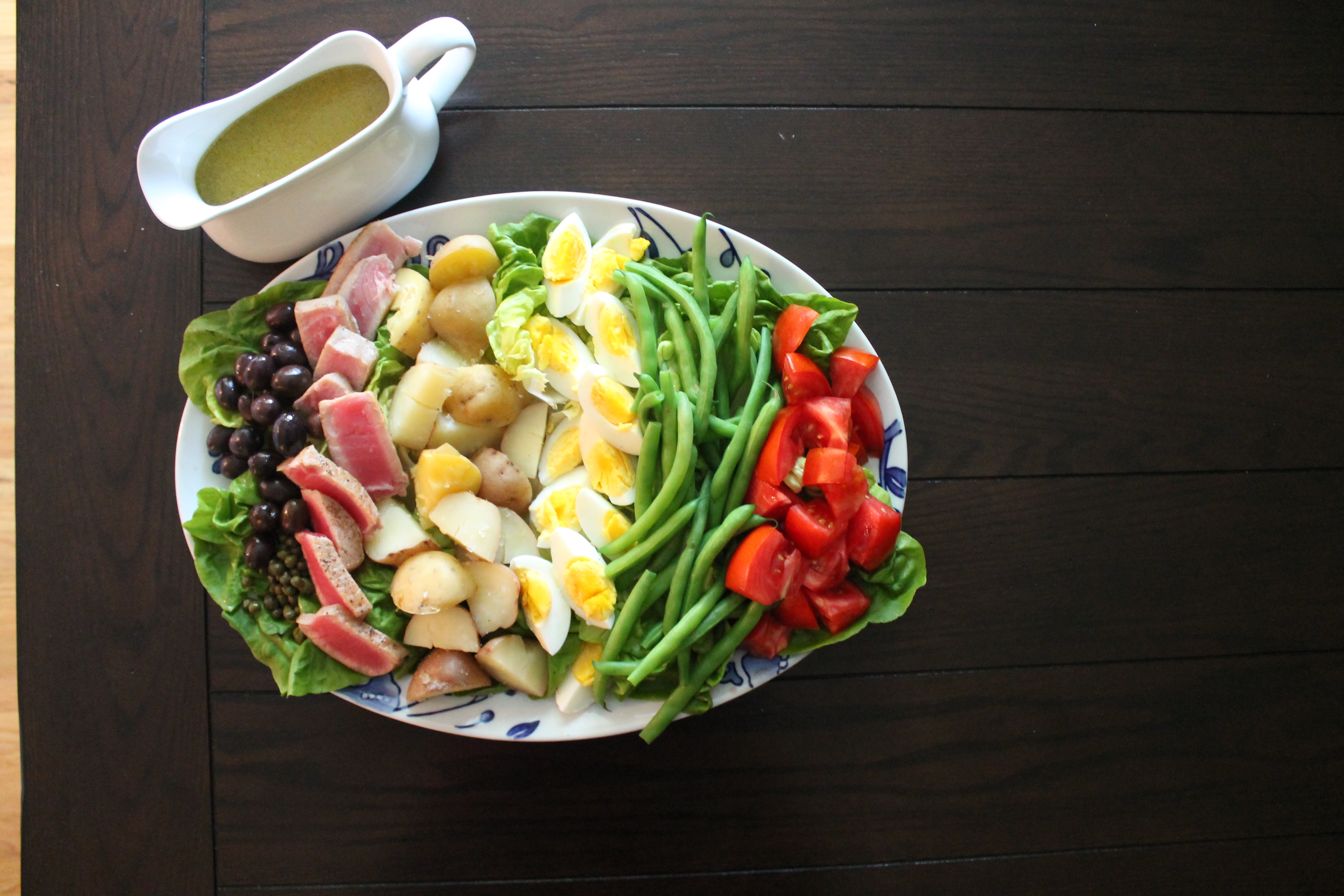 I laid my salad out in nice, lovely rows. If you want to do that, lay out a bed of lettuce leaves, whole. Then add on all of your salad fixings: the olives, capers, sliced tuna, salted boiled potatoes, sliced hard boiled eggs, green beans, and tomatoes. How pretty!
Of course, this is totally impractical to eat. You may want to lay out some extra salad fixings in bowls. Just to make it easier. And to delay the inevitable destruction of your beautiful creation! I'm just saying.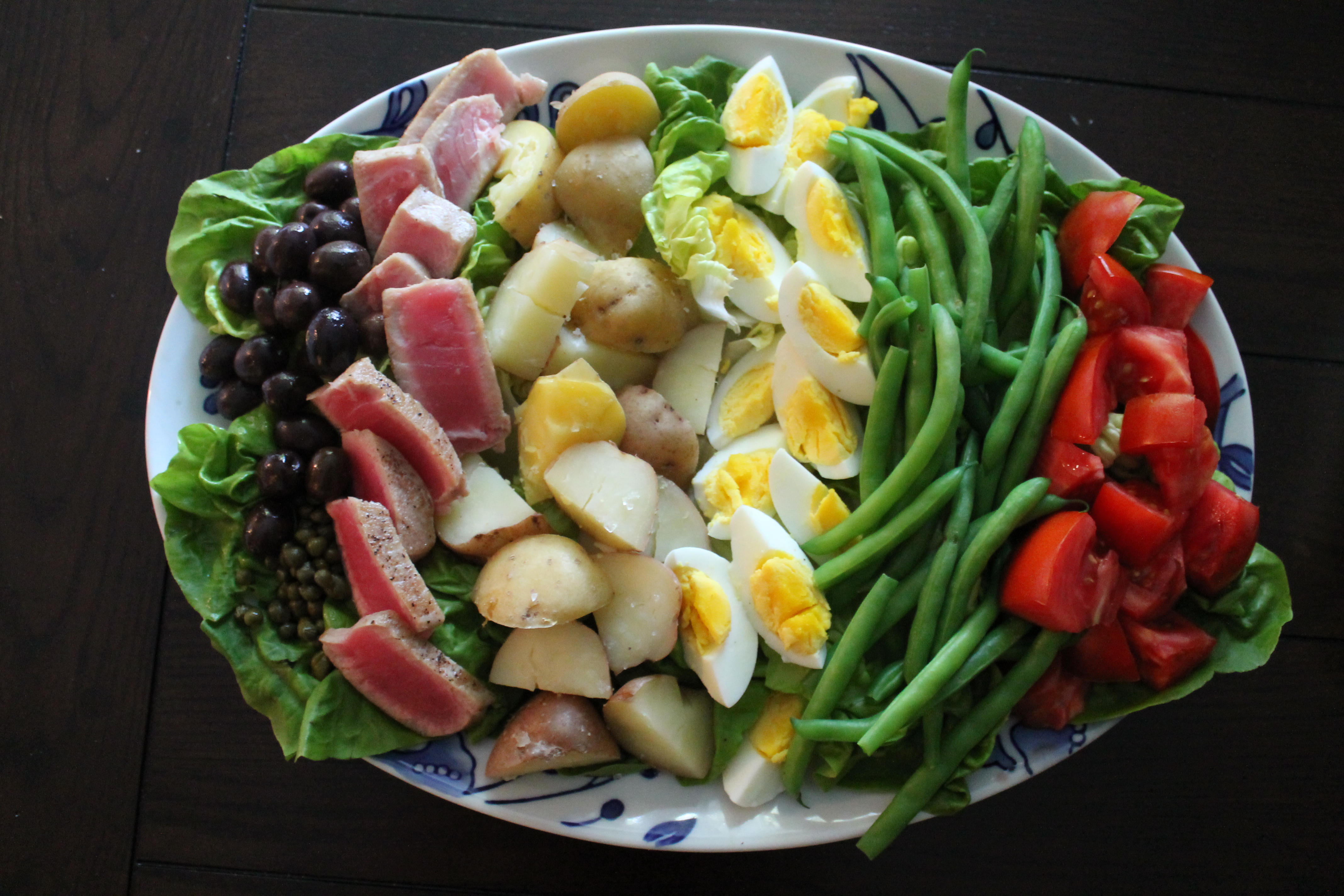 Niçoise Salad with Seared Tuna
Ingredients
2

lbs.

new potatoes

sea salt

6

large

eggs

1

lb.

green beans,

trimmed

3

medium

tomatoes,

or 1 cup cherry tomatoes

2

tbsp.

olive oil

1

lb.

tuna steak,

about 1½″ thick, room temperature

2

heads

Boston lettuce

1

cup

Nice olives

2

tbsp.

capers

drained
White Wine Vinaigrette
1

cup

olive oil

½

cup

white wine vinegar

1½

tbsp.

Dijon mustard

1

large clove garlic

crushed

½

tsp.

sugar

salt and black pepper
Instructions
Quarter the potatoes (or otherwise cut into bite-size pieces). Boil in salted water for 15 minutes, or until fork-tender. Drain and immediately season with sea salt.

Meanwhile, hardboil the eggs. Set aside to cool. When cool, peel and cut into quarters.

Blanch the green beans for 2 minutes, then plunge into cold water to stop them cooking.

Cut the tomatoes into wedges (or halves, if using cherry tomatoes).

Pat the tuna steaks dry, then season with salt and pepper. Heat 2 tbsp. oil in a large pan over medium-high heat. Sear the tuna about 1½–2 minutes on each side, until about ¼″ of the flesh turns opaque white, leaving a thick, red stripe in the center of the tuna steaks. Turn vertically onto the edges and quickly sear edges long enough to turn white.

Let the tuna rest briefly, then gently cut into ¼″ slices using a very sharp knife.
Vinaigrette
Whisk together 1 cup olive oil, white wine vinegar, Dijon, sugar, salt, and black pepper. Drop in the crushed garlic.

Let stand at least 10 minutes before serving so the garlic will infuse the vinaigrette. Stir again if it begins to separate.
Assembly
On a large platter, lay out a bed of whole lettuce leaves. In thin stripes, lay out the toppings in any order: olives and capers, tuna, tomatoes, green beans, potatoes, and eggs.

Serve with the dressing (as well as any extra salad ingredients that didn't fit on the platter).
Notes
The dressing can be made in advance and stored in an air-tight container up to 1 week.
Enjoy!
One year ago: Fleur de Sel Caramel Chocolate Cookies
Two years ago: Deviled Eggs