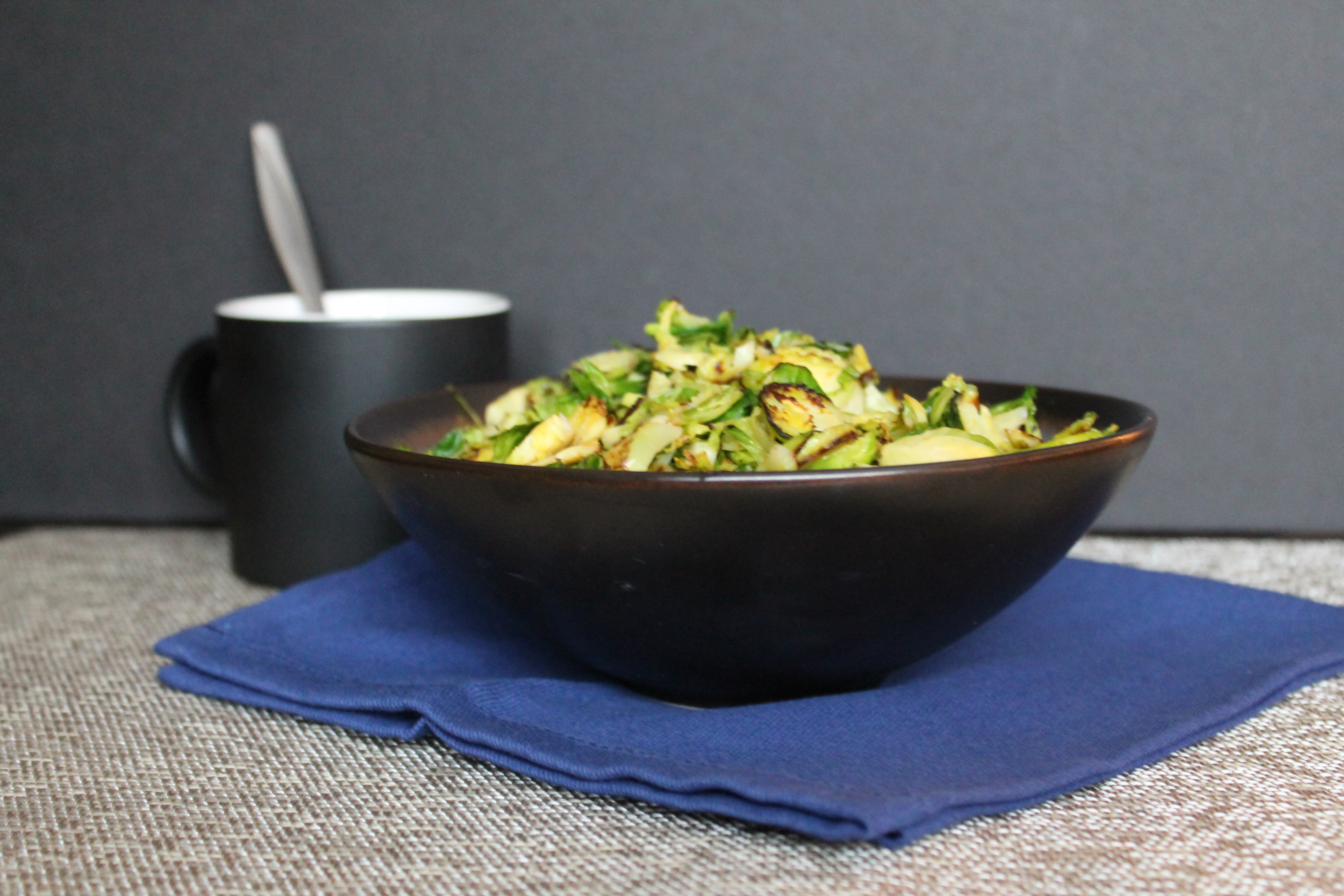 You guys, I just can't seem to get enough of brussels sprouts this season!
I keep finding new, awesome recipes to try! My husband, barely tolerant of brussels sprouts most of the time, has really been a champ throughout my quest for more and more and more and more ways to eat these babies.
This recipe was really a winner. The dish has almost a Thai flair with the ginger and tamarind. And they make really good "starter sprouts." (You don't know what that is? It's what you serve someone who says they have never tried brussels sprouts, or they don't think they like brussels sprouts for some reason.) The sweet and sour sauce and the warm ginger really sing in this recipe. In fact, the flavor of the sprouts isn't very distinct at all! (It's okay. I still like these. Despite the fact that the rich, bitter sproutyness is a bit disguised…)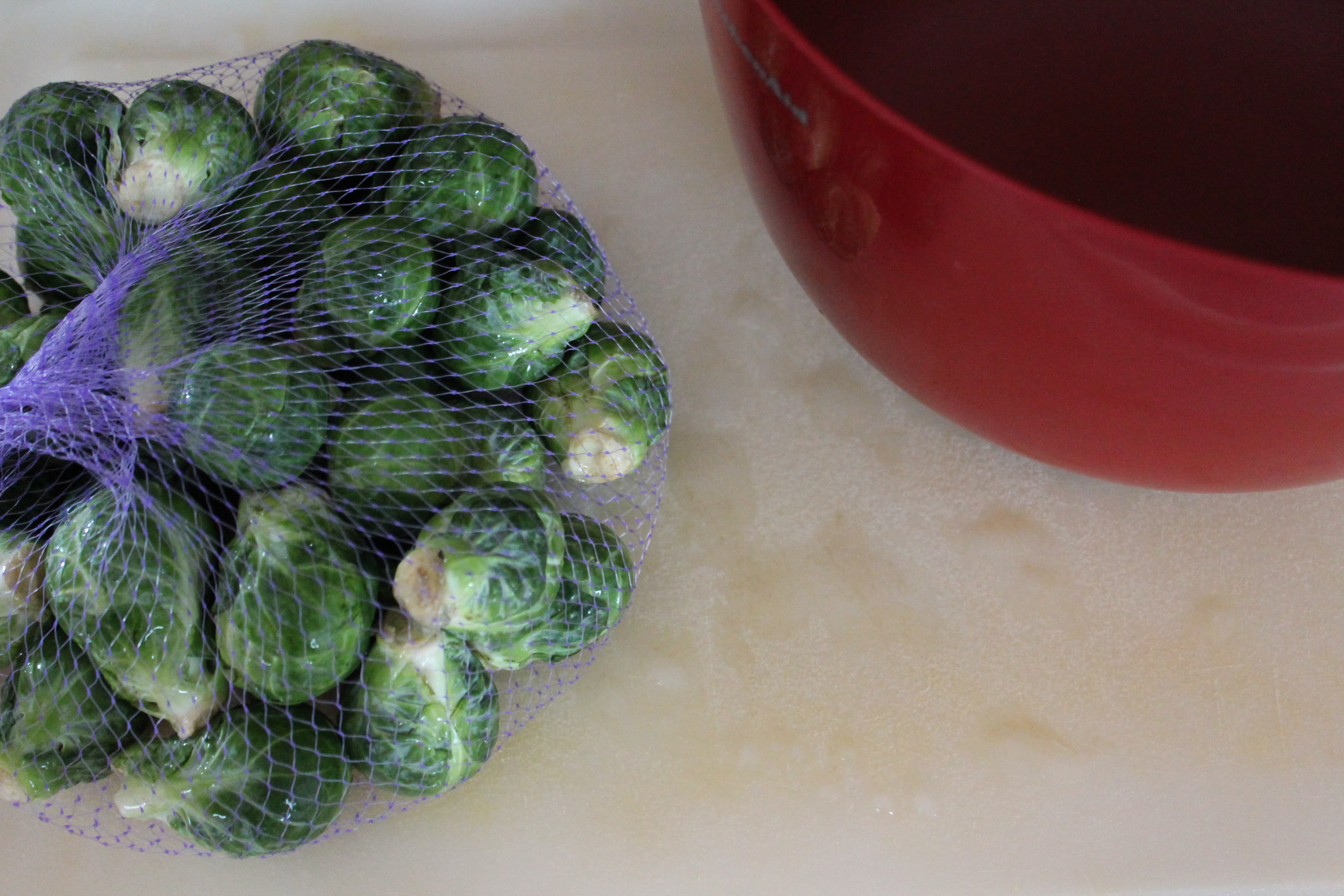 I've got to say, though, I am a little tired of "shaving" my sprouts. It takes a while! There is a high risk of chopping my finger. Maybe I won't be doing that again any time soon. Until the next time I make these, anyway…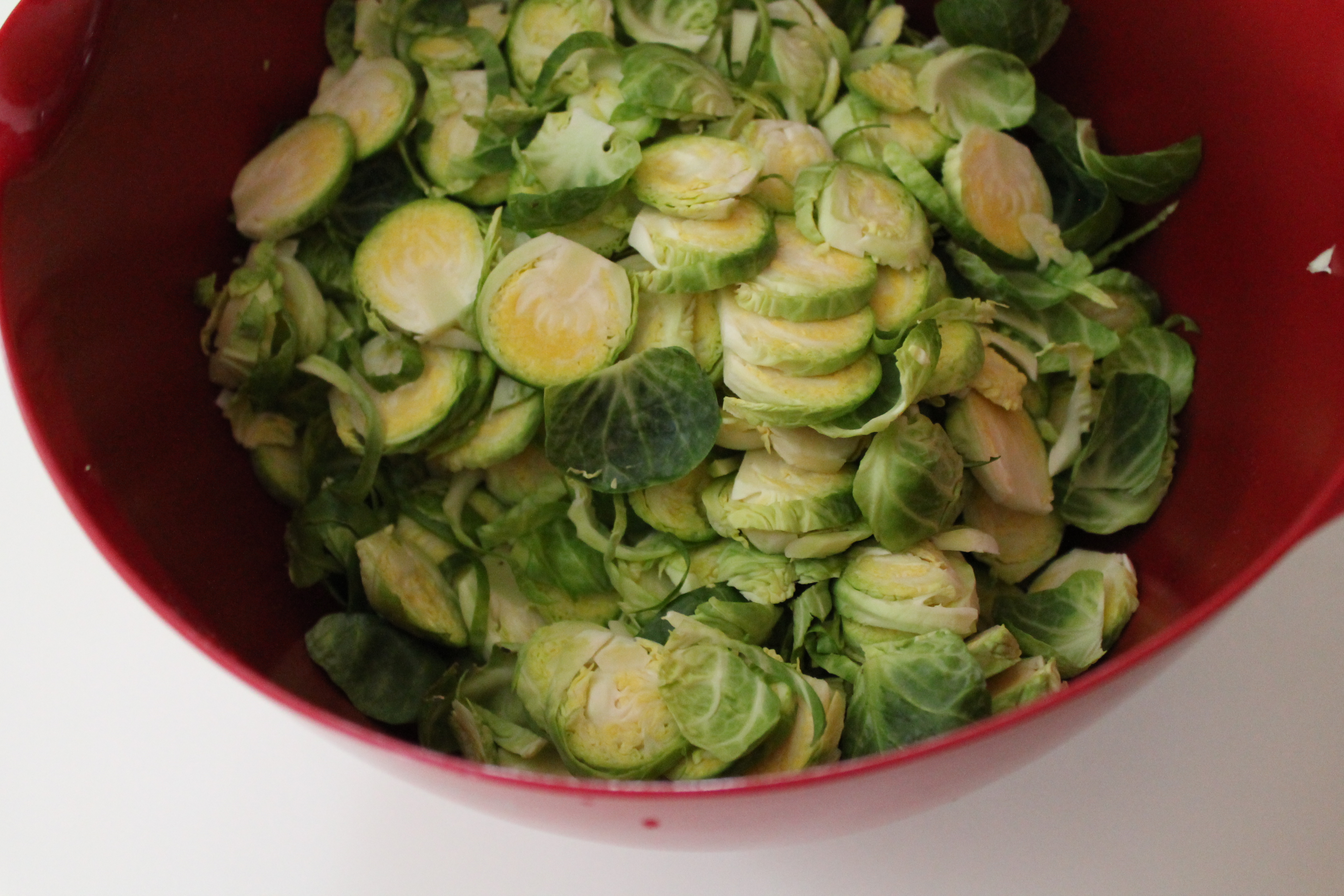 So. Gear up. Trim and thinly slice your brussels sprouts! I don't generally halve mine before doing this…because I like to take shortcuts. But you could do that, too, if it's important to you. I also kind of like the little discs the sprouts form when they are sliced whole. Pretty.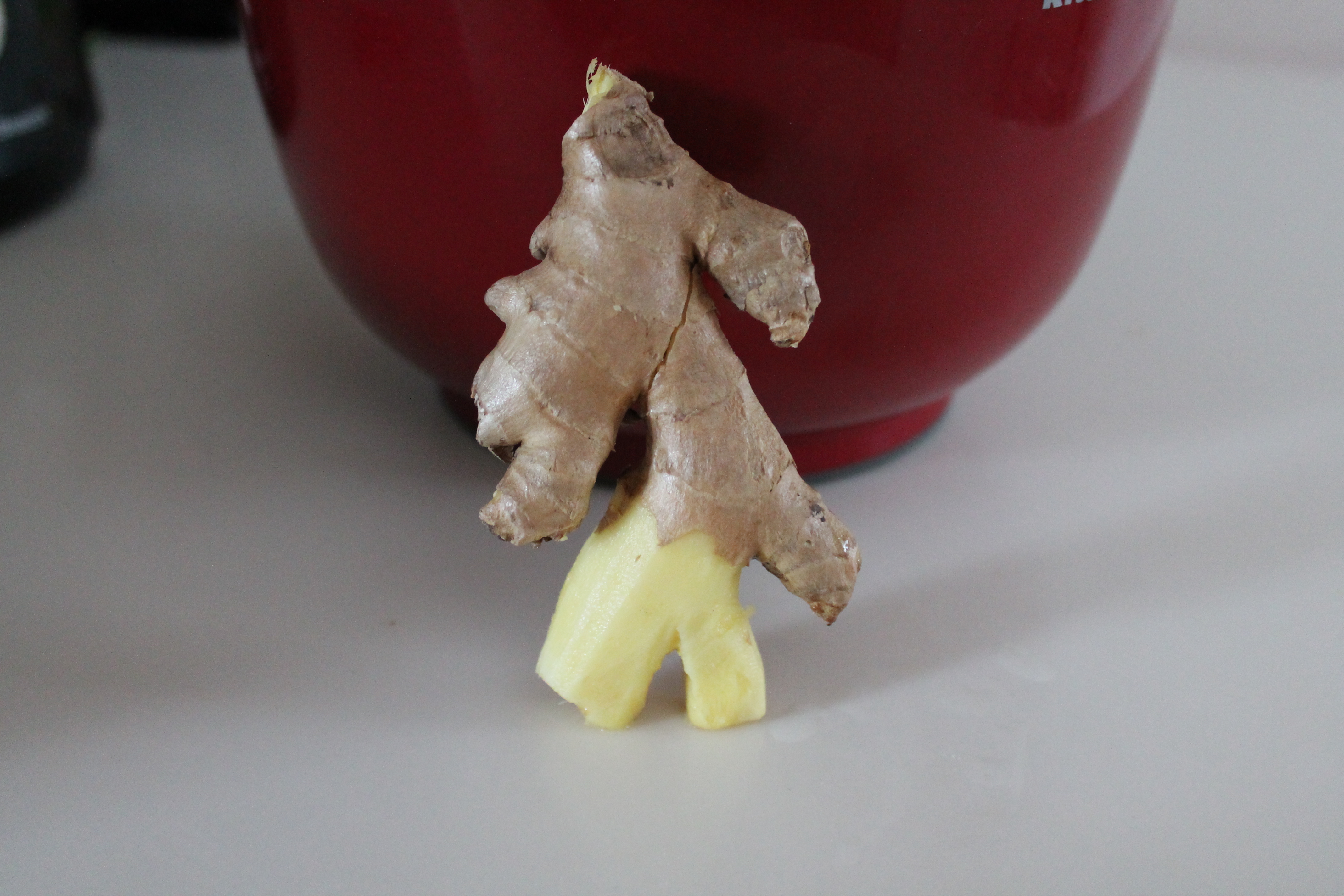 Now peel your ginger. Does anyone else feel a twinge of trepidation every time a recipe calls for fresh ginger root? Because I do. I really hate peeling those knobbly things. It's so hard to get all of the peel off!
But I recently discovered that the task is much easier of you abandon your vegetable peeler and just use a steak knife or paring knife. The skin scrapes off pretty easily, AND the knife can usually slide into all the nooks and crannies easier than a peeler can. This way, you don't have to cut the root into 14 small pieces, either, which makes it much harder to grate!
Look, my ginger looks like a little dude. Weird.
Grate your ginger straight into some warm oil in a large skillet. (You could also grate it into a bowl and dump the bowl into a skillet if, like me, it takes you a long time to grate ginger. But as long as the heat of your oil isn't too high, the ginger will be patient and won't burn while you work!)
After I swirled some olive oil into the pan, I thought that coconut oil might have been nice. I have been reading a lot about cooking oils lately, and coconut oil is one of the best for you! The only problem is that coconut oil does not exactly have the same neutral flavor of many other cooking oils. But I think it would fit right in here with the ginger and tamarind. But…I didn't actually do that. So if you try coconut oil, let me know if it was magnificent or not!
When you have finished grating in the ginger, stir it around for about 20 seconds, then dump all the thinly sliced sprouts right in. Toss well to coat with gingery oil and little bits of ginger!
Now you can abandon these for brief times. It's okay to let them brown a bit! Browny bits are tasty. But remember that the pan is practically dry, so please do stir these every minute or two! We don't want them to burn horribly (plus, we want them to cook evenly). I actually splashed a little water into the pan about 5 minutes in, just to help the sprouts tenderize and to slow the browning down.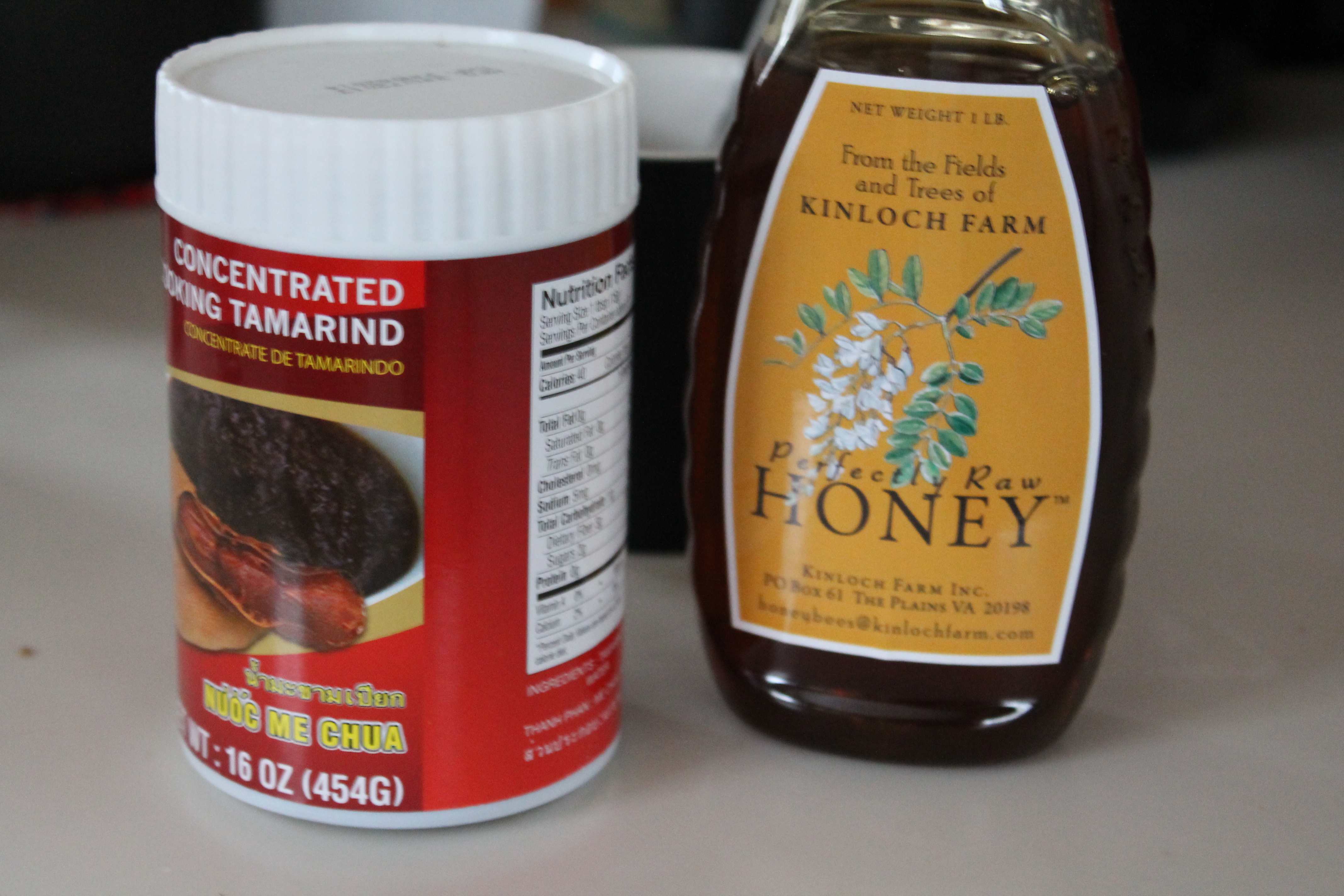 While the sprouts cook, make your tamarind sauce.
Tamarind is a fruit (so I'm told). And when it's processed, it turns into a runny, slightly lumpy "paste" that is sour and a little acidic. You can find tamarind concentrate (also known as tamarind paste, concentrated tamarind paste, and sometimes tamicon paste) in most Asian markets. Or on Amazon, if you don't have an Asian market near you!
I don't know what the differences are between the different brands, so I just purchased the one on sale this week. Mine seemed a bit milder than I remember tamarind paste tasting in the past…but maybe my memory exaggerated!
The goal is to make a sweet-sour sauce to drizzle or spoon over the sprouts. I am going to go out on a limb here and suggest you tinker until the sauce tastes good to you! What worked best for me was equal parts tamarind, honey, and hot water. The sauce was tangy but not too strong, with sweet background that didn't overpower or make me think of dessert. I used 1 tbsp. of each ingredient.
But, keep in mind that different honeys may have stronger or milder flavor, and the same with different brands of tamarind! So I suggest you start with 1 tbsp. of each and then add more honey or tamarind to suit your taste. (For example, I have a very bold raw honey—and I don't love the flavor of honey by itself very much—so I dramatically toned down the balance of honey from the original recipe and increased the tamarind, which I thought was fairly mild in comparison. I really wanted a sauce that was equally sour and sweet.)
When the sprouts are tender but still vibrant green, add a few dashes of salt and black pepper and immediately transfer to a serving bowl.
Drizzle the hot sprouts with a spoonful or two of the tamarind sauce. Serve warm alongside extra sauce.
Ginger Tamarind Brussels Sprouts
adapted from A Brown Table
Serves 4–6
Ingredients:
1 lb. brussels sprouts
1–2 tbsp. olive oil or coconut oil
1″ length ginger root, peeled
salt and black pepper
1 tbsp. tamarind paste concentrate
1 tbsp. hot water
1 tbsp. (raw) honey
Directions:
Rinse the brussels sprouts, then pat dry with a clean towel. Trim the ends of the sprouts and discard any damaged outer leaves. Slice each sprout extremely thin to make little discs. (Alternately, shave them on a mandoline, using the thinnest setting; be careful to keep fingers clear!) Set aside.
Heat the oil in a large, heavy-bottomed skillet over medium-high heat. When oil is beginning to warm up, grate the ginger root directly into the oil using a microplane zester. When finished, quickly stir and cook the ginger for about 30 seconds in the hot oil.
Add the brussels sprouts to the gingery oil and mix well. Cook, stirring occasionally, for 8–10 minutes, or until the sprouts are fork tender. Add a small splash of water if needed to moisten the pan and prevent burning. Before removing the cooked brussels sprouts from the heat, season lightly or to taste with salt and pepper.
Meanwhile, in a small bowl, stir together the tamarind, hot water, and honey. Taste and adjust balance by adding more tamarind or honey if needed.
Spoon a small amount of the sauce over the hot sprouts.
Serve the warm brussels sprouts with the rest of the tamarind sauce on the side.
Enjoy!
One year ago: Spaghetti with Spicy Cauliflower Sauce
Two years ago: Quinoa-Stuffed Acorn Squash