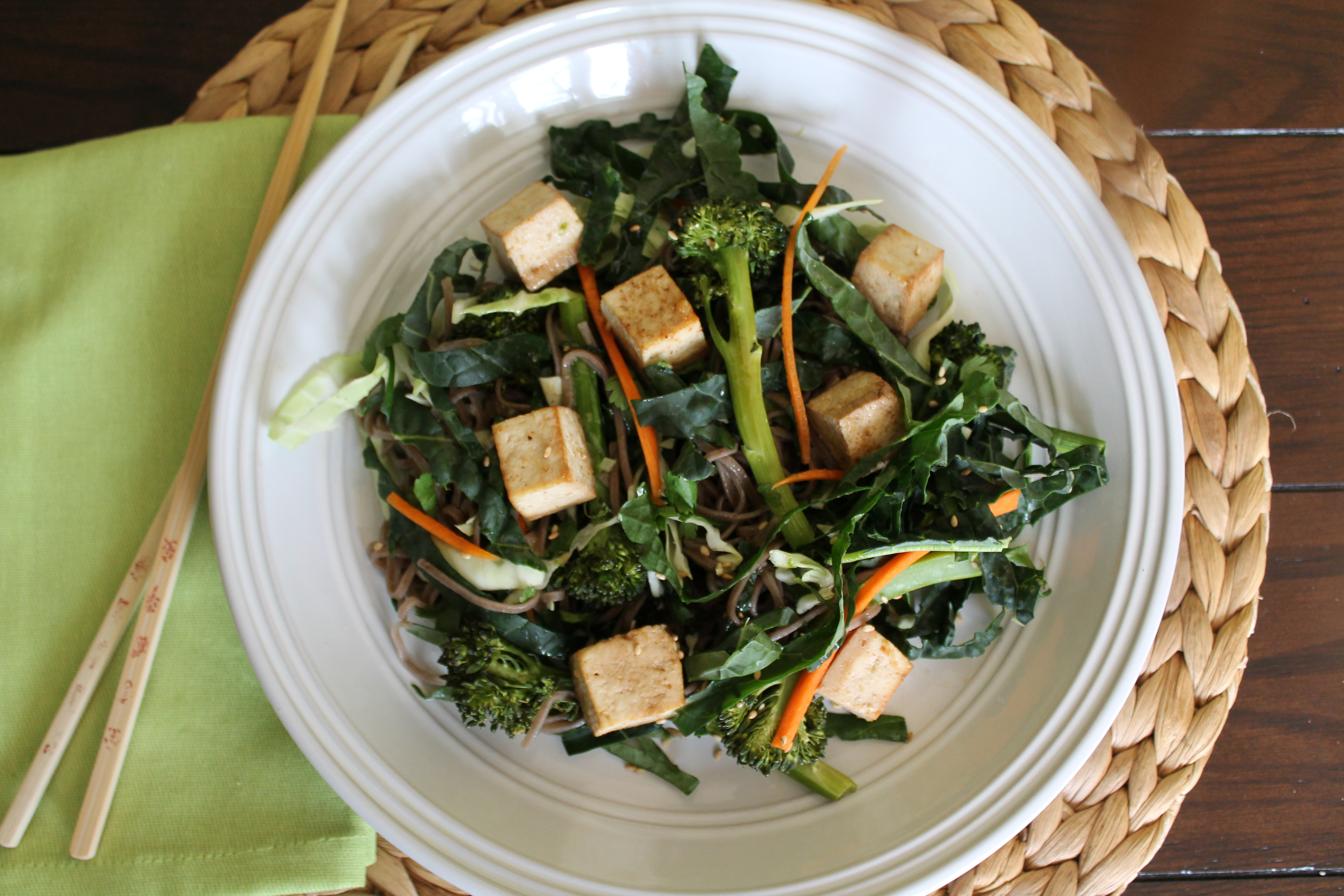 This is the best salad I've had in months.
It is, in fact, the first way I have ever genuinely liked tofu. Ever. I mean I eat tofu from time to time, but mostly I am tolerating it for the sake of protein. I don't really know why I liked this so much…I think it was marinating, maybe, that really did it for me. The tofu just soaked up the spicy, gingery, soy marinade, and as it baked it became ever so lightly browned and crisp at the edges, and it was jsut heaven for me. I ate a good six or seven cubes while I was assembling the salad. Yum.
The dressing is bright and delicious. The salad is textured and fun to eat with chopsticks. With all those raw veggies and the buckwheat soba noodles…it packs a pretty hefty nutritional punch, too! Let's eat healthy and act like we do that all the time. (And maybe let's make it a habit!)
So first, let's whisk together a great marinade for the tofu! Easy peasy. I grated my ginger with a microplane but pressed the garlic with a garlic press. It was much easier that way…fewer scraped fingers! I also used pre-made orange juice (don't worry…100% juice), but you could freshly squeeze an orange, if you'd like!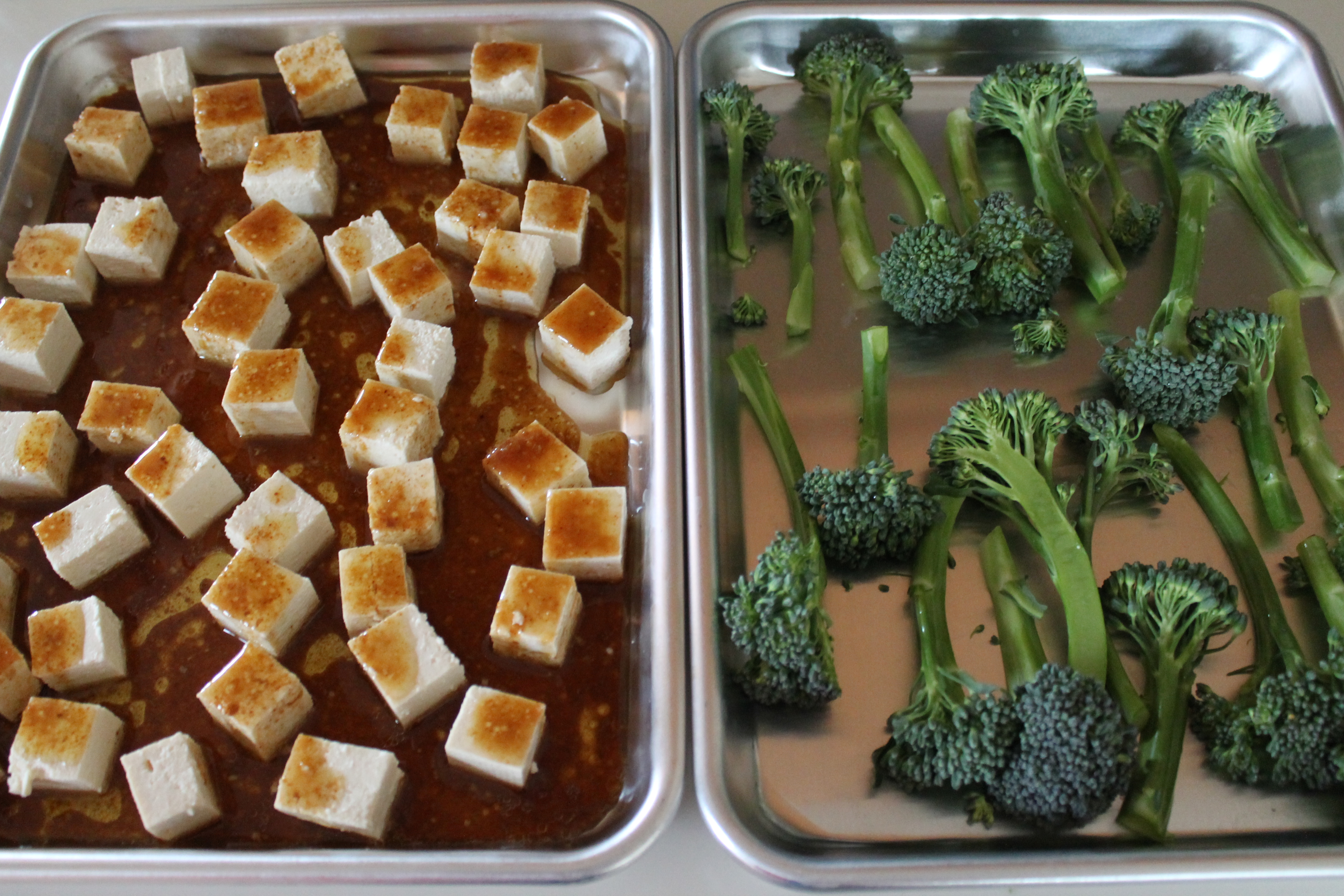 Now it's time to get the tofu and the broccolini roasting in the oven. Cut a block of extra-firm tofu into large cubes. Really large. You want them to still be moist inside after baking! I cut mine somewhere between 1¼″ and 1½″. Spread them out on a small, rimmed cookie sheet and pour the marinade over the tofu. Let it sit while you trim the broccolini.
I left mine in longer strips. The stems are delicious and sweet! Plus, for me, it fit better with the visual theme of matchstick-cut carrots and ribbon-cut kale. But we will get to that later.
Spread the broccoli out on another small cookie sheet.
Roast the tofu and broccoli for 30 minutes at 350°, stirring/turning both halfway through to encourage an even cook.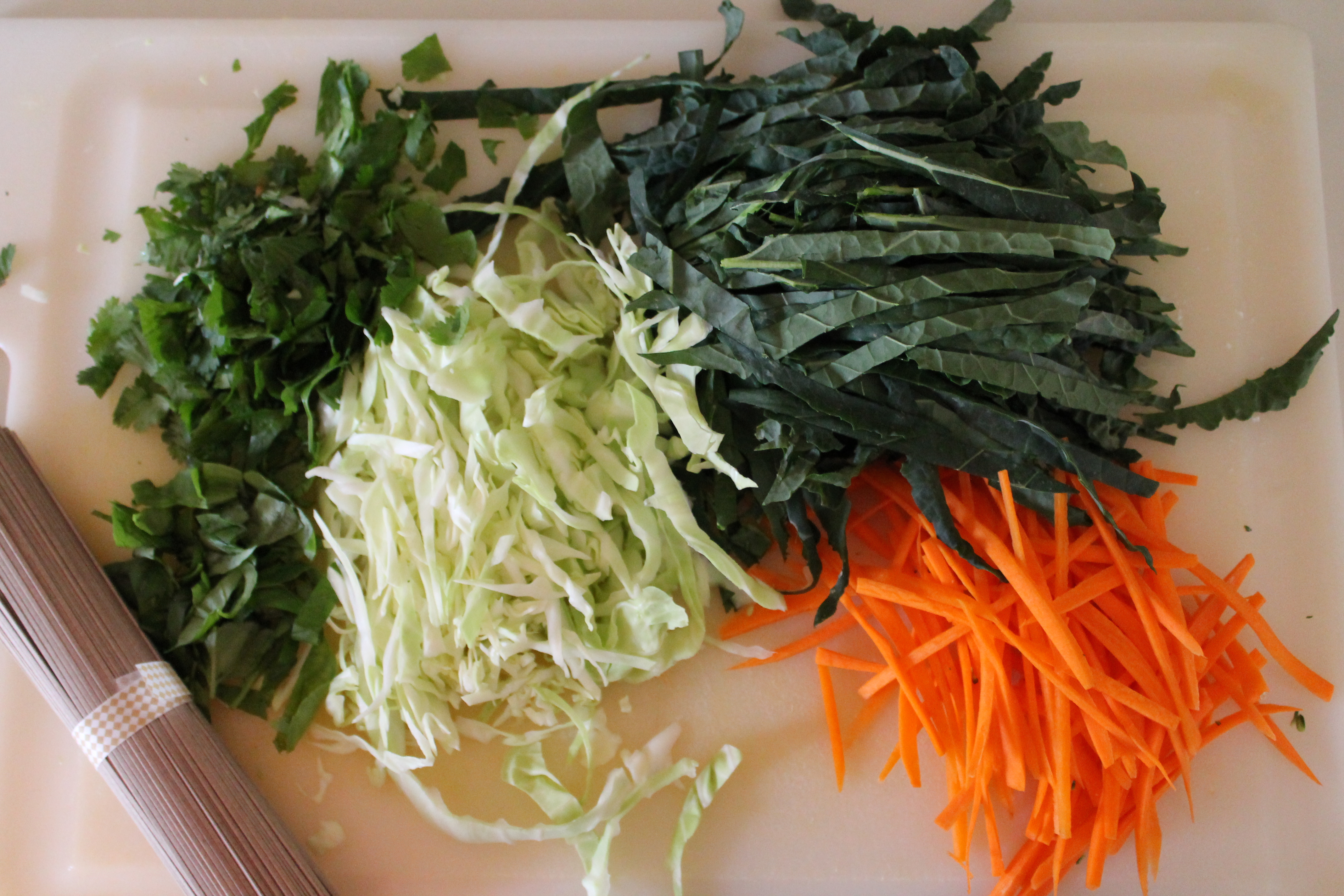 Meanwhile, you have a lot of chopping to do. I am talking about carrots that need to be matchsticked and greens that need to be ribboned. Honestly, this process took me about 30 minutes. I finished up just before pulling the broccolini and tofu from the oven.
Get a small pot of water boiling. Toss in one bundle of soba noodles. (I buy mine at the Asian market, but they are typically available in regular grocery stores, as well. I have always seen them sold in small bundles…which I am thinking are about 6-7 oz apiece. Just use one of those!)
Soba noodles are made of buckwheat and flour, and sometimes other things like yams, but they are, unfortunately, not gluten free. You could sub rice noodles if you need to go wheatless! These noodles only need to boil for 4 or 5 minutes, so keep an eye on them!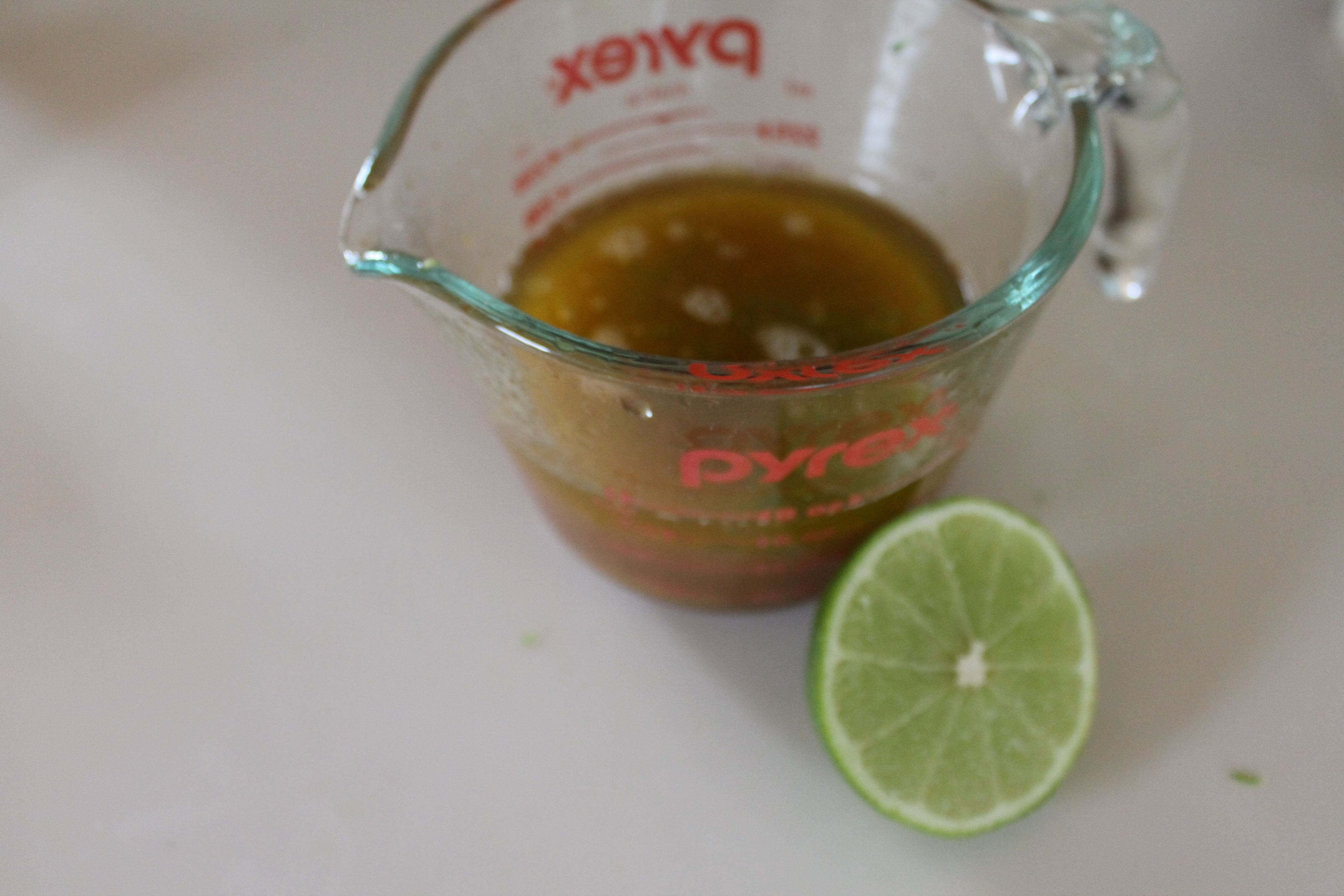 Meanwhile, drain the extra marinade out of the tofu pan and whisk in the remaining ingredients for the citrus dressing.
Toss the kale, cabbage, and carrots together. Add in the drained soba noodles. Pour the dressing over everything and let it sit for a few minutes. The kale will become a bit more tender as it sits in the dressing (which we definitely want, given that the kale is raw).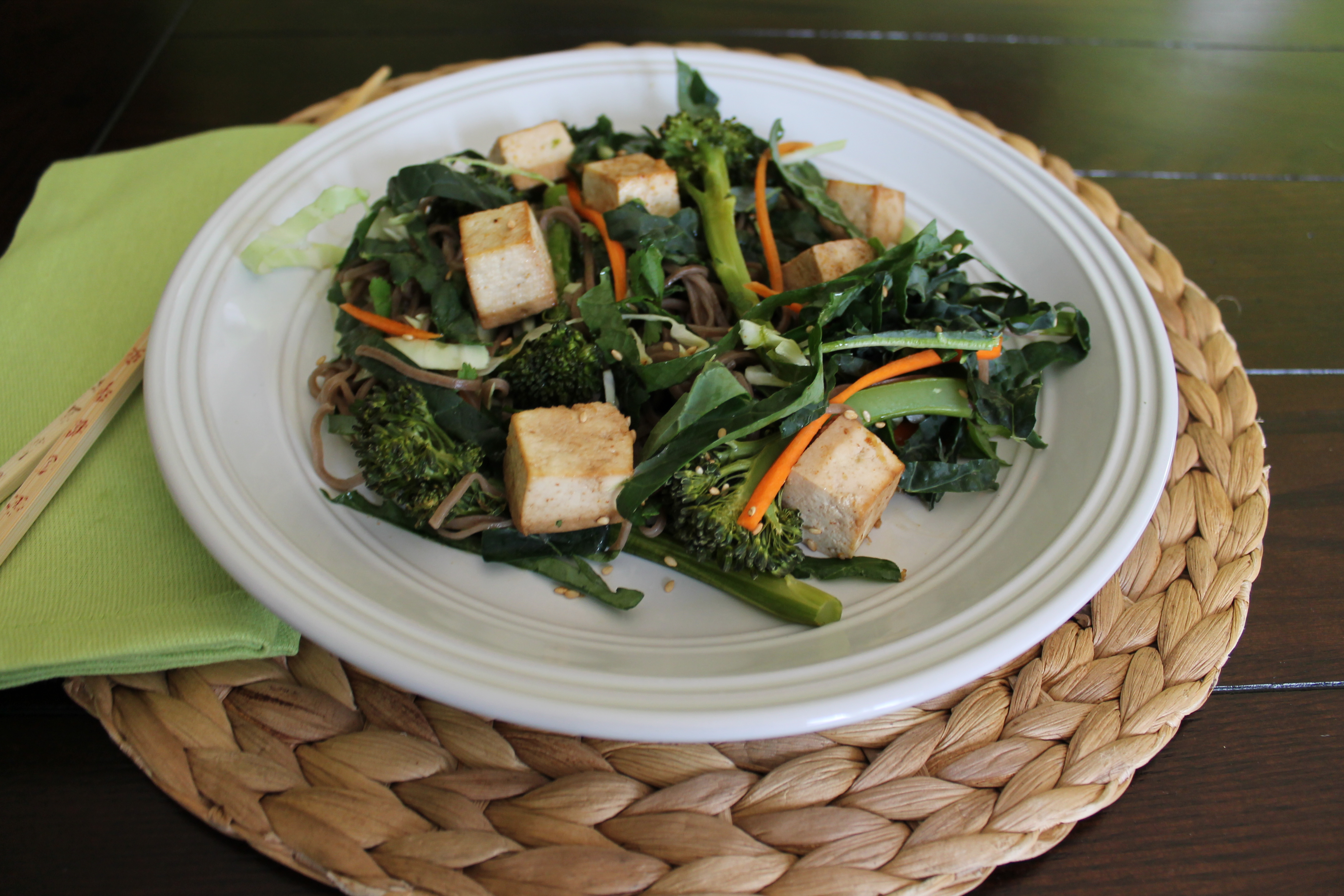 Toss again and transfer the salad to plates or bowls. Top with broccolini and tofu, then sprinkle with sesame seeds. Yum!
Citrus Ginger Kale and Tofu Salad
barely adapted from Food 52
serves 3–4
Ingredients:
4 tbsp. orange juice, divided
2 tbsp. tamari or low-sodium soy sauce
2 tbsp. sesame oil
2 tbsp. olive oil
1 tsp. finely grated ginger
1 clove garlic, minced
2 tsp. 100% maple syrup
¼ tsp. cayenne pepper
1 14oz. package extra firm tofu
1 bundle soba noodles
1 stalk broccolini
1½ cups stemmed and ribbon-cut lacinato kale
½ cup shredded green cabbage
1 large carrot, peeled and cut into matchsticks
zest and juice of 1 lime
3 tbsp. seasoned rice vinegar
sea salt
⅓ cup roughly chopped cilantro
8 basil leaves, chopped
1 tbsp. sesame seeds, toasted
Directions:
Preheat the oven to 350°.
In a bowl mix together 2 tbsp. orange juice, tamari, sesame oil, olive oil, ginger, garlic, maple syrup, and cayenne. Set aside.
Cut the tofu into 1¼ʺ cubes and spread out in a small, rimmed baking pan. Pour the marinade over the tofu.
Cut the broccolini into strips (3ʺ long, any large florets cut in half). Spread in a single layer on a small cookie sheet.
Put the tofu and broccolini into the oven and bake for 15 minutes, stir or turn, and bake for 15 minutes more, until browned.
Meanwhile, cook the soba noodles according to package directions.
Toss the shredded kale, cabbage, and carrots together in a very large bowl and set aside.
When the tofu is cooked, using tongs or a slotted spoon, transfer to a plate to cool slightly. Pour the leftover marinade into a bowl. Add the lime zest and juice, remaining 2 tbsp. orange juice, rice vinegar, fresh herbs, and sea salt to the reserved marinade.
Add the roasted broccolini and soba noodles to the mixed veggies. Toss well with the dressing.
Serve the salad topped with baked tofu and garnished with sesame seeds.
Enjoy!
One year ago: Quinoa with Butternut and Broccolini
Two years ago: Roasted Winter Vegetables with Pecan Gremolata