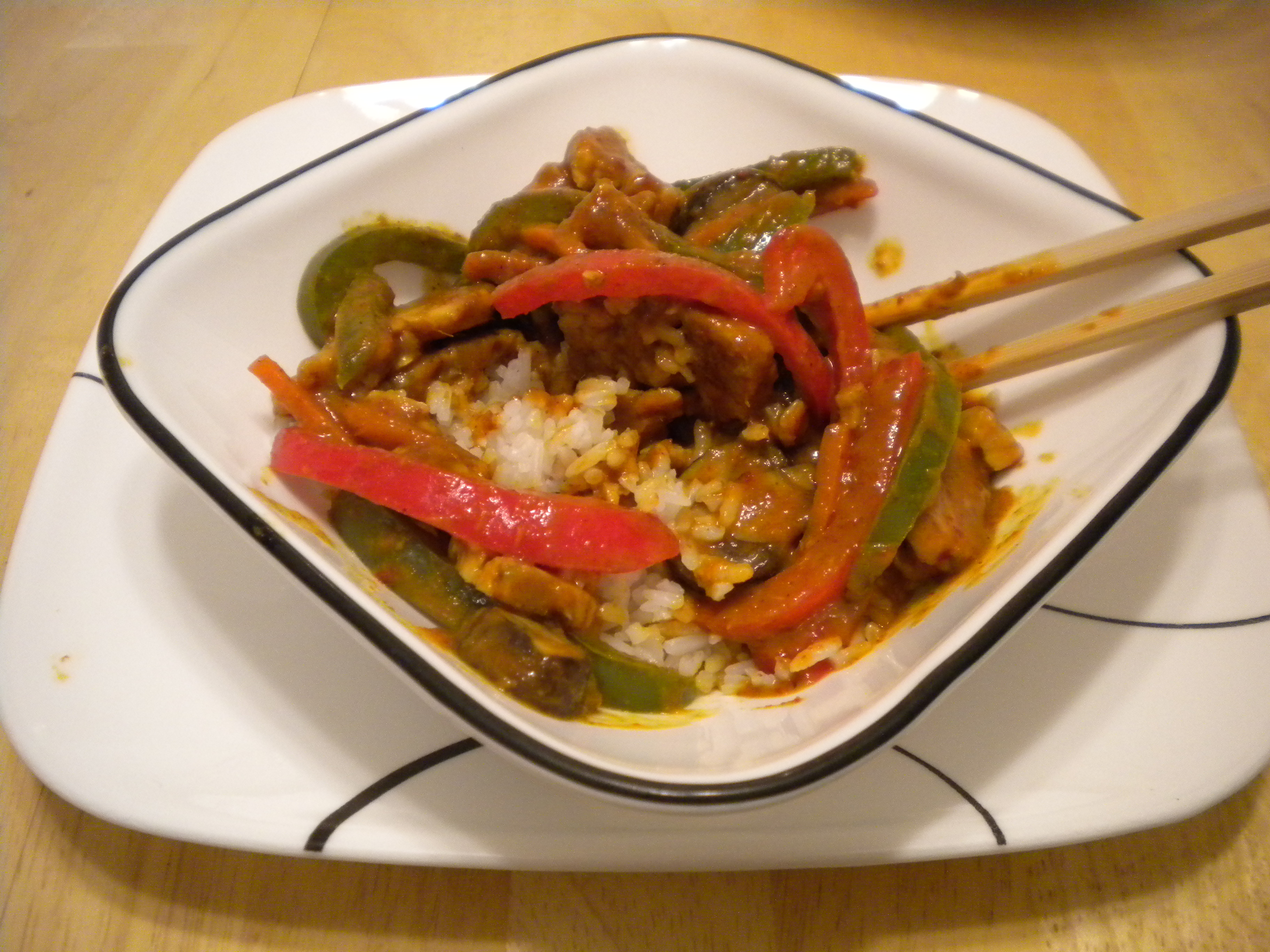 How high is your spicy tolerance?
Mine is apparently a lot lower than I thought…and more surprisingly, so is Dave's! Despite this, I think that Thai curry is going to become one of our go-to meals. And don't worry, I will share with you what I learned about the right proportions of curry paste to coconut milk so that you do not set your tongue and lips ablaze when making this for yourself!
The beautiful thing about stir-fry meals is that they are endlessly adaptable. Your ingredients can change with the seasons! It's a cinch to transition from serving 4 to serving 8—all you have to do is chop some extra veggies and cook up some extra rice. And what makes this all possible? Tins of prepared curry paste, which you can buy in most supermarkets (or, at your local Lotte/GrandMart/HMart).
I know, I know, normally I do not go in for many things that come prepared. I prefer to make my food the hard way 🙂 But I promise you, the only way to make great Thai food in your own kitchen without buying at least 20 ingredients you aren't sure how to use except in the dish you bought them for, and without spending 4 hours chopping and sautéeing to make a meal for 2, is to buy a tin of Maesri.
As a side note, this meal also works really well for non-vegetarians. Just substitute thinly sliced chicken or pork for the tempeh. But…I definitely recommend being brave and trying tempeh if you never have! Made from whole soybeans, it is high in protein and fiber, and it is much more similar to the texture of meat than tofu (which I personally hate), and it has some of the umami savory taste of meat. Try it! I bet you'll like it.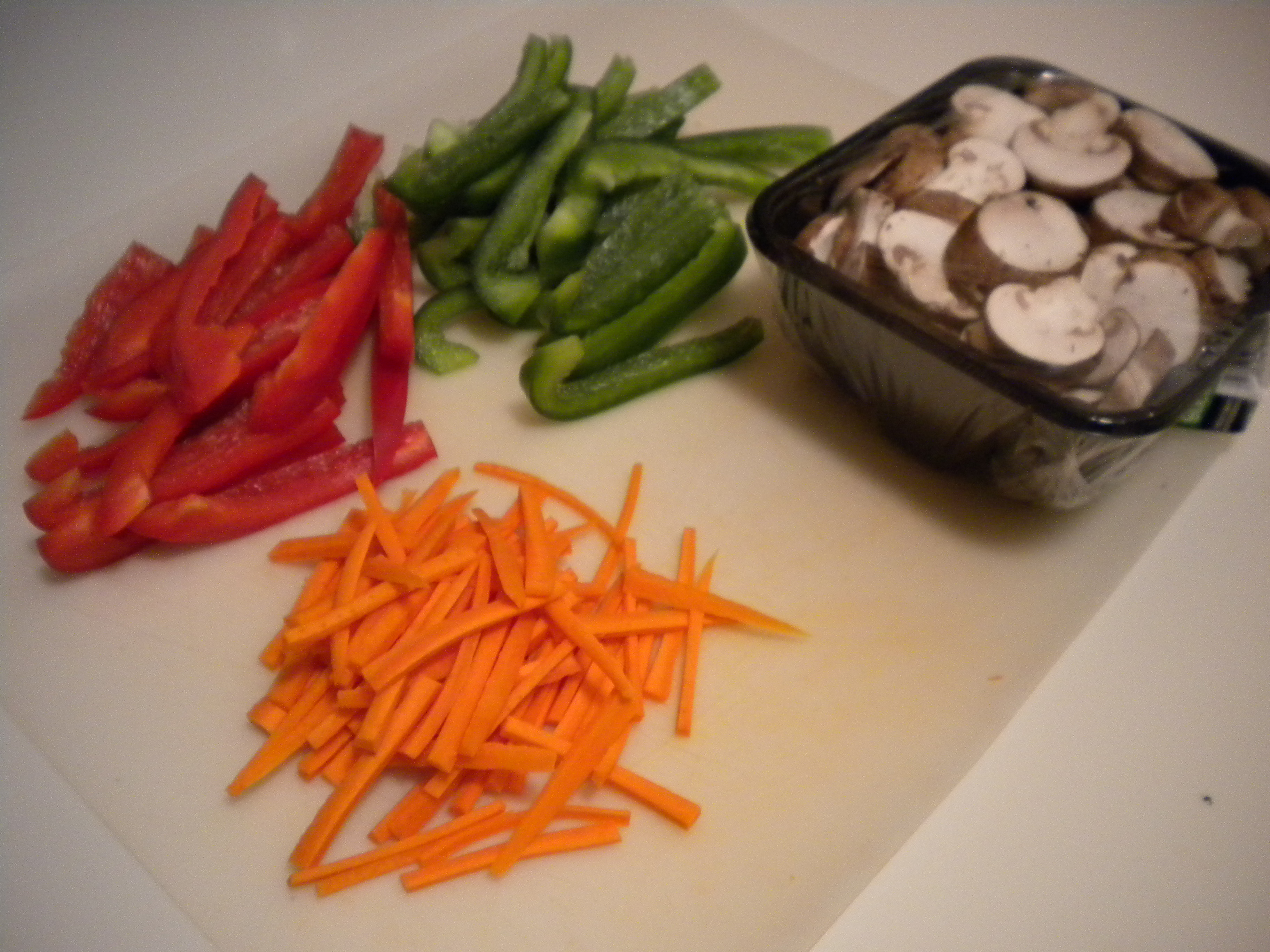 Start by chopping up whatever vegetables you have on hand (or whatever looked really enticing in the store). I wasn't particularly seasonal in my choices: red and green bell peppers, baby bella mushrooms, and carrots. Other vegetables I'm sure would be great include yellow or red onions, green beans, broccoli, and celery. Chopped squash might work; Thai food also often contains chopped cabbage. Really, you could add in whatever you like!
If you are so inclined, you may also want to line up some basil, chives, and/or cilantro to throw into the mix later on. I didn't have any fresh herbs on hand, but I think basil would have been a particularly awesome addition.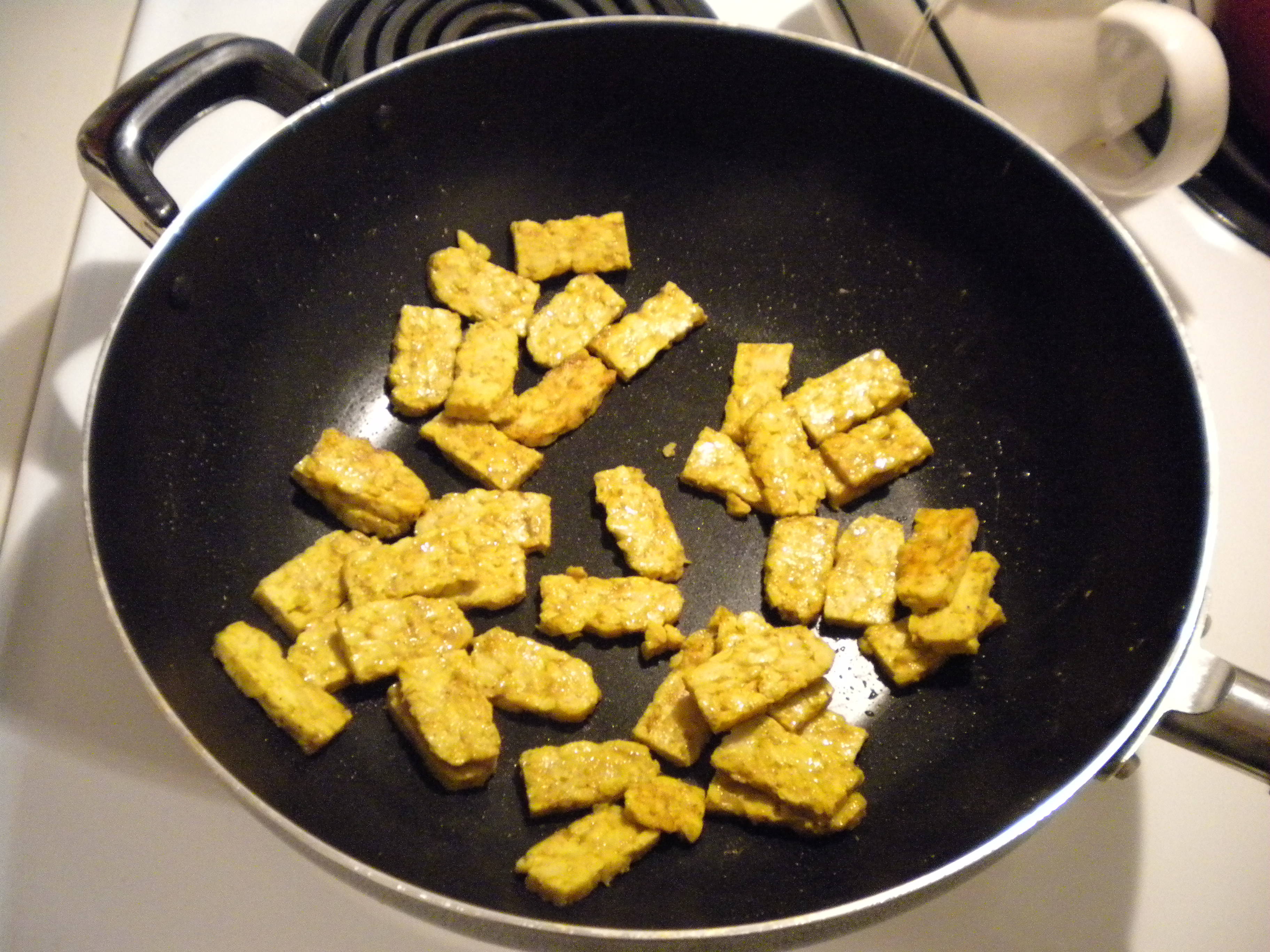 If you buy a marinated and pre-sliced tempeh (which is likely the only thing you'll find in a regular grocery store), start by separating the slices and cutting into about bite-size pieces. Otherwise, chop up the tempeh however you like.
Drop the tempeh pieces into a wok with some warm oil. Stir-fry for a few minutes, turning regularly, until the tempeh browns lightly.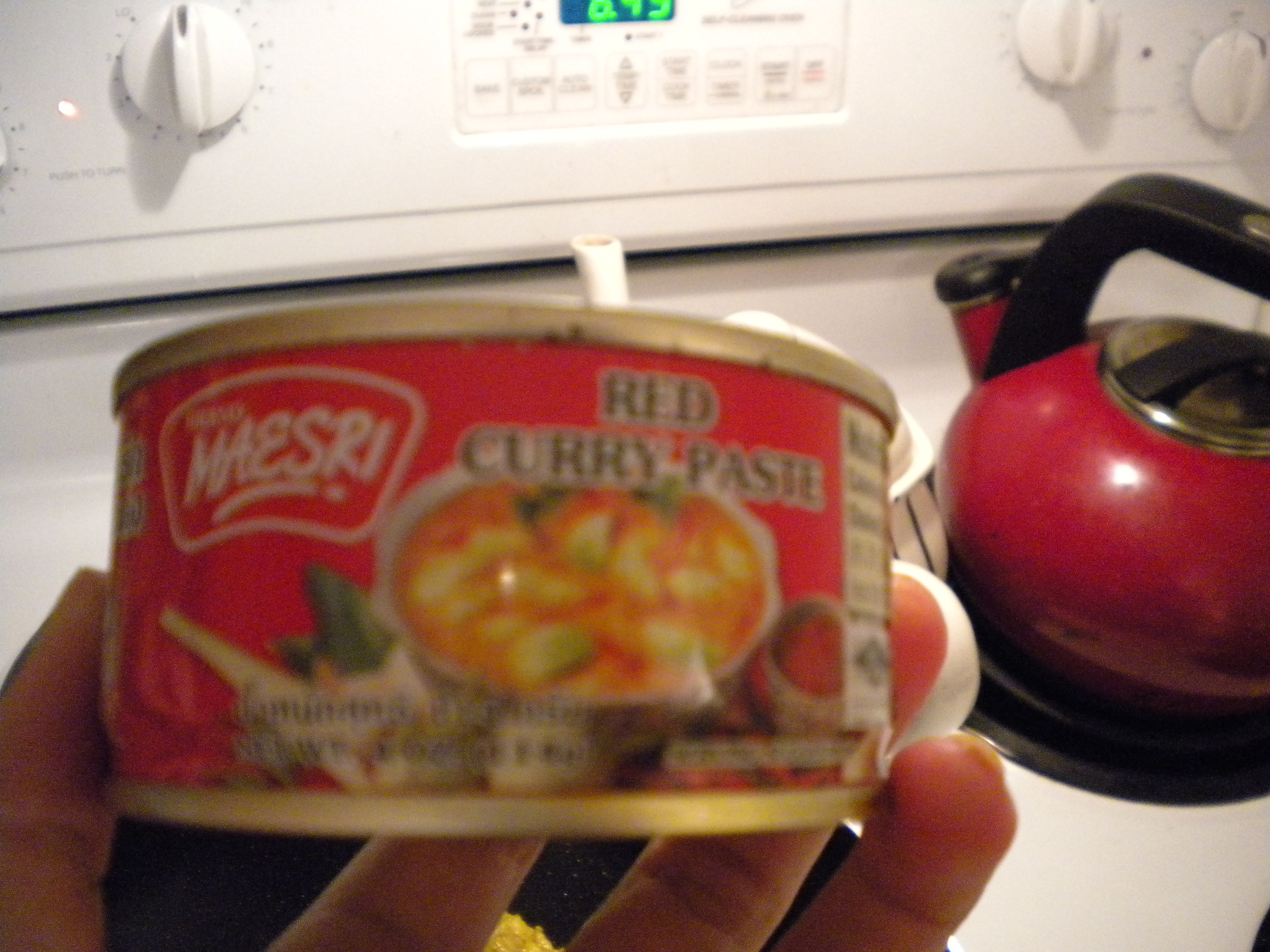 Here's where you want to be a bit careful, especially if your spicymeter only lets you eat mild salsa on your Tostitos.
Add in about a third to half of the tin of curry paste and one whole can of coconut milk. If you prefer milder foods, add only a quarter of the curry paste to start (or keep an extra can of coconut milk on hand in case you want to dilute the spiciness). If you love spicy food, and you're thinking, "I should definitely use more than half a can of this curry paste…I want it to come out like what I order at [insert your favorite Thai restaurant here]!" then trust me…don't add the whole thing to start. You can always add more curry paste later, after you taste it.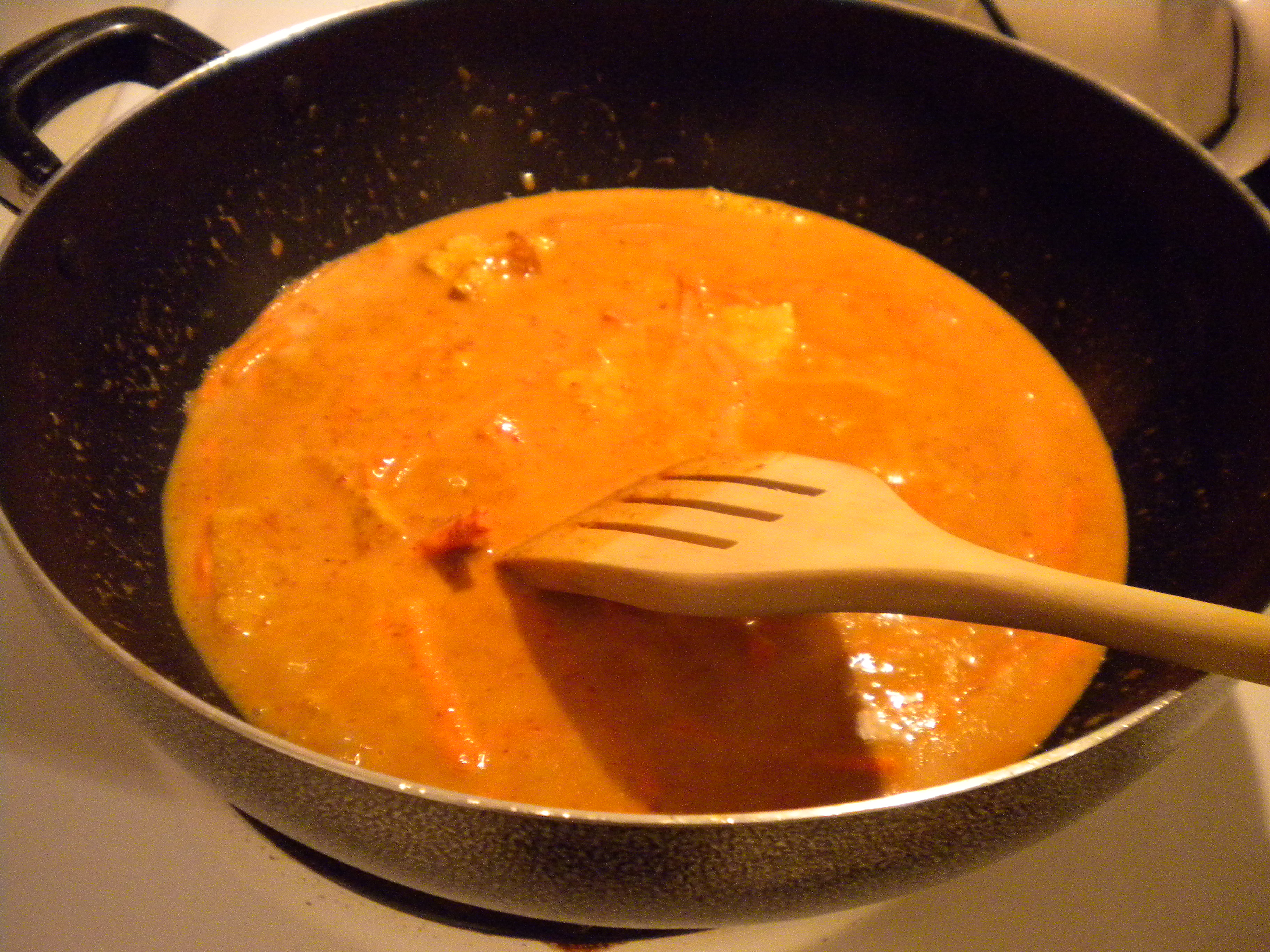 Stir slowly until the curry paste dissolves into the coconut milk.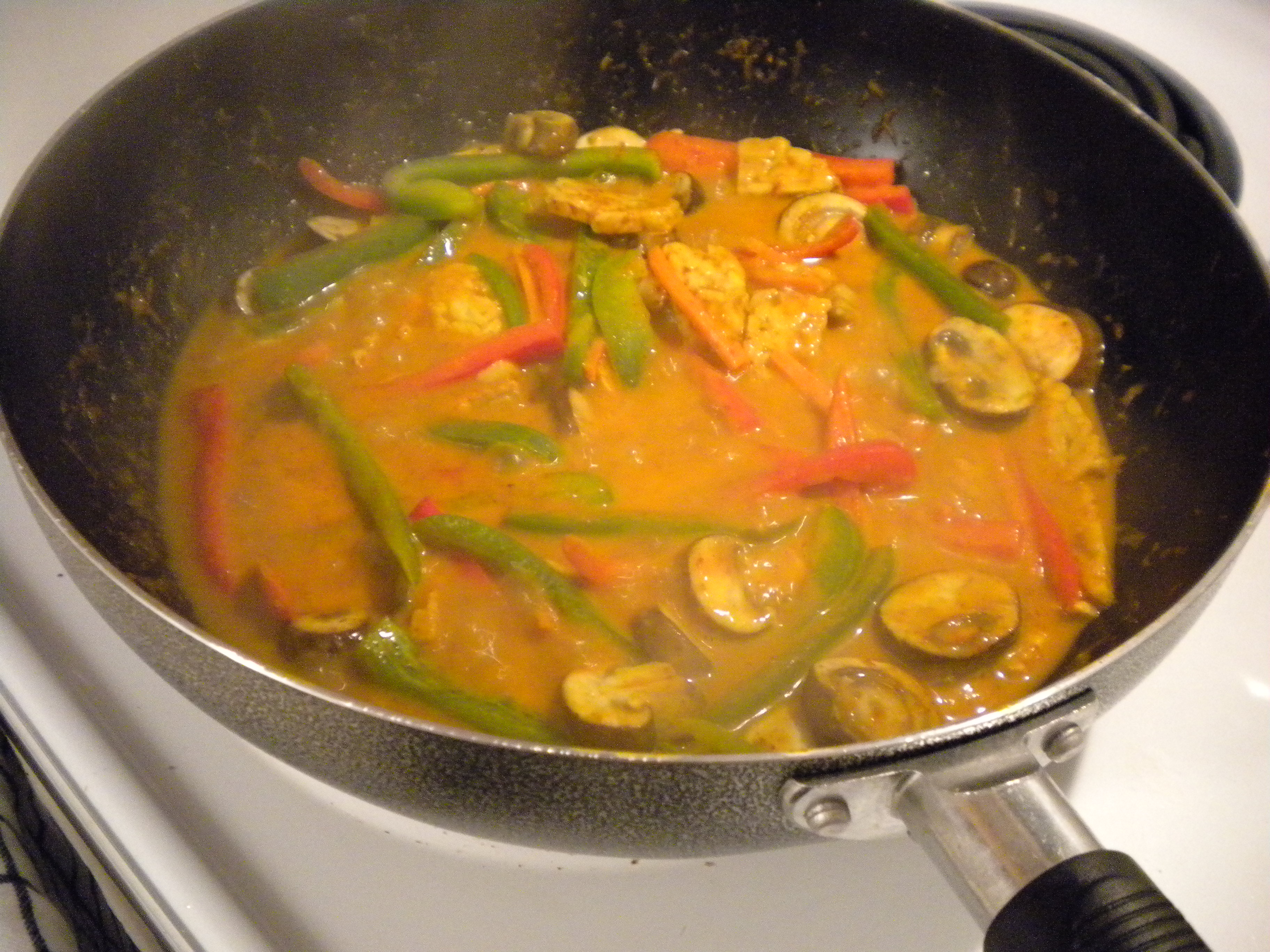 Add in all of the vegetables and continue stirring. At this point, the meal is almost done, depending on how soft you want the vegetables. You can leave the wok on medium heat for about 10 minutes before the sauce starts to thicken (which is just what you don't want…it intensifies the spice).
If you are unsure about whether to add more curry paste (or perhaps crack open that second can of coconut milk), I recommend a taste test. Grab a small spoonful of the curry, let it cool off for a few seconds, then taste it—but let the curry sit on your tongue for about 5 seconds. Lick your lips afterward. If you can stand that (no tears, no desperate urge for ice to cool your tongue and throat down, no mad dash for the lip balm) and you are very brave, add up to half of the remaining curry paste.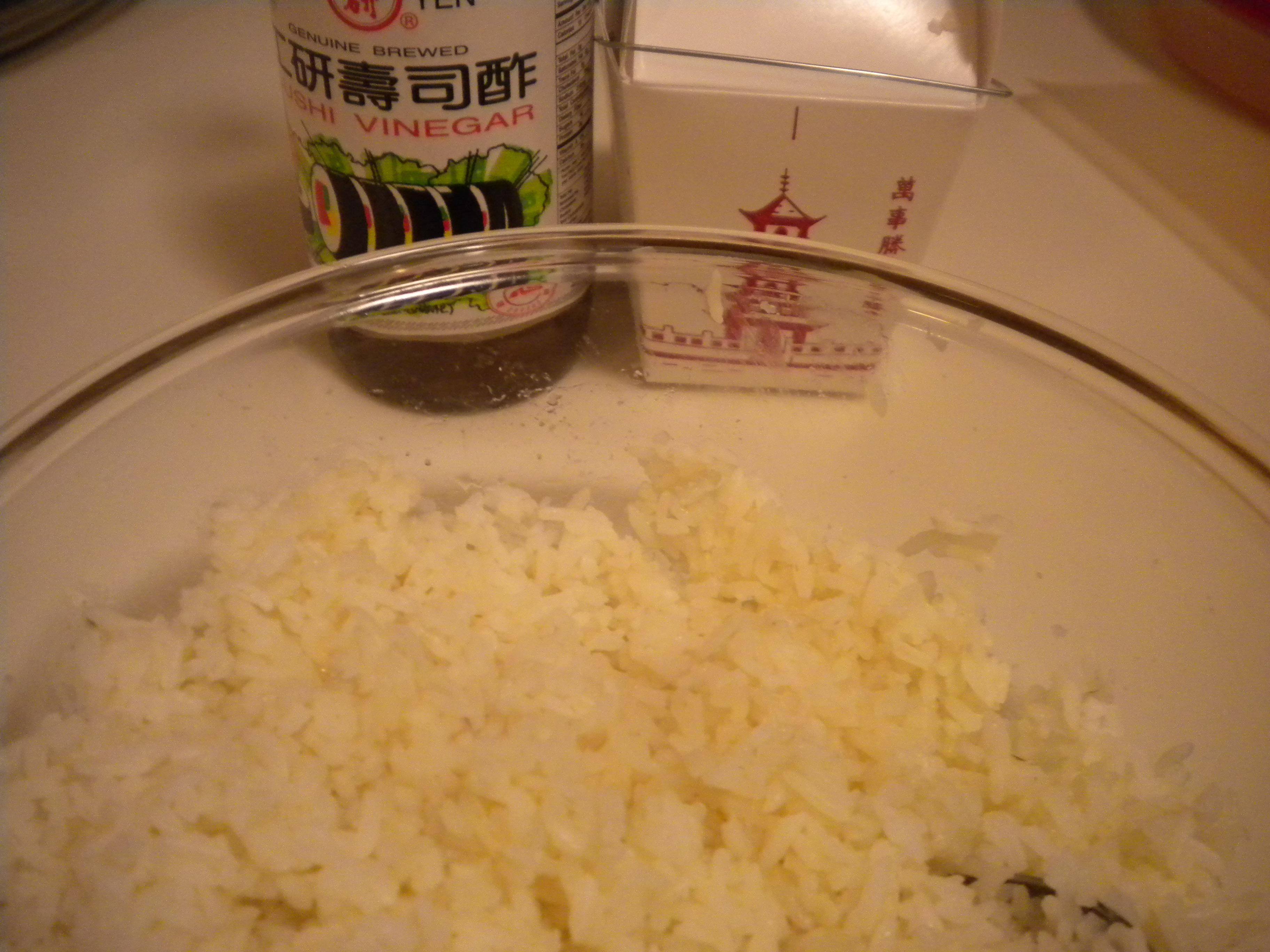 Meanwhile, cook your rice according to the directions on the package. Thai food is served with Jasmine rice, which is a bit floral and wonderfully sticky. You can either cook it in a pot on the stove (in which case you should probably start cooking the rice before you begin to stir-fry the tempeh) or in a rice cooker in the microwave.
Or, you can do what I do: save all your extra rice from Chinese takeout night. In case you didn't know this, it's really easy to get leftover out of their dry, stale state. Just dump the old rice into a bowl…don't try to break it apart, because chances are it will go everywhere all over the counter. Put a tablespoon of water into the bowl, then microwave for 2 minutes. Stir and microwave again as needed, until all of the rice is supple and steamy. Just for kicks, add in some sushi vinegar, to help the rice stay soft and add a bit of flavor (hey, it already wasn't jasmine rice…). Way to use up your leftovers!
Serve your red curry over a few large spoonfuls of rice.
Red Curry with Tempeh
inspired by Maesri
serves 3–4
Ingredients:
7 oz. tempeh (Turtle Island Foods' coconut curry)
1 tbsp. olive oil
1 15oz. can light coconut milk
½ tin Maesri Thai red curry paste, or to taste
1 red bell pepper, thinly julienned
1 green bell pepper,  thinly julienned
1 large carrot, peeled and cut into matchsticks
3 oz. baby bella mushrooms, sliced
3 cups cooked jasmine rice
Directions:
In a large wok, brown the tempeh in olive oil, turning to heat both sides of the slices, about 3 minutes total.
Add in the curry paste and coconut milk and stir until the curry paste dissolves and distributes throughout the coconut milk.
Drop in the vegetables into the wok and stir to coat them with curry sauce. As they heat up, they should cook down and become soft.
Remove the wok from the heat and transfer the curry to a serving dish. Allow to cool for 5 minutes before eating.
To serve, fill bowls with cooked rice and spoon the curry over top.
Enjoy!