Last Christmas, my husband's family all gathered in California to spend a week together. It was that week of bizarre weather when it drizzled almost nonstop…and every native Californian freaked out and half the roads closed (as a Virginian, I found this reaction about as silly as how Richmonders behave if there's a possibility of snow…but apparently there were actual mudslides, so maybe the Californians had a reason to be worried). But while we were there, we played dozens of board and card games, hiked up to the Hollywood sign in fog so thick we were literally about 20 yards away from it and couldn't see any of the letters, and did yoga in the sitting room. And, lo and behold, I was not the only vegetarian present!
Clara, my husband's cousin, is a great cook, and one evening she made this fantastic butternut squash soup. It's vegan-friendly, spicy, and absolutely delicious! I have been dreaming of this soup since last year, looking forward to fall/winter squash season so I could make it and share it with you all. Now it's perfect soup weather, and this filling bowlful will warm your stomach and your taste buds.
It takes about 3½ hours to make from start to finish, and while a lot of that time is inactive, this might be a good dish to prepare ahead if you are having guests, or to save for the weekend. Let's dig in!
Originally this recipe was made to serve about 20 people as a second main—meaning that almost everyone who ate it also partook of a meaty main dish, so while it made enough for at least one bowl to everyone who wanted some, it wasn't the only star at the dinner table. I cut the recipe down by one third, and I estimate it would probably serve 8–10 people as a main dish alongside a salad and some bread. It still makes a lot of soup!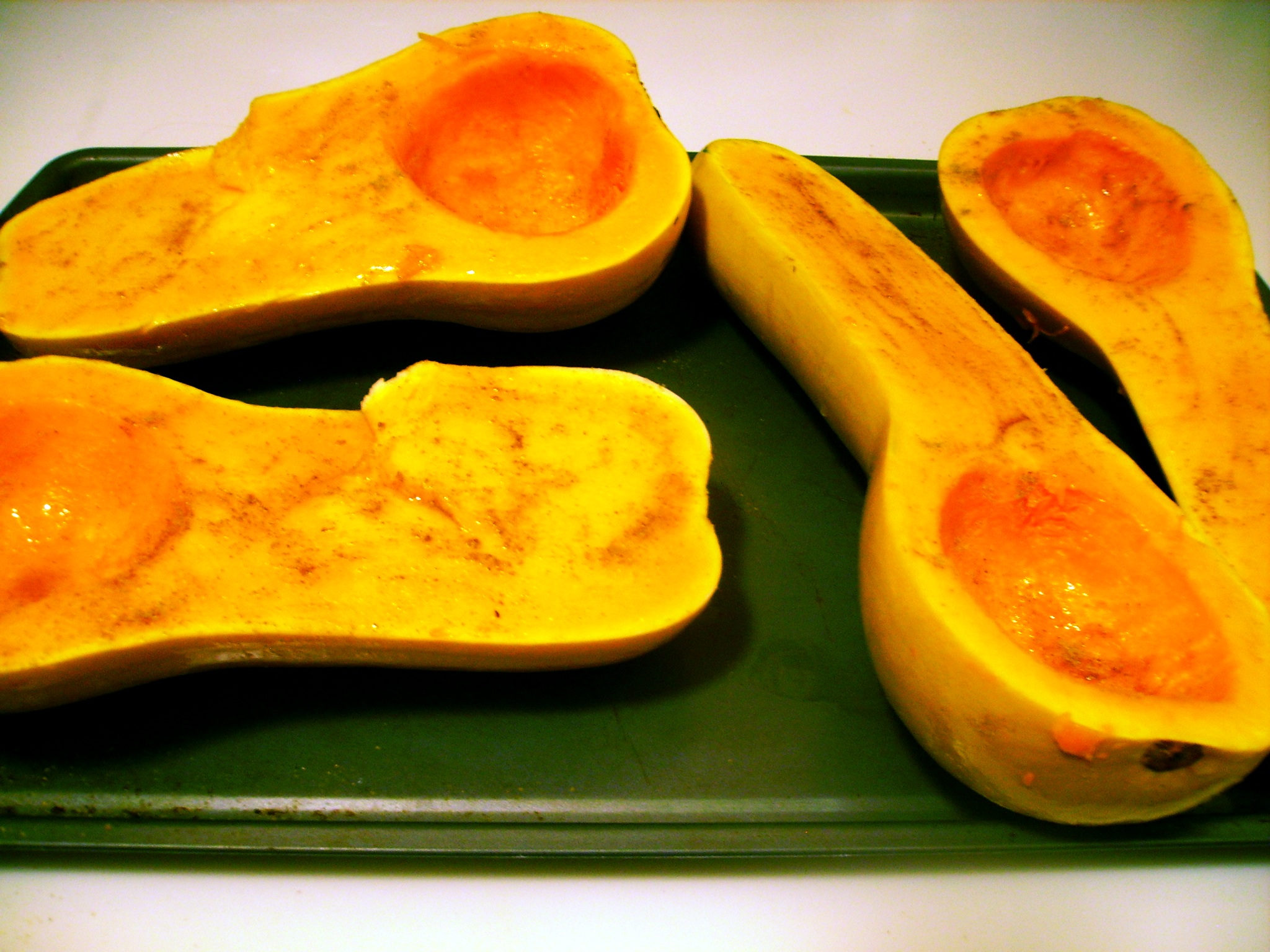 Start by cutting two 1½lb. butternut squashes in half and removing the seeds. Drizzle very lightly with olive oil and rub with about ½ tbsp. yellow curry powder. Bake at 350° for 30 minutes. The necks of the squash will probably be roasted through, while the thicker areas will be only slightly softened.
If you wish to make the soup in stages, wrap the baked squash halves in foil and store in the refrigerator overnight and continue the rest of the process the next day.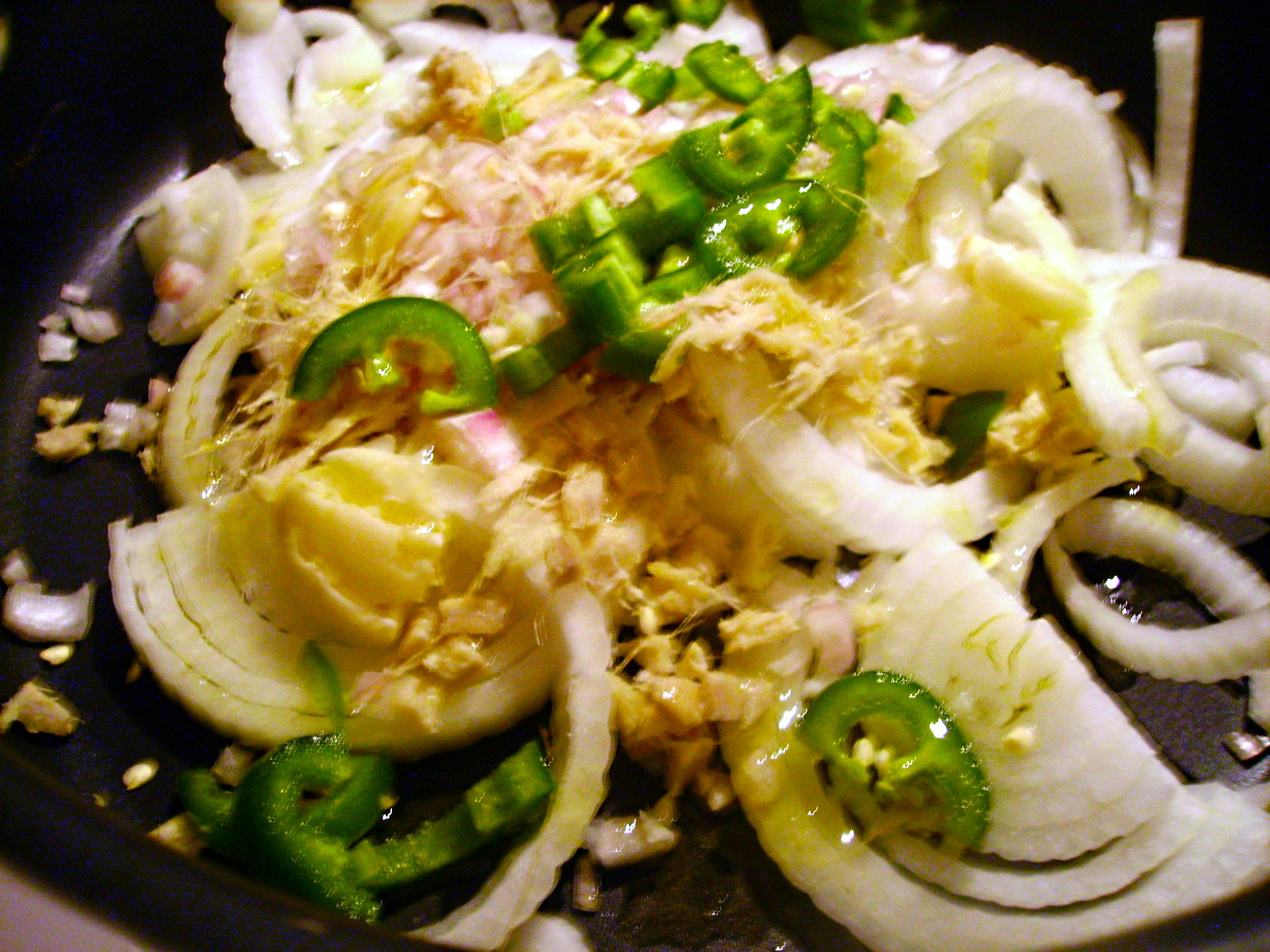 While the squash is baking, slice the onion, grate the ginger root (sorry…but it's necessary!), and finely chop 1 shallot and 1 jalapeño. For the jalapeño, I only scraped out about half the seeds, because I wanted a little extra kick, but if you don't like spicy things, make sure you remove all of the seeds from all of the peppers or you will regret it! Also, do be sure to wash your hands after handling hot peppers, otherwise you may find yourself quite dismayed when you absently touch your face to say, pull a strand of hair away from your mouth, and then find that your skin feels like it's burning.
In a little bit of olive oil, sauté the veggies you just chopped and grated with 2 cloves of crushed garlic and another ½ tbsp. yellow curry powder. I used a very large sauté pan for this, but if you want, you could also cook the stock veggies in the bottom of your stock pot to save a dish.
When the onions are translucent and the whole mixture is very aromatic, transfer to a very large stock pot. Fill the pot with enough water to cover the vegetables with about an extra ½″ of liquid (about 3 cups of water). Simmer for 3 minutes, then add about 5 cups (1¼ quarts) of the prepared organic vegetable stock. I really recommend using a stock that has no extra added salt, because an abundance of salt will kill the flavor of this soup. Stir and then let simmer for 15 minutes.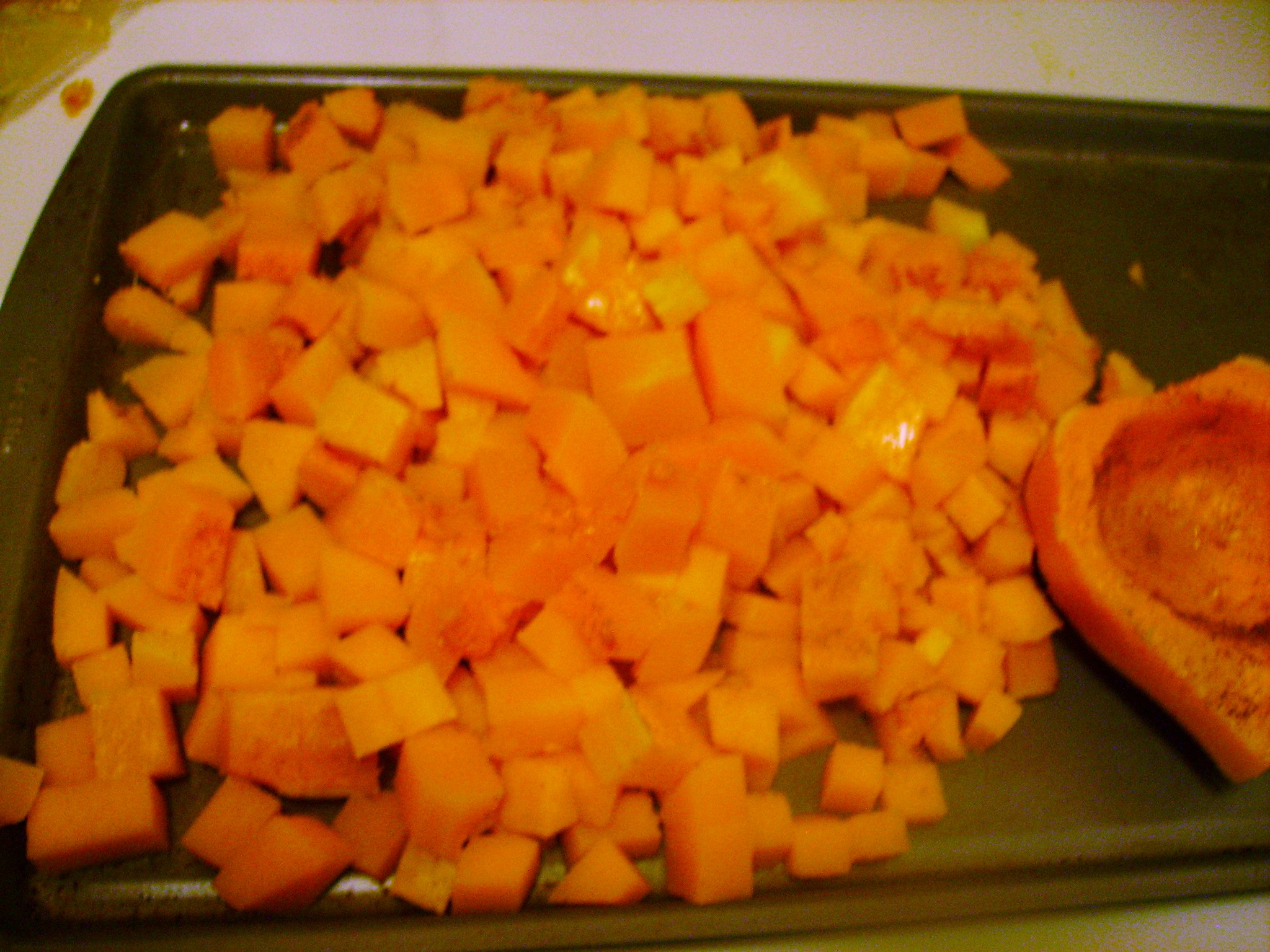 Meanwhile, the squash should be out of the oven and cooled enough to handle. You can do this next part however you'd like, but you need to separate the flesh of the squash from the softened skin. I used a sharp knife and cut it, but since you don't need to worry about retaining the shape of the squash at all, I think scoooping or scraping the squash away from the skin with a large spoon would be the faster route.
Chop the squash up into small pieces. Don't worry about getting them uniform, but if you come across any sections of squash that are still pretty firm, cut them a bit smaller so they will soften faster once you put them in the liquid. Be careful on this step! The roasted squash is very moist, and even a bit slimy. I found that my hands got a bit slippery, which made the knife harder to handle…and of course I am too stubborn to go rinse them off mid-chopping…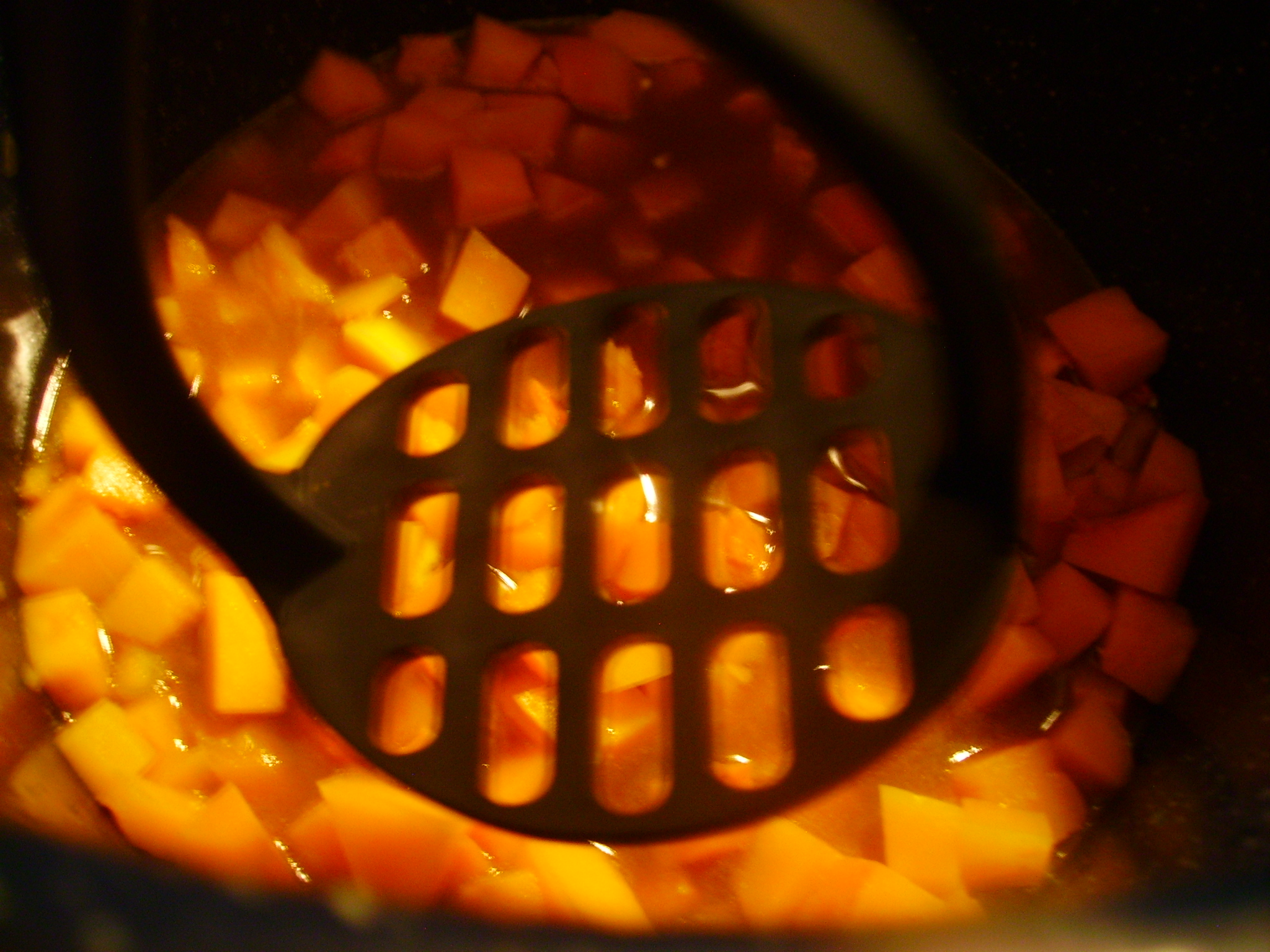 Dump all of the cut up squash into the stock pot. Let them sit for a minute or two, then grab a potato masher (or a large slotted spoon) and mash away. Pulverize the squash as much as possible. I came back and took about 3 passes at this, just to try to mash as much of the squash I could. This makes the blending a little easier later.
Continue to cook the squash mixture for 10–15 minutes, though it could really stay on the heat as long as you'd like, provided you stir occasionally to prevent anything from sticking to the bottom.
Once again, if you need to make this soup in stages, you could transfer the soup to a large, heatproof bowl, let it cool a bit, then cover it and store it in the fridge. Continue with the remaining steps the next day.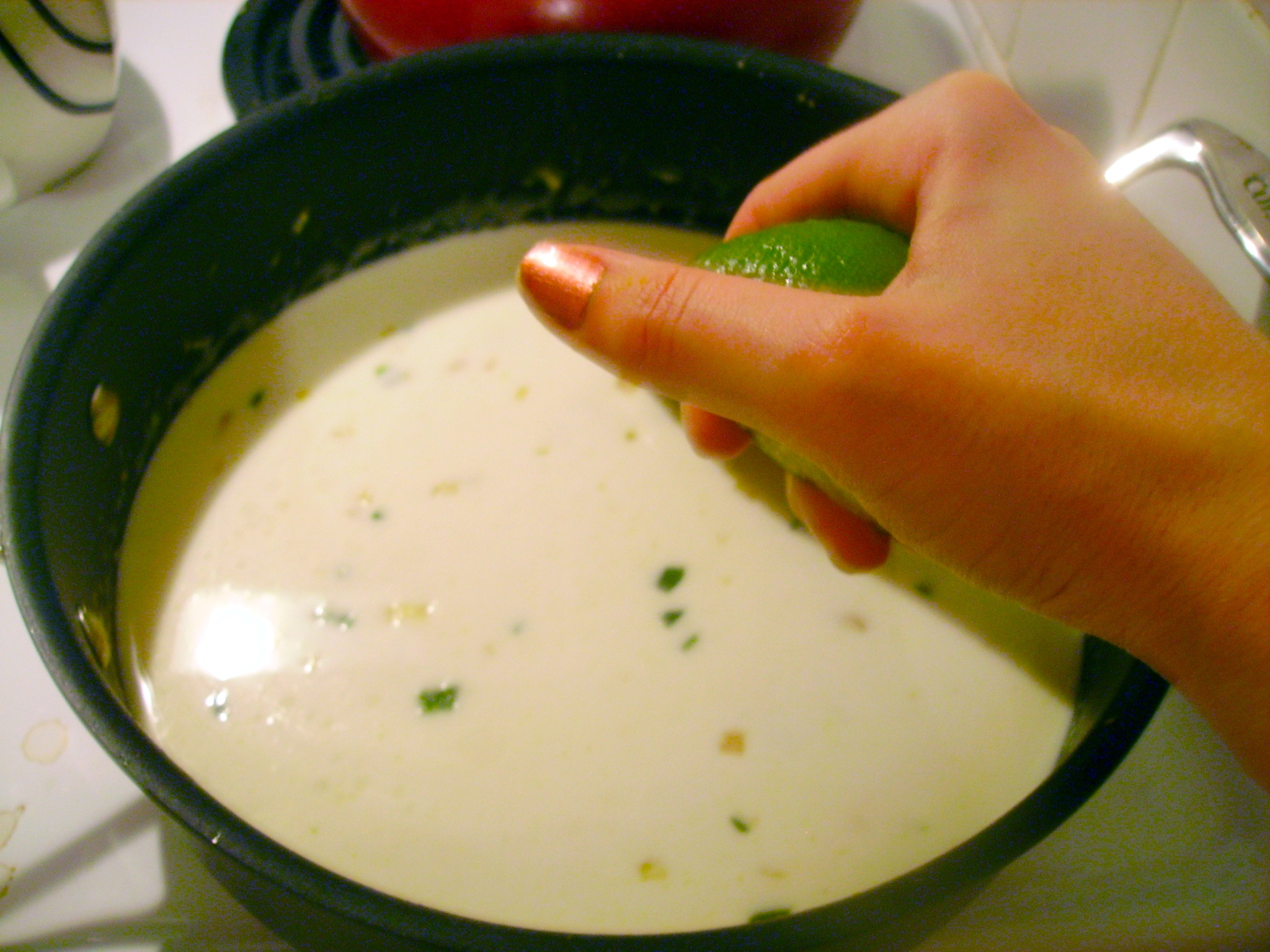 While the squash soup cooks, chop the last shallot and half of a poblano (remove the seeds!), mince 2 cloves of garlic, and grate the remaining ginger. These ingredients will add the bulk of the warm, spicy flavor to the soup. If you are not a fan of spicy, I still recommend you don't skimp on the ginger or omit the hot pepper, because you want the soup to be flavorful; instead, balance the spice by adding extra coconut milk later.
Sauté the chopped aromatics with 1 tbsp. yellow curry powder, stirring constantly to prevent burning. When the mixture is very fragrant, pour in 1½ cans coconut milk. I always use light coconut milk, since even that is very fatty, but if you have lower tolerance for hot spices, then I recommend using the regular version, which will provide a richer, creamier balance against the spicy ingredients. Continue to stir over medium-low heat until the aromatics have distributed well in the coconut milk (if you can smell them over the smell of sweet coconut, then it's ready). Squeeze in the juice of half a lime, or to taste (my lime wouldn't give up its juice, so I basically pulled out most of the pulp and stirred that in, to no ill effect).
Pour the coconut-spice mixture into the hot butternut soup. Continue to heat, stirring, for a few minutes, or as long as you'd like. But keep in mind that the mixture must cool before you can blend it, and then you should reheat over the stove before serving, so if you are on a schedule, then leave at least 45 minutes for that process before you intend to serve.
Remove the soup from the heat. Let it cool for at least 35 minutes, or until the soup is warm but not hot to the touch. To speed up the process, you could sit the stockpot in a sink full of ice water.
Puree the soup in a blender. I have a very small blender, so I had to run it through in three batches, but it worked.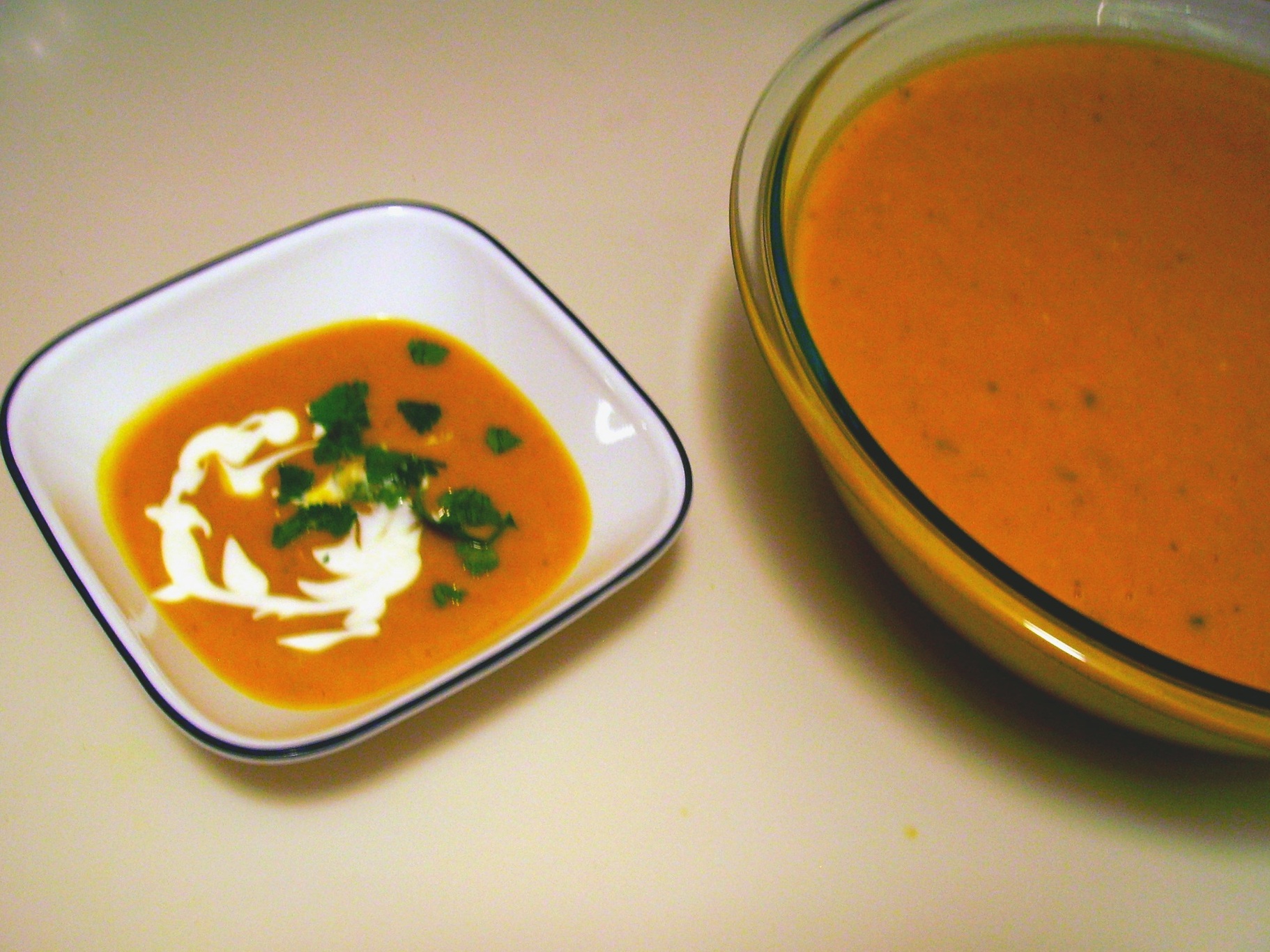 Return the soup to the stockpot and heat again to serve. Again, you can really heat this as long as you'd like, until you are ready to serve. Just continue to stir occasionally so none of the soup gets baked to the sides or bottom of the pot.
Serve the soup hot with a drizzle of plain yogurt (not Greek-style, and obviously skip this addition to keep the soup vegan) and a sprinkle of chopped fresh cilantro.
Curried Butternut Squash Soup
adapted from Clara Cunningham
serves 8–10
Ingredients:
2 large butternut squash
3 tbsp. olive oil, divided
2 tbsp. curry powder, divided
1 large yellow onion, sliced in half-moons
2 shallots, chopped, divided
4 cloves garlic, divided
2 oz. ginger root, freshly grated, divided
1 jalapeño, seeded and roughly chopped
3 cups water, as needed
1–1½ quarts prepared organic vegetable stock
1 poblano pepper, seeded and roughly chopped
1½ cans (about 2¾ cups) low-fat coconut milk
½ lime
pinch of sea salt
low-fat plain yogurt, for garnish
fresh cilantro, roughly chopped, for garnish
Directions:
Preheat oven to 350°.
Halve butternut squash longways and scoop out the seeds. Rub exposed squash with ½ tbsp. olive oil and ½ tbsp. curry powder. Bake skin side down about 45 minutes.
Prepare the vegetable stock. Sauté onion, 1 chopped shallot, 2 cloves crushed garlic, half the grated ginger root, 1 chopped jalapeño, and ½ tbsp. curry powder in about 1½ tbsp. olive oil.
When vegetables are very soft and aromatic, transfer to a stock pot and add water, a little less than double the mass of the vegetables. Simmer for 3 minutes. Add the prepared vegetable stock* and continue simmering for 15 minutes or so.
Meanwhile, remove the skin from the baked squash and chop into cubes.
When the stock is well seasoned, add in the prepared butternut squash. Pulverize squash in liquid. Continue simmering the stock mixture, stirring occasionally.
Meanwhile, prepare the spice profile. In a large sauté pan, cook the remaining vegetables: 1 shallot, 2 cloves minced garlic, 1 oz. grated ginger root, the poblano, and the remaining curry powder in 1 tbsp. olive oil. When the shallots are barely translucent, add the coconut milk and simmer over low-medium heat until the milk is saturated. Stir in a splash of lime juice, or to taste.
When ready, add the spicy coconut milk mixture to the stock. Add a pinch of sea salt. Stir over heat for a few minutes, then remove to cool.
Puree the soup in a blender until smooth. Return to the pot and reheat.
To serve, drizzle in a swirl of plain yogurt and top with a sprinkling of fresh cilantro.
Enjoy!