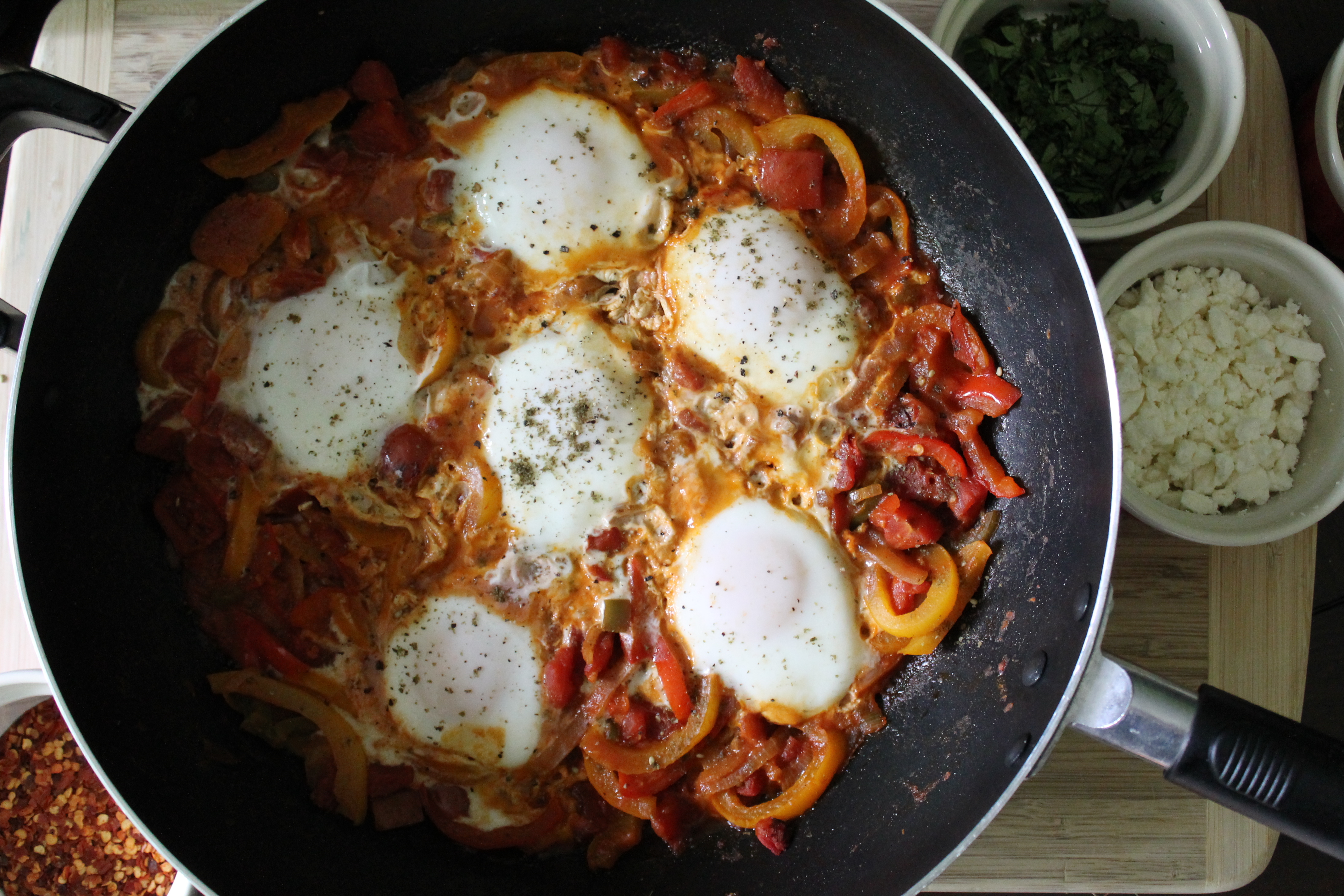 One of the pitfalls of being a food blogger is that there aren't really many family favorite meals in our house. I don't mean to say we don't have favorite meals—just that I don't make repeats very often. Our "favorite" meals tend to roll around once every three years rather than once every three weeks.
There is much less room for food ruts when the chef is constantly looking for new dishes to blog about.
But this shakshuka is seriously going to grace our table several times every summer from now until Kingdom come, because wow is it delicious and it is so easy to make! I love laid back meals, don't you?
Shakshuka is a North African dish typically comprised of eggs poached in a rich tomato sauce. This version is a little different because it adds brightly colored bell peppers for a little more heartiness and texture. It will make your house smell amazing. It will make your mouth water. It will basically be the best use of summer bell peppers you will ever find, and you will mourn when your farmer's market shuts down in the fall!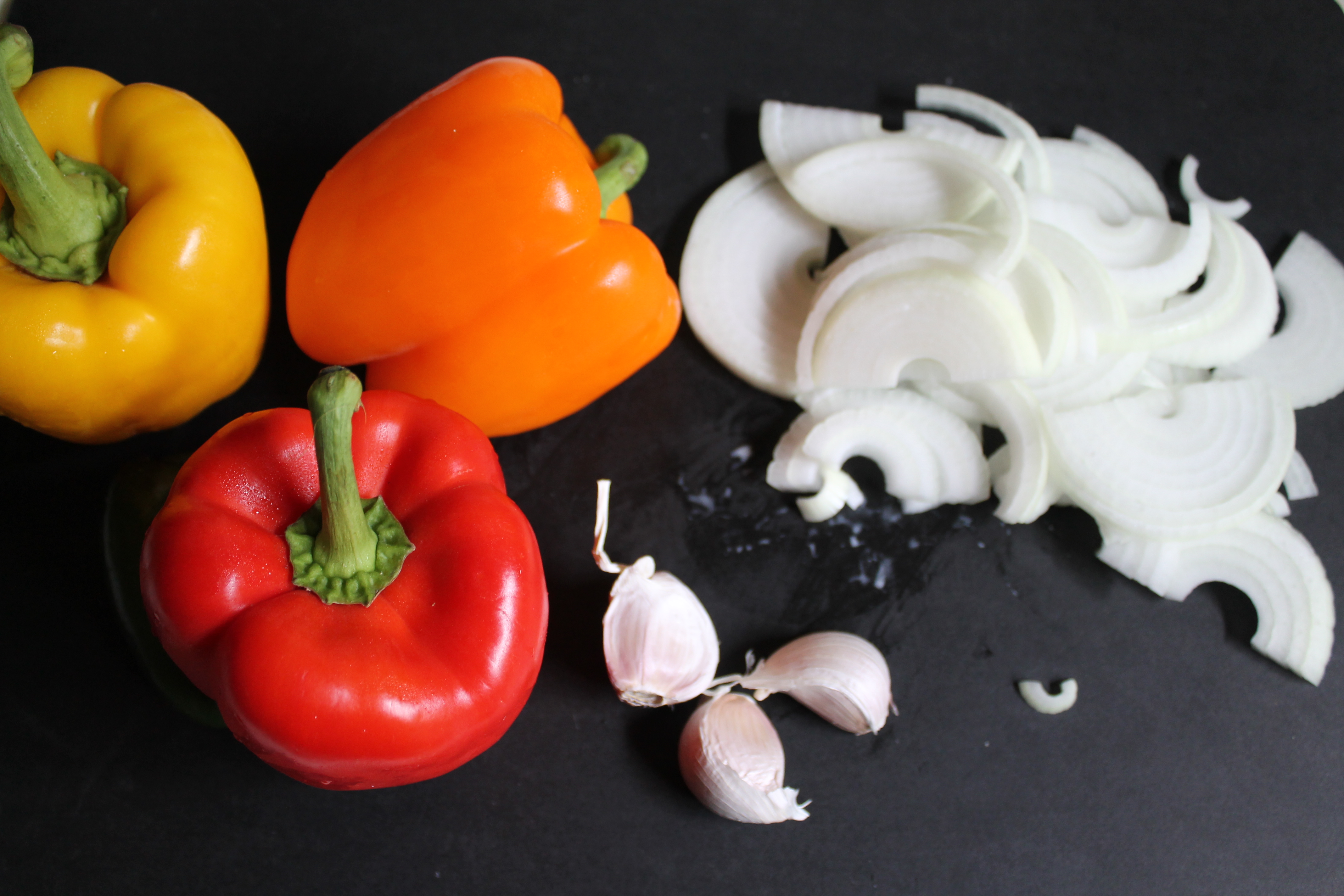 The prep work for this dish is going to be a bit tedious unless you have a mandoline. The mandoline will make short work of the bell peppers! For everyone else, sorry but there are about 10 minutes of extra slicing in your future.
Once you get all the onions and peppers sliced up, your meal is practically made!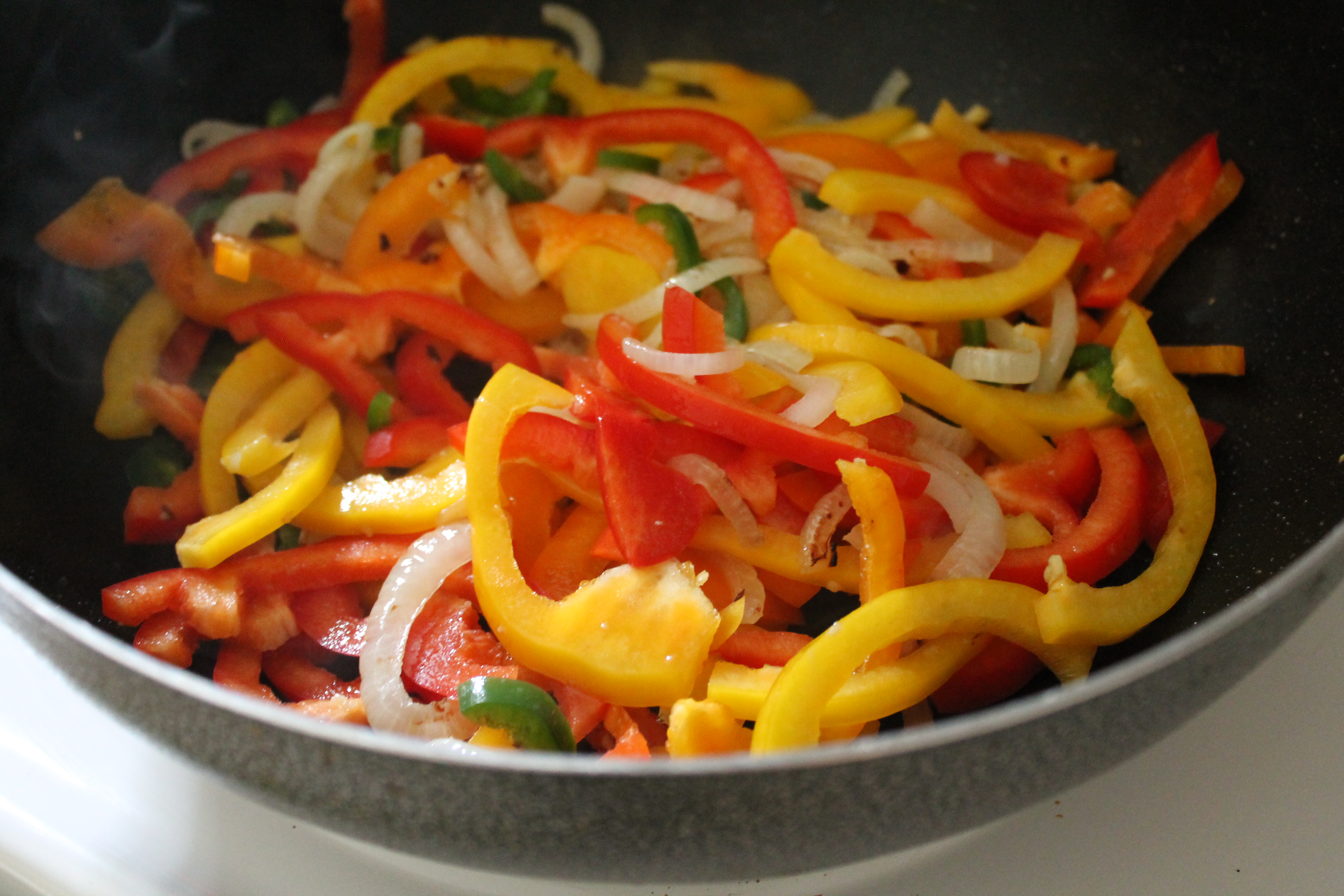 Toss the onions and minced garlic into a very large skillet with hot olive oil. Cook until the onions soften and turn translucent.
Add the spices and salt and cook for 1 minute, just to take the raw edge off.
Add the bell peppers and hot pepper and cook for another minute or so, until the peppers begin to soften.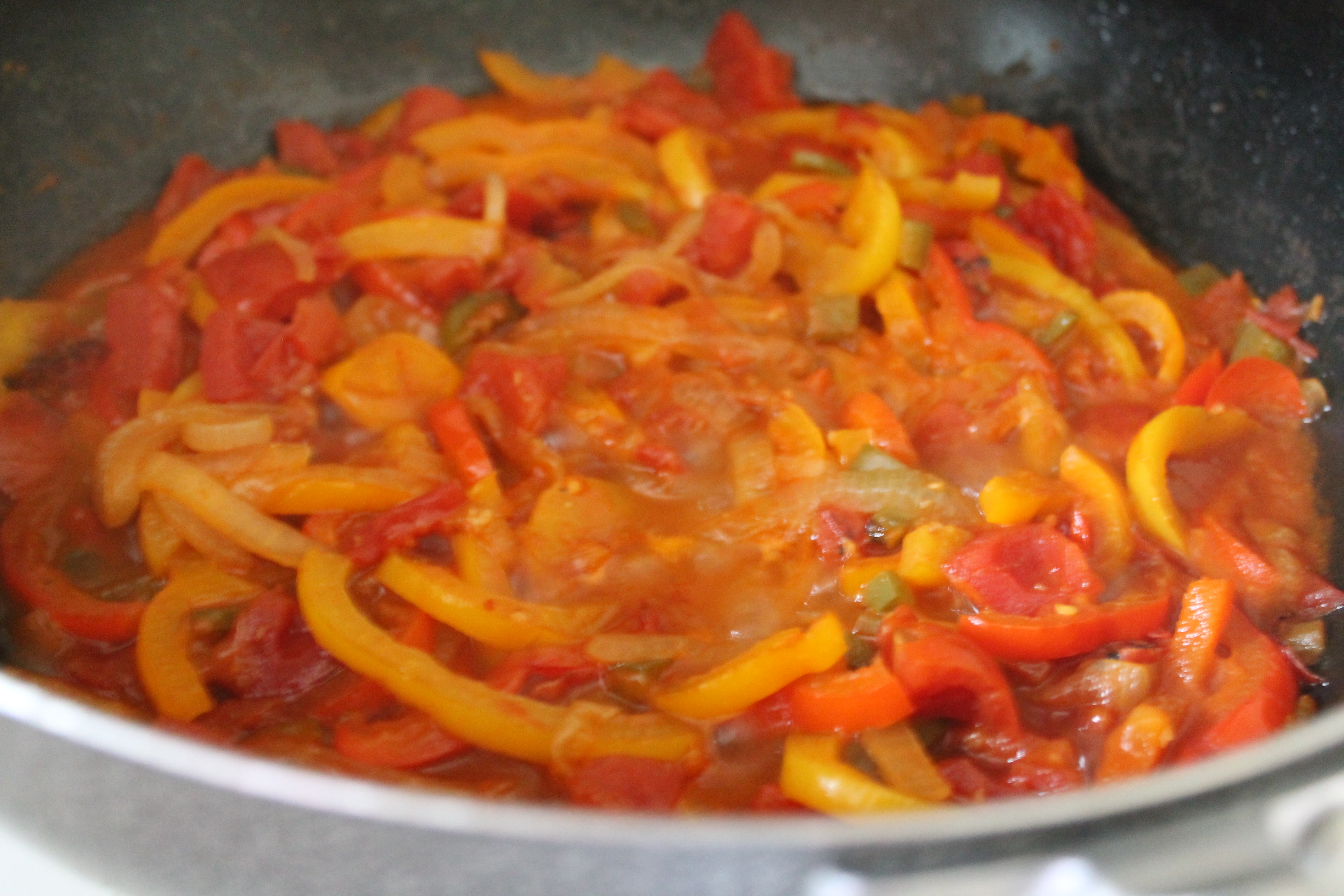 Add the canned tomatoes and a cup of water to the skillet. I used diced tomatoes, but crushed would have been much better, much saucier in the end—I have simply been having trouble finding them in my area. Either way, the dish will turn out delicious! Cook for 20 minutes, until the sauce has reduced and thickened a bit.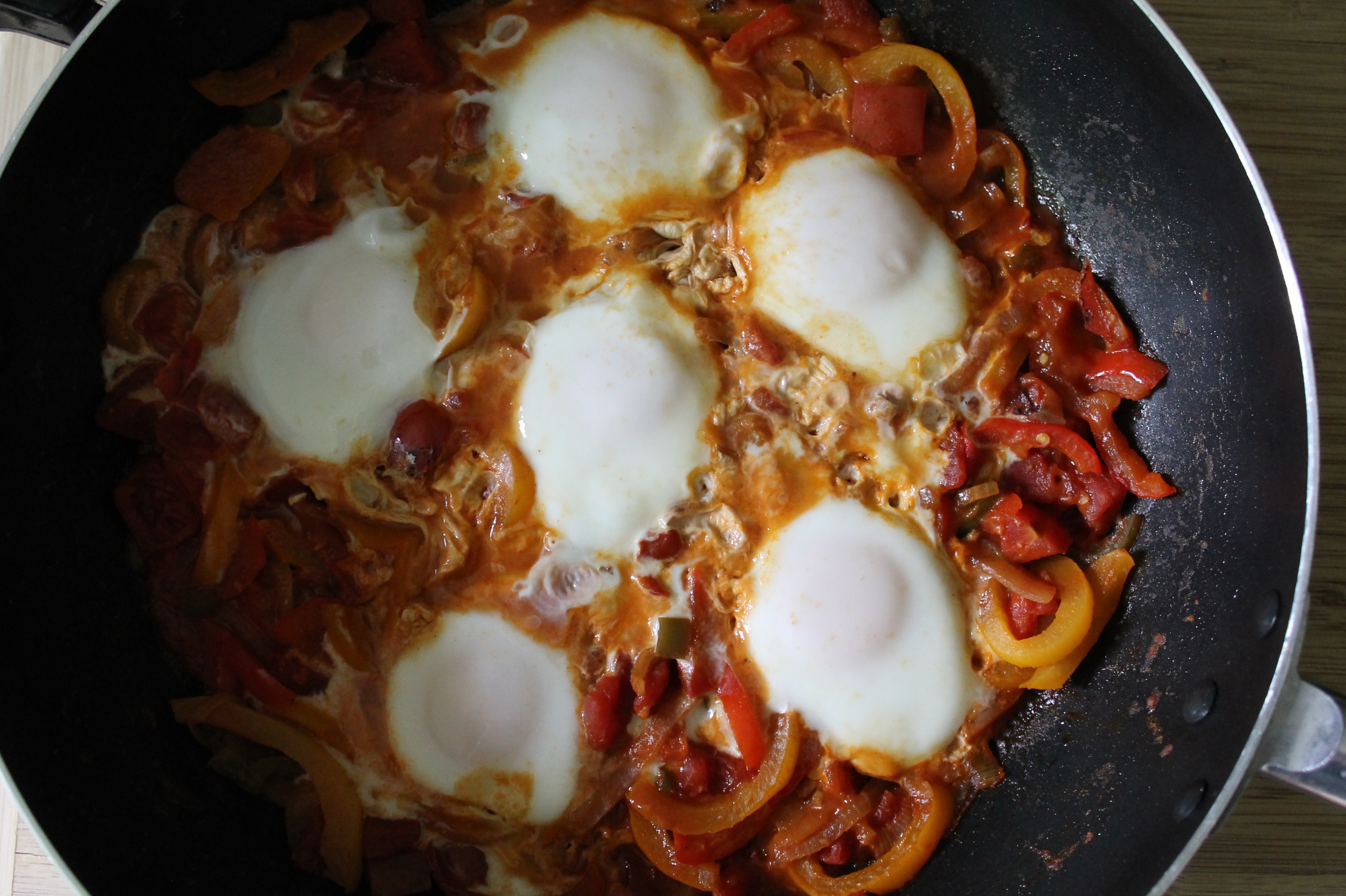 Make 6 impressions in the shakshuka. Break an egg into each impression. Quickly cover the pot (I just used foil) and let the eggs poach in the tomato sauce for 3–4 minutes for set whites and nice, runny yolks. Or, if you like firm yolks, leave the cover on the pot another 2 minutes.
Season the top of the shakshuka with a little fresh ground black pepper, a generous sprinkle of za'atar, some fresh chopped cilantro or parsley, and a handful of feta crumbles. Of course, you can also leave these off and let your dinner-mates garnish to their hearts delight! I did do this, as my mom can't have feta—but honestly, I think I prefer letting everyone top their own food as they wish, anyway.  It feels like a new kind of gourmet to me, having a tray full of garnishes to use as I please on my own plate! (Plus, Dave always likes to use twice the amount of toppings that everyone else wants, so I always have to bring the toppings to the table anyway.)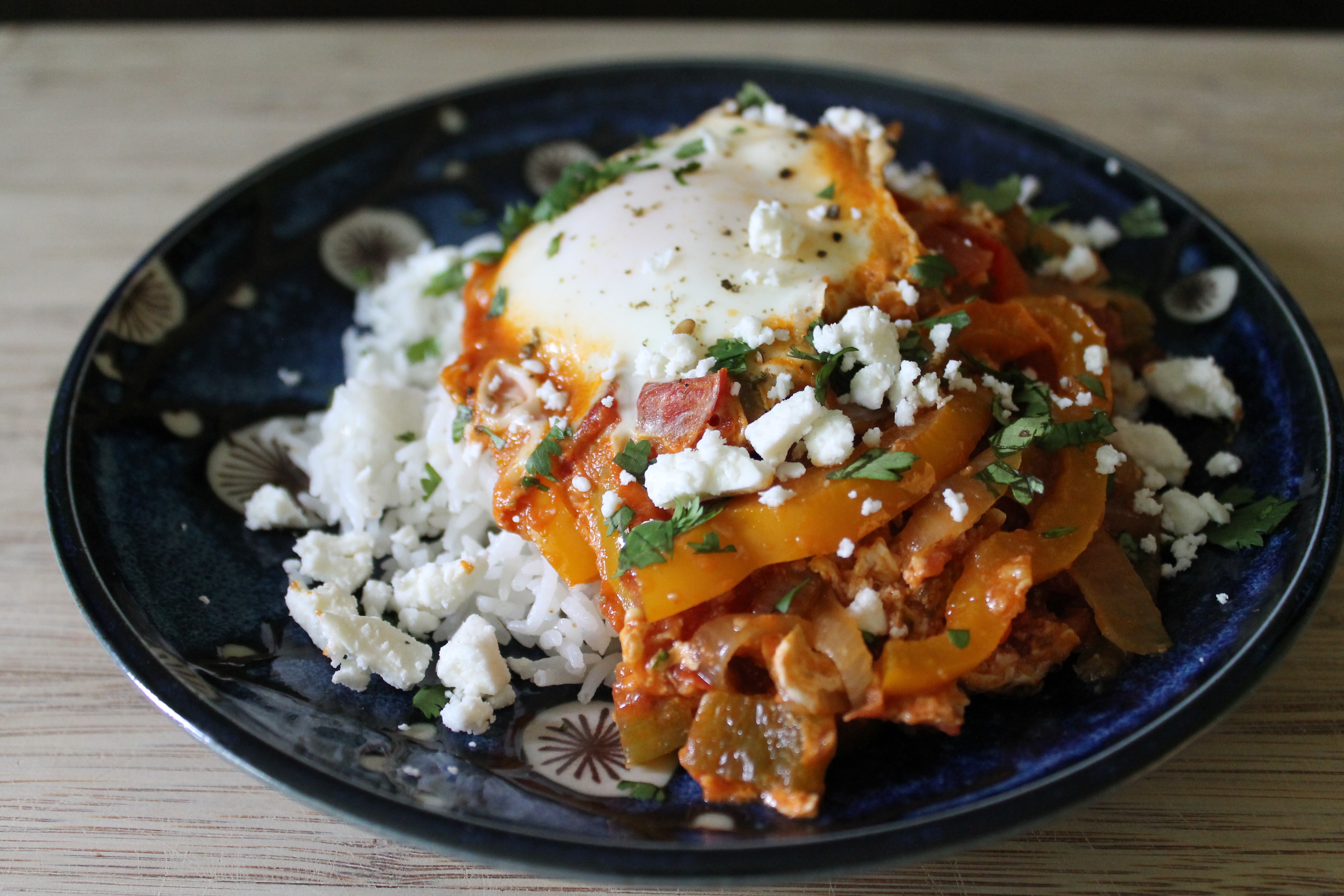 Serve the shakshuka over seasoned basmati rice—I cooked mine in my microwave rice cooker, and then seasoned with a little olive oil, cumin, cayenne, and garlic powder. Yum!
Bell Pepper Shakshuka
adapted from Smitten Kitchen
serves 4
Ingredients:
2–3 tbsp. olive oil
1 small yellow onion, halved and sliced into half-moons
4 cloves garlic, minced
1 red bell pepper, cored and sliced into thin strips
1 yellow bell pepper, cored and sliced into thin strips
1 orange bell pepper, cored and sliced into thin strips
1 jalapeño, cored and sliced into thin strips
½ tsp. cumin
½ tsp. smoked paprika
½ tsp. sweet paprika
½ tsp. salt
pinch of crushed red pepper (optional), plus extra
1 14oz. can fire-roasted petite diced or crushed tomatoes
1 cup water
6 eggs
fresh ground black pepper
2 tsp. za'atar, or to taste
½ cup crumbled feta, or to taste
2 tbsp. chopped cilantro or parsley, or to taste
4 cups cooked basmati rice
Directions:
Heat oil in a large skillet over medium-high heat.
Once hot, add onion and cook until it softens a bit and becomes translucent, 4–5 minutes. Add garlic and cook 1 minute more.
Add all the sliced peppers to the pan. Sauté until they begin to soften, about 5 minutes. Stir in cumin, paprikas, salt, and crushed red pepper and cook 1 minute more.
Pour in tomatoes and water and bring mixture to a simmer. Reduce heat to medium-low and simmer sauce for 15 minutes, stirring occasionally. Adjust seasonings to taste.
Make 6 indentations in the sauce, and crack an egg into each. Cover the pan and cook the eggs to desired firmness: for set whites and runny yolks, 3–4 minutes; for set yolks, 5–6 minutes.
Remove from heat and sprinkle with black pepper, za'atar, feta, and cilantro.
Serve immediately over basmati rice.
Enjoy!
One year ago: Corn and Poblano Pizza
Two years ago: Caprese Bites
Three years ago: Pasta Primavera in White Wine Butter Sauce