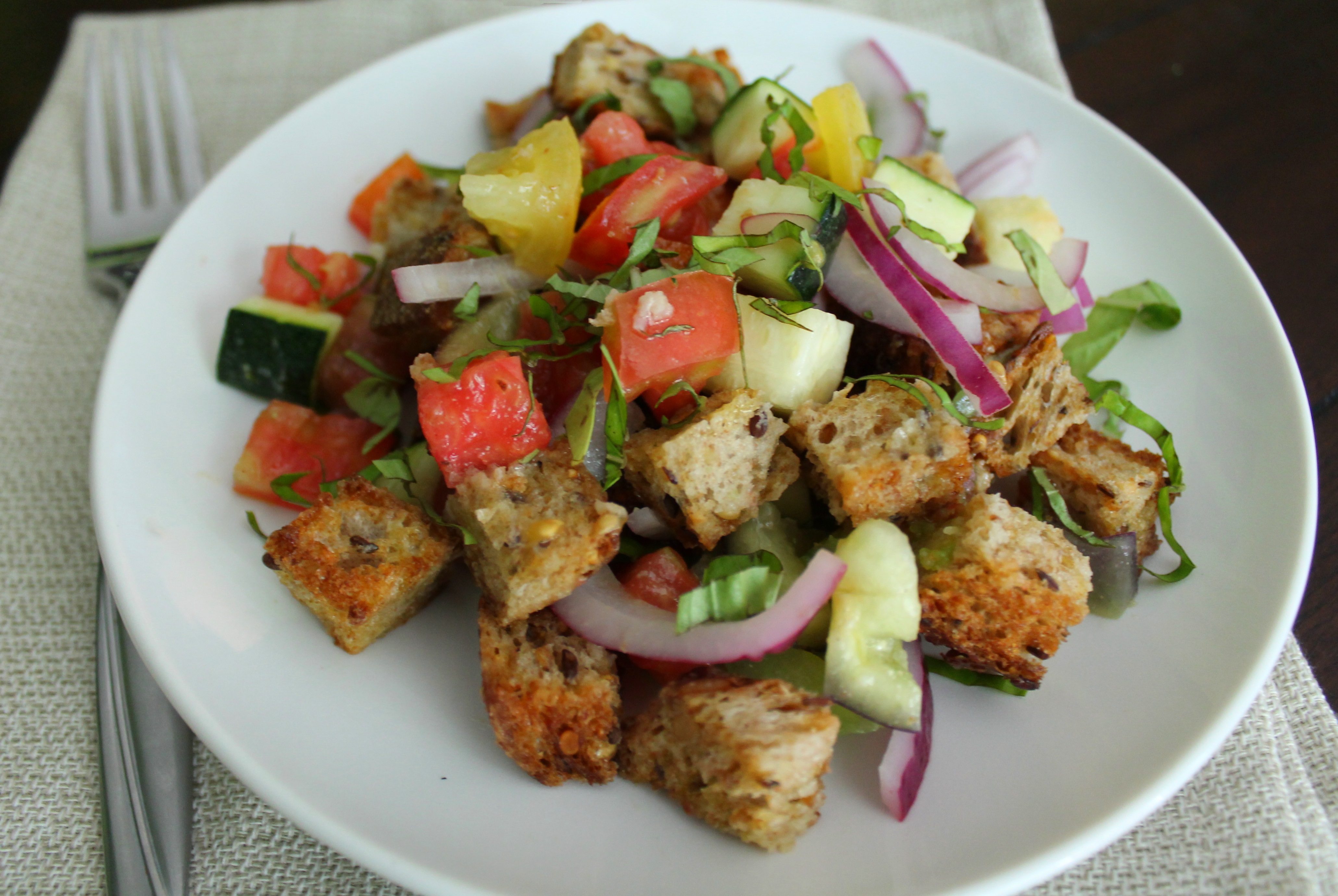 Are you overwhelmed with tomatoes yet? Overflowing with bell peppers?
I really prefer to eat the bounty of summer produce I have been bringing in from my tiny garden and the farmer's market raw. In their most honest and nutritious and juiciest form. But really…how many tomato sandwiches can one girl eat? (In case you were wondering…the answer is about four per week. Not that I'm counting.)
If we are going to keep up with the greedy volume of fresh fruits and veggies of the summer, we are going to have to get serious. And make a huge bread salad.
What? You don't think bread should intrude further into salads than the occasional crouton!? Are you mad!?
This panzanella is seriously delicious. The crisped bread absorbs just enough of the tomato juices and sharp dressing to become luxurious, and the hearty base makes the whole meal toothsome and filling. You should make it right away!
I made this dish entirely out of farmer's market ingredients, which meant (as usual) that I looked for the less common varieties, the unusual colors: bright green zebra tomatoes, purple bell peppers, purple cherokee and yellow garden peach tomatoes… Not only do heirloom tomatoes taste so delicious (an infinity better than the watery tomatoes in the supermarket), but I quite enjoy defying the expectation that tomatoes be red.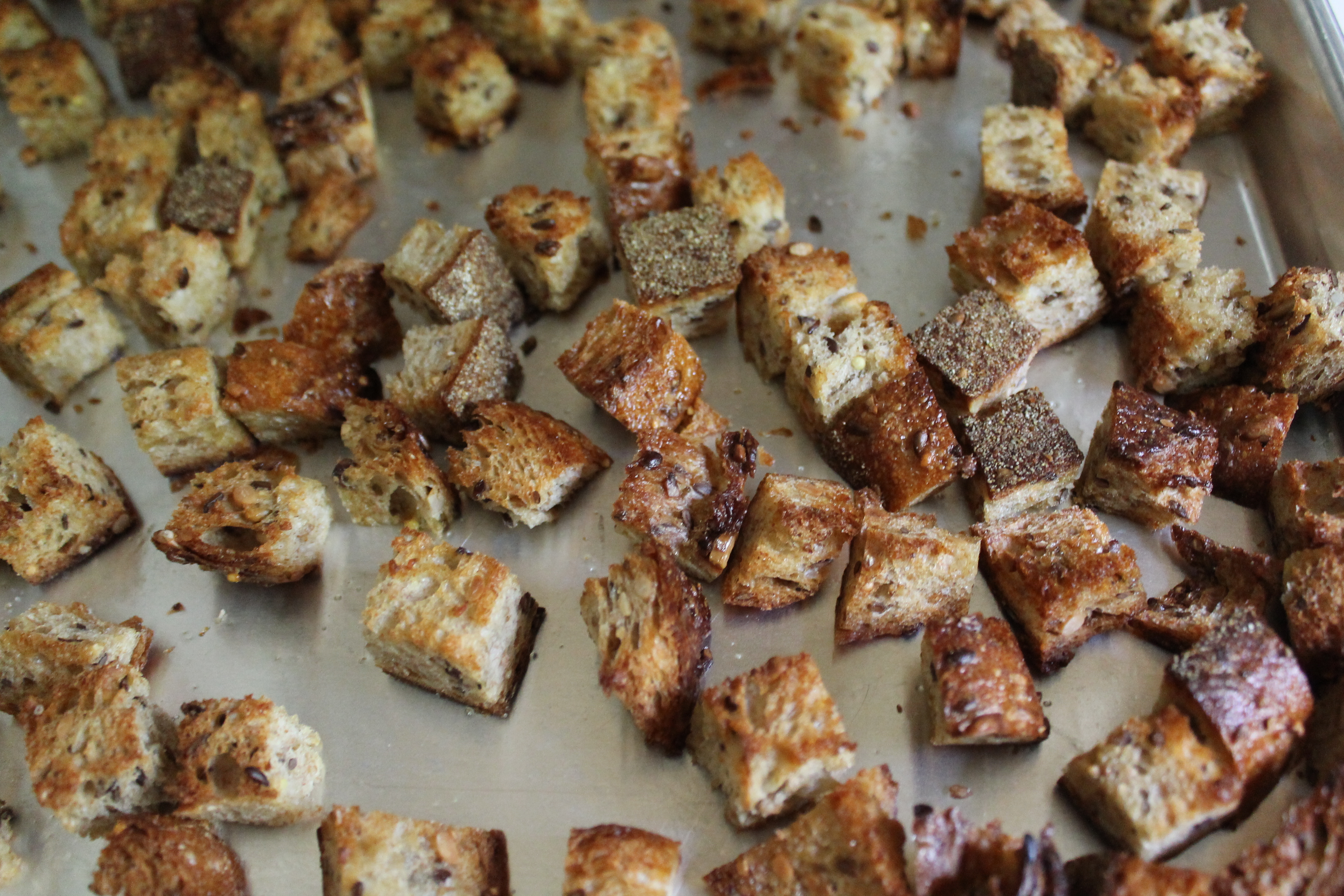 I also bought a huge loaf of multigrain seeded bread from the French baker at the Fairfax Saturday Market. To start, I cut half of the loaf into 1″ cubes. This made about 8 cups of bread cubes; you can certainly go with a smaller amount!
Toss the bread cubes with a little olive oil and sea salt, then toast in the oven, shaking the pan at least once, until they are crisp and browned.
Meanwhile, cut all of the produce—tomatoes, peppers, zucchini, and onion— into 1″ pieces. Toss in a very large bowl.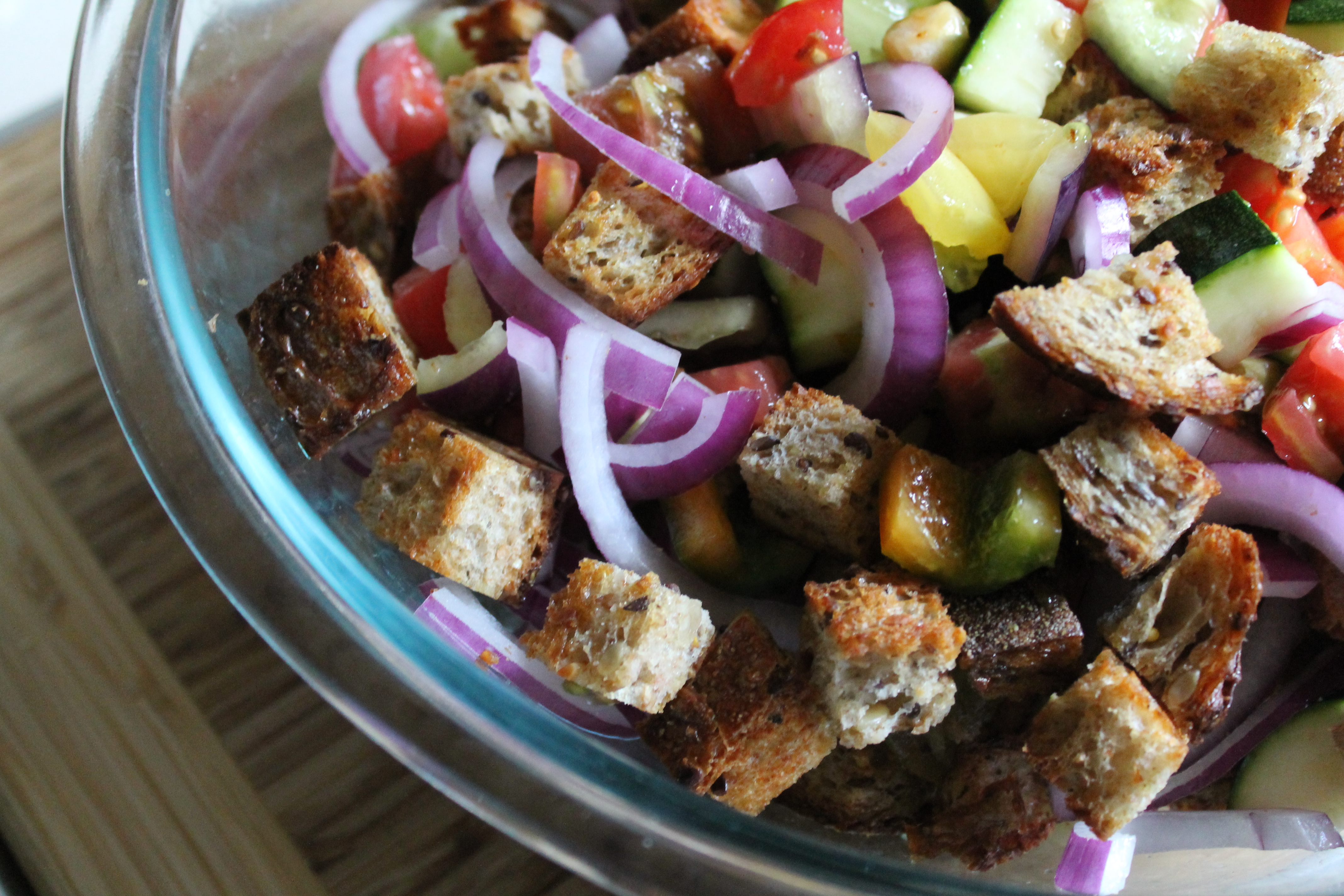 When the bread cubes are crisp and have cooled slightly, add them to the bowl, along with a hefty spoonful of drained capers, and toss.
Stir together a dressing of olive oil, white wine vinegar, Dijon mustard, garlic, salt, and pepper. Drizzle the dressing over the bread salad and toss well.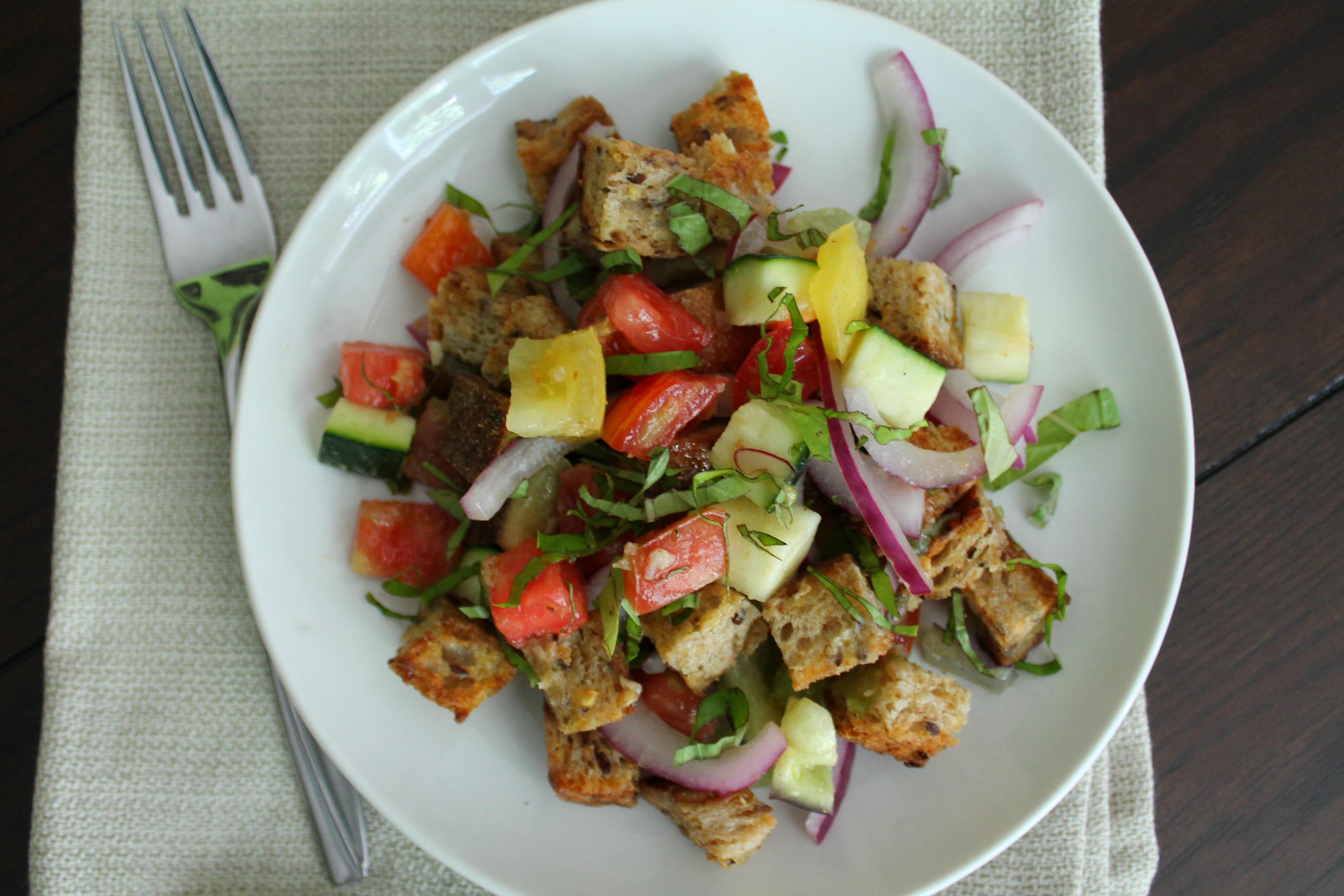 Sprinkle the top of the salad with a huge handful of slivered basil and serve!
Farmer's Market Panzanella
lightly adapted from Smitten Kitchen
serves 6–8
Ingredients:
8 cups bread cubes
2–3 tbsp. olive oil
sea salt
4 medium tomatoes, cored and cut into 1″ cubes
2 bell peppers, seeded and cut into 1″ cubes
1 small red onion, cut into 1″ cubes
1 small zucchini, cut into 1″ cubes
1 tbsp. drained capers
2 cloves garlic, minced
⅓ cup olive oil
3 tbsp. white wine vinegar
1 tbsp. Dijon mustard
salt and black pepper
pinch of crushed red pepper
20 leaves fresh basil, slivered
Directions:
Heat oven to 375°.
Toss the bread cubes with olive oil and sea salt. Spread in a single layer on a large baking sheet and toast in the oven about 10 minutes, shaking the pan at least once. The cubes should be deeply browned and crisp at the edges. Allow the bread to cool for 5 minutes.
Combine the bread, all the cubed vegetables, and the capers in a large bowl; toss to miss evenly.
In a small bowl or measuring cup, whisk together the garlic, olive oil, vinegar, mustard, and seasonings. Pour the dressing over the bread salad and toss.
Top the salad with fresh basil. Allow to sit for 30 minutes, so the bread can absorb the flavors of the dressing and tomatoes, then serve at room temperature.
Enjoy!
One year ago: Bourbon Brown Butter Chocolate Chip Cookies
Two years ago: Black Bean Burgers
Three years ago: Sweet Cream Ice Cream