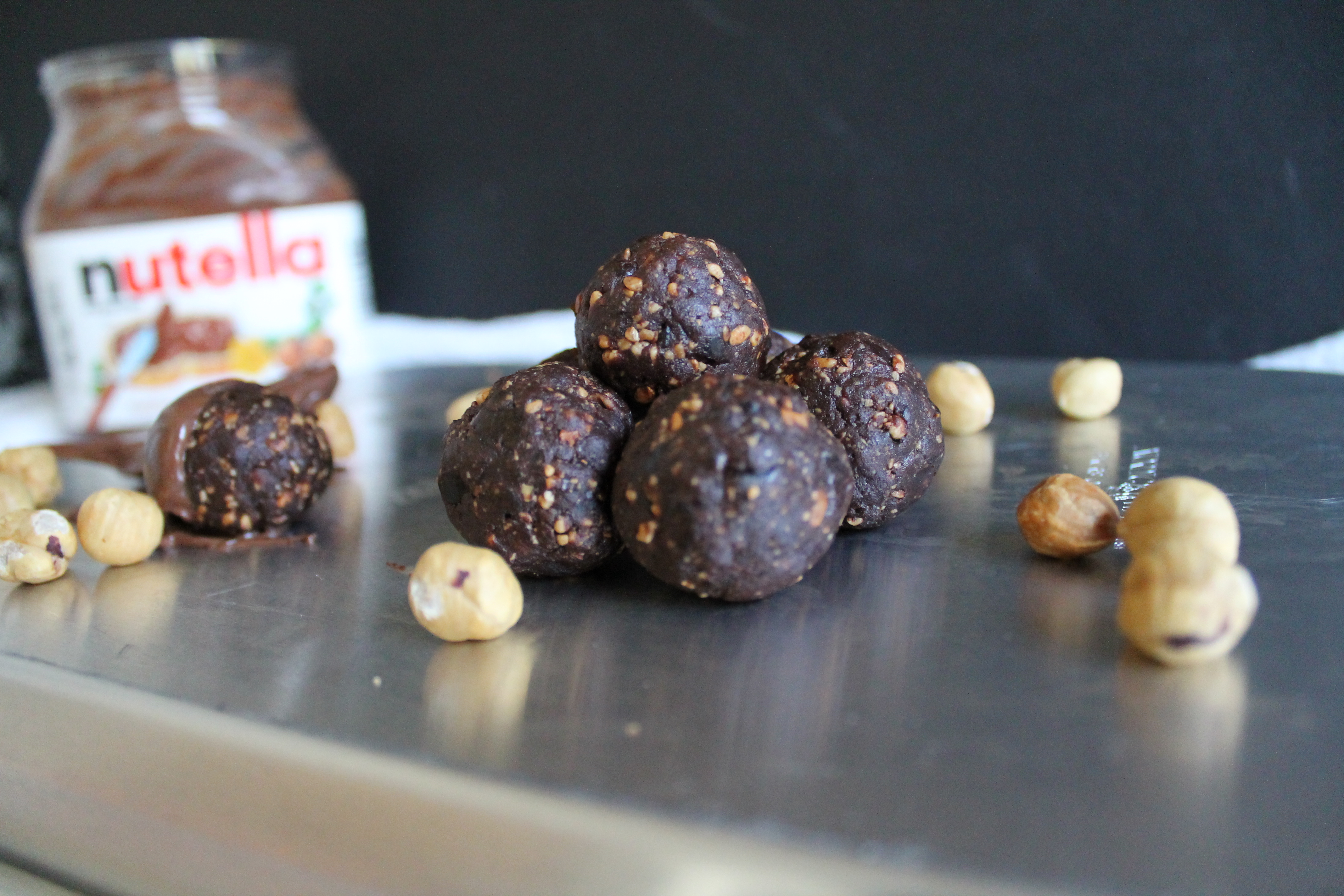 I heard a terrible, terrible rumor a few weeks ago: apparently, we are about to experience a worldwide shortage of hazelnuts!
Gasp! The horror!
Before you run out and buy every jar of Nutella in the store (and don't think I haven't contemplated that), let's try a healthier yet equally delicious version of the incomparable chocolate-hazelnut combination: date balls.
Have you ever heard of gianduia? Maybe you've seen this flavor nestled among other exotic-looking scoops (stracciatella…nocciola…) at a nearby gelato store. Gianduia is the original chocolate and hazelnut confection, made from hazelnut paste, cocoa, and sugar. Apparently, hazelnuts are enormously popular in Italy. Italians know the good stuff.
I absolutely love chocolate and hazelnuts together, and I'm really going to miss these date balls when the price of hazelnuts skyrockets!
Date balls are really easy to make. You can make them with almost any nut you like, with almost any other flavors added in! This Italian flavor combination is beautiful as-is, but just in case you run out of hazelnuts, you could also play with other spices and other nuts!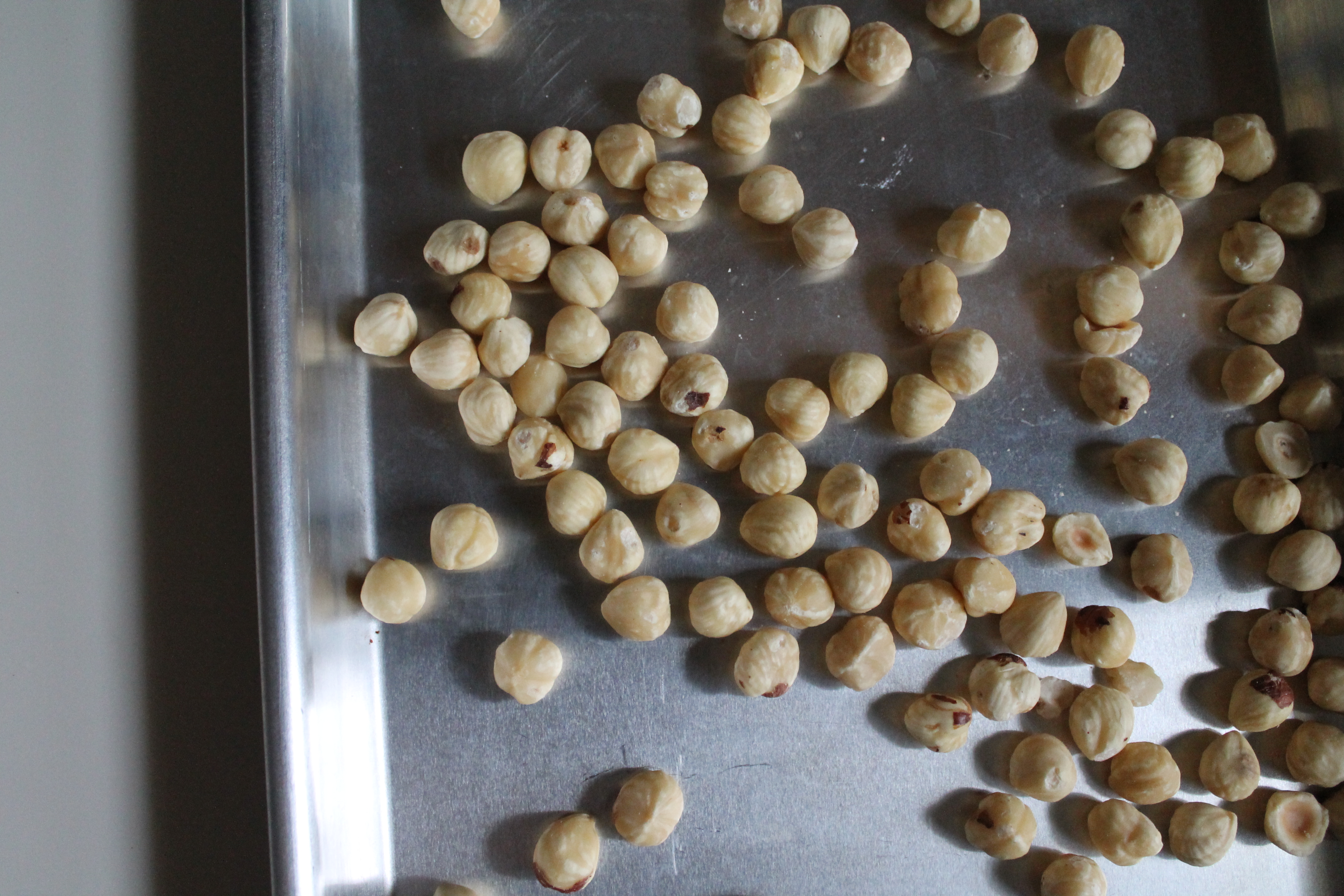 This time, we must start by toasting our hazelnuts. I always buy raw nuts whenever I can, because they are not caked in unhealthy oils or salt. However, I do recommend looking for blanched hazelnuts: cracking and peeling your own nuts can be a huge pain, and the blanched nuts are fairly close to raw in terms of nutrients, with all the annoying work done for you!
The hazelnut flavor will simply not shine beautifully if you do not toast them. They need to come to a nice, rich brown, and your house will smell like Nutella. I usually dry-toast my nuts in the oven, because it requires much less hands-on work. Simply heat the oven to 350°, spread the nuts in a single layer on a cookie sheet, and bake for 20 minutes or so, shaking the pan every 5 minutes to turn the nuts.
Let them cool until you can stand to touch them.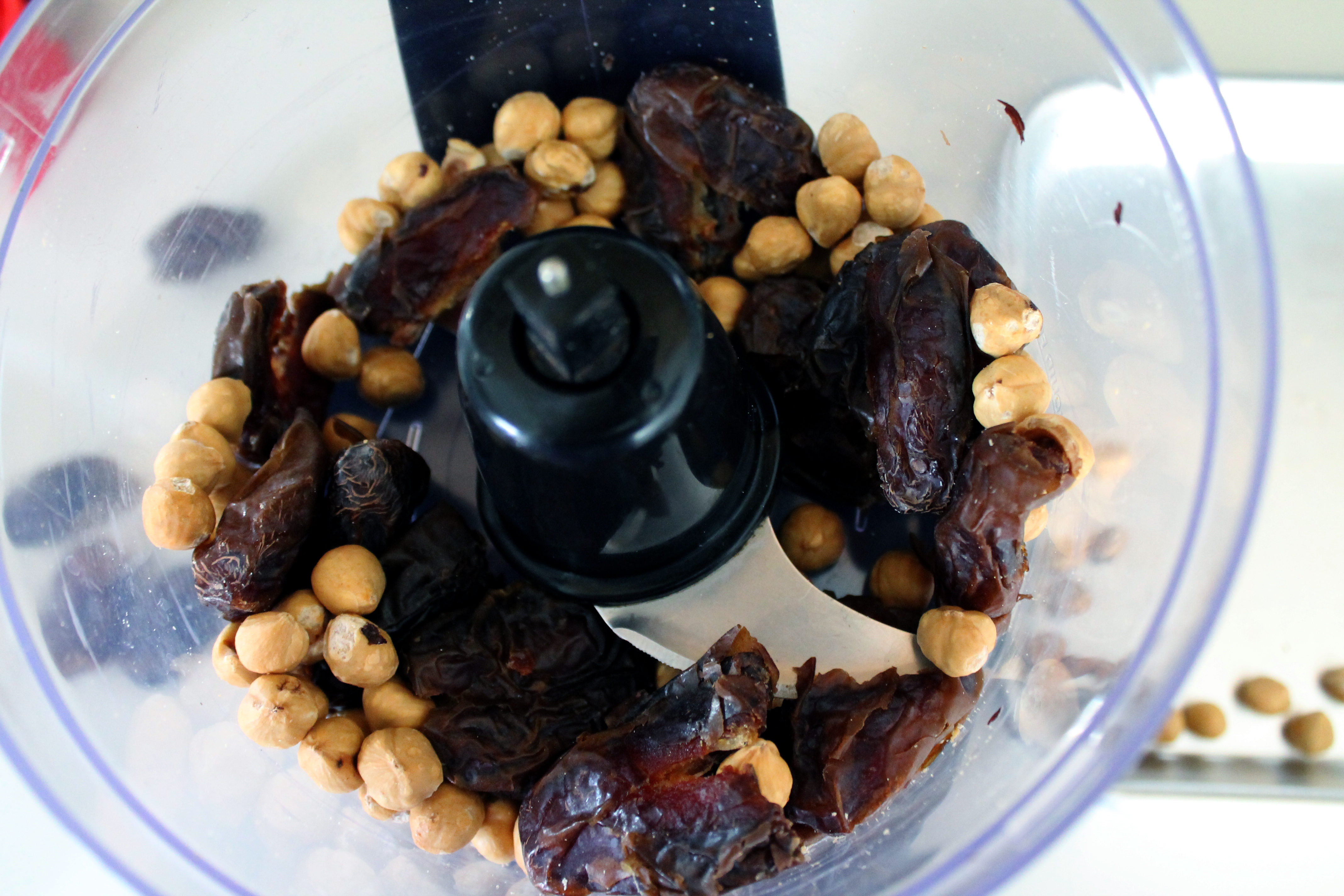 Now pit the dates and combine the dates and hazelnuts in a food processor. Pulse or process until they are broken up into small chunks.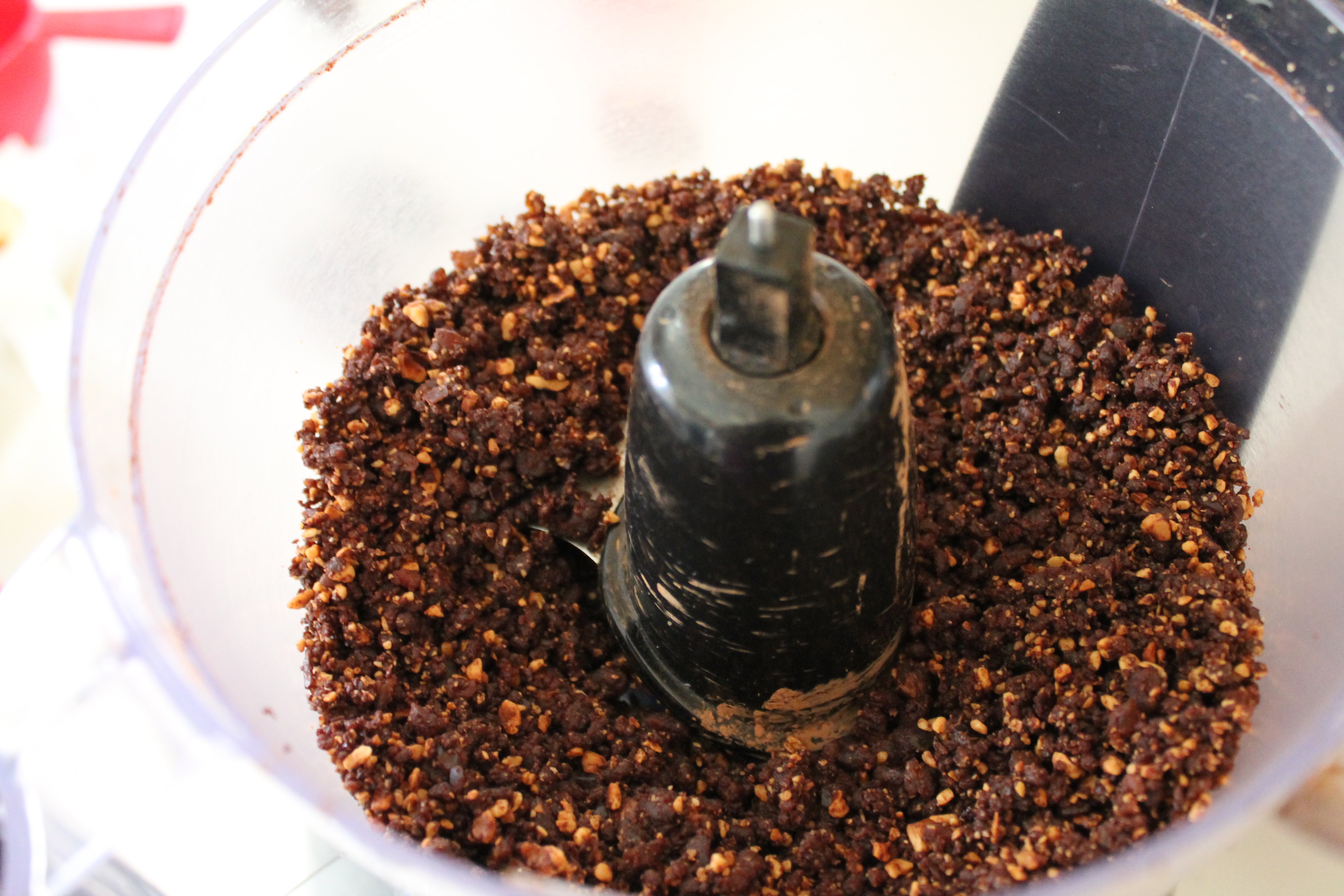 Add the cocoa powder, vanilla, espresso powder, and a tiny pinch of salt. (No sugar! Yay!) Process until a fine, somewhat sticky meal forms.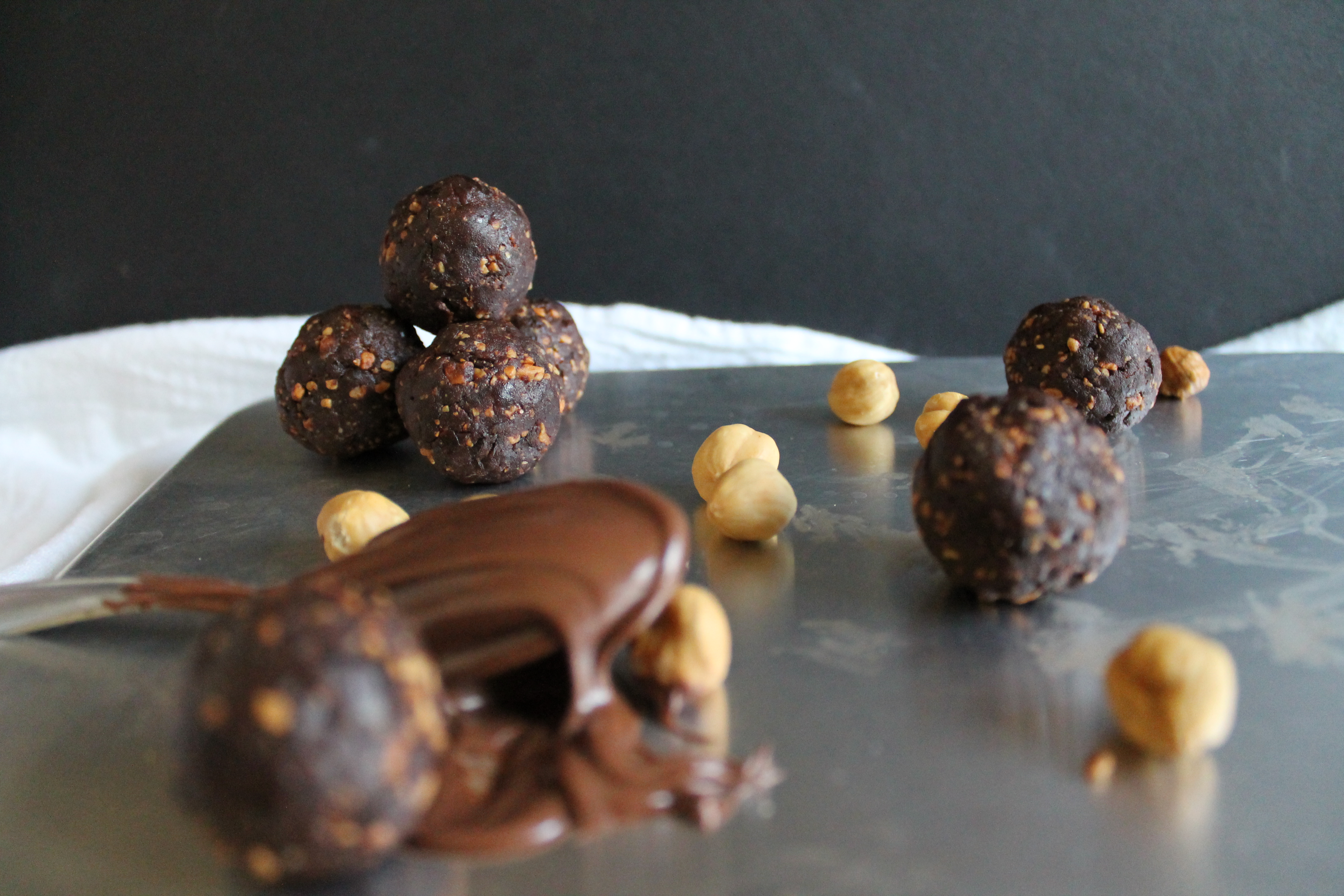 Scoop the mixture out about 1 tbsp. at a time and roll tightly into little balls.
These date balls keep well in the fridge or freezer, if you aren't intending to eat them immediately. (Good luck with that!)
P.S., I don't necessarily recommend swiping the date balls through Nutella, as Nutella definitely is not sugar free (if that sort of thing matters to you), but I will admit that layering hazelnuts upon hazelnuts is quite indulgent 😉
Gianduia Date Balls
a Melissa original
makes about 20
Ingredients:
¾ cup blanched hazelnuts
1 cup pitted Medjool dates (about 17 medium)
¼ cup cocoa powder
1 tsp. espresso powder
pinch of salt
1 tsp. vanilla extract
Directions:
Heat the oven to 350°.
Spread the hazelnuts in a single layer on a rimmed cookie sheet. Bake the nuts for 20 minutes, or until deeply browned and fragrant, shaking the pan every 5 minutes. Allow to cool for 15 minutes.
Process the dates and hazelnuts together in a food processor until rough and chunky, but even.
Add the cocoa powder, espresso powder, salt, and vanilla extract. Continue processing until fine and mealy.
Form into 1″ balls, pressing firmly to stick the ingredients together. (If the balls will not hold their shape, add 1 tsp. water to the food processor, pulse to combine, then roll the mixture into balls.)
Store in an air-tight container in the freezer.
Enjoy!