This is my birthday week.
I marked the occasion with some truly enormous, truly delicious chocolate chunk cookies.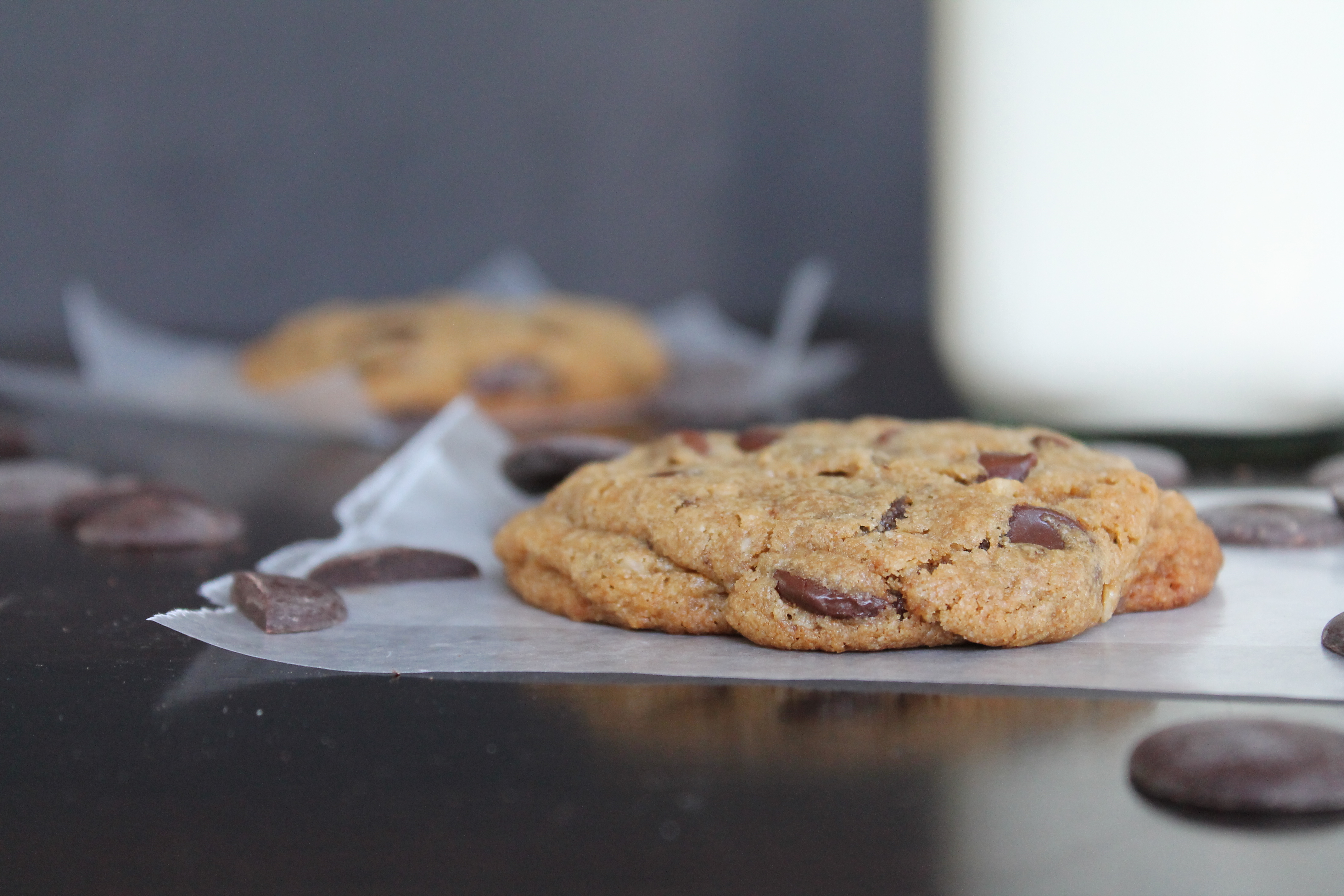 At this point, you can't be surprised by my adoration of chocolate chip cookies. I think I must have made every chocolate chip cookie recipe under the sun, from the famous (the recipe from Baked and Neiman Marcus) to the unusual (tahini and olive oil) to the darkly caramel (bourbon and brown butter).
I. love. cookies.
But this cookie recipe I'm sharing with you today is special to my heart. They taste rich and indulgent even though they are made from healthier ingredients. (But let's be honest: we can't really call them healthy when they each use a whopping quarter cup of dough. I promise I won't tell if you eat more than one.)
---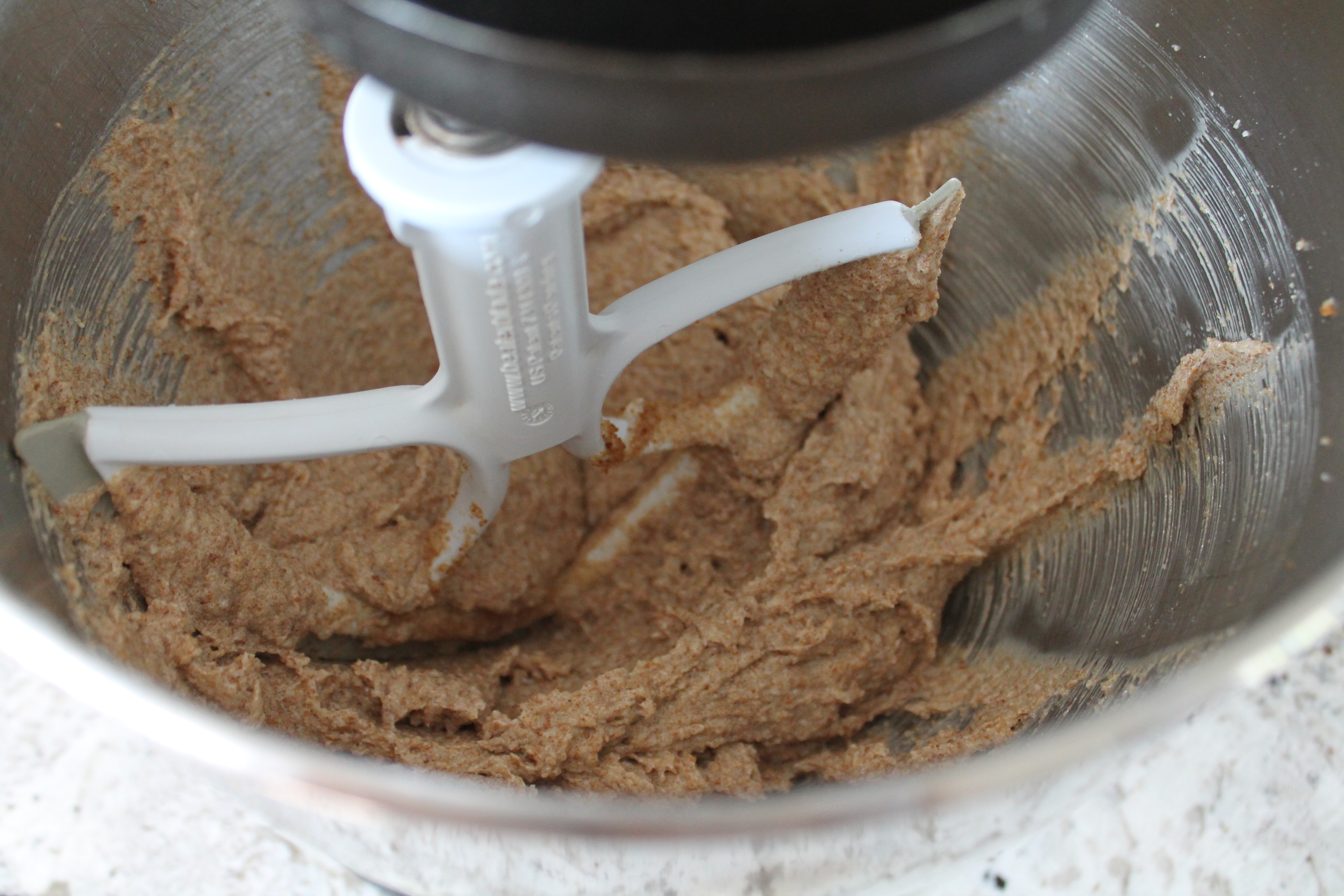 Start by whipping coconut oil and unsalted butter with raw sugar and coconut sugar. (See what I did there? Yes, it's a ton of sugar, but technically it's all unrefined.)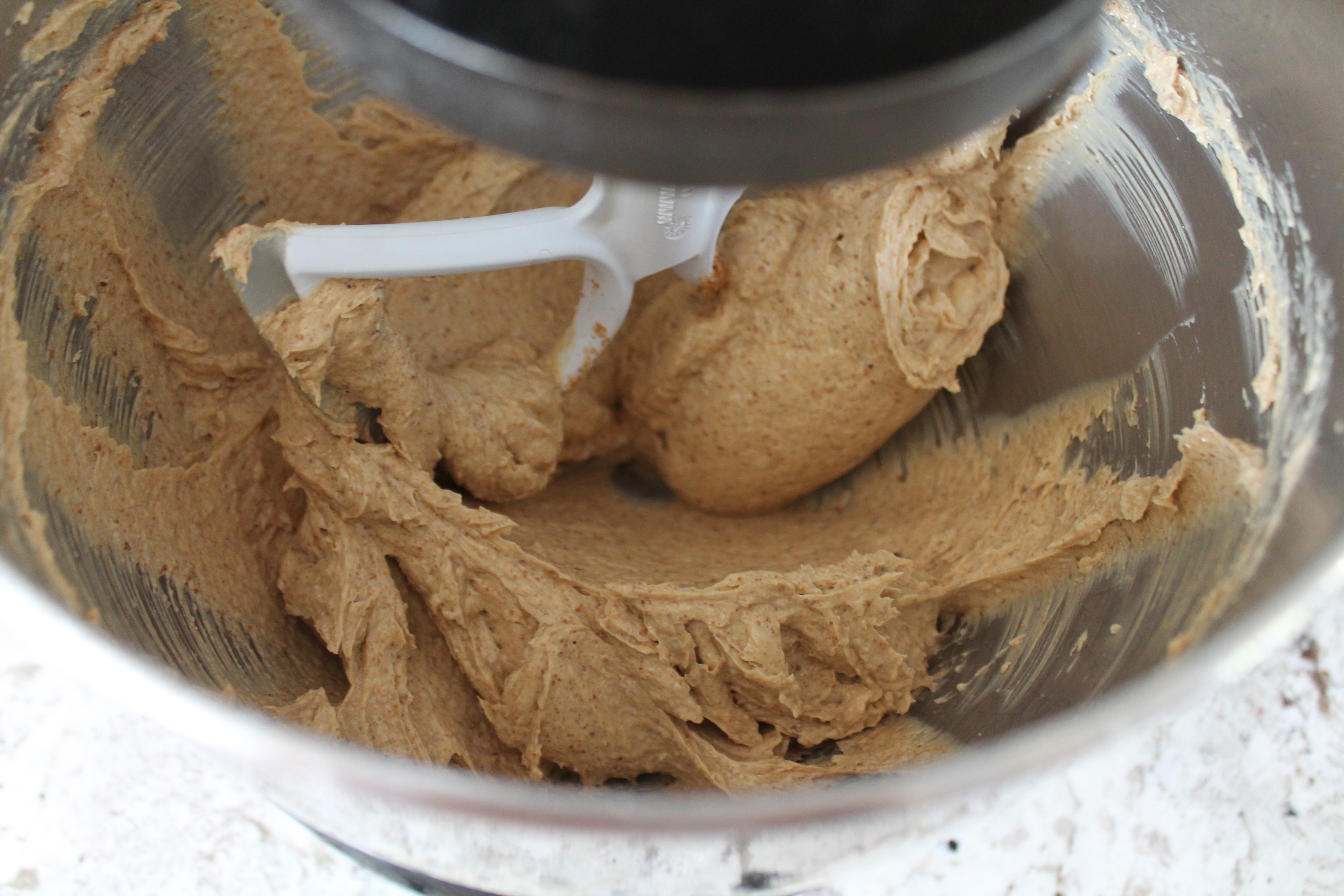 Beat in eggs and more vanilla extract than you think you need. Just trust me. You will love it. Vanilla is the essential flavor of chocolate chip cookies. Vanilla makes cookies more cookie-y. And when you are dealing in healthy ingredients like coconut oil and whole wheat flour, you want a lot of vanilla so that the cookies don't taste like health food.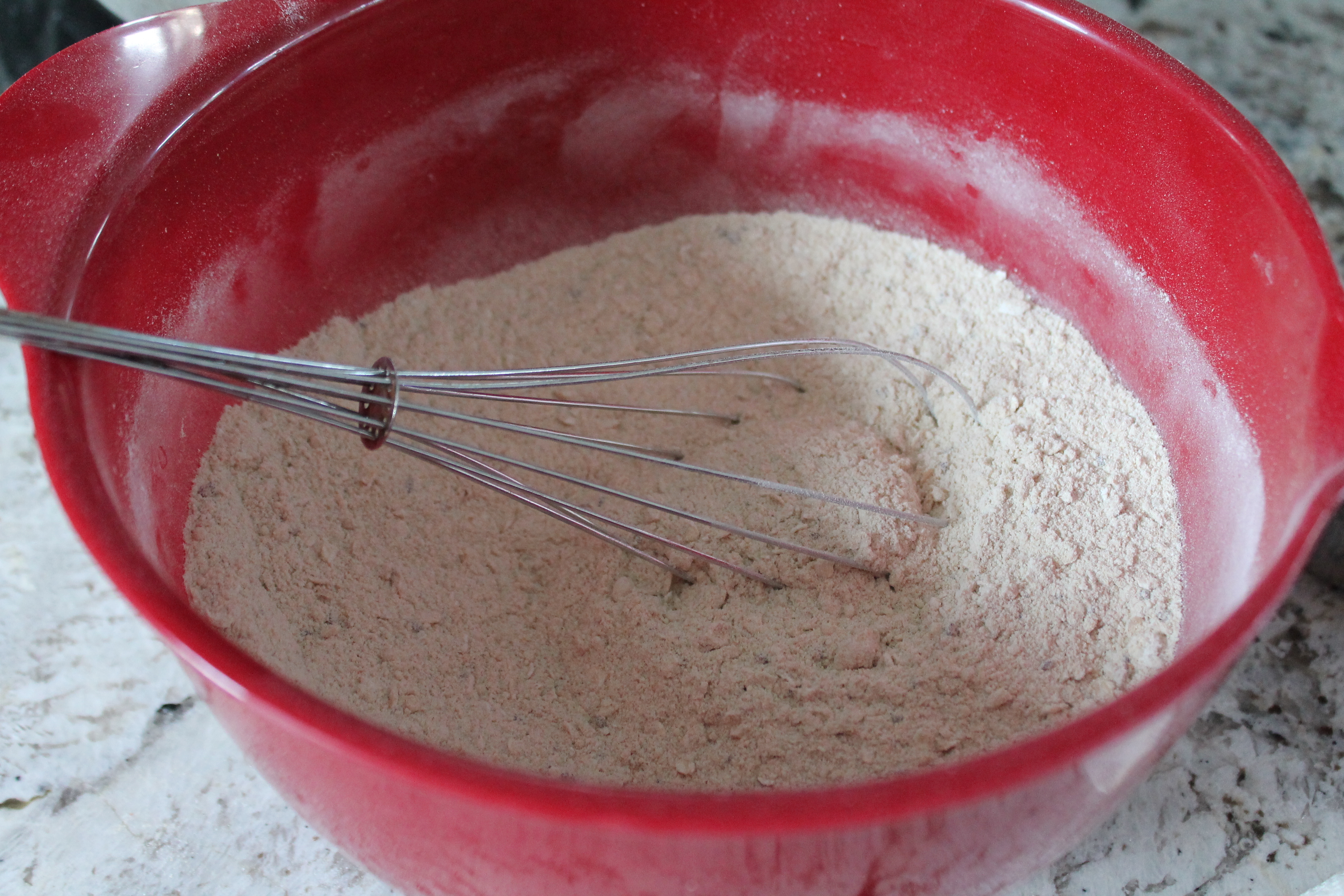 In a separate bowl, whisk together all the dry ingredients: white whole wheat flour, oats, almond meal, baking soda+powder, salt, and espresso powder. I highly recommend the espresso powder, even though the recipe says it's optional!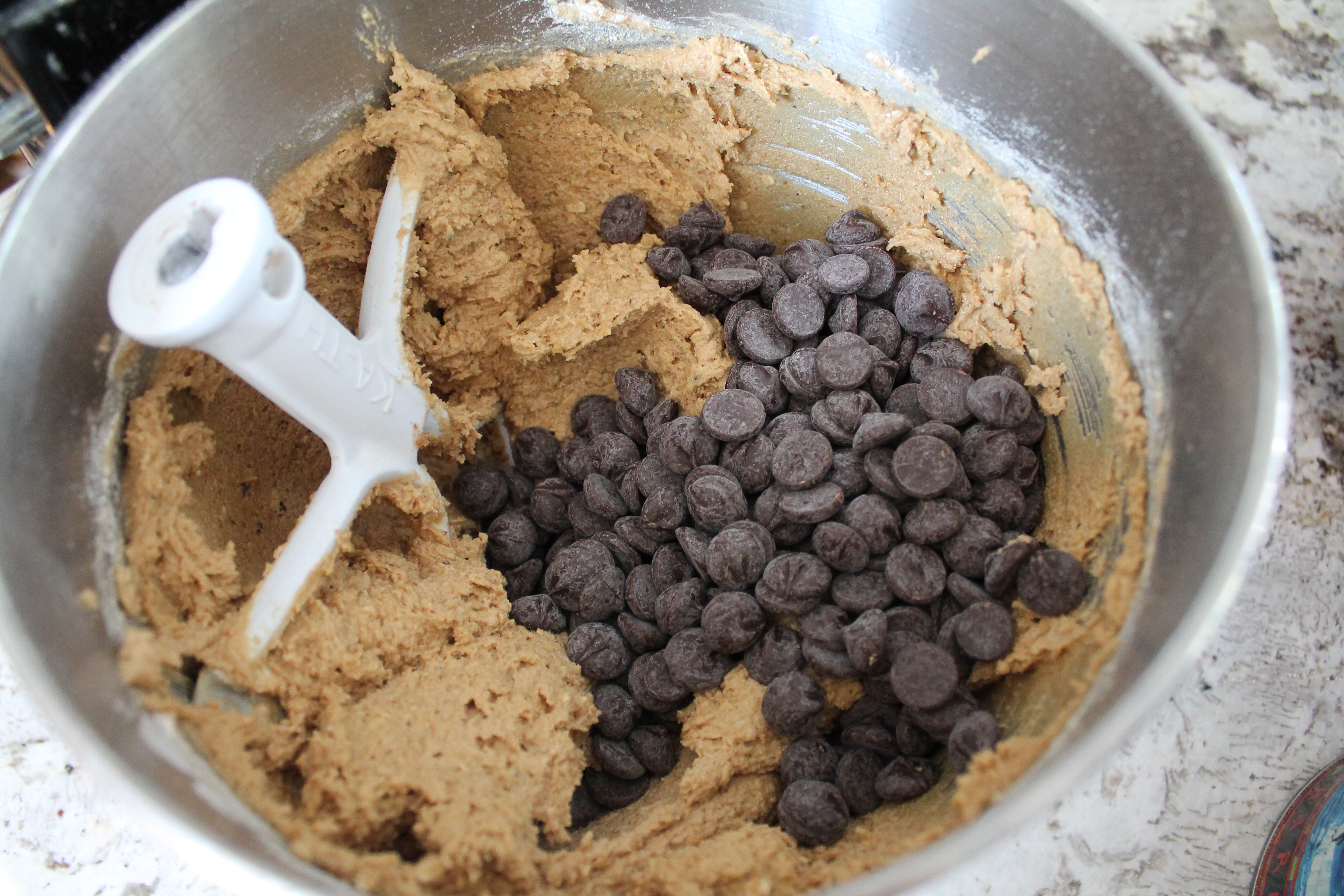 Pour all of the dry ingredients into the bowl with the creamed mixture and stir to combine.
Now add in a whole pound of dark chocolate. I really like the Ghirardelli 60% chocolate chips in these cookies, but sometimes I add some semisweet chips or even chopped, 74% chocolate chunks, depending on my mood and what I have on hand. Mixing the chocolates by darkness and size is also very yummy.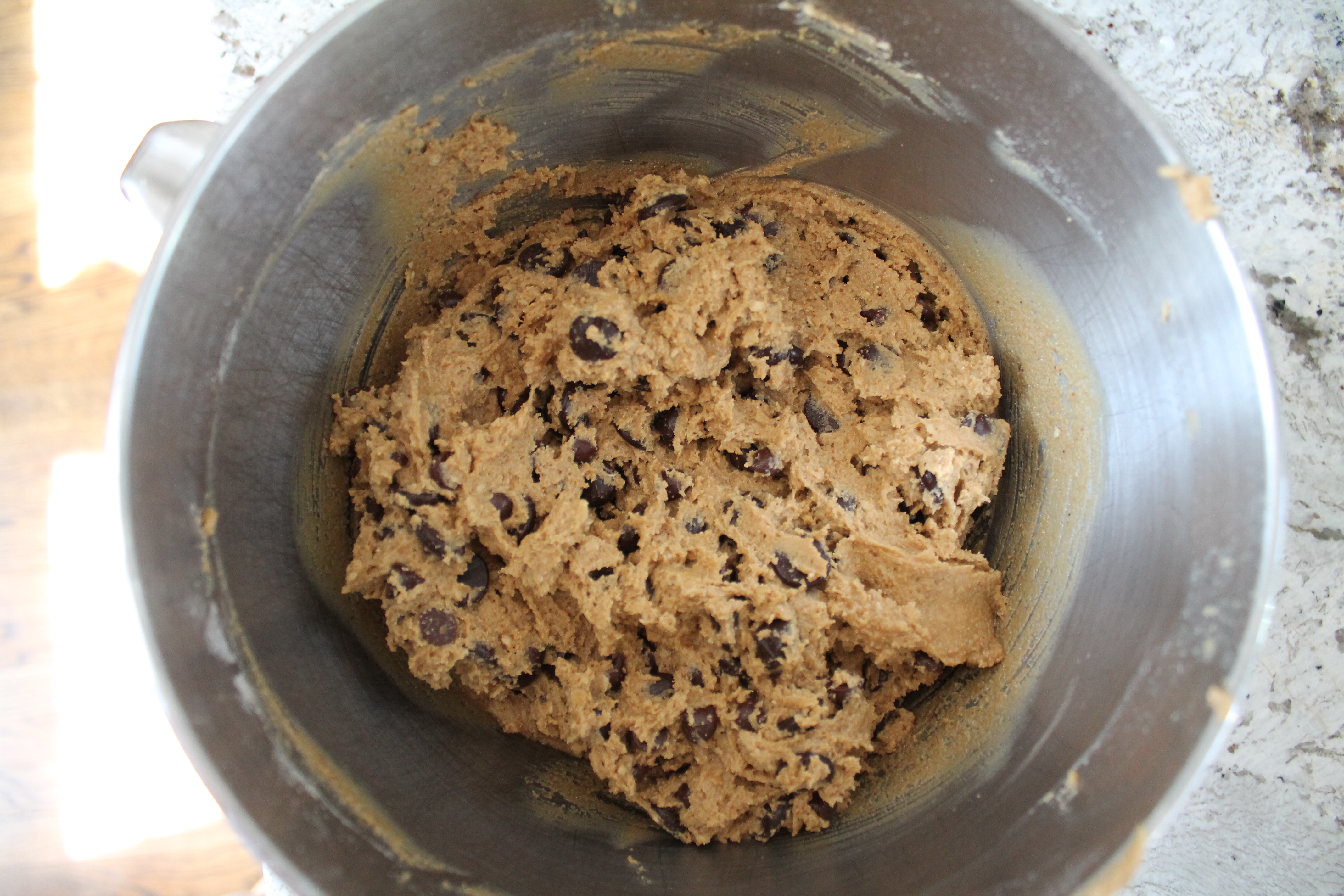 Chill the dough for 30 minutes to 1 hour. The only reason to chill this dough is how sticky it is unchilled. We aren't chilling to get it firm, or to produce better flavor. But be patient anyway, unless you like to have super sticky hands.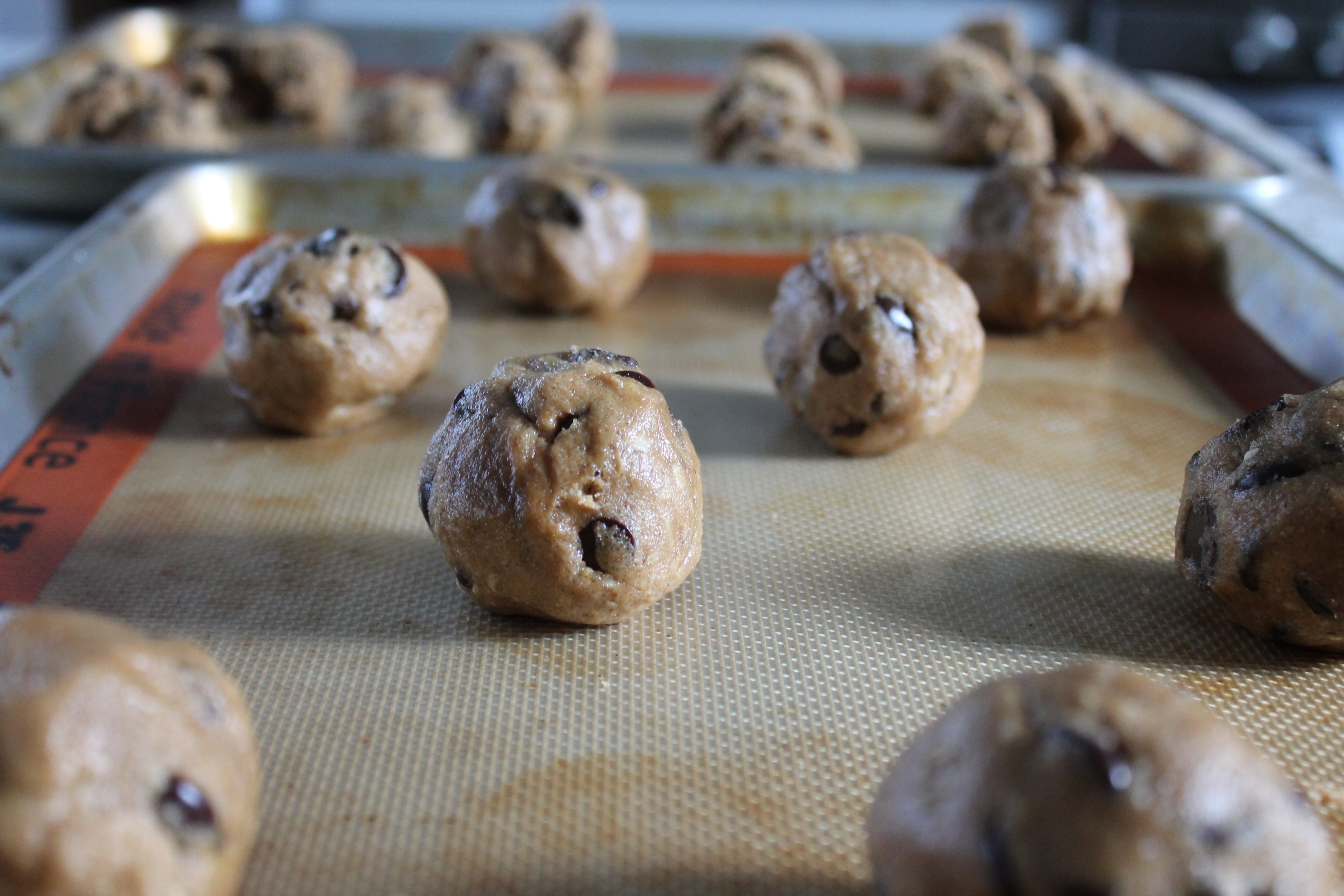 When the dough is slightly chilled, heat up the oven to 350° and line several cookie sheets with Silpats or parchment paper. Start scooping giant ¼ cup balls of dough, leaving at least 3″ between the cookies. I usually only put 8 on a half-sheet.
Roll the dough in your palms to form smooth balls.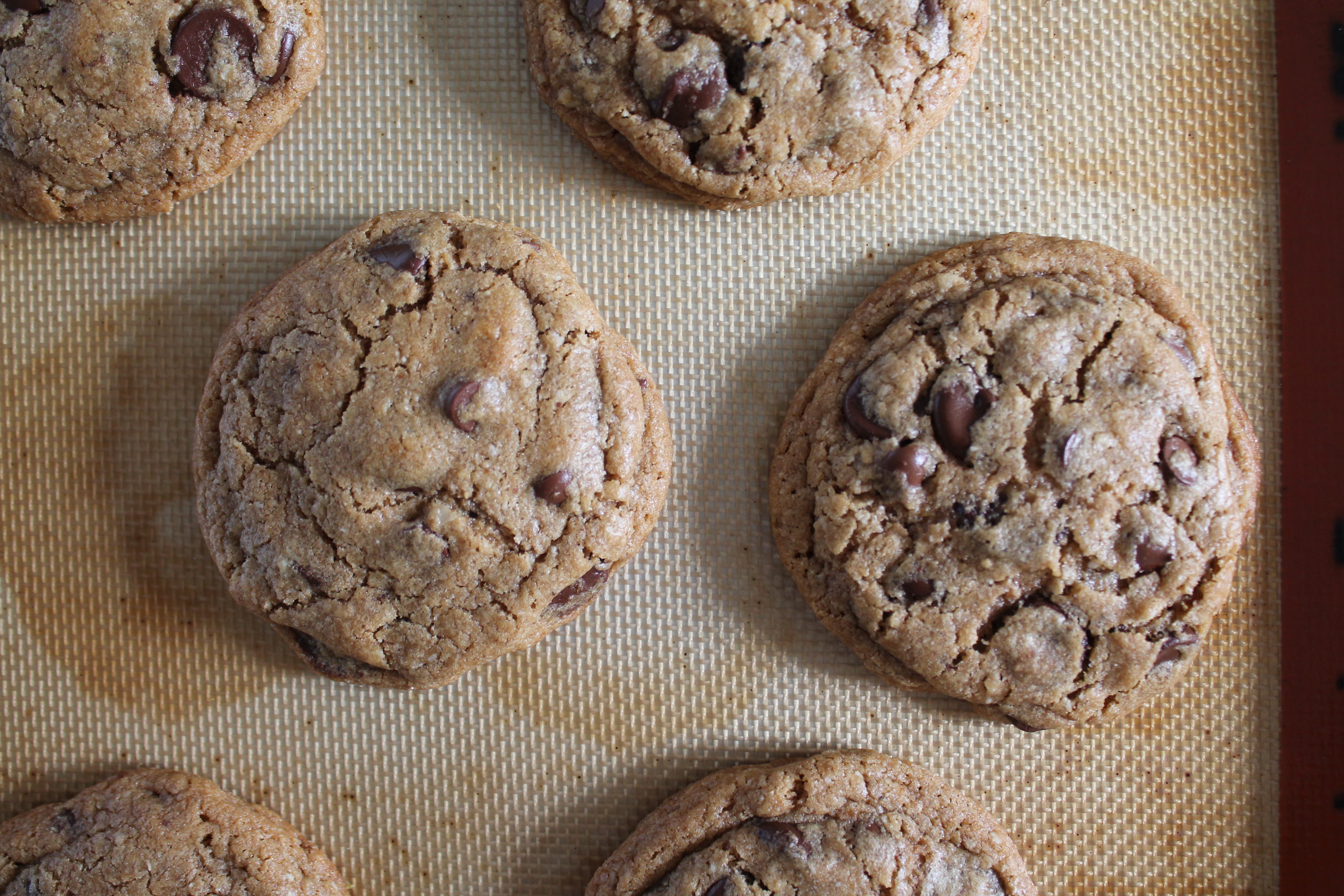 Bake for 11-12 minutes. If you are into this sort of thing, you can take your pan out halfway and bang in on the counter a few times. This will make delightfully crisp, layered edges by spreading the dough just a little and flattening the tops of the cookies just a little. Not necessary, but I do love a hint of crunch on the outsides of a big, chewy cookie, don't you?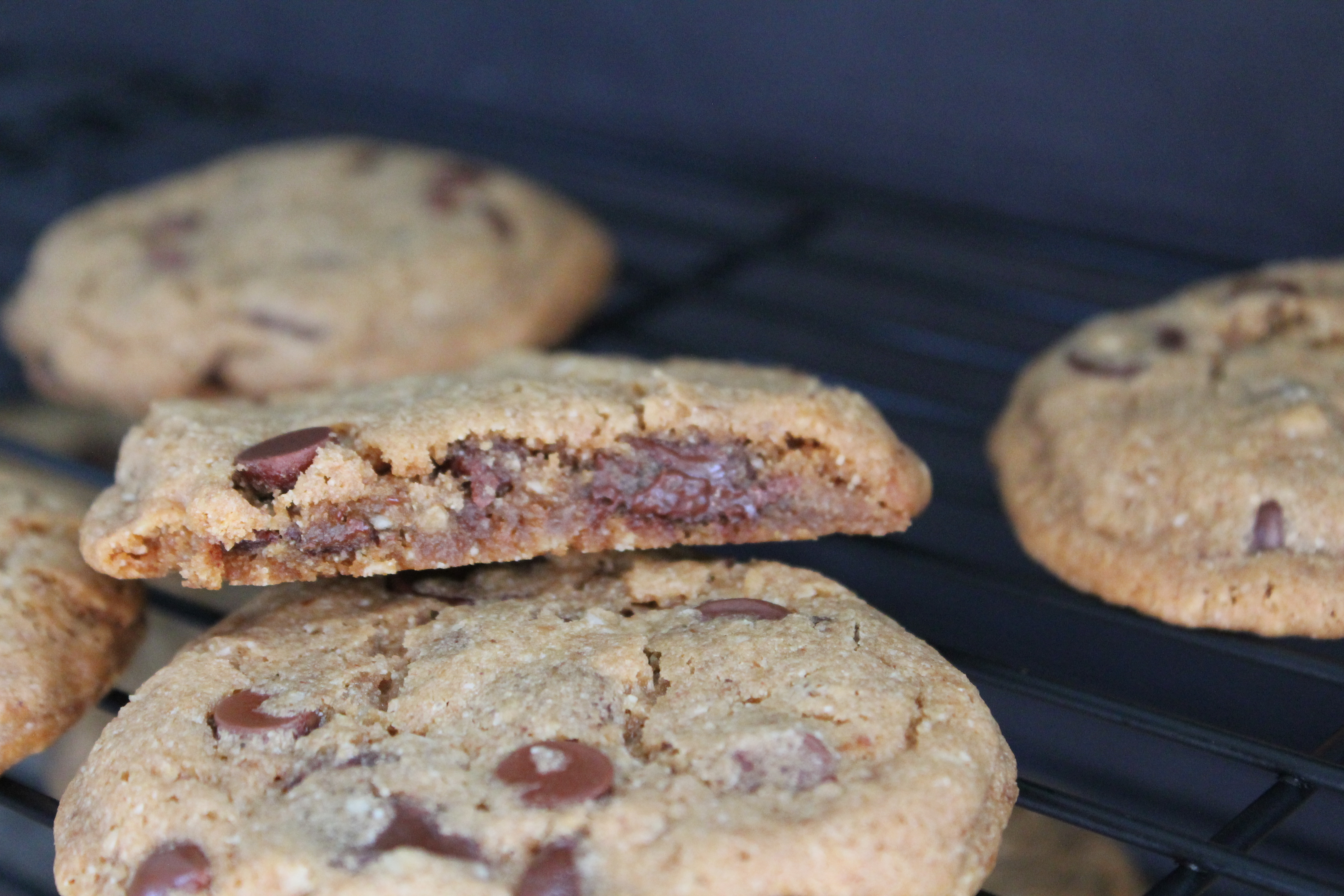 Let the cookies cool for 10 minutes on the pan. They will be quite soft in the centers, and these extra 10 minutes will help them set.
Yum!
Whole Grain Chocolate Chunk Cookies
Keyword
almonds, chocolate, coconut, cookies, vanilla, whole wheat
Prep Time
45

minutes
minutes
Cook Time
40

minutes
minutes
Chill Time
30

minutes
minutes
Total Time
1

hour
hour
55

minutes
minutes
Ingredients
½

cup

unsalted butter,

room temperature

½

cup

virgin coconut oil,

room temperature (solid)

5½

oz.

coconut sugar

(about 1 cup)

5½

oz.

raw sugar

(about ¾ cup, ground if using thick granules)

2

eggs

1½

tbsp.

vanilla extract

2¼

cups

white whole wheat flour

½

cup

almond meal

½

cup

quick oats

¾

tsp.

salt

1¼

tsp.

baking soda

1¼

tsp.

baking powder

½

tsp.

espresso powder

(optional)

1

lb.

60% dark chocolate chips or chunks

(about 3 cups)
Instructions
Beat together butter, coconut oil, and sugars until soft and creamy. Add eggs and vanilla and beat again.

In a separate bowl, whisk the flour, almond meal, oats, salt, leaveners, and espresso powder until evenly combined.

Stir flour mixture into butter mixture.

Stir in chocolate chips.

Chill for 30 minutes.

Heat oven to 350°.

Scoop into ¼ cup balls and space at least 3″ apart on a lined cookie sheet.

Bake for 11-12 minutes, pulling the baking sheet out halfway through to bang on the counter (the banging is optional but produces nice, crispy edges).

Let the baked cookies cool on the cookie sheets at least 10 minutes before transferring to a wire rack. The cookies will be very soft in the center.